Staff Directory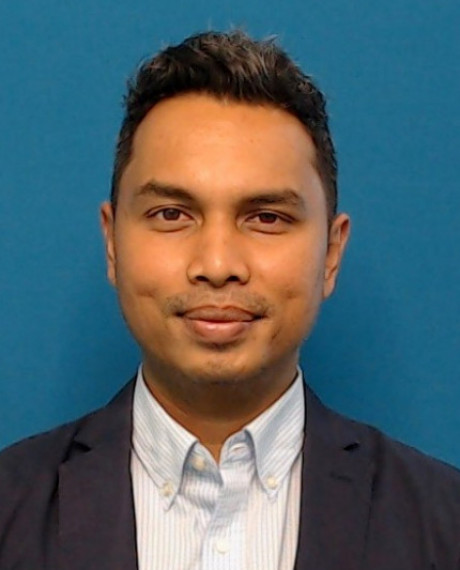 Academic Qualification
Doctor of Philosophy in Construction Management - Doctor of Philosophy, Queensland University of Technology
Master of Science (Project Management) - Masters Degree, Universiti Sains Malaysia (USM)
Bachelor of Quantity Surveying (Hons) - Bachelor Degree, International Islamic University Malaysia
Mohamad Saifulnizam Bin Mohamad Suhaimi (Dr.)
Assistant Professor
IIUM Gombak Campus
KULLIYYAH OF ARCHITECTURE AND ENVIRONMENTAL DESIGN

Other's position:
Coordinator, Kulliyyah of Architecture and Environmental Design
---
saifulnizam@iium.edu.my
2873
Expert Profile
An Assistant Professor and Head of the Department of Quantity Surveying, KAED. Graduated with Phd in Construction Management from Queensland University of Technology (QUT), his thesis focusses on Value Management (VM) in the design planning of an airport construction project. An expansion of his thesis has brings him to currently explore the relationship between VM, contruction procurement and building information modelling (BIM) that influenced construction performance. His current expansion of his portfolio focusses on VM and green rating tools for sustainable construction.
An alumnus of IIUM himself, he has been teaching Value Engineering, Contract administration and building measurement eversince he joined IIUM. A nominee for IIUM Best Teacher Award for 2016. He possess several years of experience working as Quantity Surveyor locally and internationally on civil engineering, hospital and high-rise construction projects where he specialised on Value Engineering study and cost control. During his candidature period as PhD scholar, he lecture both undergraduate and post-graduate student at QUT on Quantity Surveying and Project Management (Critical Path Method) course. These experiences has significantly influenced the way he approached teaching Quantity Surveying to IIUM students.
In term of administrative post, he was the former Head of Department for Quantity Surveying in 2008 and actively serving various journal review committee, external examiner for undergraduate programme, working committee in various Kulliyyah's initiative as well as QS professional bodies. At the University level, he represents the University as tennis player and a Bronze medallist for the 2009 University's Game.
He continues to actively involve with the Alumni activities for his alma mater. Working closely with Queensland University of Technology contributing as an external supervisor for integrated project paper for master degree student and involve with online distance learning module development for International student.
Area of Specialisation
Engineering Tech ~ Applied Sciences And Technologies ~ Construction and Project Management ~ Value Management - Value Management (2009)
Research Projects
Completed
| | |
| --- | --- |
| 2021 - 2021 | KURSUS PEMPROSESAN PELAN MENGGUNAKAN PERISIAN REVIT SECARA ATAS TALIAN UNTUK PEGAWAI KESELAMATAN KEBAKARAN JBPM (PULAU PINANG)) |
| 2021 - 2021 | KURSUS PEMPROSESAN PELAN MENGGUNAKAN PERISIAN AUTO CAD & REVIT UNTUK PEGAWAI KESELAMATAN KEBAKARAN JBPM NEGERI PAHANG |
| 2021 - 2021 | KURSUS PEMPROSESAN PELAN MENGGUNAKAN PERISIAN REVIT SECARA ATAS TALIAN UNTUK PEGAWAI KESELAMATAN KEBAKARAN JBPM PADA 21-23 SEPT 2021 |
| 2017 - 2017 | Perkhidmatan Perlaksanaan Insentif untuk Projek yang Menjalankan Penilaian MYCREST |
| 2017 - 2017 | PERKHIDMATAN MENYEDIAKAN DAN MENYELARAS DOKUMEN SENARAI SEMAK PEGAWAI PENILAI MYCREST,PERMOHONAN MYHIJAU DAN INSENTIF CUKAI MIDA UNTUK MYCREST |
| 2016 - 2017 | Kajian Berkenaan Pelaksanaan Penilaian Mycrest Secara Mandatori Untuk Projek-Projek Bernilai RM100 Juta Dan Ke Atas |
| 2016 - 2020 | Characterization of Malay Architectural Components through BIM-Based Modelling and Semantic Enrichment for Urban Buildings |
| 2016 - 2016 | Malaysian Carbon Reduction and Environmental Sustainability Tool (MYCREST) Assessor Refreshment Course |
| 2015 - 2016 | (Disaster Relief and Preparedness) Community Experiences on Prevention, Preparedness and Recovery of the Flood Disaster in Cultural and Local Wisdom Context: Lesson Learnt from All Levels of a Household |
| 2008 - 2010 | An Explotary Study to investigate the Marketing Strategies of Medium- Sized Construction Contractors in Malaysia |
On-Going
| | |
| --- | --- |
| 2023 - Present | Program Pembangunan Bagi Kajian Sosioekonomi Penduduk Wilayah KETENGAH |
| 2023 - Present | Investigation of the Economic Aspects of the Operation and Maintenance of Elderly Care Centres |
| 2022 - Present | Kajian Mengoptimumkan Penggunaan Kuarters Guru Tidak Berpenghuni Milik Kementerian Pendidikan Malaysia |
| 2020 - Present | Determination of Strategies to Implement Post Contract Cost Control in Building Construction Projects |
| 2019 - Present | Optimising Construction Cost for Heritage Building Conservation Project Through Value Engineering Technique |
| 2019 - Present | A Novel Method in Nurturing Students? Motivation and Resilience Through a Validated Embedded Multi-Dimensional Student Engagement Framework (Use of Gamification) for Higher Learning Institution |
| 2019 - Present | STUDY ON THE POTENTIAL INCENTIVES FOR INFRATSRUCTURE PROJECTS ADOPT SUSTAINABILITY RATING TOOL |
| 2019 - Present | Virtual Reality and Gamification Platform for Engineering and TVET Learning in University 4.0 |
| 2019 - Present | Seamless contracting and contractual provisions framework to reinforce BIM collaborative and integrative environment in the Malaysian construction industry |
| 2015 - Present | Improving the Uses of the Bills of Quantities in the Malaysian Construction Industry |
| 2007 - Present | A Study to Estimate the Labour Productivity Rates for the Following Building Trades: Internal Floor Finishes, Internal Wall Finishes, Internal Ceiling Finishes |
| 2007 - Present | A Study to Estimate the Labour Productivity Rates for the Following Building Trades: Internal Floor Finishes, Internal Wall Finishes and Internal Ceiling Finishes |
Award & Recognition
| | | |
| --- | --- | --- |
| 31 Jul, 2017 | Murabbi Award 2017 - International Islamic University Malaysia | University |
Publications
Article
| | |
| --- | --- |
| 2023 | Anjung Rimbun: revitalisation of al-Ghazali road and SHAS mosque lower courtyard. Design Ideals Journal, 5 (1) pp. 32-37 |
| 2023 | Journey of light. Design Ideals Journal, 5 (1) pp. 38-42 |
| 2023 | Revitalisation of al-Ghazali walk & courtyard design. Design Ideals Journal, 5 (1) pp. 25-31 |
| 2020 | A generic process of documentation and data management for historical Malay architecture using BIM. Planning Malaysia Journal of the Malaysian Institute of Planners, 18 (2) pp. 73-84 |
| 2020 | Recreating historical Malay architecture with BIM process. International Journal of Built Environment and Sustainability, 7 (2) pp. 79-89 |
| 2019 | BIM backed decision support system in the management of heritage building. International Journal of Built Environment and Sustainability, 6 (2) pp. 71-79 |
| 2019 | Spatial analysis on Malay buildings for categorization of Malay historic BIM library. International Transaction Journal of Engineering, Management, & Applied Sciences & Technologies, 11 (2) pp. 1-17 |
| 2018 | Heritage building preservation through building information modelling: reviving cultural values through level of development exploration. Journal of the Malaysian Institute of Planners, 16 (2) pp. 62-72 |
| 2018 | Heritage building preservation through building information modelling: reviving cultural values through level of development exploration. Planning Malaysia Journal of the Malaysian Institute of Planners, 16 (2) pp. 62 -72 |
| 2018 | Heritage building preservation through building information modellling: reviving cultural values through level of development exploration. Planning Malaysia Journal of the Malaysian Institute of Planners, 16 (2) pp. 62-72 |
| 2018 | Historic Building Information Modelling (HBIM) for Malaysian construction industry. Planning Malaysia: Journal of the Malaysian Institute of Planners, 16 (3) pp. 332-343 |
| 2017 | Advocating sustainable building paradigm through value management. Journal of Design and Built Environment, 17 (Special Issue) pp. 95-106 |
Conference or Workshop Item