Staff Directory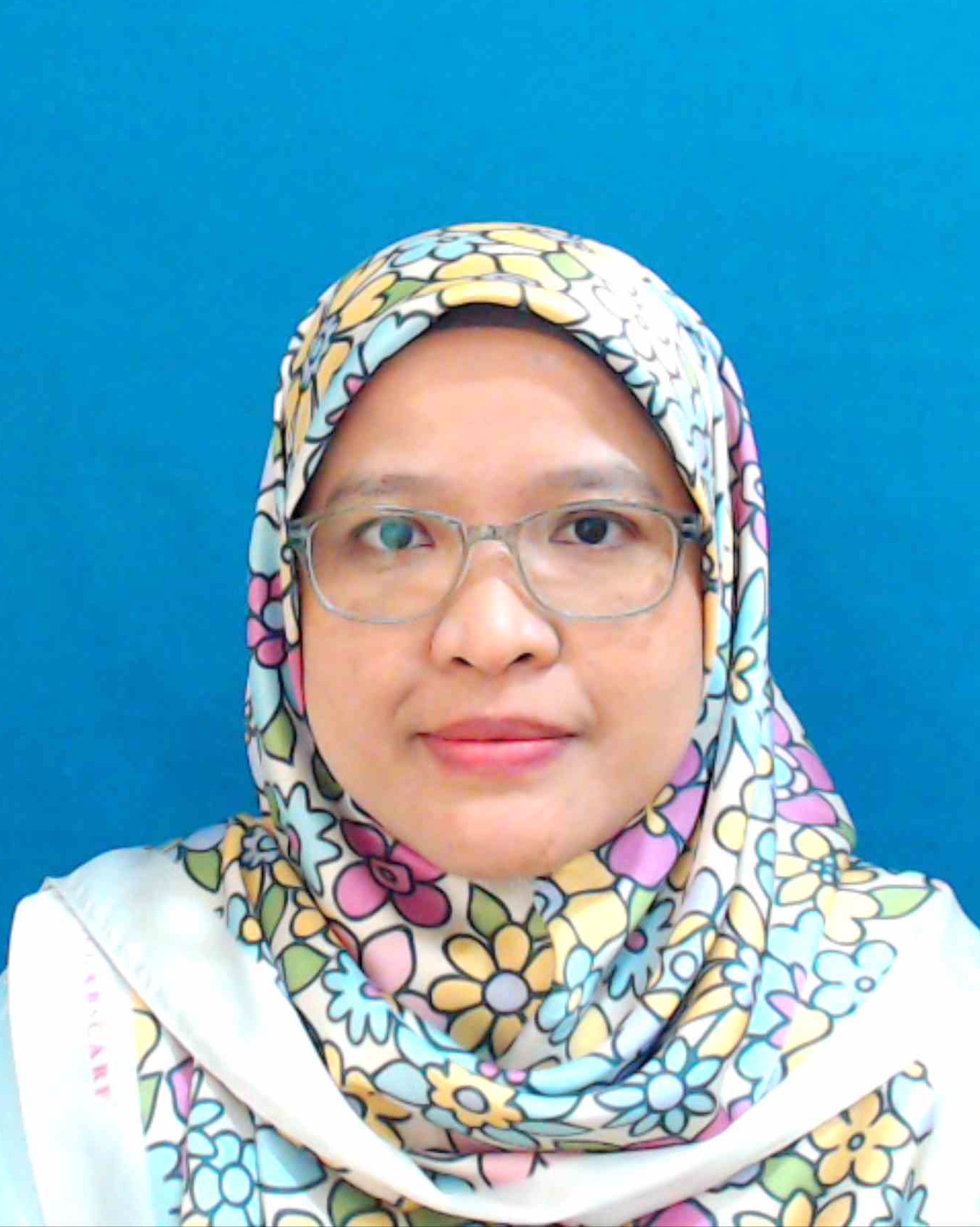 Academic Qualification
Ph.D in Midwifery - Doctor of Philosophy, University of Stirling
Ijazah Sarjana Sains Kejururawatan - Masters Degree, Universiti Malaya (UM)
Bachelor of Health Science (Nursing)(Honours) - Bachelor Degree, Universiti Sains Malaysia (USM)
Siti Roshaidai Binti Mohd Arifin (Assoc. Prof. Dr.)
Associate Professor
IIUM Kuantan Campus
KULLIYYAH OF NURSING

Other's position:
Head, Kulliyyah of Nursing
---
roshaidai@iium.edu.my
7203
Expert Profile
Dr. Siti Roshaidai is an Associate Professor at Kulliyyah of Nursing, International Islamic University Malaysia. She obtained her Bachelor's Degree from University Science Malaysia, Master's Degree from University of Malaya, and PhD from University of Stirling, United Kingdom. She has keen interest in issues related to maternal mental health, postnatal wellbeing, and qualitative study. Dr Roshaidai was awarded with the High Impact Responsible Research Awards (Medical and Health Sciences) in the IIUM Takrim 2020 and in Research & Innovation Appreciation Day 2022. She also is the recipient of Top 30 Contributors to IIUM's Research Performance in 2022, 2021 and 2020
.
She
has held several administrative positions in the university including Deputy Dean,
Head of Department and
Islamization of Human Knowledge
Coordinator.
Dr Roshaidai has published in various indexed journals, secured several grants and consultation projects, and has reviewed book, conference papers and journal articles. 
Dr Roshaidai is also a member of the Board of Advisers for the International Forum for Wellbeing in Pregnancy (IFWIP), professional member of Postpartum Support International, and member of Malaysian Nursing Association and Qualitative Research Association Malaysia. Apart from teaching and supervising Master and PhD students, Dr. Roshaidai has been actively involved with flagship activities at the university level.
Area of Specialisation
Medical And Health ~ Medical And Health Sciences ~ Nursing ~ Nursing Care - 1. Master of Nursing Science ; 2. Postnatal Depression
Medical And Health ~ Medical And Health Sciences ~ Other Medical and Health Sciences n.e.c. - Midwifery
Professional Membership
2017 - 2024: Member of Profesional Body / Association: (Member), Nursing And Midwifery Board Malaysia
2017 - 2038: Member of Profesional Body / Association: (Member), Malaysian Nurses Association
2017 - 2024: Member of Profesional Body / Association: (Member), Qualitative Research Association Malaysia
2019 - 2020: Member of Profesional Body / Association: (Member), Malaysian Nursing Council
2020 - 2022: Member of Profesional Body / Association: (Professional Provider), Postpartum Support International
2020 - 2021: Member of Profesional Body / Association: (Member), Asia Pacific Women Inventors and Innovators Network (APWIIN)
2022 - 2023: Member of Profesional Body / Association: (Teacher), American Psychological Association
Teaching Responsibilities
| | |
| --- | --- |
| COMMUNITY HEALTH NURSING 1 | 2016/2017 2012/2013 2011/2012 |
| COMMUNITY HEALTH NURSING PRACTICE | 2017/2018 |
| COMMUNITY NURSING 1 | 2008/2009 |
| COMMUNITY NURSING 3 | 2008/2009 |
| DISCOVERY OF SPECIALIZATION IN NURSING | 2022/2023 2020/2021 |
| ELECTIVE POSTING | 2011/2012 |
| FAMILY MANAGEMENT AND PARENTING | 2012/2013 2011/2012 |
| FINAL YEAR RESEARCH PROJECT I | 2022/2023 2021/2022 2020/2021 2019/2020 |
| FINAL YEAR RESEARCH PROJECT II | 2022/2023 2021/2022 2020/2021 2019/2020 |
| FUNDAMENTAL NURSING PRACTICE | 2018/2019 2017/2018 |
| GYNAECOLOGICAL NURSING | 2016/2017 2008/2009 |
| INNOVATION IN NURSING | 2019/2020 |
| INTEGRATED NURSING PRACTICE | 2016/2017 |
| INTEGRATED NURSING PRACTICE (FINAL PROFESSIONAL EXAMINATION) | 2017/2018 |
| INTEGRATED NURSING SCIENCES | 2016/2017 |
| INTEGRATED NURSING SCIENCES (FINAL PROFESSIONAL EXAMINATION) | 2017/2018 |
| INTEGRATED NURSING SCIENCES(FINAL PROFESSIONAL EXAMINATION) | 2019/2020 |
| ISSUES IN NURSING | 2018/2019 |
| MATERNAL-NEWBORN AND GYNAECOLOGICAL NURSING | 2022/2023 |
| MATERNAL-NEWBORN AND GYNAECOLOGICAL NURSING PRACTICE | 2022/2023 |
| MATERNAL-NEWBORN NURSING & WOMEN'S HEALTH PRACTICE | 2020/2021 |
| MATERNAL-NEWBORN NURSING AND WOMEN?S HEALTH | 2020/2021 2019/2020 2018/2019 |
| OBSTETRIC NURSING | 2017/2018 2016/2017 2012/2013 2011/2012 |
| PROFESSIONAL NURSING | 2012/2013 2011/2012 |
| RESEARCH PROJECT FINAL | 2018/2019 2017/2018 2016/2017 |
| RESEARCH PROJECT PROPOSAL | 2018/2019 2017/2018 2016/2017 |
| SPECIALIZED CARE NURSING PRACTICE 1 | 2016/2017 |
| THEORY, ETHICS AND PROFESSIONALISM IN NURSING | 2018/2019 |
Research Projects
Completed
| | |
| --- | --- |
| 2022 - 2022 | RESEARCH ON REVIEW AND MAPPING OF MENTAL HEALTH AND PSYCHOSOCIAL SUPPORT SERVICES IN MALAYSIA |
| 2021 - 2022 | Improving maternal mental health in South East Asia through assets-based approaches |
| 2020 - 2022 | Healthy Lifestyle Modification Programme: Smoking Cessation |
| 2020 - 2022 | Healthy Lifestyle Modification Programme: Smoking Cessation |
| 2020 - 2022 | Healthy Lifestyle Modification Programme: Weight Reduction |
| 2019 - 2022 | Dietary management of urinary tract stone patient: An introduction guidelines of Malaysia context |
| 2019 - 2022 | Postnatal mental illness: towards designing an assessment tool for Malaysian mothers |
| 2018 - 2020 | EMPOWERING NURSES TO ASSIST HOSPITALIZED MUSLIM PATIENTS TO PERFORM FIVE TIMES DAILY PRAYERS (SALAH) |
| 2016 - 2020 | Recognition of perinatal depression: Exploring healthcare professionals and women?s knowledge and awareness. |
| 2011 - 2014 | RU 2011 -Socio-demographic factors, social support and risk of postpartum depression in Temerloh< Pahang. |
On-Going
| | |
| --- | --- |
| 2023 - Present | The Community Mental Health (CMH) Program as a Sustainable Community Based Mental Health Program for community Well-being Focuses on Mental Health Impacted by the COVID-19 Pandemic in a Balok Fishing Village, Kuantan, Pahang |
| 2022 - Present | A web-based self-help intervention (Mama OK Kit) for Perinatal Depression and Anxiety: The effectiveness and women?s experiences |
| 2022 - Present | A critical assessment of parental knowledge and practices in delivering sexuality health information to their adolescents. |
| 2022 - Present | Development of a spouse-inclusive framework for digital self-care management of perinatal depression and anxiety |
| 2021 - Present | Exploring the Readiness of Household Members Living with a High Risk of Sudden Cardiac Arrest Person to Initiate Rescue. |
| 2021 - Present | A Cross-Sectional Study on Patient Satisfaction on healthcare service quality at selected Major Outpatient Clinics at Sultan Ahmad Shah Medical Centre and IIUM FHC Kuantan Pahang |
| 2021 - Present | Clitoral Hood Anatomical, Variation and Its Relation to Clitoral Hood Adhesion, Clitoral Discharge, Sexual Satisfan and Female Circumcision |
| 2021 - Present | Clitoral Hood Anatomical, Variation and Its Relation to Clitoral Hood Adhesion, Clitoral Discharge, Sexual Satisfan and Female Circumcision |
| 2020 - Present | Improving Maternal Mental Health in Indonesia-Malaysia through Assets Based Approaches |
| 2019 - Present | Mobile application for promoting physical activity during pregnancy: A model to reduce antenatal, intrapartum and postpartum complications |
| 2018 - Present | The Post of Expert NVivo Analysis and Consultation |
Award & Recognition
| | | |
| --- | --- | --- |
| 25 Feb, 2023 | Silver Medal - IKRAM Akademia | National |
| 30 May, 2022 | High Impact Responsible Research Award (Medical and Health Sciences) 2021 - International Islamic University Malaysia | University |
| 30 May, 2022 | Top 50 Contributors to IIUM'S Research Performance 2022 - International Islamic University Malaysia | University |
| 17 Dec, 2021 | Top Contributors to KON?s Research Performance, KON Takrim Day 2021 - Kulliyyah of Nursing | KCDIO |
| 17 Dec, 2021 | Special Recognition Award Long Service (15 years), KON Takrim Day 2021 - Kulliyyah of Nursing | KCDIO |
| 17 Dec, 2021 | Journal Article Publication Award, KON Takrim Day 2021 - Kulliyyah of Nursing | KCDIO |
| 27 Jul, 2021 | Top 30 Contributors to IIUM'S Research Performance - International Islamic University Malaysia | University |
| 10 Dec, 2020 | Inspiring Alumni - University Science of Malaysia | National |
| 03 Dec, 2020 | Top 20 Contributors to KON's Research Performance - Kulliyyah of Nursing | KCDIO |
| 03 Dec, 2020 | Special Recognition Award (Long Service more than 10 years) - Kulliyyah of Nursing | KCDIO |
| 03 Dec, 2020 | Journal Article Publication Award - Kulliyyah Of Nursing | KCDIO |
| 03 Dec, 2020 | Highest Citation in Indexed Journal Award - Kulliyyah of Nursing | KCDIO |
| 09 Jul, 2020 | High Impact Responsible Research Award (Medical and Health Sciences) - International Islamic University Malaysia | University |
| 09 Jul, 2020 | Top 30 Contributors to IIUM'S Research Performance - International Islamic University Malaysia | University |
| 11 Mar, 2020 | Pingat Gangsa, Minggu Penyelidikan dan Inovasi - Others | National |
Publications
Article
| | |
| --- | --- |
| 2023 | Application of group positive psychotherapy to improve psychological well-being for people with HIV in Papua. Bali Medical Journal, 12 (1) pp. 261-266 |
| 2023 | Breastfeeding during COVID-19: a qualitative synthesis. Breastfeeding Review, 31 (2) pp. 15-23 |
| 2023 | Genetic and maternal factors in Hyperemesis Gravidarum: a systematic review. Journal of Health and Translational Medicine (JUMMEC), 26 (1) pp. 38-48 |
| 2023 | Stone diet and dietary change: understanding determinants for dietary change behaviour in patients following urinary stones. Journal of Human Nutrition and Dietetics, () pp. |
| 2022 | Assessment tools to measure postnatal mental illness: a 10-year scoping review. Malaysian Family Physician 2022, 17 (2) pp. |
| 2022 | Depression, anxiety, and behavioural changes during the Covid-19 pandemic among medical and nursing students. International Journal of Mental Health Promotion, () pp. |
| 2022 | Depression, anxiety, and physical activity among antenatal women during COVID-19 pandemic. International Journal of Public Health Science (IJPHS), () pp. 1288-1295 |
| 2022 | Designing a spouse-based educational intervention module to reduce second-hand smoke in pregnant women: a study protocol. International Journal of Care Scholars, 5 (2) pp. 12-19 |
| 2022 | Exploring the views of healthcare practitioners on postnatal mental illness screening among Malaysian women. The Malaysian Journal of Medicine and Health Sciences (MJMHS), 18 (Supp 19) pp. 66-72 |
| 2022 | Genetic and maternal factors in Hyperemesis Gravidarum: a systematic review. Journal of Health and Translational Medicine (JUMMEC), () pp. |
| 2022 | Knowledge and attitude towards breastfeeding among fathers working at higher learning institutions in the east coast of Malaysia. Jurnal Islam dan Masyarakat Kontemporari (JIMK), 23 (1) pp. 236-243 |
| 2022 | Naikkan syarat kelulusan minimum jururawat. Berita Harian, 5 Oct 2022 () pp. |
| 2022 | Preventive interventions to reduce second-hand smoke exposure among non-smoking pregnant women: a systematic review. International Medical Journal Malaysia, 22 (2) pp. 12-20 |
| 2022 | The effectiveness of Islamic input in medical practice (IIMP) in improving the knowledge, attitude, and practice among medical students in Malaysia: a 5-year prospective study. IIUM Medical Journal Malaysia, 21 (1) pp. 78-82 |
| 2022 | Understanding doctors' and nurses' roles in the Islamic medical practice and rukhsah solah in a Shariah-compliant hospital. Malaysian Journal of Medicine and Health Sciences (MJMHS), 18 (Supp 19) pp. 93-98 |
| 2022 | Understanding the healthcare practitioners' experience in managing women with postnatal depression: a qualitative study in Malaysia. IIUM Medical Journal Malaysia, 21 (2) pp. 95-105 |
| 2021 | Emosi wanita hamil ketika Covid-19. Utusan Malaysia, 3 December 2021 () pp. |
| 2021 | Exploring women's perceptions and experiences of menopause among East Coast Malaysian women. Malaysian Family Physician, 16 (1) pp. 84-92 |
| 2021 | Knowledge, attitude, and practice of Rukhsah in prayer among undergraduate students at International Islamic University Malaysia Kuantan campus. International Journal of Care Scholars, 4 (2) pp. 3-7 |
| 2021 | Knowledge, awareness and dietary practice on urolithiasis among general population in Kuantan, Pahang, Malaysia: Preliminary findings (journal). Journal of Public Health Research, 10 (2) pp. |
| 2021 | Membentuk masyarakat mampan pasca pandemik. Tinta Minda BERNAMA, 22 Nov 2021 () pp. |
| 2021 | Prevalence and factors associated with the depressive and anxiety symptoms amongst antenatal women. IIUM Medical Journal Malaysia, 20 (1) pp. 3-10 |
| 2021 | The Malaysian women's experience of care and management of postnatal depression. Clinical Practice and Epidemiology in Mental Health, 17 () pp. 10-18 |
| 2021 | The understanding of Doctors and Nurses' Roles in Islamic Medical Practice and 'Rukhsah Salah' in a Shariah Friendly Hospital. Malaysian Journal of Medicine and Health Sciences Vol.17 Supp 5, 17 (5) pp. 47-47 |
| 2020 | Anxiety and depression among women living with HIV: prevalence and correlations. Clinical Practice & Epidemiology in Mental Health, 16 () pp. 59-66 |
| 2020 | Being voiceless: a review on patient communication in intensive care unit. Systematic Reviews in Pharmacy, 11 (12) pp. 1328-1333 |
| 2020 | Breastfeeding wages according to Al Quran and Al Sunnah. International Journal of Psychosocial Rehabilitation, 24 (4) pp. 2522-2529 |
| 2020 | Conceptualisation of postnatal depression in Malaysia: the contribution of critical realism in exploring the understanding of women's and healthcare practitioners' perspectives = Conceptualización de la depresión posnatal en Malasia: la contribución Del realismo crítico en la exploración de la comprensión de las perspectivas de las mujeres y los profesionales de la salud. Opcion, 36 (Special Issue 26) pp. 1918-1939 |
| 2020 | Cross-cultural experience of maternal postnatal depression. International Journal of Psychosocial Rehabilitation, 24 (3) pp. 147-156 |
| 2020 | Exploring barriers of cardiovascular disease prevention among women with hypercholesterolemia. International Journal of Advanced Science and Technology, 29 (6) pp. 1545-1552 |
| 2020 | Healthcare practitioners' knowledge and awareness on perinatal depression in Kuantan, Pahang, Malaysia. International Journal of Psychosocial Rehabilitation, 24 (4) pp. 2530-2537 |
| 2020 | Knowledge and awareness of depression among perinatal women attending maternal and child health clinics: a cross sectional study. International Journal of Advanced Science and Technology, 29 (6) pp. 1553-1558 |
| 2020 | Knowledge and practice towards childhood immunization among parents in Rompin, Pahang, Malaysia. Journal of Critical Reviews, 7 (19) pp. 17-21 |
| 2020 | Model of Shariah governance for empowering Islamic non-governmental organisations in humanitarian mission. Hamdard Islamicus, 43 (1) pp. 1078-1089 |
| 2020 | Prevention and control of COVID-19 in pastoral community through One Health Approach. One Health, 11 () pp. 1-4 |
| 2020 | Review of professional values, self-efficacy and job satisfaction of obstetric nurses across job-related challenges. The Annals of Research, 6 () pp. 6-23 |
| 2020 | The implementation of Shariah compliant human milk bank for premature infants in Malaysia. Journal of Critical Reviews, 7 (16) pp. 1007-1012 |
| 2020 | The psychological impact of COVID-19 on antenatal women: a scoping review. IIUM Medical Journal Malaysia, 19 (2) pp. 9-19 |
| 2020 | The relationship of maternal knowledge about nutrition, to toddlers' growth and development, in Public Health Waena Perumnas I, Jayapura, Indonesia. International Journal of Innovation, Creativity and Change, 13 (12) pp. 1444-1454 |
| 2020 | Valsartan induced exanthematous macular skin lesions. Systematic Review in Pharmacy, 11 (6) pp. 1180-1181 |
| 2019 | Benefits of breast milk for health care: analysis from the Islamic perspective. Indian Journal of Public Health Research & Development, 10 (09) pp. 1846-1850 |
| 2019 | Benefits of breast milk for health care: analysis from the Islamic perspective.. Indian Journal of Public Health Research & Development, 10 (9) pp. 1846-1850 |
| 2019 | Breast milk expression for premature infant in the neonatal intensive care unit: A review of mothers' perceptions. Enfermeria Clinica, () pp. |
| 2019 | Cardiovascular disease awareness among women with hypercholesterolemia and their health seeking behavior – a qualitative study. International Journal For Studies On Children, Women, Elderly And Disabled People, 8 () pp. 13-18 |
| 2019 | Depression and HIV disease progression: A Mini-review. Clinical Practice and Epidemiology in Mental Health, 15 () pp. 153-159 |
| 2019 | Framework analysis: A worked example from a midwifery research. Enfermería Clínica, () pp. |
| 2019 | Framework analysis: A worked example from a midwifery research. Enfermeria Clinica, () pp. |
| 2019 | Healthcare practitioners' views of postnatal depression: a qualitative synthesis = Persepsi kakitangan kesihatan terhadap kemurungan selepas bersalin: sintesis kualitatif. Jurnal Sains Kesihatan Malaysia, 17 (1) pp. 73-82 |
| 2019 | Menopausal experience among postmenopausal women In Kuantan, Pahang - a qualitative study. Malaysian Family Physician, 14 (Supplement 2) pp. 14-14 |
| 2019 | Understanding of cardiovascular disease among patients with hypercholesterolemia – a qualitative exploration. Malaysian Family Physician, 14 (Supplement 2) pp. 6-6 |
| 2018 | Ethical considerations in qualitative study. International Journal of Care Scholars, 1 (2) pp. 30-33 |
| 2018 | Review of the prevalence of postnatal depression across cultures. AIMS Public Health, 5 (3) pp. 260-295 |
| 2018 | The context of postnatal depression in Malaysia: an overview. The Malaysian Journal of Nursing, 10 (1) pp. 0-0 |
| 2017 | The perceptions of married men on breastfeeding practice. International Journal of Public Health and Clinical Sciences (IJPHCS), 4 (2) pp. 95-109 |
| 2016 | The contribution of a critical realist approach to understanding the symptoms and causal explanations of postnatal depression in Malaysia. International Journal of Qualitative Methods, 15 (1) pp. 5-5 |
| 2014 | Postnatal depression: An understanding of Malaysian perspectives. International Journal of Technical Research and Applications, Special Issue edition (7 (International Conferences, Nov-2014 (ICASS))) pp. 66-70 |
| 2014 | Postpartum depression in Malaysian women: the association with the timing of pregnancy and sense of personal control during childbirth. International Journal of Academic Research, 6 (3) pp. 143-149 |
Conference or Workshop Item
| | |
| --- | --- |
| 2023 | Perinatal mental health research in Malaysia: where are we?. In: International Perinatal Mental Health Seminar 2023, |
| 2023 | Review And Mapping Of Mental Health And Psychosocial Support Services In Malaysia. In: Ilmu Hasanah, |
| 2022 | Healthy lifestyle campaign and smoking cessation programme among factory workers during Covid-19. In: Virtual Medical Research Symposium 2022, |
| 2022 | Healthy lifestyle campaign and smoking cessation programme among factory workers during COVID-19. In: Virtual Medical Research Symposium 2022, |
| 2022 | Pregnancy physical activity questionnaire: translation, validity, and Reliability of a Malay version (PPAQ-M) during Covid-19. In: Virtual Medical Research Symposium 2022, |
| 2021 | Knowledge of Islamic medical practice among nursing and medical students in Kuantan, Pahang.. In: 3rd World Congress on Integration and Islamicisation 2021, |
| 2021 | The understanding of doctors and nurses' roles in Islamic medical practice and 'Rukhsah Salah' in a shariah friendly hospital. In: 3rd World Congress on Integration and Islamicisation 2021, |
| 2021 | The Understanding of Doctors and Nurses' Roles in Islamic Medical Practice and Rukhsah Solat in a Shariah Friendly Hospital. In: 3rd World Congress on Integration and Islamicisation 2021, |
| 2020 | 10 tips to keep healthy lifestyle for busy people. In: Healthy Lifestyle Modification: Smoking Cessation, Weight Reduction Programme & Stress Management At Workplace, |
| 2020 | Ibu serabai anak terabai. In: Siri Webinar 2020: Komuniti Sejahtera, |
| 2020 | Knowledge, awareness and dietary practice on urolithiasis among general population in Kuantan, Pahang, Malaysia: preliminary findings. In: 1st International Nursing and Health Sciences Symposium (INHSS), |
| 2020 | Managing women with postnatal depression: perceptions of Malaysian healthcare practitioners. In: GLOW 2020 Conference: Implementing Respectful Care: Science and Practice, |
| 2020 | Not all counts can be counted: qualitative approach In midwifery research. In: Nursing Science Researcher Society of Malaysia (NSRSM) Webinar 2020, |
| 2020 | Valsartan induced exanthematous macular skin lesions. In: Kuantan Research Day 2020: A National Online Event for E-poster Presentation, |
| 2019 | Being voiceless: a review on patient communication in intensive care unit. In: 4th International Conference on Global Health (ICGH) in conjunction with the 7th Asian International Conference in Humanized Health Care (AIC-HHC) 2019, |
| 2019 | Cardiovascular disease awareness among women with hypercholesterolemia and their health seeking behavior: A qualitative study. In: 9th Putrajaya International Conference on Children, Women, Elderly and People with Disabilities (PICCWED 9), 2 – 3 November 2019. Bangi Resort Hotel, Bandar Baru Bangi, Malaysia, |
| 2019 | Knowledge and practice of parents towards childhood immunization in Rompin, Pahang, Malaysia. In: International Conference on Pharmaceutical Research and Pharmacy Practice cum 14th IIUM-MPS Pharmacy Scientific Conference, |
| 2019 | Knowledge and practice towards childhood immunization among parents in Rompin , Pahang, Malaysia. In: International Conference on Pharmaceutical Research and Pharmacy Practice cum 14th IIUM-MPS Pharmacy Scientific Conference (ICPRP 2019), |
| 2019 | Menopausal experience among postmenopausal women in Kuantan, Pahang - A qualitative study. In: 7 Asia Pacific Primary Care Research Conference, |
| 2019 | Menopausal experience among postmenopausal women in Kuantan,Pahang—a qualitative study. In: 7th Asia Pacific Primary Care Research Conference, |
| 2019 | Prevalence and factors associated with the development of mental health disorders among pregnant mothers. In: International Conference of Pharmaceutical Research and Pharmacy Practice cum 14th IIUM-MPS Pharmacy Scientific Conference (ICPRP 2019), |
| 2019 | Understanding of cardiovascular disease among patients with hypercholesterolemia – a qualitative exploration. In: 7th Asia Pacific Primary Care Research Conference, |
| 2018 | Grounded theory and phenomenology. In: Teaching and Learning Activity for Postgraduate Course Semester 2 2017/2018 Session, |
| 2018 | Healthcare practitioners' views of postnatal depression: a qualitative synthesis. In: Global Public Health Conference 2018, |
| 2018 | Panel discussion: emotional symptoms of behavioural disorders & understanding the tried-and-tested ways of managing our women. In: International Symposium for Nurses and Caregivers (ISNC) 2018, |
| 2017 | Childbirth preparation simulation: stages of labour. In: Nursing Simulation Festival 2017 in conjunction with IIUM World Prosumer 2017, |
| 2017 | Childbirth: the power of human creator. In: IIUMMC Childbirth Simulation Workshop, |
| 2017 | Managing women with postnatal depression: Perceptions of the healthcare practitioners in Malaysia. In: 9th International Qualitative Research Conference, |
| 2017 | My baby is coming. In: Childbirth Preparation Workshop, |
| 2016 | Perceptions of postnatal depression by healthcare practitioners in Malaysia. In: Postgraduate Research Conference 2016, |
| 2015 | A qualitative study of women's perspectives on postnatal depression in Malaysia. In: School of Health Sciences Postgraduate Student Conference, |
| 2015 | Postnatal depression across cultures: a qualitative study in Malaysia. In: Nursing Midwifery and Allied Health Professions (NMAHP) Research Unit Conference, |
| 2013 | Personal control related to childbirth satisfaction among postpartum mothers in Hospital Tengku Ampuan Afzan (HTAA) . In: IIUM Research, Invention and Innovation Exhibition 2013 , |
| 2013 | Sociodemographic factors, social support and risk of postpartum depression (PPD) among postpartum women at Hospital Sultan Haji Ahmad Shah, Temerloh. In: IIUM Research, Invention and Innovation Exhibition 2013 , |
| 2012 | Pospartum depressive symptoms: an associaiton with pregnancy planning and childbirth experience. In: International Nursing Research Conference 2012, |
| 2011 | Postpartum depressive symptoms : association with pregnancy planning and childbirth experience. In: International Health Conference IIUM 2011 , |
Book
Book Section
Monograph