Staff Directory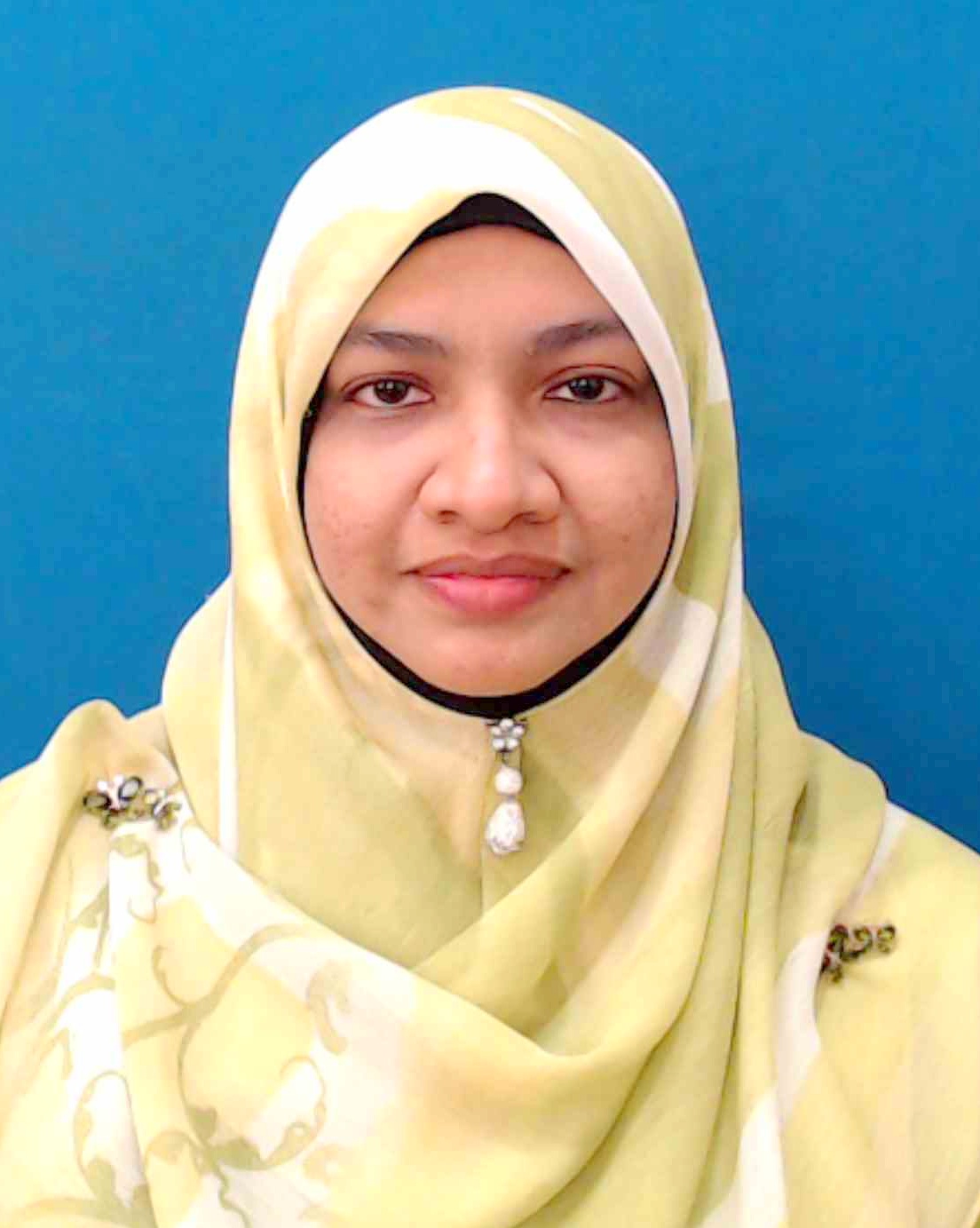 Academic Qualification
Biomedical Science - Doctor of Philosophy, University of Nottingham
Medical Sciences - Masters Degree, International Islamic University Malaysia
Science in Biomedical Science - Bachelor Degree, Universiti Kebangsaan Malaysia (UKM)
Roslina Binti Abdul Rahim (Assoc. Prof. Dr.)
Associate Professor
IIUM Kuantan Campus
KULLIYYAH OF MEDICINE

Other's position:
Head, Kulliyyah of Medicine
---
roslinaar@iium.edu.my
4505
Expert Profile
Dr Roslina Abdul Rahim graduated from Universiti Kebangsaan Malaysia with Bachelor of Science (Biomedical Science) in 2003. In 2007, she obtained Master of Medical Sciences (Physiology) from International Islamic University Malaysia and received the 'Best Student Award'. In July 2011 she was awarded Ph.D in Biomedical Science from University of Nottingham, United Kingdom. While studying in University of Nottingham (2010), Dr Roslina received an 'Early Researcher of Excellence Award' from the School of Biomedical Sciences, University of Nottingham due to her outstanding performance at International conferences. She have presented her research works at British association for the study of liver disease (BASL) (Imperial College London, 2009); International Liver Congress (ILC) (Copenhagen, 2009; Berlin, 2011) and American association for the study liver of liver disease (AASLD) (Boston, 2009).
Currently, she is working as Assistant Professor of Physiology, at the Department of Basic Medical Science, Kulliyyah of Medicine, International Islamic University Malaysia. She has been teaching Physiology for 6 years specializing on Human Physiology in undergraduate and postgraduate students. At the present moment, she is also actively supervising postgraduate students in research areas related to non-alcoholic steatohepatitis and acute kidney disease animal model and the effects of Tualang Honey and Habbatus Sauda supplementation on these conditions. She currently writing a text book entitle 'Physiology of the Respiratory System' that will be published soon under IIUM Press.
Other than that, she also hold several position in department and also Kulliyyah which are Chairman, BMS-PALM Occupational Safety & Health (OSH) (6 OCT 2016- to date); Deputy Chairman & OSHMR, Kulliyyah Of Medicine Safety & Health Committee (KOM-SHC). (28 SEPT 2016 to date); Liaison Officer, BMS ISO Quality Assurance Unit. (1 SEPT 2015 TO DATE). Y1 & Y2 Student Attendance Coordinator, KOM, IIUM (17 DEC 2012 - TO DATE); Deputy Chairman, BMS-PALM Occupational Safety & Health (OSH). (1 APR 2015- 5 OCT 2016); Y1B1 BLOCK COORDINATOR 2012-2015. She was also a member of European Association for the Study of the Liver (EASL) (2011, 2015-TO DATE).
Area of Specialisation
Medical And Health ~ Medical And Health Sciences ~ Biomedical Sciences ~ Other Biomedical Sciences n.e.c.
Teaching Responsibilities
| | |
| --- | --- |
| PHYSIOLOGY OF THE CENTRAL NERVOUS SYSTEM II | 2023/2024 |
| RENAL PHYSIOLOGY | 2023/2024 |
Research Projects
Completed
| | |
| --- | --- |
| 2019 - 2022 | THE ASSOCIATION OF ANTROPOMETRIC CHARACTERISTICS, HORMONAL ALTERATION AND OVARIAN VOLUME IN POLYCYSTIC OVARIAN SYNDROME |
| 2018 - 2023 | Molecular Approach Of Attenuation Of Non-Alcoholic Steatohepatitis With Tualang Honey Supplementation In Animal Model |
| 2017 - 2021 | THE ASSOCIATION OF PERCEIVED STRESS SCORE AND QUALITY OF SLEEP ON THE BIOCHEMICAL PARAMETERS IN TYPE 2 DIABETES MELLITUS PATIENTS AT HOSPITAL PEKAN: A CASE-CONTROL STUDY |
| 2015 - 2018 | Molecular Mechanism of Tualang honey on 12% Cholesterol diet induced nonalcoholic steatohepatitis (NASH) animal model |
| 2014 - 2017 | The Effects of Tualang Honey on Non-Alcoholic Steatohepatitis in rat Model |
| 2014 - 2017 | The Effects of Nigella Sativa Oil Extract in Non-Alcoholic Steatohepatitis (NASH) Animal Model |
On-Going
| | |
| --- | --- |
| 2022 - Present | Understanding the antioxidant and anti-inflammatory role of tualang honey in weight reduction and changes to gut microbiota in diet-induced obese rats. |
| 2011 - Present | RU 2011 -Effect of black cumin seed oil (Nigella Sative) in non-alcoholic steatohepatitis (NASH) animal model. |
Award & Recognition
| | | |
| --- | --- | --- |
| 14 Dec, 2021 | BEST ORAL - 3RD PLACE - MEDICAL RESEARCH SYMPOSIUM, KULIYYAH OF MEDICINE, IIUM | KCDIO |
| 14 Dec, 2021 | BEST POSTER - 3RD PLACE - MEDICAL RESEARCH SYMPOSIUM, KULLIYYAH OF MEDICINE, IIUM | KCDIO |
| 10 Dec, 2021 | TOP RESEARCHERS WITH THE HIGHEST AMOUNT OF GRANT RECEIVED FROM 2019-2021 - RESEARCH MANAGEMENT CENTRE, IIUM | University |
| 24 Nov, 2021 | GOLD AWARD: THE EFFECTS OF TUALANG HONEY WITH OR WITHOUT DIET MODIFICATIONS ON SPERM PROFILE IN HIGH CHOLESTEROL DIET INDUCTION ANIMAL MODEL - IIUM RESEARCH DAY, RESEARCH MANAGEMENT CENTRE, IIUM | International |
| 05 Jan, 2021 | GOLD AWARD. LIPID PROFILES CHANGES IN 12% HIGH CHOLESTEROL DIET INDUCED NON-ALCOHOLIC STEATOHEPATITIS ANIMAL MODEL FOLLOWING SUPPLEMENTATION OF TUALANG HONEY AND DIET MODIFICATIONS - KUANTAN RESEARCH DAY, RESEARCH MANAGEMENT CENTRE, IIUM | National |
| 30 Oct, 2020 | BRONZE MEDAL; TIMING AND FORMAT OF NEW SYNCHRONOUS ONLINE ASSESSMENT: IIUM EXPERIENCE WITH PRECLINICAL MEDICAL STUDENTS; INTERNATIONAL PUTRA INNOCREATIVE POSTER COMPETITION - INTERNATIONAL PUTRA INNOCREATIVE CARNIVAL IN TEACHING AND LEARNING 2020 | International |
| 30 Oct, 2020 | BRONZE MEDAL; ASSOCIATION BETWEEN DURATION TO COMPLETE ONLINE ASSESSMENT AND STUDENT SCORE AMONG IIUM PRECLINICAL MEDICAL STUDENTS; INTERNATIONAL PUTRA INNOCREATIVE POSTER COMPETITION - INTERNATIONAL PUTRA INNOCREATIVE CARNIVAL IN TEACHING AND LEARNING 2020 | International |
| 30 Oct, 2020 | BRONZE MEDAL; CONTEXTUAL FACTORS INFLUENCING PERFORMANCE IN THE NEW SYNCHRONOUS ONLINE ASSESSMENT AMONG IIUM PRECLINICAL MEDICAL STUDENTS; INTERNATIONAL PUTRA INNOCREATIVE POSTER COMPETITION - INTERNATIONAL PUTRA INNOCREATIVE CARNIVAL IN TEACHING AND LEARNING 2020 | International |
| 30 Oct, 2020 | BRONZE MEDAL; NEW ONLINE ASSESSMENT AMONG IIUM PRECLINICAL MEDICAL STUDENTS: A FIRSTHAND EXPERIENCE; INTERNATIONAL PUTRA INNOCREATIVE POSTER COMPETITION - INTERNATIONAL PUTRA INNOCREATIVE CARNIVAL IN TEACHING AND LEARNING 2020 | International |
| 30 Oct, 2020 | BRONZE MEDAL; OUTCOME OF CONVENTIONAL AND ALTERNATIVE ASSESSMENT DURING ONLINE TEACHING AND LEARNING MODE BETWEEN OPEN BOOK AND RECALL TEST; INTERNATIONAL PUTRA INNOCREATIVE POSTER COMPETITION - INTERNATIONAL PUTRA INNOCREATIVE CARNIVAL IN TEACHING AND LEARNING 2020 | International |
| 30 Oct, 2020 | BRONZE MEDAL; USING A MOODLE-BASED PLATFORM FOR ONLINE ASSESSMENT DURING THE COVID-19 PANDEMIC: EXPECTATION VS REALITY; INTERNATIONAL PUTRA INNOCREATIVE POSTER COMPETITION - INTERNATIONAL PUTRA INNOCREATIVE CARNIVAL IN TEACHING AND LEARNING 2020 | International |
| 30 Oct, 2020 | BRONZE MEDAL;COMPARISON OF FAMILIARITY AND COMPETENCY IN USING ONLINE ASSESSMENT PLATFORMS AMONG LECTURERS BEFORE AND DURING MOVEMENT CONTROL ORDER PERIOD; INTERNATIONAL PUTRA INNOCREATIVE POSTER COMPETITION - INTERNATIONAL PUTRA INNOCREATIVE CARNIVAL IN TEACHING AND LEARNING 2020 | International |
| 02 Mar, 2019 | OUTSTANDING WOMEN AWARD IN HEALTH AND MEDICAL SCIENCE (PHYSIOLOGY) - VENUS INTERNATIONAL FOUNDATION | International |
| 01 Dec, 2009 | EARLY RESEARCHER OF EXCELLENCE AWARD - UNIVERSITY OF NOTTINGHAM | International |
| 25 Aug, 2007 | BEST STUDENT AWARD (ACADEMIC) FOR MASTER OF MEDICAL SCIENCE (PHYSIOLOGY) - INTERNATIONAL ISLAMIC UNIVERSITY MALAYSIA | University |
Publications
Article
| | |
| --- | --- |
| 2023 | Addressing stunting in children. The Health, 6 (46) pp. 28-28 |
| 2022 | The liver-brain axis take good care of your liver as it can influence brain function. The Health, 14 October 2022 () pp. 26-26 |
| 2022 | Tualang honey supplementation alleviates obesity and dyslipidaemia in high cholesterol diet induced non-alcoholic steatohepatitis animal model. IIUM Medical Journal Malaysia, 21 (4) pp. 105-113 |
| 2022 | Tualang honey's spermatoprotective effects in a model of high cholesterol diet-induced animals. PHARMACOPHORE, 13 (1) pp. |
| 2021 | Lipid profiles changes in 12% high cholesterol diet induced nonalcoholic teatohepatitis animal model following supplementation of Tualang honey and diet modifications. International Journal of Allied Health Sciences (IJAHS), 5 (1) pp. 2164 |
| 2021 | Microarray data analysis to identify differentially expressed genes and biological pathways associated with Tualang Honey supplementation in NASH animal model. Frontiers in Pharmacology, () pp. 222-223 |
| 2021 | Sperm morphology and testis histological changes in 12% high cholesterol diet administered rats following Tualang honey supplementation and diet modifications. Frontiers in Pharmacology, () pp. 203-203 |
| 2021 | Textbook writing in the academic world - more than meets the eye. IIUM Medical Journal Malaysia, 20 (4) pp. 1-2 |
| 2020 | A case-control study on association of perceived stress score and quality of sleep between type 2 diabetes mellitus patients and healthy adults. Pharmacy Practice and Research, 1 (1) pp. 111-119 |
| 2020 | Histopathological changes of the flaxseed extract on skin wound healing in diabetic rabbits. Open Access Macedonian Journal of Medical Sciences, 8 (A) pp. 881-892 |
| 2020 | The pursuit of Covid-19 animal models. IIUM Medical Journal Malaysia (IMJM), 19 (2) pp. 27-33 |
| 2019 | Non-alcoholic steatohepatitis animal model induction. World Journal of Pharmacy and Pharmaceutical Sciences, 8 (4) pp. 1523-1538 |
| 2019 | The effect of flaxseed extract on skin elasticity of the healing wound in rabbits. The International Medical Journal Malaysia, 18 (1) pp. 5-12 |
| 2018 | Early effects of high cholesterol diet on the kidney of an animal model. PONTE, 74 (3/1) pp. 168-178 |
| 2018 | The effect of flaxseed extract on skin elasticity of the healing wound in rabbit. Asian Journal of Medicine and Biomedicine, Supplementary 3 () pp. 109 |
| 2018 | Tualang honey effects on high cholesterol diet induced nonalcoholic steatohepatitis in an animal model. World Journal Of Pharmacy And Pharmaceutical Sciences, 7 (2) pp. 1383-1396 |
| 2017 | Early effects of high cholesterol diet on the kidney of an animal model. International Medical Journal Malaysia (IMJM), 16 (supp. 1) pp. 20 |
| 2017 | Renoprotective role of tualang honey against high cholesterol diet induced acute kidney diseases in an animal model. International Medical Journal Malaysia (IMJM), 16 (supp. 1) pp. 26 |
| 2017 | Renoprotective role of tualang honey against high cholesterol diet induced acute kidney diseases in an animal model. Journal of Applied Pharmaceutical Science, 7 (12) pp. 97-101 |
| 2016 | Clinical quiz: A man with chest pain. International Medical Journal Malaysia, 15 (1) pp. 118-119 |
| 2011 | Pioglitazone is anti-inflammatory in human liver and reduces stellate cell activation and proliferation. Journal of Hepatology, 54 (Supplement 1) pp. S7-S7 |
| 2009 | Effects of pioglitazone therapy on hepatic fatty acid synthesis, beta-oxidation and hepatic stellate cells: is the drug more than an insulin sanitizer. Hepatology, 50 (supp.4) pp. 763A-764A |
| 2009 | Molecular mechanisms underlying the effect of pioglitazone therapy in Non-Alcoholic Steatohepatitis (NASH). Journal of Hepatology, 50 (supp. 1) pp. S254 |
Conference or Workshop Item
| | |
| --- | --- |
| 2021 | Microarray data analysis to identify differentially expressed genes and biological pathways associated with Tualang Honey supplementation in NASH animal model. In: MSPP 34th Scientific Meeting 2021 Trailblazing The Translational Research, |
| 2021 | Sperm morphology and testis histological changes in 12% high cholesterol diet administered rats following Tualang honey supplementation and diet modifications. In: MSPP 34th Scientific Meeting 2021: Trailblazing The Translational Research, |
| 2021 | The effects of Tualang honey on sperm profile and follicular-stimulating hormone in high cholesterol diet induced animal model. In: Medical Research Symposium 2021, |
| 2021 | The effects of Tualang honey on sperm profile in high cholesterol diet induction animal model. In: Monash Initiate 2021 the Inaugural Monash International Health Science and Technology Conference, |
| 2021 | The effects of Tualang honey on sperm profile In mixed cholesterol diet administered rats. In: YSN-ASM International Scientific Virtual Conference (ISVC) 2021, |
| 2021 | The effects of Tualang honey with or without diet modifications on sperm profile in high cholesterol diet induction animal model. In: IIUM Research Day 2021: An International Online Event for Life Sciences, |
| 2021 | Tips and tricks FRGS grant. In: 2021 FRGS Submission Proposal Workshop, |
| 2021 | Tualang honey supplementation attenuates the lipid profile In high cholesterol diet induced non-alcoholic steatohepatitis animal model. In: Monash Initiate 2021 the Inaugural Monash International Health Science and Technology Conference, |
| 2020 | Association between duration to complete online assessment and student score among IIUM preclinical medical students. In: International Putra InnoCreative Carnival in Teaching and Learning 2020 (PicTL 2020), |
| 2020 | Comparison of familiarity and competency in using online assessment platforms among lecturers before and during movement control order period. In: International Putra InnoCreative Carnival in Teaching and Learning 2020 (PicTL 2020), |
| 2020 | Contextual factors influencing performance in the new synchronous online assessment among IIUM preclinical medical students. In: International Putra InnoCreative Carnival in Teaching and Learning 2020 (PicTL 2020), |
| 2020 | Let's get copyright today!. In: BMS MyRA Awareness Week 2020, |
| 2020 | Lipid profiles changes in 12% high cholesterol diet induced non-alcoholic steatohepatitis animal model following supplementation of Tualang honey and diet modifications. In: Kuantan Research Day 2020, |
| 2020 | Liver brain axis. In: International Webinar On Nutritional, Brain and Behaviour, |
| 2020 | New online assessment among IIUM preclinical medical students: a firsthand experience. In: International Putra Innocreative Poster Competition International Putra Innocreative Carnival in Teaching And Learning (PicTL 2020), |
| 2020 | Outcome of conventional and alternative assessment during online teaching and learning mode between open book and recall test. In: International Putra InnoCreative Carnival in Teaching and Learning 2020 (PicTL 2020), |
| 2020 | Physiology of reproduction & physiological changes in pregnancy. In: Preparatory Course for Medical Specialist Pre-entrance Examination (MedEx O&G) Obstetric & Gynaecology, |
| 2020 | Simple steps in publishing e-books. In: BMS MyRA Awareness Week 2020, |
| 2020 | Timing and format of new synchronous online assessment : IIUM experience with preclinical medical students. In: International Putra InnoCreative Carnival in Teaching and Learning 2020 (PicTL 2020), |
| 2020 | Using a Moodle-based platform for online assessment during the COVID-19 pandemic: expectations vs reality. In: International Putra InnoCreative Carnival in Teaching and Learning 2020 (PicTL 2020), |
| 2019 | Effects of flaxseed extract on skin wound healing in animal model. In: International Conference on Pharmaceutical Research and Pharmacy Practice cum 14th IIUM-MPS Pharmacy Scientific Conference (ICPRP 2019), |
| 2019 | Stress and poor quality of sleep: risk factors contributing to type 2 diabetes mellitus. In: 27th FAOBMB Conference 2019 and 44th Annual Conference of MSBMB: Biomolecules: Networks and Systems, |
| 2019 | The effect of tualang honey in chronic exposure of high cholesterol diet in animal model. In: 5th Medical Research Symposium, |
| 2018 | The association of perceived stress score and quality of sleep in type 2 Diabetes mellitus patients at Hospital Pekan. In: Diabetes Asia 2018 Conference, |
| 2018 | The effect of flaxseed extraction on skin elasticity of the healing wound in rabbit. In: 3rd ASEAN Congress on Medical Biotechnology and Molecular Biosciences, |
| 2017 | Pilot study: The association of perceived stress score and quality of sleep in type 2 diabetes mellitus patients at Hospital Pekan. In: Kulliyyah of Pharmacy Research Symposium 2017, |
| 2016 | Nigella sativa oil extracts improves dyslipidaemia in high fat diet (HFD) animal model. In: Medical Research Symposium & Pacific Partnership, |
| 2016 | Nigella sativa oil extracts improves dyslipidaemia in high fat diet (HFD) animal model. In: Medical Research Symposium & Pacific Partnership in conjunction with Kuantan Research Day 2016, |
| 2016 | Tualang honey improves non alcoholic steatohepatitis animal model. In: Medical Research Symposium & Pacific Partnership, |
| 2016 | Tualang honey improves non alcoholic steatohepatitis animal model. In: Medical Research Symposium & Pacific Partnership in conjunction with Kuantan Research Day 2016, |
| 2009 | Effects of pioglitazone therapy on hepatic fatty acid synthesis, beta-oxidation and hepatic stellate cells: is the drug more than an insulin sanitizer. In: BASL Meeting London 2009, |
Book
Book Section
Monograph