Staff Directory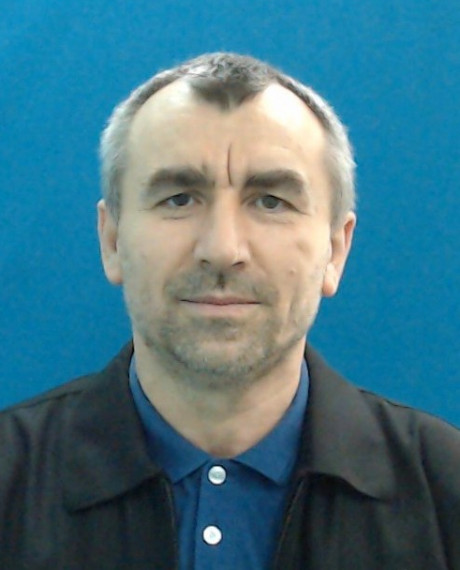 Academic Qualification
Ph.D in Usul Al-Din & Comparative Religion - Doctor of Philosophy, International Islamic University Malaysia
Master in Arabic Language & Literature - Masters Degree, International Islamic University Malaysia
Bachelor in Arabic Language & Linguistic - Bachelor Degree, International Islamic University Malaysia
Fatmir Shehu (Assoc. Prof. Dr.)
Associate Professor
IIUM Gombak Campus
KULLIYYAH OF ISLAMIC REVEALED KNOWLEDGE AND HUMAN SCIENCES

Other's position:
Deputy Director, International Institute for Muslim Unity
---
Expert Profile

Assoc. Prof. Dr. Fatmir Shehu 
Department of Usul al-Din and Comparative Religion, 
Kulliyyah of Islamic Revealed Knowledge and Human Sciences
INTERNATIONAL ISLAMIC UNIVERSITY MALAYSIA



Academic/Professional Qualifications

Ph.D. in Usul al-Din and Comparative Religion, IIUM, 2007 
M.A. in Arabic Linguistics, IIUM, 2002 
B.A. in Arabic Language & Literature, IIUM, 1999
Expertise
Inter-Religious Dialogue, Qur'anic and Sunnah Studies, Textual Studies, Comparative Religion, Religion and Modernization, Moral-Ethical Studies, Religious Thought, Mysticism, Theology.  
Research Interests 
Islamic & Religious Studies, Inter-Religious Dialogue, Qur'anic and Sunnah Studies, Comparative & Religious Ethics, Ethnic & Minority Studies, European Cultural Studies, and Peace & Tolerance.  
Emails: fatmir@iium.edu.my and shehu.fatmir@gmail.com 
Contact No.:
Office: 03-6421 5587    /  HP: 016-3989058
Profile
Dr. Fatmir Shehu (1973-....), an Albanian citizen, received his B.A (hons) and M.A. degrees from IIUM in Arabic Language/Linguistics and Ph.D. degree from IIUM in Usul al-Din and Comparative Religion. He has presented in many conferences hosted by different countries, like, Malaysia, Turkey, Austria, Albania, and so on. Also, he has written certain papers in the field of Inter-religious and Inter-Faith Coexistence and Dialogue, Comparative Religion, Religious Ethics, Sufism, Mysticism, Civilization. 
Among his publications: "Nostra Aetate and the Islamic Perspective of Inter-Religious Dialogue (Book-English-2008)"; "Ethics and Fiqh for Everyday Life: An Islamic Perspective (Book-English-2010);" "The Aspects of the Adverbs in the Qur'an. (Book, Arabic-2017);" "Bakr Abu Zayd's Methodology Towards the Concept of "Unity of Religion" through his Book al-Ibtal. (Book, Arabic-2017);" "Hiwar al-Adyan bayna al-Qur'an and al-Tatbiqat al-Muasirah (Arabic-2009);" "The Concept of Religious Experience: A Qur'anic Perspective (English-2009);" "The Impact of Istanbul on the Construction of Albania's Religious and Cultural Coexistence. (English-2010);" "

The Role of Religion in Shaping Moral Character: Islamic and Catholic Perspectives

(English-2011);"

 "THE MYSTICAL BEKTASHI ORDER: The Founder, Growth and Core of Its Teachings (English-2012);" "The Influence of Islam on Albanian Culture (English-2012);" "The Methodology of Ibn Hazm in Comparative Religion with Special Reference to his Master Piece al-Fasl Fi al-Milal wa al-Ahwaa' wa al-Nihal, (English-2013);" "Inter-religious Dialogue and Contemporary Peace-Building: From Hostility to Mutual Respect and Better Understanding (English-2014);" "Gender Equality and the Participation of Muslim Women in Education and Work: A Critical Analysis. (English-2015);" "The Awaited Mahdi and the Situation of Ummah: Analytical Study. (Arabic-2016);" "Islam - The future civilization of mankind: Challenges and Responses,
(English-2016);" 
"Methodology of Prophetic Da'wah and Its Relevance to Contemporary Global Society. (English-2017);" 
"The Concept of Europe as a cultural identity. (English-2017);" "The scholarship of inter-faith engagement in the writings of selected contemporary Muslim scholars. (English-2017);" "The role of inter-religious dialogue in promoting Islamic education to the Europeans. (English-2017);" "PAUL: The Transition from Nazarenism to Christianity. (English-2018);" "The Position of Shaikh Bakr Abu Zayd from the concept of "Unity of religions" (Arabic-2018);" "Deen al-Fitrah (Primordial religion): Nurturing Inter-Religious Dialogue and Beyond in al-Faruqi's Thoughts. (English-2018);" "A Critical and Analytical Study of Irfan Abdul Hamid Fattah's Book Judaism: A Historical Overview and Modern Movements in Judaism. (Arabic-2018);" "Revival of Islam through Tajdid (Renewal) and Islah (Reform) tendencies in the post-communist Albania. (English- 2019);" "'
Revisiting the Ancient Persian Religion of Zoroastrianism: Its Founder and Sacred Scripture.
(English-2020); and "
The Notion of "Islamic Unity" in the Thought of al-Imam Muhammad bin 'Abdu-Allah al-Khalili through Selected Texts from his Correspondences
. (Arabic-2020). 
Dr. Fatmir Shehu is appointed since 2019 as Chief Editor, South Asian Research Journal of Humanities and Social Sciences (SARJHSS), and as a Member of Editorial Team, since 2020, Journal of Al-Tajdid, KIRKHS, IIUM.  Besides, he has been appointed as a Reviewer by well-known journals. 
Dr. Fatmir Shehu has been appointed as IIUM Internationalisation Ambassador (Albania/Balkans/Kosovo/ Bosnia/Serbia/Macedonia) by the Rector of International Islamic University Malaysia under Deputy Rector (Internationalisation & Innovation and Community Relation), 1st October 2014 until 31st December 2015, and 1st July 2012 until 30th June 2013. He has been advisor to AQSA CLUB.


Dr. Fatmir Shehu is currently an Associate Professor at the Department of Usul al-Din and Comparative Religion, Kulliyyah of Islamic Revealed Knowledge & Human Sciences, International Islamic University Malaysia (IIUM). 
Area of Specialisation
Humanities ~ Humanities ~ Religious Studies ~ Christian Theology (Including Biblical Studies and Church History) - This are of expertise deals with the study of Christian major teachings and especially Christian theology. It covers the historical development of Christian Theology and the contribution of Paul towards the main Theological Concept of Christianity, like the Creeds, the Concept of Trinity, God - the Father, the Son, and the Holy Spirit, Original Sin, Redemption, Salvation, Eschatology, and the Sacraments. All these are considered as the fundamental teachings of Christianity.
Humanities ~ Humanities ~ Religious Studies ~ Religion and Modernisation - This Area of expertise deals with the Western Methodologies of Comparative Religion employed by the Western Scholars through their Historical, Philosophical, Anthropological, Sociological, Psychological, Phenomenological, Religious and Epistemological study of religion. These methodologies were developed starting with the Renaissance, Reformation, Enlightenment, and Modernism. Most of the scholars who used these methodologies in the study of religion made use of Darwin's theory of Evolution. Thus, religion is considered as a human product that evolved from the lowest stage to the highest one.
Humanities ~ Humanities ~ Religious Studies ~ Mysticism - This area of expertise deals with issues related with Mysticism as practiced by religious communities in general and the Muslim community in particular. A clear distinction is done between the approved and disapproved mysticism. What kind of mysticism is allowed to be followed and practiced as well as which type of mysticism is nullified.
Teaching Responsibilities
| | |
| --- | --- |
| COMPARATIVE ETHICS | 2019/2020 2018/2019 |
| COMPARATIVE RELIGION | 2016/2017 |
| ETHICS & FIQH FOR EVERYDAY LIFE | 2010/2011 2011/2012 2007/2008 2009/2010 2008/2009 020901 2012/2013 |
| ETHICS AND FIQH IN EVERYDAY LIFE | 2011/2012 2012/2013 2014/2015 |
| FAMILY MANAGEMENT & PARENTING | 2014/2015 2017/2018 2013/2014 2012/2013 2018/2019 2020/2021 2010/2011 2016/2017 2019/2020 2015/2016 2011/2012 |
| FINAL YEAR PROJECT I | 2019/2020 2020/2021 |
| FINAL YEAR PROJECT II | 2020/2021 |
| INDUSTRIAL TRAINING | 2019/2020 |
| INTER-RELIGIOUS DIALOGUE | 2021/2022 2018/2019 2020/2021 2019/2020 |
| INTRO. TO RESEARCH METHODOLOGY(ARABIC) | 2008/2009 |
| ISLAM AND RELIGIOUS PLURALISM | 2017/2018 |
| ISLAM, KNOWLEDGE & CIVILIZATION | 2008/2009 2013/2014 |
| ISLAMIC DA'WAH | 2017/2018 2018/2019 2020/2021 |
| ISLAMIC ETHICS | 2012/2013 |
| ISLAMIZATION OF KNOWLEDGE | 2019/2020 |
| ISSUES IN ISLAMISATION OF KNOWLEDGE | 2019/2020 |
| MAJOR THEMES IN REVEALED RELIGIONS: JUDAISM, CHRISTIANITY AND ISLAM | 2018/2019 2017/2018 |
| MAJOR THEMES IN REVEALED RELIGIOUS: JUDAISM, CHRISTIANITY AND ISLAM | 2016/2017 |
| METHODS OF DA'WAH | 2014/2015 2015/2016 2013/2014 2016/2017 2017/2018 2012/2013 |
| MUSLIM SCHOLARSHIP IN COMPARATIVE RELIGION | 2016/2017 2015/2016 |
| PRACTICUM | 2018/2019 |
| QUR'ANIC PERSPECTIVE OF OTHER RELIGIONS | 2011/2012 |
| QUR'ANIC VIEW OF OTHER RELIGION | 2015/2016 |
| READINGS IN COMPARATIVE RELIGION | 2018/2019 |
| RESEARCH PAPER I | 2018/2019 2019/2020 2020/2021 |
| RESEARCH PAPER II | 2020/2021 2019/2020 2018/2019 |
| STUDIES OF RELIGION | 2017/2018 2011/2012 |
| STUDY OF RELIGIONS | 2017/2018 |
| STUDY OF RELIGIONS I | 2014/2015 2012/2013 2013/2014 2015/2016 |
| STUDY OF RELIGIONS II | 2013/2014 |
| TEXTUAL READING IN COMPARATIVE RELIGION I (CLASSICAL) | 2014/2015 2016/2017 2015/2016 2017/2018 2013/2014 |
| TEXTUAL READING IN COMPARATIVE RELIGION II (CONTEMPORARY) | 2014/2015 |
| THE ISLAMIC WORLDVIEW | 2008/2009 2010/2011 2009/2010 2011/2012 2007/2008 |
| WESTERN METHODOLOGIES OF COMPARATIVE RELIGION | 2016/2017 2012/2013 2019/2020 2015/2016 2017/2018 2013/2014 2014/2015 2021/2022 2011/2012 2018/2019 2020/2021 |
| WESTERN SCHOLARSHIP IN COMPARATIVE RELIGION | 2014/2015 2017/2018 2018/2019 2016/2017 2019/2020 2020/2021 |
| WORLD RELIGIONS I | 2020/2021 2018/2019 2019/2020 2021/2022 |
Research Projects
Completed
| | |
| --- | --- |
| 2020 - 2020 | Islamic Worldview |
| 2016 - 2020 | A Study on Malaysia's Public Policies in Fostering Inclusive Development |
| 2016 - 2018 | The Concept of Europe as a Cultural and Religious Identity |
| 2016 - 2018 | Muslim Extremism with a Focus on the Concept of Takfir and from Western Perspective |
| 2016 - 2018 | A Survey on Islam and Liberalism |
| 2013 - 2014 | The Study of Zoroastrianism as a Religion |
| 2011 - 2011 | The Methodology Of Ibn Hazim In Comparative Religion With Special Reference To His Master Piece Al-Fasl Fi Al-Milal Wa Al-Ahwa' Wa Al-Nihal |
| 2011 - 2012 | The Influence of Islam on Albanian Culture |
| 2010 - 2011 | Saint Paul: The Tranasition of Nazarenism to Christianity |
| 2009 - 2009 | The Role of Religion in Shaping Contemporary Man's Everyday Moral Aspect of Character: An Islamic-Catholic Perspective |
| 2009 - 2010 | The scholarship of inter-faith Engagement with others in the writing of selected Comtemporary muslim scholars |
On-Going
| | |
| --- | --- |
| 2020 - Present | Key Elements of Religious Extremism during the Era of Early Civilisation: A Study of Select Concept |
| 2019 - Present | Revival of Islam through Tajdid (Renewal) and Islah (Reform) Tendencies in the Post-Communist Albania |
| 2017 - Present | The Contribution of Muslim Scholars in Comparative Religion: Selected Writings |
| 2017 - Present | Religious Communities and Belief Systems of the Pre-Islamic Arabian Society |
| 2016 - Present | Sikhs' Perception of Muslims: A Study of Peaceful Coexistence in Muslim-majority Society in Malaysia |
Award & Recognition
| | | |
| --- | --- | --- |
| 26 Jan, 2010 | Winer of Bronze Medal for Research/Invention: The Role of Religion in Shaping Contemporary Man's Everyday Moral Character: An Islamic-Catholic Perspective - IRIIE 2010, IIUM | University |
| 25 Aug, 2007 | The Best Student (Academic) Award For Doctor of Philosophy of IRKHS - IIUM | University |
Publications
Article
| | |
| --- | --- |
| 2021 | Exploring the ethical dimensions and principles of Raḥmatan Lil-ʿĀlamīn in contemporary context. Al-Itqan: Journal of Islamic Sciences and Comparative Studies, 5 (1) pp. 101-119 |
| 2021 | Inter-religious dialogue forum on happiness in times of trials: Covid-19 pandemic from the perspectives of Islam, Christianity and Buddhism. Revelation and science, 11 (1) pp. 40-41 |
| 2021 | Investigating Abū 'Īsā al-Warrāq's methodology in the study of Christian doctrine of trinity based on his al-Radd 'Alā al-Tathlīth (the response to trinity). Intellectual Discourse, 29 (1) pp. 131-148 |
| 2020 | Exploring al-Manhaj al-Qur'ani (The Qur'anic methodology) in dealing with other religions: an exegetical analysis of selected verses. Revelation and Science, 10 (1) pp. 23-37 |
| 2020 | Exploring the Prophet (PBUH)'s methodology in dealing with other religions based on selected historical incidents during the time of revelation. IIUM Journal of Religion and Civilisational Studies (IJECS), 3 (1) pp. 23-65 |
| 2020 | Revisiting the ancient Persian religion of Zoroastrianism: Its founder and sacred scripture. Al-Itqan: Journal of Islamic Sciences and Comparative Studies, 4 (1) pp. 5-23 |
| 2020 | مفهوم "الوحدة اإلسالمية" في فكر اإلمام محمد بن عبداهلل الخليلي من خالل النصوص المختارة من مراسالتو = The Notion of "Islamic Unity" in the thought of al-Imam Muhammad bin 'Abdu-Allah al-Khalili through selected texts from his correspondences. Al-Itqan: Journal of Islamic Sciences and Comparative Studies, 4 (1) pp. 233-260 |
| 2020 | مفهوم التجربة الدينية وخصائصها من المنظرين الغربي والإسلامي: جيفري لانغ نموذجا = The concept of religious experience and its characteristics from the western and Islamic perspectives: Jeffrey Lang as model = Konsep pengalaman beragama dan ciri-crinya dari perspektif barat dan Islam: Jeffrey Lang sebagai model. The Journal of Islam in Asia, 17 (1) pp. 128-171 |
| 2019 | Rizgjimi i Islamit nëpërmjet tendencave të Texhdid-it (Ripërtëritjes) dhe Islah-ut (Reformimit) në Shqipërinë post-komuniste. Context: Journal of Interdisciplinary Studies, 6 (2) pp. 91-105 |
| 2018 | "دراسة تحليلية نقدية لكتاب عرفان عبد الحميد فتاح "اليهودية عرض تاريخي والحركات الحديثة في اليهودية = A critical and analytical study of Irfan Abdul Hamid Fattah's book "Judaism: a historical overview and modern movements in Judaism" = Kajian analitikal-kritikal tentang buku Irfan Abdul Hameed Fattah: "Judaisme: sudut sejarah, gerakan kontemporari dalam Judaisme". Journal of Islam in Asia, 15 (2) pp. 263-284 |
| 2018 | "موقف الشيخ بكر بن عبد الله أبو زيد من فكرة "وحدة الأديان = The position of Shaikh Bakr Abu Zayd from the concept of "Unity of religions". Journal of Islam in Asia, 15 (3) pp. 130-154 |
| 2018 | Deen al-Fitrah (Primordial religion): nurturing inter-religious dialogue and beyond in al-Faruqi's thoughts. Studies in Interreligious Dialogue, 2 (28) pp. 69-88 |
| 2018 | Paul: the transition from Nazarenism to christianity. Scholars Journal of Arts, Humanities and Social Sciences, 6 (2) pp. 463-480 |
| 2018 | The role of inter-religious dialogue in promoting Islamic education to the Europeans. Journal of Education and Social Sciences, 9 (3) pp. 32-39 |
| 2017 | Methodology of prophetic da'wah and its relevance to contemporary global society. Journal of Education and Social Sciences, 6 (1) pp. 9-17 |
| 2017 | The concept of Europe as a cultural identity. Al-Shajarah, 22 (1) pp. 85-111 |
| 2017 | The scholarship of inter-faith engagement in the writings of selected contemporary Muslim scholars. Al-Qanatir: International Journal of Islamic Studies., 6 (2) pp. 40-48 |
| 2016 | Islam - The future civilization of mankind: Challenges and responses. Journal of Education and Social Science, 5 (1) pp. 14-26 |
| 2016 | التسامح الديني في الإسلام: آلية لصناعة مجتمع التماسك والاحترام والسلم. Journal of Education and Social Sciences (JESOC), 5 () pp. 39-58 |
| 2016 | التسامح الديي في الإسلام: آلية لصناعة مجتمع التماسك والإحترام والسلم. Journal of Education and Social Sciences, 5 (1) pp. 39-58 |
| 2016 | المهدي المنتظر وواقع الأمة: دراسة تحليلية. International Journal of Business, Economics and Law, 9 (5) pp. 198-216 |
| 2015 | Gender Equality and the Participation of Muslim Women in Education and Work: A Critical Analysis. IIUM Journal of Educational Studies, 3 (2) pp. 19-39 |
| 2014 | Inter-religious dialogue and contemporary peace- building: from hostility to mutual respect and better understanding. Beder Journal of Humanities (BJH), 1 (3) pp. 59-76 |
| 2013 | The methodology of Ibn Hazm in comparative religion with special reference to his master piece Al-Fasl Fi Al-Milal Wa Al-Ahwa' Wa Al-Nihal. Ulum Islamiyyah - The Malaysian Journal of Islamic Sciences, 11 () pp. 1-20 |
| 2011 | The influence of Islam on Albanian culture. Journal of Islam in Asia, Spcl (1) pp. 389-407 |
| 2009 | The concept of religious experience: A Qur'anic perspective. Ma'alim al-Qur'an Wa al-Sunnah, 4 (5) pp. 249-272 |
| 2008 | حوار الأديان بين القرآن والتطبيقات المعاصرة = Inter-religious dialogue between the Qur'an and contemporary practices. Journal of Islam in Asia, 5 (1) pp. 55-90 |
Conference or Workshop Item
| | |
| --- | --- |
| 2021 | Contemporary Research Methodology in the perspective of Islam: Challenges and Solutions. In: International Interdisciplinary Workshop on Research Methodology (21-12-2020 to 10-01-2021), |
| 2021 | Exploring the efficacy of Selected facebook cccount(s) used for Islamic Da'wah purposes during COVID-19 Pandemic – March-July 2021. In: The 20th Annual International Conference on Islamic Studies (AICIS), |
| 2021 | Managing diversity. In: YOUTH IMAANI LEADERSHIP TRAINING PROGRAMME 2021, |
| 2020 | Exploring inter-religious dialogue paradigm in promoting mutual respect, harmony and peace building to Asia's multi-religious community. In: Innovation Summit for Peace & Prosperity in Asia, |
| 2019 | Da'wah approaches in contemporary society. In: INHART IBADAH CAMP 2019 – 'Da'wah: A Fundamental Islamic Obligation', |
| 2019 | IIIT workshop on Islamization of Knowledge - July 9-11, 2019 - Knowledge and Civilization in Islam (Text Book). In: International Workshop on "Islamisation of knowledge for courses to be taught at Islamic Universities"., |
| 2019 | The methodology of Abu 'Isaa Al-Warraq in the study of christianity with special reference to his kitab al-Radd 'ala al-Thalath Firaq min al-Nasara. In: 3rd INTERNATIONAL CONFERENCE ON CONTEMPORARY SCHOLARSHIP AND ISLAM (ICONSCIS3), |
| 2019 | The methodology of ibn al-Nadim in the study of Hinduism with special reference to his kitab al-Fihrist. In: International Conference On Religion, Governance And Sustainable Development (ICRGD2019), |
| 2018 | "موقف الشيخ بكر بن عبد ا أبو زيد من فكرة "وحدة الدين = Shaikh Bakr Abu Zayd's approach in dealing with the concept of "Unity of religions". In: 6th Kuala Lumpur International Islamic Studies and Civilisations Conference (KLiISC 6) 2018, |
| 2018 | Benefits of the fasting of Ramadan. In: Tazkirah Ramadan Programme IIUM Academy 2018, |
| 2018 | Tajdid (renewal) and Islah (reform) tendencies of Islam in the post-communist Albania. In: II International Bolghar Readings "Renewal tendencies in the Islamic world: theological heritage and modernity", |
| 2018 | The relevance of Kalaam to comparative religion. In: Tajdid Kalam and Analysis of Current Issues, |
| 2018 | The role of inter-religious dialogue in promoting Islamic education to the Europeans. In: 6th Kuala Lumpur International Islamic Studies and Civilisations Conference (KLiISC 6) 2018, |
| 2017 | Exploring said nursi's methodology in the study of Christianity. In: The International Conference on Bediuzzaman Said Nursi's Thought on Wasatiyyah and An Exemplary Society,, |
| 2017 | Methodology of Prophetic da'wah and its relevance to contemporary global society. In: The 3rd Kuala Lumpur International Islamic Studies & Civilizations Conference, |
| 2017 | The contribution of Muslim scholars in comparative religion: Selected writings. In: KIRKHS-IIIT Islamisation Conference in Conjunction with IIUM World Prosumer Convention 2017, |
| 2016 | Islam: the future civilization of mankind: challenges and responses. In: 2nd Kuala Lumpur International Islamic Studies and Civilisations (KLiiSC2 2016), |
| 2016 | التسامح الديني في الإسلام: آلية لصناعة مجتمع التماسك والاحترام والسلم. In: 2nd Kuala Lumpur International Islamic Studies and Civilisations (KLiiSC2 2016), |
| 2016 | التسامح الديني في الإسلام: آلية لصناعة مجتمع التماسك والاحترام والسلم. In: 2nd Kuala Lumpur International Islamic Studies and Civilisations (KLiiSC2 2016), |
| 2016 | المهدي المنتظر وواقع الأمة: دراسة تحليلية The Awaited Mahdi and the Condition of Muslim Ummah: Analytical Study. In: Kuala Lumpur International Islamic Studies and Civilisations (KLiISC) 2016, |
| 2016 | حوار الأديان واجب ديني ومشروع إنساني حضاري. In: The 1st International Conference on Islam & Contemporary Issues in the Islamic World (ICIC 2016), |
| 2015 | The concept of Europe as a cultural identity. In: 4th International Conference on Humanities "Identity, Culture and Communication", |
| 2015 | The harmonization of ethnic traditions and cultures: an Islamic perspective . In: EBI Expo Buku Islam 13 Putrajaya, |
| 2015 | The methodology of Irfan 'Abdul Hamid Fattah in the study of religion with special reference to his book on al-Yahudiyyah: An analytical study. In: Conference on Integration of Knowledge in the Field of Usuluddin and Comparative Religion: The Contributions of the Late Prof. Dr. Irfan Abdul Hameed Fattah, |
| 2015 | The perspective of Qur'an on other world religions. In: 4th International Seminar Wahyu Asas Tamadun (SWAT 2015), |
| 2014 | Gülen's master piece "pearls of wisdom": an inspiring source for inner peace and physical strength . In: Gülen's master piece "pearls of wisdom": an inspiring source for inner peace and physical strength, |
| 2014 | Inter-religious dialogue and contemporary peace- building: from hostility to mutual respect and better understanding. In: 3rd International Conference on Humanities , |
| 2013 | Din al-Fitrah (Primordial Religion): Nurturing inter-religious dialogue and beyond in al-Faruqi's thought. In: 2nd International Conference on Contemporary Scholarship on Islam: The Legacy of Ismail Raji al-Faruqi, |
| 2012 | The methodology of Irfan Abdul Hameed Fattah in the study of religion. In: World Conference on Islamic Thought 2012 (WCIT 2012), |
| 2011 | Achieving excellence through creativity: Gülen's vision of character education. In: 2011 International Conference on Creativity and Innovation for Sustainable Development, |
| 2011 | Gulen's thoughts on promoting mutual respect and better understanding among multi-religious communities through inter-religious dialogue. In: International Conference on Establishing a Culture of Coexistence and Mutual Understanding : Exploring Fethullah Gulen's thought and action, |
| 2011 | The influence of Islam on Albanian culture. In: The World Congress for Islamic History and Civilization (WCIHAC) 2011, |
| 2011 | The methodology of Ibn Hazm in comparative religion with special reference to his master piece al Fadl fi Al-Milal Wa Al-Ahwi Wa Al-Nihal. In: International Conference on Humanities (INCOH2011 ), |
| 2011 | The Methodoloy of Ibn Hazm in comparative religion with special reference to his master piece Al-fadl fi Al-Milal Wa Al-Ahw' Ws Al-Nihal. In: International Conference on Humanities 2011, |
| 2011 | The mystical Bektashi Order: The founder, growth and the core of its teachings. In: International Symposium on Religious and Philoshopical Texts : Rereading, Understanding and Comprehending Them in the 21st Century, |
| 2010 | The role of religion in shaping contemporary man's everyday moral character: an Islamic-Catholic perspective. In: IIUM Research, Innovation & Invention Exhibition (IRIIE 2010), |
| 2009 | The role of religion in shaping contemporary man's everyday moral character: an Islamic-Catholic perspective. In: 1st Global Conference on Ethics in Everyday Life, |
| 2009 | The scholarship of inter-faith engagement with others in the writings of contemporary muslim scholars. In: Seminar Antarabangsa Ketamadunan Islam (ISCIS II), |
Book
Book Section
| | |
| --- | --- |
| 2019 | Revival of Islam through Tajdid (Renewal) and Islah (Reform) tendencies in the post-communist Albania. In: Bolgar Islamic Academy, ISBN: 978-5-6043590-1-3, pp. 43-58 |
| 2017 | Islam – the future civilisation of mankind: challenges and responses. In: International Institute of Islamic Thought East and South East Asia & International Islamic University Malaysia, ISBN: 978-967-15622-6-0, pp. 277-310 |
| 2016 | Plagiarism in academic writing among students of higher learning institutions in Malaysia.. In: Institut Terjemahan dan Buku Malaysia, ISBN: 978-967-460-204-8, pp. 121-138 |
| 2012 | The mystical Bektashi Order: The founder, growth and core of its teachings. In: Sultanbeyli Belediyesi And Istanbul University,, ISBN: 978-605-89744-4-9, pp. 431-453 |
| 2012 | The mystical Bektashi Order: The founder, growth and core of its teachings. In: Sultanbeyli Belediyesi And Istanbul University,, ISBN: 978-605-89744-4-9, pp. 431-453 |
| 2011 | The role of religion in shaping moral character: Islamic and Catholic perspective. In: IIUM Press, ISBN: 9789670225630, pp. 99-121 |
| 2010 | The impact of Istanbul on the construction of Albania's religious and cultural coexistence. In: Instanbul University, ISBN: 978-975-404-880-3, pp. 517-529 |
| 2010 | The impact of Istanbul on the construction of Albania's religious and cultural coexistence. In: Instanbul University, ISBN: 978-975-404-880-3, pp. 517-529 |