Staff Directory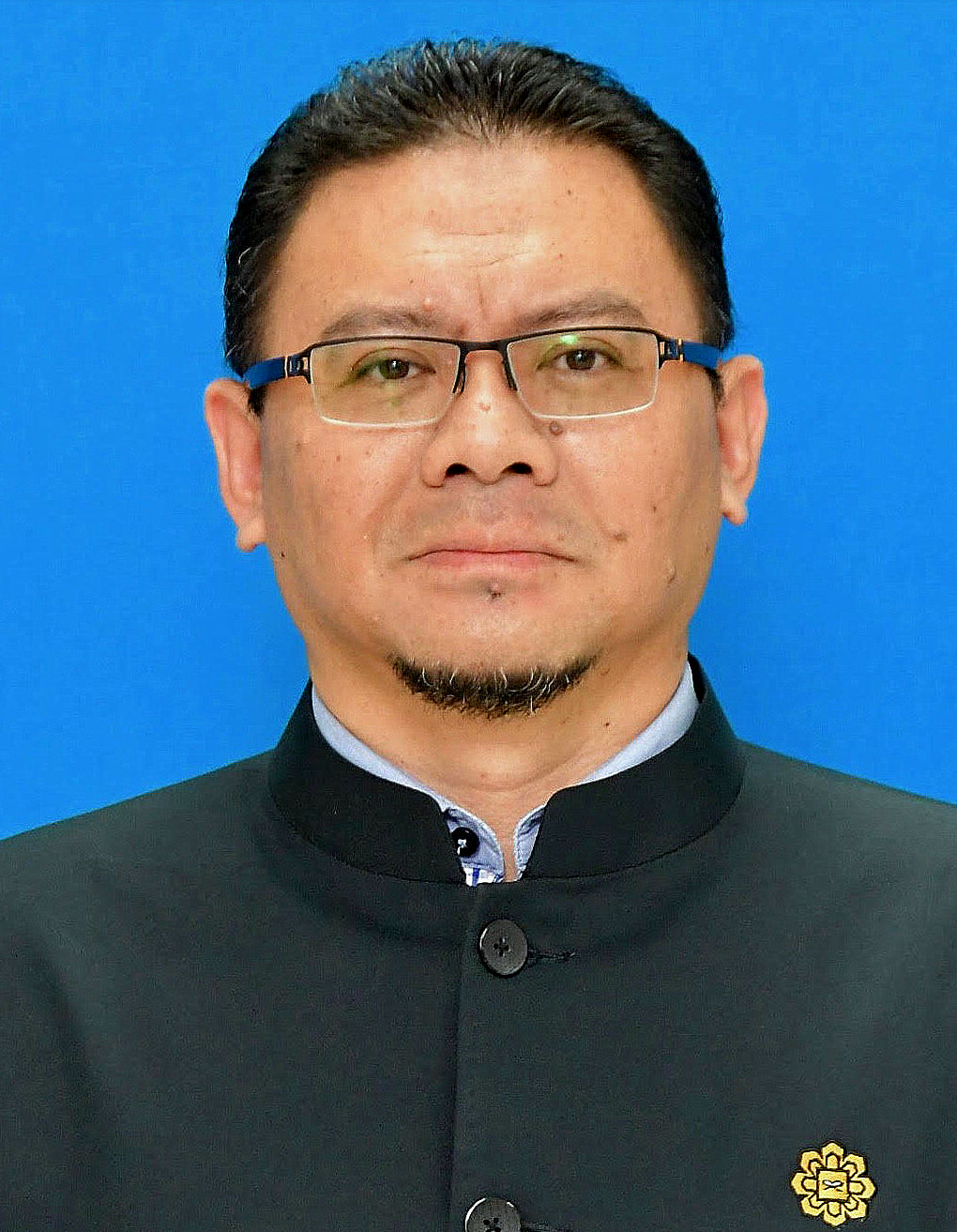 Academic Qualification
Community Medicine (Occupational Health) - Masters Degree (Clinical Specialist), Universiti Sains Malaysia (USM)
Basic Medical Degree-M.D - Bachelor Degree, Universiti Sains Malaysia (USM)
Razman Bin Mohd. Rus (Assoc. Prof. Dr.)
Associate Professor
IIUM Kuantan Campus
KULLIYYAH OF MEDICINE

Other's position:
Deputy Campus Director, Office of the Campus Director, Kuantan Campus
---
Expert Profile
Dr. Razman Mohd Rus started his housemanship training at Seremban Hospital in 1998 after completing his undergraduate studies at University Science Malaysia, Kubang Kerian, Kelantan. He continued his service as a medical officer in 1999 at the Accident and Emergency Unit, Seremban Hospital for two years, and was then transferred to serve at the Tampin district hospital, Negeri Sembilan effective January 2001. In 2004, he enrolled for the Master of Community Medicine programme at the Faculty of Medicine, University Science Malaysia (USM). and was awarded the Masters of Community Medicine (M. Comm Med) in 2008 specializing in the field of Occupational Health (OH). It was during his postgraduate training that he developed interest in teaching.
He decided to join IIUM in July 2008. Apart from teaching Occupational Health and Public Health, he was also given the responsibility as the Community Medicine research coordinator for Medical undergraduates.
He was appointed as the Deputy Chairman, Safety and Health Committee, Kulliyyah of Medicine in 2010. Through his contribution as well as contribution from other Kulliyyah members, the Kulliyyah of Medicine was awarded the OHSAS 18001: 2007 & MS 1722 certification. He has also been invitedby the private sector to give talks regarding Occupational Health. Dr. Razman is also involved in research and has published more than 20 articles in journals and conference proceedings.
In July 2013, he was appointed as Head, Department of Community Medicine, Kulliyyah of Medicine. Despite his busy schedule, he still allocates time to teach the undergraduate and postgraduate students.
Area of Specialisation
Medical And Health ~ Medical And Health Sciences ~ Public Health ~ Other Public Health n.e.c. - Public Health Specialist
Medical And Health ~ Medical And Health Sciences ~ Complementary/Alternative Medicine ~ Clinical Research - Occupational Health
Teaching Responsibilities
| | |
| --- | --- |
| BASIC BIOSTATISTICS | 2013/2014 |
| COMMUNITY MEDICINE | 2023/2024 2022/2023 2021/2022 2020/2021 2019/2020 2018/2019 2017/2018 2016/2017 2015/2016 2014/2015 2013/2014 2012/2013 2011/2012 2010/2011 2009/2010 2008/2009 |
| EPIDEMIOLOGY & RESEARCH METHODOLOGY | 2012/2013 |
| INTRODUCTION TO PUBLIC HEALTH | 2021/2022 2020/2021 2019/2020 2018/2019 2017/2018 2016/2017 2014/2015 2013/2014 2012/2013 2011/2012 2010/2011 2009/2010 2008/2009 |
| Research Methodology | 2022/2023 2021/2022 2020/2021 2019/2020 2018/2019 2017/2018 2016/2017 2015/2016 2014/2015 2013/2014 |
Research Projects
Completed
| | |
| --- | --- |
| 2018 - 2023 | Climate Change, Extreme Rainfall and Flooding: Comparison of Waterborne Diseases at Pre, During, and Post Flood in Kuantan from 2004 to 2018. |
| 2018 - 2022 | Predicting respirator fitting using facial dimension, physiological and psychophysical responses data of Malaysian workers |
| 2016 - 2020 | Prevalence of Adverse Events and Role of Paracetamol following infants immunization |
| 2015 - 2019 | Impact of parental perinatal depressive and anxiety symptoms on infant development and health: A cohort study in East- and West-Coast of Malaysia |
| 2015 - 2018 | Prevalence Of Post Concussion Syndrome After Mild Traumatic Brain Injury In A Single Neurosurgical Center In East Coast, Malaysai |
| 2011 - 2015 | RU 2011 -Maternal Body Mass Index (BMI) and Pregnancy Outcome among primigravidan at Hospital Tengku Ampuan Afzan. |
| 2011 - 2014 | RU 2011 - The Study of Paraoxonase 1 (PON1) Activity and Augmentation Index among General Population |
| 2011 - 2015 | RU 2011 -Pulse Wave Analysis: A Population Based Study. |
| 2011 - 2018 | A Study of Clavicle Fracture In Newborn Babies |
| 2010 - 2012 | Prevalence of Diabetic Retinopathy (DR) in Primary Care Clinic by using Non-Mydriatic Retinal Camera |
| 2010 - 2017 | CPR, First Aid And Occupational Safety Consultation |
| 2010 - 2012 | Mammographic Breast Density and Detection of Breast Cancer in 3 Different Ethnic Groups |
| 2010 - 2012 | Reliability and Validity of Malay version LPR HR-QOL Questionnaire. |
| 2009 - 2011 | A Prospective Study of Paediatric Fractures Requiring Inpatient Management to Hospital Tengku Ampuan Afzan, Kuantan |
| 2009 - | Randomized Control trial Study of the I-Gel and ProSeal Laryngeal Mask Airway in Unparalysed Anaesthetized Patients |
| 2009 - | Survey on Routine Intraoperative Temperature Management Practices in Operation Theatre of the Hospital Tengku Ampuan Afzan, Kuantan and Hospital Sultanah Zahirah, Kuala Terengganu |
| 2008 - 2012 | Serum Adiponectin Status as Biomarker of Metabolic |
On-Going
| | |
| --- | --- |
| 2022 - Present | Nari Balloon: Latex Innovation in Uterine Tamponade for Postpartum Haemorrhage |
| 2021 - Present | Evaluation of Knowledge, Attitude and Practice on Fiqh Ibadah Training Programme Among SASMEC Staff |
| 2019 - Present | Prevalence of metabolic syndrome and its associated factors among male to female transgender in Kuantan Pahang |
| 2011 - Present | RU 2011 -Knowledge, attitude and practice of breast cancer and screening mammogram among women attending IIUM Breast Centre, Kuantan, Pahang. |
| 2011 - Present | RU 2011 -IIUM Kuantan Eye Screening II- Relationship between retinal vessels diameter with optic disc parameter and retinal nerve fiber thickness. |
Publications
Article
| | |
| --- | --- |
| 2023 | Glyphosate suppresses the ability of PON1 to Hydrolyse Oxidized-LDL in the exposed farm workers in Pahang, Malaysia. IIUM Medical Journal Malaysia (IMJM), 22 (3) pp. 105-113 |
| 2023 | Validity and reliability of Malay language breast cancer awareness scale for male-to-female transgender. International Medical Journal Malaysia, 22 (1) pp. 87-98 |
| 2022 | Hybrid de novo whole-genome assembly and annotation of SARS-CoV-2 Virus from nosocomial infection in Pahang, Malaysia. International Journal of Infectious Diseases, 116 () pp. S19-S19 |
| 2022 | Validity and reliability of Malay breast cancer awareness scale for male to female transgender. IIUM Journal of Orofacial and Health Sciences 2022, 3 (Supplement 1) pp. 7-7 |
| 2022 | Validity and reliability of Malay breast cancer awareness scale for male-to-female transgender. Medicine and Health, 17 (3 Suppl) pp. 67-67 |
| 2021 | Determination of urinary Calculi composition using dual energy CT. International Journal of Allied Health Sciences (IJAHS), 5 (1 Special Issue) pp. |
| 2021 | Determination of urinary calculi composition using dual energy CT. Korean Journal of Radiology, (Supplement) pp. S23-S23 |
| 2021 | Determination of urinary calculi composition using dual energy CT. International Journal of Allied Health Sciences (IJAHS), 5 (1 Special Issue) pp. |
| 2021 | Impact of parental perinatal depressive and anxiety symptoms trajectories on early parent‑infant impaired bonding: a cohort study in east and west coasts of Malaysia. Archives of Women's Mental Health, () pp. |
| 2021 | Non-communicable Diseases (NCDs) and modifiable risk Factors profiling among adults in a selected FELDA settlement in East Coast of Pahang. Malaysian Journal of Medicine and Health Sciences, 17 (Supp5) pp. 40 |
| 2020 | Cross sectional retrospective study on paracetamol post infants' vaccination. Journal of Pharmacy and Bioallied Science, 12 (Supplement 2) pp. S696-S702 |
| 2020 | Outcome of core out fistulectomy and the ligation of anal fistula tract: a single center experience in Malaysia. IIUM Medical Journal Malaysia, 19 (1) pp. 55-59 |
| 2020 | Prevalence and predictors of Pediculosis capitis among female primary school children in Kuantan, Pahang. IIUM Medical Journal Malaysia (IMJM), 18 (Supplementary Issue No 2) pp. 51-51 |
| 2020 | Surgical management of distal tibia fracture: towards an outcome-based treatment algorithm. Malaysian Orthopaedic Journal, 14 (3) pp. 57-65 |
| 2019 | Body Mass Index status and its relationship with mode of delivery, birth weight and early feeding history among children in an urban area of Pahang. Medical Journal of Malaysia, 74 (Supplement 2) pp. 69-69 |
| 2019 | Impact of maternal antepartum depressive and anxiety symptoms on birth outcomes and mode of delivery: a prospective cohort study in east and west coasts of Malaysia. BMC Pregnancy & Childbirth, 19 (1) pp. |
| 2019 | Mak nyahs and sex reassignment surgery: a qualitative study from Pahang, Malaysia. The International Medical Journal Malaysia, 18 (1) pp. 21-34 |
| 2019 | Prevalence of postconcussion syndrome after mild traumatic brain injury in young adults from a single neurosurgical center in East Coast of Malaysia. Asian Journal of Neurosurgery, 14 (1) pp. 201-205 |
| 2019 | Solid waste: its implication for health and risk of vector borne diseases. Journal of Wastes and Biomass Management, 1 (2) pp. 14-17 |
| 2019 | The prevalence of high risk of obstructive sleep apnea and its association with sociodemographic factors among adults in Taman Dato' Rashid Salleh, Indera Mahkota, Kuantan. IIUM Medical Journal Malaysia, 18 (Supplement 2) pp. 18-18 |
| 2018 | Depression, anxiety, and stress among adolescents in Kuantan and its association with religiosity- a pilot study. International Medical Journal Malaysia, 17 (Special Issue 2) pp. 91-96 |
| 2018 | Knowledge, attitude and practice on smoking cessation guideline among medical doctors attending Family Medicine Scientific Conference 2016. International Medical Journal Malaysia, 17 (Supplementary Issue No 1) pp. |
| 2018 | Prevalence and determinants of antepartum depressive and anxiety symptoms in expectant mothers and fathers: results from a perinatal psychiatric morbidity cohort study in the east and west coasts of Malaysia. BMC Psychiatry, 18 (1) pp. 1-14 |
| 2018 | Prevalence of Diabetic Retinopathy (DR) and its associated factors among diabetes patients in Primary Care Clinics, Kuantan, Pahang. International Medical Journal of Malaysia (IMJM), 17 (2) pp. 11-16 |
| 2018 | Reliability and construct validity of knowledge, attitude and practice of medical doctors on smoking cessation guidelines. International Medical Journal of Malaysia, 17 (Special Issue 1) pp. 199-206 |
| 2018 | The relationship between eating habits and stress among undergraduate medical students of IIUM Kuantan. Malaysia Journal of Public Health Medicine, 18 (Supplement 2) pp. 68 |
| 2018 | The relevancy of paracetamol and breastfeeding post infant vaccination: A systematic review. Pharmacy, 6 (2) pp. 1-16 |
| 2017 | Knowledge, attitude and practice on dengue among adult population in Felda Sungai Pancing Timur, Kuantan, Pahang. International Medical Journal Malaysia (IMJM), 16 (2) pp. 3-9 |
| 2017 | Neonatal clavicle fracture: A review of fourteen cases in East Coast Peninsular Malaysia. International Journal Medical Malaysia, 16 (2) pp. 79-83 |
| 2017 | Reliability and construct validity of knowledge, attitude, and practice of medical doctors on smoking cessation guidelines. The International Medical Journal of Malaysia, 17 (special issue 1) pp. 199-206 |
| 2016 | A clinical evaluation of bleeding patterns, adverse effects, and satisfaction with the subdermal etonogestrel implant among postpartum and non-postpartum users. International Journal of Gynecology and Obstetrics, 132 (2) pp. 237-238 |
| 2016 | Correlation between peer assessment score and final examination mark among IIUM first year Medical students. International Medical Journal Malaysia, 15 (2) pp. 69-71 |
| 2016 | Knowledge and attitude towards HIV/AIDS among transsexuals in Kuantan, Pahang. International Medical Journal Malaysia, 15 (1) pp. 45-50 |
| 2016 | Peer influences and intention to smoke e-cigarette: A cross-sectionaL study among form 4 students of a secondary school in Kuantan,Pahang. Malaysian Journal of Public Health Medicine, 16 ((Supplement 4)) pp. 120-120 |
| 2016 | Post concussion syndrome after mild traumatic brain injury in a single neurosurgical center in East Coast, Malaysia - A preliminary report. The International Medical Journal Malaysia ( IMJM ), 15 (Supplement issue) pp. 87-87 |
| 2016 | Psycho-social and spiritual backgrounds, experiences, and needs as a transsexual: a qualitative study within Persatuan Insaf Pahang. International Medical Journal Malaysia, 15 (2) pp. 27-36 |
| 2016 | Reliability and construct validity of knowledge, attitude and practice of medical doctors on smoking cessation guidelines. International Medical Journal Malaysia, 15 (Supplement issue) pp. 14-14 |
| 2016 | The prevalence of Internet addiction and its related factors among medical students of International Islamic University Malaysia (IIUM), Kuantan Campus. Malaysian Journal of Public Health Medicine, 16 (Supplement 4) pp. 122-122 |
| 2016 | Transgenders in Kuantan, Pahang: knowledge and attitude towards HIV/AIDS. Revelation and Science, 6 (1) pp. 7-16 |
| 2015 | Knowledge, attitude and practice of medical personnel on smoking cessation guidelines: a review on associations and questionnaires. International Medical Journal Malaysia, 14 (Supplement Issue) pp. 17-17 |
| 2015 | Nicotine dependence and quit smoking: a preliminary survey among adult males in Kuantan, Malaysia. International Medical Journal Malaysia, 14 (Supplement) pp. 14-15 |
| 2015 | The effects of maternal serum lipid on maternal blood pressure and fetal birth weight: a prospective cohort study. Gynecology & Obstetrics, 5 (2) pp. 1000276-1 |
| 2014 | Adiponectin correlates in Malaysians: a comparison of metabolic syndrome and healthy respondents. American Journal of Clinical Medicine Research, 2 (6) pp. 106-110 |
| 2014 | Is portable three-dimensional ultrasound a valid technique for measurement of postpartum urinary bladder volume?. Taiwanese Journal of Obstetrics and Gynecology, 53 () pp. 12-16 |
| 2013 | Arterial stiffness and its association with dyslipidemia. International Medical Journal Malaysia, 12 (2) pp. 59-65 |
| 2012 | Mas cotek (Ficus Deltoidea Jack) as possible supplement for type II diabetes: a pilot study. Pertanika Journal of Tropical Agricultural Science, 35 (1) pp. 93-102 |
| 2012 | The effects of maternal body mass index (BMI) on the pregnancy outcome among primigravida who delivered at Hospital Tengku Ampuan Afzan (HTAA), Kuantan, Pahang. BJOG: An International Journal of Obstetrics & Gynaecology, 119 (Oct.) pp. 37 |
| 2011 | Bladder scan vs urethral catheterization for measurement of immediate post partum bladder volume. Malaysian Journal of Obstetrics & Gynaecology, 8 (21) pp. 41-42 |
| 2010 | Oxidized-low density lipoprotein level among Organophosphates (OPs) pesticide exposed workers. The Malaysian Journal of Pathology, 32 (2) pp. 152-153 |
| 2010 | Plasma cholinesterase and paraoxonase activities among organophosphate pesticides exposed estate workers. Malaysian Journal of Community Health, 16 (Supp.1) pp. 61-62 |
| 2010 | Validation of noise induced hearing loss questionnaire among Malay sawmill workers in Kelantan Malaysia. International Medical Journal Malaysia, 9 (2) pp. 51-56 |
| 2008 | Knowledge, attitude and practice of sawmill workers towards noise-induced hearing loss in Kota Bharu, Kelantan . Malaysian Journal of Medical Sciences, 15 (4) pp. 28-34 |
Conference or Workshop Item
| | |
| --- | --- |
| 2022 | Islamic leadership in hospital-associated cluster of Covid-19 management. In: 4th KHUAM National Conference, |
| 2022 | Prevalence of loneliness and its associated factors among elderly attending primary health clinics in Kuantan, Pahang. In: 24th Family Medicine Scientific Conference, |
| 2021 | Functional disabilities and its associated factors among elderly residents in private nursing homes in Kuantan. In: 23rd Family Medicine Scientific Conference 2021, |
| 2021 | Hybrid de novo Whole-Genome Assembly and Annotation of SARS-CoV-2 Virus from Nosocomial Infection in Pahang, Malaysia. In: International Meeting on Emerging Diseases and Surveillance 2021, |
| 2021 | Level of physical activity and it's associated factors among pregnant women during pregnancy.. In: Kuantan Research Day 2020: A National Online Event for E-poster Presentation, |
| 2021 | Prevalence of depressive symptoms and its associated factors among elderly in private nursing homes in Kuantan. In: Virtual Medical Research Symposium 2021, |
| 2021 | Prevalence of female sexual dysfunction and its associated factors among type 2 diabetes mellitus patients In Kuantan, Pahang. In: Medical Research Symposium 2021, |
| 2021 | Prevalence of loneliness and its associated factors among elderly attending primary health clinics in Kuantan, Pahang.. In: Medical Research Symposium 2021, |
| 2021 | Profiling physiological responses and respirator fit of public health workers: Pre and post mosquito control activity. In: Virtual Medical Research Symposium 2021, |
| 2021 | The prevalence of depression and its associated factors among married female diabetic patients in Kuantan, Pahang. In: 23rd Family Medicine Scientific Conference 2021, |
| 2019 | Factors associated with pediculosis capitis among primary school children in Kuantan, Pahang. In: 5th Medical Research Symposium, |
| 2019 | Is there any need for health intervention on pediculosis capitis in public primary schools in Kuantan, Pahang?. In: 5th Medical Research Symposium 2019, |
| 2019 | Prevalence and predictors of Pediculosis capitis among female primary school children in Kuantan, Pahang. In: 5th Medical Research Symposium 2019, |
| 2019 | Prevalence of Pediculosis and its predictors among urban primary school children in Kuantan, Pahang. In: 5th Medical Research Symposium 2019, |
| 2018 | A cross sectional study on quality of sleep among adult population in an urban area of Pahang. In: Medical Research Symposium 2018, |
| 2018 | Antepartum depressive, anxiety and comorbid symptoms among men and women in east and west coast of Malaysia: a cross-sectional analysis of a perinatal psychiatric morbidity cohort study. In: 7th International Public Health Conference, |
| 2018 | Food safety at home: knowledge and practices among adults in suburban community in Malaysia. In: International Society for Environmental Epidemiology and International Society of Exposure Science - Asia Chapter Conference 2018 (ISEE/ES-AC 2018), |
| 2018 | Knowledge, attitude and practice on smoking cessation guideline among medical doctors at Family Medicine Scientific Conference 2016. In: Medical Research Symposium 2018, |
| 2017 | Knowledge, attitude and behaviour towards dietary salt intake among adults' residents of sub-urban setting in Kuantan. In: 20th Family Medicine Scientific Conference, |
| 2017 | The outcome of transpelvic magnetic stimulation (TPMS) in treating women with urinary incontinence and overactive bladder : a prospective observational study. In: 25th Congress of the Obstetrical & Gynaecological Society Of Malaysia, |
| 2016 | Internet usage from Islamic perspective: a preliminary survey with first year medical students, Kuantan Campus, Pahang 2015. In: 2nd World Congress on Integration Islamicisation: Focus On Medical & Health Care Sciences 2016 (2WCII-2016), |
| 2016 | Knowledge, attitude and practice on hand hygiene among clinical year medical students in Islamic institution. In: 2nd World Congress on Integration Islamicisation: Focus On Medical & Health Care Sciences 2016 (2WCII-2016), |
| 2016 | Nicotine dependence and quit smoking survey among current adult male smokers in Felda Bukit Goh, Kuantan, Pahang in 2015 . In: 62nd Myanmar Medical Conference, |
| 2016 | Prevalence of smartphone addiction and its related factors among pre-clinical students at IIUM Kuantan Campus 2016. In: 2nd Sabah Regional Public Health Conference & 11th Sabah Public Health Colloqium :Innovation & Transformation: Regional Public Health Of the Future, |
| 2016 | Reliability & construct validity of knowledge, attitude & practice of medical doctors on smoking cessation guidelines -The progress. In: 1st IIUM Research Symposium 2016 (IRS 2016), |
| 2016 | Reliability and construct validity of knowledge, attitude & practice (KAP) of medical doctors on smoking cessation guidelines. In: 2nd World Congress on Integration and Islamicisation: Focus on Medical and Health Care Sciences, |
| 2016 | Reliability and construct validity Of knowledge, attitude and practice of medical doctors on smoking cessation guidelines. In: 2nd World Congress on Integration and Islamicisation: Focus on Medical & Healthcare Science (2WCII 2016), |
| 2016 | Reliability and construct validity of knowledge, attitude and practice of medical doctors on smoking cessation guidelines. In: Medical Research Symposium 2016, |
| 2016 | Reliability and construct validity of practice of medical doctors on smoking cessation guidelines. In: 19th Family Medicine Scientific Conference 2016, |
| 2016 | Smoking dependency behaviour towards conventional & e-cigarette among selected government instituition in Indera Mahkota, Kuantan 2016. In: 2nd Sabah Regional Public Health Conference & 11th Sabah Public Health Colloqium :Innovation & Transformation: Regional Public Health Of the Future, |
| 2015 | Difficult to quit smoking beyond "nicotine dependence": a preliminary survey among adult male smokers in Felda Bukit Goh,Kuantan Pahang, Malaysia. In: 5th Asia Pacific Primary Care research Conference, |
| 2015 | A knowledge, attitude and practice (KAP) on dengue among adult population in Felda Sungai Panching Timur, Kuantan, Pahang. In: 18th Family Medicine Scientific Conference 2015, |
| 2015 | Knowledge, attitude and practice of medical personnel on smoking cessation guidelines: a review on associations and questionnaires. In: Medical Research Symposium 2015, |
| 2015 | Nicotine dependence and quit smoking: a preliminary survey among adult males in Kuantan, Malaysia. In: Medical Research Symposium 2015, |
| 2015 | Nicotine dependency of adult male smokers and it's socio-economic determinants. In: 18th Family Medicine Scientific Conference 2015, |
| 2015 | Prevalence of risk for eating disorder amongst International Islamic University Malaysia medical students and its associated factors. In: Medical Research Symposium 2015, |
| 2014 | CT colonography: detection of lesions and patients' preference: correlation with standard colonoscopy. In: International Research, Invention and Innovation Exhibition 2014 (IRIIE2014), |
| 2014 | The effect of pre pregnancy Body Mass Index (BMI) and intrapregnancy weight gain on the pregnancy outcome among primigravida: a crossectional study at Hospital Tengku Ampuan Afzan Kuantan. In: The 20th World Congress in Controversies in Obstetrics, Gynecology & Infertility (COGI), |
| 2014 | The effects of family dynamic to psychological aspects of transsexuals at Kuantan, Pahang in 2012. In: International Health Conference IIUM (IHCI 2014), |
| 2013 | Breast cancer in women without breast symptoms: A retrospective study in IIUM Breast Centre, Kuantan, Pahang. In: 8th Sabah Public Health Colloqium 2013 & 1st Regional Public Health Conference, |
| 2013 | The effects of family dynamics to psychological aspects of transexuals at Kuantan Pahang in 2012. In: 17th Malaysian Family Medicine Scientific Conference, |
| 2013 | The relationship of peer assessment and final examination in medicine. In: IIUM Research, Invention and Innovation Exhibition 2013, |
| 2012 | Arterial stiffness and hypercholesterolemia among adults in Kg. Alor Batu, Kuantan, Pahang. In: 16th MalaysianFamily Medicine Scientific Conference, |
| 2012 | Mammographic breast density : is there any association with positive family history of breast cancer?. In: College of Radiology Scientific Meeting 2012; Cancer Imaging, |
| 2012 | Prevalence of arterial stiffness and dyslipidemia. In: FIMA 2012 Conference, |
| 2012 | Prevalence of diabetic retinopathy and its associated factors among diabetic patients in primary care clinic. In: IIUM Research, Invention and Innovation Exhibition IRIIE 2012, |
| 2012 | The association of arterial stiffness measured by augmentation index with dyslipidaemia among adults in Kampung Alor Baru, Kuantan. In: 5th FIMA Conference 2012, |
| 2012 | The effects of maternal body mass index (BMI) on the pregnancy outcome among primigravida who delivered at Hospital Tengku Ampuan Afzan (HTAA), Kuantan, Pahang. In: 10th RCOG International Scientific Congress , |
| 2012 | The relationship of mammographic density and age : implication for screening mammogram. In: 16th Malaysian Family Medicine Scientific Conference, |
| 2011 | Bladder scan vs urethral cathetarization for measurement of immediate post partum bladder volume. In: 21st congress of the Obstetrician and Gynaecological society of Malaysia In collaboration with the Institute of O& G. Royal College Ireland, |
| 2011 | Chronic diseases and association with abnormal body mass index (BMI)among adults in Kg. Bukit sekilau, Kuantan. In: IIUM Research Invention & Innovation Exhibition 2011, |
| 2011 | Chronic Organophosphate Pesticide Exposure and Coronary Artery disease : finding a bridge. In: IIUM Research, Invention and Innovation Exhibition (IRIIE) 2011, |
| 2011 | Detection of breast cancer during screening mammogram in 3 different ethnic groups and effects with age and menopause status : our experience in IIUM Breast Centre, Kuantan, Pahang. In: International Health Conference IIUM 2011 , |
| 2011 | Prevalence of diabetic retinopathy and its associated factors among diabetic patients in primary care clinics, Kuantan, Pahang. In: 3rd International Conference on Rural Medicine 2011 " Health Transformation During Challenging Economies", |
| 2011 | Serum adiponectin status among metabolic syndrome in Kuantan,Pahang. In: 10th Continuing Professional Development (CPD) Series: Diabetic Asia 2011 Conference and Workshop, |
| 2011 | Serum adiponectin status among metabolic syndrome in Kuantan,Pahang. In: 15th Malaysian Family Medicine Scientific Conference , |
| 2011 | Serum Adiponectin status as a Biomarker of metabolic syndrome among Malaysians. In: IIUM Research, Invention and Innovation Exhibition (IRIIE) 2011, |
| 2010 | Oxidized- Low Density Lipoprotein level among Organophosphates (OPs) Pesticide Exposed Workers. In: 9th Annual Scientific Meeting, College of Pathologist AMM 2010, |
| 2010 | Paraoxonase (PON1) activities and lipid profiles among organophosphates (OPs) pesticide exposed workers. In: 11th Symposium for the Malaysian Society of Applied Biology 2010, |
| 2010 | Survey on knowledge and practice of intraoperative temperature management. In: 13th Asian Australasian Congress of Anaesthesiologists, |
Book
Book Section