Staff Directory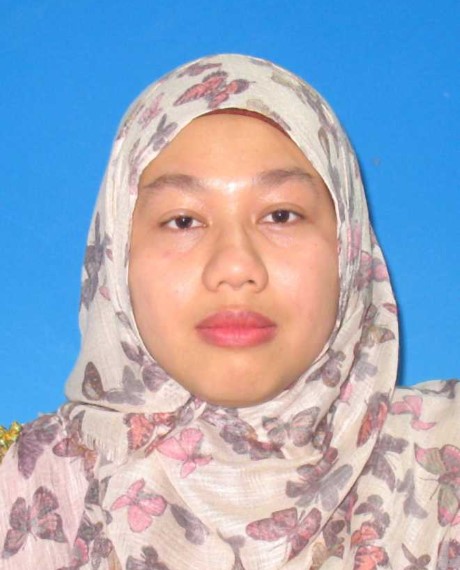 Academic Qualification
Doctor of Philosophy - Doctor of Philosophy, University of Manchaster
Master of Arts in International Relations - Masters Degree, International University of Japan
Political Science - Bachelor Degree, International Islamic University Malaysia
Rabi'Ah Binti Aminudin (Dr.)
Assistant Professor
IIUM Gombak Campus
KULLIYYAH OF ISLAMIC REVEALED KNOWLEDGE AND HUMAN SCIENCES

Other's position:
Head of Department, Kulliyyah of Islamic Revealed Knowledge and Human Sciences
---
rabiahamin@iium.edu.my
6055
Expert Profile
  Rabi'ah Aminudin is an assistant professor in Political Science at the International Islamic University Malaysia, where she teaches research methodology, public policy analysis and public administration. She has recently completed her PhD from University of Manchester in 2015 with her thesis titled " Explaining the Institutional Capacity of State Feminism in a Non-Western Setting: A Case Study of the Malaysian Women's Policy Agency". Her main interests are gender and politics, politics of identity, and women in security. 
Area of Specialisation
Social Science ~ Social Science ~ Political Sciences and Public Policy ~ International Relations - PhD
Teaching Responsibilities
| | |
| --- | --- |
| ADVANCED RESEARCH METHODOLOGY | 2018/2019 2017/2018 2016/2017 |
| BUREAUCRACY AND PUBLIC POLICY IMPLEMENTATION | 2017/2018 |
| EAST ASIAN POLITICS | 2019/2020 |
| FINAL YEAR PROJECT I | 2020/2021 2019/2020 |
| FINAL YEAR PROJECT II | 2020/2021 2019/2020 |
| GENDER AND POLITICS | 2019/2020 2020/2021 |
| INDUSTRIAL TRAINING | 2020/2021 |
| INTERGOVERNMENTAL RELATIONS | 2016/2017 2017/2018 2018/2019 |
| INTERNSHIP | 2017/2018 |
| INTRODUCTION TO POLITICAL SCIENCE | 2015/2016 2010/2011 2016/2017 2019/2020 2018/2019 |
| ISLAMIC PRINCIPLES & PRACTICES OF PUBLIC ADMI | 2016/2017 |
| ISLAMIC PRINS. & PRACTICES FOR PUBLIC ADMIN. | 2017/2018 2021/2022 |
| MODERN HISTORY OF EUROPE | 2018/2019 |
| ORGANIZATIONAL MANAGEMENT | 2021/2022 2020/2021 |
| ORGANIZATIONAL THEORY AND BEHAVIOUR | 2019/2020 2018/2019 |
| POLITICAL THOUGHT I | 2018/2019 |
| PUBLIC ADMINISTRATION | 2020/2021 2017/2018 2016/2017 2021/2022 |
| PUBLIC PERSONNEL ADMINISTRATION | 2017/2018 |
| PUBLIC POLICY ANALYSIS | 2016/2017 |
| RESEARCH METHODOLOGY | 2016/2017 2018/2019 |
| RESEARCH PAPER 1 | 2015/2016 2017/2018 |
| RESEARCH PAPER I | 2020/2021 |
| RESEARCH PROJECT II | 2016/2017 |
Research Projects
Completed
| | |
| --- | --- |
| 2018 - 2019 | Diskriminasi Gender Dalam Amalan Pekerjaan dikalangan golongan Profesional |
| 2017 - 2020 | A Framework of Good Governance in Regulating Religious Extremism to Improve National Security in Malaysia |
| 2016 - 2020 | Analysis of Resources Allocation Mechanism of Women Policy Agency in Malaysia |
| 2016 - 2019 | A New Gender Equality Model Based on Quranic Perspective |
| 2016 - 2020 | E-Democracy in Malaysia: Mapping the Participation of Parliamentarians |
| 2016 - 2020 | Exploring The Relationship Between Perceived Justice and Integrity in the Context of Performance Appraisal System: A Correlational Study |
| 2016 - 2020 | A Study on Malaysia's Public Policies in Fostering Inclusive Development |
On-Going
| | |
| --- | --- |
| 2018 - Present | New Framework to Enhance Women's Leadership and Political Empowerment in Achieving Inclusive Development |
Publications
Article
| | |
| --- | --- |
| 2020 | A framework of good governance in regulating religious extremism in Malaysia. Al-Shajarah: Journal of The International Institute of Islamic Thought and Civilization (ISTAC), xx (xx) pp. 1-25 |
| 2020 | A Muslim's guide to good hygiene practice during COVID-19. IIUM Emotional and Psychological Support Site, () pp. |
| 2020 | Gender discrimination in employment practices: a case study of the Malaysian civil sevice. International Journal of Social Policy and Society, () pp. |
| 2020 | Going to hell or heaven? an analysis of Malaysian Muslims' perspectives on extremism in religion. Intellectual Discourse, 28 (2) pp. 623-647 |
| 2020 | Kudos to Malaysians. New Straits Times, () pp. |
| 2020 | Malaysian political parties' roles in enhancing women's agenda: a case study of the 14th general election manifestos. International Journal of Social Policy and Society, 16 (1) pp. 1-16 |
| 2020 | Need to address digital divide. The Star, () pp. |
| 2020 | Public give positive feedback. The Star, () pp. |
| 2020 | The factors contributing to the rise of religious extremism in Malaysia. Jurnal Islam Dan Masyarakat Kontemporari,, 21 (2) pp. 46-59 |
| 2020 | The invisible intellectuals : Female academics in security and international politics. The Star, () pp. 20-20 |
| 2018 | Book reviews: Faith in an age of terror. Edited by Quek Tze Ming and Philip E. Satterthwaite. Singapore: Genesis Books, 2018, pp.150. ISBN: 978- 981-48-0707-4. Intellectual Discourse, 26 (2) pp. 956-959 |
| 2018 | Towards developing an integrity framework in Performance Appraisal System (PAS) in the Malaysian public sector: a preliminary analysis from justice and ethical perspectives. Management and Organizational Studies, 5 (1) pp. 37-51 |
| 2017 | CEDAW implementation in Malaysia: an overview of reservations from Islamic perspective. Intellectual Discourse, 25 (Special issue) pp. 615-635 |
| 2017 | Critical analysis of separatist feminism from the Qur'anic perspective. Journal of Islamic, Social, Economics and Development, 2 (4) pp. 11-21 |
Conference or Workshop Item
Book Section