Staff Directory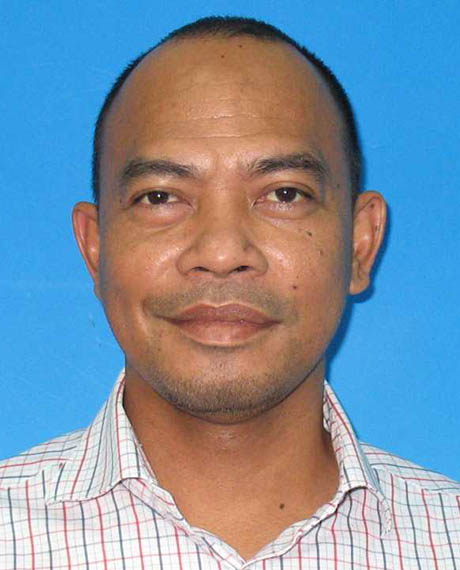 Academic Qualification
Ph.D in Finance - Doctor of Philosophy, Universiti Malaya (UM)
Master of Business Administration - Masters Degree, Universiti Kebangsaan Malaysia (UKM)
Bachelor of Accounting (Hons) - Bachelor Degree, Universiti Kebangsaan Malaysia (UKM)
Hamdino Bin Hamdan (Assoc. Prof. Dr.)
Associate Professor
IIUM Gombak Campus
KULLIYYAH OF ECONOMICS AND MANAGEMENT SCIENCES
---
Expert Profile
Dr. Hamdino bin Hamdan obtained his BAcct. (Hons) and MBA (Finance) from UKM, Malaysia, and his Ph.D from, University of Malaya and Post-Doctoral Research Fellow from IIUM.
Dr. Hamdino joined the Department of Finance, Kulliyyah Economics and Management Sciences (KENMS), International Islamic University of Malaysia (IIUM) in December 2012 as an Assistant Professor in Accounting & Finance. Prior to joining IIUM, Dr. Hamdino was a senior lecturer at University Selangor (UNISEL). He has vast experiences of more than 11 years in the education industry and Government sector. He has taught at University Selangor, University Putra Malaysia (UPM), University of Kebangsaan Malaysia (UKM), University Kuala Lumpur (UniKL) Business School and Universiti Malaya.
He spent a number of years in local government and state government sector, including a position as a Head of Internal Audit Department Ampang Jaya Municipal Council (MPAJ), Committee member of Jawatankuasa Keutuhan Negeri Selangor and MPAJ, Committee member of 'Jawatankuasa Audit Negeri Bagi Pihak Berkuasa Tempatan', Committee member of 'Jawatankuasa Tertinggi ISO: 9001' state of Selangor and MPAJ and chairman of 'Jawatankuasa Pelupusan MPAJ'. Earlier in his career, Dr. Hamdino was an Assistant Auditor at Coopers & Lybrand, Kuala Lumpur.
Among his memberships of professional bodies include Full Member of Malaysian Institute of Accountant (MIA) as Chartered Accountant (CA), Member of Chartered Institute of Management Accountant (CIMA).
Area of Specialisation
Economics, Business And Management ~ Economics, Business And Management ~ Accounting ~ Corporate Governance (Including Accountability, Ethics, Integrity) - Islamic finance
Economics, Business And Management ~ Economics, Business And Management ~ Accounting ~ Corporate Governance (Including Accountability, Ethics, Integrity) - corporate finance
Economics, Business And Management ~ Economics, Business And Management ~ Accounting ~ Corporate Governance (Including Accountability, Ethics, Integrity) - microfinance
Economics, Business And Management ~ Economics, Business And Management ~ Accounting ~ Corporate Governance (Including Accountability, Ethics, Integrity) - corporate governance
Professional Membership
2001 - 2019: Member of Profesional Body / Association: (Full member ), Malaysian Institute of Accountants
Teaching Responsibilities
| | |
| --- | --- |
| USRAH IN ACTION 1 | 2023/2024 |
Research Projects
Completed
| | |
| --- | --- |
| 2022 - 2023 | Quadruple Helix Network to Empower Youth & Single Mother for Sejahtera Community |
| 2022 - 2023 | YSM Agropreneurs Incubator Project |
| 2022 - 2022 | KAJIAN PASAR BERBANGUNAN / PUSAT PENJAJA DEWAN BANDARAYA KUALA LUMPUR (DBKL) TIDAK BERDAYA SAING |
| 2021 - 2022 | CAPACITY BUILDING THROUGH FINANCIAL LITERACY AND SKILLS TRANSFER PROGRAMME AMONG YOUNG ENTREPRENEURS & SINGLE MOTHERS IN RCE GREATER GOMBAK |
| 2019 - 2021 | Factors Contributing to Financial Literacy among MSMEs in Klang Valley |
| 2018 - 2019 | Financial Sustainability of Islamic Saving, Credit Cooperative Society (SACCOS) in Tanzania |
| 2015 - 2019 | Modelling the Effect of Shari?ah Governance, Risk Governance and Corporate Governance in Predicting Risk-Taking Behaviour of Malaysian Islamic Banks |
| 2015 - 2018 | Performance Evaluation Index for Islamic Banks Based on Maqasid Al-Shariah |
| 2015 - 2019 | Governance of Malaysian Listed Companies |
| 2014 - 2018 | EPP7: Islamic Finance Education Cluster |
| 2013 - 2017 | Islamic Microfinance as a Tool for Enterprise Creation, Expansion and Poverty Alleviation : A Study of using Different Models |
| 2013 - 2015 | Evaluation of Islamic Microfinance Entrepreneur's Startegic Orientation on Microenterprise Performance |
On-Going
| | |
| --- | --- |
| 2023 - Present | Corporate Governance: Concept and Practice |
| 2015 - Present | The Study of Governance Mechanism on Sustainability and Outreach of Microphone Institutions in Klang Valley |
Award & Recognition
| | | |
| --- | --- | --- |
| 23 Aug, 2023 | Productivity Champion: a rising talent with high contribution towards productivity improvement in organisation - Others | National |
| 02 Aug, 2023 | 2023 International Green Gown Award - IIUM Takrim 2023 | International |
| 27 Jul, 2023 | Community Engagement Award (Semester 2, 2021/2022; CCUB2163 Usrah in Action 1) - KENMS, IIUM | KCDIO |
| 27 Jul, 2023 | Community Engagement Award (Semester 2, 2022/2023; CCUB2163 Usrah in Action 1) - KENMS, IIUM | KCDIO |
| 27 Jul, 2023 | Merit Award for Scholarship Community Engagement (Youth Single Mother (YSM)) - KENMS, IIUM | KCDIO |
| 27 Jul, 2023 | KENMS TAKRIM 2023 : Involvement in Industry - Daftar Istilah Industri Perkhidmatan Kewangan Edisi Ke 2, Bank Negara Malaysia & Dewan Bahasa dan Pustaka - KENMS, IIUM | KCDIO |
| 10 Jun, 2023 | SILVER AWARD - THE AWARD IS CONFERRED ON THE PROJECT: URBAN NATURAL FARMING TOWARDS MADANI SOCIETY, DEDICATED FOR USRAH IN ACTION 1 (SCSH 2163) COURSE - IIUM Sejahtera Centre for Sustainability & Humanity | University |
Publications
Article
| | |
| --- | --- |
| 2022 | The governance structure of microfinance institutions: a comparison of models of sustainability and their implication on outreach. Asian Journal of Economics, Business and Accounting, 22 (19) pp. 104-123 |
| 2021 | Determinants of financial literacy among working local professionals in the region of Mecca, Saudi Arabia. Global Journal Al-Thaqafah (GJAT), Special Issues () pp. 32-40 |
| 2021 | Factors contributing to financial literacy among MSMEs in Klang Valley. Turkish Online Journal of Qualitative Inquiry (TOJQI), 12 (6) pp. 9223-9232 |
| 2021 | Factors determining the successful performance of Baitul Maal Wat Tamwil in Wonosobo. International Journal of Islamic Economics and Finance (IJIEF), 4 (1) pp. 79-100 |
| 2021 | Green microfinance promoting sustainable development goals (sdgs) in Bangladesh. Journal of Islamic Finance, 10 (1) pp. 011-018 |
| 2021 | Human resources and Islamic microfinance sustainability: an empirical study of Baitul Maal wat Tamwil in Indonesia. Journal of Islamic Business and Management, 11 (01) pp. 90-104 |
| 2020 | Assessment of Islamic microfinance on poverty reduction in Bangladesh. International Journal Islamic Marketing and Branding, 5 (4) pp. 326-346 |
| 2020 | Constructing a maqasid (objective) based performance measurement index for Islamic banks. International Journal of the Analytic Hierarchy Process, 12 (2) pp. 328-354 |
| 2020 | Governance structure of microfinance institutions: a comparison of models and its implication on social impact and poverty reduction. İbn Haldun Çalışmaları Dergisi, 5 (1) pp. 95-118 |
| 2020 | Job satisfaction of female employees in microfinance institutions of Bangladesh. International Journal of Entrepreneurial Research, 3 (1) pp. 1-7 |
| 2020 | Role of Islamic Microfinance Institutions for sustainable development goals in Bangladesh. Journal of International Business and Management, 3 (1) pp. 1-12 |
| 2020 | The effect of the demographic factors of micro-entrepreneur on financial literacy: case of Amanah Ikthiar Malaysia (AIM). International Journal of Business, Economics and Law,, 21 (3) pp. 47-56 |
| 2020 | The effect of zakat programs on the social impact of microfinance institutions in Bangladesh. International Journal of Zakat and Islamic Philanthropy, 2 (1) pp. 165-174 |
| 2019 | An investigation into the financial sustainability of Islamic Saving, Credit Cooperative Society (SACCOS) in Tanzania. International Journal of Ethics and Systems, 35 (2) pp. 242-259 |
| 2019 | Overlapping memberships on the audit and other board committees: impacts on financial reporting quality. Asian Journal of Accounting Perspectives, 12 (1) pp. 49-77 |
| 2019 | Women directors and firm performance: Malaysian evidence post policy announcement. Journal of Economics and Administrative Sciences, () pp. 1-14 |
| 2018 | An exploration of mobile money transfer service adoption among Islamic bank customer in Somalia = Penerimaan perkhidmatan pemindahan wang mudah alih antara pelanggan bank Islam di Somalia. Journal of Management & Muamalah, 8 (1) pp. 73-86 |
| 2018 | Critical financial analysis of Islamic bank in the Philippines: case study of Amanah Islamic bank. Global Journal Al-Thaqafah, 2018 (Spec.) pp. 145-156 |
| 2018 | The scantness of the effect of corporate governance mechanisms on executive directors' remuneration in small listed companies: evidence from Malaysia. Social Responsibility Journal, 14 (4) pp. 934-949 |
| 2017 | Managing the impact of international financial reporting standards on audit and non-audit fees: Some empirical findings and ethical discussions. International Journal Business Management, 2 (2) pp. 1-17 |
| 2015 | Adopting an enterprise resource planning system in a privatized government unit: challenges and impacts. The Asian Journal of Professional & Business Studies, 1 (1 (June-Dec)) pp. 105-116 |
| 2015 | Enhancing the effectiveness of the Islamic microfinance programme: experience of Lembaga Zakat Selangor. Jurnal Evolusi, 4 (1) pp. 13-32 |
| 2015 | Personal characteristics and strategic orientation among AIM micro-entrepreneurs. The Asian Journal of Professional & Business Studies, 1 (1 (July-Dec)) pp. 117-130 |
| 2012 | Is microfinance program in Malaysia really effective in helping the poor?. World Review of Business Research, 2 (1) pp. 79-97 |
| 2012 | The importance of monitoring and entrepreneurship concept as future direction of microfinance in Malaysia: case study in the state of Selangor. Journal of Global Entrepreneurship, 3 (1) pp. 1-120 |
| 2011 | Implementation effectiveness of Islamic microfinance program in Selangor. The Malaysian Journal of Professionalism and Entrepreneurship, 1 () pp. 1-16 |
Conference or Workshop Item
| | |
| --- | --- |
| 2020 | Determinants of financial literacy among working local professional adults in the region of Mecca, Saudi Arabia. In: 4th International Virtual Conference on Waqf, Zakat & Islamic Philanthrophy (Zawfi 2020), |
| 2020 | Factors contributing to financial literacy among MSMEs in Klang Valley. In: World Marketing Conference 2020 ( WMC 2020 ), |
| 2020 | Green microfinance promoting sustainable development goals (SDGS) in Bangladesh. In: International Conference On Islamic Social Finance: Pandemic Crisis And Possible Solutions (ISFPCPS 2020), |
| 2019 | Governance structure of microfinance institutions: A comparison of models and its implication on social impact and poverty reduction. In: 5th International Ibn Khaldun Symposium, |
| 2019 | Job satisfaction of female employees in microfinance institutions of Bangladesh. In: 3rd ASIA International Multidisciplinary Conference (AIMC 2019), |
| 2019 | Role of microfinance Institutions for sustainable development goals in Bangladesh. In: IIUM International Conference on Business Management (IICBM 2019), |
| 2019 | Sustainability and outreach of microfinance institutions in Bangladesh: the role of governance. In: International Conference on Financial Markets (ICFM 2019), |
| 2018 | Financial sustainability of Islamic saving, credit cooperative society (SACCOS) in Tanzania. In: International Conference on Religious, Culture, and Governance in the contemporary world (ICRCG 2018), |
| 2018 | Proposed governance principle and procedure for a university endowment fund. In: The 2nd Islamic Management Development Conference (IMDeC 2018) : The Evolution of Islamic Management, |
| 2017 | An exploration of mobile money transfer service adoption among Islamic bank customers in Somalia. In: 4th International Conference on Management and Muamalah 2017 (ICoMM 2017), |
| 2017 | Corporate tax (CT)rate and CT revenue in Malaysia – Laffer curve: An autoregressive distributed lag (ARDL) approach. In: FGIC 2107 1st Conference on Governance and Integrity, |
| 2017 | Disclosure of Shariah related information in Islamic cooperatives: a case study on Baitul Maal Wat Tamwil (BMT). In: 4th International Conference on Management and Muamalah 2017 (ICoMM 2017), |
| 2017 | Performance of ESG versus Shariah compliant firms in Malaysia. A conceptual framework. In: International Islamic Fund and Wealth Management FORUM (IIFWMF), |
| 2017 | The positive effect of Malaysia government corporate tax reduction initiative on public listed companies' revenue: a longitudinal study. In: 4th International Conference on Management and Muamalah 2017 (ICoMM 2017), |
| 2015 | Evaluation of asnaf entrepreneur's strategic orientation on microenterprise performance. In: 7th International Conference on Economices and Social Sciences (ICESS-2015), |
| 2015 | Islamic microfinance: the role of charity and social capital in alleviating poverty and asset building. In: International Conference on Human Sustainability 2015 (INSAN2015), |
| 2014 | Kepentingan integrasi zakat dan kewangan mikro Islam terhadap keusahawanan sosial. In: International Conference on Social Entrepreneurship (ICSE 2014), |
| 2014 | Small business financial growth: from theoretical perspective. In: 5th Asia-Pacific Business Research Conference, |
| 2013 | Enhancing the effectiveness of the Islamic microfinance programme: experience of Lembaga Zakat Selangor. In: 2nd International Conference on Rural Development and Entrepreneurship (ICORE), |
| 2013 | The importance of zakat funds for poverty alleviation through 'Asnaf Entrepreneurship Development Programme in Selangor. In: 1st International Conference on Innovation and Sustainability (ICOIS) 2013, |
Book
Book Section
| | |
| --- | --- |
| 2022 | The concept of Islamic brotherhood and "Silaturahim" as a catalyst of social entrepreneurship and unity of the Ummah.. In: Kulliyyah of Economics and Management Sciences, ISBN: 978-967- 26219-5-9., pp. 81-89 |
| 2021 | The Role of Patience and Tawakkal in Achieving the Sustainable Development Goals (SDGs). In: Kulliyyah of Economics and Management Sciences, International Islamic University Malaysia, ISBN: 978-967-2621-92-8, pp. 98-101 |
| 2021 | The Role of Patience and Tawakkal in Achieving the Sustainable Development Goals (SDGs). In: Kulliyyah of Economics and Management Sciences, International Islamic University Malaysia, ISBN: 978-967-2621-92-8, pp. 98-101 |
| 2019 | Disclosure of Shariah related information in Islamic cooperatives: a case study on Baitul Maal Wat Tamwil (BMT). In: USIM Press, ISBN: 9789674406660, pp. 362-466 |
| 2019 | Effective board governance structure for a University Endowment Fund. In: Springer Nature Singapore Pte Ltd, ISBN: 978-981-13-7583-5, pp. 3-17 |
| 2016 | Kepentingan integrasi zakat dan kewangan mikro Islam; tinjauan program pembangunan usahawan asnaf di Shah Alam. In: Social Institute of Malaysia (SIM), Ministry of Women, Family and Community Development, ISBN: 978-967-5472-22-0, pp. 101-117 |
Monograph