Staff Directory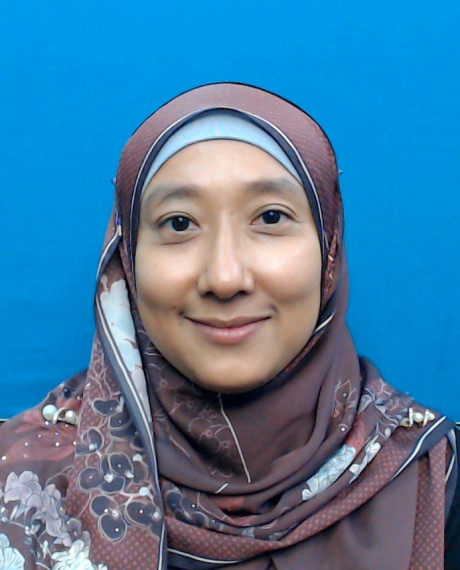 Academic Qualification
Clinical Nursing Practice - Doctor of Philosophy, Universiti Sains Malaysia (USM)
- Bachelor Degree, Universiti Sains Malaysia
Siti Noorkhairina Binti Sowtali (Dr.)
Assistant Professor
IIUM Kuantan Campus
KULLIYYAH OF NURSING
---
sitinoorkhairina@iium.edu.my
7319
Expert Profile
Siti Noorkhairina binti Sowtali had obtained her BSc (Hons) and Ph.D at Universiti Sains Malaysia, Kubang Kerian, Kelantan while her Master was from Asia e University, Kuala Lumpur. She had been working with various highly prestigious private sectors for Diploma Nursing Program such as Masterskill University College of Health Sciences (MUCH) Cheras, University College Shahputra (UCSA) Kuantan, University College Bestari (UCB), Terengganu between 2007 to 2011 as clinical instructor, assistant tutor, lecturer, coordinator and internal auditor.
She had received various scholarship for her education such as Majlis Amanah Rakyat (MARA) allowance while in MARA Junior Science College (MJSC), Jabatan Perkhidmatan Awam (JPA) for BSc (Hons), Academic Trainee Scheme from International Islamic University Malaysia (IIUM) along with Ministry of Higher Education (MOHE) Scholarship for her Ph.D. Now, she had served back with Kulliyyah of Nursing (KON) in 2015 and holding several high impact post such as Deputy Dean Student Affairs (DDSA) (2016) and Postgraduate Coordinator (2017).
She had vast experience in nursing academia including involvement in teaching and learning, undergraduate research project, accreditation process, auditing process, ISO involvement while working in the private sectors and during her Master studies. Such experiences had mold her passion in mentoring, coaching, supervising for nursing academic activities and research. She had published research articles, books, magazines column, poster and perform presentations at local and international level and currently holding few research grants.
Her expertise can be classified as the following:-
a) Clinical Nursing (Stroke Education, Patient Education and Nutrition Nursing)
b) Nursing Education (Teaching Strategy, Student Assessment and Curriculum Designing and Instruction) 
Area of Specialisation
Medical And Health ~ Medical And Health Sciences ~ Nursing Education ~ Health Education - stroke education
Professional Membership
2014: Member of Profesional Body / Association: (Life member), Persatuan Diabetes Malaysia
2018: Member of Profesional Body / Association: (Life member), Pertubuhan IKRAM Malaysia
2019: Member of Profesional Body / Association: (Life Member), Persatuan Pencegahan Tuberkulosis Kelantan
2020: Member of Profesional Body / Association: (Life member), Malaysian Nurses Association
Teaching Responsibilities
| | |
| --- | --- |
| BIOSTATISTICS | 2020/2021 2019/2020 2018/2019 2017/2018 |
| BIOSTATISTICS AND EPIDEMIOLOGY | 2017/2018 2016/2017 |
| CLINICAL FIQH IN NURSING | 2022/2023 |
| COMMUNICATION AND THERAPEUTIC INTERVENTION | 2015/2016 |
| DISCOVERY OF SPECIALIZATION IN NURSING | 2021/2022 2020/2021 2019/2020 |
| FINAL YEAR RESEARCH PROJECT I | 2022/2023 2021/2022 2020/2021 2019/2020 |
| FINAL YEAR RESEARCH PROJECT II | 2022/2023 2021/2022 2020/2021 2019/2020 |
| FUNDAMENTAL NURSING PRACTICE | 2021/2022 2020/2021 2019/2020 2018/2019 2017/2018 |
| GASTROINTESTINAL,HEPATOBILIARY AND NEUROLOGICAL NURSING PRACTICE | 2021/2022 2018/2019 |
| HEALTH ASSESSMENT,THERAPEUTIC INTERVENTION & DRUG ADMIN. IN NURSING | 2022/2023 2020/2021 |
| INNOVATION IN NURSING | 2021/2022 |
| INTEGRATED NURSING PRACTICE | 2016/2017 2015/2016 |
| INTEGRATED NURSING PRACTICE (FINAL PROFESSIONAL EXAMINATION) | 2017/2018 |
| INTEGRATED NURSING SCIENCES | 2016/2017 2015/2016 |
| INTEGRATED NURSING SCIENCES (FINAL PROFESSIONAL EXAMINATION) | 2017/2018 |
| INTEGRATED NURSING SCIENCES(FINAL PROFESSIONAL EXAMINATION) | 2020/2021 |
| ISSUES, CHALLENGES AND FUTURE TRENDS IN NURSING | 2019/2020 |
| LEADERSHIP AND MANAGEMENT | 2020/2021 |
| MANAGEMENT AND ADMINISTRATION IN NURSING | 2021/2022 2020/2021 2019/2020 2017/2018 2016/2017 |
| MANAGEMENT AND ADMINISTRATION IN NURSING PRACTICE | 2021/2022 2020/2021 2019/2020 |
| MANAGEMENT AND ADMINISTRATION NURSING PRACTICE | 2018/2019 2017/2018 |
| PROFESSIONAL NURSING | 2015/2016 |
| RESEARCH METHODOLOGY IN NURSING | 2018/2019 |
| RESEARCH PROJECT FINAL | 2018/2019 2017/2018 2016/2017 2015/2016 |
| RESEARCH PROJECT PROPOSAL | 2018/2019 2017/2018 2016/2017 |
| SUSTAINABLE DEVELOPMENT: ISSUES, POLICIES AND PRACTICES | 2021/2022 |
| THEORY, ETHICS AND PROFESSIONALISM IN NURSING | 2020/2021 |
Research Projects
Completed
| | |
| --- | --- |
| 2019 - 2022 | Dietary management of urinary tract stone patient: An introduction guidelines of Malaysia context |
| 2018 - 2021 | CONSTIPATION KNOWLEDGE TRANSFER PROGRAM (C-KTP) IN COMMUNITY SETTINGS OF KUANTAN, PAHANG |
| 2016 - 2020 | "Development, Implementation and Evaluation of Family-based Educational Program for hospitalized patient with cardiovascular Risk in East-Coast Malaysia Teaching Hospital: Pilot Protocol of DIEFER Program" |
On-Going
| | |
| --- | --- |
| 2021 - Present | Formulation of Functional Ability Index for Quantification and Assessment of Transitive and Tool-Mediated Skills in Post-Stroke Rehabilitation |
| 2021 - Present | Expository Analysis from Islamic Views on Promoting Early Breast Cancer Screening among Muslim Women |
Award & Recognition
| | | |
| --- | --- | --- |
| 04 Nov, 2022 | Top 20 Contributor to KON's Research Performance (Rank 20) - Kulliyyah of Nursing Takrim Day 2022 | KCDIO |
| 04 Nov, 2022 | Staff Sports Award (Female) - Kulliyyah of Nursing Takrim Day 2022 | KCDIO |
| 04 Nov, 2022 | Book Publication Award - Kulliyyah of Nursing Takrim Day 2022 | KCDIO |
| 04 Nov, 2022 | Best Educator Award - Kulliyyah of Nursing Takrim Day 2022 | KCDIO |
| 14 Aug, 2022 | 5th place - Malaysia Nurses Association, Pahang Branch | State |
| 17 Dec, 2021 | Best Researcher Award - KON Takrim Day 2021 | KCDIO |
| 17 Dec, 2021 | Product Innovation and Commercialization Award - KON Takrim Day 2021 | KCDIO |
| 17 Dec, 2021 | Special Recognition Award National Immunisation Programme (Vaccinator) - KON Takrim Day 2021 | KCDIO |
| 17 Dec, 2021 | Top 10 Contributors to KON's Research Performance - KON Takrim Day 2021 | KCDIO |
| 27 Jul, 2021 | Most Promising Award (Health and Medical Sciences) - International Islamic University Malaysia | University |
| 31 Dec, 2020 | IIUM TAKRIM MONTH 2020 - | University |
| 03 Dec, 2020 | Most Promising Academic Award - KON Virtual Takrim Day 2020 | KCDIO |
| 03 Dec, 2020 | Top 20 Contributors to KON Research Performance - KON VIRTUAL TAKRIM DAY 2020 | KCDIO |
| 13 Nov, 2020 | 1st Best Oral Presenter. The 1st International Nursing and Health Sciences (INHSS)-Virtual. 13-15 November 2020 (Virtual). - School of Nursing and Nutrition Department, Faculty of Medicine, Universitas Brawijaya, Malang Indonesia. | International |
Publications
Article
| | |
| --- | --- |
| 2022 | Cultural, religious and socio-ethical misconceptions among muslim women towards breast cancer screening: a systematic review. Asian Pacific Journal of Cancer Prevention, 23 (12) pp. 3971-3982 |
| 2022 | Integration of maqasid as-shariah in nutrition nursing: potential role of nurses. International Journal of Care Scholars, 5 (3) pp. 95-96 |
| 2022 | Jururawat Malaysia: gaji masih di takuk lama?. IKRAM, 9 June 2022 () pp. |
| 2022 | Knowledge, awareness and practice on dietary management among patients with Urolithiasis: a scoping review. International Journal of Care Scholars, 5 (2) pp. 126-132 |
| 2022 | Prevalence and reasons influenced medication non‑adherence among diabetes patients: A mixed‑method study. Journal of Diabetes & Metabolic Disorders, () pp. |
| 2021 | Knowledge, awareness and dietary practice on urolithiasis among general population in Kuantan, Pahang, Malaysia: Preliminary findings (journal). Journal of Public Health Research, 10 (2) pp. |
| 2021 | LGBT: Is this our responsibility?. IKRAM, () pp. |
| 2021 | Malnutrition risk among chronic kidney disease patients attending the nephrology clinic in Hospital Tengku Ampuan Afzan, Pahang. International Journal of Care Scholars, 4 (1) pp. 13-25 |
| 2021 | Understanding the development of self-efficacy for physical activity engagement in men after myocardial infarction: a preliminary qualitative study. Journal of Public Health Research, 10 (2) pp. |
| 2021 | Understanding the development of self-efficacy for physical activity engagement in men after myocardial infarction: a preliminary qualitative study (Journal). Journal of Public Health Research, 10 (2) pp. |
| 2021 | Vaksin Covid-19: kami sudah, lepas ini anda pula. Sinar Harian, 15 March 2021 () pp. |
| 2021 | Vaksinasi COVID-19: siapa patut terima dulu?. Sinar Harian, () pp. |
| 2021 | Waqf for healthcare: social security of the future. International Journal Of Care Scholars, 4 (2) pp. 89-92 |
| 2020 | Educational needs of chronic kidney disease patients who presented to Tengku Ampuan Afzan Hospital: Preliminary findings. Saudi Journal of Kidney Diseases and Transplantation, 31 (1) pp. 118-128 |
| 2020 | The effects of early educational intervention on patients with acute coronary syndrome (ACS): a review. Malaysian Journal of Medical Research, 4 (2) pp. 39-48 |
| 2020 | Usah panik, ambil langkah bijak cegah COVID-19. Berita Harian, () pp. 34-34 |
| 2019 | Bipolariti: gangguan emosi berubah-ubah. Dewan Siswa, 12 () pp. 10-13 |
| 2019 | Effect of patient characteristics on medication adherence among patients with type 2 diabetes mellitus: a cross-sectional survey. Contemporary Nurse, 2019 () pp. 1-11 |
| 2019 | Knowledge and awareness about chronic kidney disease among undergraduate students in International Islamic University Malaysia Kuantan Campus. Education in Medicine Journal, 11 (3) pp. 31-43 |
| 2019 | Pattern of herbal and dietary supplement usage and conventional medication adherence among patients with chronic kidney disease: a survey finding. The International Medical Journal of Malaysia, 18 (3) pp. 154-164 |
| 2019 | Penyakit buah pinggang kronik boleh dicegah. Dewan Kosmik, 1 () pp. 12-16 |
| 2019 | Projection of nursing profession in Malaysia: where we are and what need to be improved?. Nursing & Healthcare International Journal, 3 (1) pp. 1-6 |
| 2019 | Test-retest reliability of Malay version of stroke knowledge test. International Journal of Care Scholars, 2 (1) pp. 29-35 |
| 2018 | Educational needs assessment and the management of chronic kidney disease in a Malaysian setting: a review. International Journal of Care Scholars, 1 (1) pp. 34-38 |
| 2018 | Incidence of phlebitis among adult patients with peripheral intravenous catheter in an east coast hospital Malaysia. International Journal of Care Scholars, 1 (2) pp. 5-8 |
| 2017 | Comparison of knowledge, attitude and practice on stroke knowledge in Malaysia and other nations: A review of literature. International Medical Journal, 24 (2) pp. 168-173 |
| 2017 | Keperluan jururawat lelaki. Keperluan jururawat lelaki, 55 (4) pp. 20-23 |
| 2017 | Pengurusan pemakanan bulan Ramadhan. Majalah KOSMIK :Majalah Sains dan Teknologi, 5 () pp. 10-14 |
| 2017 | Trending in multidisciplinary research for stroke disease management. Nursing & Healthcare International Journal, 1 (5) pp. 1-3 |
| 2016 | Translation and validation of the Malay version of the Stroke Knowledge Test. Journal of Arrhythmia, 32 (2) pp. 112-118 |
| 2014 | Educational needs among stroke patients admitted to Hospital Universiti Sains Malaysia: preliminary findings (keperluan pendidikan dalam kalangan pesakit strok di Hospital Universiti Sains Malaysia: data awalan). Jurnal Sains Kesihatan Malaysia, 12 (1) pp. 67-73 |
| 2013 | Secondary stroke prevention through patient education intervention on lifestyle risk factors: a review. Health and the Environment Journal, 4 (2) pp. 127-151 |
| 2012 | Evolusi profesion kejururawatan di Malaysia. Dewan Masyarakat, 09 () pp. 23-24 |
Conference or Workshop Item
| | |
| --- | --- |
| 2021 | Discovering the reasons of non=adherence towards the anti-diabetics medication among type 2 diabetes mellltus patients. In: 2nd Syedza Saintika International Conference on Nursing, Midwifery, Medical Laboratory Technology, Public Health, and Health Information Management (SeSICNiMPH 2021), |
| 2021 | Knowledge, awareness and breast self-examination practice among Sutlan Ahmad Shah Medical Centre @International Islamic University Malaysia staff nurses: follow up 6 months study. In: 4th Aceh International Nursing Conference (AINC) 2021, |
| 2020 | Knowledge, awareness and dietary practice on urolithiasis among general population in Kuantan, Pahang, Malaysia: preliminary findings. In: 1st International Nursing and Health Sciences Symposium (INHSS), |
| 2020 | Knowledge, awareness, and practice on breast cancer among staff nurses in Sultan Ahmad Shah Medical Centre (SASMEC@IIUM), Kuantan, Pahang: preliminary findings. In: The 11th Annual Indonesian Society for Cancer Chemoprevention Conference and Congress 2020, |
| 2020 | Understanding the development of self-efficacy for physical activity engagement in men after myocardial infarction: a preliminary qualitative study. In: 1st International Nursing and Health Sciences Symposium (INHSS), |
| 2019 | Evaluation of multidisciplinary education on diet modification and fluid intake restriction adherence among chronic kidney disease patients in hemodialysis unit of general hospital in Kuantan. In: Kuantan Research Day 2019, |
| 2019 | Exploring medication non-adherence among patients with Diabetes Mellitus. In: The 2nd Andalas International Nursing Condefence (AINIC) 2019, |
| 2019 | Knowledge, attitude and practice on stroke among hypertensive patients attending Medical Outpatient Department of Hospital Tengku Ampuan Afzan. In: 3rd International symposium on Latest Balance and Stroke Innovation, |
| 2018 | Incidence and risk factors of phlebitis among adult patient s with peripheral intravenous catheter. In: The Global Public Health Conference 2018 (GlobeHEAL), |
| 2018 | Medication adherence and its associations with socio-demographic factors and clinical profiles among type 2 diabetes mellitus patients. In: 4th World Congress on Nursing & Healthcare, |
| 2018 | Translation and validation of Malay version stroke knowledge test: extension study experience. In: Translation and Validation of Malay Version Stroke Knowledge Test: Extension Study Experience, |
| 2017 | A survey on anti-diabetic medication adherence among Type 2 diabetics in a public hospital in Selangor. In: Nurses at the Forefront Transforming Care, |
| 2017 | Constructing a patient-centred strategy to promote adherence to anti-diabetic medication: a mixed methods study. In: 9th International Qualitative Research Conference 2017, |
| 2017 | Incidence and risk factors of phlebitis among adult patients with peripheral intravenous catheter (PIVC). In: USM National Nursing Conference 2017, |
| 2016 | The effectiveness of health education program towards knowledge and attitude on Pap smear among married women in Kuantan, Pahang. In: 2nd International Nursing Conference, |
Book