Staff Directory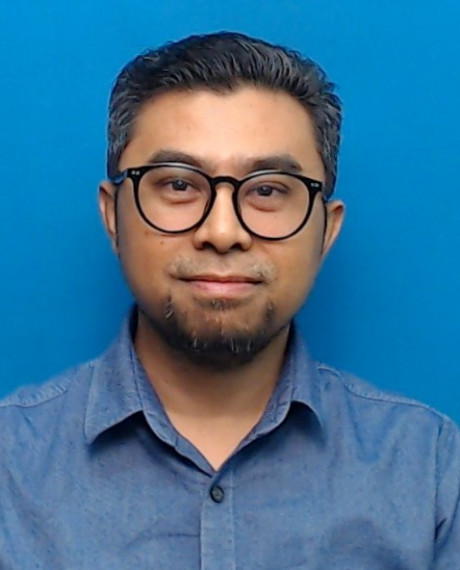 Academic Qualification
Doctor of Philosophy (Biopharmaceutics, Pharmacokinetics and Pharmacodynamics) - Doctor of Philosophy, Monash University, Melbourne
Mohd Hafidz Bin Mahamad Maifiah (Dr.)
Assistant Professor
IIUM Gombak Campus
INTERNATIONAL INSTITUTE FOR HALAL RESEARCH AND TRAINING

Other's position:
Head, International Institute for Halal Research and Training
---
mhafidzmaifiah@iium.edu.my
5598
Expert Profile
Dr. Mohd Hafidz Mahamad Maifiah graduated in Bachelor of Biomedical Science (Hons) and Master of Science (Biotechnology Engineering) from the International Islamic University Malaysia (IIUM). He then completed his PhD in Pharmaceutical Science from the Monash Institute of Pharmaceutical Science (MIPS), Australia in 2017. His PhD thesis elucidated the mechanisms of actions of polymyxins mono- and combination therapy against multidrug-resistant Gram-negative bacteria Acinetobacter baumannii and Pseudomonas aeruginosa adopted metabolomics and transcriptomics approaches. Currently, Dr. Mohd Hafidz is an academic staff at the International Institute for Halal Research and Training (INHART), IIUM serves as the Head of Postgraduate Management. His research interests cover the areas of halal food and pharmaceutical, plant natural products for bioactive compounds, bacterial resistance, metabolomics, halal supply chain and cold chain management.   
Area of Specialisation
Medical And Health ~ Medical And Health Sciences ~ Phamaceutical Industry ~ Natural Products - Herbal Plant/antimicrobial
Natural Science ~ Biological Sciences ~ Microbiology ~ Bacteriology - Antimicrobial/Polymyxin/Antimicrobial resistance
Biotechnology ~ Biotechnology ~ Medical Biotechnology ~ Biomaterial - Biocellulose
Natural Science ~ Bioinformatics ~ Systems Biology ~ Cellular Metabolomics - microbial metabolomics
Agricultural ~ Agricultural Science And Technology ~ Food Sciences and Nutrition ~ Halal Products - Halal alternative ingredients
Professional Membership
2021 - 2022: Member of Profesional Body / Association: (Ordinary Member ), Malaysian Society for Microbiology (MSM)
2022 - 2023: Member of Profesional Body / Association: (Ordinary member), Malaysian Society for Microbiology (MSM)
Research Projects
Completed
| | |
| --- | --- |
| 2021 - 2023 | Synergistic Antibacterial Activity of Novel Exogenous Metabolite-polymyxin Combinations against Klebsiella Pneumoniae |
| 2020 - 2020 | Certified Halal Executive Training |
| 2019 - 2019 | Certified Halal Executive Training |
| 2019 - 2022 | Deciphering the mechanism of action of polymyxins on pentose phosphate pathway metabolism in Acinetobacter baumannii in discovering novel antibiotic targets |
| 2018 - 2021 | Synergistic killing of novel combinations of `old? polymyxin drug and medicinal plant extracts targeting Gram-negative bacteria |
| 2018 - 2023 | Antibacterial activity of phenolic compounds from Carica papaya seed extract as food preservative. |
On-Going
| | |
| --- | --- |
| 2023 - Present | Sample Analysis by INHART Laboratory |
| 2023 - Present | TRANSFERRING KNOWLEDGE IN BIOCIRCULAR PROCESS OF FOOD AND AGRICULTURAL WASTES FORMULATION FOR BLACK SOLDIER FLY CULTIVATION AS ANIMAL FEED AND FRASS IN PADANG BESAR, PERLIS |
| 2023 - Present | Development of the rapid real-time polymerase chain reaction (RT-PCR) method for halal authentication of cosmetic products |
| 2022 - Present | Sample analysis by INHART Laboratory |
| 2018 - Present | Data Management of Various Non-Halal Adulterations and Development of Portable Halal Device |
Publications
Article
| | |
| --- | --- |
| 2023 | Porcine and bovine-derived ingredients: Islamic rules in halal pharmaceutical products. Journal of Fatwa Management and Research, 28 (3) pp. 41-57 |
| 2022 | Bacterial metabolomics: sample preparation methods. Biochemistry Research International, 2022 (9186536) pp. 1-14 |
| 2022 | Combination of polymyxin B and Aquilaria malaccensis extract enhanced the killing and inhibited the growth of Acinetobacter baumannii and Klebsiella pneumoniae. Malaysian Journal of Microbiology, 18 (1) pp. 27-36 |
| 2022 | Concerns about food safety actualisation is of the utmost importance in the toyyiban principle. @ Halal, 4 (21) pp. 15-15 |
| 2022 | Deciphering the action of polymyxins on pentose phosphate pathway metabolism in Acinetobacter Baumannii: a metabolite-based target towards safe antibiotic treatment. IIUM Journal of Orofacial and Health Sciences, 3 (Supplement 1) pp. 9-9 |
| 2022 | Exogenous metabolite feeding on altering antibiotic susceptibility in Gram-negative bacteria through metabolic modulation: a review. Metabolomics, 18 (47) pp. 1-12 |
| 2022 | In silico genome-scale metabolic modeling and in vitro static time-kill studies of exogenous metabolites alone and with polymyxin B against Klebsiella pneumoniae. Frontiers in Pharmacology, () pp. 1-10 |
| 2022 | Integrated metabolomic and transcriptomic analyses of the synergistic effect of polymyxin–rifampicin combination against Pseudomonas aeruginosa. Journal of Biomedical Science, 29 (89) pp. 1-19 |
| 2022 | Isotopic tracer for absolute quantification of metabolites of the pentose phosphate pathway in bacteria. Metabolites, 12 (11) pp. 1-12 |
| 2022 | Logo, sijil halal hindar rasa ragu pengguna. Berita Harian Online, 25 Mar 2022 () pp. |
| 2022 | Malaysian Muslim consumers' awareness, confidence, and purchase behaviour on halal meat and its products after the meat cartel scandal. Food Research, 6 (6) pp. 273-279 |
| 2021 | Novel antimicrobial development using genome-scale metabolic model of Gram-negative pathogens: a review. The Journal of Antibiotics, 74 (2) pp. 95-104 |
| 2020 | Antibacterial activity of ethanolic leaf extract of Aquilaria malaccensis against multi-drug-resistant Gram-negative pathogen. Food Research, 4 (6) pp. 1962-1968 |
| 2020 | Antibacterial test and toxicity of plant seed extracts: a review. Food Research, 4 ((Suppl. 1) (2020)) pp. 12-27 |
| 2020 | Detection of pork in processed meat products by species-specific PCR for halal verification: food fraud cases in Hat Yai, Thailand. Food Research, 4 ((S1)) pp. 244-249 |
| 2020 | Integriti halal jamin aspek keselamatan makanan. Berita Harian, () pp. 11 |
| 2020 | Response surface optimization of yield of agarwood (Aquilaria malaccensis) leaf extract using Soxhlet extraction. International Journal of Recent Technology and Engineering (IJRTE), 8 (6) pp. 1926-1934 |
| 2020 | The thrombolytic and cytotoxic effects of nigella sativa (L.) seeds: the prophetic medicine. International Journal of Halal Research, 2 (2) pp. 70-77 |
| 2019 | Benchmarking of halal food products using similarity measures – a conceptual retrieval model. Journal of Information Systems and Digital Technologies, 1 (1) pp. 17-24 |
| 2019 | In vivo anxiolytic and in vitro anti-inflammatory activities of water-soluble extract (WSE) of Nigella sativa (L.) seeds. Natural Product Research, 35 (16) pp. 2793-2798 |
| 2019 | In vivo anxiolytic and in vitro anti-inflammatory activities of water-soluble extract (WSE) of Nigella sativa (L.) seeds. Natural Product Research, () pp. 1-6 |
| 2019 | Metabolic responses to polymyxin treatment in acinetobacter baumannii ATCC 19606: integrating transcriptomics and metabolomics with genome-scale metabolic modeling. MSYSTEMS, 4 (1) pp. 1-15 |
| 2019 | Revisiting an 'old' antibiotic class polymyxins by drug combination therapy targeting Gram-negative superbugs: Toyyiban perspective. Journal of Halal Industry and Services, 2 (1) pp. 1-12 |
| 2019 | Supervised identification of Acinetobacter Baumanni strains using artificial neural network. Journal of Information Systems and Digital Technologies, 1 (2) pp. 16-23 |
| 2018 | Genome-scale metabolic modeling of responses to polymyxins in Pseudomonas aeruginosa. GigaScience, 7 (4) pp. 1-18 |
| 2018 | Isolation and identification of bacteria-producing cellulose from tropical fruit for Halal capsule application. International Journal on Advanced Science, Engineering and Information Technology, 8 (4-2) pp. 1591-1596 |
| 2017 | Untargeted metabolomics analysis reveals key pathways responsible for the synergistic killing of colistin and doripenem combination against Acinetobacter baumannii. Scientific Reports, 7 () pp. 1-12 |
| 2016 | Acinetobacter baumanniiphenylacetic acid metabolism influences infection outcome through a direct effect on neutrophil chemotaxis. Proceedings of the National Academy of Sciences (PNAS), 113 (34) pp. 9599-9604 |
| 2016 | Global metabolic analyses identify key differences in metabolite levels between polymyxin-susceptible and polymyxin-resistant Acinetobacter baumannii. Scientific Reports, 6 () pp. 1-17 |
| 2011 | Molecular cloning and production of recombinant phytase from Bacillus Subtilis ASUIA243 in Pichia Pastoris. IIUM Engineering Journal, 12 (4) pp. 1 |
| 2011 | Screening and optimization of media components for phytase production of ASUIA 279 in Pichia pastoris system using statistical design. Australian Journal of Basic and Applied Sciences, () pp. |
Conference or Workshop Item
Book Section
| | |
| --- | --- |
| 2023 | Concerns about food safety. Actualisation is of the utmost importance in the toyyiban principle. In: Revon Maedia Sdn Bhd, ISBN: 978-629-97445-2-8, pp. 51-53 |
| 2023 | Streamlining cold chain management for halal integrity. In: Revon Media Sdn Bhd, ISBN: 978-629-97445-2-8, pp. 202-204 |
| 2020 | A conceptual framework highlighting barriers in cold chain management for Halal food products in South-East Asian countries. In: Routledge Taylor & Francis Group, ISBN: 978-0-367-34997-4, pp. 51-67 |
| 2020 | A conceptual framework highlighting barriers in cold chain management for Halal food products in South-East Asian countries. In: Routledge Taylor & Francis Group, ISBN: 978-0-367-34997-4, pp. 51-67 |
| 2019 | Global metabolic analyses of acinetobacter baumannii. In: Humana Press, ISBN: 978-1-4939-9117-4, pp. 321-328 |