Staff Directory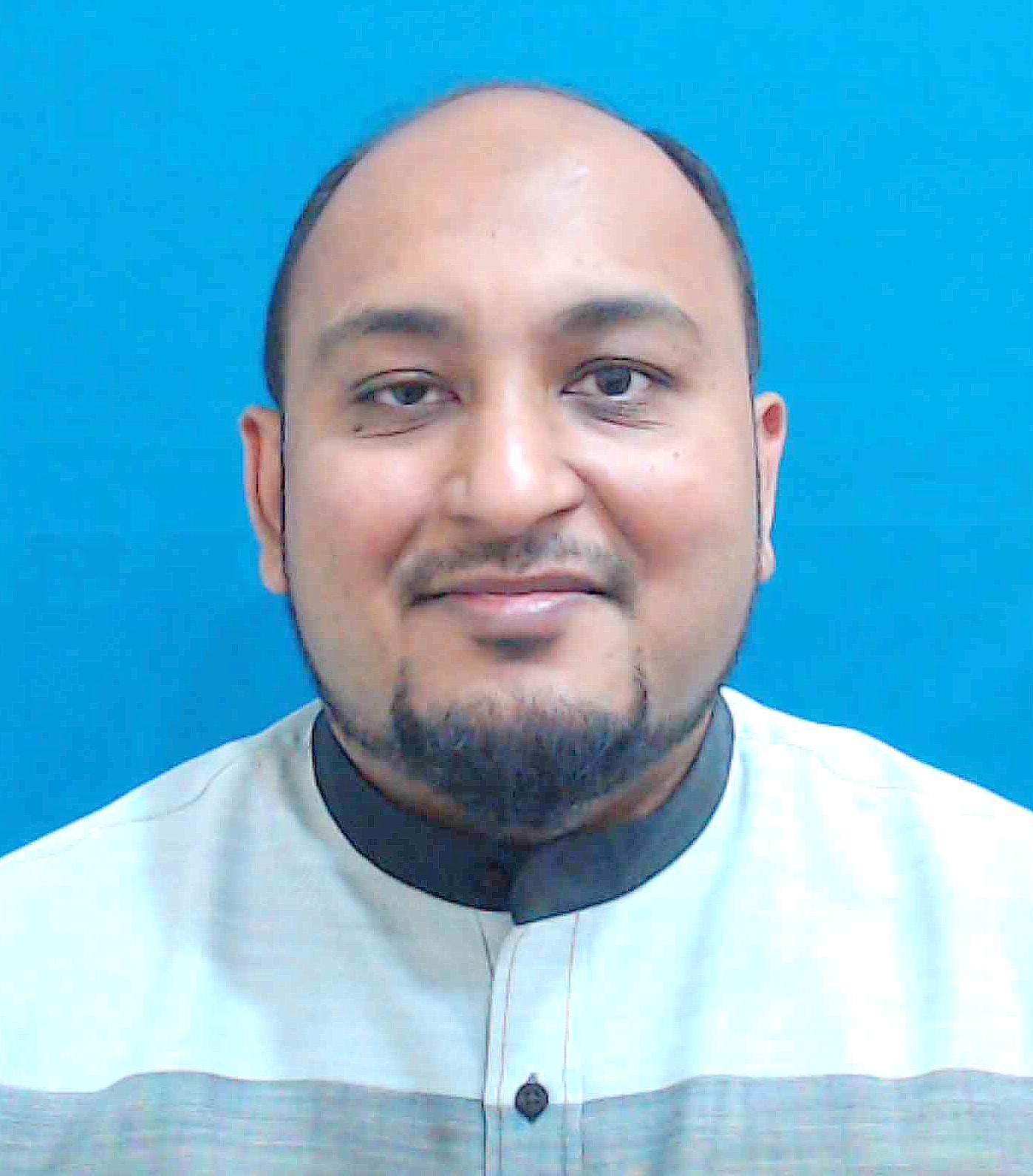 Academic Qualification
Ph.D in Health Sciences - Doctor of Philosophy, International Islamic University Malaysia
Mohd. Yusof Bin Mohamad (Dr.)
Assistant Professor
IIUM Kuantan Campus
KULLIYYAH OF ALLIED HEALTH SCIENCES

Other's position:
Coordinator, Kulliyyah of Allied Health Sciences
---
yusofkahs@iium.edu.my
5387
Expert Profile
 Mohd Yusof received his undergraduate and postgraduate education in the field of Biomedical Sciences, Human Anatomy and Tissue Engineering from International Islamic University Malaysia. He also received a postgraduate Diploma in Islamic studies from the same institution. He also granted permission to transmit the narration of major books of hadith and ulum al-Qurán by Cordoba Academy . His research interests include tissue engineering, hadith studies, human evolution and comparative religion. He is actively involved as moderator handling debates programmes around the country. He currently teaches courses of human anatomy, physiology and critical thinking in International Islamic University Malaysia.
Area of Specialisation
Medical And Health ~ Medical And Health Sciences ~ Medical Device, Equipment and System ~ Tissue Engineering - Tissue Engineering, Spinal Research
Teaching Responsibilities
| | |
| --- | --- |
| ANATOMY 1 | 2018/2019 2017/2018 |
| ANATOMY 2 | 2018/2019 2017/2018 |
| ANATOMY AND PHYSIOLOGY | 2022/2023 2021/2022 2020/2021 2019/2020 |
| ANATOMY AND PHYSIOLOGY I | 2022/2023 2021/2022 2020/2021 2019/2020 |
| CLINICAL PHYSIOTHERAPY 3 | 2020/2021 |
| CLINICAL PHYSIOTHERAPY 4 | 2020/2021 |
| COUNSELLING FOR COMMUNICATION DISORDERS | 2021/2022 2020/2021 2019/2020 2018/2019 2017/2018 |
| COUNSELLING IN COMMUNICATION DISORDERS | 2021/2022 2020/2021 2018/2019 |
| COUNSELLING SKILLS | 2022/2023 2021/2022 2020/2021 2019/2020 2018/2019 2017/2018 |
| CRITICAL THINKING IN HEALTHCARE | 2022/2023 2021/2022 2020/2021 2019/2020 |
| ENTREPRENEURSHIP IN PHYSIOTHERAPY | 2022/2023 |
| EXERCISE PHYSIOLOGY | 2022/2023 2021/2022 2020/2021 |
| FAMILY MANAGEMENT | 2021/2022 2020/2021 |
| FAMILY MANAGEMENT AND PARENTING | 2019/2020 2018/2019 |
| ISLAMIC INPUT FOR HEALTH PROFESSIONAL | 2020/2021 2019/2020 |
| ISLAMIC INPUT FOR HEALTH PROFESSIONAL (MHSC) | 2020/2021 2019/2020 2017/2018 |
| ISLAMIC INPUT FOR HEALTH PROFESSIONALS | 2017/2018 |
| Islamisation of Human Knowledge for Health Sciences | 2022/2023 2021/2022 |
| Islamisation of Human Knowledge in Medicine | 2021/2022 |
| LABORATORY DIAGNOSTIC TOXICOLOGY | 2022/2023 2020/2021 |
| LEADERSHIP AND MANAGEMENT | 2022/2023 2017/2018 |
| MEDICAL CONDITION 4 : NEURO-MEDICAL & NEURO SURGERY | 2018/2019 2017/2018 |
| MEDICAL CONDITIONS 1 : CARDIORESPIRATORY & CARDIOVASCULAR | 2018/2019 |
| MEDICAL CONDITIONS 3 : SKIN & ENT | 2018/2019 2017/2018 |
| NEUROSCIENCE | 2022/2023 2021/2022 2019/2020 |
| PHARMACOLOGY | 2020/2021 2019/2020 2018/2019 |
| PHYSIOLOGY 1 | 2018/2019 2017/2018 |
| PHYSIOLOGY 2 | 2022/2023 2021/2022 2020/2021 2018/2019 2017/2018 |
| RESEARCH METHODOLOGY | 2022/2023 2021/2022 2019/2020 2018/2019 2017/2018 |
| RESEARCH PROJECT IN PHYSIOTHERAPY | 2022/2023 2021/2022 |
| RESEARCH PROJECT/DISSERTATION 1 | 2020/2021 2019/2020 2018/2019 |
| RESEARCH PROJECT/DISSERTATION 2 | 2020/2021 2019/2020 2018/2019 2017/2018 |
| TOXICOLOGY | 2022/2023 2021/2022 2020/2021 2019/2020 2018/2019 |
Research Projects
Completed
| | |
| --- | --- |
| 2018 - 2022 | Ascorbic Acid PLGA Nanoparticles Incorporated With Carbopol-Honey Oral Gel Intended To Treat Oral Squamous Cell Carcinoma |
| 2018 - 2021 | Cell Viability, Biochemical and Histological Evaluation of Three-Dimensional Fish-derived Collagen-Chitosan-Glycerin Scaffold for Oral Mucosa Regeneration. |
On-Going
| | |
| --- | --- |
| 2022 - Present | Fostering Connections Between Science and Theology for Medical Track Muslim Students |
| 2019 - Present | Evaluation of Novel Fish-Derived Collagen/Chitosan Membrane Loaded with Metronidazole Nanoparticle As Guided Bone Regeneration for Periodontal Regeneration. |
Award & Recognition
| | | |
| --- | --- | --- |
| 16 Sep, 2019 | Best Oral Presenter for Nusantara Conference - PAPISMA | International |
Publications
Article
| | |
| --- | --- |
| 2022 | An unusual case of an exceptionally large anterior jugular vein in a dissected cadaver: a case report. Malaysian Journal of Medicine and Health Sciences, 18 (Supp 22) pp. 37-37 |
| 2022 | Analyses of the methodological differences between Muhaddithun and Usuliyyun in Hadith criticism. International Journal of Academic Research in Business and Social Sciences, 12 (6) pp. 620-629 |
| 2022 | Development of chitosan loaded metronidazole nanoparticle as stable local drug delivery for periodontal treatment. IIUM Journal of Orofacial and Health Sciences, 3 (1) pp. 25 |
| 2022 | Effects of cryotherapy after soft tissue injury: a systematic review. International Journal of Allied Health Sciences (IJAHS), 6 (2) pp. 2625-2631 |
| 2022 | The acute effect of passive and active stretching on hamstring flexibility and surface electromyography activity on students of International Islamic University Malaysia Kuantan Campus (IIUMK). International Journal of Allied Health Sciences, 6 (2) pp. 2604-2609 |
| 2021 | Incident of Sihir Upon Prophet Muhammad sallahu álaihi wassalam: Analyses of Narrations, Mental Capacity, and Its Implication on Revelation.. Malaysian Journal of Medicine and Health Sciences, 17 (5) pp. 104-105 |
| 2021 | Knowledge, attitude, and practice (KAP) towards pelvic floor muscle exercise among the female population attending the obstetrics and gynaecology clinic at Sultan Ahmad Shah Medical Centre (SASMEC@IIUM). International Journal of Allied Health Sciences, 5 (6) pp. 2521-2529 |
| 2020 | Analisis hadith Al-Ṯurāyya dan kaitannya dengan COVID-19. Al-Bayan: Journal of Qur'an and Hadith Studies, 18 (2) pp. 178-200 |
| 2020 | Analysis of hadith al-turāyya and its link to COVID-19. AlBayan, 18 (2) pp. 178-200 |
| 2020 | In vitro evaluation of poly (lactic acid-co-glycolic acid)/ atelocollagen/fibrin bioscaffold for annulus fibrosus regeneration. Trends in Biomaterials and Artificial Organs, 34 (3) pp. 118-123 |
| 2019 | The use of collagen biomaterial in oral cancer: a systematic review. Malaysian Journal of Medicine and Health Sciences, 15 (Supplement 8) pp. 33-33 |
Conference or Workshop Item
| | |
| --- | --- |
| 2022 | An unusual case of an exceptionally large anterior jugular vein in a dissected cadaver – A case report. In: 2nd Malaysian Anatomical Association Conference 2022, |
| 2022 | Is human retina a poorly designed structure? analysis between creationist and evolutionist view. In: Malaysian 2nd Anatomical Association Conference 2022, |
| 2021 | Fabrication of chitosan loaded metronidazole nanoparticle for periodontal disease treatment. In: The 4th International Conference on Oral Microbiology and Oral Immunology, |
| 2021 | Incident of sihir upon prophet Muhammad PBUH: analyses of narrations, mental capacity, and its implication on revelation. In: 3rd World Congress on Integration and Islamicisation 2021 (3WCII2021), |
| 2021 | IOHK Talk: do not lose hope in Allah s.w.t. In: IOHK Talk: Do not lose hope in Allah s.w.t, |
| 2020 | Application of metronidazole loaded membrane for periodontal disease: a brief review. In: IIUM Kuantan Research Day 2019, |
| 2020 | Chitosan as a potential drug nanocarrier for oral disease treatment. In: 3rd International Conference on Oral Microbiology and Oral Immunology in conjunction with 13th Postgraduate e-Conference 2020, |
| 2020 | Prophet Muhammad (peace be upon him) as mercy to mankind. In: KAHS Ibadah Camp 2020, |
| 2020 | Text and context in Islamic development. In: Ibadah Camp 2020 Kuliyyah of Nursing, |
| 2019 | Da'wah approaches in contemporary society. In: KOS Ibadah Camp 2019, |
| 2019 | Empathic characteristics of Rasulullah sallahu 'alaihi wassalam. In: IOHK Talk (3), |
| 2019 | Human creation: anatomical errors vs best design (Ahsan at-Taqwim). In: Persidangan Nusantara PAPISMA Isu-Isu Perubatan Menurut Perspektif Islam 2019, |
| 2019 | Justice and integrity in Islam. In: IIUM LIbrary Ibadah Camp, |
| 2019 | The use of collagen biomaterial in oral cancer: a systematic review. In: 2nd International Conference on Oral Microbiology & Oral Immunology, |
| 2016 | A review of Malaysian experience in tissue engineering research and development:A bibliometric study using online databases. In: 4th International Conference on Biotechnology Engineering 2016 (ICBioE 2016), |
| 2014 | A review on importance of histological evaluation for cartilage tissue engineering. In: K.A.H.S. Research Week 2014, |
| 2014 | Exploring three dimensional culture system for cartilage tissue engineering application: a review. In: K.A.H.S. Research Week 2014, |