Staff Directory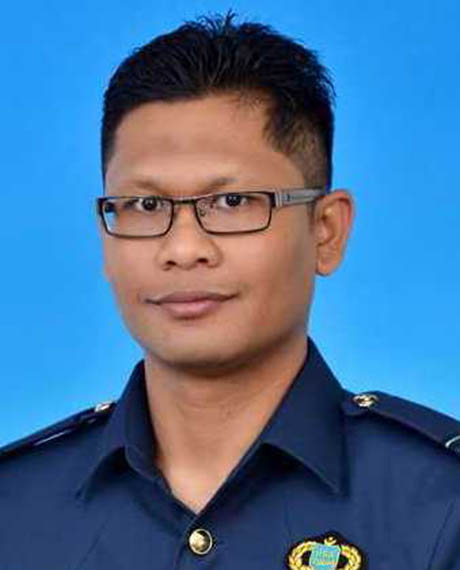 Academic Qualification
Ph.D in Mechanical Engineering - Doctor of Philosophy, University of Sheffield
Master of Science in Mechanical Engineering - Masters Degree, International Islamic University Malaysia
Bachelor of Engineering (Aerospace)(Honours) - Bachelor Degree, International Islamic University Malaysia
Nur Azam Bin Abdullah (Dr.)
Assistant Professor
IIUM Gombak Campus
KULLIYYAH OF ENGINEERING
---
Expert Profile



He has joined IIUM as Academic Trainee since 2012 and has served as Assistant Professor since 2018 till now. He is a chartered engineer (CEng), a member of the Institution of Mechanical Engineers (MIMechE), and an Associate Fellow of the Higher Education Academy (AFHEA) at the international level. During his undergraduate time, he was awarded as the Best Student (Academic) for Bachelor of Engineering (Aerospace) in the 28th IIUM Convocation Ceremony 2012. Teaching backgrounds cover tutor and grader for statics, dynamics, rigid body dynamics, structural dynamics, aerospace dynamics, vibration laboratory, aerospace and mechanical design, and finite element analysis (FEA). Research areas and specialist cover the design of composite structures, crack/ fracture mechanics modelling via the numerical method, boundary element method (BEM) and finite element method (FEM) code development and application, extended finite element method (XFEM), modal vibration analysis, self-induced vibration, fluid-structure interactions, linear/nonlinear flutter analysis, multi-store flutter analysis, unmanned aerial vehicle (UAV), micro aerial vehicle (MAV), airworthiness, structural monitoring and aircraft design.  
He used to work as Graduate Teaching Assistant (GTA) for several mechanical engineering and aerospace engineering courses at The University of Sheffield, the United Kingdom, from 2015 to 2018 included Aerospace Flight Simulation: MEC324 (Aerospace students), MEC424 (Mechanical final years), and MEC6424 (Mechanical MSc students). In the academic year of 2017-2018, he was additionally appointed as GTA for the AMR  338 Finite Element Analysis of Machines under the industrial development joint program-trained apprentices from Boeing and Rolls-Royce at The University of Sheffield Advanced Manufacturing Research Centre (AMRC Training Centre) Rotherham, United Kingdom. He involved in the aeroelastic assessment of Indonesian Aerospace N-219, utility 

aircraft designed by Indonesian Aerospace as part of his industrial engagement in 2018 (https://kinerja.lapan.go.id/getfilepublic/public/LAKIN-8528054-LAKIN%20Deteknologi%202018.pdf). He was appointed as the Advisor for technical team from Bahagian Operasi Pertahanan Latihan, Pusat Peperangan Bersama (PESAMA), for the development of the Malaysian Armed Forces Joint Doctrine Unmanned Aircraft System (UAS) by the Chief of Defence Force Malaysia in 2021. 
He was a Research Officer (Technical) in the investigation of a high-profile acquisition case of the 6 Second Generation Littoral Combatant Ship (LCS) cost RM 6 Billion by the Royal Malaysian Navy 2021 to 2022 – conducted by the Parliamentary Public Accounts Committee (PAC). In 2022, he was assigned to be an additional researcher for a team on numerical modelling for the investigation by the Royal Malaysian Police- PDRM Division D10 (Forensic); for the high-profile case of the death of the late Muhammad Adib who was also a member of the Subang Jaya Fire and Rescue Station's Emergency Service Assistance Unit (EMRS). The technical finding through computational modelling results was presented to members of the Malaysian cabinet through the report of the Special Committee. Currently, he also acts as the regular reviewer for several MDPI publishing journals – Aerospace, Processes, Machines, Energies, Fluid, and Applied Sciences since 2018 to date.    

Area of Specialisation
Engineering Tech ~ Applied Sciences And Technologies ~ Aerospace ~ Aeroelasticity - Numerical Modeling, Fluid-Structure Interaction, Airworthiness, Linear / Nonlinear Flutter Analysis, Multi-Store Flutter Analysis
Engineering Tech ~ Applied Sciences And Technologies ~ Aerospace ~ Aircraft Design - Composite Structures, Crack/ Fracture Mechanics Modeling Via Numerical Method, Smart Materials, Unsteady Aerodynamic, Finite Element Method (FEM), Computational Fluid Dynamic (CFD), Unmanned Aerial Vehicle (UAV), Micro Aerial Vehicle (MAV), Missile (External Store) Design
Professional Membership
2012: Member of Profesional Body / Association: (Reserved Officer- Rank:1st Lieutenant ), Royal Malaysian Air Force (RMAF)
2018: Member of Profesional Body / Association: (Associate Fellow), The Higher Education Academy, in recognition of attainment against the UK Professional Standards Framework for teaching and learning support in higher education.
2021: Member of Profesional Body / Association: (Advisor for the Development of Malaysian Armed Forces Joint Doctrine (MAFJD) 3-17 Unmanned Aircraft System (UAS) ), Markas Angkatan Tentera Malaysia (MAFHQ)
2021: Member of Profesional Body / Association: (Professional Technologist (PTech) in Aerospace and Aviation Technology), Lembaga Teknologis Malaysia
2021: Member of Profesional Body / Association: (Advisory Panel), All-Party Parliamentary Group Malaysia (APPGM)
2021: Member of Profesional Body / Association: (Advisor for Parliament of Sik (Policy and Strategic Planning)), Member of Parliament (Sik) Community Service Office
Teaching Responsibilities
| | |
| --- | --- |
| AEROELASTICITY | 2020/2021 2019/2020 2018/2019 |
| AUTOMOTIVE ENGINEERING LAB II | 2022/2023 2021/2022 2020/2021 2019/2020 2018/2019 |
| AUTOMOTIVE ENGINEERING LAB III | 2018/2019 |
| DYNAMIC | 2022/2023 |
| DYNAMICS | 2020/2021 2019/2020 2018/2019 |
| ENGINEERING MECHANICS | 2021/2022 |
| FATIGUE AND FRACTURE MECHANICS | 2021/2022 2020/2021 2019/2020 |
| FLIGHT DYNAMICS AND CONTROL | 2022/2023 2021/2022 |
| INSTRUMENTATION AND AVIONICS | 2022/2023 2021/2022 2020/2021 2019/2020 |
| MECHANICAL ENGINEERING LAB 1 | 2022/2023 |
| PROJECT I | 2019/2020 2018/2019 |
| PROJECT II | 2022/2023 2021/2022 2020/2021 2019/2020 |
| STATICS | 2018/2019 |
Research Projects
Completed
On-Going
| | |
| --- | --- |
| 2022 - Present | Bengkel Merekabentuk & Mencetak Prototaip Roket Menggunakan 3D Printer |
| 2021 - Present | A hybrid method combining active and passive repair mechanisms for reducing stress concentration in cracked aircraft structures. |
| 2021 - Present | DESIGN AND DEVELOPMENT OF SMOKEY SAM PROTOTYPE (TRL-6) - STAR (X) |
| 2021 - Present | Effect of Energetic Particles on Graphite Nozzle Erosion in Hybrid Rocket Motor |
| 2021 - Present | INVESTIGATION OF REGRESSION RATE ENHANCEMENT IN HYBRID ROCKET MOTOR UTILIZING HIGH ENTROPY ALLOYS ENERGETIC ADDITIVES |
| 2020 - Present | Computational Stress Analysis of Composite Tank for Water Treatment Appication |
| 2020 - Present | Fluid-Structure Interaction of Pump System |
| 2020 - Present | Modification of Water Tank System for the Reduction of Friction Loss |
| 2019 - Present | Bird Strike Impact Investigation on Rotating Bladed-Propeller Engine considering an Unsteady Flow |
Award & Recognition
| | | |
| --- | --- | --- |
| 15 Dec, 2021 | Bronze Medal - Kulliyyah of Engineering, International Islamic University Malaysia | National |
| 15 Dec, 2021 | Bronze Medal - Kulliyyah of Engineering, International Islamic University Malaysia | National |
| 25 Feb, 2021 | Recognition as Advisor for the Development of Malaysian Armed Forces Joint Doctrine (MAFJD) 3-17 Unmanned Aircraft System (UAS) by Chief of Staff MAF Headquarters - Malaysian Armed Forces Headquarters (Markas Angkatan Tentera Malaysia) | National |
| 08 Dec, 2020 | Bronze Medal - Kulliyyah of Engineering, International Islamic University Malaysia | National |
| 11 Nov, 2020 | Best Presentation Award: Bronze Medal - INTERNATIONAL SYMPOSIUM ON SUSTAINABLE AVIATION (ISSA 2020) | International |
| 15 Sep, 2020 | Flagship Project Member Recognition (July-December 2020) - International Islamic University Malaysia | National |
| 16 Jun, 2020 | Recognition as the Article Writer for Air Force Digest 13 Edition 2020 by Chief of Air Force - Royal Malaysian Air Force (RMAF) | National |
| 08 Oct, 2012 | Best student (Academic) for Bachelor of Engineering (Aerospace) in the 28th IIUM Convocation Ceremony 2012 - International Islamic University Malaysia | University |
| 16 Jul, 2012 | Watikah Pentauliahan Diraja Pegawai PSSTUDM - Seri Paduka Baginda Yang di-Pertuan Agong, Istana Negara, Kuala Lumpur | National |
Publications
Article
| | |
| --- | --- |
| 2022 | A review on modes of failure of rail track structure in railway transportation. ASEAN Journal of Engineering and Technology, () pp. 7-18 |
| 2022 | Advanced pneumatic mechanical system for water treatment application: dosing rate assessment for lime dosage. Journal of Advanced Research in Fluid Mechanics and Thermal Sciences, 91 (1) pp. 46-55 |
| 2022 | Development of constitutive creep damage-based modified Robinson-Rousselier (MRR) model with XFEM for void-crack relation in ductile materials. Mechanics of Time-Dependent Materials, 25 (4) pp. |
| 2022 | Digital smartwatch and healthy living. theHealth| January-February, 2022: |Issue|, 5 (37) pp. 22 |
| 2022 | Effect of color contrast to the accuracy of SSD-MobileNetV2. International Journal of Intelligent Systems and Applications in Engineering, 10 (3) pp. 18-21 |
| 2022 | Metals and alloys additives as enhancer for rocket propulsion: a review. Journal of Advanced Research in Fluid Mechanics and Thermal Sciences, 90 (1) pp. 1-9 |
| 2022 | Numerical modelling of bird strike on a rotating engine blades based on variations of porosity density. IIUM Engineering Journal, 23 (1) pp. 412-423 |
| 2022 | Predictive modelling of creep crack initiation and growth using Extended Finite Element Method (XFEM). Frattura ed Integrità Strutturale, 16 (61) pp. 119-129 |
| 2022 | Recycling electric vehicle batteries. @green|, 2 (11) pp. 20 |
| 2022 | Recycling EV batteries for environmental ecosystem wellbeing. New Straits Times, 03 April 2022 () pp. |
| 2022 | Strategic directions in solving flood catastrophes. @green | January-February, 2022: Opinion, 2 (10) pp. 8-8 |
| 2022 | The delamination behaviour of Vectran/Epoxy composites having a novel non-crimp fabric architecture. Composites Part B: Engineering, 228 (109413) pp. 1-12 |
| 2021 | A study on performance and emission characteristics of diesel engine using Ricinus Communis (Castor Oil) Ethyl Esters. Energies, 14 (4320) pp. 1-19 |
| 2021 | Adaptasi teknologi, persekitaran tingkat keberkesanan produk. Berita Harian, 17 April 2021 () pp. 12 |
| 2021 | Bijak, beradab guna teknologi IR4.0 jalani pendidikan dalam talian. Berita Harian, 25th January 2021 () pp. |
| 2021 | Effect of non-conjugate and conjugate condition on heat transfer from the battery pack. Alexandria Engineering Journal, 60 () pp. 1-15 |
| 2021 | Energy-harvesting via wind interaction: a sustainable flight is a dream for the development of modern aircraft. @green, 1 (8) pp. 20-21 |
| 2021 | Flow behaviour assessment of Smokey SAM rocket prototype. CFD Letters, 13 (9) pp. 42-56 |
| 2021 | Numerical investigation on the damage of whirling engine blades subjected to bird strike impact. Journal of Aeronautics, Astronautics and Aviation, 53 (2) pp. 193-199 |
| 2021 | Numerical modelling of bird strike on aerospace structures by means of coupling FE-SPH. International Journal of Integrated Engineering, 13 (7) pp. 185-193 |
| 2021 | Penerokaan angkasa lepas buka potensi teknologi aras tinggi. Berita Harian: Rencana, 24 September 2021 () pp. 10-10 |
| 2021 | Potensi industri getah dalam pembangunan teknologi aeroangkasa. Berita Harian, 19 April 2021 () pp. 12 |
| 2021 | Segerakan penggantian Hawk tingkat keupayaan aset TUDM. Berita Harian, 29 November 2021 () pp. 12-12 |
| 2021 | Selami sains aerodinamik dalam sukan berbasikal. Berita Harian, 16 February 2021 () pp. 11 |
| 2021 | Transfer of technology can help us produce high-skilled workers. New Straits Times, 2 December 2021 () pp. 13 |
| 2020 | Maximum temperature analysis in a Li-ion battery pack cooled by different fluids. Journal of Thermal Analysis and Calorimetry, 141 (6) pp. 2555-2571 |
| 2020 | Medium-altitude long-endurance (MALE) UAV: worth buying or developing a new one?. AirForce Digest, 13 () pp. 34-37 |
| 2020 | Nusselt number analysis from a battery pack cooled by different fluids and multiple back-propagation modelling using feed-forward networks. International Journal of Thermal Science, () pp. 1-20 |
| 2020 | Optimization and analysis of maximum temperature in a battery pack affected by low to high Prandtl number coolants using response surface methodology and particle swarm optimization algorithm. Numerical Heat Transfer, Part A: Applications, () pp. |
| 2020 | Penggunaan dron strategi peperangan alaf baru. Berita Harian: Rencana, () pp. 12 |
| 2019 | Roll control reversal of variable swept wing in supersonic flow. International Journal of Recent Technology and Engineering (IJRTE), 7 (6S) pp. 288-291 |
| 2019 | Structural integrity assessment on cracked composites interaction with aeroelastic constraint by means of XFEM. Composite Structures, () pp. |
| 2018 | Aeroelastic assessment of cracked composite plate by means of fully coupled finite element and Doublet Lattice Method. Composite Structures, 202 (SI:Ian Marshall) pp. 151-161 |
| 2018 | Numerical inspection based on Quasi-Static Analysis using Rousselier Damage Model for aluminium wingbox aircraft structure. Journal of Physics: Conference Series, 1106 (1) pp. 1-12 |
| 2017 | Transversal crack and delamination of laminates using XFEM. Composite Structures, 173 () pp. 78-85 |
| 2014 | Aeroelastic flutter analysis of supersonic wing with multiple external stores. IIUM Engineering Journal, 15 (2) pp. 1-11 |
| 2014 | Aeroelastic tailoring of oscillating supersonic wing with external stores. Applied Mechanics and Materials, 464 () pp. 110-115 |
Conference or Workshop Item
| | |
| --- | --- |
| 2021 | Aerodynamic assessment and development of Smokey SAM Prototype (TRL-6). In: 5th International Conference on Mechanical, Automotive and Aerospace Engineering 2021 (ICMAAE'21), |
| 2021 | Computational modelling of bird strike impact on an aluminium alloy plate via coupling of FE-SPH. In: The 5th Symposium on Damage Mechanism in Materials and Structures (SDMMS 20·21), |
| 2021 | Limit Cycle Oscillation (LCO) flutter of advanced high modulus graphite/epoxy composite oscillating supersonic wing. In: The 5th Symposium on Damage Mechanism in Materials and Structures (SDMMS 20·21), |
| 2021 | Novel pneumatic system for lime dosage in water treatment application. In: 3rd International Conference on Green Engineering & Technology 2021 (IConGETech), |
| 2021 | Novel pneumatic system for lime dosage in water treatment application. In: 1st International Conference on Material Processing and Technology (ICMProTech 2021), |
| 2021 | Numerical analyses for regression rate solid fuel doped with high entropy alloys in hybrid rocket motor. In: International Seminar on Aeronautics and Energy 2021 (ISAE 2021), |
| 2021 | Numerical Modelling of Bird Strike on a Rotating Engine Blade Based on Variations of Porosity Density. In: 5th International Conference on Mechanical, Automotive and Aerospace Engineering 2021 (ICMAAE'21), |
| 2021 | Pembangunan teknologi aeroangkasa bagi pertahanan nasional. In: Webinar Aviation, Aero Space and Space Awareness, |
| 2021 | Penggubalan polisi: merangka kapasiti pertahanan negara masa hadapan. In: Bengkel Merangka Kapasiti Pertahanan Negara Masa Hadapan: Pembangunan Rangka Tindakan Kapasiti Pertahanan (RTKP) - Kertas Putih Pertahanan (KPP), |
| 2021 | UAV in defence: future outlook for Malaysia. In: Aerospace Research Interest Laboratory(ARIEL) Seminar Series, |
| 2020 | Damage assessment on numerical modelling of rotating engine blades subjected to bird strike. In: International Symposium on Sustainable Aviation (ISSA 2020), |
| 2018 | Aerofracturelastic on wing box of multi-purpose commuter aircraft under gust lby means of XFEM. In: 6th International Conference Integrity-Reliability-Failure, |
| 2018 | Analysis on cracked commuter aircraft wing under dynamic cruise load by means of XFEM. In: Modern Practice in Stress and Vibration Analysis (MPSVA) 2018, |
| 2018 | Structural integrity assessment of cracked composite plate under aeroelastic loading by means of XFEM. In: 6th International Conference Integrity-Reliability-Failure, |
| 2017 | Flutter assessment on composite plate with crack by means of fully coupled Finite Element and Doublet Lattice Method. In: 3rd International Conference on Mechanics of Composites (MechComp 2017), |
| 2017 | Modelling of transversal crack and delamination under traction with XFEM. In: 3rd International Conference on Mechanics of Composites (MechComp 2017), |
| 2017 | Modelling techniques for delamination and fracture of composites. In: 7th International Conference on Mechanics and Materials in Design,, |
| 2013 | Flutter analysis of supersonic wing with external stores. In: International Conference on Mechanical, Automotive and Aerospace Engineering (ICMAAE 2013), |
| 2012 | Development of IIUM circular planform unmanned aerial vehicle (IIUM-CPUAV). In: 3rd International Conference on Engineering & ICT (ICEI2012), |
Book Section