Staff Directory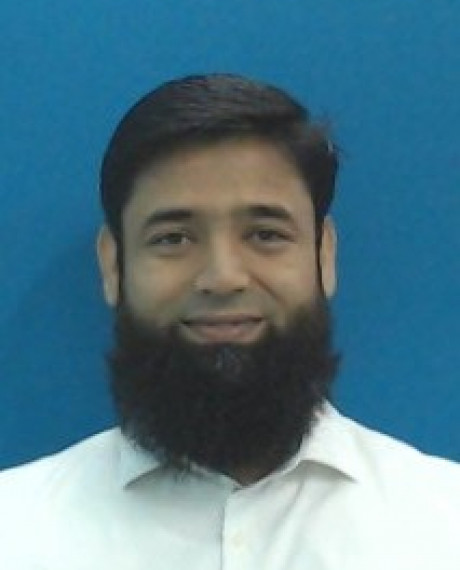 Academic Qualification
Ph.D in Finance - Doctor of Philosophy, Universiti Teknologi Malaysia (UTM)
Master of Science ( Finance ) - Masters Degree, International Islamic University Malaysia
Bachelor of Business Administration (Honours) - Bachelor Degree, International Islamic University Malaysia
Ahmad Bin Khaliq (Dr.)
Assistant Professor
IIUM Gombak Campus
KULLIYYAH OF ECONOMICS AND MANAGEMENT SCIENCES
---
ahmadkhaliq@iium.edu.my
4715
Expert Profile
Ahmad Khaliq is an active researcher and teacher in the area of Finance. Obtained his Bachelor of Business Administration (Hons) from International Islamic University Malaysia (IIUM) in 2009. Gained valuable industry experience as he embark for working career with Measat Broadcast Network System Bhd in year 2010. He then enrolled and obtained his Master of Science (MSc) in Finance degree from IIUM and later embark for Doctor of Philosophy (PhD) at Azman Hashim Business School, UTM. He worked on his dissertation which was in the area of Waqf financing and capital market. 
Presented and published several academic paper and journals at numbers of conferences held locally and internationally. Has been awarded distinguished paper award in 2015 International Symposium on Business and Management – Fall Season held in Kyoto, Japan. In addition, he also was awarded for the best paper award during 10th Foundation of Islamic Financial Conference (FIFC), Sunway University in 2019. 
The research area of interest includes Islamic banking and finance, financial management, Waqf financing and corporate finance. 
Presently, he is a lecturer at the Department of Finance, Kulliyyah of Economics and Management Sciences, IIUM as an Assistant Professor since August 2020. He is passionate about people's empowerment especially in education and enriches fellowship to realize their abilities and potential for greater qualities of lives.   
Area of Specialisation
Economics, Business And Management ~ Economics, Business And Management ~ Finance ~ Financial Management - Finance
Teaching Responsibilities
| | |
| --- | --- |
| FOUNDATION OF ISLAMIC FINANCE | 2022/2023 2021/2022 2020/2021 |
| FUNDAMENTALS OF FINANCIAL MANAGEMENT | 2022/2023 |
| PRINCIPLES AND PRACTICES OF TAKAFUL | 2021/2022 2020/2021 |
| SEMINAR IN FINANCE | 2022/2023 |
Research Projects
Completed
| | |
| --- | --- |
| 2021 - 2022 | Penambahbaikan Pengaksesan Kewangan Perusahaan Mikro di Terengganu Melalui Kerangka Pendanaan Awam Islamik (Islamic Crowdfunding) |
On-Going
| | |
| --- | --- |
| 2022 - Present | Phase 1 of Prototype Development of Student-Centred Crowdfunding Platform for Entrepreneurship Project Activities |
| 2021 - Present | Modelling the Drivers of Residential Price in Malaysia |
| 2020 - Present | Modelling Remedies to Waqf Liquidity Constraints: The Case of Waqf Unit Trust |
Award & Recognition
| | | |
| --- | --- | --- |
| 28 Nov, 2019 | Best Paper Award for "?Continuous Adoption of Internet Banking: Evidence from Islamic Banking in Malaysia? - 10th Foundation of Islamic Finance Conference/Symposium ? Sunway University, Bandar Sunway, Malaysia (28th November 2019). | University |
| 08 Oct, 2015 | Distinguished Paper Award on ?Evaluating Malaysian Islamic Banks? Service Quality: An Importance-Performance Analysis Approach? - Others | University |
Publications
Article
| | |
| --- | --- |
| 2022 | International passenger perception on airport branding strategy: evidence from Malaysia. International Journal of Economics, Management and Accounting, 30 (1) pp. 1-25 |
| 2021 | Drivers of Ar-Rahnu (pawn) acceptance: Malaysian evidence. Journal of Islamic Marketing, 12 (7) pp. 1241-1259 |
| 2021 | Exploring the drivers of social media marketing in Malaysian Islamic banks an analysis via smart PLS approach. Journal of Islamic Marketing, 12 (1) pp. 145-165 |
| 2020 | A discourse on the potential of crowdfunding and Islamic finance in the agricultural sector of East Java, Indonesia. Jurnal Ekonomi & Keuangan Islam, 6 (1) pp. 10-23 |
| 2020 | Cash waqf model for micro enterprises' human capital development. ISRA International Journal of Islamic Finance, 13 (1) pp. 66-83 |
| 2020 | Political connections and firm performance: evidence from Indonesia. International Journal of Economics and Management, 14 (1) pp. 27-42 |
| 2019 | A proposed Integrated Zakat-Crowdfunding Model (IZCM) for effective collection and distribution of zakat fund in Malaysia. International Journal of Zakat and Islamic Philanthropy (IJZIP), 1 (2) pp. 1-12 |
| 2019 | Literacy on the fundamental information of zakah. International Journal of Zakat and Islamic Philanthropy (IJZIP), 1 (2) pp. 103-116 |
| 2019 | Waqf unit trust as an alternate model to realize waqf sustainability. European Journal of Islamic Finance (EJIF), 13 (August) pp. 1-8 |
| 2018 | The determinants of dividend payout: evidence from the Malaysian property market. IQTISHADIA Jurnal Kajian Ekonomi dan Binis Islam, 11 (1) pp. 27-46 |
| 2017 | Dynamic causal relationship between Islamic banking and economic growth: Malaysian evidence. European Journal of Islamic Finance, (No 8 (2017): EJIF - European Journal of Islamic Finance, 8, 2017) pp. 1-10 |
| 2017 | Interest rate risk management and Islamic Banking: Evidence from Malaysia. Journal of Islamic Finance, 6 (1) pp. 16-30 |
| 2014 | Identifying financial distress firms: a case study of Malaysia's Government Linked Companies (GLC). International Journal of Economics, Finance and Management, 3 (3) pp. 141-150 |
| 2012 | Case of Pilgrimage Funds Management Board (Lembaga Urusan Tabung Haji). IIUM Journal of Case Studies in Management, 3 (2) pp. 17-31 |
Conference or Workshop Item
Book
Book Section
| | |
| --- | --- |
| 2022 | The potential role of fintech and digital currency for Islamic green financing: toward an integrated model. In: Springer, ISBN: 978-981-19-2661-7, pp. 287-308 |
| 2021 | Humanizing education through Consumerism Advocacy and Vegetable Garden Project. In: Meso Publishing, ISBN: 978-967-19814-5-0, pp. 68-74 |
| 2021 | Humanizing education through Consumerism Advocacy and Vegetable Garden Project. In: Meso Publishing, ISBN: 978-967-19814-5-0, pp. 68-74 |
| 2021 | Humanizing education with tazkiyah al-nafs – the roots of humanized education. In: Kuliyyah of Economics and Management Sciences, International Islamic University Malaysia, ISBN: 978-967-26219-1-1, pp. 10-15 |
| 2021 | Leveraging the potential of Islamic banking and finance for small business. In: World Scientific, ISBN: 978 961 123 581 8, pp. 303-330 |
| 2021 | Leveraging the potential of Islamic banking and finance for small business. In: World Scientific, ISBN: 978 961 123 581 8, pp. 303-330 |
| 2021 | Reflection of Sabr in Teaching Principles and Practice of Management. In: Meso Publishing, ISBN: 978-967-19814-6-7, pp. 37-44 |
| 2021 | Reflection on Edu-Action of the Prophetic Attributes with Ta'awun Approach. In: Meso Publishing, ISBN: 978-967-19814-5-0, pp. 27-32 |
| 2021 | Reflection on Edu-Action of the Prophetic Attributes with Ta'awun Approach. In: Meso Publishing, ISBN: 978-967-19814-5-0, pp. 27-32 |
Monograph