Staff Directory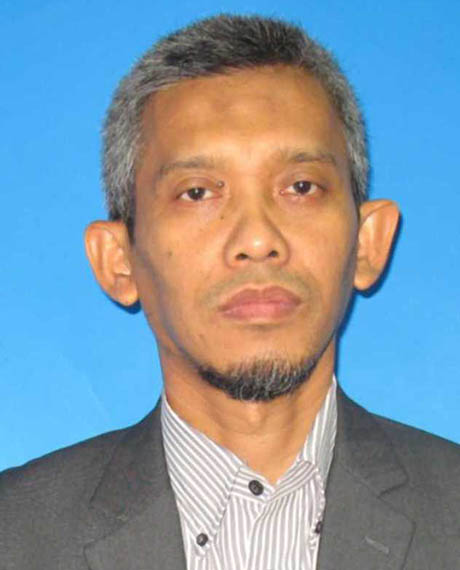 Academic Qualification
Doctor of Philosophy in Islamic Revealed Knowledge & Heritage - Doctor of Philosophy, International Islamic University Malaysia
Master in Jurisprudence & Its Principles - Masters Degree, University of Jordan
Bachelor of Shariah (Islamic Jurisprudence & Islamic Law) - Bachelor Degree, Universiti Malaya (UM)
Mohd. Fuad B. Md. Sawari (Assoc. Prof. Dr.)
Associate Professor
IIUM Gombak Campus
ABDULHAMID ABUSULAYMAN KULLIYYAH OF ISLAMIC REVEALED KNOWLEDGE AND HUMAN SCIENCES
---
Expert Profile
Dr. Mohd Fuad bin Md Sawari
is currently an Associate Professor in the Department of Fiqh & Usul al-Fiqh, Kulliyyah of Islamic Revealed Knowledge and Human Sciences. He obtained his first degree in Shariah from the Faculty of Shariah, Islamic Academy, University of Malaya in 1991, his M.A. in Fiqh & Usul al-Fiqh from the Faculty of Shariah, University of Jordan, Amman in 1995, followed by a Ph.D in Fiqh and Usul Fiqh from the International Islamic University Malaysia, where he wrote a thesis on Electronic Commerce between Islamic and Malaysian Law in 2004.
He has been serving several Islamic financial institution as the Shariah Committee. 
His research interests are Islamic Jurisprudence, Principles of Islamic Jurisprudence (Usul al-Fiqh), Islamic Law of Contract, Islamic Banking and Finance, Takaful, and Electronic Commerce from an Islamic perspective. He has written several books on Islamic jurisprudence and also published articles, especially on the Islamic Law of Contract and Islamic Banking and Finance. He has won several awards at several expositions on research and innovation nationally and internationally.  
Area of Specialisation
Economics, Business And Management ~ Economics, Business And Management ~ Islamic Finance ~ Islamic Banking - Fiqh
ICT ~ Information, Computer And Communications Technology (ICT) ~ Computation Theory and Mathematics ~ Computer Aided Geometrical Design - Islamic E-Commerce
Economics, Business And Management ~ Economics, Business And Management ~ Accounting ~ Corporate Governance (Including Accountability, Ethics, Integrity) - Islamic Jurisprudence
Social Science ~ Social Science ~ Law ~ Jurisprudence - Islamic Jurispruddence
Economics, Business And Management ~ Economics, Business And Management ~ Islamic Finance ~ Islamic Insurance - Takaful
Professional Membership
2011: Member of Profesional Body / Association, Association of Shariah Advisor in Islamic Finance Malaysia
Teaching Responsibilities
| | |
| --- | --- |
| ADILLAT AL-AHKAM I: EVIDENCES OF LEGAL RULES I | 2009/2010 |
| AL-MADKHAL ILA AL-FIQH: INTRODUCTION TO FIQH | 2011/2012 2009/2010 |
| AL-MADKHAL ILA USUL AL-FIQH: INTRODUCTION TO USUL AL-FIQH | 2017/2018 2014/2015 2013/2014 2012/2013 2011/2012 2008/2009 |
| AL-QAWA'ID AL-USULIYYAH WA IKHTILAF AL-FUQAHA': MAXIMS OF USUL AL-FIQH | 2007/2008 |
| AL-TADRIB AL-'AMALI: PRACTICAL TRAINING | 2019/2020 2018/2019 2017/2018 |
| COMPUTER APPLICATION & LIT. FOR LANGUAGE | 2004/2005 2003/2004 |
| FINAL YEAR PROJECT I | 2022/2023 2021/2022 2020/2021 2019/2020 |
| FINAL YEAR PROJECT II | 2022/2023 2021/2022 2020/2021 |
| FIQH AL-'IBADAT: JURISTIC STUDY OF 'IBADAT | 2022/2023 2021/2022 2020/2021 2019/2020 2018/2019 2017/2018 2016/2017 2015/2016 2014/2015 |
| FIQH AL-'UQUD AL-MALIYYAH: JURISTIC STUDY OF FINANCIAL CONTRACTS | 2017/2018 2015/2016 2012/2013 2011/2012 2009/2010 2008/2009 |
| FIQH AL-MU'AMALAT (ARABIC) | 2006/2007 2005/2006 |
| FIQH AL-MU'AMALAT AL-MALIYYAH: JURISTIC STUDY OF TRANSACTIONS | 2022/2023 2021/2022 2020/2021 2019/2020 2018/2019 2017/2018 2016/2017 2015/2016 2014/2015 2013/2014 2012/2013 2011/2012 2008/2009 2007/2008 |
| FIQH AL-TAHARAH WA AL-SALAH WA AL-SIYAM (JURISTIC STUDY OF CLEANLINESS, PRAYER AND FASTING) | 2022/2023 |
| FIQH AL-USRAH(ARABIC) | 2005/2006 |
| HALAQAH 1 (BROTHER) | 2003/2004 2002/2003 |
| HALAQAH 2 (BROTHER) | 2003/2004 |
| HISTORY OF CODIFICATION OF ISLAMIC LAW | 2007/2008 |
| INDUSTRIAL TRAINING | 2021/2022 2020/2021 |
| INTRO. TO USUL AL-FIQH (ARABIC) | 2007/2008 2006/2007 2005/2006 2004/2005 2003/2004 2002/2003 |
| INTRODUCTION TO FIQH (ARABIC) | 2007/2008 2006/2007 2005/2006 2004/2005 2003/2004 1995/1996 |
| ISLAMIC LEGAL MAXIMS & CONCEPTS (ARABIC) | 2007/2008 2006/2007 2005/2006 |
| MABAHITH TURUQ AL-ISTINBAT I: METHODS OF LEGAL DEDUCTION I | 2008/2009 |
| MU'AMALAT MASRAFIYYAH WA ASWAQ MALIYYAH: BANKING & FINANCIAL MARKETS | 2011/2012 2008/2009 |
| QAWA'ID WA FURUQ FIQHIYYAH: LEGAL MAXIMS & JURISTIC VARIATIONS | 2016/2017 2009/2010 2008/2009 |
| RESEARCH PAPER 1 | 2020/2021 |
| RESEARCH PAPER I | 2022/2023 2017/2018 2016/2017 2015/2016 2014/2015 |
| RESEARCH PAPER II | 2020/2021 2019/2020 2017/2018 2015/2016 2014/2015 |
| SCIENCES OF HADITH I (ARABIC) | 1995/1996 |
| SCIENCES OF THE QURAN I (ARABIC) | 1995/1996 |
| TADRIB 'ILMI FI AL-BAHTH: ACADEMIC EXERCISE | 2017/2018 2016/2017 |
Research Projects
Completed
| | |
| --- | --- |
| 2021 - 2023 | ADVERTISING AND MAQASID SHARIAH: THE APPLICATION OF MAQASID SHARIAH PRINCIPLES IN ADVERTISING PRODUCTION |
| 2016 - 2019 | Issues of Bai'al-Inah in the Contemporary Islamic Financial Products and its Solutions: Bank Simpanan Nasional as an Example |
| 2016 - 2019 | Mortgage and Its New Application in Malaysian Financial Insitutions: An Analytical Juristic Studies |
| 2012 - | Contemporary Fiqh Research Unit (CFRU) |
| 2010 - 2011 | Contemporary Security & Voluntary Contracts: Theory and Application |
| 2009 - 2010 | Contemporary Exchange Contracts and Their Applications |
| 2007 - 2008 | Halal Training Program (Course Module 1 and 2) |
On-Going
| | |
| --- | --- |
| 2021 - Present | Preventing and Controlling Disease Outbreaks and Dealing with Emergencies |
| 2019 - Present | Shariah Screening Methodology for Shariah-Compliant Securities of Shariah Advisory Board of Securities Commission Malaysia and Morgan-Stanley Compliance Islamic Index: A Comparison |
| 2019 - Present | Maqsad Hifz Al-Mal (Protection of Property) in Islamic Finance in Malaysia: An Analytical Study |
| 2019 - Present | Financing the Development of Smart (Assistant) Maid: An Islamic Perspective |
| 2016 - Present | The Application of BNM Taqarruq Standard in Deposit and Financing Products: An Analysis of Shariah and Practical Issues |
Award & Recognition
| | | |
| --- | --- | --- |
| 01 Jan, 2009 | Quality Award - Quality Research Award 2009, KIRKHS, IIUM | University |
| 01 Jan, 2009 | Quality Award - Quality Research Award 2009, IIUM | University |
| 22 Nov, 2007 | Bronze Medal - International Exhibition of Brussels ? Innova ? Energy 2007 | International |
| 29 Mar, 2007 | Silver Medal - Malaysian Technology & Innovation Expo (MTE 2007) | National |
| 12 Aug, 2006 | Silver Medal - International Exposition of Research and Innovation of Higher Learning (PECIPTA ?07) | International |
Publications
Article
| | |
| --- | --- |
| 2021 | Parameter Al-Dharīah menurut perspektif Syariah (Parameter of Al-Dharīah from The Perspective of Shari'ah). Al-Maqasid: The International Journal of Maqāṣid Studies and Advanced Islamic Research, 2 (1) pp. 38-49 |
| 2021 | اغتفار الربا التابع غير المقصود بالتعامل في الصكوك المختلطة في ضوء قاعدة التبعية = Forgiveness of Riba in mixed assets Sukuk trading in light of the dependency rule. مجلة بحوث الشريعة, 1 (1) pp. 34-64 |
| 2021 | المسائل غير المعتمده في كتاب الفقه المنهجي: باب الصلاة نموذجا = Unreliable issues in the book of "Al-Fiqh al-Manhajī": a case study of the chapter on prayer. International Journal of Fiqh and Usul Al-Fiqh, 5 (1) pp. 19-32 |
| 2020 | The practice of reporting shariah non-compliant income in the Annual Financial Report of Islamic commercial banks in Malaysia = Pelaporan pendapatan tidak patuh Syariah dalam Laporan Kewangan Tahunan Bank Perdagangan Islam di Malaysia. Islamiyyat The International Journal of Islamic Studies, 42 (1) pp. 93-102 |
| 2019 | Aplikasi Maqasid Syariah dalam sistem pendidikan di Malaysia: Pembelajaran Abad Ke-21. International Journal of Business, Economics and Law, 18 (6) pp. 81-90 |
| 2019 | Employees' shariah provident fund in Malaysia: a juristic analysis صندوق التقاعد الشرعي للعمال بماليزيا: تحليل فقهي. International Journal of Fiqh and Usul al-Fiqh Studies, 3 (2) pp. 91-97 |
| 2019 | Kedudukan ilmu sains dan teknologi dalam menentukan hukum 'iddah dan kesannya terhadap Maqasid Syariah. International Journal of Business, Economics and Law, 18 (6) pp. 70-80 |
| 2019 | The establishment of fundamental Shariah compliant hospital management in Malaysia. Journal of Halal Industry and Services, 2 (1) pp. 1-5 |
| 2019 | الأوزان العربية المستخدمة في المصطلحات المالية والبنكية والاقتصادية العربية الحديثة. Al-Dad Journal, 3 (1) pp. 1-13 |
| 2019 | الشروط الجزائية في عقد الإجارة المنتهية بالتمليك = The penalty clauses in leasing contract which ends with ownership (al-Ijārah al-Muntahiyah bi al-Tamlīk). International Journal of Fiqh And Usul al-Fiqh Studies (IJFUS), 3 (1) pp. 6-28 |
| 2018 | Issues of Bai' al-'Inah in the contemporary Islamic financial products and its solutions according to the shariah principles. South East Asia Journal of Contemporary Business, Economics and Law, 15 (5) pp. 95-103 |
| 2018 | The enforceability of Wa'd Mulzim (Binding Promise) from a fiqh perspective: A critical analysis of wa'd application in sukūk contracts. International Journal of Fiqh and Usul al-Fiqh Studies, 2 (1) pp. 119-131 |
| 2015 | Examining the issues of conventional and islamic trust receipt in banks. Advanced Science Letters, 21 (5) pp. 1596-1599 |
| 2014 | A few methods in charging fees for kafalah bank guarantee-i among Islamic banks in Malaysia. ISRA International Journal of Islamic Finance, 6 (1) pp. 51-66 |
| 2013 | An issue on uniform customs and practice for documentary credits (UCP) no 600 for Islamic letter of credit. Procedia Economics and Finance , 7 () pp. 126-133 |
| 2013 | Issues on Islamic banks' Nostro accounts. Terengganu International Finance and Economics Journal (TIFEJ), 3 (2) pp. 70-78 |
| 2011 | Prize-giving to the premium Savings Certificate holders: a Shari'ah compliance review on the Bank Simpanan Nasional (National Savings Bank) in Malaysia. International Journal of Islamic and Middle Eastern Finance and Management, 4 (3) pp. 259-270 |
| 2010 | On the question of gambling in giving prizes to the holders of savings certificates: an Islamic analysis on Malaysian practice . Interdisciplinary Journal of Contemporary Research in Business, 2 (5) pp. 560-573 |
Conference or Workshop Item
Book
| | |
| --- | --- |
| 2021 | المدخل الى دراسة أصول الفقه الاسلامى. IIUM Press, ISBN: 9789674910853 |
| 2021 | املدخل إىل دراسة الفقه اإلسالمي. IIUM Presss, ISBN: 9789674910716 |
| 2017 | Bancatakaful concept and implementation. IIUM Press, International Islamic University Malaysia, ISBN: 978-967-418-551-0 |
| 2017 | Shariah screening methodology of Securities Commission Malaysia: an analytical fiqh study. IIUM Press, International Islamic University Malaysia, ISBN: 978-967-418-552-7 |
| 2017 | ضمان خسارة الشركة في الفقه الإسلامي. IIUM Press, International Islamic University Malaysia, ISBN: 978-967-418-822-1 |
| 2017 | عقود التجارة الإلكترونية بين الفقه الإسلامي والقانون العماني: مجلس العقد أنموذجا = Ukud al-tijarah bayna al-fiqh Islami wa al-qanun Omani: Majlis al-'aqd anmuzaja. IIUM Press, International Islamic University Malaysia, ISBN: 978-967-418-819-1 |
Book Section
| | |
| --- | --- |
| 2012 | Maqasid Al-Shariah dalam perlaksanaan waqaf. In: IIUM Press, ISBN: 978-967-418-235-9, pp. 259-290 |
| 2011 | Islamic Letter of Credit (LC-i) in Malaysia: the UCP 600 and the issue of interest. In: IIUM Press, ISBN: 9789670225463, pp. 19-30 |
| 2011 | The Premium Savings Certificate (PSC) of Bank Simpanan Nasional Malaysia: Shari'ah issues and solutions. In: IIUM Press, ISBN: 9789674181772, pp. 81-114 |
| 2011 | التاءصيل الشرعي والقانوني للبيع الاءلكتروني (al-ta'silu al-syari' wa al-qanuni lilbai' al-elektroni) . In: IIUM Press, ISBN: 9789670225760, pp. 43-72 |
| 2011 | العقود المتعلقة بالتجارة الإلكترونية: احكامها واثارها (al-u'qud al-muta'alliqah bi al-tijarah al-elektroniah: ahkamuha wa atharuha. In: IIUM Press, ISBN: 9789670225760, pp. 73-102 |
Monograph