Staff Directory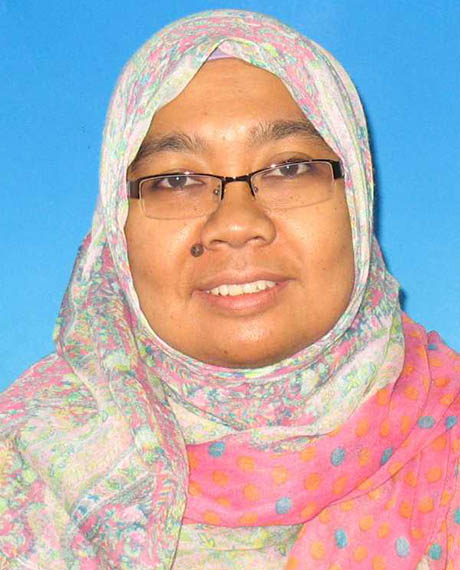 Academic Qualification
Ph.D in (Equity) Mareva Injunction - Doctor of Philosophy, University of Wales, Swansea
Master of Comparative Laws - Masters Degree, International Islamic University Malaysia
Bachelor of Laws - Bachelor Degree, International Islamic University Malaysia
Matriculation - Certificate, International Islamic University Malaysia
Zuraidah Bt. Hj Ali (Assoc. Prof. Dr.)
Associate Professor
IIUM Gombak Campus
AHMAD IBRAHIM KULLIYYAH OF LAWS

Other's position:
Director, Harun M. Hashim Law Centre
---
zuraidah@iium.edu.my
4380
Expert Profile
Zuraidah Ali obtained her Ph.D in Law at Swansea University, United Kingdom. Her areas of specializations are Equitable Remedies and Law of Trust. Currently, she is a lecturer at the Civil Law Department and lecturing one of the core law papers, Equity & Trust. She has held several positions at the Kulliyyah namely, the Library Committee and Head of Private Law Department and later Civil Law Department.
She has co-authored books on Law of Trust and also Commercial Law and Contract. She has published articles related to her area of research at local and international journals.
Area of Specialisation
Social Science ~ Social Science ~ Law ~ Equity and Trust Law
Social Science ~ Social Science ~ Law ~ Equity and Trust Law
Social Science ~ Social Science ~ Law ~ Civil Law
Social Science ~ Social Science ~ Law ~ Commercial Law
Professional Membership
2012 - 2014: Member of Profesional Body / Association: (Members of Displinary Committee of Advocates & Solicitors Displinary Board), Malaysian Bar Council
2014 - 2016: Member of Profesional Body / Association: (Members of Displinary Committee of Advocates & Solicitors Displinary Board), Malaysian Bar Council
2018 - 2020: Member of Profesional Body / Association: (Members of Displinary Committee of Advocates & Solicitors Displinary Board), Malaysian Bar Council
Teaching Responsibilities
| | |
| --- | --- |
| CIVIL PROCEDURE I | 2000/2001 |
| CIVIL PROCEDURE II | 2003/2004 2002/2003 |
| COMMERCIAL & CONSUMER PROTECTION LAW | 2022/2023 2021/2022 2019/2020 2018/2019 2016/2017 |
| COMMERCIAL LAW | 2019/2020 2018/2019 |
| COMPULSORY MOOTS I | 2007/2008 |
| EQUITY & TRUST | 1993/1994 |
| EQUITY & TRUST II | 2022/2023 2021/2022 2020/2021 2019/2020 2018/2019 2017/2018 2016/2017 2015/2016 2014/2015 2013/2014 2012/2013 2011/2012 2010/2011 2009/2010 2008/2009 2007/2008 2006/2007 2005/2006 2004/2005 2003/2004 2002/2003 2001/2002 |
| EQUITY & TRUSTS I | 2022/2023 2021/2022 2020/2021 2017/2018 2015/2016 2014/2015 2013/2014 2011/2012 2008/2009 2007/2008 2006/2007 2005/2006 2004/2005 2003/2004 2001/2002 2000/2001 |
| FAMILY LAW I | 1993/1994 |
| FAMILY LAW II | 1993/1994 |
| FAMILY MANAGEMENT | 2022/2023 2021/2022 |
| FAMILY MANAGEMENT & PARENTING | 2020/2021 2019/2020 2018/2019 2017/2018 2016/2017 2015/2016 2014/2015 2013/2014 2012/2013 |
| GENERAL PRINCIPLES OF MALAYSIAN CIVIL LAW | 2013/2014 2012/2013 2011/2012 |
| LAW OF CONTRACT I | 2010/2011 2003/2004 |
| PROBATE AND THE LAW OF SUCCESSION I | 2002/2003 |
Research Projects
Completed
| | |
| --- | --- |
| 2016 - 2019 | Looking into the Opportunities and Challenges in Waqf Taxation Incentives in Malaysia |
| 2011 - 2012 | Specific Relief Act 1950: Proposal for Reform |
| 2010 - 2016 | Regulating Legal Framework for Charitable Organization in Malaysia: Challenges and Prospects |
On-Going
| | |
| --- | --- |
| 2016 - Present | A Study on the Regulatory Powers Relating to Charity Under the Companies Commission Malaysia (SSM) |
| 2008 - Present | Cases and Material of The Law of Trust in Malaysia |
| - | Contribution of Tan Sri Harun M. Hashim in the Legal Development in Malaysia |
Award & Recognition
| | | |
| --- | --- | --- |
| 04 Nov, 2008 | Best Teacher Award (Private Law Department) - AIKOL | KCDIO |
| 19 Sep, 2003 | Excellent Research Award - Quality Day 2003 | KCDIO |
| 01 Jan, 2003 | Quality Research Award (Kulliyyah) - International Islamic University Malaysia | Kulliyyah |
Publications
Article
| | |
| --- | --- |
| 2023 | This land of ours –protecting ownership, interest and dealings in land. IIUM Law Journal, 31 (1) pp. 69-94 |
| 2020 | Analysing the need to regulate non-profit foundations under the Trustee (Incorporation) Act 1952: towards transparency and good governance. International Journal of Business and Society, Vol. 21 (S1) pp. 165-176 |
| 2020 | Analysing the need to regulate non-profit foundations under the Trustees (incorporation) Act 1952: towards transparency and good governance. International Journal of Business and Society, 21 (S1) pp. 165-176 |
| 2018 | Examining the fiduciary duties of the waqf trustee: Benchmarking with the law of trusts and Islam. Shariah Law Reports Articles, 1 () pp. |
| 2017 | Present and future research for productive waqf management and administration in Malaysia. Journal of Islamic Law Review, 13 (2 (July-December)) pp. 119-142 |
| 2017 | Regulating charitable organisations in Malaysia: challenges and recommendations. Pertanika Journal of Social Sciences & Humanities, 25 (Special Issue) pp. 45-50 |
| 2013 | Eviction of unlawful occupiers of property in Malaysia- judicial responses and policy. Malayan Law Journal Articles, 1 () pp. 1-17 |
| 2010 | Applying the Concept of Trust in Managing breach of ethics and integrity in Malaysia: constructive trust as the best possible remedy. Eubios Journal of Asian and International Bioethics, 20 (6 SupB) pp. 234-235 |
| 2009 | Mareva injunction as a preventive relief: the Malaysian experience. IIUM Law Journal, 17 (2) pp. 225-245 |
Conference or Workshop Item
Book
Book Section
| | |
| --- | --- |
| 2022 | Whether waqf and endowment can ride the same legal vehicle in Malaysia?. In: IIUM Press, ISBN: , pp. |
| 2021 | Requirement of complete constitution of property in express trust: whether relevant in waqf. In: Global Waqf Conference, ISBN: 978-967-2641-80-3, pp. 140-153 |
| 2021 | Requirement of complete constitution of property in express trust: whether relevant in waqf. In: Global Waqf Conference, ISBN: 978-967-2641-80-3, pp. 140-153 |
| 2011 | Agency law. In: IIUM Press, ISBN: 9789670225432, pp. 399-418 |
| 2011 | Constitution of express trusts. In: IIUM Press, ISBN: 9789674182236, pp. 39-61 |
| 2011 | Law of trust and the beneficial interest in matrimonial property . In: IIUM Press, ISBN: 9789674182250, pp. 185-198 |
| 2011 | Resulting trusts. In: IIUM Press, ISBN: 9789674182236, pp. 63-85 |