Staff Directory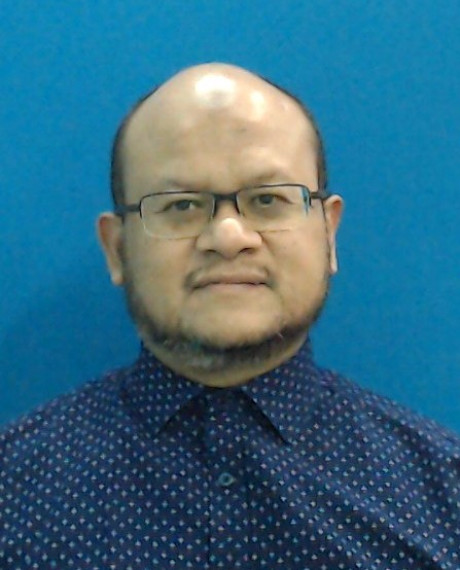 Academic Qualification
Doctor of Philosophy (Arabic Language Studies) - Doctor of Philosophy, International Islamic University Malaysia
Master of Arts (Modern Arabic Studies) - Masters Degree, University of Leeds
Bachelor of Human Sciences (Arabic Language and Literacy) - Bachelor Degree, International Islamic University Malaysia
Shamsul Jamili Bin Yeob (Assoc. Prof. Dr.)
Associate Professor
IIUM Gombak Campus
ABDULHAMID ABUSULAYMAN KULLIYYAH OF ISLAMIC REVEALED KNOWLEDGE AND HUMAN SCIENCES
---
Expert Profile
righttop
The areas of specialization of Shamsul Jamili b. Yeob are Arabic Linguistics and Arabic Sociolinguistics. He obtained his first degree in 1994 and Ph.D in 2005 in Arabic Linguistics and Sociolinguistics from the International Islamic University Malaysia (IIUM). He pursued his Master's degree at Leeds University, UK (1996), specialization in Arabic Linguistic Analysis and Semantics.
Shamsul Jamili has been appointed as one of the academic assessors for Malaysian Qualification Agency (MQA) for Arabic Language and Literature since 2009. He represents IIUM as one of the executive committee members in Asian Islamic University Association (AIUA) which was officially incepted in April 2015. He was appointed by Dewan Bahasa dan Pustaka (DBP) as chairman of academic quality control for Arabic textbooks for Standard 4 and 5 and he is also one of the academic assessors for the National Arabic textbooks (Primary level).
He was the Deputy Dean of Admission and Records, IIUM in 2009 and the Dean of Academic Management and Admission Division (AMAD) in 2011. After being the Dean of AMAD for the period of approximately four years, he was seconded to the International Islamic College in March 2014 as its Chief Executive Officer.
Shamsul Jamili is currently an Associate Professor at the Department of Arabic Language and Literature, Kulliyyah of Islamic Revealed Knowledge and Human Sciences and Dean of Centre for Foundation Studies (CFS) at the IIUM since 1st February 2015.
Area of Specialisation
Humanities ~ Humanities ~ Religious Studies ~ Islamic Studies - sociolinguistics,discourse analysis, phonetic and phonology
Professional Membership
2009 - 2017: Member of Profesional Body / Association: (Assessor), Malaysian Qualification Agency (MQA)
Teaching Responsibilities
| | |
| --- | --- |
| MADKHAL ILA AL-LISANIYYAT AL-AMMAH (INTRODUCTION TO GENERAL LINGUISTICS) | 2023/2024 |
Research Projects
Completed
| | |
| --- | --- |
| 2020 - 2022 | Grammatical Analysis of the Seven Qur'anic Readings |
| 2017 - 2020 | Sociolinguistic for University Postgraduate Studies: Approach |
| 2016 - 2017 | A Semiotic-Sociological Analysis of Kuala Lumpur's City Signs |
| 2016 - 2017 | Arabic Story in the Modern Era between Islamic Commitment and Artistic Creativity Descriptive Study Analytical |
| 2009 - 2013 | Encyclopedia of Malay Names: Descriptive and Analytical Study |
| 2008 - 2011 | Register as A New Approach in Teaching of Arabic as a Second Language |
On-Going
Publications