Staff Directory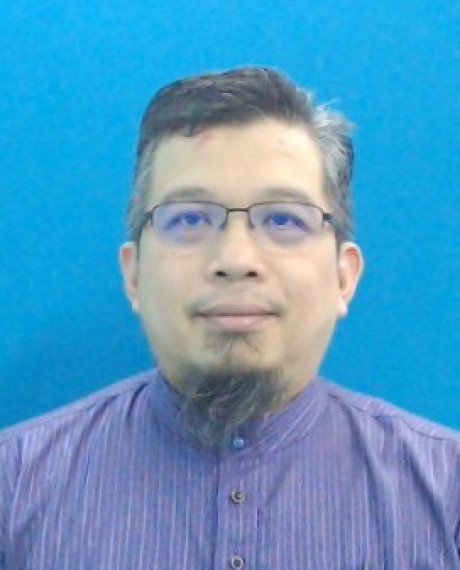 Academic Qualification
Doctor of Philosophy in Accounting - Doctor of Philosophy, University of Wales, Cardiff
Master in Accounting - Masters Degree, American University, Washington
Bachelor of Accounting - Bachelor Degree, International Islamic University Malaysia
Diploma in Socia Science Research Methods - Diploma, Cardiff University
Muslim Har Sani Bin Mohamad (Assoc. Prof. Dr.)
Associate Professor
IIUM Gombak Campus
KULLIYYAH OF ECONOMICS AND MANAGEMENT SCIENCES

Other's position:
Head, Graduate School of Management
---
Expert Profile
Dr Muslim Har Sani is an Associate Professor at the Department of Accounting, Kulliyyah of Economics and Management Sciences (KENMS). His research interest covers public sector accounting, management accounting and control, Islamic accounting, earnings quality and governance. His completed research projects include Impact of IFRS on earnings quality, Performance measurement in local government, Trust determinants in zakat institutions, Performance measurement in service industry, and earnings management in GLCs. The research projects are not limited to the Malaysian context. Also, he was involved in the establishment of Bachelor of Accounting program at Kabul University funded by the World Bank, and the development of Islamic Accounting Standard project for Waqaf, Zakat and Baitulmal (WZB) Institutions commissioned by Accountant General Department, Malaysia.  Besides, he has been a principal investigator in research projects funded by FRGS and series of IIUM Endowment Funds.
To date, he has published articles in leading journals, such as Asian Review of Accounting, International Journal of Productivity and Performance Management, Islamic Accounting and Business Research, and Asian Journal of Business and Accounting. He has also presented papers at local and international conferences. At the university, he held several administrative posts including Head of Department (Accounting), Deputy Dean, Post graduate coordinator, the chairman of the International Accounting Conference (INTAC), the chairman of Islamic Enhancement and Evaluation Programme (IEEP) and the faculty's research coordinator.
He completed his Ph.D in Cardiff Business School, Cardiff University in 2004. He gained his Master's degree from American University, Washington, D.C. and was placed on the Kogod School of Business's Graduate Scholars List in 1997. The School was ranked amongst the top 40 Business School by the Wall Street Journal Guide to the US Top Business Schools. Also, he has been a voting member of the American Institute of Certified Public Accountants (AICPA) since 1998 and holding credentials as Certified Public Accountant (CPA, Washington, D.C) and as Chartered Global Management Accountant (CGMA). At the national level, he was a member of PAIB Committee of Malaysian Institute of Accountants (MIA) from 2010 to 2014. Prior to joining IIUM, he was at Hanafiah, Raslan and Mohamad (HRM), Chartered Accountants as an auditor.
Area of Specialisation
Economics, Business And Management ~ Economics, Business And Management ~ Accounting ~ Public Sector Accounting
Economics, Business And Management ~ Economics, Business And Management ~ Human Resource Development (HRD) ~ Performance Management
Economics, Business And Management ~ Economics, Business And Management ~ Accounting ~ Islamic Accounting
Economics, Business And Management ~ Economics, Business And Management ~ Accounting ~ Management Accounting (Including Strategic Management Accounting, Performance Management, Cost Management, Management Accounting Control System)
Teaching Responsibilities
| | |
| --- | --- |
| ACADEMIC WRITING AND LIBRARY SEARCH | 2012/2013 2011/2012 |
| ACCOUNTING ANALYSIS FOR DECISION MAKING | 2012/2013 |
| ACCOUNTING AND FINANCE FOR MANAGERS | 2006/2007 |
| BUSINESS FINANCE 1 | 2018/2019 2017/2018 |
| CONTEMPORARY ISSUES IN ACCOUNTING | 2012/2013 2011/2012 2010/2011 2009/2010 |
| COST MANAGEMENT | 2010/2011 |
| DECISION MAKING & CONTROL | 2013/2014 2012/2013 2011/2012 2009/2010 2008/2009 2007/2008 |
| FINANCIAL ACCOUNTING & REPORTING 1 | 2022/2023 |
| FINANCIAL ACCOUNTING I | 1999/2000 1998/1999 1997/1998 1995/1996 |
| FINANCIAL ACCOUNTING II | 1999/2000 1998/1999 1997/1998 |
| FINANCIAL ACCOUNTING V | 1998/1999 |
| FINANCIAL AND MANAGERIAL ACCOUNTING | 2012/2013 2010/2011 2008/2009 2007/2008 2005/2006 |
| INTERNATIONAL FINANCE | 2022/2023 2019/2020 |
| ISSUES IN PUBLIC SECTOR ACCOUNTING | 2012/2013 2010/2011 2008/2009 2006/2007 2005/2006 |
| MANAGEMENT ACCOUNTING | 2013/2014 2005/2006 |
| MANAGEMENT ACCOUNTING FUNDAMENTALS | 2018/2019 2017/2018 2016/2017 2015/2016 2006/2007 |
| MANAGERIAL ACCOUNTING | 2015/2016 2007/2008 2006/2007 |
| PUBLIC SECTOR ACCOUNTING | 2020/2021 2019/2020 2018/2019 2016/2017 2015/2016 2013/2014 2012/2013 2011/2012 2010/2011 2009/2010 2008/2009 2007/2008 2006/2007 2005/2006 |
Research Projects
Completed
| | |
| --- | --- |
| 2022 - 2022 | KAJIAN PASAR BERBANGUNAN / PUSAT PENJAJA DEWAN BANDARAYA KUALA LUMPUR (DBKL) TIDAK BERDAYA SAING |
| 2018 - 2019 | Establishment of Bachelor Program in Accounting at Kabul University |
| 2018 - 2019 | Earnings Quality and Mandatory Adoption of IFRS with Pre-Adoption Divergence Environment: The Case of Nigeria |
| 2017 - 2017 | Perakaunan dan Pelaporan Kewangan Islam bagi Institut Zakat, Wakaf dan Baitulmal di Malaysia Fasa 2 2017 |
| 2017 - 2019 | Establishment of Accounting Department at the Economics Faculty of Kabul University Offering Bachelor Degree in Accounting |
| 2016 - 2016 | Perakaunan dan Pelaporan Kewangan Islam bagi Institusi, Wakaf, Zakat dan Baitulmal di Malaysia |
| 2013 - 2015 | Syariah Based Performance Practices in Islamic Financial Institutions : The Case of Islamic Banks in Malaysia |
| 2011 - 2012 | Antecedents to Performance Measurement Under Results-Based Management: The Case Government Agencies in east Java, Indonesia |
| 2011 - 2015 | Economics and Social Dynamic: Implications on CG Practices in Malaysian Listed Companies (RU 2011) |
| 2010 - 2013 | Board Development, Organizational Effectiveness and Legitimacy: The Case of Zakat Institutions in Nigeria |
| 2008 - 2010 | Zakat Accountability: Effectiveness of Beneficiaries' Empowerment Schemes in Malaysia and Singapore. |
| 2007 - 2010 | Performance Measurement Practices in The Malaysian Companies: An Exploratory Study |
| 2006 - 2012 | An Evaluation of the New Public Management: Malaysian GLCs' Accountability and Performance |
On-Going
| | |
| --- | --- |
| 2021 - Present | Applied Maqasid of Shariah Framework for Validating the Substance of Islamic Financial Instruments: An Accounting Perspective |
| 2021 - Present | Partnership for SDG Finance - Undertaking Development Finance Assessment and SDG Budgeting & Costing |
| 2021 - Present | Public Sector Accounting and Governance Textbook |
| 2017 - Present | The Analysis of Corporate Governance and Intellectual Capital in Indonesian Islamic Banks : A Study from organisational Growth Prespective |
Publications
Article
| | |
| --- | --- |
| 2022 | A comprehensive analysis of blockchain-based cryptocurrency mining impact on energy consumption. International Journal of Advanced Computer Science and Applications (IJACSA), 13 (4) pp. 590-598 |
| 2022 | A review on blockchain technology for distribution of energy. International Journal of Engineering Materials and Manufacture, 7 (2) pp. 61-70 |
| 2022 | Applicability of public sector reform initiatives of the Yemeni government from the integrated Toe-Doi framework. International Journal of Innnovation Studies, 6 (4) pp. 286-302 |
| 2022 | Linking corporate governance with organisational growth: evidence from Indonesian Islamic banks. Journal of Islamic Accounting and Business Research, () pp. |
| 2021 | Cryptocurrency integration challenges in blockchain for financial institution. Asian Journal of Electrical and Electronic Engineering, 1 (2) pp. 28-36 |
| 2019 | Earnings management in Malaysian companies during the global financial crisis and the coincidental effect of IFRS adoption. Australasian Accounting Business and Finance Journal, 13 (1) pp. 4-26 |
| 2018 | Assessing audit committee effectiveness of a government statutory body: a case study of the Inland Revenue Board of Malaysia. International journal of economics and management, 12 (2 ( Special Issue )) pp. 401-411 |
| 2018 | Institutionalization of performance management system in a Malaysian local government from the perspective of new institutional sociology. Jurnal Akuntansi dan Keuangan Indonesia,, 15 (2) pp. 180-200 |
| 2018 | The implementation of activity-based costing in the Accountant General's Department of Malaysia. Asian Journal of Accounting and Finance, 9 () pp. 75-89 |
| 2017 | Antecedents and outcome of Waqif's trust in Waqf Institution. Journal of Economic Cooperation and Development, 38 (4) pp. 155-180 |
| 2017 | Board characteristics and real performance in Malaysian state-owned enterprises (SOEs). International Journal of Productivity and Performance Management, 66 (8) pp. 1064-1086 |
| 2017 | Does intense monitoring matter? A quantile regression approach. Borsa Istanbul Review, 17 (2) pp. 75-85 |
| 2017 | Perakaunan Baitul mal: pengajaran dari tamadun awal Islam. IPN Journal of Research and Practice in Public Sector Accounting and Management, 7 () pp. 29-40 |
| 2016 | Accounting and accountability of waqf, zakat and Baitul Mal (WZB) in Malaysia: A review of literature. IPN Journal of Research and Practice in Public Sector Accounting and Management, 6 () pp. 1-14 |
| 2016 | Determinants of maqāsiḍ al-shari'ah-based performance measurement practices: the case of Malaysian Islamic banks. International Journal of Economics, Management and Accounting, 24 (1) pp. 49-81 |
| 2016 | Determinants of Maqasid al-Shari'ah-Based performance measurement practices: the case of Malaysian Islamic banks. International Journal of Economics, Management and Accounting, 24 (1) pp. 49-81 |
| 2015 | Corporate governance mechanisms and unmanaged earnings: evidence from Government Linked Companies (GLCs). Corporate Board: Role, Duties & Composition, 11 (2) pp. 98-111 |
| 2015 | The influence of corporate governance and organizational capacity on the performance of Malaysian listed companies . Mediterranean Journal of Social Sciences, 6 (3) pp. 27-33 |
| 2014 | The effect of regulation and goal orientation on performance measurement utilisation: evidence from Indonesian local government. Asian Journal of Business and Accounting, 7 (1) pp. 81-105 |
| 2014 | The moderating influence of organisational capacity on the association between corporate governance and corporate performance. Procedia Social and Behavioral Sciences, 164 () pp. 76-83 |
| 2013 | Antecedents of zakat payers'trust in an emerging zakat sector : an exploratory study. Journal of Islamic Accounting and Business Research , 4 (1) pp. 4-25 |
| 2013 | Role of organisational culture on performance measurement practice: the case of Malaysian manufacturing firms . Afro-Asian Journal of Finance and Accounting, 3 (4) pp. 297-318 |
| 2012 | Corporate governance and earnings management in Malaysian government linked companies: the impact of GLCs transformation policy. Asian Review of Accounting, 20 (3) pp. 241-258 |
| 2011 | Antecedents of Zakat payers' trust: the case of Nigeria. International Journal of Economics, Management and Accounting, 19 () pp. 133-164 |
| 2011 | Enhancing Malaysian public sector transparency and accountability: lessons and issues. European Journal of Economics, Finance and Administrative Sciences, 31 () pp. 133-145 |
| 2010 | An investigation on PMS attributes in service organisations in Malaysia . International Journal of Productivity and Performance Management, 59 (8) pp. 734-756 |
| 2010 | Performance measurement system mechanisms and service process type. Asian Journal of Accounting and Governance, 1 () pp. 1-26 |
| 2009 | The NPFM in emerging economies : the Modified Budgeting System(MBS) in Malaysian government. The Indonesian Management and Accounting Research (IMAR), 8 (1) pp. 19-48 |
Conference or Workshop Item
| | |
| --- | --- |
| 2021 | Budgeting in public sector. In: Brownbag Session on the Budgeting System in Malaysia, |
| 2020 | Efficiency and effectiveness of zakat distribution for socio-economic benefits and wellbeing of zakat recipients. In: Islamic Social Finance: Pandemic Crisis and Possible Solutions, |
| 2018 | Development of accountancy in Malaysia. In: International Seminar: Increased Accounting Capabilities to Meet Global Financial Challenges on Industrial Revolution 4.0, |
| 2018 | NPFM for public sector managers. In: Bengkel Penyediaan Dokumentasi Perakauan Pengurusan 2018, |
| 2012 | Implementing key performance indicators in a Malaysian local government. In: International Management Accounting Conference 6 - Managing Innovation and Sustaining Excellence,, |
| 2012 | Performance Management System (PMS) in a Malaysian local government: a New Institutional Sociology (NIS) perspective. In: The 3rd Global Accounting and Organisational Change Conference 2012, |
| 2011 | Antecedents of Zakat payers trust in an emerging Zakat sector :an exploratory study. In: IIUM International Accounting Conference (INTAC) V, |
| 2010 | Antecedents to performance ,measurement under results-based management: the case of local government agencies in East Java, Indonesia. In: International Public Management Network Conference 2010, |
| 2010 | Corporate governance mechanisms and earnings management in Malaysian government linked companies. The impact of GLCs transformation policy . In: International Conference Accounting and Finance Conference 2010, |
| 2009 | Going from the talk to doing the walk: extending Malaysian public sector transparency . In: 21st Asian-Pacific Conference on International Accounting Issues, |
| 2009 | Service PMS mechanisms: the way activities are measured . In: International Management Accounting Conference 5, |
| 2007 | The impact of the modified budgeting systems (MBS) on performance measurement in Malaysian central government organisations. In: Performance Measurement and Control Conference, |
| 2006 | The new public financial management in Malaysia . In: 2006 Academy of Management Annual Meeting, |
| 2005 | The impact of finanacial management reforms on operational effectiveness and accountability in Malaysian Central Government organisations . In: The International Conference on Governance, Accountability and Taxation, |
Book Section