Staff Directory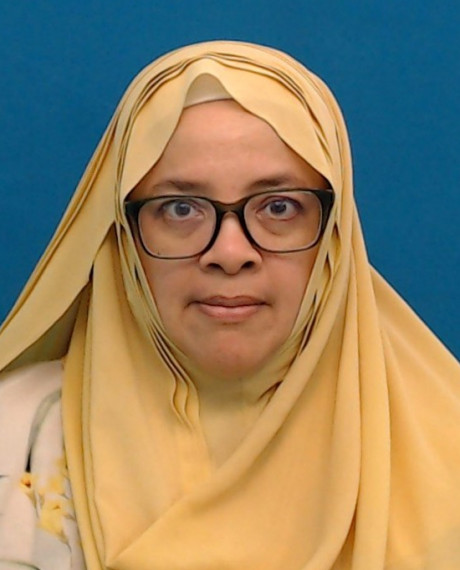 Academic Qualification
Ph.D in English & American Studies - Doctor of Philosophy, University of Manchester
Master in Literature - Masters Degree, Arizona State University, Arizona
Bachelor in English Language Literature - Bachelor Degree, International Islamic University Malaysia
Aimillia Binti Mohd Ramli (Assoc. Prof. Dr.)
Associate Professor
IIUM Gombak Campus
ABDULHAMID ABUSULAYMAN KULLIYYAH OF ISLAMIC REVEALED KNOWLEDGE AND HUMAN SCIENCES
---
aimillia@iium.edu.my
6029
Expert Profile
Dr. Aimillia has academic qualifications from both sides of the Atlantic , namely the United States and the United Kingdom and, hence, has benefitted from two different systems of higher education. She has worked in IIUM for twenty years and coordinates the postgraduate English literary studies programme for her department. Her specialization includes British literature, in particular, Orientalism in British Literature. Her interests have also grown to include comparative literature, literary criticism and Malaysian Literature in English. She has produced articles for top-ranking journals such as Bronte Studies and Cultura: International Journal of Philosophy and Axiology as well as for the E-Journal for Perintis and Intellectual Discourse amongst others. She is currently co-editing a book on Islamicisation of English Literature.A member of Modern Languages Association (MLA) and Malaysian English Language Teacher Association as well as Australasian Victorian Studies Association (AVSA), she is also a member of the Editorial Board for Intellectual Discourse.
She has presented papers at the International Conference for Comparative Literature (ICLA) held at the University of Sorbonne, France as well as at a seminar at Keele University, United Kingdom. Her earlier research interest had led her to present at The Soutwest Symposium, held at the Arizona State University. These are in addition to papers presented all over Malaysia.
Dr. Aimillia Mohd Ramli is currently an Associate Professor at the Department of English Language and Literature, Kulliyyah of Islamic Revealed Knowledge and Human Sciences.

Professional Membership
2013 - 2016: Member of Profesional Body / Association, MLA (Modern Language Association)
2014 - 2020: Member of Profesional Body / Association: (Member), MELTA (Malaysian English Language Teaching Association)
2014 - 2030: Member of Profesional Body / Association: (member), AVSA (Australasian Victorian Studies Association)
Research Projects
Completed
| | |
| --- | --- |
| 2021 - 2023 | ONLINE POETRY WRITING PROGRAMME FOR THE DEVELOPMENT OF LITERACY AND CREATIVITY IN UNDERPRIVILEGED CHILDREN AND ORPHANS |
| 2018 - 2018 | Islamicisation of Knowledge and English Literary Studies in the Age of Islamophobia and Westernophobia |
| 2016 - 2019 | Exploring Magical Realism in Children's Literature- Haroun and the Sea of Stories (1990) and Luka and the Fire of Life (2011) by Salman Rushdie |
| 2013 - 2016 | A Study of Romanticism and Modernism in English Literature from an Islamic Perspective |
| 2012 - 2013 | From Decolonising to Islamicing The Study of English Literature: An Argument for A Comparative Paradigm |
| 2009 - 2011 | Multiculturalism in Malaysian Short Stories in English |
On-Going
| | |
| --- | --- |
| 2021 - Present | Translation of the book "Dzulkifli Abdul Razak dan Percambahan Konsep Pengajian Tingginya" |
| 2010 - Present | Malaysian Literature & Culture Research Unit (MLCRU) |
Publications
Article
| | |
| --- | --- |
| 2020 | "Self-sacrifice may be quite wrong": women's education and finances in The Odd Women (1893) by George Gissing. International Journal of Applied Linguistics and English Literature, 9 (5) pp. 119-126 |
| 2020 | Bayesian hierarchical growth model for experimental data on the effectiveness of an incentive-based weight reduction method. Psychology and Education, 57 (8) pp. 1227-1241 |
| 2020 | Mohd. Kamal Hassan, Salam Kasih dari ayahanda dan kekandamu. Kuala Lumpur: ITBM, 2017. 87 pp. ISBN 978-967-460-687-9. Asiatic: IIUM Journal of English Language and Literature, 14 (2) pp. 117-120 |
| 2020 | The alchemy of happiness in Noordin Hassan's "Tonight, The Turtles Cry". Malay Literature, 33 (1) pp. 83-98 |
| 2019 | Complementary log-log with random effect model using Malaysian graduate employability data. International Journal of Recent Technology and Engineering, 7 (6) pp. 219-225 |
| 2019 | The real in the magic: a study of magic realism in Salman Rushdie's Haroun and the sea of stories (1990). Kemanusian: The Asian Journal of Humanities, 26 (2) pp. 123-139 |
| 2018 | Salman Rushdie's luka and the fire of life (2010). Journal of Language and Communication, 5 (2) pp. 251-262 |
| 2018 | The study of English literature from tawhidic perspective = Pengajian sastera Inggeris menurut perspektif tawhid. Journal of Islam in Asia, 15 (3: Special Issue: Integration of Islamic Revealed Knowledge into Humanities and Social Sciences) pp. 337-355 |
| 2017 | The Kabyles in late nineteenth-century fictional and factual writings by Grant Allen (1848–1899). ANQ - Quarterly Journal of Short Articles Notes and Reviews, 30 (4) pp. 222-228 |
| 2016 | Imagination and intuition in the poetic philosophies of Samuel Taylor Coleridge and Muhammad Iqbal. World Literature Studies, 8 (1) pp. 98-111 |
| 2013 | Decolonizing the study of English literature in a Muslim-Malaysian context: an argument for a spiritual-based comparative paradigm. Cultura. International Journal of Philosophy of Culture and Axiology, 10 (1) pp. 99-118 |
| 2011 | Contemporary criticism on the representation of female travellers of the Ottoman harem in the 19th century: a review. Intellectual Discourse, 19 () pp. 263-279 |
| 2010 | From Pasha to Cleopatra and Vashti: the oriental other in Charlotte Brontë's Villette. Bronte Studies, 35 (2) pp. 118-127 |
| 2009 | "Licentious Barbarians": representations of North African Muslims in Britain. Intellectual Discourse, 17 (1) pp. 43-63 |
Conference or Workshop Item
| | |
| --- | --- |
| 2017 | Viewing and reviewing the city from romantic to postmodern lenses: An analysis of 5 poems on Kuala Lumpur. In: The 17th Biennial Asiapac Symposium of Literature and Culture, |
| 2015 | Racial extinction and regeneration: representation of North Africa in the factual and fictional writings of Grant Allen. In: One Day Conference on Africa (ICAFRICA2015), |
| 2015 | Spinning the cultural tale: multiculturalism in K. S. Maniam's top winner . In: International Conference on Languages (ICL 2015), |
| 2014 | The study of English literature from a Tawhidic framework. In: Oasis International Conference on Islamic Education (OICIE 2014), |
| 2013 | Poetic inspiration in the philosophies of Samuel Taylor Coleridge and Muhammad Iqbal . In: 20th Congress of the International Comparative Literature Association, |
| 2013 | Proposed English education materials for Muslim literary critics. In: 1st World Congress on Integration and Islamicisation of Acquired Human Knowledge (FWCII 2013), |
| 2012 | A Comparative study between Muhammad Iqbal's and Robert Browning's Concerns with free-will versus determinism within the contexts of aestheticism and ethics . In: The 7th Malaysia International Conference on Languages, Literatures, and Cultures Organised by, |
| 2012 | Decolonising and Islamicising the study of English Literature: an argument for a comparative paradigm. In: International Conference on Colonialism and Decolonization: Challenges and Prospects ICCD 2012, |
| 2011 | "What is the moral of this story?": morality, ethical reading and Islamic reading of Karim Raslan's "neighbours" . In: 2nd International Conference on Islamic Education (ICIEd 2011), |
| 2011 | "Straying imagination, righteous intuition": the English romantic movement and philosophy of Muhammad Iqbal (1873-1938). In: INCOH 2011 (International Conference on Humanities 2011), |
| 2010 | From Pasha to Cleopatra and Vashti: the Oriental Other in Charlotte Brontë's Villette . In: IRIEE 2011, |
| 2010 | Narrating 1Malaysia: nationalism and patriotism in Malaysian literature written in English. In: Seminar on 1Malaysia, |
| 2009 | Multiculturalism in Malaysian short stories written in English (1966-2009). In: International Conference on Development 2009 (ICO2009), |
Book
Book Section