Staff Directory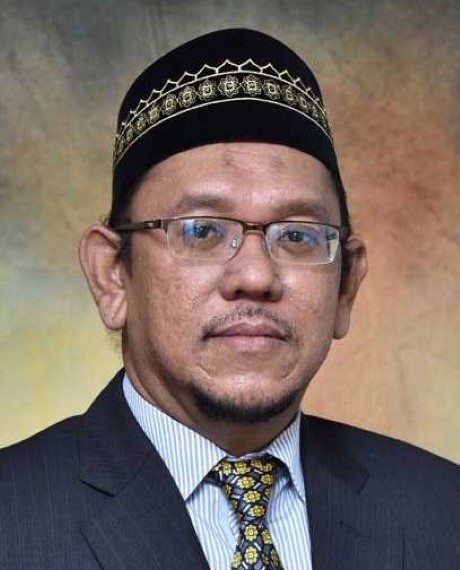 Academic Qualification
Doctor of Philosophy in Arabic Language Studies - Doctor of Philosophy, International Islamic University Malaysia
Master of Arts in Linguistics and Translation - Masters Degree, University of Leeds
Bachelor in Arabic Literature - Bachelor Degree, Yarmouk University, Jordan
Akmal Khuzairy Bin Abd. Rahman (Prof. Dr.)
Professor
IIUM Gombak Campus
KULLIYYAH OF ISLAMIC REVEALED KNOWLEDGE AND HUMAN SCIENCES

Other's position:
Director, Centre for Islamisation
---
Expert Profile
Akmal Khuzairy bin Abd Rahman is an Associate Professor at the Department of Arabic Language and Literature, International Islamic University Malaysia (IIUM). He is currently a member of the Board of Editors for the Arabic Language and Literature Journal, IIUM and a reviewer for a number of other journals including al-Tajdid, (IIUM), Intellectual Discourse (IIUM) and some other local Malaysian journals.
He is an Academic Advisor to the Arabic Language and Translation Bachelor programme for Kolej Universiti Islam Selangor, Academic Advisor for Islamic Studies programme to Kolej Islam asSofa and Kolej Islam Antarabangsa Melaka. He is an auditor of Arabic and Translation programs under the Malaysian Qualification Agency (MQA). His interest in the field of student development of higher education students had earned him a membership in the National Council of Da'wah under YADIM (Malaysian Islamic Da'wah Foundation).
His expertise in translation had also made him a member of the Halal terminology under SIRIM Malaysia. With his interest in the field of translation in three languages (Arabic-English- Malay), he is actively affiliated with the Malaysian Institute of Translation and Book (ITBM) as a translator, interpreter and editor of documents. ITBM is continuously engaging him in providing seminars on practical translation to various agencies in Malaysia. He has been appointed as a consultant to a number of translation projects undertaken by a number of companies in Malaysia. His academic articles, to date have been published in a number of local and international journals. He has also translated several books from and into Malay covering various topics such as literature and politics.
Dr. Akmal also has extensive experience in various administrative posts in IIUM. He used to be a residential college Principal, Deputy Dean, Director and Dean. He is still actively involved in giving talks and motivation in the area of student development and employability.
Area of Specialisation
Social Science ~ Social Science ~ Education ~ Language Literacy (Including English (TESOL, ESL, TEFL) and other Languages) - Doctor of Philosophy in Arabic Language Studies
Teaching Responsibilities
| | |
| --- | --- |
| ACADEMIC EXERCISE IN LINGUISTIC STUDIES | 2015/2016 |
| ADVANCED CONVERSATION SKILLS | 1995/1996 |
| ADVANCED WRITING | 2003/2004 |
| ARABIC FOR ISLAMIC STUDIES II | 2003/2004 |
| ARABIC FOR ISLAMIC STUDIES III | 2003/2004 |
| FAMILY MANAGEMENT & PARENTING | 2009/2010 |
| FINAL YEAR PROJECT I | 2021/2022 2020/2021 |
| FINAL YEAR PROJECT II | 2021/2022 2020/2021 |
| FOREIGN LANGUAGE I FOR BENL | 2005/2006 |
| FOREIGN LANGUAGE II FOR BENL | 2005/2006 |
| HALAQAH 1 (SISTER) | 2003/2004 |
| HALAQAH 1 (SISTERS) | 2002/2003 |
| HALAQAH 2 (SISTER) | 2002/2003 |
| INTRODUCTION TO GENERAL LINGUISTICS | 2017/2018 2013/2014 2007/2008 2004/2005 2003/2004 |
| INTRODUCTION TO TRANSLATION | 2011/2012 2009/2010 2008/2009 2007/2008 2006/2007 2005/2006 2004/2005 2003/2004 1997/1998 |
| ISLAMIZATION OF LINGUISTIC & LIT. STUDIES | 2005/2006 |
| MODERN LINGUISTICS | 2021/2022 2020/2021 |
| MODERN LINGUISTICS II | 2005/2006 |
| PRACTICAL TRANSLATION | 2015/2016 2014/2015 2013/2014 |
| QUR'ANIC & PROPHETIC TEXTS | 2004/2005 |
| RESEARCH METHODOLOGY | 2016/2017 2014/2015 2008/2009 2006/2007 2005/2006 2004/2005 |
| RESEARCH PAPER I | 2021/2022 2020/2021 2019/2020 2018/2019 2017/2018 2014/2015 |
| RESEARCH PAPER II | 2021/2022 2020/2021 2018/2019 2016/2017 |
| RHETORICAL INIMITABILITY OF THE QUR'AN | 2009/2010 |
| SOCIOLINGUISTICS | 2012/2013 2009/2010 2008/2009 |
| TESTING AND EVALUATION | 2007/2008 |
| THEORIES AND PRACTICE OF TRANSLATION | 2021/2022 2020/2021 2019/2020 2018/2019 2016/2017 2015/2016 2014/2015 2012/2013 2011/2012 201/2013 2007/2008 2005/2006 2004/2005 |
Research Projects
Completed
| | |
| --- | --- |
| 2018 - 2021 | Re-modelling concept of wellness towards senior citizens in Malaysia and institutional modality of intergenerational relationships, analytical study from Islamic perspective |
| 2018 - 2018 | Translating Book Entitled 'Oman and Japan' into Arabic |
| 2017 - 2018 | Translation Project : Translation of Turkish Book into Bahasa Malaysia |
| 2017 - 2018 | Translation of Omani Books Into Bahasa Malaysia : Project 2 |
| 2017 - 2018 | Translation of Omani Books Into Bahasa Malaysia : Project 1 |
| 2016 - 2017 | A Semiotic-Sociological Analysis of Kuala Lumpur's City Signs |
| 2016 - | Penyelidikan, Terjemahan dan Penerbitan Novel 'Zainab' |
| 2016 - 2017 | Arabic Story in the Modern Era between Islamic Commitment and Artistic Creativity Descriptive Study Analytical |
| 2015 - 2018 | The Development of ?Muslim-Friendly? Event Management Standards In Malaysia for the Establishment of Malaysian Shariah Index Compliance |
| 2015 - 2018 | Ensuring the Quality of the Translation of Quran Into Malay And Its Adherence to the Prescribed Understanding of Islam in Malaysia through the Development of Guidelines As Reference to the Translators and Authorities |
| 2014 - 2015 | Exploring the use of Translation in the Learning Strategies of Second Language Acquisition: The Case of Arabic Learners |
| 2012 - 2013 | Modern Applied Linguistics for Academic Purposes in Universities: A Descriptive Study |
| 2011 - 2011 | A Biography Of Muslim Malay Scholars (KVC Project 2011) |
| 2011 - 2012 | Modern Linguistics And Its Trends (KVC Project 2011) |
| 2011 - 2012 | Modern Literature Studies And Its Trends (KVC Project 2011) |
| 2009 - 2009 | Principles Translating Religious Text in the Context of Modern Translation Studies |
| 2009 - 2009 | Academic Performance Measurement : A Professional Development Programme for Faculty of Arts and Humanities King Abdul Aziz University, Jeddah Saudi Arabia |
| 2009 - 2009 | Academic Assessment with Tabuk University |
| 2008 - 2012 | Teaching and Learning of Arabic Script (Jawi) at Malaysian Elementary School |
| 2004 - 2008 | Evaluating The Use of A Desktop Geographical Information System (GIS) Software In Developing Students Residential information System (SRIS) |
On-Going
| | |
| --- | --- |
| 2021 - Present | Kajian Kefahaman dan Interaksi Hadith Sahih Kitab Al-Lu'lu' wa Al-Marjan |
| 2018 - Present | Ideas and Civilization |
| 2018 - Present | Developing An Instructional Model in Enhancing Skills of Understanding Ibadah Recitation Through Arabic Loan Word And Mnemonic Technique Among Malaysian Muslims |
| 2010 - Present | Islamization of Human Knowledge Research Unit (IOHK) |
Award & Recognition
| | | |
| --- | --- | --- |
| 05 Nov, 2010 | Sportsman of the Year - Sport and Recreational Centre | University |
Publications