Staff Directory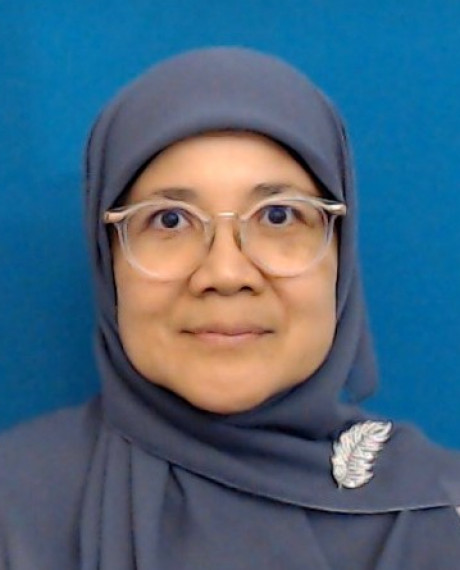 Academic Qualification
Doctor of Philosophy Developmental Psychology - Doctor of Philosophy, University of Adelaide
Master Degree of Human Sciences (Psychology) - Masters Degree, International Islamic University Malaysia
Bachelor of Islamic Revealed Knowledge and Human Sciences (Fiqh and Usul Al-Fiqh) - Bachelor Degree, International Islamic University Malaysia
Bachelor of Human Sciences (Psychology) - Bachelor Degree, International Islamic University Malaysia
Nazariah Shar'Ie Binti Janon (Assoc. Prof. Dr.)
Associate Professor
IIUM Gombak Campus
ABDULHAMID ABUSULAYMAN KULLIYYAH OF ISLAMIC REVEALED KNOWLEDGE AND HUMAN SCIENCES
---
nazariah@iium.edu.my
5159
Expert Profile
Dr. Nazariah is an expert in Developmental Psychology. She teaches Developmental Psychology, Child Psychology and Adolescent Psychology for undergraduates. She is also an active researcher who had secured a number of research grants that include both commission and government grants. Government funded grants includes EDW A10-130-0677 (RM5,000.00-PI), RAGS12-030-0030-PI (RM30,000.00-PI), and FRGS14-115-0356- (RM98,000.00 CoR). Commission grants are from AADK(SP13-016-0138-PR-RM47,850.00 -PI); IPPTN(IPPTN/KPT/FRGS/2011(04)-RM48,500.00 -CoR), (304/CIPPTN/651001-RM250,000.00- CoR); and Khazanah Nasional Berhad (GRU-GIS APPT.001 - RM200,000.00- CoR) (Total is RM679, 350.00).
Besides teaching and research, she also presents papers in conferences organized locally as well as overseas (AIFS Conference-Melbourne- 2010; SEAP Conference - Sabah -2012; iPRC -IIUM - 2012; 10th.AASP-Yogyakarta-2013; IRIIE-IIUM-2014; ICT4M-Sarawak-2014). The papers for conference proceedings are available in hardcopy as well as softcopy/digital/online. Dr. Nazariah also was appointed as a paper reviewer for journal PERTANIKA and Proceedings of the 10th International Postgraduate Research Colloquium.
In relation to her contribution in a form of a book, she was appointed by Pearson as a contributor in the Global Edition of Morrison's Early Childhood Education Today 13e. She also has contributed a chapter "The Effects of Intervention on Muslim Adolescents: Research Findings and Future Directions" in the departmental book project.
Area of Specialisation
Social Science ~ Social Science ~ Education ~ Educational Psychology - Doctor of Philosophy Developmental Psychology
Teaching Responsibilities
| | |
| --- | --- |
| ADOLESCENT PSYCHOLOGY | 2015/2016 2014/2015 |
| AL-SIRAH AL-NABAWIYYAH (ARABIC) | 1992/1993 |
| BIOGRAPHY OF THE PROPHET (ARABIC) | 1992/1993 |
| CHILD AND ADOLESCENT PSYCHOLOGY | 2022/2023 2019/2020 |
| CHILD PSYCHOLOGY | 2016/2017 2015/2016 2013/2014 2011/2012 2009/2010 |
| DEVELOPMENTAL PSYCHOLOGY | 2022/2023 2021/2022 2020/2021 2018/2019 2017/2018 2016/2017 2015/2016 2014/2015 2012/2013 2011/2012 2010/2011 2003/2004 2002/2003 |
| EARLY CHILDHOOD CARE AND PRACTICE | 2021/2022 |
| EDUCATIONAL PSYCHOLOGY | 2021/2022 |
| ELEMENTARY ARABIC II | 1991/1992 |
| ELEMENTARY ARABIC IV | 1990/1991 |
| EXPERIMENTAL PSYCHOLOGY:PRACTICUM I | 2001/2002 |
| FINAL YEAR PROJECT | 2021/2022 2020/2021 2019/2020 2017/2018 |
| INDUSTRIAL TRAINING | 2020/2021 2019/2020 2018/2019 2016/2017 |
| INTERMEDIATE ARABIC II | 1993/1994 |
| INTRODUCTION TO PSYCHOLOGY | 2021/2022 2017/2018 2016/2017 2015/2016 2014/2015 2013/2014 2012/2013 2011/2012 2010/2011 2001/2002 2000/2001 |
| PARENTING APPROACHES AND PRACTICES | 2022/2023 |
| PSYCHOLOGY OF LEARNING | 2013/2014 2012/2013 |
| PSYCHOLOGY OF PERSONALITY | 2003/2004 2002/2003 |
| PSYCHOLOGY OF RELIGIOUS BEHAVIOUR | 2002/2003 |
| RESEARCH PAPER I | 2019/2020 2018/2019 |
| RESEARCH PAPER II | 2019/2020 2018/2019 |
| RESEARCH PROJECT I | 2022/2023 |
| RESEARCH PROJECT II | 2022/2023 |
| SCIENCES OF HADITH II (ARABIC) | 1992/1993 |
| SCIENCES OF THE QURAN I (ARABIC) | 1992/1993 1991/1992 |
| SEMINAR IN ISSUES IN DEVELOPMENTAL PSYCHOLOGY | 2022/2023 2021/2022 |
| SOCIAL PSYCHOLOGY | 2012/2013 2011/2012 2010/2011 2003/2004 2002/2003 2001/2002 |
| THEORIES OF PERSONALITY | 2011/2012 |
| UNDERGRADUATE INTERNSHIP | 2015/2016 |
| UNDERGRADUATE PRACTICUM | 2014/2015 |
| UNDERGRADUATE RESEARCH PROJECT | 2014/2015 |
Research Projects
Completed
| | |
| --- | --- |
| 2020 - 2021 | Shaping Family Digital Literacy: A Two-Phase Study Investigating Parental Mediation Practices Of Young Children?s Internet And Digital Technologies Use |
| 2019 - 2022 | Transferring Psychological Knowledge and Skills on Coping with Academic-Related Issues among Primary School Students ion Rural Area to the Student Leaders at Sekolah Rendah Kebangsaan Belimbing Dalam, Durian Tunggal, Melaka |
| 2017 - 2017 | Transferring Psychological Knowledge and Skills on Interacting with Typical and Non Typical Children to the Teachers and Assistant Teachers at Prasekolah and Specil Needs Programme |
| 2017 - 2018 | Family Intervention for the Mitigation of Online Drug Trafficking: Module Development and Feasibility of Implementation |
| 2014 - 2017 | Identification of Barriers and Facilitators to Effective Implementation of Islamic Work Ethics in Islamic Banking Institutions |
| 2013 - 2016 | Kajian Daya Tahan Peserta Sebelum Dan Sesudah Menghadiri Program Bengkel Family on Alert Dan Forum Let's Talk About Health |
| 2012 - 2014 | Mengukuh Institusi Keluarga : Satu Kajian Keberkesanan Program Intervensi Keluarga |
| 2010 - 2013 | Effects of the Amount of Time in IIUM Child Care on Chldren's Social Development |
On-Going
| | |
| --- | --- |
| 2023 - Present | Contextualising Artificial Intelligence and Digital Citizenship within Islamic Ethics Approach: A Systematic Review and Research Agenda |
| 2022 - Present | A Framework for Promoting Mental Health Among Secondary School Students Through Anticipatory Thinking Skills |
| 2022 - Present | Family Digital Citizenship in Pandemic Recovery: Prospects, Challenges, and Policy |
| 2022 - Present | Family Intervention for Effective Parenting Style among B40 Parents with Autistic Children: Module Development and Feasibility of Implementation |
| 2016 - Present | Sub Project Developing the Socio-Psychological Profile and a Typology of the Latent Attributes of High Functioning Children with Learning Disabilities |
Award & Recognition
| | | |
| --- | --- | --- |
| 01 Jun, 2020 | PRODUC INNOVATION AND COMMERCIALIZATION AWARD - SILVER - KIRKHS TAKRIM AL-AKADIMIYYIN 2020 | KCDIO |
Publications
Article
| | |
| --- | --- |
| 2022 | Lock, talk, or stop? measuring how parents mediate their young children's use of digital devices in the Malaysian context. e-JURNAL IPPTAR, 1 (1) pp. 1-25 |
| 2021 | How is emotional intelligence related to psychological distress of young adults during the Covid-19 pandemic?. International Journal of Social Policy and Society, (Special Edition on COVID-19), 18 (S1) pp. 169-181 |
| 2021 | The relationship between parental anxiety, child's behavioral inhibition and child anxiety. Southeast Asia Early Childhood Journal, 10 (1) pp. 50-61 |
| 2021 | Too young too digital: how Malaysian parents mediate their young children's internet and digital device use. Media Matters, 4 () pp. 67-80 |
| 2020 | The implication of Knowledge Transfer Project towards the understanding and skills of children's developmental psychology among PPMS and PPMS PPKI in the district of Sabak Bernam. Jurnal Pendidikan Awal Kanak-Kanak Kebangsaan, 9 () pp. 26-34 |
| 2020 | The relationship between religiosity and psychological distress among university students during COVID-19 and Movement Control Order (MCO). IIUM Journal of Human Sciences, 2 (2) pp. 15-24 |
| 2019 | Psychological distress among adolescents of different ethnic groups in Malaysia. IIUM Journal of Human Sciences, 1 (1) pp. 1-9 |
| 2019 | The differences between perceived and actual generations of job-related attitudes: a new perspective for employee sustainability programme. Journal of Sustainability Science and Management, 14 (5) pp. 76-83 |
| 2017 | Does generation X and Y differ in the Islamic work ethics: a study among employees in Islamic banks. Journal of Global Business and Social Entrepreneurship (GBSE), 1 (2) pp. 79-83 |
| 2017 | Pembangunan modul program intervensi keluarga untuk mengurangkan penyalahgunaan dadah dalam talian dan media baharu: satu kajian analisis keperluan. Kajian Penyelidikan Ilmiah AADK: Senarai Kajian Di Bawah Geran Penyelidikan Ilmiah AADK Tahun 2014-2017, () pp. 1-22 |
| 2017 | Religiosity as a predictor of integrity, work ethics, and organisational commitment: Implications for public administration. Jurnal Psikologi & Kaunseling Perkhidmatan Awam Malaysia, Jun 2017 (12) pp. 79-101 |
| 2016 | Religiosity among Muslims: a scale development and validation study. MAKARA Hubs-Asia (Human Behavior Studies in Asia), 20 (2) pp. 109-121 |
| 2016 | To go or to stay? Examining the relationships between organisational commitment, work ethics, and turnover intention. International Journal of Psychology (IJP), 51 (Issue Supplement S1) pp. 768-768 |
| 2012 | Employability programmes and graduates' assessment of their employability. International Journal of Social Sciences and Humanity Studies, 4 (1) pp. 357-364 |
Conference or Workshop Item
| | |
| --- | --- |
| 2021 | Shaping family digital literacy: investigating parental mediation practices of young children's Internet and digital technologies use. In: 2021 MCMC Research Symposium, |
| 2021 | WEBINAR: memahami perkembangan kanak-kanak dalam meningkatkan kesihatan mental positif di kalangan kanak-kanak. In: Webinar Memahami Perkembangan Kanak-Kanak Dalam Meningkatkan Kesihatan Mental Positif Di Kalangan Kank-Kanak, |
| 2020 | The Role of Family Intervention Program in Promoting Good Mental Health Among High Risk Adolescents. In: INTERNATIONAL VIRTUAL SEMINAR OF THE RELIGION AND MENTAL HEALTH, |
| 2019 | Conceptual analysis of mental health according to Muslim scholars for Stress Prevention Project (STOP) in Gombak. In: 1st International Seminar on the Roles of University in Responding to Psychosocial Issues in the Community (ISRUPIC 2019), |
| 2019 | Conceptual analysis of mental health according to Muslim Scholars for Stress Prevention Project (STOP) in Gombak. In: Scholarship Enhancement Seminar on Contemporary Issues of Qur'an and Sunnah 2019, |
| 2018 | Enhancing assistant teachers' (PPM & PPM PPKI) psychological knowledge and skills in handling non-typically developed children in Sabak Bernam, Selangor. In: 4th National Conference on Knowledge Transfer (NCKT'17), |
| 2018 | Enhancing assistant teachers' (PPM & PPM PPKI) psychological knowledge and skills in handling typically developed children in Sabak Bernam, Selangor. In: 4th National Conference on Knowledge Transfer (NCKT'17), |
| 2018 | The development, feasibility, and acceptability of psychological knowledge and skills transfer in handling children with atypical development among assistant teachers(PPM &PPM PPKI) in Sabak Bernam, Selangor.. In: 4th National Conference on Knowledge Transfer (NCKT'17), |
| 2015 | Factor influencing the implementation of Islamic work ethics in banks: a qualitative study. In: The 6th International Conference on Governance, Fraud, Ethics and Social Responsibility 2015 (iConGFESR 2015), |
| 2015 | Parenting and human development: differences in understanding after participating in family intervention program. In: 2nd International Conference on Human Sustainability (INSAN2015), |
| 2015 | The effects of intervention program on drug users and risk family: differences in understanding after participating in a family intervention program. In: The International Conference on Addiction Prevention and Treatment (ICAPT) 2015, |
| 2014 | A resilience based intervention for at-risk adolescents. In: International Research, Invention and Innovation Exhibition (IRIIE) 2014, |
| 2014 | Can being away from mobile phones for one hour benefit Muslim adolescents? The role of intervention program. In: Information and Communication Technology for The Muslim World (ICT4M), 2014 The 5th International Conference on, |
| 2014 | Evaluating the effectiveness of a family-based intevention for families at risk of drug-related problems. In: International Research, Invention and Innovation Exhibition (IRIIE) 2014, |
| 2013 | Does parenting disciplinary practices affect social behavior of children enroll in child care centres: effect of quality child care. In: 10th Biennial Conference of Asian Association of Social Psychology, |
| 2012 | Does quality child care centre shape children's behaviour? a case study of IIUM Educare. In: 2nd Southeast Asia Psychology Conference (SEAP2012) , |
| 2011 | The Development of a Postgraduate Developmental Psychology Program with Islamic Orientation: IIUM Experience. In: Islamization and Indigenization of Psychological Knowledge, |
Book
Book Section
| | |
| --- | --- |
| 2021 | The Effects of Intervention on Muslims Adolescents: Research Findings and Future Directions. In: IIUM Press, ISBN: 9789674910525, pp. 42-56 |
| 2021 | The Effects of Intervention on Muslims Adolescents: Research Findings and Future Directions. In: IIUM Press, ISBN: 9789674910525, pp. 42-56 |
| 2020 | Promotion of intellect through knowledge transfer. In: IIUM Press, International Islamic University Malaysia, ISBN: 9789674910488, pp. 258-269 |
| 2019 | Pembentukan kefahaman konsep rahmatan lil 'alamin bermula dari alam kanak-kanak. In: MAIWP & KIRKHS, IIUM, ISBN: 978-967-13583-5-1, pp. 112-116 |
| 2019 | Pembentukan kefahaman konsep rahmatan lil 'alamin bermula dari alam kanak-kanak. In: MAIWP & KIRKHS, IIUM, ISBN: 978-967-13583-5-1, pp. 112-116 |
| 2018 | Factors influencing the implementation of Islamic work ethics in banks: A qualitative study. In: Springer, ISBN: 978-981-10-6924-6, pp. 65-86 |
Monograph