Staff Directory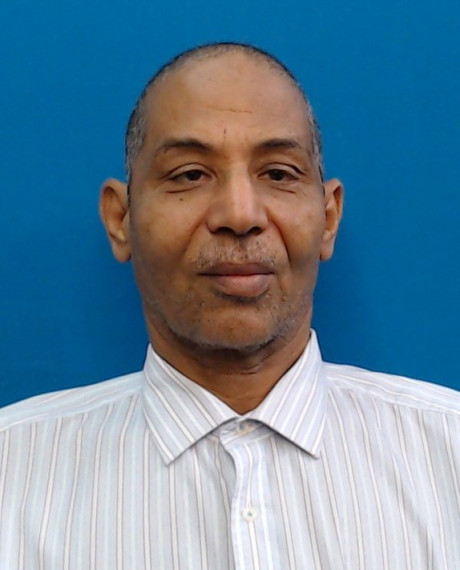 Academic Qualification
Bachelor of Arts in Arabic Language and Islamic Studies - Bachelor Degree, University of Cairo
Diploma in Human Science - Diploma, International Islamic University Malaysia
Special Diploma In Education - Diploma, CAIRO UNIVERSITY
Islamic Studies - Diploma, Institute of Arabic and Islamic Studies
Diploma in Education - Diploma, Institute of Research and Arabic Studies, Cairo
Ibrahim Ahmed Fares Mohamed
CELPAD Teacher
IIUM Gombak Campus
CENTRE FOR LANGUAGES AND PRE-UNIVERSITY ACADEMIC DEVELOPMENT
---
afibrahim@iium.edu.my
4934
Expert Profile
Ibrahim Ahmed Fares Mohamed has over 27 years of experiences in education and teaching of Arabic Language to international students (9 years in Egypt and 18 years in IIUM). He is a CELPAD teacher at the Qur'anic Language Division. He has been working with the IIUM since 1997 on a contract basis.
He was awarded the "Exemplary Teacher Award" from the Department of Education, Ministry of Education, Egypt in 1991.
He was a member of the Testing, Evaluation and Measurement Unit (TEMU), Academic Committee for Language Awareness, and Advisor to Qur'anic Language Society (Q.L.S.),1999-2006, course co-ordinator, Arabic Language for Academic Purposes (LQ 4000) Qur'anic Language Division Celpad IIUM, 1997 - 2002, Advisor to Language Enhancement Programme, Qur'anic Language Division, 2009-2015.
Presently, he is the course co-ordinator for Qur'anic Language Level V & VI (LQ0516 & LQ0616) Qur'anic Language Division (Celpad).
Area of Specialisation
Social Science ~ Social Science ~ Education ~ Language Literacy (Including English (TESOL, ESL, TEFL) and other Languages) - Arabic Language and Islamic Studies
Teaching Responsibilities
| | |
| --- | --- |
| ADVANCE QURANIC LANGUAGE FOR HUMAN SCIENCE | 2003/2004 |
| ADVANCED ARABIC II | 2001/2002 |
| ADVANCED DEBATING 1 (FOR ARABIC DEBATERS) | 2014/2015 2013/2014 2012/2013 |
| ADVANCED DEBATING 2 (FOR ARABIC DEBATERS) | 2020/2021 2019/2020 2018/2019 2017/2018 2016/2017 2015/2016 2014/2015 2013/2014 2006/2007 |
| ADVANCED QURANIC LANG. FOR ARABIC MAJORS | 2007/2008 |
| ARABIC FOR ACADEMIC PURPOSE (AAP) | 2022/2023 2021/2022 2020/2021 2019/2020 2018/2019 2017/2018 2014/2015 2013/2014 2012/2013 2011/2012 2010/2011 2009/2010 2008/2009 2007/2008 2004/2005 2003/2004 2002/2003 2001/2002 2000/2001 |
| ARABIC FOR OCCUPATIONAL PURPOSES | 2022/2023 2021/2022 2020/2021 2019/2020 2018/2019 2017/2018 2013/2014 2012/2013 2009/2010 |
| ELEMENTARY QURANIC LANG. I FOR ECONOMICS | 2011/2012 2005/2006 |
| ELEMENTARY QURANIC LANG.II FOR ECONOMICS | 2004/2005 |
| ELEMENTARY QURANIC LANGUAGE I FOR HS & BENL | 2011/2012 2010/2011 2008/2009 2005/2006 |
| ELEMENTARY QURANIC LANGUAGE II FOR HS & BENL | 2007/2008 2006/2007 |
| INTERMEDIATE QURANIC FOR HS III | 2011/2012 2010/2011 2009/2010 |
| INTERMEDIATE QURANIC FOR HS IV | 2010/2011 2007/2008 2006/2007 2004/2005 |
| INTERMEDIATE QURANIC FOR HS VI | 2010/2011 2009/2010 2008/2009 2007/2008 |
| QURANIC LANGUAGE FOR HS IV | 2016/2017 |
| QURANIC LANGUAGE I | 2013/2014 2012/2013 2011/2012 |
| QURANIC LANGUAGE I & II | 2014/2015 |
| QURANIC LANGUAGE II | 2013/2014 |
| QURANIC LANGUAGE III | 2021/2022 |
| QURANIC LANGUAGE IV | 2022/2023 2021/2022 |
| QURANIC LANGUAGE REMEDIAL COURSE | 2022/2023 2021/2022 |
| QURANIC LANGUAGE SKILLS (READING) | 2006/2007 2004/2005 |
| QURANIC LANGUAGE SKILLS (SPEAKING) | 2008/2009 |
| QURANIC LANGUAGE SKILLS (WRITING) | 2006/2007 2005/2006 2003/2004 |
| QURANIC LANGUAGE V | 2020/2021 2016/2017 2015/2016 2014/2015 |
| QURANIC LANGUAGE VI | 2020/2021 2017/2018 2016/2017 2015/2016 |
Research Projects
Completed
| | |
| --- | --- |
| 2009 - 2010 | Establishing the Framework of the Art of Arabic Debating for the Enhancement of Arabic Language Skills |
On-Going
Publications
Article
Conference or Workshop Item
Book
Book Section