Staff Directory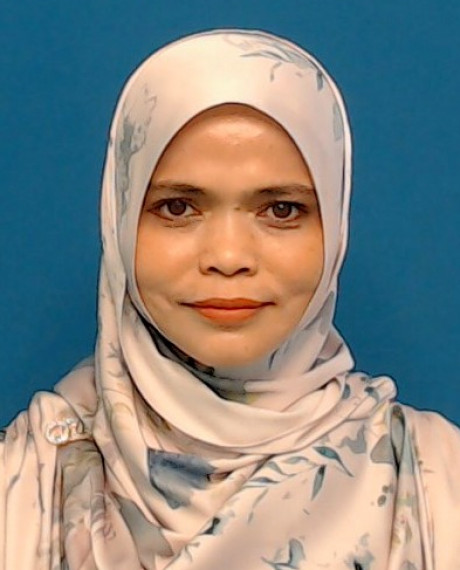 Academic Qualification
Doctor of Philosophy in Architecture - Doctor of Philosophy, Edinburgh College of Art Heriot-Watt University
Bachelor of Arts in Architecture (International) - Bachelor Degree, University of Huddersfield
Aida Kesuma Binti Azmin (Dr.)
Assistant Professor
IIUM Gombak Campus
KULLIYYAH OF ARCHITECTURE AND ENVIRONMENTAL DESIGN
---
aida_kesuma@iium.edu.my
5274
Expert Profile





Currently she is an Assistant Professor at Kulliyyah of Architecture and
Environmental Design (KAED), department of Architecture, International
Islamic University Malaysia. Her first degree in architecture
[International] was obtained from The University of Huddersfield, West
Yorkshire, United Kingdom, in 1998. A team leader in her final year's
Comprehend Design Project, in collaboration with the United Nation's
Rehabilitation Project, comprising of: (1) the City of Fez, and (2)
Essaouirra, in Morocco (A Comprehensive Development for Non-European
Countries). The projects involved developing an Educational Training
Centre for Moulay R'chid district, and a Community Mosque design in the
City of Fez. The project also included the development of a Master Plan
Development Proposals for Essaouirra, Morocco. These two projects are
pivotal exposures for Dr Aida in Islamic architecture and the
Mediterranean community. As an active student, in 1998, along with her
team members, she organised the 5th Malaysian Architecture Students
Association (MASA) in the UK and Eire Symposium at the University of
Huddersfield; a secretariat member of the organisation from 1997-1998. At
the beginning of 1999 she returns to Malaysia to practise in local
architectural firm before joining IIUM at the end of the year to fill the
void for an assistant lecturer in architecture at KAED. She later pursue
her masters study in architecture in 2001, followed by a PhD in
Architecture, which she graduated without any correction in 2007. Dr
Aida's passion in architecture is to instil an innovative and holistic
approach towards architecture and the built environment in teaching and
research developments, towards establishing quality and sustainable built
environment for contemporary society. Hence, her research interests
revolves around heritage architecture, and architectural experience, with
the main aim to revive the qualities and values of cultural meanings in
the physical manifestation ofMalaysian architectural identity. Throughout
her 17 years of teaching the BSc. and B.Arch undergraduate programme
studies, she has taught various subjects such as the Architectural Design;
Building Construction and Material, 1, 2, and 3; Theory of Architecture;
History and Theory of Architecture of Southeast Asia and East Asia;
Working Drawings and Specifications; Topical studies, Design Thesis,
Ecological and Sustainable Design, Architectural Graphics,
Multidisciplinary Project, and Heritage Studies. In her service to
students, she is also actively involved with architecture students'
activities as she has been the department's Competition, Events and
Exhibition committee member, holding the positions either as chairman,
vice-chairman and advisor for Archais students society until now.
Administratively, she has been holding the Academic Advisor position from
2009 until 2016. In the international research arena, she had done here
sabbatical leave in Finland, in 2011 for a collaborative research with
Jyväskyla University on Eco-Vernacular housing, focusing on the works of
Wivi Lönn, the Finnish woman emancipator architect in the 1900s. Her
research findings were published in the e-proceeding of the ISSEI
conference, June, 2013, in Cyprus. She had also presented a paper,
entitled, "Innovative Sustainable Livelihood Mixed Urban Residential
Development in Kuantan Waterfront" at Harvard University for the
International Multidisciplinary Academic Conference, in May 2014. The
paper was published in December 2014 in the Journal of Humanities and
Social Sciences Review, published by the UniversityPublications.net.
Locally, her interest in Heritage architecture has also contributed to the
publications of her manuscripts, "Rumah Datuk Setia: Melancholy of A
Legacy", IIUM Press, 2013. In 2014, she had supervised another group of
graduating students in the study of Masjid Jamek Sultan Ismail, Muar,
Johor for the Heritage Study. Another of her collaborative paper with her
fourth year student, on Experiential Architecture, entitled, "Pioneering
Experiential Architecture in Pre-School Children's Education in
Malaysia" has been published in UKM's Design + Built Journal, December
2014 publication. She is currently supervising a masters students on the
topic: "Redefining Endogenous Bugis Malay Architectural Identity in
Contemporary Johor". Upcoming publications are from ICABE 2016
conference on the Use of Mobile Augmented Reality for Heritage Restoration
of RUmah Datuk Setia in Perak, and two more related subjects. Hitherto,
she is also a co-founder for Architectural Media Unit Research Team,
founded in 2016at KAED, IIUM exploring on the use of technologically
advanced tools such as Mobile Augmented Reality in Architectural
Education. Now, she is actively involved is ISLAH 2017 conference
organised by KAED's research Cluster, IsArch (Islamic Architecture
Heritage).



Area of Specialisation
Engineering Tech ~ Applied Sciences And Technologies ~ Architecture ~ Indigenous Architecture - Cultural Meaning, Symbolism, Heritage Architecture
Engineering Tech ~ Applied Sciences And Technologies ~ Architecture ~ Other Architecture n.e.c. - Architectural Design Studies
Engineering Tech ~ Applied Sciences And Technologies ~ Architecture ~ Built Environment - Urban Design, Community & Identity
Teaching Responsibilities
| | |
| --- | --- |
| ARCHITECTURAL DESIGN 1 (STUDIO) | 2009/2010 2020/2021 2019/2020 2010/2011 2008/2009 |
| ARCHITECTURAL DESIGN 2 (STUDIO) | 2011/2012 2010/2011 2017/2018 2018/2019 2014/2015 2019/2020 2020/2021 |
| ARCHITECTURAL DESIGN 3 (STUDIO) | 2014/2015 2018/2019 2017/2018 2013/2014 |
| ARCHITECTURAL DESIGN 4 (STUDIO) | 2013/2014 2016/2017 2012/2013 2009/2010 |
| ARCHITECTURAL DESIGN 5 (STUDIO) | 2016/2017 2012/2013 2011/2012 |
| ARCHITECTURAL DESIGN II (STUDIO) | 2008/2009 2009/2010 |
| ARCHITECTURAL GRAPHICS | 2012/2013 2019/2020 2008/2009 |
| BUILDING CONSTRUCTION & MATERIALS | 2007/2008 |
| BUILDING CONSTRUCTION & MATERIALS 1 | 2008/2009 |
| BUILDING CONSTRUCTION & MATERIALS 2 | 2012/2013 2008/2009 2010/2011 |
| BUILDING CONSTRUCTION & MATERIALS 3 | 2009/2010 2011/2012 |
| ECOLOGICALLY SUSTAINABLE DESIGN | 2011/2012 |
| HABITAT DESIGN I (STUDIO) | 2008/2009 |
| HERITAGE STUDIES | 2012/2013 2017/2018 2013/2014 2019/2020 |
| HISTORY AND THEORY OF ARCHITECTURE 2 | 2020/2021 |
| HISTORY AND THEORY OF ARCHITECTURE 3 | 2021/2022 2020/2021 2015/2016 2016/2017 2018/2019 2019/2020 2014/2015 2017/2018 |
| THEORY OF ARCHITECTURE | 2017/2018 2013/2014 2016/2017 2012/2013 2018/2019 2011/2012 2014/2015 |
| WORKING DRAWING AND SPECIFICATION | 2012/2013 2007/2008 2009/2010 2008/2009 2013/2014 2015/2016 2011/2012 |
Research Projects
Completed
| | |
| --- | --- |
| 2019 - 2020 | Planting and SMART Tagging Trees Project for the Malay Enclave in IIUM |
| 2016 - 2019 | Arabic Learning Module Using Augmented Reality Based Materials: Design and Its Implementation |
| 2015 - 2018 | Assessing the Potential of Augmented Reality (Ar) as Attributes of Successful Learning of Heritage Architecture |
| 2014 - 2018 | Exploring Adaptive e-Learning of Architectural Education Using I- Ta'LeEM Platform |
| 2010 - 2012 | RU 2011: A Reflection of Intergrated Multi-Disciplinary Course in Built Environment |
On-Going
| | |
| --- | --- |
| 2021 - Present | Interior Design Consultant for Jeumpa d'Ramo Boutique Hotel |
| 2021 - Present | The Making of a Coffee Table Book on the Relocation of Masjid Kampung Laut from Nilam Puri back to Kampung Laut, Kelantan Darul Naim for East Coast Economic Region Development Council (ECERDC) |
| 2011 - Present | RU 2011: Comparative Study On Eco-Vernacular Dwelling Architecture for Establishing Universal Architectural Identity: Case Studies Malaysia, Finland & Australia |
| 2010 - Present | Holistic Housing Approach towards Sustainable Development: A Meta-analysis on Environmental Impact and Housing Design |
Publications
Article
| | |
| --- | --- |
| 2021 | Rethinking good quality of life for high-density urban housing 64 community. HABITAT 2020 MAGAZINE; Housing For All: A Better Urban Future, () pp. 64-66 |
| 2021 | Sustainability of Malay wood craftsmanship symbolism in deciphering Malaysia's architectural identity. Proceedings of DARCH 2021 1st International Conference on Architecture & Design, () pp. 37-56 |
| 2017 | Architectural heritage restoration of Rumah Datuk Setia via mobile augmented reality restoration. Planning Malaysia : Journal of the Malaysian Institute of Planners, 15 (1) pp. 139-150 |
| 2017 | Go virtual: Exploring the potential of adaptive e-learning platform for dissemination of architectural knowledge. Advanced Science Letters, 23 (7) pp. 6318-6321 |
| 2017 | Naturally ventilated colonial school classrooms in Malaysia are conducive to learning environment. Advanced Science Letters, 23 (2) pp. 830-833 |
| 2015 | The Great Mosque of Hohhot (Qingzhen Dasi), inner Mongolia, People's Republic of China—more than a mosque. Journal of Architecture, Planning & Construction Management (JAPCM), 5 (2) pp. 1-15 |
| 2014 | Developing graduates' collaboration skill based on Islamic perspective through integrated multi-disciplinary course in the built environment . International Journal of Social Science and Humanity (IJSSH), 4 (2) pp. 117-121 |
| 2014 | Innovative mixed-residential waterfront development proposals for sustainable livelihood in urban Kuantan, Malaysia. Humanities and Social Sciences Review, 3 (3) pp. 31-48 |
| 2014 | Pioneering experiential integrated pre-school design archetype in Malaysia. Journal of Design + Built, 7 () pp. 1-8 |
Conference or Workshop Item
| | |
| --- | --- |
| 2021 | Sustainability of Malay Wood Craftsmanship Symbolism in Deciphering Malaysia's Architectural Identity. In: DARCH2021 1st International Conference on Architecture and Design, |
| 2021 | Sustainability of Malay wood craftsmanship symbolism in deciphering Malaysia's architectural identity.. In: DARCH 2021- 1st International Conference on Architecture & Design, |
| 2019 | Innovative teaching of anthropometric through morphosis dualfunction chair design and build. In: National Innovation Invention in Engineering and Built Environment (PRIN-KAB 2019), |
| 2019 | Passive design strategies of colonial mosques in Malaysia. In: Mediterranean Green Forum 5 2019, |
| 2018 | Case study on perspicacity of collaborative learning experiences. In: International Conference on Architecture and Civil Engineering (ICACE 2017), |
| 2016 | Architectural heritage restoration of Rumah Datuk Setia via mobile augmented reality restoration. In: International Conference on Architecture & Built Environment (ICABE 2016), |
| 2016 | Go virtual: exploring the potential of adaptive e-learning platform for dissemination of achitectural knowledge. In: International Conference on Architecture & Built Environment (ICABE 2016), |
| 2016 | Naturally ventilated colonial school classrooms in Malaysia are conducive to learning environment. In: 2016 International Conference on Education (ICOED), |
| 2013 | Developing graduates' collaboration skill based on Islamic perspective through integrated multi-disciplinary course in the built environment. In: 3rd International Conference on Humanities, Society, and Culture (ICHSC 2013), |
Book
Book Section
| | |
| --- | --- |
| 2021 | Bamboo: the forgotten versatile materials. In: Springer, Cham, ISBN: 978-3-030-71699-8, pp. 1-17 |
| 2019 | Climatic Adaptations of Colonial School Buildings in Malaysia. In: Springer, ISBN: , pp. 275-292 |
| 2019 | Comparative Analysis of regional architecture: education, theory, and practices of Rifat Chadirji and Sedat Hakki Eldem. In: Fatih Sultan Mehmet Vakif University Publications, ISBN: 978-605-2386-17-0, pp. 243-256 |
| 2019 | Innovative teaching of anthropometric through morphosis-dual function chair design and build. In: Centre of Engineering and Built Environment Education Research (PeKA) Faculty of Engineering and Built Environment Universiti Kebangsaan Malaysia, ISBN: 9789832982609, pp. 33-38 |
| 2019 | Passive design strategies of colonial mosques in Malaysia. In: Springer, ISBN: , pp. |
| 2016 | The heritage of Hohhot: a journey through a community Masjid in China. In: Kulliyyah of Architecture, International Islamic University Malaysia, ISBN: 978-983-3142-33-0, pp. 183-197 |
| 2016 | The heritage of Hohhot: a journey through a community Masjid in China. In: Kulliyyah of Architecture, International Islamic University Malaysia, ISBN: 978-983-3142-33-0, pp. 183-197 |
| 2011 | Culture as a structure of transformation, change and evolution . In: IIUM Press, ISBN: 9789674180331, pp. 27-37 |
| 2011 | Nature as symbolism of aesthetics in the traditional Malay living environment. In: IIUM Press, ISBN: 978-967-418-057-7, pp. 8-18 |
| 2011 | The genesis of indigenous Malay worldview as manifested by the built environment : qualities in the indigenous Malay worldview . In: IIUM Press, ISBN: 978-967-418-057-7, pp. 1-7 |
| 2011 | The process of transformation towards visual manifestation of the built environment. In: IIUM Press, ISBN: 9789674180331, pp. 38-46 |