Staff Directory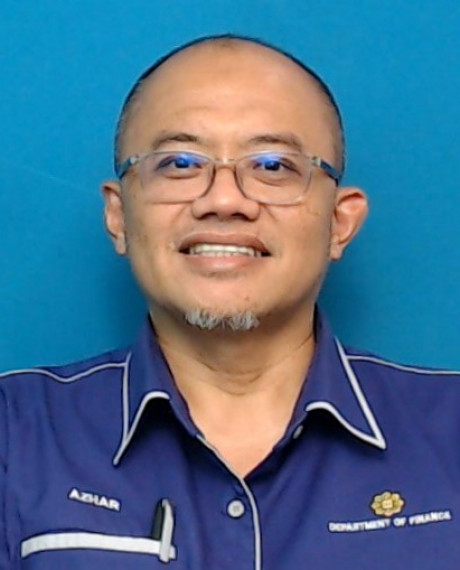 Academic Qualification
Doctor of Philosophy in Accounting & Finance - Doctor of Philosophy, Bangor University
Master of Business Administration (Finance) - Masters Degree, International Islamic University Malaysia
BA Accounting - Bachelor Degree, International Islamic University Malaysia
Azhar Bin Mohamad (Prof. Dr.)
Professor
IIUM Gombak Campus
KULLIYYAH OF ECONOMICS AND MANAGEMENT SCIENCES
---
Expert Profile
Azhar Mohamad obtained his BA Accounting (Hons) and MBA Finance from International Islamic University Malaysia (IIUM). He started his career as an auditor with KPMG Peat Marwick and later as futures dealer with Bank Bumiputera Futures. He joined IIUM as an Assistant Lecturer in January 2000. Upon completion of his MBA in Finance at IIUM, he taught finance at IIUM from July 2002 through August 2009. He pursued his Ph.D at Bangor University, UK, from September 2009 to July 2012, where he wrote empirical essays on short-selling and was able to complete within 36 months.
While doing his BA Accounting at IIUM in 1995, he was named as the Best Student for Accounting for Islamic Bank. As a co-author, he won best paper awards in Malaysian Finance Association Annual Symposium twice, in 2003 and 2010. Post Ph.D, he was appointed Assistant Professor and he is the postgraduate coordinator for the Department of Finance from July 2013.
Since December 2014, Dr Azhar has been an Associate Professor at the Department of Finance of Kulliyyah of Economics and Management Sciences at the IIUM.
Area of Specialisation
Economics, Business And Management ~ Economics, Business And Management ~ Investment ~ Stock Market Studies - Investment and financial management
Economics, Business And Management ~ Economics, Business And Management ~ Investment ~ Other Investment n.e.c. - Cryptocurrency
Economics, Business And Management ~ Economics, Business And Management ~ Investment ~ Futures - Futures and options (financial derivatives)
Economics, Business And Management ~ Economics, Business And Management ~ Investment ~ Mutual Fund - Investment analysis
Professional Membership
2003 - 2013: Member of Profesional Body / Association, Malaysian Finance Association, Malaysia
2010 - 2013: Member of Profesional Body / Association, British Accounting and Finance Association, UK
2012 - 2013: Member of Profesional Body / Association, Midwest Finance Association (USA)
Teaching Responsibilities
| | |
| --- | --- |
| ADVANCED FINANCE | 2017/2018 |
| CORPORATE FINANCE | 2008/2009 |
| FINANCIAL DERIVATIVES | 2022/2023 2021/2022 2017/2018 2016/2017 2015/2016 2014/2015 2013/2014 |
| FINANCIAL MANAGEMENT 2 | 2005/2006 |
| FINANCIAL MANAGEMENT ANALYSIS | 2015/2016 2014/2015 |
| FINANCIAL MANAGEMENT I | 2008/2009 2007/2008 2006/2007 2005/2006 2004/2005 2003/2004 2002/2003 |
| FINANCIAL MANAGEMENT II | 2012/2013 2007/2008 2005/2006 2004/2005 2003/2004 2002/2003 |
| FUTURES,OPTIONS AND RISK MANAGEMENT | 2021/2022 2020/2021 2019/2020 2018/2019 2017/2018 2016/2017 2015/2016 2014/2015 2013/2014 2008/2009 2007/2008 2006/2007 |
| INTERNATIONAL FINANCE | 2022/2023 2021/2022 2020/2021 2018/2019 2017/2018 2016/2017 2015/2016 2014/2015 2013/2014 2012/2013 2008/2009 |
| INVESTMENT ANALYSIS | 2008/2009 2007/2008 2006/2007 2005/2006 2003/2004 |
| ISLAMIC FINANCIAL PLANNING | 2006/2007 |
| MANAGING RISK-FUTURES & OPTIONS | 2021/2022 2020/2021 2018/2019 2016/2017 |
Research Projects
Completed
| | |
| --- | --- |
| 2022 - 2023 | Do Birds of a Feather Flock Together? Evidence from Time-Varying Herding Behaviour of Bitcoin and Foreign Exchange Majors |
| 2021 - 2022 | The impact of Covid-19 on price discovery of bitcoin markets |
| 2019 - 2021 | Impact of Sudden Change of Government in Malaysia: Evidence from Equity and Currency Market |
| 2019 - 2022 | Developing an Environmental Variation Model of Rice Production Efficiency in Malaysia. |
| 2015 - 2019 | Regulating a Mis-regulation of Trading Halts through a Comprehensive Financial Legal Framework for the Protection of Investors? Interest |
| 2014 - 2017 | Formulating Silver as a Model Payment System in Islamic Finance for the Protection of Maqasid of Shariah |
| 2013 - 2015 | Contagion Effects of Financial Crisis: A Meta-Analysis |
| 2006 - 2009 | Linkages, Profitability and Magnetic Effect of the Malaysian Equity Market |
On-Going
| | |
| --- | --- |
| 2019 - Present | Exploring the Notion of Rational Investment: The Case of Green Investment in Malaysia |
Award & Recognition
| | | |
| --- | --- | --- |
| 19 Nov, 2020 | Best Paper Award - Malaysian Finance Association | National |
| 25 Oct, 2017 | Best Paper Award - Universiti Teknologi MARA (UiTM) | National |
| 13 Apr, 2017 | Best paper award in 8th International Conference on Financial Crimininology (ICFC) 2017, 12-13 April 2017, held at Dorsett Putrajaya, Malaysia - 8th International Conference on Financial Criminology, 2017, in collaboration with Accounting Research Institute, UITM. | National |
| 10 Jun, 2010 | Best paper award in 2010 Malaysian Finance Association (MFA) 12th Annual Conference at Taylor's University College, Sunway, Selangor, Malaysia. Title: Foreign Exchange Exposure and Impact of Policy Switch: The Case of Malaysian Public Listed Firms, (with Obiyathulla Bacha, Sharifah Raihan and Mohd Eskandar) - Malaysian Finance Association | National |
| 23 Apr, 2003 | Best paper award in 2003 Malaysian Finance Association (MFA) 5th Annual Symposium at Multimedia University, Cyberjaya, Malaysia. Title: Daily Returns Seasonality and Impact of Stock Index Futures: Evidence from the KLSE, (with Obiyathulla Bacha and Mansor Ibrahim). Selected for publication in KLSE Capital Markets Review, 11, 2003, pp 1-22. - Malaysian Finance Association | National |
Publications
Article
| | |
| --- | --- |
| 2022 | Do birds of a feather flock together? evidence from time-varying herding behaviour of bitcoin and foreign exchange majors during Covid-19. Journal of International Financial Markets, Institutions & Money, 80 () pp. 1-26 |
| 2022 | Elections and financial markets puzzle: Malaysian evidence. Managerial Finance, () pp. |
| 2022 | Price discovery in bitcoin spot or futures during the Covid-19 pandemic? evidence from the time-varying parameter vector autoregressive model with stochastic volatility. Applied Economics Letters, 29 (15) pp. 1-10 |
| 2022 | Reevaluating the risk minimization utility of Islamic stocks and bonds (Sukuk) in international financial markets. The European Journal of Finance, () pp. 1-23 |
| 2022 | Safe flight to which haven when Russia invades Ukraine? a 48-hour story. Economics Letters, 216 () pp. |
| 2021 | Are Islamic stock markets immune from contagion during the financial crisis?. Journal of Economic Cooperation and Development, () pp. |
| 2021 | Cross hedging with stock index futures. The Quarterly Review of Economics and Finance, 82 () pp. 128-144 |
| 2021 | Financial contagion in the futures markets amidst global geo-economic events. The Quarterly Review of Economics and Finance, 81 () pp. 288-308 |
| 2021 | Implied volatility of structured warrants: Emerging market evidence. The Quarterly Review of Economics and Finance, 80 () pp. 464-479 |
| 2020 | A survey on the magnet effect of circuit breakers in financial markets. International Review of Economics and Finance, 69 () pp. 138-151 |
| 2020 | Cryptocurrencies: a survey on acceptance, governance and market dynamics. International Journal of Finance and Economics, 27 (4) pp. 4633-4659 |
| 2020 | Ex-post effects of circuit breakers in crisis and calm markets: long horizon evidence from wide-band Malaysian price limits. Journal of Economic Studies, 47 (2) pp. 333-350 |
| 2020 | Fiscal decentralization and convergence in government spending in Malaysia. International Journal of Finance and Economics, () pp. |
| 2020 | Information content and informativeness of the analyst report in Malaysia: Evidence from Sharīʿah-compliant shares. Journal of Islamic Accounting and Business Research, 11 (3) pp. 869-888 |
| 2020 | Information content and informativeness of the analyst report in Malaysia: Evidence from Sharīʿah-compliant shares. Journal of Islamic Accounting and Business Research, 11 (4) pp. 869-888 |
| 2020 | Intertemporal price discovery between stock index futures and spot markets: new evidence from high-frequency data. International Journal of Finance and Economics, () pp. |
| 2020 | On IMF debt and capital control: evidence from Malaysia, Thailand, Indonesia, the Philippines and South Korea. Journal of Financial Regulation and Compliance, () pp. |
| 2020 | Operational efficiency of shipping companies: evidence from Malaysia, Singapore, the Philippines, Thailand and Vietnam. International Journal of Emerging Markets, 15 (5) pp. 875-897 |
| 2020 | Predictive power of implied volatility of structured call warrants: evidence from Singapore. International Journal of Finance & Economics, 17 December 2020 () pp. 1-19 |
| 2019 | Aberrant investor participation amid substantial price swings: high-frequency evidence of magnet-repellent effect from Malaysia. Macroeconomics and Finance in Emerging Market Economies, 12 (1) pp. 71-94 |
| 2019 | Back to the future: returning to silver-backed money in Sri Lanka. Journal of Islamic Accounting and Business Research, 10 (1) pp. 73-97 |
| 2019 | Circuit breakers as market stability levers: a survey of research, praxis, and challenges. International Journal of Finance and Economics, 24 (3) pp. 1130-1169 |
| 2019 | Financial interdependence or contagion? evidence from a meta-analysis. Journal of Economic Cooperation and Development, 40 (1) pp. 79-102 |
| 2019 | Foreign exchange exposure of Indonesian listed firms. Foreign Exchange Exposure of Indonesian Listed Firms, 20 (3) pp. 1-19 |
| 2019 | Information content and informativeness of analysts' report: evidence from Malaysia. Journal of Financial Reporting and Accounting, 16 (4) pp. 742-763 |
| 2019 | Lead-lag relationship between Bitcoin and Ethereum: evidence from hourly and daily data. Research in International Business and Finance, 50 (1) pp. 306-321 |
| 2019 | On contango, backwardation, and seasonality in index futures. The Journal of Private Equity, 22 (2) pp. 69-82 |
| 2019 | Potential application of Istisna' financing in Malaysia. Qualitative Research in Financial Markets, 11 (2) pp. 211-226 |
| 2019 | Prioritising disclosures of information in analyst reports using the analytic hierarchy process: evidence from Malaysia. International Journal of Business and Systems Research, 13 (1) pp. 77-99 |
| 2019 | Randomness for asset prices constrained by price limit regimes: a Malaysian case study. Journal of Private Equity, 22 (4) pp. 111-144 |
| 2019 | The sustainable development consequences of IMF debt vs. capital control: comparing progress in GPI and GDP terms for Korea and Malaysia. Journal of Cleaner Production, 234 (1) pp. 725-742 |
| 2018 | An investigation of magnet effect via overnight returns: the Malaysian case. Journal of Capital Markets Studies, 2 (2) pp. 121-135 |
| 2018 | An investigation of magnet effect via overnight returns: the Malaysian case. Journal of Capital Markets Studies, 2 (2) pp. 121-135 |
| 2018 | Blockholders and firm performance: a Malaysian evidence. The Journal of Social Sciences Research, Special Issue 5 () pp. 885-893 |
| 2018 | Circuit breakers as market stability levers: a survey of research, praxis, and challenges. International Journal of Finance & Economics, () pp. |
| 2018 | Designing fitrah money: a maqasidic discourse. Journal of Islamic Monetary and Finance (JIMF), 3 (2) pp. 388-396 |
| 2018 | Efficiency and productivity performance of zakat funds in Algeria. International Journal of Islamic and Middle Eastern Finance and Management, 11 (3) pp. 374-394 |
| 2018 | Efficiency, stability and asset quality of Islamic vis-à-vis conventional banks: evidence from Indonesia. Journal of Islamic Accounting and Business Research, 9 (3) pp. 378-400 |
| 2018 | From metal to paper: validating paper money from Islamic perspective. International Journal of Ethics and Systems, 34 (1) pp. 2-19 |
| 2018 | GDP vs genuine progress quantification of economic performance in South Korea and Malaysia. Economics and Business Letters, 7 (4) pp. 169-179 |
| 2018 | How useful are the equity analysts' report? evidence from Malaysia. Reports on Economics and Finance, 4 (4) pp. 221-246 |
| 2018 | Implied volatility in the individual stocks call options market: evidence from Malaysia. Afro-Asian Journal of Finance and Accounting, 8 (4) pp. 431-456 |
| 2018 | Information content of analysts' report: a literature survey. Etikonomi, 17 (1) pp. 135-152 |
| 2018 | Revisiting fiat regime's attainability of shari'ah objectives and possible futuristic alternatives. Journal of Muslim Minority Affairs, 38 (1) pp. 1-23 |
| 2018 | Speculative behavior in vacant land development: evidence for real options in Malaysia. The Developing Economies, 56 (4) pp. 245-266 |
| 2018 | Trading aggression when price limit hits are imminent: NARDL based intraday investigation of magnet effect. Journal of Behavioral and Experimental Finance, 20 () pp. 1-8 |
| 2017 | A qualitative inquiry into the issues of information content of analysis's report: Evidence from Malaysia. Labuan Bulletin of International Business & Finance, 15 () pp. 1-21 |
| 2017 | A qualitative inquiry into the issues of information content of analysts' report: Evidence from Malaysia. Labuan Bulletin of International Business and Finance, 15 () pp. 1-21 |
| 2017 | Data envelopment analysis of efficiency of real estate investment trusts in Singapore. International Journal of Law and Management, 59 (6) pp. 826-838 |
| 2017 | Does an Islamic finance industry need a unification of standards? A qualitative discussion. Arab Law Quarterly, 31 (4) pp. 336-362 |
| 2017 | Does Musharakah Mutanaqisah converge with Bai Bithamin Ajil and conventional loans?. International Journal of Law and Management, 59 (5) pp. 740-755 |
| 2017 | Gold vis-à-vis money in Islam: the case against Dinarist movement. International Journal of Law and Management, 59 (6) pp. 977-992 |
| 2017 | On the Malaysian ringgit exchange rate determination and recent depreciation. International Journal of Economics, Management and Accounting, 25 (1) pp. 1-26 |
| 2017 | Seeking negative alphas through shorting. Global Business Review, 18 (6) pp. 1488-1506 |
| 2017 | Tax arrears amongst individual income taxpayers in Malaysia. Journal of Financial Crime, 24 (1) pp. 17-34 |
| 2017 | The effects of corporate governance attributes and code amendments on the performance of Malaysian trading and services firms. International Journal of Economics and Business Research, 13 (1) pp. 72-94 |
| 2016 | Asset pricing in developed and emerging markets:a survey. Sains Humanika, 8 (3) pp. 47-64 |
| 2016 | Cash economy: tax evasion among SMEs in Malaysia. Journal of Financial Crime, 23 (4) pp. 974-986 |
| 2016 | Gibrat's law and liquidity constraints: evidence from Malaysia industrial sector companies. International Journal of Economics, Management and Accounting, 24 (2) pp. 135-161 |
| 2016 | Implied volatility forecasting in the options market: a survey. Sains Humanika, 8 (2) pp. 9-18 |
| 2016 | Selling short as Ijarāh with Istiḥsān and its ethical implication. Arab Law Quarterly, 30 (4) pp. 357-377 |
| 2016 | Short selling and exchange-traded funds returns: evidence from the London Stock Exchange. Applied Economics, 48 (2) pp. 152-164 |
| 2016 | Short selling and the development of anti-shorting laws in the UK. Journal of Financial Regulation and Compliance, 24 (1) pp. 9-23 |
| 2015 | Order imbalance and selling aggression under a shorting ban: Evidence from the UK. International Review of Financial Analysis, 42 () pp. 368-379 |
| 2015 | Short-selling ban and cross-sectoral contagion: evidence from the UK. Journal of Asset Management, 16 (7) pp. 1-18 |
| 2013 | Creating a two-way market via short selling and its potential use in the Islamic paradigm . International Journal of Economics, Management and Accounting, 21 (2) pp. 29-43 |
| 2013 | Foreign exchange exposure and impact of policy switch - the case of Malaysian listed firms . Applied Economics, 45 (20) pp. 2974-2984 |
| 2013 | Short selling and stock returns: evidence from the UK. The British Accounting Review, 45 (2) pp. 125-137 |
| 2009 | Granting employee stock options (ESOs), market reaction and financial performance. Asian Academy of Management Journal of Accounting and Finance, 5 (1) pp. 117-138 |
| 2003 | Daily returns seasonality and impact of stock index futures: evidence from the Kuala Lumpur Stock Exchange. KLSE Capital Markets Review, 11 (1 & 2) pp. 1-22 |
Conference or Workshop Item
| | |
| --- | --- |
| 2019 | Price discovery between index futures and spot markets. In: The 21st Malaysian Finance Association Conference 2019 (MFAC 2019), |
| 2018 | An empirical test of implied volatility in Singaporean structured warrants. In: The 20th Malaysian Finance Association Conference (MFAC) 2018, |
| 2018 | Industry 4.0. In: 7th Annual Southeast Asian International Seminar 2018, |
| 2018 | Is there a J-curve between Malaysia and her trading partners? evidence from ARDL test and industry level data. In: 6th Malaysia Statistics Conference, |
| 2017 | Cash economy: Tax evasion amongst SMEs in Malaysia. In: 8th International Conference on Financial Criminology (ICFC) 2017, |
| 2017 | Designing Fitrah Money: A Maqasidic Discourse (JIMF Bank Indonesia Conference Nov 2017). In: 3rd International Islamic Monetary Economics and Finance Conference IIMEFC / JIMF, |
| 2017 | Magnet effect of price limits: evidence from Bursa Malaysia. In: 44th International Business Research Conference 2017, |
| 2016 | Designing fitrah money:appraisal of gold-silver as practical alternatives. In: ISERD-RW International Conference, |
| 2016 | Predicting Financial Distress based on Corporate Actions. In: 3rd International Conference on Global Business & Social Entrepreneurship, |
| 2015 | Creating a two-way market via short selling and its potential use in the Islamic paradigm. In: International Conference on Islamic Perspective of Accounting, Finance, Economics and Management (IPAFEM 2015), |
| 2015 | The Fiat Fiasco: the insidious erosion of Maqasid of Shari'ah and practical alternatives. In: The 9th ISDEV International Development Management Conference (IDMAC2015), |
| 2014 | Implied volatility and contagion in the options market . In: International Business Economics Social Sciences Research Association (IBESRA) Istanbul Conference, Turkey, |
| 2014 | Short-selling ban and cross-sectoral contagion: evidence from the UK. In: BAFA 2014 Annual Conference, |
| 2013 | Is shorting of Exchange Traded Funds a dangerous financial sport? recent UK evidence. In: BAFA 2013 Annual Conference , |
| 2012 | Short-selling ban and cross-sectoral contagion: evidence from the UK. In: Sixty-First Annual Meeting of the Midwest Finance Association, |
| 2011 | Increase in Short Interest and Predictability in Stock Returns (Infiniti 2011). In: INFINITI Conference on International Finance, |
| 2011 | Informational content of short interest (EBES 2011). In: Euroasia Business and Economics Society (EBES) Conference, Istanbul, Turkey, |
| 2011 | Short interest and stock returns: evidence from the UK (Gregynog 2011).. In: Gregynog Accounting and Finance Colloquium 2011, |
| 2011 | Short selling and stock returns: evidence from the UK. In: Annual Submit on Business and Entrepreneurial Studues - ASBES 2011, |
| 2010 | PhD proposal (BAA Doctoral Colloquium Cardiff 2010): short selling and stock returns . In: BAA 2010 Doctoral Colloquium, |
| 2010 | PhD proposal (Gregynog 2010): short selling and stock returns. In: Accounting & Finance Research Colloquium (Gregynog 2010), |
| 2003 | Daily returns seasonality and impact of stock index futures: evidence from the Kuala Lumpur Stock Exchange. In: Malaysia Finance Association's (MFA's) 5th Annual Symposium, |
Book
Monograph