Staff Directory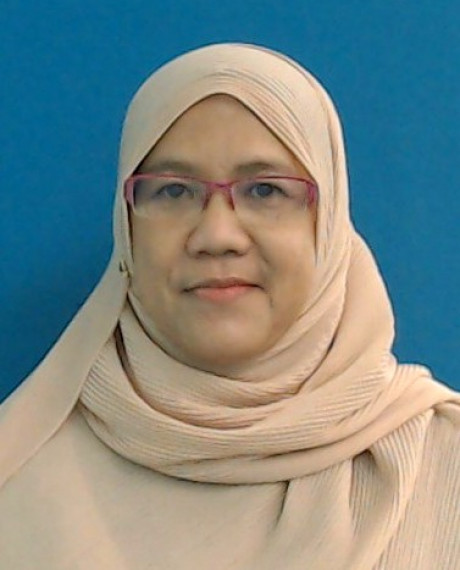 Academic Qualification
Doctor of Philosophy in Management Accounting - Doctor of Philosophy, Universiti Sains Malaysia (USM)
Master of Arts in Accounting and Finance - Masters Degree, University of Lancaster
Bachelor of Arts in Accounting and Finance - Bachelor Degree, University of Lancaster
Norhayati Bt. Mohd. Alwi (Assoc. Prof. Dr.)
Associate Professor
IIUM Gombak Campus
KULLIYYAH OF ECONOMICS AND MANAGEMENT SCIENCES
---
Expert Profile
Dr Norhayati Mohd Alwi joined the Kulliyyah of Economics and Management Sciences, International Islamic University Malaysia in November 2000. Prior to that, she had worked with a manufacturing firm as a financial controller. Leveraging on her expertise in manufacturing firms, she then focused her Ph.D thesis in understanding the application of management accounting in a government-linked company. Her research focus spanned performance management system, management accounting practices, accountability and environmental management accounting. She has supervised both Ph.D and Master's students, mostly adopting qualitative research. To date, she has published articles in several reputable journals, and also presented many papers at local and international conferences. Her research work has landed her several awards at the university level and national level, including an MIA-Articles of Merit Award in 2012
Administratively, she holds various positions, including Head of Academic and Social Entrepreneurship at Entrepreneurship Development Centre, Entrepreneurship Coordinator for the Kulliyyah of Economics and Management Sciences, and Practical Training Coordinator at the Department of Accounting. She had also been appointed as a Member of Sub-Committee for Management Accounting for Accounting Halatuju 3 by the Ministry of Higher Education Malaysia in 2012. She is also an Associate Member of the Malaysian Institute of Accountants since 2010.
She teaches Management Accounting Fundamentals, Cost Management and Decision-Making and Control. Her passion for teaching, has led her to serve several teaching centres such as the IIUM Centre for Continuing Education (ICCE)and IIUM-GSM both at undergraduate and postgraduate levels. She is also heavily involved in coaching students for competitions since 2012. Among the achievements of her teams were the Malaysia Champion of CIMA Global Business Challenge 2012, the First Runner Up of the CIMA Global Business Challenge 2013 for Malaysia Level, the Champion of UUM Business Simulation Challenge 2014, and the Champion of SME-IIUM Internship Programme 2015. Recently she also coached teams competing in HSBS Malaysia Business Case Competition 2015 and ICEAW Regional Business Challenge 2015.
Area of Specialisation
Economics, Business And Management ~ Economics, Business And Management ~ Management ~ Organisational Studies - Performance Management System
Economics, Business And Management ~ Economics, Business And Management ~ Accounting ~ Management Accounting (Including Strategic Management Accounting, Performance Management, Cost Management, Management Accounting Control System) - Qualitative Research Methodology
Economics, Business And Management ~ Economics, Business And Management ~ Accounting ~ Corporate Governance (Including Accountability, Ethics, Integrity)
Professional Membership
2007: Member of Profesional Body / Association: (Associate Member), Malaysian Institute of Accountants
Teaching Responsibilities
| | |
| --- | --- |
| ACCOUNTING ANALYSIS FOR DECISION MAKING | 2013/2014 |
| ACCOUNTING AND FINANCE FOR MANAGERS | 2010/2011 2009/2010 |
| ACCOUNTING FOR STRATEGIC LEADERS | 2022/2023 2021/2022 |
| ACCOUNTING RESEARCH METHODS | 2019/2020 2018/2019 2017/2018 2012/2013 |
| COST ACCOUNTING I | 2003/2004 2002/2003 2001/2002 |
| COST ACCOUNTING II | 2004/2005 2003/2004 |
| COST MANAGEMENT | 2021/2022 2015/2016 2011/2012 2009/2010 |
| DECISION MAKING & CONTROL | 2014/2015 2013/2014 2010/2011 2009/2010 |
| FINANCIAL ACCOUNTING FUNDAMENTALS | 2013/2014 |
| FINANCIAL ACCOUNTING I | 2000/2001 |
| FINANCIAL ACCOUNTING II | 2003/2004 2002/2003 2001/2002 2000/2001 |
| FINANCIAL AND MANAGERIAL ACCOUNTING | 2012/2013 2011/2012 |
| INTEGRATED CASE STUDY | 2022/2023 2021/2022 2020/2021 2019/2020 2018/2019 2016/2017 2012/2013 |
| MANAGEMENT ACCOUNTING | 2016/2017 2004/2005 |
| MANAGEMENT ACCOUNTING - BUSINESS STRATEGY | 2012/2013 2011/2012 2010/2011 |
| MANAGEMENT ACCOUNTING FUNDAMENTALS | 2022/2023 2019/2020 2018/2019 2017/2018 2016/2017 2015/2016 2014/2015 2013/2014 2012/2013 2011/2012 2010/2011 2009/2010 2008/2009 |
| PRACTICAL TRAINING | 2011/2012 2010/2011 |
| PRACTICAL TRAINING - ACCOUNTING | 2011/2012 2010/2011 |
| SUSTAINABLE DEVELOPMENT: ISSUES, POLICIES AND PRACTICES | 2020/2021 |
| USRAH IN ACTION 1 | 2022/2023 2021/2022 |
| USRAH IN ACTION 2 | 2022/2023 |
Research Projects
Completed
| | |
| --- | --- |
| 2022 - 2023 | Quadruple Helix Network to Empower Youth & Single Mother for Sejahtera Community |
| 2021 - 2022 | Writing Teaching Cases - Manufacturing & Construction Company |
| 2021 - 2022 | CAPACITY BUILDING THROUGH FINANCIAL LITERACY AND SKILLS TRANSFER PROGRAMME AMONG YOUNG ENTREPRENEURS & SINGLE MOTHERS IN RCE GREATER GOMBAK |
| 2019 - 2020 | KAJIAN KUTIPAN DAN AGIHAN ZAKAT DI WILAYAH PERSEKUTUAN |
| 2018 - 2021 | Insights on Alternative Service Delivery (ASD) Implementations in Commonwealth Countries. |
| 2018 - 2020 | Writing Teaching Cases-Cases on Two Manufacturing Companies |
| 2018 - 2019 | Accounting Graduates' Competency in Malaysia: An Analysis Using A Mixed Methods Approach |
| 2017 - 2017 | Kajian Kebolehlaksanaan Penyampaian Perkhidmatan Alternatif (ASD) Dalam Perkhidmatan Penjagaan Warga Emas dan Pemulihan Penagihan Dadah |
| 2017 - 2020 | Empirical Evidence of SMEs Using Islamic Financing - A Comparative Study for Malaysia and Indonesia |
| 2016 - 2021 | Action research on Specialised Program Which Enhance Graduate Employability Among Low Achievers in Public Universities |
| 2013 - 2015 | Understanding Accountability in Waqf Institution |
| 2013 - 2015 | Management Best Practice in Zakat Institution in Malaysia |
| 2013 - 2014 | "Questionnaire Investigation on Material Efficiency in Malaysian Industries" |
| 2012 - 2013 | 'Evolution of Performance Management System in a Malaysian Local Government'. |
| 2012 - 2015 | Towards Sustainable Development: Examining Environmental Management Accounting Practices in Environmentally Sensitive Industries, Local Governments and SMEs Malaysia |
| 2011 - 2012 | Islamic, Accounting And Finance : Challenges And Opportunities In The New Decade (KVC Project 2011) |
| 2010 - 2012 | A Case Study on Zakat Management at Pusat Islam UTM Skudai |
On-Going
| | |
| --- | --- |
| 2022 - Present | YSM Agropreneurs Incubator Project |
| 2021 - Present | MANAGEMENT ACCOUNTING FROM AN ISLAMIC PERSPECTIVE |
| 2019 - Present | Financial Management of Zakat in Malaysia |
Award & Recognition
| | | |
| --- | --- | --- |
| 02 Dec, 2015 | Award for 15 Years of Service - International Islamic University Malaysia | University |
| 18 Apr, 2013 | MIA Articles of Merit Award on PAIB 2012 - Malaysian Institute of Accountants | National |
| 20 Feb, 2013 | IRIIE 2013 - Silver Medal - International Islamic University Malaysia | University |
| 22 Feb, 2012 | IRIIE 2012 - Bronze Medal - International Islamic University Malaysia | University |
Publications
Article
| | |
| --- | --- |
| 2023 | Audit fiasco: Serba Dinamik 'serba tak kena'. IIUM Journal of Case Studies in Management, 14 (1) pp. 37-47 |
| 2023 | The effect of digitalization on the sustainability of Malaysian SMEs. International Journal of Academic Research in Business & Social Sciences, 18 (1) pp. 655-668 |
| 2022 | Environmental auditing practices: understanding the flow between two Malaysian local governments. International Journal of Academic Research in Accounting Finance and Management Sciences, 12 (3) pp. 139-169 |
| 2022 | The governance structure on the role of internal auditors in environmental auditing practices: cases of Malaysian local organisations. Environmental Challenges, 9 () pp. 1-9 |
| 2022 | The implementation of environmental auditing practices in Malaysian local governments. Environmental Excellence, 9 () pp. |
| 2021 | Alternative service delivery for senior citizen care services in Malaysia. International Journal of Islamic Management and Business, 9 (1) pp. 17-38 |
| 2021 | Career or environmental crusade? –Irfan's dilemma. Emerald Emerging Markets Case Studies, 11 (4) pp. 1-24 |
| 2021 | Makin dirasa makin terasa: the case of Mamart Food. Emerging Markets Case Studies, 11 (3) pp. 1-22 |
| 2020 | Graduate employability among low academic achievers. The New Educational Review, 62 (4) pp. 46-56 |
| 2020 | Lean manufacturing system at Rainbow Enterprise. IIUM Journal of Case Studies in Management, 11 (1) pp. 1-14 |
| 2020 | Universiti pasca Covid-19. Utusan Malaysia, 17 September 2020 () pp. |
| 2019 | Financial management practices and performance of Zakat institutions in Malaysia. IPN Journal of Research and Practice in Public Sector Accounting and Management, 9 (1) pp. 1-26 |
| 2018 | Institutionalization of performance management system in a Malaysian local government from the perspective of new institutional sociology. Jurnal Akuntansi dan Keuangan Indonesia,, 15 (2) pp. 180-200 |
| 2018 | Redesigning the University of the Future (UotF) through humanizing education and industry revolution 4.0. International Journal of Interdisciplinary Research and Innovations,, 6 (4 (October-December)) pp. 464-472 |
| 2017 | A study of accountability practice in Dompet Dhuafa Waqf of Indonesia. Journal of King Abdulaziz University, Islamic Economics, 30 (2) pp. 13-32 |
| 2016 | Waqf accountability from the stakeholder Salience theory: A case study. Journal of Islamic Monetary Economics and Finance, 2 (1) pp. 1-40 |
| 2015 | Material Flow Cost Accounting (MFCA) enablers and barriers: the case of a Malaysian small and medium-sized enterprise (SME). Journal of Cleaner Production, 108 (Part B) pp. 1365-1374 |
| 2011 | A case study on the implementation of Qardhul Hasan concept as a financing product in Islamic Banks in Malaysia. International Journal of Economics, Management and Accounting, 1 (19) pp. 83-101 |
| 2009 | A case study of performance management system in a Malaysian government linked company. Journal of Accounting & Organizational Change, 5 (2) pp. 243-276 |
| 2006 | Performance management system:evolution and re-evaluation. Indonesian Management & Accounting Research, 5 (2) pp. 46-59 |
| 2005 | Is standard costing obsolete? Empirical evidence from Malaysia. Managerial Auditing Journal, 20 (2) pp. 109-124 |
| 2004 | Management accounting practices in selected Asian countries: A review of the literature. Managerial Auditing Journal, 19 (4) pp. 493-508 |
| 2003 | Are budgets useful? A survey of Malaysian companies. Managerial Auditing Journal, 18 (9) pp. 717-724 |
Conference or Workshop Item
| | |
| --- | --- |
| 2022 | The impact of digitalization towards the Sustainability of Malaysian smes: The dynamic capabilities perspective. In: 1st International Conference on Entrepreneurship, Innovation and Technology (ICEIT 2022), |
| 2019 | New public management and alternative service delivery in senior citizen care services. In: IIUM International Conference on Business Management (IICBM 2019), |
| 2016 | Management control system in an outsourced solid waste management in Malaysia. In: 2nd UUM International Qualitative Research Conference, |
| 2015 | The influence of governance to zakat disbursement efficiency in Brunei Darussalam. In: 6th IIUM International Accounting Conference VI (INTAC VI), |
| 2013 | Does better environmental performance lead to improved bottom lines? A theoretical framework. In: EMAN-EU 2013 Conference on Material Flow Cost Accounting, |
| 2013 | Material Flow Cost Accounting (MFCA) in Malaysia: an SME's case for cleaner production. In: EMAN-EU 2013 Conference Material Flow Cost Accounting, |
| 2012 | Implementing key performance indicators in a Malaysian local government. In: International Management Accounting Conference 6 - Managing Innovation and Sustaining Excellence,, |
| 2012 | Performance Management System (PMS) in a Malaysian local government: a New Institutional Sociology (NIS) perspective. In: The 3rd Global Accounting and Organisational Change Conference 2012, |
| 2011 | A case study on the implementation of the Qardhul Hasan concept as a financing product in an Islamic bank in Malaysia. In: IIUM International Accounting Conference V (INTAC V) 2011, |
| 2011 | A Case Study on Zakat Management at Pusat Islam UTM, Skudai. In: The World Universities 1st Zakat Conference 2011 (WU1ZC 2011), |
Book
Book Section
Monograph