Staff Directory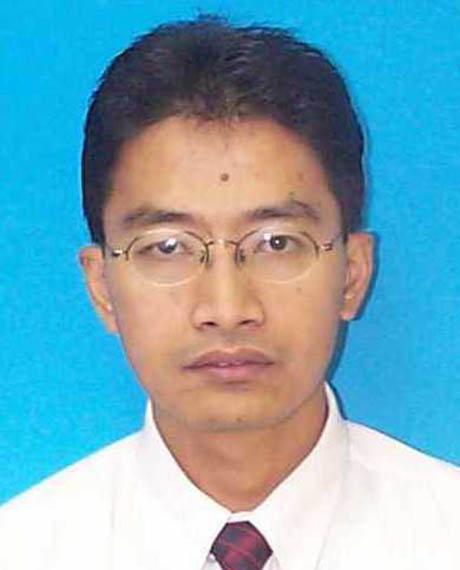 Academic Qualification
Medicine (Radiology) - Masters Degree (Clinical Specialist), Universiti Sains Malaysia (USM)
Ijazah-Ijazah Sarjana Muda Perubatan dan Sarjana Muda Pembedahan - Bachelor Degree, Universiti Malaya (UM)
Ahmad Razali Bin Md Ralib @ Md Raghib (Assoc. Prof. Dr.)
Associate Professor
IIUM Kuantan Campus
KULLIYYAH OF MEDICINE

Other's position:
Head, Sultan Ahmad Shah Medical Centre @ IIUM
---
Expert Profile
Associate Professor Dr. Ahmad Razali Md Ralib graduated from University of Malaya in 1995, then completed his housemanship training in Hospital Taiping, Perak in 1996. In 1996, he served Hospital Sibu, Sarawak as a medical officer in medicine, pediatrics and anesthesiology. In 1998, he served Hospital Betong, Sarawak as a district medical officer and hospital director.
In June 2000, he enrolled for the Master in Medicine (Radiology) programme with the School of Medical Sciences, University Science Malaysia and spent four years of training in Hospital University Science Malaysia, Hospital Kota Bharu and Hospital Kuala Lumpur. At the end of four years, he was awarded the Master in Medicine (Radiology, USM) degree in June 2004 after which he returned to Kuantan, to serve the Kulliyyah of Medicine, IIUM and Hospital Tengku Ampuan Afzan, Kuantan as a specialist in radiology.
Dr. Ahmad Razali is actively involved in the teaching of undergraduates of medicine since 2004, and is also involved in the teaching of outcampus postgraduate radiology students from USM, in Hospital Tengku Ampuan Afzan, Kuantan since 2006.
In 2008, he went for his clinical fellowship in endovascular and interventional radiology in University Kebangsaan Malaysia Medical Centre. When he came back, he started the interventional radiology services with the brand new biplane angiography services in Hospital Tengku Ampuan Afzan. The unit received many referrals from other hospitals in Pahang and Trengganu.
Currently, he is the head of department. The department had since started its own Master in Medicine (Radiology) programme in 2015. He had been actively involved in the development of the programme together with the other members of the department.
He is also involved in research and publications. He had published more than 15 articles in various local and international journals. The publications range from general radiology to interventional radiology. He is often invited as a speaker to various radiology and medical conferences throughout the country.
Area of Specialisation
ICT ~ Information, Computer And Communications Technology (ICT) ~ ICT Applications ~ Healthcare - Picture Archiving and Communication System
Medical And Health ~ Medical And Health Sciences ~ Public Health ~ Epidemiology - Diagnostic Radiology
Medical And Health ~ Medical And Health Sciences ~ Medical Diagnostic Imaging ~ Radiology - interventional radiology
Teaching Responsibilities
Research Projects
Completed
| | |
| --- | --- |
| 2012 - 2016 | Pre-Clinical Evaluations of Malaysian-Made "Osteopaste" an Injectable Self-Hardened Synthetic Bone Cement |
| 2010 - 2012 | Ovarian Tumour: Computed Tomography (CT) Characteristics with Histopathological Correlation |
| 2010 - 2014 | CT Colonography:Detection of Lesions and Patients' Preference-Correlation with Standard Colonscopy |
| 2009 - 2011 | Accidental and Non-Accidental Head Injury in Children. Is there a Tomography (CT) Presentation? |
| 2006 - 2008 | Monitoring Treatment Response of Patients With Smear Positive Pulmonary Tuberculosis |
| 2006 - 2008 | A Review of Magnetic Resonance Imaging (MRI) of the Brain of Paediatric Patients in Hospital Tengku Ampuan Afzan (HTAA) Kuantan Pahang |
On-Going
| | |
| --- | --- |
| 2011 - Present | RU 2011-Melioidosis, Imaging Features |
| 2007 - Present | A Prospective Study on the Association of Hyperlipidaemia with Ultrasonographically- evident Hepatocellular Steatosis in Hepatitis B and C Patients |
Publications
Article
| | |
| --- | --- |
| 2023 | Bibliometric analysis of diagnostic yield of CT pulmonary angiogram (CTPA) in the diagnosis of pulmonary embolism (PE). Cureus, 15 (7) pp. 1-8 |
| 2022 | Aberration in variation: deception by a CTA occult bleeding variant. The Interventionalist Journal, 2 (1) pp. 1-1 |
| 2022 | Inadvertent vertebral artery injury due to central venous line catheterization. IIUM Journal of Orofacial and Health Sciences (IJOHS), 3 (Supplement 1) pp. 61-61 |
| 2022 | Islamic perspective on eye protection from occupational radiation exposures in interventional fluoroscopy procedures: a review article. IIUM Medical Journal (IMJM), 21 (1) pp. 11-18 |
| 2021 | Correlation between scattered radiation dose and height of the staff's eyes at different positions in an angiography room. Korean Journal of Radiology, KJR supplement () pp. S116-S116 |
| 2021 | Determination of urinary Calculi composition using dual energy CT. International Journal of Allied Health Sciences (IJAHS), 5 (1 Special Issue) pp. |
| 2021 | Determination of urinary calculi composition using dual energy CT. Korean Journal of Radiology, (Supplement) pp. S23-S23 |
| 2021 | Determination of urinary calculi composition using dual energy CT. International Journal of Allied Health Sciences (IJAHS), 5 (1 Special Issue) pp. |
| 2019 | B Cell Lymphoma of Thoracic Vertebrae: a great mimicker. International Medical Journal Malaysia, 18 (2 Supplementary Issue) pp. |
| 2019 | B Cell Lymphoma of Thoracic Vertebrae: a great mimicker. International Journal of Allied Health Sciences (IJAHS), 3 (3 Special Issue) pp. |
| 2019 | Pulmonary artery aneurysm: a very rare entity. International Journal of Allied Health Sciences, 3 (3) pp. 844 |
| 2018 | Grisel syndrome: prompt diagnosis, prompt management equals happy ending. IIUM Medical Journal Malaysia, 17 (Supplementary Issue no. 1) pp. 89-89 |
| 2018 | Pulmonary artery aneurysm: a very rare entity. IIUM Medical Journal Malaysia, 17 (Supplementary Issue No 1) pp. |
| 2016 | Intra-luminal thrombus bleeding in abdominal aortic aneurysm as an indicator for acute or impending rupture: A case series. Annals of Vascular Diseases, 9 (Supplement Issue) pp. 129-129 |
| 2014 | Hemorrhagic thoracic spinal epidural angiolipoma: a case report. International Medical Journal Malaysia, 13 (1) pp. 73-76 |
| 2013 | Image-guided chemoport insertion by interventional radiologists: A single-center experience on periprocedural complications. Indian Journal of Radiology and Imaging , 23 (2) pp. 121-125 |
| 2012 | A successful case of Endovascular Treatment (EVT) of anterior communicating artery aneurysm associated with Moyamoya disease. Malaysian Journal of Medicine and Health Sciences, 8 (1) pp. 73-76 |
| 2012 | An asymptomatic young lady with multiple inflammatory myofibrolastic tumours. Journal of Clinical Case Reports, 2 (10) pp. |
| 2011 | Comment on: current concepts in the management of carotid body tumours (letter to editor). Medical Journal of Malaysia, 66 (2) pp. 165 |
| 2011 | Computed tomography of blunt spleen injury: a pictorial review. Malaysian Journal of Medical Sciences , 18 (1) pp. 61-68 |
| 2011 | Dysphagia caused by an aberrant right subclavian artery. International Medical Journal Malaysia, 10 (1) pp. 43-45 |
| 2011 | Endovascular treatment of cerebral aneurysm: early experience in a Malaysian tertiary centre. Journal of Surgical Academia, 1 (2) pp. 57-63 |
| 2011 | The vanishing veins: difficult venous access in a patient requiring translumbar, transhepatic, and transcollateral central catheter insertion. Malaysian Journal of Medical Sciences, 18 (4) pp. 98-102 |
| 2011 | Y-stent-assisted coil embolisation of wide necked aneurysms using a new fully retrievable and detachable intracranial stent: Report of two cases. Malaysian Journal of Medical Sciences, 18 (4) pp. 91-97 |
| 2010 | Comment on: self-expanding nitinol stents in recanalisation of long-length superficial femoral artery occlusions in patients with critical limb ischaemia. Singapore Medical Journal, 51 (12) pp. 972 |
| 2010 | Computed tomography (CT) in blunt liver injury: a pictorial essay. Medical Journal of Malaysia, 65 (4) pp. 321-327 |
| 2010 | Computed tomography of blunt renal trauma. Singapore Medical Journal, 51 (6) pp. 468-474 |
| 2010 | Embolisation of a bronchial artery of anomalous origin in massive haemoptysis. Malaysian Journal of Medical Sciences , 17 (3) pp. 55-60 |
| 2009 | Melioidotic prostatic abscess in Pahang. Singapore Medical Journal, 50 (4) pp. 385-389 |
| 2009 | Superselective embolisation in acute lower gastrointestinal haemorrhage: a single institution experience. Malaysian Journal of Medical Sciences , 16 (4) pp. 34-41 |
| 2008 | Correlations between subdural empyema and paraclinical as well as clinical parameters amongst urban Malay paediatric patients. Malaysian Journal of Medical Sciences , 15 (4) pp. 19-27 |
| 2008 | Hepatic steatosis among chronic hepatitis C infected patients selected for treatment - a retrospective analysis . Hepatology International, 2 (Supp) pp. S513-S514 |
| 2004 | Analysis of pediatric subdural empyema outcome in relation to computerized tomography brain scan. Southeast Asian Journal of Tropical Medicine and Public Health, 35 (2) pp. 434-444 |
Conference or Workshop Item
| | |
| --- | --- |
| 2021 | Synchronous spindle cell Sarcoma of Sternum and left breast invasive Carcinoma: a case report. In: 6th Singapore Breast Oncoplastic Surgery Symposium, |
| 2020 | Correlation between scattered-radiation doses to the eyes of angiographic staff at different heights: a phantom study. In: Kuantan Research Day 2020, |
| 2020 | The scattered-radiation doses at different positions and eye levels in the interventional angiography room.. In: International Conference on Research and Practices in Science, Technology and Social Sciences (I-CReST) 2020, |
| 2017 | Interventional radiology in abdominal emergencies. In: 6th ECSNIR Conference 2017, |
| 2017 | Preliminary in vivo evaluation of bone healing in critical size bone defects implanted with an injectable calcium-phosphate bone cement (Osteopaste). In: Medical Research Symposium 2017, |
| 2016 | Early radiological outcome of cystic benign bone lesion treated with calcium sulphate bone graft: a one-year review. In: ing of The Asia Pacific Musculoskeletal Tumour Society 2016, |
| 2015 | Hickmen line. In: Central Venous Access (CVAD) Workshop 2015, |
| 2014 | CT colonography: detection of lesions and patients' preference: correlation with standard colonoscopy. In: International Research, Invention and Innovation Exhibition 2014 (IRIIE2014), |
| 2012 | Ovarian tumour: CT characteristics with HPE correlation. In: 2012 Annual Scientific Meeting , |
| 2012 | Usefulness of CT colonography after incomplete or failed colonoscopy. In: College of Radiology, AMM(CoR) & Malaysian Society of Radiographers (MSR) 2012 Joint Scientific Meeting: CANCER IMAGING, |
| 2011 | A large renal arteriovenous malformation with gross haematuria. What is the next step? . In: Kuala Lumpur Interventional Course 2011, |
| 2011 | Accidental and non-accidental head injury in children. Is there a difference in Tomography (CT) presentation?. In: IIUM Research, Invention and Innovation Exhibition 2011, |
| 2011 | Acute hemorrhage: approach to imaging with CTA . In: Kuala Lumpur Interventional Course 2011, |
| 2011 | Computed Tomography (CT) and Pathologic Correlation of Ovarian Tumours in children & adolescents: A review of eight cases . In: 11th Asian Oceanic Society of Pediatric Radiology Conference, |
| 2011 | Computed Tomography (CT) and pathologic correlation of ovarian tumours in children and adolescents: a review of eight cases. In: 11th Asian Oceanic Society of Pediatric Radiology Conference, |
| 2011 | Endovascular embolisation in acute arterial haemorrhage cases and hypervascular lesions: a single institution experience . In: College of Radiology Meeting, |
| 2011 | Imaging of CT colonography : a pictorial review. In: International Health Conferance IIUM 2011, |
| 2011 | Infrapopliteal stenosis: bifurcation lesions, at the crossroads!What you should do next? . In: Kuala Lumpur Interventional Course 2011, |
| 2011 | MSCT of epithelial ovarian tumors : a pictorial illustration. In: International Health Conference IIUM 2011 , |
| 2011 | MSCT of epithelial ovarian tumours : a pictorial illustration . In: International Health Conference IIUM 2011 , |
| 2011 | MSCT of huge abdominopelvic masses in female: a pictorial illustration. In: 2011 Annual Scientific Meeting, College of Radiology, |
| 2010 | CT imaging of blunt splenic injury: a pictorial essay. In: 2010 Annual Scientific Meeting College of Radiology Malaysia, |
| 2010 | Miracle of imaging: the truth is out there!. In: 2010 Annual Scientific Meeting College of Radiology Malaysia, |
| 2010 | Multislice computed tomography (MSCT) of blunt abdominal trauma: incidental findings related to the genitourinary tract . In: 19th Malaysian Urological Conference, |
| 2009 | Dysphagia lusoria caused by an aberrant right subclavian artery. In: 14th National Conference on Medical and Health Sciences, |
| 2007 | Burkholderia pseudomallei infection in children . In: 5th World Melioidosis Congress, |
| 2007 | Pahang meliodosis registry . In: 5th World Melioidosis Congress, |
| 2007 | Pulmonary melioidosis: Clinical radiological correlation in Pahang, Malaysia. In: 5th World Melioidosis Congress, |
| 2007 | The outcome of facial nerve decompression via transmastoid approach in facial palsy secondary to the temporal bone fracture. In: American Academy of Otolaryngology – Head & Neck Surgery Foundation Meeting, |
Book
Book Section