Staff Directory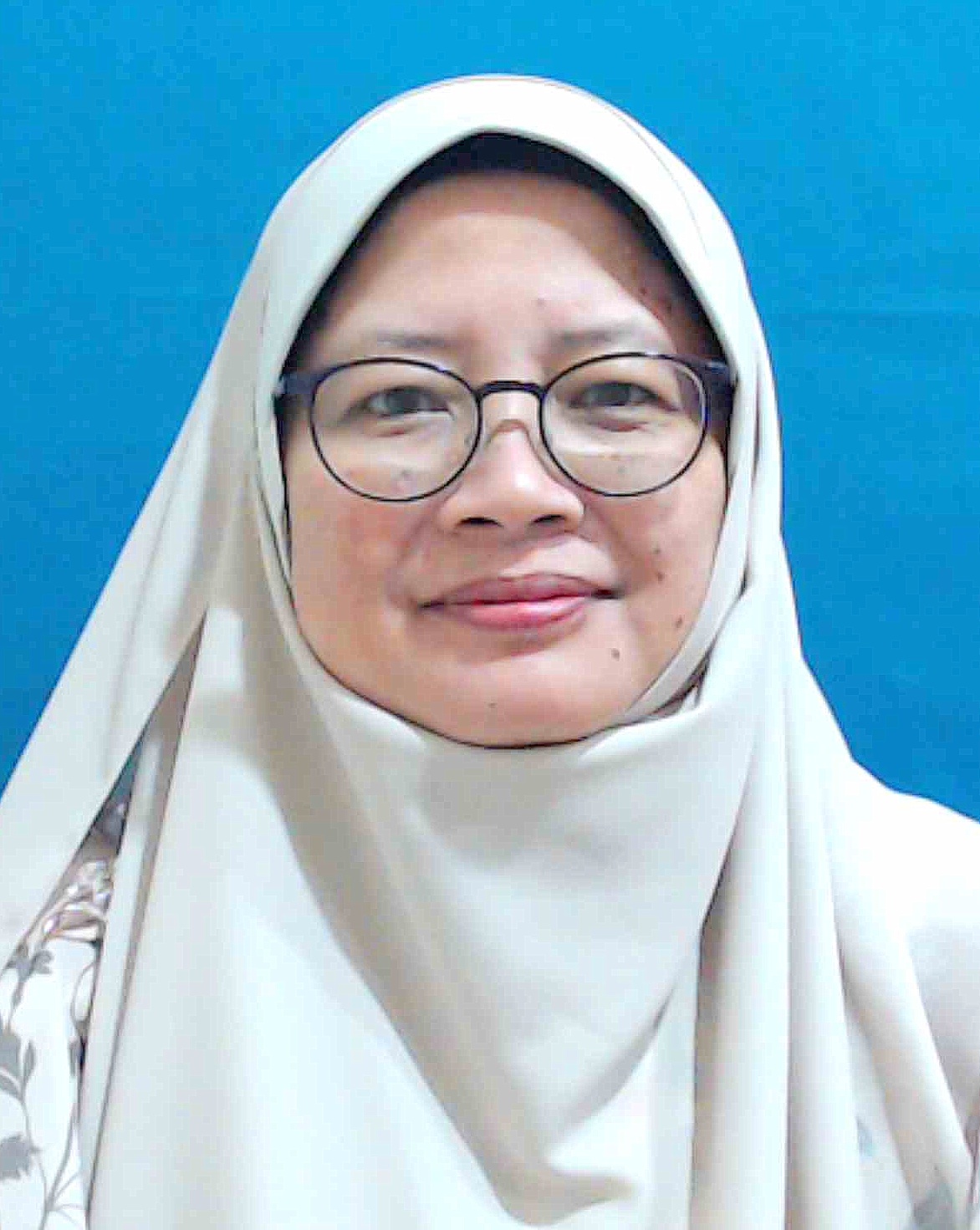 Academic Qualification
Doctor of Philosophy - Doctor of Philosophy, University of Otago
Master of Medicine (Anaesthesiology) - Masters Degree, Universiti Sains Malaysia (USM)
Postgraduate Diploma in Islamic Studies - Post Graduate Diploma, International Islamic University Malaysia
Bachelor of Science in Medical Science - Bachelor Degree, University of St Andrews
Bachelor of Medicine and Bachelor of Surgery - Bachelor Degree, University of Manchester
Azrina Binti Md. Ralib (Prof. Dr.)
Professor
IIUM Kuantan Campus
KULLIYYAH OF MEDICINE

Other's position:
Deputy Dean, Kulliyyah of Medicine
---
Expert Profile
Prof Dr Azrina Md Ralib obtained her Bachelor of Medical Science degree from the University of St. Andrews, UK and Bachelor of Medicine and Bachelor of Surgery (MBChB) degree from the University of Manchester, UK. Upon completion of her bachelor degrees, she returned to Malaysia for her housemanship training. She then joined the Department of Anaesthesiology and Intensive Care in 2002 as trainee lecturer, and started her anaesthesiology training at Universiti Sains Malaysia. She graduated as Clinical Specialist in Anaesthesiology in 2006 with several awards to her name, including the Esmeron® M.Med. Anaesthesiology USM Award for best student performance, and the Research Fellowship Award for original and significant research by The Heart Foundation of Malaysia. She then pursued her doctoral degree in the area of kidney diseases in the intensive care unit. She was awarded a PhD degree in 2013 by the University of Otago, New Zealand. 
For her excellent research work, she is the recipient of the Promising Researcher Award, IIUM Quality Day 2010, Department Best Indexed Journal Articles, IIUM Research Invention and Innovation Exhibition 2015, Malaysian Society of Anaesthesiology Award 2015, 2016 and 2017, Best Oral Presentation in the Annual Scientific Meeting on the Intensive Care 2015, and several other awards in local conferences. She is the recipient of several research grants from various bodies including the Ministry of Higher Education, Malaysian Society of Anaesthesiology, Japan Society of Anaesthesiology, World Federation Society of Anaesthesiology, and Heart Foundation of Malaysia. She is also involved in several research collaborations with various universities in Malaysia, Australia and New Zealand. She has more than 50 publications in various ISI and Scopus indexed journals, and more than 50 conference proceedings.
Dr Azrina has more than 15 years experience in undergraduate teaching in anaesthesiology. She has been involved in postgraduate anaesthesiology training at the national level since the past seven years. She was the chief examiner for Part 1 Physiology examination, and the internal examiner for Part 1 and Part 2 examination of the national conjoint board exam. She is also actively involved in the technical and expert committee in preparing the new national curriculum for anaesthesiology programme in Malaysia.
Presently Dr Azrina is a Professor at the Department of Anaesthesiology of IIUM. She is also a full time practising Consultant Anaesthesiologist at the Sultan Ahmad Shah Medical Centre, Kuantan.
Area of Specialisation
Medical And Health ~ Medical And Health Sciences ~ Clinical Medicine ~ Anaesthesiology - Anaesthesiology and Intensive Care
Professional Membership
2001 - 2017: Member of Profesional Body / Association: (Member), Medical Research Council
2005 - 2021: Member of Profesional Body / Association: (Member), Malaysian Society of Anaesthesiologist
2013 - 2018: Member of Profesional Body / Association: (Member), National Specialist Registry
Teaching Responsibilities
| | |
| --- | --- |
| BASIC ANAESTHESIA & CRITICAL CARE POSTING | 2023/2024 |
Research Projects
Completed
| | |
| --- | --- |
| 2021 - 2022 | Development of Virtual Patient Model for Mechanical Ventilated Respiratory Failure Patient |
| 2019 - 2022 | Profiling the Static and Dynamic Estimates of Glomerular Filtration Rate Equations Based on Creatinine and Cystatin C in Critically Ill Patients in the Malaysian Setting |
| 2018 - 2022 | A Novel Particle Swarm Optimization with Levy Flight Algorithm for Imputation of Missing Creatinine Value. |
| 2016 - 2020 | "The Calorie Optimization Study with Indirect Calorimetry in Critically ill Patients: Development of Feeding Protocol in Intensive Care" |
| 2015 - 2018 | Development of Glomerular Filtration Rate Monitor Based on Creatinine Kinetic Modelling in Critically Ill Patients |
| 2014 - 2016 | The Diagnostic And Predictive Performance Of Plasma Neutrophil-Gelatinase Associated Lipocalin In Critically III Patients With Systematic Inflammatory Syndrome, Sepsis And Acute Kidney Injury. |
| 2011 - 2013 | RU 2011 -Diagnostic value of procalcitonin, C-reactive protient, Interleukin-8 in critically ill patients admitted with suspected sepsis. |
| 2010 - 2011 | Handbook on Acute Pain Management Service |
| 2009 - 2010 | A Randomized Double-Blind Placebo- Controlled, Phase -2b Study to Assess the Safety and Efficacy of ART-123 on Subjects with Sepsis and Disseminated Intravascular Coagulation, a phase 2b Study |
| 2009 - | Randomized Control trial Study of the I-Gel and ProSeal Laryngeal Mask Airway in Unparalysed Anaesthetized Patients |
| 2009 - 2011 | Manual for Cardiopulmonary Resuscitation |
| 2009 - | Survey on Routine Intraoperative Temperature Management Practices in Operation Theatre of the Hospital Tengku Ampuan Afzan, Kuantan and Hospital Sultanah Zahirah, Kuala Terengganu |
| 2009 - 2012 | Anaesthesiology for Medical Undergraduates (2nd Edition) |
| 2008 - 2012 | Procalcitonin (PCT) as a Highly Sensitive and Specific Sepsis Marker in the Adult Intensive Care Unit (ICU) |
On-Going
| | |
| --- | --- |
| 2022 - Present | Prototype development of a Smart Nutrition Monitoring System, 'Nutrire' for Providing Adequate Nutrition in Intensive Care Units |
| 2022 - Present | Evaluating the Biomarker Kinetics and Haemodynamic Effects of Endotoxin Absorption and Cytokine Removal Hemofilters on Severe Septic Shock Patients |
| 2021 - Present | Determining and Modelling the Fundamental Factors Affecting the Outcome of Intensive Care Treatment in Elderly Patients in Malaysia |
| 2020 - Present | A MULTI-CENTRE STUDY ON THE INCIDENCE OF PERIOPERATIVE ACUTE KIDNEY INJURY AND THE IMPACT OF AUGMENTED RENAL CLEARANCE ON SURGICAL PATIENTS |
| 2020 - Present | Formulation of a Non-Linear Respiratory Elastance Demand in Interpreting the Lung Mechanics of Spontaneously Breathing Mechanically Ventilated Patients |
| 2020 - Present | Mechanism of Insulin Secretion in Blood Glucose - Insulin Control System among Diabetes Mellitus Patients |
| 2017 - Present | The Effect of Holy Quran Recitation on Physiological Stress Response in Mechanically Ventilated Patients: A Randomized Controlled Trial |
| 2015 - Present | Design, Safety and Efficacy of an MPC Controller in a High-Rate Occupancy ICU |
| 2015 - Present | Development of A Model-based Algorithm for Blood Glucose Control in Malaysian Intensive Care Unit Patients |
| 2015 - Present | Modelling of incretin machanism in glucose-insulin control system |
| 2013 - Present | Development of a New Comprehensive Model-based Controller using Aduino and Android Applications in Intensive Critical Unit, Hospital Tengku Ampuan Afzan, Kuantan |
| 2008 - Present | Perception of the Final Year Medical Students Towards the Islamic Input Medical Program of Kulliyyah of Medicine, IIUM |
| - | A Model based Analysis on the interrelationship of Diabetic Status,Glycaemic Control Variability within Critically ill |
Award & Recognition
| | | |
| --- | --- | --- |
| 18 Aug, 2017 | Best Oral Presentation - Annual Scientific Meeting on the Intensive Care (ASMIC) | National |
| 10 Aug, 2017 | Best Poster Award (Clincial Medicine Category) - Medical Research Symposium 2017 | National |
| 10 Aug, 2017 | First Runner-up Best For Oral Presentation Award (Clinical Medicine Category) - Medical Research Symposium 2017 | National |
| 30 Apr, 2017 | Best Poster Presentation (Second Prize) - Malaysian Society of Anaesthesiology | National |
| 30 Apr, 2017 | Malaysian Society of Anaesthesiology Award 2017 - Malaysian Society of Anaesthesiology | National |
| 30 Apr, 2017 | Best Poster Award (Second Prize) 2017 - Malaysian Society of Anaesthesiologist | National |
| 01 Jan, 2017 | Contribution for IIUM MyRA 5 star rating - IIUM | University |
| 27 Aug, 2016 | Malaysian Society of Anaesthesiologist 2016 Award - Malaysian Society of Anaesthesiologist | National |
| 11 Oct, 2015 | Best Paper Award - Malaysian Technical Universities Conference on Engineering and Technology (MUCET 2015) | National |
| 30 Sep, 2015 | Department Best Indexed Journal Articles - IIUM Research Invention and Innovation Exhibition 2015 | University |
| 13 Jun, 2015 | Best Paper Award - Malaysian Society of Anaesthesiology | National |
| 23 Sep, 2013 | Best Oral Presentation - Malaysian Society of Intensive Care Medicine | National |
| 31 Aug, 2011 | Finalist in the Three Minute Thesis Competition - University of Otago | University |
| 01 Aug, 2011 | The Best Contestant with Primary Supervision from Christchurch Campus in the Christchurch Three Minute Thesis Competition Heat - University of Otago Christchurch | University |
| 01 Oct, 2010 | Promising Researcher Award - | University |
| 09 Mar, 2010 | Quality Award - IIUM Promising Researcher Award | University |
| 29 Jun, 2006 | MMed Anaesthesiology USM Award 2006 - Universiti Sains Malaysia | University |
| 30 Apr, 2004 | Research Fellowship Award - The Heart Foundation of Malaysia | National |
| 01 Jul, 1993 | Katharine MacDonald Prize for Medical Microbiology - University of St Andrews, Scotland | University |
Publications
Article
| | |
| --- | --- |
| 2022 | Comparison of various creatinine-based estimates of glomerular filtration rate equations in the Malaysian setting. Medical Journal of Malaysia, 77 (6) pp. 684-688 |
| 2022 | Diagnostic and prognostic performance of serial creatinine, Cystatin c and Neutrophil Gelatinase-associated Lipocalin in for acute kidney injury in critically ill patients with sepsis. Malaysian Journal of Anaesthesiology, 1 (2 (Supp)) pp. 73-74 |
| 2022 | Estimates of glomerular filtration rate based on creatinine and cystatin C equations in critically ill patients: eGFR creatinine and cystatin C in ICU. Journal of Clinical and Translational Nephrology, 2 (1) pp. 1-11 |
| 2022 | Estimates of glomerular filtration rate in critically ill patients with sepsis: comparisons of different equations. International Medical Journal of Malaysia, 21 (2) pp. 115-120 |
| 2022 | Monocyte distribution width in the detection of sepsis and prediction of mortality in critically ill patients. Malaysian Journal of Anaesthesiology, 1 (2) pp. 88-104 |
| 2022 | Point-of-care procalcitonin to guide the discontinuation of antibiotic treatment in the intensive care unit: a Malaysian randomised controlled trial. Malaysian Journal of Medicine and Health Sciences, 6 (18) pp. 65-71 |
| 2022 | Sepsis and Its impact on outcomes in elderly patients admitted to a Malaysian intensive care unit. The Malaysian Journal of Medical Sciences (MJMS), 29 (3) pp. 145-150 |
| 2022 | Serial evaluation of sequential organ failure assessment score in predicting 1-year mortality in critically Ill patients. International Medical Journal of Malaysia, 21 (3) pp. 50-56 |
| 2022 | The utility of the creatinine excretion to production ratio and the plasma creatinine and cystatin C based kinetic estimates of glomerular filtration rates in critically ill patients with sepsis. Indian Journal of Nephrology, Ahead of print () pp. |
| 2022 | Value-based medicine and precision medicine in anaesthesia. Malaysian Journal of Anaesthesiology, 1 (2) pp. 73-76 |
| 2021 | A machine learning approach to assess magnitude of asynchrony breathing. Biomedical Signal Processing and Control, 66 () pp. 1-9 |
| 2021 | A particle swarm optimization levy flight algorithm for imputation of missing creatinine dataset. International Journal of Advances in Intelligent Informatics, 7 (2) pp. 225-236 |
| 2021 | Development and Validation of Creatinine-Based Estimates of the Glomerular Filtration Rate Equation from 99mTc-DTPA Imaging in the Malaysian Setting. International Journal of Nephrology, 2021 () pp. 1-8 |
| 2021 | Model-based insulin sensitivity as a new biomarker of sepsis diagnosis in the intensive care unit. IIUM Medical Journal Malaysia (IMJM), 20 (2) pp. 19-26 |
| 2020 | Assessment of glycemic control protocol (STAR) through compliance analysis amongst Malaysian ICU patients. Medical Devices: Evidence and Research, 13 (1) pp. 139-149 |
| 2020 | Neutrophil gelatinase-associated lipocalin measured on clinical laboratory platforms for the prediction of acute kidney injury and the associated need for dialysis therapy: a systematic review and meta-analysis. American Journal of Kidney Disease, 76 (6) pp. 826-841 |
| 2020 | Patient asynchrony modelling during controlled mechanical ventilation therapy. Computer Methods and Programs in Biomedicine, 183 () pp. 1-12 |
| 2019 | Assessing SB effort via a non-invasive model-based method in mechanically ventilated patients in Malaysian ICU hospital. Indonesian Journal of Electrical Engineering and Computer Science, 15 (3) pp. 1232-1240 |
| 2019 | Derivation of a new bioscore for predicting mortality in sepsis. International Medical Journal Malaysia, 18 (1) pp. 81-88 |
| 2019 | Determination of favorable blood glucose target range for stochastic TARgeted (STAR) glycemic control in Malaysia. Indonesian Journal of Electrical Engineering and Computer Science, 15 (1) pp. 133-141 |
| 2019 | Model-based glyceic control in a Malaysian intensive care unit: performance and safety study. Medical Devices: Evidence and Research, 2019 (12) pp. 215-226 |
| 2019 | Model-based glycemic control in a Malaysian intensive care unit: performance and safety study. Medical Devices: Evidence and Research, 2019 () pp. 215-226 |
| 2019 | Probabilistic glycemic control decision support in icu: proof of concept using Bayesian network. Jurnal Teknologi (Sciences and Engineering), 81 (2) pp. 61-69 |
| 2019 | STAR protocol for critically ill patients in Malaysia: ICU staff survey and human factor assessment. IEIE Transactions on Smart Processing and Computing, 8 (5) pp. 385-393 |
| 2019 | Study on the blood glucose management with controlled goal feed in Malaysian critically ill patients. IOP Conference Series: Materials Science and Engineering, 469 (2019) pp. 1-10 |
| 2019 | Validation of the 28-day mortality prognostic performance of the modified nutrition risk in critically ill score in a Malaysian intensive care unit. Malaysian Journal of Nutrition, 25 (3) pp. 413-421 |
| 2018 | A machine learning model for real-time asynchronous breathing monitoring. IFAC-PapersOnLine, 51 (27) pp. 378-383 |
| 2018 | Acute kidney injury in Malaysian intensive care setting: incidences, risk factors and outcome. Indian Journal of Critical Care Medicine, 22 (12) pp. 831-835 |
| 2018 | Assessing mechanical ventilation asynchrony through iterative airway pressure reconstruction. Computer Methods and Programs in Biomedicine, 157 () pp. 217-224 |
| 2018 | Clinical application of respiratory elastance (CARE trial) for mechanically ventilated respiratory failure patients: a model-based study. IFAC-PapersOnLine, 51 (27) pp. 209-214 |
| 2018 | Derivation of a new bioscore for predicting mortality in sepsis. IIUM Medical Journal Malaysia, 17 (Supplementary Issue no. 1) pp. 40-40 |
| 2018 | Inadvertent puncture of right vertebral artery during central venous line catheter insertion. IIUM Medical Journal Malaysia, 17 (Supplementary Issue 1) pp. 97 |
| 2018 | Levels and diagnostic value of model-based insulin sensitivity in sepsis: a preliminary study. Indian Journal of Critical Care Medicine, 22 (6) pp. 402-407 |
| 2018 | Performance of stochastic targeted blood glucose control protocol by virtual trials in the Malaysian intensive care unit. Computer Methods and Programs in Biomedicine, 162 () pp. 149-155 |
| 2018 | Point-of-care procalcitonin guidance to reduce antibiotic use in critically ill patients: a randomized controlled trial. IIUM Medical Journal Malaysia, 17 (Supp 1) pp. 26-26 |
| 2018 | Refeeding hypophosphataemia after enteral nutrition in a Malaysian intensive care unit: risk factors and outcome. Asia Pacific Journal of Clinical Nutrition, 27 (2) pp. 329-335 |
| 2018 | Sepsis mortality score for the prediction of mortality in septic patients. Journal of Critical Care, 43 () pp. 163-168 |
| 2018 | The effects of Holy Quran recitation on physiological stress response in mechanically ventilated intensive care unit patients: a pilot study. IIUM Medical Journal Malaysia, 17 (Supplementary 1) pp. 65-65 |
| 2018 | The diagnostic and predictive value of plasma Cystatin C in acute kidney injury secondary to sepsis in the Intensive Care Unit. IIUM Medical Journal Malaysia, 17 (Supplement 1) pp. 23-23 |
| 2018 | Virtual trial of glycaemic control performance and nursing workload assessment in diabetic critically ill patients. International Journal of Engineering and Technology(UAE), 7 (4) pp. 54-58 |
| 2017 | Dynamic changes of plasma neutrophil gelatinase-associated lipocalin predicted mortality in critically ill patients with systemic inflammatory response syndrome. Indian Journal of Critical Care Medicine, 21 (1) pp. 23-29 |
| 2017 | Estimates of glomerular filtration rate in the critically ill with sepsis. Kidney International Reports, 2 (4) pp. S33-S34 |
| 2017 | Estimation of plasma insulin and endogenous insulin secretion in critically ill patients using intensive control insulin-nutrition-glucose model. Advanced Science Letters, 23 (6) pp. 5510-5514 |
| 2017 | Performance of glycemic control protocol and virtual trial. Advanced Science Letters, 23 (6) pp. 5415-5418 |
| 2017 | Plasma neutrophil gelatinase associated lipocalin diagnosed acute kidney injury in patients with systemic inflammatory disease and sepsis. Nephrology, 22 (5) pp. 412-419 |
| 2017 | Prevalence of acute kidney injury and sepsis in a Malaysian intensive care setting. Kidney International Reports, 2 (4 ( Supplement )) pp. 062-062 |
| 2017 | Sepsis mortality score using multi-marker approach for the prediction of mortality in septic critically ill patients. IIUM Medical Journal Malaysia, 16 (Supplement 1) pp. 36-36 |
| 2017 | Validating a lower urine output criteria in predicting death in critically ill patients. The International Medical Journal of Malaysia, 16 (1) pp. 45-52 |
| 2016 | Feasibility of an intensive control insulin-nutrition glucose model 'icing' with Malaysian critically-ill patient. International Journal of Pharmacy and Pharmaceutical Sciences, 8 (Supplement 2) pp. 40-42 |
| 2016 | High frequency oscillatory ventilation in leptospirosis pulmonary haemorrhage: A case series. Indian Journal of Critical Care Medicine, 20 (6) pp. 342-348 |
| 2016 | Mathematical modeling of glucose-insulin system behavior in Hospital Tengku Ampuan Afzan intensive care unit patients. ARPN Journal of Engineering and Applied Sciences, 11 (18) pp. 10899 -10903 |
| 2016 | Procalcitonin and Interleukin-6 for predicting culture negative and culture positive bacterial sepsis in critically ill patients with systemic inflammatory response syndrome. International Medical Journal Malaysia, 15 (Supplement issue) pp. 85 |
| 2016 | The diagnostic ability of procalcitonin and interleukin-6 to differentiate infectious from noninfectious systemic inflammatory response syndrome and to predict mortality. Journal of Critical Care, 33 () pp. 245-251 |
| 2016 | The impact of fluid balances in the first 48 hours on mortality in the critically ill patients. International Medical Journal Malaysia, 15 (1) pp. 13-18 |
| 2015 | Acute kidney injury in a Malaysian intensive care unit: assessment of incidence, risk factors and outcome. Journal of Critical Care, 30 (3) pp. 636-642 |
| 2015 | Refeeding hypophosphataemia in a Malaysian intensive care unit: incidence, risk factors and outcomes. Brunei International Medical Journal, 11 (2) pp. 65-73 |
| 2014 | Procalcitonin clearance for early prediction of survival in critically ill patients with severe sepsis. Critical Care Research and Practice, 2014 (819034) pp. 1-7 |
| 2014 | The clinical utility window for acute kidney injury biomarkers in the critically ill. Critical Care, 18 (601) pp. 1-12 |
| 2013 | Combining creatinine and volume kinetics identifies missed cases of acute kidney injury following cardiac arrest. Critical Cara, 17 (1) pp. R7 (1)-R7 (18) |
| 2013 | High-dose intravenous epoetin does not increase blood pressure in critically ill patients with acute kidney injury. Clinical Nephrology, 79 (5) pp. 370-379 |
| 2013 | Procalcitonin as a sepsis marker: experience of an intensive care setting in Malaysia. Brunei International Medical Journal, 9 (4) pp. 243-252 |
| 2013 | The urine output definition of acute kidney injury is too liberal. Critical Cara, 79 (5) pp. 370-379 |
| 2012 | Hypophosphatemia in the Intensive Care Unit: Incidence, Predictors and Management. The International Medical Journal Malaysia, 11 (1) pp. 31-36 |
| 2012 | Test characteristics of urinary biomarkers depend on quantitation method in acute kidney injury. Journal of American Society of Nephrology, 23 (2) pp. 322-333 |
| 2012 | Transient Acute Kidney Injury (AKI) is common following significant kidney hypoperfusion. Nephrology, 17 (Supp.2) pp. 54 |
| 2011 | Acute high-dose intravenous epoetin did not increase blood pressure in critically ill patients with acute kidney injury. Journal of the American Society of Nephrology, 22 () pp. 296A-297A |
| 2011 | New considerations in the design of clinical trials of acute kidney injury. Clinical Investigation, 1 (5) pp. 637-650 |
| 2010 | High frequency oscillating ventilation (HFOV) in severe acute respiratory distress syndrome (ARDS): a case report . The Internal Medical Journal, 9 (1) pp. 51-54 |
| 2009 | A case series of the use of High Frequency Oscillating Ventilation (HFOV) in Acute Respiratory Distress Syndrome (ARDS) in Adult ICU of the Hospital Tengku Ampuan Afzan, Kuantan . ASEAN Journal of Anaesthesiology, 10 (supp 1) pp. 47 |
| 2009 | Central pontine melinosis resulting in quadriplegia in alcohol withdrawal . ASEAN Journal of Anaesthesiology, 10 (Spec) pp. 150 |
| 2009 | Central pontine myelinosis resulting in quadriplegis in alcohol withdrawal . ASEAN Journal of Anaesthesiology, 10 () pp. 150 |
| 2009 | Continuous spinal anesthesia for lower limb surgery in patient with poor left ventricular function. ASEAN Journal of Anaesthesiology, 10 (Suppl ) pp. 167 |
| 2009 | Smoker desaturation during general anaesthesia: a case report. International Medical Journal Malaysia, 8 (1) pp. 61-63 |
| 2007 | A comparative study of dexmedetomidine and propofol for sedation in the cardiothoracic intensive care unit. International Medical Journal Malaysia, 6 (2) pp. 1-17 |
| 2007 | Oral Analgesia 24 hours after major operation: A Comparative Study Of Oral Calecoxib and Tramadol in Patients Undergoing Major Gynaecological Operation. ASEAN Jounal of Anaesthesiology, 8 (1) pp. 59-65 |
| 2007 | Oral analgesic 24 hours after major operation: a comparative study of oral celecoxib and tramadol in patients undergoing major gynaecological operation . Asean Journal of Anaesthesiology, 8 () pp. 57-63 |
Conference or Workshop Item
| | |
| --- | --- |
| 2022 | Development and validation of creatinine-based estimates of the Glo- Merular Filtration rate equation from Chromium Edta Imaging in the multi-racial Malaysian population. In: Malaysian Society of Anaesthesiology Annual Scientific Meeting 2022, |
| 2022 | Prevalence and factors associated with augmented renal clearance after surgery. In: 23rd General Scientific Meeting of Singapore Society of Anaesthesiologists, |
| 2022 | Prognostic utility of monocyte distribution width in critically ill patients. In: Malaysian Society of Anaesthesiology Annual Scientific Meeting 2022, |
| 2022 | Role of Cystatin C in predicting acute kidney injury after surgery. In: 23rd General Scientific Meeting of Singapore Society of Anaesthesiologists, |
| 2021 | A comparison of Thoracic Bioimpedance and Pulse Contour analysis in cardiac output monitoring in critically ill. In: Annual Scientific Congress for the Malaysian Society of Anaesthesiologists & College of Anaesthesiologists, |
| 2021 | Classification patient-ventilator asynchrony with dual-input convolutional neural network. In: 11th IFAC Symposium on Biological and Medical Systems BMS 2021, |
| 2021 | Development and validation of estimates of Glomerular Filtration Rate (GFR) equations in the Malaysian setting. In: Malaysian Society of Anaesthesiologists Annual Scientific Meeting 2021, |
| 2021 | Estimates of glomerular filtration rate based on creatinine and cystatin c equations in critically ill patients. In: 4th Kuantan Research Day 2020, |
| 2021 | Estimates of Glomerular Filtration Rate: comparison of different creatinine based equations. In: Annual Scientific Congress for the Malaysian Society of Anaesthesiologist and College of Anaesthesiologist, |
| 2021 | Perioperative strategies for renal protection. In: 17th World Congress of Anaesthesiologist, |
| 2021 | Serial Evaluation Of Sequential Organ Failure Assessment Score In Predicting 1-Year Mortality In Critically Ill Patients. In: Malaysian Society of Anaesthesiologists Annual Scientific Congress 2021, |
| 2021 | The Impact Of Indirect Calorimetry Guided Feeding Protocol On Clinical Outcomes In Critically Ill Patients: A Randomized Controlled Trial (The Ic Study). In: Kuantan Research Day 2020: A National Online Event for E-poster Presentation, |
| 2021 | The Prevalence, Risk Factors and Outcomes of Frailty in Elderly Critically Ill Patients. In: 4th Kuantan Research Day 2020, |
| 2020 | Bone-graft interface in New Zealand White rabbit's model: a novel Malaysian-made biomaterial, "osteopaste". In: Malaysia Terchnology Expo 2020, |
| 2020 | Mechanical ventilation monitoring: development of a network data acquisition system. In: 21st IFAC World Congress, |
| 2020 | Model comparison of estimated glomerular filtration rate for acute kidney injury in intensive care unit. In: 5th International Conference on Mechanical Engineering Research 2019, |
| 2020 | Mortality prediction in critically ill patients using machine learning score. In: 5th International Conference on Mechanical Engineering Research 2019, |
| 2020 | Virtual mechanical ventilation protocol – a model-based method to determine MV settings. In: 21st IFAC World Congress 2020, |
| 2019 | Assessment of Malaysian ICU staff perceptions towards STAR glycaemic control protocol. In: 2018 IEEE Region 10 Conference (TENCON 2018), |
| 2019 | Insulin sensitivity and blood glucose level of sepsis patients in the intensive care unit. In: 2018 IEEE EMBS Conference on Biomedical Engineering and Sciences, IECBES 2018, |
| 2018 | Blood glucose and sepsis score on sepsis patients requiring insulin therapy. In: 2nd International Conference for Innovation in Biomedical Engineering and Life Sciences, ICIBEL 2017, |
| 2018 | Decision support for parenteral nutrition supplementation in ICU using model-based glycemic control protocol. In: 2nd International Conference for Innovation in Biomedical Engineering and Life Sciences, ICIBEL 2017, |
| 2018 | Investigation of glucose-insulin model efficacy for diabetes patient in the ICU. In: 2nd International Conference for Innovation in Biomedical Engineering and Life Sciences, ICIBEL 2017, |
| 2018 | Model iterative airway pressure reconstruction during mechanical ventilation asynchrony: shapes and sizes of reconstruction. In: 2nd International Conference for Innovation in Biomedical Engineering and Life Sciences (ICIBEL 2017) in conjunction with APCMBE 2017, |
| 2018 | Model-based insulin-nutrition administration for glycemic control in Malaysian critical care: First pilot trial. In: 2nd International Conference for Innovation in Biomedical Engineering and Life Sciences, ICIBEL 2017, |
| 2017 | Augmented renal clearance in critically ill patients with sepsis: prevalence, risk factors and outcome. In: Medical Research Symposium 2017, |
| 2017 | Comparison between different equations for estimating glomerular filtration rate (GFR) with kinetic estimates of GFR in the critically ill. In: Malaysian Society of Anaesthesiology Annual Scientific Meeting 2017, |
| 2017 | Derivation of a multi-biomarker model and score as a predictor of 30-day mortality in critically ill sepsis patients: A prospective cohort study. In: Malaysian Society Anaesthesiology Annual Scientific Meeting 2017, |
| 2017 | Efficacy and safety of SPRINT and STAR protocol on Malaysian critically-ill patients. In: 2016 IEEE EMBS Conference on Biomedical Engineering and Sciences (IECBES), |
| 2017 | Estimates of glomerular filtration rate by the chronic kidney disease epidemiology collaboration equations best correlates with kinetic estimates of glomerular filtration rates in the critically ill. In: Medical Research Symposium 2017, |
| 2017 | Model-based insulin sensitivity for early diagnosis of sepsis in critical care. In: Annual Scientific Meeting on Intensive Care (ASMIC 2017) : 1st Asian Pediatric Mechanical Ventilation Forum, |
| 2017 | Plasma cystatin C and estimates of glomerular filtration rate using cystatin C independently diagnosed acute kidney injury in critically ill patients with sepsis. In: Medical Research Symposium 2017, |
| 2017 | Prevalence of augmented renal clearance in a Malaysian intensive care setting. In: Malaysian Society of Anaesthesiology Annual Scientific Meeting 2017, |
| 2016 | Estimation of plasma insulin and endogenous insulin secretion in critically ill patients using ICING model. In: International Conference on Computer, Communication, and Control Technology (I4CT 2014), |
| 2016 | Feasibility of an intensive control insulin-nutrition glucose model 'icing' with Malaysian critically-ill patient. In: 2016 Asia Pacific Chemical, Biological & Environmental Engineering Society Copenhagen Conferences (APCBEES), |
| 2016 | Implementation of a prototype glomerular filtration rate application to monitor creatinine kinetic dynamics in critically ill patients. In: 2016 IEEE EMBS Conference on Biomedical Engineering and Sciences (IECBES), |
| 2016 | Performance of blood glucose management protocols in HTAA intensive care unit. In: 2016 IEEE International Conference on Automatic Control and Intelligent Systems (I2CACIS),, |
| 2016 | Performance of STAR virtual trials for diabetic and non-diabetic in HTAA Intensive Care Unit. In: 2016 IEEE EMBS Conference on Biomedical Engineering and Sciences (IECBES), |
| 2016 | Refeeding syndrome in a Malaysian intensive care unit: an assessment of incidence, risk factors and outcome. In: Annual Scientific Congress 2016 of the Malaysian Society of Anaesthesiologists and the 13th Obstetric Society of Anaesthesiologists Symposium, |
| 2016 | Serial measurement of plasma neutrophil gelatinase associated lipocalin in mortality prediction in critically ill patients with systemic inflammatory disease and sepsis. In: Annual Scientific Congress 2016 of the Malaysian Society of Anaesthesiologists & Obstetric Anaesthesia Satellite Meeting, |
| 2015 | Acute kidney injury in a Malaysian Intensive Care Unit: incidence, risk factors and outcome. In: 3rd Singapore-ANZICS Intensive Care Forum 2015 (SG-ANZIC), |
| 2015 | Plasma neutrophil gelatinase-associated lipocalin best diagnosed acute kidney injury in patients with systemic inflammatory response syndrome and sepsis . In: Malaysian Society of Anaesthesiologists & College of Anaesthesiologists Annual Scientific Congress 2015 & 13th Asian Society of Paediatric Anaesthesiologists Congress, |
| 2015 | Urine output in diagnosing acute kidney injury and predicting mortality. In: Malaysian Society of Anaesthesiologists & College of Anaesthesiologists Annual Scientific Congress 2015 & 13th Asian Society of Paediatric Anaesthesiologists Congress, |
| 2014 | Acute kidney injury (AKI) in the intensive care unit (ICU) of Hospital Tengku Ampuan Afzan Kuantan (HTAA): Incidence, risk factors and outcome. In: 8th National Conference for Clinical Research 2014, |
| 2013 | Earlier measurement of biomarkers does not enhance detection of acute kidney injury following significant kidney hypoperfusion. In: World Congress of Nephrology 2013, |
| 2013 | Early procalcitonin dynamics in critically ill patients with sepsis in a tertiary ICU. In: 11th Congress of the World Federation of Societies of Intensive and Critical Care Medicine, |
| 2013 | The impact of fluid overload on mortality and acute kidney injury. In: World Congress of Nephrology, |
| 2013 | Urine output criteria in prediction of mortality or dialysis requirements in the critically ill. In: World Congress of Nephrology 2013, |
| 2012 | Early plasma increase in creatinine following significant kidney hypoperfusion. In: Translational Nephrology: From Mechanisms to Therapeutics, Meeting of the Renal Scientists, Australia and New Zealand Society of Nephrology, in conjunction with The Kidney in Health and Disease Research Theme, University of Chicago, |
| 2011 | A study on incidence, predictors and management of hypophosphaemia in a Malaysian ICU. In: Annual Scientific Meeting on Intensive Care, |
| 2011 | The utility of biomarker excretion rates in acute kidney injury. In: World Congress of Nephrology 2011, |
| 2010 | Do clinical experience affects competency evaluation using Human Patient Simulator (HPS)? . In: 13th Asian Australasian Congress of Anaesthesiologists, |
| 2010 | Randomized, control trial study of the i-GelTM and ProSeal LMA in anesthetized, non paralyzed patients. In: 13th Asian Australasian Congress of Anaesthesiologists, |
| 2010 | Survey on knowledge and practice of intraoperative temperature management. In: 13th Asian Australasian Congress of Anaesthesiologists, |
| 2009 | Smoker desaturation during general anaesthesia: a case report. In: 16th Asean Congress of Anaesthesiologist & 7th National Conference on Intensive Care, |
| 2007 | The use of high-fidelity patient simulation in training healthcare professionals: a proposal for co-operation between the university and Ministry of Health, Malaysia. In: Malaysian Society of Anaesthesiologists & College of Anaesthesiologists Annual Scientific Meeting 2007, |
| 2005 | A comparative study of dexmedetomidine and propofol for sedation in the cardiothoracic intensive care unit. In: 3rd National Conference on Intensive Care, |
| 2004 | APACHE II severity scoring system: evaluating its role in intensive care unit of the Universiti Sains Malaysia Hospital. In: 12th Congress of Asia Pacific Association of Respiratory Care (APARC 2004), |
| 2004 | Descriptive study on the usage of patient-controlled analgesia morphine in post open heart surgery patients in Hospital Universiti Sains Malaysia. In: 12th Congress of Asia Pacific Association of Respiratory Care, |
Book
| | |
| --- | --- |
| 2021 | Malaysian society of anaesthesiologists year book 2020/2021. Malaysian Society of Anaesthesiologists, ISBN: 2462-1307 |
| 2018 | A cardiopulmonary resuscitation guide for healthcare providers. Department of Anaesthesiology & Intensive Care, Kulliyyah of Medicine, International Islamic University Malaysia, ISBN: 978-983-44569-2-4 |
| 2018 | A cardiopulmonary resuscitation guide for healthcare providers. Department of Anaesthesiology & Intensive Care, Kulliyyah of Medicine, International Islamic University Malaysia, ISBN: 978-983-44569-2-4 |
| 2018 | A cardiopulmonary resuscitation guide for healthcare providers. Department of Anaesthesiology & Intensive Care, Kulliyyah of Medicine, International Islamic University Malaysia, ISBN: 978-983-44569-2-4 |
| 2018 | A cardiopulmonary resuscitation guide for healthcare providers. Department of Anaesthesiology & Intensive Care, Kulliyyah of Medicine, International Islamic University Malaysia, ISBN: 978-983-44569-2-4 |
| 2017 | Paraoxonase-1 activities and procalcitonin levels in sepsis and non-infectious systemic inflammatory response syndrome patients in a tertiary intensive care unit. IIUM Press, International Islamic University Malaysia, ISBN: 978-967-418-735-4 |
| 2014 | Malaysian Society of Anaesthesiologists Year Book 2013/2014. Malaysian Society of Anaesthesiologists, ISBN: |
| 2012 | A cardiopulmonary resuscitation guide for healthcare providers. Department of Anaesthesiology and Intensive Care, ISBN: 978-983-44569-0-0 |
| 2012 | A cardiopulmonary resuscitation guide for healthcare providers. Department of Anaesthesiology and Intensive Care, ISBN: 978-983-44569-0-0 |
| 2012 | A cardiopulmonary resuscitation guide for healthcare providers. Department of Anaesthesiology and Intensive Care, ISBN: 978-983-44569-0-0 |
| 2012 | Essential anesthesiology for healthcare professionals. Department of Anaesthesiology and Intensive Care, ISBN: 983-44569-0-0 |
Book Section
Monograph