Staff Directory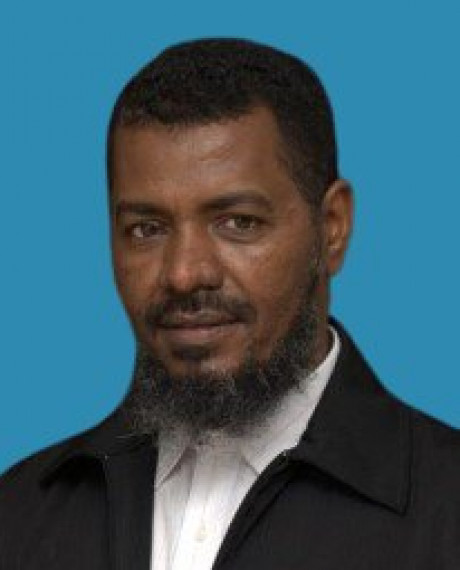 Academic Qualification
Sunnah & Hadith Science - Doctor of Philosophy, Omdurman Islamic University
Sunnah & Hadith Science - Masters Degree, Omdurman Islamic University
Islamic Studies - Bachelor Degree, University of the Holy Qu'ran & Islamic Studies, Sudan
Ahmed El-Mogtaba Bannga Ahmed Ali (Assoc. Prof. Dr.)
Associate Professor
IIUM Gombak Campus
ABDULHAMID ABUSULAYMAN KULLIYYAH OF ISLAMIC REVEALED KNOWLEDGE AND HUMAN SCIENCES
---
elmogtaba@iium.edu.my
5536
Expert Profile
Ahmed El-Mogtaba Bannga is an Assoc. Professor of Sunnah & Hadith Studies at International Islamic University Malaysia (IIUM). Prior to that, he was a senior lecturer in Hadith and Sunnah studies & Rasm Al-Qur'an and Ilm Fawasil Al-Suwr & Tawjeh Al-Qeraat in University of Al-Qur'an Al- Kareem and Islamic Sciences, Sudan. He taught Ulum al-Hadith in Al-Fatah Islamic Institute Indonesia, as part of social services. Mogtaba is a member of Postgraduate Committee, and Student Advisory at the Department.
Mogtaba has published a number of articles in different areas related to Sunnah and Hadith, Sciences of Hadith, Hadith Criticism, Anti- Hadith Movements, Hadith & social studies, Hadith & psychology , Hadith & fiqh al hadith(Mushkel wa Mokhtlef Al-Hadith. He also has a number of works that have not been published such as Methodological aspects in explaining the mushkel Al-Hadith, Empirical concepts in wound and modify the people of innovation of narrators, Narrators unknowns in Sunan Abi Dawood, Glossary of life narrators follower.
Mogtaba has attended international as well as national conferences in different fields. He is a reviewer in scientific journals namely Islam in Asia and Journal of Hadis (INHAD) KUIS. Mogtaba has secured research grants from RMC, IIUM for several research projects. His recent research grant is on Mafhum At-Ta¿asub Ad-Dini Wa Turuq `Ila Juhu Fi As-Sunnah An-Nabawiyya.
Area of Specialisation
Humanities ~ Humanities ~ Religious Studies ~ Islamic Studies - Hadith & Sunnah Studies
Teaching Responsibilities
| | |
| --- | --- |
| CRITERIA OF HADITH CRITICISM | 2023/2024 |
| FIQH AL-SIRAH (REFLECTIONS ON THE PROPHETIC HISTORY) | 2023/2024 |
Research Projects
Completed
| | |
| --- | --- |
| 2015 - 2018 | Critical Study on Gender Equality Principles In CEDAW: An Islamic Perspective |
| 2013 - 2017 | Mafhum At-Ta?asub Ad-Dini Wa Turuq `Ila Juhu Fi As-Sunnah An-Nabawiyyah |
| 2011 - 2012 | Mudarasa fi al Ahdith wa Atathar |
| 2010 - 2011 | Al-Sunnah and Islamic Civilization |
On-Going
| | |
| --- | --- |
| 2023 - Present | The Relevance of Shaykh Ismail Shihabuddhin's Thoughts to Islam and Humanity |
| 2023 - Present | Relevantisation of Ethical, Juristic and Social Discourses in Shaykh Ismail Shihabuddhin Works |
| 2021 - Present | Evaluation and Development of Hadith Sciences Curriculum |
| 2016 - Present | A Critical Study of the Qur'anic Concept of Wasatiyyah and Its Contemporary Application in Malaysia |
| 2016 - Present | Manifestation of Social Justice: A Study of the Intent in Light of the Sunnah (Prophetic Tradition) |
Publications
Article
| | |
| --- | --- |
| 2023 | التقمص العاطفي وتطبيقاته في السنة النبوية = Empathy and its application in the prophetic tradition. Journal of Hadith Studies, 8 (2 (December 2023)) pp. 159-183 |
| 2023 | مدى عناية المحدثين بالقرائن العقلية في المنهج النقدي = The extent of attention designated by Al-Muhaddithun towards rational evidence in hadith criticism. Al-Bashirah: Journal of Islamic Studies, 4 (2) pp. 95-120 |
| 2022 | أسس بناء الدعوة الجهرية والتعاطي مع تحدياتها الماثلة. al-Burhān journal of Qurʾan and Sunnah Studies, 6 (3) pp. 128-147 |
| 2021 | التأليف في الأحكام النشأة والتطور: دراسة نقدية. Al-Hikmah International Journal of Islamic Studies and Human Sciences, () pp. |
| 2021 | التحديات المعاصرة للمرأة المسلمة في تكوين الأسرة وحلولها في ضوء السنة النبوية: مدينة جاكرتا أنموذجا‎. Al-Risalah Journal, () pp. |
| 2021 | دفع التعارض بين النصوص: حديثا تصرف المرأة ف مال زوجها وخيار المجلس، نموذجا. Al-Rashad Journal of Islamic Finance, 1 (2) pp. 27-49 |
| 2021 | مشكل ومستشكل الحديث وضوابطه = The concept of mushkil and mustashkal in Ḥadīth studies and its criteria. al-Burhān Journal of Qurʾān and Sunnah Studies, 5 (1) pp. 98-128 |
| 2020 | Thematic textual hadith classification: an experiment in rapidminer using support vector machine (SVM) and naïve bayes algorithm. International Journal of Advanced Trends in Computer Science and Engineering, 9 (4) pp. 5967-5972 |
| 2020 | أسس السياحة في اسنة النبوية وآدابها. Al-Hikmah International Journal for Islamic Studies and Human Sciences, 3 (1) pp. 22-33 |
| 2020 | صندوق الزكاة في الإمارات العربية المتحدة، الأهداف والتحديات. Al-Hikmah International Journal Islamic Studies and Human Sciences, 3 (3) pp. |
| 2020 | موجهات سياقية في مدارسة ظاهرة السحر. AL-Hikmah International Journal of Islamic Studies and Human Sciences, 3 (4) pp. 316-357 |
| 2019 | مساقاث ذكر الحيوان في السنت النبويت المطهرة: دراست تحليليت = Description of animals mentioned within the Sunnah: an analytical study. Journal of Islam in Asia, 16 (3) pp. 37-61 |
| 2018 | Qur'ānic exegesis in Malaysia: general overview with special reference to the recent development. Al-Burhan: Journal of Qur'an and Sunnah Studies, 3 (1) pp. 32-40 |
| 2018 | السياق الحديثي في تكثير النسل وتنويعه. Journal of Education and Social Sciences, 10 (2) pp. 67-85 |
| 2017 | A review and analysis for a hierarchy from computational hadith to isnad authenticity examination. International Journal on Islamic Applications in Computer Science And Technology, 5 (3) pp. 46-60 |
| 2017 | Design and frameworks with experiment for a basic guide of theoretical isnad al-hadith authenticity examination. International Journal on Islamic Applications in Computer Science And Technology, 5 (3) pp. 28-45 |
| 2017 | تحديات في فهم السنة، دراسة تحليلية لنماذج مختارة = Challenges in understanding the prophetic Sunnah a typical analytical study. HADIS: International Reviewed Academic Journal, 7 (13) pp. 47-77 |
| 2017 | رؤية الإسلام تجاه أدلجة العلم التجريبي المعاصر = Islamic view towards the ideologicalization of contemporary experimental science. Al-Risalah: Journal of Islamic Revealed Knowledge And Human Sciences (ARJIHS), 1 (1) pp. 105-125 |
| 2017 | معالم التنمية البشرية المستدامة في ضوء السنة = The criteria of comprehensive human resource development in the perspective of the Sunnah = Ciri-ciri pembangunan manusia yang komprehensif dalam kerangka Sunnah. at-Tajdid, 21 (41-B) pp. 247-282 |
| 2016 | العدالة الاجتماعية ضوابط ومعالم دراسة مقاصدية في ضوء السنة. Journal of Education and Social Sciences, 5 () pp. 92-112 |
| 2015 | التعصب الديني وطرق علاجه في السنة. The Quranic Studies, 5 (4) pp. 19-30 |
| 2015 | الحوار الإسلامي المسيحي في عصر الرسالة قراءة على واقع الهجرة إلى الحبشة. Journal Kolej Pengajian Islam Johor (MARSAH), 53 (5) pp. 70-123 |
| 2014 | الوقاية من الاضطرابات النفسيةدراسة تحليلية في ضوء الخدي النبوي. Majallat al-tarbiah, (12) pp. 349-392 |
| 2013 | معالم من المنهج النبوي في التعاملات الزوجية . مجلة الحكمة للدراسات الإسلمية , 1 (22) pp. 26-51 |
| 2013 | منهجية التعامل مع مشاكل الأسرة في ضوء السنة النبوية: دراسة تحليلية = Methodology of dealing with family problems in the light of the Sunnah: an analytical study = Metodologi untuk menangani masalah keluarga melalui sunnah: satu kajian analisis. Journal of Islam in Asia, 10 (1) pp. 53-84 |
| 2012 | إشكالية الخطيئة الأولى في عقيدة النصارى ومفهومها في السنة النبوية = Ishkaliat al-khati'ah al-ula fi 'aqidah al-nasara wa mafhumiha fi al-sunnah al-nabawiyyah. مجلة العاصمة, 4 (4) pp. 173-181 |
| 2012 | منهجية شرح الحديث أصالة ومعاصرة = The methodology of Hadith explication between authenticity and contemporaneity = Metodologi sharah Hadith di antara kesahan dan kekinian. al-Tajdid , 16 (32) pp. 159-196 |
| 2011 | النقد التاريخي وأثره في الحديث الشريف وعلومه(al-Naqd al-tarikhi wa-atharuhu fi al-Hadith al-sharif wa-'ulumuh). Journal of Islam in Asia, (2) pp. 107-131 |
| 2010 | قواعد نقدية في الأحاديث المشكلة = Qawa'id naqdiyyah fi al-ahadith al-musykilah. الدراسات الإسلامية, 1 (45) pp. 53-90 |
| 2008 | Shatibi's theories of knowledge as seen in his al-Muwafaqat: a preliminary study. The International Journal of the Humanities, 6 (1) pp. 231-238 |
| 2007 | الحور الإسلامي المسيحي في عصر الرسالة. موقع السودان الإسلامي, () pp. |
| 2007 | مناهج المحدثين في نقد متون السنة في عصر الرواية = Manahij al-muhaddithin fi naqd matun al-sunnah fi 'asr al-riwayat. Tafakkur, (3) pp. 91-126 |
| 2005 | معايير نقد الرواية الضعيفة وتطبيقاتها. الدراسات الإسلامية, xxxxv (3) pp. 93-126 |
| 2004 | منهجية النبي صلى الله عليه وسلم في بناء وحدة الأمة. مجلة الشريعة والدراسات الإسلامية, 1 (4) pp. 131-183 |
| 2004 | أثر السحر في الاضطرابات النفسية "قراءة في ثنايا النص النبوي. مجلة أبحاث الإيمان , 16 (4) pp. 110-146 |
| 2004 | صناعة نقد الأحاديث المرسلة = Sina'ah naqd al-ahadith al-mursalah. Journal of Islam in Asia, 1 (1) pp. 203-234 |
Conference or Workshop Item
| | |
| --- | --- |
| 2022 | تعامل النبي صلى الله عليه وسلم مع البيئة من حوله. In: 7th International Muzakarah and Mu'tamar on Hadith (IMAM2022), |
| 2020 | إستراتيجية إدراة العلاقات الإسلامية المسيحي في دولة الرسول صلى الله عليه وسلم. In: Scholarship Enhancement Seminar on Contemporary Issues of Qur'an and Sunnah, |
| 2020 | مداوة الأمراض والأوبئة من منظور السنة. In: 5th International Muzakarah and Muktamar on Hadith (IMAM2020), |
| 2020 | مشكل الحديث قضايا وحلول. In: The Inaugural Jamalullalil Chair for Prophetic Sunnah International Conference (JCICI), |
| 2020 | مشكل ومُسْتشَْكَل الحديث وضوابطه. In: The Inaugural Jamalullalil Chair for Prophetic Sunnah International Conference (JCICI), |
| 2019 | موجهات سياقية في مدارسة ظاهرة السحر. In: Scholarship Enhancement Seminar on Contemporary Issues of Qur'an and Sunnah, |
| 2018 | السياق الحديثي في تكثير النسل وتنويعه. In: The 7th Kuala Lumpur International Islamic Studies and Civilisations Conference (KLiISC) 2018, |
| 2018 | مصادر السنة النبوية وأثرها في تجديد الخطاب الدعوي. In: 3rd INHAD International Muzakarah & Mu'tamar on Hadith (IMAM 2018), |
| 2017 | Takhreej e-Guide: an innovation of electronic guide for Takhreej Al-Isnad Al-Hadith-based on physical structure of Isnad and principles of Hadith science. In: International University Carnival on e-Learning (IUCEL) 2017, |
| 2016 | Frameworks for a computational Isnad authentication and mechanism development. In: 6th International Conference on Information and Communication Technology for the Muslim World (ICT4M 2016), |
| 2016 | Isnad Al-hadith computational authentication: An analysis hierarchically. In: 6th International Conference on Information and Communication Technology for the Muslim World (ICT4M 2016), |
| 2016 | حوار الأديان واجب ديني ومشروع إنساني حضاري. In: The 1st International Conference on Islam & Contemporary Issues in the Islamic World (ICIC 2016), |
| 2016 | مفاهيم تطبيقية في تنظيم النسل دراسة مقاصدية. In: 2nd World Congress on Integration and Islamicisation: Focus on Medical and Health Care Sciences (2WCII 2016), |
| 2016 | منهج النبي صلى الله عليه وسلم في التعامل مع المسيء إليه من نافذة السنة النبوية. In: The 1st International Conference on Islam and Contemporary Issues in the Islamic World: Challenges and Way Forward (ICIC 2016), |
| 2015 | مفهوم التعصب الديني وطرق علاجه في السنة النبوية. In: The 2nd International Conference on Qur'an and Sunnah (ICQS 2015), |
| 2009 | بلاغة البيان النبوي: دراسة تأصيلية. In: المؤتمر العالمي الثاني للغة العربية وآدابها:"إسلامية الدراسات اللغوية والأدبية وتطبيقاتها" الذي ينظمه قسم اللغة العربية وآدابها بكلية معارف الوحي والعلوم الإنسانيةالإسلامية، الجامعة في الفترة, |
| 2005 | نقد الرجال نشأته وادبياته = Naqd al-rijal nash'atuhu wa adabiyatuhu. In: National Conference on Creative/ Critical Thinking from Islamic Perspective, |
| 2004 | أثر المعرفة في بناء الدولة الحضارية المشروع الإسلامي السوداني نموذجا. In: ندوة الجامعات والعمل الإسلامي في إفريقيا, |
| 2004 | الصراعات السياسية في غزوة أحد دروس وعبر = The battle of Uhud: lesson to be learned by Muslim in conflict management based on the behavior of the Prophet. In: Conference on Conflicts and Conflict- Resolution in the Muslim World, |
| 2003 | The dimensions formation development of the human between religion and science. In: International Conference on Advancement in Science and Technology (iCAST 2003), |
| 2003 | الأمة الإسلامية الواقع والتحدي: رؤية من نافذة السنة. In: مؤتمر عالمي عن وحدة الأمة الإسلامية في القرن الحادي والعشرين فرص وتحديات, |
Book
Monograph