Staff Directory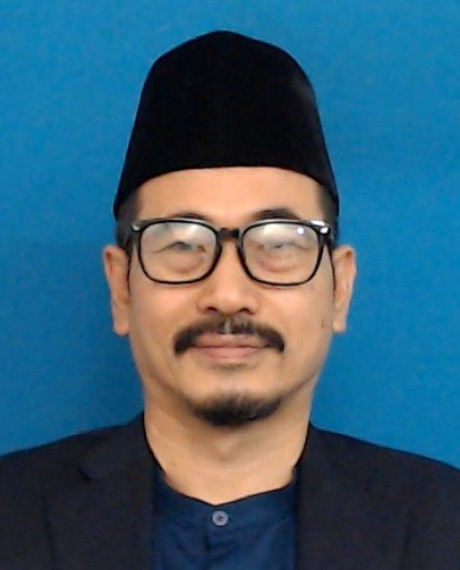 Academic Qualification
Doctor of Philosophy (Islamic Thought) - Doctor of Philosophy, Universiti Malaya (UM)
Master of Arts (Islamic Thought) - Masters Degree, International Institute of Islamic Thought & Civilization (IIUM ISTAC)
Bachelor of Islamic Revealed Knowledge and Heritage - Bachelor Degree, International Islamic University Malaysia
Che' Razi Bin Jusoh (Dr.)
Assistant Professor
IIUM Gombak Campus
ABDULHAMID ABUSULAYMAN KULLIYYAH OF ISLAMIC REVEALED KNOWLEDGE AND HUMAN SCIENCES
---
Expert Profile
Profile


Assistant Professor Dr. Hj Che'Razi Jusoh graduated with Bachelor of Islamic Revealed Knowledge and Heritage (IRKH (Hons) from the IIUM, Master of Islamic Thought from the International Institute of Islamic Thought and Civilization (ISTAC), Malaysia and  Doctor of Philosophy in Usuluddin and Islamic Thought  (Ph.D) from the University of Malaya, Malaysia. He firstly worked as an Administrative Officer at ISTAC and IIUM from 1997 until 2005, and thereafter he joined the Department of General Studies (old name of FIDS), Kulliyyah of Islamic Revealed Knowledge and Human Sciences as a lecturer.


He has quite a noteworthy experience in administration before joining the Kulliyyah as an academic. He held posts of an Assistant Registrar and Administrative Officer respectively from 1997 until 2005. He was also covering the Head of Department for about six months in 2016 and currently as an Academic Advisor for the Department since 2015.
He is currently an Assistant Professor at the said Kulliyyah. He has authored a book and several articles such as The Malay Exposition of al-Sanusi's Umm al-Barahin", (Kuala Lumpur: Islamic and (Strategic Studies Institute (ISSI), 2016); "Prelimenary Study on the Accounts of some of the Malay Jawi Aqidah texts and Commentaries" (Islamic Study Academy, University of Malaya: AFKAR, Feb. 2011); "Tragedy sebagai satu watak kebudayaan Barat", a chapter in Feschcrift of Syed Muhammad Naquib al-Attas, (MPH, 2012).
He has presented papers at local and International conferences in the area of Islamic Thought and Civilization such as "Seminar Antarabangsa Pemikiran Islam I, University of Malaya, 2008; Seminar Antarabangsa Pemikiran Islam III, University of Malaya,  2012; 
International Islamic Management 
(IDMAC),  University Sains Malaysia, 2013 on "Methodology of Malay commentary works: A special reference to Shaykh Dawud al-Fatani's Ward al Zawahir," ;
Seminar on Creativity and Innovation
, International Islamic  University Malaysia, 2014 on
"Creative and Innovative approach in Malay Jawi commentary works: A brief study on some famous works of Dawud al-Fatani
";
4th Kuala Lumpur International Communication, Education, Language and Social Sciences from 23-24 July, 2016 on
"The notion of interpretation and commentary in Islam: Projecting a true and guided meaning of texts" ,

The paper received the best paper award under the theme Language and

at the Grand Annual Hajj Conference, Makkah, Saudi Arabia, September 2016 on " Tajribatu Sunduq al hajj al-Maliziyyu" (The experience of Tabung Haji in Malaysia).
He was also invited by some notable institutions to share his ideas as the field expert such as; Expert Roundtable discussion on Islamic worldview and Science, Academy of Islamic Studies, (University of Malaya, May 2017)
Ethical, Heart and Soul Driven Leadership
, (AKEPT, Ministry of Education, 5 – 6 May 2014) Bengkel Bil. 1 Pengajaran dan Pembelajaran Modul Hubungan Etnik Edisi ke-2, Organized by Institute of Ethnic Studies (KITA), UKM (Hotel Equatorial Hotel, Bangi. 13th – 16th January 2012) and Summer Camp (University of Erfurt, East Germany, 2006).

His areas of research interests include education, manuscript, and textual Studies has geared him to engage in a research projects under the title "Pembangunan Model Etika Profession Perguruan Islam (EPPI) berasaskan Pemikiran Imam Abu Hanifah" Nov. 2015 – Jun 2018; which involved researches from University of Malaya,  USIM and UTM. Besides that, he also completed his research as Principal Investigator entitled "A New Light to the Polemic of the Oldest Malay-Jawi Work: A Preliminary Study", completed 2016", and currently finalizing the latest project also as PI on "The Timeline of Malay Scholars from 1801 -1900 A.D : A Preliminary Study".
Besides of busy schedule in teaching, he is also occasionally invited as a speaker for motivational talk to students at some schools such as; Sek. Menengah Dato' Harun, Jalan Kelang Lama, Kuala Lumpur (2014), Ma'ahad Tahfiz Nurul Iman, Kok Lanas, Kelantan (2014), Ma'ahad Shamsul Ma'arif, Kelantan –both male and Female  (2014). He also delivered several lectures inside and outside of IIUM under various themes such Biography of Prophet (Admission and Record Division, IIUM, 2014 and 2015); one year lecture series on Happiness in Islam (Surau al-Taqwa, Ukay Perdana, Selangor, 2016), a three year lecture series of al-Ghazzali's Ayyuhal Walad  (Surau Sri Puteri, Ukay Perdana, Ampang, Selangor, 2014-2016) and How to get Laylat al-Qadr  (IT Division,IIUM, 2017), etc.
He has been actively involved with student activities since he joined IIUM in 2002. Among the clubs that he deal with for instance; reading class with International Youth Club (IYC) for one consecutive year (2015), IRKH society (2015) and Ruqayyah Mahallah Representative Council (since 2015). Besides that, he is a fellow at Mahallah Ruqayyah, IIUM since 2015 and actively participates in programmes organized by the University and Council of Principals. He has been one of the instructors in teaching Parenting class under CLAV Unit since 2013 and UNGS Courses for ICCE students since 2013 at Netherlands Maritime Institute of Technology, Educity Johor, Institute Technology of Darul Naim, Kelantan, Kedah Industrial Skills and Management development Centre (KISMEC) and the Kulliyyah of Education, IIUM.  
Area of Specialisation
Humanities ~ Humanities ~ Religious Studies ~ Islamic Studies - Islamic thought
Teaching Responsibilities
| | |
| --- | --- |
| ETHICS AND FIQH OF CONTEMPORARY ISSUES | 2023/2024 |
Research Projects
Completed
| | |
| --- | --- |
| 2019 - 2022 | A NEW STANDARD FOR MOSQUE CURRICULUM IN GOMBAK |
| 2016 - 2018 | A Survey on Islam and Liberalism |
| 2016 - 2020 | The Timeline of Malay Scholars from 1801-1900 A.D: A Preliminary Study |
| 2016 - 2019 | Features of Good Governance: A Quranic Perspective |
| 2011 - 2015 | New Light on the Polemic of the Oldest Malay-Jawi Work: A Preliminary Study (RU2011) |
On-Going
| | |
| --- | --- |
| 2022 - Present | ISLAMIC PERSPECTIVES ON KNOWLEDGE AND CIVILISATION |
| 2019 - Present | Mosque in the Post-Materialistic Era- Developing Mosque Study Program: Development of Mosque Study Program For Adults - Revealed Knowledge-Based |
| 2015 - Present | Penbangunan Model Etika Profesion Perguruan Islam (EPPI)Berasaskan Pemikiran Abu Hanifah |
Award & Recognition
| | | |
| --- | --- | --- |
| 20 Oct, 2016 | Gold Medal for Meritorious Service to the Ummah - MADRASAH 2016 | International |
| 23 Mar, 2016 | Best Paper Award - KLICELS | International |
Publications
Article
Conference or Workshop Item
Book
Book Section