Staff Directory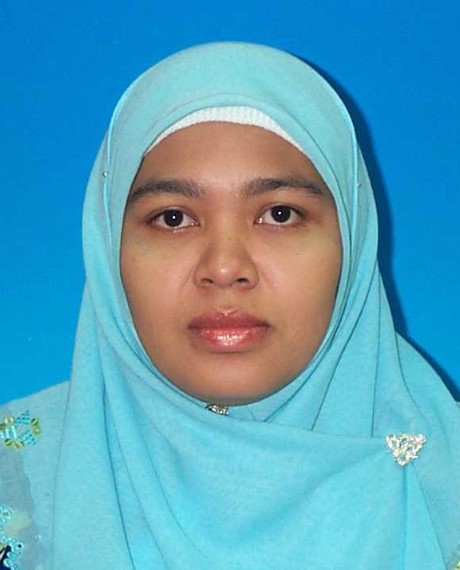 Academic Qualification
Doctor of Philosophy (Ocean Science) - Doctor of Philosophy, Universiti Kebangsaan Malaysia (UKM)
Master of Science in Microbiology - Masters Degree, Universiti Kebangsaan Malaysia (UKM)
Bachelor of Science in Biotechnology - Bachelor Degree, Dublin City University, Ireland
Zaima Azira Bt. Zainal Abidin (Assoc. Prof. Dr.)
Associate Professor
IIUM Kuantan Campus
KULLIYYAH OF SCIENCE

Other's position:
Deputy Dean, Kulliyyah of Science
---
Expert Profile
Zaima Azira Zainal Abidin obtained her BSc (Hons) Biotechnology from Dublin City University (DCU), Ireland under Yayasan Tenaga Nasional (YTN) scholarship. She pursed her MSc (Microbiology) in Universiti Kebangsaan Malaysia doing research in plant biotechnology followed by PhD (Marine Science) from Universiti Kebangsaan Malaysia specializing in marine actinomycetes particularly in natural product discovery. She has joined Kulliyyah of Science, IIUM since 2003 as Assistant Lecturer in Department of Biotechnology and in 2013 she was appointed as Asst. Prof. Dr.
Her research interest include environmental microbiology particularly actinomycetes from underexplored locations, microbial natural product and molecular biology. She has completed several research grants as Principal Investigator - IIUM Endownment Fund, RAGS and FRGS and she also co-researches several other research collaborations. She has won several medals in IRIE exhibition and she is also active in publications.
Area of Specialisation
Biotechnology ~ Biotechnology ~ Molecular Biology ~ Molecular and Structural Biology - Plant biotechnology
Natural Science ~ Biological Sciences ~ Microbiology ~ Other Microbiology n.e.c. - Marine microbiology
Natural Science ~ Marine Sciences ~ Marine Biochemistry ~ Marine Natural Products - Bioactive compounds from marine actinomycetes
Research Projects
Completed
| | |
| --- | --- |
| 2020 - 2022 | PEMELIHARAAN DAN PEMULIHARAAN TASIK DI KOMPLEKS YAYASAN PAHANG DAN KAWASAN SEKITAR |
| 2020 - 2022 | The Effectiveness of EM Mudball in Remediating Balok River |
| 2019 - 2022 | In vitro propagation of Etlingera elatior J. (Torch ginger) via indirect regeneration |
| 2019 - 2023 | Study of Catechol 2,3-Dioxygenase gene in oil clean-up crews isolated from Sungai Balok. |
| 2018 - 2022 | Microbial Biotransformation of Sesquiterpenoid and Diarylheptanoid from Curcuma sp. By Actinomycetes strains towards Anti-Inflammatory and Anti-Cancer Activities |
| 2018 - 2020 | Empowerment of fisherman-communities in Segari, Perak through participation in mangrove conservation and reforestation initiatives |
| 2017 - 2022 | The effect of coculture on rare actinomycete, Actinophytocola sp. with live/dead cells of bacteria in eliciting secondary metabolite production |
| 2016 - 2019 | Expressed sequence tags (ESTs) of genes involved in flowering of Stevia rebaudiana |
| 2016 - 2020 | The screening of xylanase from Kuantan mangrove actinomycetes |
| 2015 - 2018 | Over expression of Actinomcyete relA and rshA genes to enhance secondary metabolite production |
| 2014 - 2016 | The Screening for Potential Xylan, Cellulose and Lignin Biodegradation Activities from Microbial Communities in the South East Pahang Peat Swamp Forest Sediment and Peat Water |
| 2014 - 2018 | Microbial Diversity of Pekan Peat Swamp Forest Soil and their Functional Potential Through Cultivation and Metagenomic Approach |
| 2013 - 2016 | Screening of Mangrove Actinomycetes and Their Antimicrobial Potentials |
| 2013 - 2016 | Screening of Chloroplast Promoters for Hevea Chloroplast Transformation |
| 2012 - 2015 | Heavy metal and Antibiotic Resistance of the Bacterical Flora in Sediments of Coastal Water of Pahang, Malaysia |
| 2012 - 2014 | Growth and Survival of Malaysian Sport Fish Tor tambroides Fry by Applying Phototropic Bacteria as Feed Supplement. |
| 2011 - 2013 | (RU2011) Isolation, diversity, and antimicrobial screening of actinomyctes isolated from mangrove sediments in Tanjung Lumpur, Pahang |
| 2006 - 2012 | Studies on Mangrove in Pulau Toba, Langkawi |
| 2005 - 2007 | Physico-Chemical Characteristics and Sediment Environment of the Coastal Water, Pulau Tuba and its Nearby Islands, Langkawi |
On-Going
| | |
| --- | --- |
| 2015 - Present | Sponge-associated fungal diversity with functional analysis of halogenase and cellulase |
| 2004 - Present | Functional Food and Nutraceuticals Research Unit (FFNRU) |
| - | Profiling fatty acids and mineral composition of Antarctic microalgae and their potential application in fish nutrition |
Publications
Article
| | |
| --- | --- |
| 2022 | Biotransformation of curcumin and structure–activity relationship (SAR) of its analogues: a systematic review. Biocatalysis and Biotransformation, () pp. |
| 2022 | Isolation of microalgae from antarctic soil. Science Heritage Journal (GWS), 6 (2) pp. 34-36 |
| 2022 | Microalgae from Antarctic soil. Revelation and Science, 12 (2) pp. 71-78 |
| 2021 | Biotransformation of sesquiterpenoids: a recent insight. Journal of Asian Natural Products Research, () pp. 1-44 |
| 2021 | Growth optimization of mangrove Streptomyces for enhancement of actinorhodin production. Desalination and Water Treatment, 219 () pp. 217-222 |
| 2021 | Growth optimization of mangrove Streptomyces for enhancement of actinorhodin production. Desalination and Water Treatment, 219 () pp. 217-222 |
| 2021 | Marine actinomycetes from Malaysia marine environments with antagonistic potential. Desalination and Water Treatment, 219 () pp. 51-59 |
| 2021 | Purification of xanthorrhizol and screening of selected microbes for its biotransformation. Malaysian Journal of Analytical Sciences, 25 (6) pp. 949-958 |
| 2020 | Diversity of cultivable bacteria by strategic enrichment isolated from farmed edible red seaweed, Gracilaria sp.. Journal Clean WAS (JCleanWAS), 4 (1) pp. 17-20 |
| 2020 | Endophytic bacteria of Anisophyllea disticha (Raja Berangkat) from tropical lake environment in Malaysia. Desalination and Water Treatment, 188 () pp. 282-287 |
| 2020 | Fatty acid profiles of Antarctic cyanobacteria Leptolyngbya. Journal of Environmental Biology, 41 (4) pp. 687-694 |
| 2020 | Isolation of heavy metal resistance bacteria from lake sediment of IIUM, Kuantan. Desalination and Water Treatment, 188 () pp. 431-435 |
| 2020 | Rare actinomycetes from Kuantan mangrove forest sediment. Journal Clean WAS, 4 (2) pp. 64-68 |
| 2020 | Screening of biodegradation potential for n-alkanes and polycyclic aromatic hydrocarbon among isolates from the north-western tip of Pahang. Desalination and Water Treatment, 191 () pp. 207-212 |
| 2018 | Diversity, antimicrobial capabilities, and biosynthetic potential of mangrove actinomycetes from coastal waters in Pahang, Malaysia. Journal of Coastal Research, Special Issue 82 Fall () pp. 174-179 |
| 2018 | Genetic polymorphisms of human transcription factor-7 like 2 (TCF7L2), β-defensin (DEFB1) and CD14 genes in nephrolithiasis patients. International Journal of Biological Macromolecules, 118 (Part A) pp. 610-616 |
| 2018 | Heavy metals and antibiotic resistance bacteria in marine sediment of Pahang coastal water. Journal CleanWAS, 2 (1) pp. 20-22 |
| 2018 | Isolation and characterization of hydrocarbon tolerant microorganisms from marine environment. International Journal of Integrated Engineering, 10 (6) pp. 133-138 |
| 2017 | Association of MMP-9 gene polymorphisms with nephrolithiasis patients. Journal of Clinical Laboratory Analysis, 32 (1) pp. 1-6 |
| 2017 | Determination of alpha-2-MRAP gene polymorphisms innephrolithiasis patients. International Journal of Biological Macromolecules, 105 (Part 1) pp. 1324-1327 |
| 2017 | Verrucosispora sp. K2-04, Potential Xylanase Producer from Kuantan Mangrove Forest Sediment. International Journal of Food Engineering, 3 (2) pp. 165-168 |
| 2016 | Biotechnological potential of Kuantan mangrove actinomycete, Micromonospora K3-13. The International Medical Journal Malaysia, 15 (Supplement Issue) pp. 108-108 |
| 2016 | Comparison of various culture media effectiveness in the isolation of bacteria from Pekan peat swamp forest soil. Malaysian Journal of Microbiology, 12 (6) pp. 450-454 |
| 2016 | Marine streptomyces SP. UKMCC_PT15 producing undecylprodigiosin with algicidal activity. Jurnal Teknologi, 78 (11(2)) pp. 55-60 |
| 2016 | Screening of ligninase-producing bacteria from south east Pahang peat swamp forest soil. Malaysian Journal of Microbiology, 12 (6) pp. 433-437 |
| 2016 | Selective isolation and antagonistic activity of actinomycetes from mangrove forest of Pahang, Malaysia. Frontiers in Life Science, Vol. 9 (1) pp. 24-31 |
| 2016 | Serum E3 SUMO-protein ligase NSE2 level and peroxynitrite related to oxidative stress in nephrolithiasis patients. Asian Pacific Journal of Tropical Biomedicine, 7 (3) pp. 249-252 |
| 2015 | Antibiotic resistant bacteria from sediment of coastal water of Pahang, Malaysia. Jurnal Teknologi, 77 (24) pp. 65-70 |
| 2015 | Diversity and antimicrobial activity of mangrove soil actinomycetes isolated from Tanjung Lumpur, Kuantan. Jurnal Teknologi, 77 (25) pp. 37-43 |
| 2015 | Isolation of bacteria from the acidic peat swamp forest soil and their lignin degradation potential. Jurnal Teknologi, 77 (24) pp. 77-81 |
| 2015 | Screening of chloroplast promoters for Hevea brasiliensis chloroplast transformation. Jurnal Teknologi, 77 (24) pp. 165-170 |
| 2015 | Selective isolation of Actinomycetes from mangrove sediment of Tanjung Lumpur, Kuantan, Malaysia . Malaysian Journal of Microbiology, 11 (2) pp. 144-155 |
| 2014 | Carotenoid contents in anoxygenic phototrophic purple bacteria, Marichromatium Sp. and Rhodopseudomonas Sp. of tropical environment, Malaysia . Oriental Journal of Chemistry, 30 (2) pp. 607-613 |
Conference or Workshop Item
| | |
| --- | --- |
| 2021 | Purification and Screening of Selected Microbes for Biotransformation of Xanthorrizolfrom the Essential Oil of Curcuma xanthorrhiza. In: 33rdInternational Conference of Analytical Sciences (SKAM33, |
| 2021 | Screening of selected microbes as biocatalysts for biotransformation of Xanthorrhizol from curcuma Xanthorrhiza. In: 7th International Conference on Advancement in Science & Technology, |
| 2019 | Isolation Of Marine Sponge-associated Fungi From Bidong And Karah Islands. In: KOS Postgraduate Colloquium, |
| 2018 | Actinophytocola sp. K4-08: rare actinomycete with potential biosynthetic capability. In: 34th Symposium of the Malaysian Society for Microbiology 2018, |
| 2018 | Eukaryotic diversity of marine sponges from Bidong Island, Malaysia. In: KOS PG Colloquium 2018, |
| 2018 | Gracilaria manilaensis as an alternative food source. In: National Seminar on Rural Entrepreneurship Development for Poverty Eradication, |
| 2017 | Endophytic bacteria from Anysophyllea disticha (Raja Berangkat. In: 6th International Conference on Advancement in Science and Technology (iCAST 2017), |
| 2017 | Verrucosispora sp. K2-04, potential xylanase producer from Kuantan Mangrove Forest sediment. In: 2017 SEOUL Conference, |
| 2016 | Antibacterial property of crude extract from stem-bark and leaves of Rhizophora apiculata against selected bacterial fish pathogens. In: Medical Research Symposium & Pacific Partnership in conjunction with Kuantan Research Day 2016, |
| 2016 | Antimicrobial activities of actinomycetes isolated from Malaysian tropical mangrove forest of Kuantan, Pahang. In: 5th International Conference on Environment, Energy and Biotechnology 2016, |
| 2016 | Heavy metals resistance bacteria in marine sediment of Pahang coastal water. In: 2nd International Conference on Oceanography and Sustainable Marine Production (ICOSMaP 2016), |
| 2015 | Antibiotic resistant bacteria from sediment of coastal water of Pahang, Malaysia. In: International Conference on Advancement in Science and Technology (iCAST 2015) , |
| 2015 | Comparison of different AGAR plates used in the isolation of bacteria from Pekan peat SWAMP forest soil. In: International Congress of the Malaysian Society for Microbiology 2015 (7-10 December 2015) hosted in Bayview Beach resort, Penang, Malaysia, |
| 2015 | Diversity and antimicrobial activities of mangrove actinomycetes isolated from Tanjung Lumpur, Kuantan. In: 5th International Conference of Advancement in Science And Technology (iCAST 2015), |
| 2015 | Isolation of bacteria from acidic peat swamp forest soil and their lignin degradation potential. In: International Conference on Advancement in Science and Technology (iCAST 2015) - 'Frontiers in Biotechnology', |
| 2015 | Screening for ligninase-producing bacteria from South East Pahang peat swamp forest soil. In: International Congress of the Malaysian Society of Microbiology (Microbiology Meeting the needs of a changing world held 7-10 December 2015,, |
| 2014 | Antibiotic resistant bacteria from sediment of coastal water of Pahang Malaysia. In: International Conference on Agriculture, Biology and Environmental Sciences (ICABES-14), |
| 2014 | Selective isolation of actinomycetes from mangrove forest of Pahang, Malaysia. In: International Conference on Agriculture, Biology and Environmental Sciences (ICABES-14), |
| 2013 | Selective isolation of rare actinomycetes from mangrove sediment of Tanjung Lumpur, Kuantan. In: International Congress of the Malaysian Society for Microbiology 2013, |
| 2011 | Isolation of actinomycin derivatives from diffusible pigment of Streptomyces sp. UKMCC_PT7. In: Simposium Kimia Analisis Malaysia, |
| 2009 | Antimicrobial activities of some marine actinonycetes isolated from Malaysians waters. In: International Symposium on the Biology of Actinomycetes , |
| 2009 | Streptomyces sp. UKMCC_PT15: Potential anticancer agent producer. In: International Congress of Malaysian Society for Microbiology, |
Book
Book Section
| | |
| --- | --- |
| 2020 | Cultivation vs the 'omics' approach for microbial bioprospecting in the 21st century: coastal environment in Malaysia. In: Noor Publishing, ISBN: 9786202791069, pp. 25-34 |
| 2020 | Heavy metal resistant bacteria from marine sediment of Pantai Balok, Pahang, Malaysia. In: Noor Publishing, ISBN: 9786202791069, pp. 52-59 |
| 2020 | Heavy metal resistant bacteria from marine sediment of Pantai Balok, Pahang, Malaysia. In: Noor Publishing, ISBN: 9786202791069, pp. 52-59 |
| 2020 | Heavy metal resistant bacteria from marine sediment of Pantai Balok, Pahang, Malaysia. In: Noor Publishing, ISBN: 9786202791069, pp. 52-59 |
| 2020 | Heavy metal resistant bacteria from marine sediment of Pantai Balok, Pahang, Malaysia. In: Noor Publishing, ISBN: 9786202791069, pp. 52-59 |
| 2020 | Review: Actinomycetes Diversity and Biosynthetic Capabilities of East Coast of Peninsular Malaysia Coastal Water. In: Noor Publishing, ISBN: 9786202791069, pp. 68-79 |
| 2020 | Study of Glucose-6-Phosphate dehydrogenase activity assay in mangrove streptomyces for actinohordin and undercylprodigiosin production. In: Noor Publication, ISBN: 978-620-2-79106-9, pp. 17-24 |
| 2020 | Study of Glucose-6-Phosphate dehydrogenase activity assay in mangrove streptomyces for actinohordin and undercylprodigiosin production. In: Noor Publication, ISBN: 978-620-2-79106-9, pp. 17-24 |
| 2011 | Bioethics and biotechnology: A holistic approach in Islamic perspectives . In: IIUM Press, ISBN: 9789674182007, pp. 1-15 |
| 2011 | In Planta Agrobacterium tumefaciens transformation of MR 219 rice . In: IIUM Press, ISBN: 9789674182007, pp. 258-267 |
| 2011 | Review on marine actinomycetes . In: IIUM Press, ISBN: 9789674182007, pp. 141-153 |
| 2011 | The effect of cooking methods on meat samples using PCR-RFLP analysis . In: IIUM Press, ISBN: 9789674182007, pp. 305-313 |
| 2006 | Biodiversity and marine biotechnology: a new era for the development of biotechnology industry. In: Department of Wildlife and National Parks Peninsular Malaysia, ISBN: 9834301006, pp. 67-74 |
Monograph