Staff Directory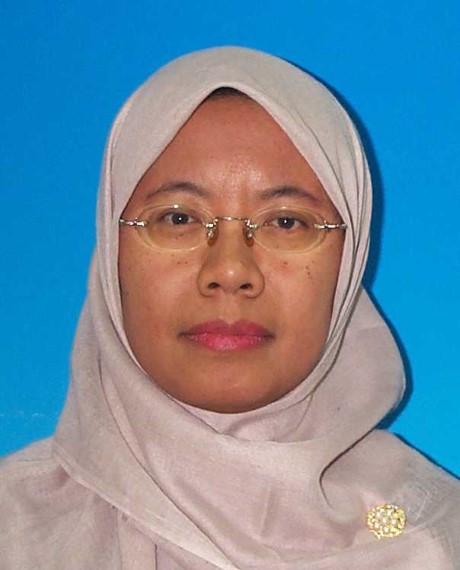 Academic Qualification
Doctor of Philosophy in Business and Management - Doctor of Philosophy, University of South Australia
Master of Business Administration - Masters Degree, International Islamic University Malaysia
Bachelor of Science - Bachelor Degree, University of Adelaide
Diploma in Education - Diploma, Universiti Malaya (UM)
Mimi Hafizah Bt. Abdullah (Assoc. Prof. Dr.)
Associate Professor
IIUM Kuantan Campus
KULLIYYAH OF SCIENCE
---
mimihafizah@iium.edu.my
5077
Expert Profile
Dr Mimi Hafizah Abdullah received her Ph.D in Business and Management in 2012 from the University of South Australia. Her thesis was titled "Leland Option Pricing Models and Transaction Costs: An Empirical Study". Her specialization is in Financial Mathematics or Quantitative Finance and she is interested in the derivatives research area.
Dr. Mimi Hafizah Abdullah taught at KBU International College, Bandar Utama, Selangor from 1993 to 2003. There, she was the Course Leader for the Business programme. She taught various subjects in the Business and Engineering programmes such as Engineering Mathematics, Mathematics for Mechatronics, Business Statistics, Introduction to Statistics. When she was working with KBU International College, she studied MBA part-time, specializing in Finance.
After finishing MBA, she joined Kulliyyah of Science, IIUM in August 2003. In Kulliyyah of Science, she held a few administrative posts such as Academic Advisor, Industrial Training Coordinator and Final Year Project Coordinator for the Department of Computational and Theoretical Sciences. Currently, she teaches Introduction to Financial Mathematics and Financial Mathematics III. She also has taught Financial Mathematics I and II, Statistical Data Analysis and Calculus. Dr Mimi Hafizah is currently supervising one Master's and two Ph.D students.
Beginning 1 July 2013 she held the position of Deputy Head of Student Learning Enhancement Unit (SLEU) for Kuantan Campus. She is the principal researcher for grants: IIUM Endowment Type B and Research Acculturation Grant Scheme (RAGS) and a co-researcher for Fundamental Research Grant Scheme (FRGS). During her tenure as a lecturer in the Kulliyyah of Science, she has attended 12 conferences and published seven articles as the main/co-author.
Area of Specialisation
Natural Science ~ Mathematical Sciences ~ Mathematical Science for Education ~ Other Mathematical Science for Education n.e.c.
Natural Science ~ Mathematical Sciences ~ Applied Statistics ~ Statistical Inferences - Quantitative Finance
Natural Science ~ Mathematical Sciences ~ Mathematics and Statistics for Science and Engineering ~ Other Mathematics and Statistics for Science and Engineering n.e.c. - Financial Mathematics
Professional Membership
2016: Member of Profesional Body / Association: (Member), International Association for Quantitative Finance (IAQF)
Teaching Responsibilities
| | |
| --- | --- |
| CALCULUS II | 2021/2022 |
| FINAL YEAR PROJECT | 2021/2022 2020/2021 2012/2013 |
| FINAL YEAR PROJECT 1 | 2021/2022 |
| FINANCIAL MATHEMATICS 1 | 2020/2021 2019/2020 2018/2019 2011/2012 |
| FINANCIAL MATHEMATICS I | 2023/2024 2022/2023 2021/2022 2007/2008 2006/2007 2005/2006 |
| FINANCIAL MATHEMATICS II | 2023/2024 2007/2008 2006/2007 2005/2006 2004/2005 |
| FINANCIAL MATHEMATICS III | 2023/2024 2022/2023 2021/2022 2020/2021 2019/2020 2018/2019 2017/2018 2016/2017 2015/2016 2014/2015 2013/2014 2012/2013 2007/2008 2006/2007 2005/2006 |
| INDUSTRIAL TRAINING | 2005/2006 |
| INTRODUCTION TO FINANCIAL MATHEMATICS | 2023/2024 2022/2023 2021/2022 2020/2021 2019/2020 2018/2019 2017/2018 2016/2017 2015/2016 2014/2015 2013/2014 2012/2013 2011/2012 |
| STATISTICAL DATA ANALYSIS | 2013/2014 |
Research Projects
Completed
| | |
| --- | --- |
| 2019 - 2023 | Formulating a new financial network of shariah-compliant stocks using minimum spanning tree (MST). |
| 2018 - 2022 | Financial network analysis of the Malaysian shariah-compliant companies using minimal spanning tree |
| 2015 - 2020 | The Role of Option-Implied Information in Improving a Portfolio Selection |
| 2013 - 2016 | Integrating Individual Patient Data (IPD) and Aggregate Data (AD) in Continuous Meta-Analysis: An Empirical Assessment and an Alternative Two-Stage Approach |
| 2012 - 2015 | Implied Adjusted volatility functions : Theory and Empirical Tests |
| 2011 - 2013 | (RU2011) Estimation of transaction costs on the Bursa Malaysia: an empirical research |
On-Going
| | |
| --- | --- |
| 2022 - Present | Load-Based Constructive Heuristics and Local Searches for a Greener Solution of Vehicle Routing Problem |
| 2020 - Present | Towards a sustainable economic growth: A case of a correlation network of Malaysian market using Triangulated maximally filtered graph (TMFG) |
| 2004 - Present | Quantum Information Research Unit (QIRU) |
Award & Recognition
| | | |
| --- | --- | --- |
| 24 Nov, 2021 | Bronze Medal - Others | University |
| 09 Feb, 2021 | Best Lecturer Award (Department of Computational and Theoretical Sciences) 2020 - Others | University |
| 01 Feb, 2021 | Best Lecturer (Department of CTS) - KOS | KCDIO |
| 19 Feb, 2013 | Gold Medal - 2013 IIUM Research, Invention and Innovation (IRIIE 2013) | University |
| 02 Jul, 2012 | Best Teacher Award (Kulliyyah Level) - IIUM | University |
| 21 Feb, 2012 | Bronze Medal - 2012 IIUM Research, Invention and Innovation (IRIIE 2012) | University |
| 01 Jul, 2006 | Best Teacher Award (Kulliyyah Level) - IIUM | University |
Publications
Article
| | |
| --- | --- |
| 2022 | Financial network (FiNe): a web application to assist investors in avoiding herding behaviour in stock market. IIUM Journal of Orofacial and Health Sciences, 3 (Supplement 1) pp. 4-4 |
| 2022 | The impact of the COVID-19 Pandemic on the interconnectedness of stocks in Bursa Malaysia. MATEMATIKA: Malaysian Journal of Industrial and Applied Mathematics, 38 (2) pp. 69-82 |
| 2020 | Option-implied adjusted volatility using modified generalised Leland Models: an empirical study on Dow Jones industrial average index options. Malaysian Journal of Mathematical Sciences, 14 (S) pp. 93-105 |
| 2020 | The role of an option-implied distribution in improving as asset allocation model. Malaysian Journal of Fundamental and Applied Sciences, 16 (1 (Jan-Feb)) pp. 64-69 |
| 2019 | A network analysis of shariah-compliant stocks across global financial crisis: a case of Malaysia. Modern Applied Science, 13 (7) pp. 80-93 |
| 2019 | Empirical performance of a model-free volatility against the different option strike size discreteness. Malaysian Journal of Mathematical Sciences, 13 (Special Issue) pp. 1-13 |
| 2019 | The investigation on the impact of financial crisis on Bursa Malaysia using minimal spanning tree. Mathematics and Statistics, 7 (4A) pp. 1-8 |
| 2019 | The performance of higher moments estimators: an empirical study. Malaysian Journal of Mathematical Sciences, 13 (SI) pp. 35-50 |
| 2019 | Wavelet improved option-implied moments: an empirical study. ASM Science Journal, 12 (Special Issue 5) pp. 167-176 |
| 2018 | A network analysis of the stock market in Malaysia, Singapore and Indonesia. International Journal of Engineering & Technology, 7 (4.1) pp. 99-101 |
| 2018 | science@iium. science@iium, (December 2018) pp. 1-40 |
| 2018 | Science@iium. science@iium, () pp. 1-40 |
| 2016 | The development of a risk-neutral density estimation method. Journal of Engineering and Applied Sciences, 11 (7) pp. 1633-1638 |
| 2015 | A study on the effects of different levels of data on the overall meta-analysis estimates. Far East Journal of Mathematical Sciences (FJMS), 96 (1) pp. 73-86 |
| 2015 | Implied adjusted volatility functions: Empirical evidence from Australian index option market. AIP Conference Proceedings , 1643 () pp. 622-627 |
| 2015 | Minimal spanning tree for 100 companies in Bursa Malaysia. AIP Conference Proceedings, 1643 () pp. 609-615 |
| 2014 | Implied adjusted volatility by leland option pricing models: evidence from Australian index options. International Journal of Social, Management, Economics and Business Engineering, 8 (8) pp. 2599-2610 |
| 2013 | Performance of selected imputation techniques for missing variances in meta-analysis . Journal of Physics: Conference Series, 435 (1) pp. 012037 |
| 2012 | Implied transaction costs by Leland option pricing model: a new approach and empirical evidence. Journal of Derivatives & Hedge Funds, 18 (4) pp. 333-360 |
Conference or Workshop Item
| | |
| --- | --- |
| 2022 | Extending generalised Leland option pricing models: simulation using Monte Carlo. In: 3rd International Conference on Applied & Industrial Mathematics and Statistics 2022, |
| 2022 | Implied volatility functions of BS versus Leland: empirical evidence from Australian index option market. In: 3rd International Conference on Applied & Industrial Mathematics and Statistics 2022, |
| 2021 | CHANGES IN THE FINANCIAL NETWORK OF BURSA MALAYSIA BEFORE AND DURING MOVEMENT CONTROL ORDER (MCO). In: Simposium Kebangsaan Sains Matematik ke-28 (SKSM28), |
| 2021 | Correcting for risk premium on extended generalised Leland models: an empirical study on Dow Jones Industrial Average (DJIA) index options. In: 28th Simposium Kebangsaan Sains Matematik, SKSM 2021, |
| 2021 | The impact of COVID-19 pandemic on the interconnectedness of stocks in Bursa Malaysia. In: International Seminar on Mathematics in Industry 2021 (ISMI2021), |
| 2021 | Topological Properties of Malaysian Shariah Compliant Securities. In: International Conference on Innovative Technology & Social Science (ICITSS) 2020, |
| 2021 | Topological properties of Malaysian shariah-compliant securities. In: International Conference on Innovative Technology and Sciences (IC.ITSS) 2020, |
| 2020 | Centrality Measures for Shariah-Compliant Stocks Network during Global Financial Crisis: A Case of Bursa Malaysia. In: INTERNATIONAL CONFERENCE ON RECENT ADVANCES IN APPLIED MATHEMATICS 2020 (ICRAAM2020), |
| 2020 | The Impact of Financial Crisis on Bursa Malaysia using Minimal Spanning Tree. In: Workshop on Economic Networks, |
| 2019 | Evaluation on the financial performance of the companies in Malaysia with Zmijewski model. In: The 4th International Conference on Computing, Mathematics and Statistics 2019 (ICMS), |
| 2019 | Network analysis of shariah-compliant stocks on Bursa Malaysia by using minimum spanning tree (MST). In: The 4th Innovation and Analytics Conference & Exhibition (IACE 2019), |
| 2019 | The investigation on the impact of financial crisis on Bursa Malaysia using minimal spanning tree. In: The 4th International Conference on Computing, Mathematics and Statistics 2019, |
| 2018 | Empirical performance of a model-free volatility against the different option strike size discreteness. In: Conference on Mathematics, Informatics and Statistics (CMIS2018), |
| 2017 | Asset allocation using option-implied moments. In: 1st International Conference on Applied & Industrial Mathematics and Statistics (ICoAIMS 2017), |
| 2017 | Comparison of volatility function technique for risk-neutral densities estimation. In: The 24th National Symposium On Mathematical Sciences: Mathematical Sciences Exploration For The Universal Preservation, |
| 2017 | Empirical performance of interpolation techniques in risk-neutral density (RND) estimation. In: 37th International Conference on Quantum Probability and Related Topics, QP 2016; Faculty of Science of the International Islamic University MalaysiaKuantan; Malaysia, |
| 2017 | Estimation of option-implied risk-neutral into real-world density by using calibration function. In: 4th International Conference on Mathematical Sciences - Mathematical Sciences: Championing the Way in a Problem Based and Data Driven Society, ICMS 2016;, |
| 2016 | Comparison of volatility function technique for risk-neutral densities estimation.. In: Simposium Kebangsaan Sains Matematik Ke 24, |
| 2016 | Empirical estimation of risk-neutral density from option prices. In: 37th International Conference on Quantum Probability and Related Topics (QP37) 2016, |
| 2016 | Estimation of option-implied risk-neutral into real-world density by using calibration function. In: The 4th International Conference On Mathematical Sciences (ICMS4), |
| 2016 | The development of a risk-neutral density estimation method. In: 2016 Applied Mathematics in Science and Engineering International Conference (APPEMSE), |
| 2014 | An investigation of implied volatility during financial crisis: evidence from Australian index options. In: The 3rd International Conference on Fundamental and Applied Sciences, |
| 2014 | An investigation of implied volatility during financial crisis: Evidence from Australian index options. In: 3rd International Conference On Fundamental And Applied Sciences (ICFAS 2014), |
| 2014 | Estimation of transaction costs on Bursa Malaysia = Anggaran kos urus niaga di Bursa Malaysia. In: The 2nd National Symposium on Mathematical Sciences (SKSM22), |
| 2014 | Implied adjusted volatility by leland option pricing models: evidence from Australian index options . In: International Conference on Applied Mathematics (ICAM 2014), |
| 2014 | Implied adjusted volatility functions: empirical evidence from Australian index option market . In: The 2nd ISM International Statistical Conference 2014 with Applications in Sciences and Engineering (ISM-II) , |
| 2014 | Minimal spanning tree for 100 companies in Bursa Malaysia. In: The 2nd ISM International Statistical Conference 2014 with Applications in Sciences and Engineering (ISM-II) , |
| 2013 | Alternative method to estimate transaction costs: An empirical investigation pre-, during and post- financial crisis. In: International Islamic University Malaysia Research, Invention and Innovation Exhibition 2013 (IRIIE 2013), |
| 2012 | A new approach to estimate transaction costs: an empirical evidence. In: International Islamic University Malaysia Research, Invention and Innovation Exhibition 2012 (IRIIE 2012), |
| 2012 | Performance of selected imputation techniques for missing variances in meta-analysis . In: 4th International Conference on Advancement of Science and Technology, |
| 2011 | Implied transaction costs by leland option pricing models: A new approach and empirical evidence. In: 2011 Accounting and Finance Association of Australia and New Zealand (AFAANZ) Conference, |
| 2010 | The performance of Leland's option pricing models in the presence of transaction costs: evidence from the Australian index option market. In: The 18th Annual Conference on Pacific Basin Finance, Economics, Accounting and Management, |
| 2010 | Trading frequency and implied transaction costs of options: evidence from the Australian index option market. In: International Conference on Business and Economics Research (ICBER), |
| 2009 | Assessing the importance of transaction costs in option pricing: evidence from the Australian index option market. In: 15th International Conference Computing in Economics and Finance , |
| 2006 | Missing variability in meta-analysis : is imputing always good?. In: International Conference on Science & Technology: Application in Industry & Education (2006), |
Monograph