Staff Directory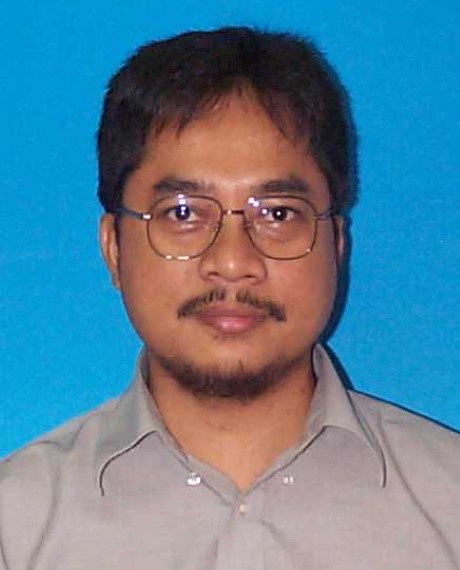 Academic Qualification
Doctor of Philosophy (Information Science) - Doctor of Philosophy, Universiti Kebangsaan Malaysia (UKM)
Master of Science (Computer Science) - Masters Degree, University of Miami
Bachelor of Science - Bachelor Degree, Indiana State University
Mior Nasir Mior Nazri (Dr.)
Assistant Professor
IIUM Gombak Campus
KULLIYYAH OF INFORMATION AND COMMUNICATION TECHNOLOGY

Other's position:
Deputy Director, Office of International Affairs
---
miornasir@iium.edu.my
5636
Expert Profile
Dr. Mior Nasir bin Mior Nazri obtained his BSc and MSc in Computer Science from Indiana State University, USA, and University of Miami, USA. Prior to joining IIUM, he has fourteen years in the Information Technology industry. He was involved in all application life cycles of system development in multiple projects. He has worked at several companies such as Penang Port Commission as a system analyst, Software Alliance Malaysia as a organisations developer, contracted to Electronic Data System, Kansas City, USA as an analyst programmer and Heitech Padu as a project manager.
He obtained his Ph.D from University Kebangsaan Malaysia, in 2012. His research was on 'Application Of Lexical Ontology For Semi-Automatic Logical Data Design In Data Warehouse'. His research areas are in Data Warehouse, Big Data, Ontology, Database Design and System Development.
At KICT, he has taught courses such as System Analysis and Design, Database System, Advanced Database, Data Management, Accounting Information Systems, Introduction to Database, Industrial Attachment and Information Resource Strategy and Management.
Presently, Dr. Mior Nasir is an Assistant Professor at the Department of Information Systems.
Area of Specialisation
ICT ~ Information, Computer And Communications Technology (ICT) ~ Data Management ~ Other Data Management n.e.c. - Database Design, Data Warehouse, System Development
Teaching Responsibilities
| | |
| --- | --- |
| ACCOUNTING INFORMATION SYSTEMS | 1992/1993 |
| ADVANCED DATABASE | 2013/2014 2011/2012 |
| DATA MANAGEMENT | 2013/2014 2012/2013 2011/2012 |
| DATABASE DESIGN & MANAGEMENT | 2004/2005 2003/2004 |
| DATABASE PROGRAMMING | 2002/2003 |
| DATABASE SYSTEMS | 2022/2023 2021/2022 2020/2021 2018/2019 2017/2018 2016/2017 2015/2016 |
| DATABASE SYSTEMS I | 2015/2016 2014/2015 2012/2013 |
| FINAL YEAR PROJECT 1 | 2017/2018 |
| FINAL YEAR PROJECT I | 2021/2022 2020/2021 2017/2018 2016/2017 2015/2016 2014/2015 2013/2014 2012/2013 2011/2012 2003/2004 |
| FINAL YEAR PROJECT II | 2021/2022 2020/2021 2017/2018 2016/2017 2015/2016 2014/2015 2013/2014 2012/2013 2011/2012 2005/2006 2004/2005 2003/2004 |
| INDUSTRIAL ATTACHMENT | 2017/2018 2016/2017 2015/2016 2014/2015 2013/2014 2012/2013 2011/2012 |
| INFORMATION RESOURCE STRATEGY & MANAGEMENT | 2005/2006 |
| INTRODUCTION TO DATABASE | 2005/2006 2004/2005 |
| PRACTICAL TRAINING | 2011/2012 2005/2006 |
| PROJECT & CHANGE MANAGEMENT | 2016/2017 |
| SYSTEM ANALYSIS & DESIGN | 2005/2006 |
| SYSTEM ANALYSIS AND DESIGN | 2022/2023 2021/2022 2020/2021 |
| SYSTEMS ANALYSIS AND DESIGN | 2018/2019 2017/2018 2014/2015 2012/2013 2011/2012 |
Research Projects
Completed
| | |
| --- | --- |
| 2019 - 2020 | Renewable Energy consumption and Economic Growth (KENMS RESEARCH GRANT) |
| 2016 - 2018 | Examining the Determinants of Compliance Behaviour Among Individual Taxpayers in Malaysia |
| 2015 - 2019 | A Model for Assessing IT Readiness in Organizations for Successful Business Intelligence Systems |
| 2012 - 2016 | Aligning Business Strategies with Data Warehouse Design : A Study on Selected Government Linked Companies (GLCs) |
| 2010 - 2012 | Data Warehouse Models in Malaysian Business Environment |
On-Going
| | |
| --- | --- |
| 2021 - Present | The Impact of Quantum Communication on Societal Needs in Malaysia (Project 3) |
| 2018 - Present | A Holistic Framework For Successful Open Government Data Implementation In Malaysia |
| 2017 - Present | An analysis of the adoption of big data analytics among the government agencies in Malaysia |
| 2010 - Present | Adoption of Data Warehouse Usage in Malaysia |
Publications
Article
Conference or Workshop Item