Staff Directory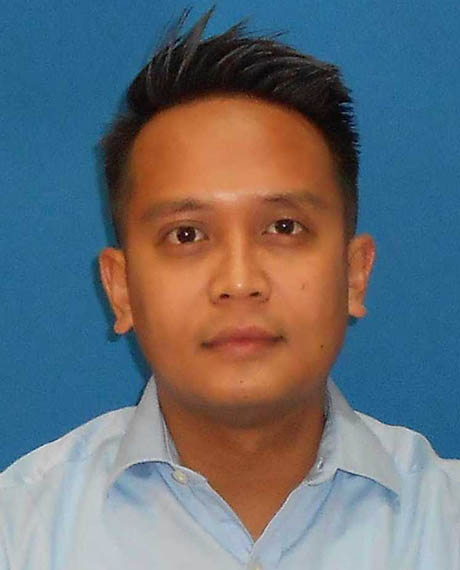 Academic Qualification
DOCTOR OF PHILOSOPHY IN VISION SCIENCE - Doctor of Philosophy, University of Waterloo
Master of Optometry - Masters Degree, University of New South Wales
Bachelor of Optometry (Hons) - Bachelor Degree, Universiti Kebangsaan Malaysia (UKM)
Firdaus Bin Yusof @ Alias (Dr.)
Assistant Professor
IIUM Kuantan Campus
KULLIYYAH OF ALLIED HEALTH SCIENCES

Other's position:
Head, Kulliyyah of Allied Health Sciences
---
yfirdaus@iium.edu.my
5366
Expert Profile
Firdaus Yusof graduated as an optometrist in 2002 upon receiving his Bachelor of Optometry (Hons) degree from the National University of Malaysia (UKM). He worked in a retail optometry practice for a year before deciding to join the academia in 2003. The Kulliyyah of Allied Health Sciences was just being formed at that time and he was among the pioneers who helped to set up the Department of Optometry and Visual Science (DOVS).
He obtained his Masters of Optometry from the University of New South Wales (UNSW) Australia in September 2006. Having written a dissertation on the subject of color vision, he then has set up the first color vision clinic in IIUM, upon returning to serve the IIUM. He received his Ph.D in August 2014 from the University of Waterloo, under the supervision of Professor Christopher Hudson and Professor John Flanagan. His Ph.D thesis was on the topic of retinal blood flow, glaucoma and nocturnal hypotension; which all are currently his niche in his research work.

He has been the head of DOVS a few times which include being the first head. He is also active in the Malaysian Optical Council, the professional body for optometrists, which has appointed him for various accreditation exercise for auditing many Optometry schools and Opticianry programmes in Malaysia.
Area of Specialisation
Unspecified ~ Medical Science ~ Medical Science ~Medical Science - Clinical Optometry Glaucoma Ocular haemodynamics OCT
Unspecified ~ Medical And Health Sciences ~ Clinical Medicine ~Ophthalmology - Glaucoma
Unspecified ~ Medical And Health Sciences ~ Clinical Medicine ~Ophthalmology - Ocular haemodynamics
Unspecified ~ Medical And Health Sciences ~ Optometry ~Clinical Optometry
Professional Membership
2009: Member of Profesional Body / Association: (Life member), Association of Malaysian Optometrists
2020 - 2023: Member of Profesional Body / Association: (Ahli Majlis), Majlis Optik Malaysia
2022: Member of Profesional Body / Association: (Fellow), Pertubuhan Akademi Optometri Malaysia
Teaching Responsibilities
| | |
| --- | --- |
| ANATOMY FOR OPTOMETRY | 2004/2005 |
| ANTERIOR OCULAR PATHOLOGY | 2022/2023 2021/2022 2020/2021 2019/2020 2018/2019 2017/2018 |
| AURAL REHABILITATION 1 | 2017/2018 |
| CASE CONFERENCE 1 | 2008/2009 |
| CASE CONFERENCE 2 | 2008/2009 2007/2008 |
| CASE MANAGEMENT 1 | 2022/2023 2021/2022 2020/2021 2019/2020 2016/2017 2015/2016 |
| CASE MANAGEMENT 2 | 2022/2023 2021/2022 2020/2021 2019/2020 2018/2019 2015/2016 2014/2015 |
| CLINICAL BINOCULAR VISION | 2017/2018 2007/2008 |
| CLINICAL OPTOMETRY 1 | 2016/2017 2015/2016 2014/2015 2004/2005 |
| CLINICAL OPTOMETRY 2 | 2016/2017 2015/2016 2014/2015 |
| CLINICAL OPTOMETRY 3 | 2016/2017 2015/2016 2014/2015 |
| CLINICAL OPTOMETRY 4 | 2007/2008 |
| COLOUR PERCEPTION | 2021/2022 2020/2021 2019/2020 2018/2019 2017/2018 |
| CONTACT LENS CLINIC 1 | 2018/2019 2014/2015 |
| CONTACT LENS CLINIC 2 | 2018/2019 2007/2008 |
| INTRODUCTION TO BINOCULAR VISION | 2009/2010 |
| INVESTIGATIVE PROJECT 1 | 2022/2023 2021/2022 2020/2021 2019/2020 2017/2018 2016/2017 2015/2016 2014/2015 |
| INVESTIGATIVE PROJECT 2 | 2022/2023 2021/2022 2020/2021 2019/2020 2018/2019 2016/2017 2015/2016 |
| MONOCULAR VISUAL PROCESS | 2016/2017 2015/2016 2009/2010 |
| OCULAR ANATOMY | 2015/2016 2014/2015 |
| OCULAR ANATOMY & PHYSIOLOGY 1 | 2022/2023 2021/2022 2020/2021 2019/2020 2018/2019 2017/2018 2016/2017 |
| OCULAR ANATOMY & PHYSIOLOGY 2 | 2022/2023 2021/2022 2020/2021 2019/2020 2018/2019 2016/2017 |
| OCULAR DISEASE 1 | 2014/2015 |
| OCULAR DISEASE 2 | 2018/2019 2017/2018 2016/2017 2015/2016 2014/2015 |
| OCULAR PHARMACOLOGY | 2022/2023 2021/2022 |
| OCULAR PHYSIOLOGY | 2016/2017 2015/2016 2014/2015 |
| OPHTHALMIC OPTICS & DISPENSING 2 | 2007/2008 |
| OPHTHALMIC OPTICS AND DISPENSING 1 | 2015/2016 2009/2010 |
| OPHTHALMOLOGY POSTING | 2014/2015 2007/2008 |
| OPTHAL. OPTICS & DISPENSING 1 | 2007/2008 |
| OPTICS | 2020/2021 2009/2010 |
| OPTICS 1 | 2009/2010 2008/2009 2007/2008 |
| OPTICS 2 | 2007/2008 |
| OPTOMETRIC EXAMINATION | 2022/2023 2021/2022 2020/2021 2019/2020 2018/2019 2017/2018 |
| OPTOMETRY CLINIC 1 | 2017/2018 2015/2016 2014/2015 2009/2010 2008/2009 |
| OPTOMETRY CLINIC 2 | 2018/2019 2016/2017 2015/2016 2014/2015 2008/2009 2007/2008 |
| OPTOMETRY CLINIC 3 | 2018/2019 2015/2016 2014/2015 2009/2010 2008/2009 2007/2008 |
| OPTOMETRY SPECIALIZATION : LOW VISION | 2007/2008 2006/2007 |
| POSTERIOR OCULAR PATHOLOGY | 2022/2023 2021/2022 2020/2021 2019/2020 2018/2019 |
| PRACTICE MANAGEMENT | 2007/2008 |
| PRIMARY OPTOMETRY CLINIC 1 | 2022/2023 2021/2022 2020/2021 2019/2020 2018/2019 |
| PRIMARY OPTOMETRY CLINIC 2 | 2022/2023 2021/2022 2020/2021 2019/2020 |
| PRIMARY OPTOMETRY CLINIC 3 | 2022/2023 2021/2022 2019/2020 |
| PROFESSIONAL STUDIES | 2007/2008 |
| PROJECT 1 | 2009/2010 2007/2008 |
| PROJECT 2 | 2007/2008 |
| PSYCHOLOGY FOR OPTOMETRY | 2008/2009 2007/2008 |
| PUBLIC HEALTH OPTOMETRY | 2007/2008 |
| REFRACTIVE EXAMINATION | 2022/2023 2021/2022 2020/2021 2019/2020 2018/2019 2017/2018 2016/2017 |
| SPECIALIZATION CLINIC B 1 | 2022/2023 2021/2022 2020/2021 2019/2020 |
| SPECIALIZATION CLINIC B 2 | 2022/2023 2021/2022 2020/2021 2019/2020 |
| SPECIALIZATION CLINICS 1 | 2016/2017 2015/2016 |
| SPECIALIZATION CLINICS 2 | 2015/2016 |
| VISUAL OPTICS | 2009/2010 2008/2009 |
| VISUAL SCIENCE 1 | 2007/2008 |
| VISUAL SCIENCE 2 | 2007/2008 2006/2007 |
| VISUAL SCIENCE 4 | 2007/2008 2006/2007 |
| VISUAL SCIENCES 3 | 2008/2009 2007/2008 |
Research Projects
Completed
| | |
| --- | --- |
| 2017 - 2019 | Impact of multiple types of pterygium on the anterior corneal curvature and changes in ocular surface features |
| 2017 - 2021 | The Effect of Short-term Smartphone Usage on Tear Film Dynamics and Visual System |
| 2016 - 2020 | The investigation of factors that affect intraocular pressure (IOP) in a selected healthy Malaysian population. |
| 2016 - 2020 | Modified LogMAR chart: A new insight into visual acuity assessment |
| 2016 - 2020 | Assessment of Ocular Profiles in Laser Refractive Surgery |
On-Going
| | |
| --- | --- |
| 2023 - Present | Development of a Prototype of Microvascular Analysis using Advanced Deep Learning and Fractal Analysis Techniques |
Award & Recognition
| | | |
| --- | --- | --- |
| 02 Oct, 2015 | Department best indexed journal articles - Deputy Rector (Research & Innovation): IIUM Research, Invention and Innovation Exhibition 2015 | KCDIO |
Publications
Article
| | |
| --- | --- |
| 2021 | An exploratory study of optic nerve head vascular fractal dimension (DF) and its association with diabetes mellitus risk factors. International Journal of Allied Health Sciences (IJAHS), 5 (3 Special Issue) pp. |
| 2021 | Proton magnetic resonance spectroscopy (1H-MRS) in studies of Glaucoma: a scoping review. Science Letters, 15 (2) pp. 135-146 |
| 2021 | The effect of body posture changes and central corneal thickness on the intraocular pressure among healthy Malays. Walailak Journal of Science and Technology, 18 (6) pp. 1-8 |
| 2021 | The mechanical effect of valsalva maneuver (vm) on anterior lamina cribrosa: an analysis using swept source optical coherence tomography (ss-oct). International Journal of Allied Health Sciences, 5 (3) pp. 2243-2243 |
| 2021 | The repeatability of smith's method in measuring anterior chamber depth. International Journal of Allied Health Sciences, 5 (3) pp. 2262-2262 |
| 2020 | Antimicrobial effect of seaweeds against oral-borne pathogens: a review. International Journal of Allied Health Sciences, 4 (1) pp. 1049-1056 |
| 2020 | Binocular vision problem and amblyopia cases in IIUM Optometry Clinic: a retrospective analysis. International Journal of Allied Health Sciences, 4 (1) pp. 988-999 |
| 2020 | Effectiveness of PTechSIA questionnaire in quantifying phacoemulsification surgical technique variations: a pilot study. International Journal of Allied Health Sciences, 4 (1) pp. 1057-1062 |
| 2020 | Intraocular pressure : the effect of short-term fasting and its association with fluid and fat status. Malaysian Journal of Medicine and Health Sciences, 16 (2) pp. 180-186 |
| 2020 | Intraocular pressure: the effect of short-term fasting and its association with fluid and fat status. Malaysian Journal of Medicine and Health Sciences, 16 (2) pp. 180-186 |
| 2020 | The association between astigmatic anisometropia with visual acuity and stereopsis. International Journal of Allied Health Sciences, 4 (1) pp. 1092-1098 |
| 2020 | The consistency of retinal image size measurement using smartphone application. Malaysian Journal of Medicine and Health Sciences (MJMHS), 16 (3) pp. 15-20 |
| 2020 | The prevalence of pterygium and pinguecula in a clinic population. International Journal of Allied Health Sciences, 4 (1) pp. 1000-1010 |
| 2019 | Impacts of induced monocular blur on visual functions. International Journal of Allied Health Sciences, 3 (3) pp. |
| 2019 | Reliability of manual vascular segmentation for retinal fractal dimension using peek retinatm. International Journal of Innovative Technology and Exploring Engineering, 8 (9S3) pp. 1560-1564 |
| 2019 | Retinal image quality assessment: Portable eye examination kit retina (Peek Retina)™ versus 3d-printed ophthalmoscope (3dpo). International Journal of Innovative Technology and Exploring Engineering, 8 (9S3) pp. 1555-1559 |
| 2018 | Corneal curvature measurements utilizing a new swept-source optical coherence tomography Tomey OA-2000® and comparison with IOLMaster® 500 in pterygium patients. Sains Medika: Jurnal Kedokteran dan Kesehatan, 9 (1) pp. |
| 2016 | Relationship between retinal blood flow and arterial oxygen. The Journal of Physiology , 594 (3) pp. 625-640 |
| 2014 | Evaluation of the retinal hemodynamics in patients with primary open angle glaucoma and differing nocturnal blood pressure profiles. Investigative ophthalmology & visual science, 55 (13) pp. 3552 |
| 2014 | Grader learning effect and reproducibility of doppler spectral-domain optical coherence tomography derived retinal blood flow measurements. Acta Ophthalmologica, 92 () pp. e630-e636 |
| 2014 | Retinal blood flow in patients with primary open angle glaucoma and optic disc hemorrhage.. Investigative ophthalmology & visual science, 55 (13) pp. 2932 |
| 2014 | The relationship between retinal nerve fibre layer thickness and total retinal blood flow in primary open angle claucoma. Investigative Ophthalmology & Visual Science, 55 (13) pp. 953 |
| 2014 | Variability and repeatability of quantitative, fourier-domain optical coherence tomography doppler blood flow in young and elderly healthy subjects. Investigative Ophthalmology & Visual Science, 55 (12) pp. 7716-7725 |
| 2014 | Variability and repeatability of quantitative, SD-OCT doppler blood flow in young and elderly healthy subjects. Investigative Ophthalmology & Visual Science, 55 (12) pp. 7716-7725 |
| 2012 | Age effects on retinal blood flow assessed using spectral-domain optical coherence tomography doppler. Investigative ophthalmology & visual science, 53 (14) pp. 6865 |
Conference or Workshop Item
Monograph