Staff Directory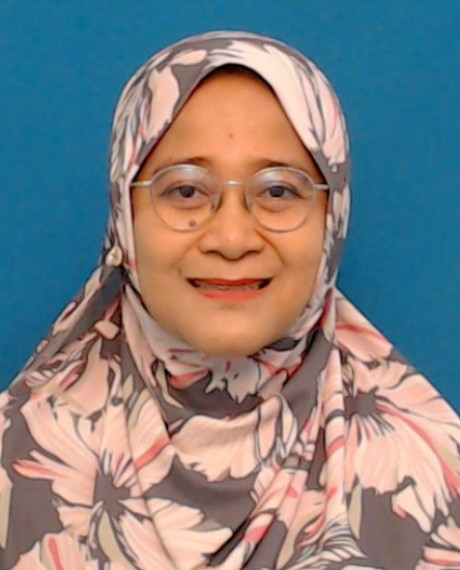 Academic Qualification
PhD in Economics (Monetary Economics) - Doctor of Philosophy, International Islamic University Malaysia
Master in Economics - Masters Degree, University of Missouri
Bachelor in Economics - Bachelor Degree, University of Arizona, Tucson
Salina Bt. Kassim (Prof. Dr.)
Professor
IIUM Gombak Campus
INSTITUTE OF ISLAMIC BANKING AND FINANCE
---
Expert Profile
Dr Salina is currently a Professor at the IIUM Institute of Islamic Banking and Finance, International Islamic University Malaysia. 
Having a great passion in writing scholarly articles in various areas of Islamic banking and finance, her strength lies mainly in producing quality research work especially in the area of Islamic social finance. She has published extensively in indexed peer-reviewed academic journals with nearly 150 articles with her works being the main reference to both the academia and industry. With a Scopus H-index of 12, she is among the top and most prolific writers in the area of Islamic finance. Reflecting her outstanding performance, she won several "Best Paper Awards" in various academic conferences. In 2020 and 2013, papers that she co-authored won the "Outstanding Paper Award" by the Emerald Literati Network, and in 2010, she won second place in the 3rd Kuala Lumpur Islamic Finance Forum (KLIFF) Essay Competition on Islamic Finance. She has also published several books mainly in the areas of Islamic finance, with reputable publishers, namely IIUM Press, UPM Press and USIM Press. In particular, her book on "Islamic Financial System: Theory and Practice" has been one of the main sources of reference in many universities offering the Islamic banking and finance programs. In addition, three books are currently in the midst of publication. Her primary research focus, includes various areas of Islamic banking and finance, especially Islamic social finance and monetary/financial economics, where she has produced substantial research outputs in the areas of Islamic micro-finance, waqf and women entrepreneurship as well as economic empowerment. 
She has been awarded several grants, funds and sponsorships from reputable international and local organisations, including from Ministry of Higher Education, Malaysia, Ministry of Finance, Malaysia, Permodalan Nasional Berhad, and Islamic Development Bank. In recognition to her dynamic role as a subject matter expert, Dr Salina has been appointed as member of the editorial boards of several reputable international and local journals. She has been a regular reviewer for many academic local and international academic journals, focusing on the areas of Islamic banking and finance. At present, she is supervising (and has supervised) 49 PhD candidates and 26 Masters candidates. She has also served as internal and external examiners for Masters and PhD theses in several universities in Malaysia and Indonesia. She was appointed as Adjunct Professor at the Universitas Airlangga, Surabaya in Indonesia from January 2019 to December 2019. 
Dr. Salina has been sought after for her expertise in various aspects of Islamic banking and finance as an invited speaker in local and international seminars and conferences. Her recent public speaking engagements which were primarily focusing on the areas of research in Islamic social finance held at several universities in Indonesia and Malaysia. She has presented her research works at international academic conferences in many parts of the world including United Kingdom, Saudi Arabia, and Turkey. Dr. Salina also serves as a trainer for "Islamic Financial System" – a module that she designed, under a training programme offered by the Association of Shariah Advisors in Islamic Finance (ASAS), which is based in Malaysia. Dr Salina has been appointed by the Ministry of Education Malaysia as a panel evaluator for Fundamental Research Grant Scheme (FRGS) since 2014, an annual national level grant scheme being offered to all public and private universities in the country. She is also involved in drafting the waqf blueprint which is expected to be launched soon by the Religious Council of the Federal Territory of Malaysia. She has consistently been invited as a subject matter expert to series of workshops in assisting the preparation for the respective blueprint. In addition, she has been assisting the development of modest fashion industry through a strategic collaboration between the Chamber of Islamic Trade and Investment Malaysia, Markamarie Global and IIiBF, whereby the "Fund the Founders" initiative was launched to connect new start-ups in the modest fashion industry with potential funders to provide sufficient aid that could assist them to continuously expand their businesses. A frequent award winner in the annual IIUM Quality Day, Dr Salina also received recognitions as Top 100 Most Influential Women in Islamic Business and Finance 2019, awarded by Cambridge IFA in Dubai in 2019, and also Distinguished Woman in Management, awarded by Venus International Foundation in 2020. 
Prior to her vast working experience as an academician, Dr Salina has served as a Senior Executive at Economics and Corporate Planning Division at a local commercial bank for several years. These industry-related exposure had equipped her with the practical aspects and issues of commercial banking, and the understanding of the general banking and financial system. Dr Salina received a PhD in Monetary Economics in 2006 from the IIUM and Master and Bachelor degrees from the USA in 1992 and 1994, respectively.
Area of Specialisation
Economics, Business And Management ~ Economics, Business And Management ~ Economics/Applied Economics ~ Financial and Monetary Economics - Islamic banking and finance
Research Projects
Completed
| | |
| --- | --- |
| 2021 - 2023 | Exploring the Potential of Islamic Microfinance to Improve Financial Condition for Low-Income Households in Perlis |
| 2020 - 2021 | Establishment of Desa Kelulut as a Sustainable Stingless Bee Farming Project for Economic Empowerment among B40 Community at Kampung Bukit Kuin, Kuantan, Pahang in Post-COVID-19 Time |
| 2019 - 2023 | Maqasid al-Shari'ah Framework for Activating Temporary Waqf as Contemporary Social Micro-financing Mechanisms in Malaysia. |
| 2018 - 2023 | Information Dissemination Model for Muslim Scholars on Cryptocurrencies |
| 2018 - 2022 | Formulating an Islamic Health Protection Retirement Plan (i-HPRP) for Government Servants in Malaysia |
| 2017 - 2018 | Towards Providing the Innovative Takaful Products in Malaysia: The Perspective of Consumers, Takaful Operators and Shari'ah Advisors |
| 2016 - 2018 | Pricing Benchmark for Islamic Home Financing |
| 2016 - 2018 | Developing A New Approach for International Ship Financing by Malaysian Islamic Financial Institutions |
| 2016 - 2019 | Creating a Single Regulatory Body Governing Consumer Credit Industry in Malaysia |
| 2015 - 2017 | Modelling a New Islamic Private Equity Shipping Fund to Promote International Shipping in Malaysia |
| 2015 - 2018 | Formulating a Sustainable Model of Islamic Microfinance to Enhance Financial Inclusiveness towards an Equitable Society: an Appreciative Inquiry and Intelligence Approach |
| 2015 - 2018 | Developing a Sustainable Model of a Waqf-Based Takaful for Flood Victims in Malaysia |
| 2015 - 2018 | Identifying the Macroeconomic Factors influencing the Pricing Methods of Sovereign Sukuk |
| 2015 - 2017 | Where is Diversification for Malaysian Muslim Investors? Evidence from DCC-GARCH Approach |
| 2014 - 2019 | The Role of Chinese Muslim in the Malaysian Nation Building |
| 2013 - 2016 | Involvement of Corporate Entities in Waqaf Management: Experiences of Selected Waqaf Institutions |
| 2013 - 2017 | Islamic Finance and the Malaysian Economy: Developing a Model for Its Effective Growth and Meaningful Contribution to the Real Economy |
| 2013 - 2016 | Formulating New Model to Mitigate Access to Financing Problem Among SMEs in Malaysia |
| 2012 - 2016 | A Study on the Need for A Comprehensive Law on Landlord and Tenant (Retail Tenancy) in Peninsular Malaysia |
| 2012 - 2016 | A Conceptual Analysis on the Application of REITs in Developing Waqaf Land in Malaysia |
| 2012 - 2016 | A Critical Analysis of the Current Islamic Banking Structure in Malaysia: Issue & Policy Implications |
| 2012 - 2015 | Housing Development and Consumer Protection: A Study on the Problems of Late Delivery of Vacant Possession |
| 2011 - 2013 | Enhancing the Efficiency of Waqaf Institutions in Malaysia: An Exploratory Study |
| 2011 - 2013 | Exploring and Predicting Customer Switching Behaviour for Islamic Bank Services in Malaysia Using Neural Network Analysis and Structural Equation Modeling |
| 2011 - 2014 | Monetary Policy Transmission through Islamic Banking Financing in Malaysia" A Sectoral Analysis |
| 2010 - 2012 | Performance of Islamic Unit Trust During Global Financial Crisis: The Case of Malaysia |
| 2010 - 2013 | Exploring The Need to Shift From Debt-Based to Equity-Based Financing in Islamic Banks: The Case of Malaysia and Bahrain |
| 2009 - 2011 | Economic Impact of Climate Change in Agriculture in Malaysia |
| 2009 - 2011 | Resilliance of the Islamic and Conventional Stock Markets during the 2007 Global Financial Crisis |
| 2009 - 2012 | Identification and Implication of the Islamic Banks Exposure to Market Risks:Evidence from Malaysia |
| 2008 - 2010 | Output-Price Dynamic and Its Implications on Macroeconomics Policy: The Case of Malaysia |
| 2007 - 2008 | Original Title: Monetary Policy and Consumer Credit in Malaysia: A Structural VAR Approach New Title: Consumer Credit and Monetary Policy in Malaysia |
| 2007 - 2007 | The Effects of monetary Policy on Bank Loans: A Comparison between Domestic and Foreign Banks in Malaysia |
| 2007 - 2008 | An Analysis of The Effect of Monetary Policy on Conventional Banks Loans and Islamic Banks |
| - 2010 | Malaysian Science and Technology Indicators 2010 |
On-Going
| | |
| --- | --- |
| 2023 - Present | Exploring Agro Waste For Eco-Green Food Packing |
| 2023 - Present | ROLE OF MICRO-TAKAFUL PRODUCTS IN IMPROVING THE FINANCIAL STATUS OF SINGLE MOTHERPRENEURS IN THE B40 COMMUNITY |
| 2023 - Present | ROLE OF MICRO-TAKAFUL PRODUCTS IN IMPROVING THE FINANCIAL STATUS OF SINGLE MOTHERPRENEURS IN THE B40 COMMUNITY |
| 2023 - Present | Book Publication: Islamic Financial Inclusion: Issues, Challenges and Way Forward |
| 2023 - Present | A Bibliometric Analysis of the Research Trends in Micro-Takaful and Woman Entrepreneurship |
| 2023 - Present | Economic Empowerment Project for Single Mothers and Housewives from B40 Families through a Sustainable Community-based Stingless bee Project of Desa Kelulut |
| 2023 - Present | Microtakaful for the Elderly in the B40: Proposing a Ta'awun-Based Framework Incorporating Islamic Social Finance |
| 2023 - Present | Microfinance Impact Study Measurement Performance and Effectiveness: A Case of Bank Kerjasama Rakyat Malaysia Berhad |
| 2022 - Present | Knowledge Transfer Project on Good Agricultural Practices of Pesticide-Free Chili Fertigation and Stingless Bee Integrated Farming for the B40 Members of `Persatuan Anak Kuantan Utara (PAKUTA)? |
| 2021 - Present | Financial Resilience Among Women-owned MSMEs During COVID-19 Economic Crisis and Beyond- The Role of Islamic Social Financing Tools. |
| 2021 - Present | Developing a Blockchain-based Comprehensive Performance Measurement Framework for Efficient and Sustainable Waqf Institutions in Malaysia |
| 2019 - Present | Shariah Governance an Financial Performance of Islamic Banks in Malaysia (Bank Pembangunan Malaysia Berhad Research Grant) |
| 2018 - Present | Affordable Housing Issues in Malaysia: Exploring Potentials of Waqf as an Alternative Solutions |
| 2018 - Present | Sustainable and Responsible Investment (SRI) Sukuk As an Alternative Source of Fund for Affordable Housing in Malaysia |
| 2018 - Present | The Influences of Islamic Civilization on Malay Muslim Women and Their Contributions in Malay Archipelago. |
| 2016 - Present | Price Behavior in Malaysian Islamic Unit Trust Industry |
| 2008 - Present | THE IMPACT OF US FINANCIAL CRISIS ON THE MALAYSIAN STOCK MARKET: A SECTORAL ANALYSIS |
Award & Recognition
| | | |
| --- | --- | --- |
| 03 Mar, 2008 | IIUM Quality Research Award - International Islamic University Malaysia | University |