Staff Directory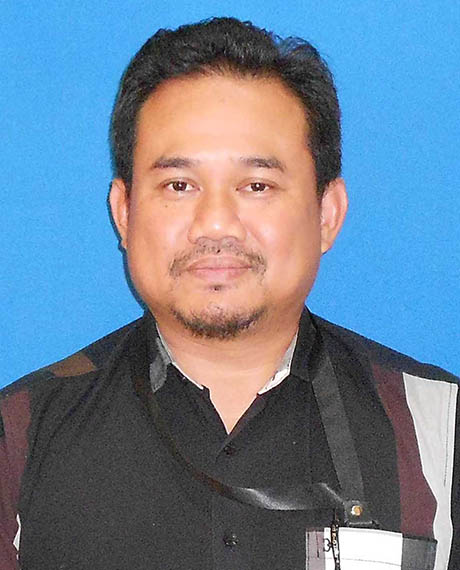 Academic Qualification
Doctor of Philosophy (Clinical Genetics) - Doctor of Philosophy, Uppsala University, Sweden
Science (Chemical Pathology) - Masters Degree, Universiti Sains Malaysia (USM)
Bachelor of Biomedical Sciences - Bachelor Degree, Universiti Kebangsaan Malaysia (UKM)
Mohd Arifin Bin Kaderi (Assoc. Prof. Dr.)
Associate Professor
IIUM Kuantan Campus
KULLIYYAH OF ALLIED HEALTH SCIENCES

Other's position:
Head, Office of the Campus Director, Kuantan Campus
---
ariffink@iium.edu.my
5251
Expert Profile
Mohd. Arifin bin Kaderi obtained his Bachelor's degree in Biomedical Sciences (Hon) from University Kebangsaan Malaysia (UKM) and MSc in Chemical Pathology from University Science Malaysia (USM). He was a recipient of the Malaysian National Science Fellowship Award while working on his MSc research. He joined IIUM as an Assistant Lecturer upon completion of his MSc and was funded by the university and the Ministry of Higher Education to pursue his Ph.D. He obtained his Ph.D degree in Clinical Genetics from Uppsala University, Sweden in 2010.
Upon completion of his Ph.D he returned to his service as Assistant Professor at IIUM and was appointed as Deputy Dean (Postgraduate and Research) at the Kulliyyah of Allied Health Sciences. He was a recipient of the Promising Researcher Award in 2011 for his outstanding work and publication in chronic lymphocytic leukemia.
He was appointed by the World-Health Organization's International Agency for Research on Cancer (WHO-IARC) as a postdoctoral fellow from 2012 to 2014 to work on the genetic cancer susceptibility of nasopharyngeal carcinoma (NPC) and head and neck squamous cell carcinoma (HNSCC). He conducted his research work at the WHO-IARC headquarters in Lyon, France.
Dr. Arifin resumed his duty at IIUM in 2014 as an Assistant Professor at the Department of Biomedical Sciences, in addition to being the Head of Research at the Kulliyyah of Allied Health Sciences since September 2014.
Area of Specialisation
Medical And Health ~ Medical And Health Sciences ~ Clinical Medicine ~ Medical Genetics - Clinical Genetics
Medical And Health ~ Medical And Health Sciences ~ Immunology ~ Immunogenetics - Immunogenetics
Biotechnology ~ Biotechnology ~ Molecular Biology ~ Other Molecular Biology n.e.c. - Molecular Haematology
Research Projects
Completed
| | |
| --- | --- |
| 2020 - 2023 | The influence of music on the psychological well-being of communities in a public university |
| 2018 - 2021 | Elucidation of Candida albicans candidalysin mechanism in polymicrobial biofilms with Actinomyces naeslundii and Streptococcus mutans using flow cell model |
| 2016 - 2017 | KAJIAN KEPENTINGAN ADANYA MAKLUMAT BERKAITAN PEKERJAAN DALAM DOKUMEN IDENTITI, REKOD KESIHATAN DAN SIJIL KEMATIAN DI MALAYSIA |
| 2015 - 2019 | Circulating microRNA Expression in Nasopharyngeal Carcinoma: Towards Understanding of its Role in Oncogenesis and Tumor Progression. |
| 2015 - 2023 | Upscale Production of the High Antioxidant Jelly Prepared from Baccaurea Angulata Fruit Enrich with Trigona Bee Honey for Head and Neck Patients |
| 2014 - 2017 | Epidemiology and Sample Collection of Nano pharyngeal Carcinoma in the East Coastal Region of Peninsular Malaysia: A Pilot Study |
| 2014 - 2018 | Identification of Specific Mirna Expression of Cryptosporidium in HCT-8 Cell and its Pathway as Fundamental Role in Pathogenesis Mechanisms |
| 2012 - 2014 | Cellular and Molecular Response of Adipocyte Cells Treated with Mangostins for Glucose Lowering Activity Purpose |
| 2011 - 2014 | RU 2011 -In vitro anticancel activityof underutilized Melastoma malabathricum L (senduduk) on several cancer cell lines. |
| 2011 - 2014 | Biochemical Characterization for Matrix Metalloproteinases (Collagenases) Regulation via Novel CTCF/YB-1 Protein Interaction for Potential Targeted Therapy of Human Cancers |
| 2011 - 2013 | RU 2011 - Genetic screening of the Common GJB2 (Connexin26) 35DELG Mutation in Non-Syndromic Hearing Loss Patient at IIUM Hearing and Speech Clinic. |
On-Going
| | |
| --- | --- |
| 2023 - Present | Training of Trainer (TOT) on the Responsible Conduct of Toxin and Venom Research: The Role Biosafety, Biosecurity and Cyberbiosecurity |
| 2023 - Present | Knowledge, Attitude and Practice (KAP) Assessments on COVID- 19 Transmission Knowledge and Preventive Actions among Operators of International Attraction Ecotourism Areas in Rural Pahang State, Malaysia. |
| 2023 - Present | Sustainable EcoTourism Practices in Kampung Kuala Sat, Jerantut, Pahang: Community-based Awareness, Prevention and Response on Zoonotic Leptospirosis and Melioidosis Diseases |
| 2022 - Present | Proteomic and Genetic Role of APOL2 in the Development of Obesity in Schizophrenia Patients |
| 2021 - Present | CANINE DISTEMPER VIRUS: EPIDEMIOLOGICAL AND MOLECULAR GENETICS STUDIES ON DOMESTIC AND STRAY DOGS AND ITS THREAT TO THE CONSERVATION OF MALAYAN TIGER (Panthera tigris tigris Jacksonii) |
| 2019 - Present | Specific microRNAs among milk siblings: An epigenetics approach towards understanding the basis of milk kinship |
| 2018 - Present | Mechanisms of action of phenolic compounds from Anacardium occidentale in stimulating glucose uptake via regulation of GLUT 4 and its related microRNAs in 3T3-L1 Adipocyte Cells |
| 2016 - Present | Molecular dynamics of tumor microRNAs in nasopharyngeal carcinoma: Improving the understanding on the role of circulating microRNAs |
| 2016 - Present | The role of Tumour Necrosis Factor-Related Apoptosis Inducing Ligand (TRAIL) on Collagen and microRNA Expression in Human Vascular Smooth Muscle Cells (VSMCs) |
| 2015 - Present | Identifying the DNA Methylation Differences in Cell-free Fetal DNA: An Approach towards Non-invasive Prenatal Diagnosis of Trisomy 21 in Malaysia |
| 2015 - Present | Differential Expression and Pathway Analysis of miR-744 AND Mir-101 in Nasopharyngeal Carcinoma |
| 2014 - Present | 1212 |
| 2014 - Present | 123 |
| 2010 - Present | Collection of Biological Materials and DNA Extraction from Boarding School Students for Further Analysis on Genetic Susceptibility Markers of Adolescent Obesity |
| 2010 - Present | Nutritional Status, Physical Activity and Food Intake Assessment of Boarding School Students in Malaysia |
Award & Recognition
| | | |
| --- | --- | --- |
| 01 Aug, 2018 | South East Asian One Health University Network Award - South East Asian One Health University Network | International |
| 17 Nov, 2015 | Marie Curie Fellowship - Marie Skadowska-Curie Action Plan, European Commission | International |
| 15 Aug, 2015 | Department Best Indexed Journal Article Award - International Islamic University Malaysia | National |
| 18 Aug, 2012 | IARC Postdoctoral Fellow - International Agency for Research on Cancer | International |
| 24 May, 2011 | Promising Researcher Award - International Islamic University Malaysia | University |
| 11 Mar, 2011 | IIUM Promising Researcher Award - International Islamic University Malaysia | National |
| 08 Dec, 2009 | American Society of Hematology Travel Award - American Society of Hematology | International |
| 26 Nov, 2004 | Outstanding Poster Award - Federation of Asian and Oceanian Biochemistry and Molecular Biology | International |
| 15 Oct, 2000 | National Science Fellowship Award - Ministry of Science, Technology and Innovation | National |
Publications
Article
| | |
| --- | --- |
| 2023 | Specific microRNAs among milk siblings: an epigenetics approach towards understanding the basis of milk kinship. Asia Pacific Journal of Molecular Biology & Biotechnology, 31 (2) pp. 86-86 |
| 2022 | Identification of risk factors associated with Nasopharyngeal Carcinoma (NPC) in the Pahang state of Malaysia hospitals. Makara Journal of Health Research, 26 (1) pp. 14-21 |
| 2022 | Islamic music listening, spiritual well-being and burnout of employees in Islamic university. Al-Irsyad: Journal of Islamic and Contemporary Issues, 7 (2) pp. 915-923 |
| 2022 | Knowledge and attitude towards biomedical science career options among biomedical science undergraduate students in International Islamic University Malaysia. International Journal of Allied Health Sciences, 6 (2) pp. 2610-2617 |
| 2022 | The therapeutic potential of skin mucus from Asian swamp eel (Monopterus albus): In vivo evaluation and histological evidence. Journal of King Saud University – Science, 34 (4) pp. 102011-102011 |
| 2021 | The incidence of Nasopharyngeal Carcinoma in Pahang state of Malaysia from 2012 to 2017. Malaysian Journal of Medical Sciences (MJMS), 28 (1) pp. 66-74 |
| 2020 | Detectability of cir detectability of circulating micr culating microRNAs in micr As in microRNA extracts with acts with low purity and yield using quantitative real-time polymerase chain reaction: Supporting evidence. Makara Journal of Health Research, 24 (3) pp. 147-156 |
| 2020 | The role of Candida albicans candidalysin ECE1 gene in oral carcinogenesis. Journal of Oral Pathology and Medicine, xx () pp. 1-7 |
| 2019 | Differential expression of miR-101 and miR-744 in nasopharyngeal carcinoma in Pahang state of Malaysia. Walailak Journal of Science and Technology, 16 (5) pp. 295-306 |
| 2019 | Evaluation of the antimicrobial properties of eel skin mucus from monopterus albus against selected oral pathogens and identification of the anti-oral bioactive compounds using LC-QTOF-MS. Journal of Microbiology, Biotechnology and Food Sciences, 9 (1 (August-September)) pp. 140-143 |
| 2019 | Expression of microrna-101 in formalin-fixed paraffin- embedded samples of nasopharyngeal carcinoma. Malaysian Journal of Biochemistry and Molecular Biology, 22 (2) pp. 60-63 |
| 2019 | Identification and quantification of quercetin, a major constituent of Artocarpus altilis by targeting related genes of apoptosis and cell cycle: in vitro cytotoxic activity against human lung carcinoma cell lines. Nutrition and Cancer, () pp. 1-14 |
| 2019 | Identification of the bioactive compounds of skin mucus from asian swamp eel (monopterus albus) using liquid chromatography quadrupole-time-of-flight mass spectrometry. Malaysian Journal of Biochemistry and Molecular Biology, 22 (3) pp. 43-47 |
| 2019 | Response surface optimisation of high antioxidant jelly from Musa paradisiaca and Trigona sp. honey using central composite design as a convenient functional food. International Food Research Journal, 26 (4) pp. 1201-1209 |
| 2018 | Expression of circulating miR-101 and miR-744 in nasopharyngeal carcinoma and their performance as diagnostic biomarkers. Asian Journal of Pharmaceutical and Clinical Research, 11 (9) pp. 14-14 |
| 2018 | The expression of microrna-744 (MIR-744) in nasopharyngeal carcinoma: a preliminary study. International Journal of Allied Health Sciences, 2 (1) pp. 191-203 |
| 2018 | Tumor necrosis factor-related apoptosis inducing ligand stimulates migration and proliferation of vascular smooth muscle cells. IIUM Medical Journal Malaysia, 17 (1) pp. |
| 2018 | Vast opportunity to study microrna (miRNA) in head and neck cancer among Malaysian population. International Journal of Allied Health Sciences, 2 (3) pp. 475-488 |
| 2015 | Alpha-mangostin improves glucose uptake and inhibits adipocytes differentiation in 3T3-L1 cells via PPAR gamma, GLUT4, and leptin expressions. Evidence-Based Complementary and Alternative Medicine, 15 () pp. 1-9 |
| 2014 | Development and performance testing of a light weight portable solar rice cooker in rural areas of Bangladesh. International Journal of Renewable Energy Resources, 4 (2) pp. 46-48 |
| 2014 | MDM2 promotor polymorphism and disease characteristics in chronic lymphocytic leukemia: results of an individual patient data-based meta-analysis. Haematologica, 99 (8) pp. 1285-1291 |
| 2013 | Cytotoxicity effect of melastoma malabatricum on skin melanoma and cervical cancer in vitro. The Open Conference Proceedings Journal, 4 () pp. 249-249 |
| 2012 | Translation termination mutations analysis using the protein truncation test on exon11A of the BRCA1 gene in female breast cancer patients of Pahang, Malaysia. Journal of Advanced Medical Research, 2 (2) pp. 61-69 |
| 2012 | Translation termination mutations naalysis using the protein truncation test on Exon11A of the BRCA1 gene in female breast cancer patients of Pahang, Malaysia. Journal of Advanced Medical Research, 2 (2) pp. 61-69 |
| 2011 | LPL is the strongest prognostic factor in a comparative analysis of RNA-based markers in early chronic lymphocytic leukemia. Haematologica, 96 (8) pp. 1153-1160 |
| 2010 | Lack of association between the MDM2 promoter polymorphism SNP309 and clinical outcome in chronic lymphocytic leukimia. Leukemia Research, 34 (3) pp. 335-339 |
Conference or Workshop Item
| | |
| --- | --- |
| 2023 | Specific MicroRNAs among milk siblings: an epigenetics approach towards understanding the basis of milk kinship. In: 6th International Conference on Molecular Biology & Biotechnology (ICMBB2023), |
| 2021 | The effect of hygromycin B quality towards candida albicans susceptibility. In: The 4th International Conference on Oral Microbiology & oral Immunology, |
| 2020 | Development of CRISPR-Cas9-mediated site-directed mutagenesis of ECE1 gene (candidalysin) in Candida albicans. In: Asian Regional Conference on Systems Biology 2020 (ARCSB 2020), |
| 2017 | Cytotoxicity of eurycoma longifolia root extract on female adenocarcinoma cell lines. In: 3rd International Conference on Advances in Medical Science (ICAMS 2017), |
| 2016 | Anticancer effects of eurycoma longifolia, Nigella sativa and hibiscus sabdariffa on ovarian cancer cells. In: KAHS Research Week (KRW) 2016 in conjunction with 1st Allied Health Scientific Colloquium (AHSC) 2016, |
| 2016 | Epidemiology of Nasopharyngeal Carcinoma (NPC) in Pahang, Malaysia. In: 3rd Pan Asian Biomedical Science Conference 2016, |
| 2016 | Genetic susceptibility factors in familial nasopharyngeal carcinoma. In: 3rd Pan-Asian Biomedical Science Conference 2016 Kuala Lumpur, |
| 2014 | α-Mangostin improves glucose uptake and inhibits adipocytes differentiation in 3T3-L1 cells. In: 5th FIP Pharmaceutical Sciences World Congress (PSWC 2014), |
| 2013 | Antiobesity effects of α-mangostin through glut4 and leptin expression together with pparγ activation in adipocytes. In: IIUM Research, Innovation and Invention Exhibition 2010 (IRIIE 2010), |
| 2013 | Insulin mimicking activities of Cycloartane Triterpenoid in 3T3-L1 cells. In: IIUM Research, Invention and Innovation Exhibition 2013 (IRIIE 2013), |
| 2012 | A new method of vascular point detection using artificial neural network. In: IEEE EMBS Conference on Biomedical Engineering and Sciences (IECBES), 2012 , |
| 2012 | Cycloartane triterpenoid as an insulin mimicking agent. In: The 24th FAPA Congress 2012, |
| 2012 | Mangostins stimulate glucose uptake and inhibit adipocyte differentiation in 3T3-L1 adipocytes. In: The 24th FAPA Congress 2012, |
| 2012 | The effects of in vitro treatment of melastoma malabathricum on fibroblast proliferation. In: 2012 2nd International Conference on Environment Science and Biotechnology (ICESB 2012), |
| 2011 | Antidiabetic activities of Cinnamomum zeylanicum and Tinospora crispa on adipocytes . In: International Conference on Natural products (ICNP 2011), |
Book Section
Monograph