Staff Directory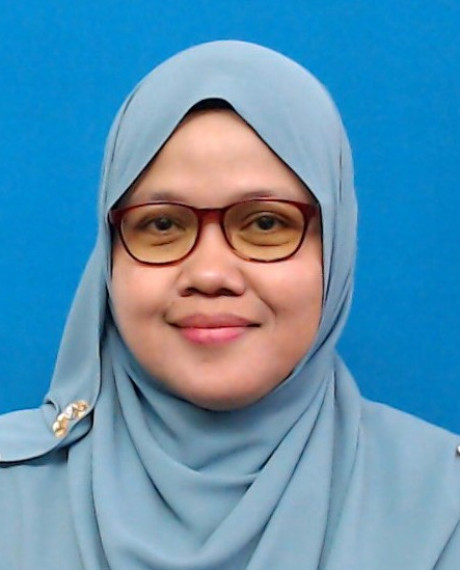 Academic Qualification
Doctor of Philosophy - Doctor of Philosophy, Universiti Kebangsaan Malaysia (UKM)
Master in Business Administration - Masters Degree, Universiti Kebangsaan Malaysia (UKM)
Bachelor of Economics - Bachelor Degree, International Islamic University Malaysia
Suharni Bt. Maulan (Dr.)
Assistant Professor
IIUM Gombak Campus
KULLIYYAH OF ECONOMICS AND MANAGEMENT SCIENCES

Other's position:
Head, Graduate School of Management
---
Expert Profile
Suharni binti Maulan obtained her Bachelor's degree in Economics from the International Islamic University Malaysia (IIUM). For her excellent achievement in her study, she was the recipient of the PNB Award (best student for Economics, Kulliyyah of Economics and Management Sciences, IIUM) and bronze award by Bank Negara Malaysia.
Pursuing her interest in teaching, she joined a MARA college and taught subjects related to economics and management for various courses including twinning programmes with the Australian Consortium for Higher Education in Malaysia (ACHEM), University Technology Mara (UiTM) and Matriculation Programme, Ministry of Education, Malaysia.
She joined IIUM in 2004, a year after completing her MBA in UKM. Later, she pursued her Ph.D in marketing at UKM Graduate School of Business, specializing in brand equity creation for Islamic banking institutions. Presently, she is an Assistant Professor in the Department of Business Administration, Kulliyyah of Economics and Management Sciences. She is keen to research further on incorporating the Tawhidic paradigm in the marketing and branding areas.
Area of Specialisation
Economics, Business And Management ~ Economics, Business And Management ~ Marketing ~ Brands Management
Economics, Business And Management ~ Economics, Business And Management ~ Management ~ Marketing
Research Projects
Completed
| | |
| --- | --- |
| 2022 - 2023 | Exploration and Identification of MCMC Brand Health amongst the Industry and Public Sector |
| 2022 - 2023 | YSM Agropreneurs Incubator Project |
| 2021 - 2022 | CAPACITY BUILDING THROUGH FINANCIAL LITERACY AND SKILLS TRANSFER PROGRAMME AMONG YOUNG ENTREPRENEURS & SINGLE MOTHERS IN RCE GREATER GOMBAK |
| 2020 - 2022 | Understanding Consumers' Motivation Towards Patronizing Wasiyyah Services |
| 2017 - 2020 | Empirical Evidence of SMEs Using Islamic Financing - A Comparative Study for Malaysia and Indonesia |
| 2016 - 2016 | Kajian Pemasaran Produk Penjara |
| 2015 - 2020 | Identifying Priorities in Service Quality-Loyalty Relationship for Islamic Banks: An Importance-Performance Matrix Analysis (IPMA) Approach |
On-Going
| | |
| --- | --- |
| 2023 - Present | Kajian Penggunaan Standard Dan Pematuhan Di Dalam Organisasi Di Malaysia |
| 2022 - Present | Developing Social Commerce Service Quality (SCSQ) Hierarchical Model for Malaysian Modest Fashion Retailers |
| 2020 - Present | Customer Experience Towards COVID-19 Preventive Measures of Malaysian Retailers |
Publications
Article
| | |
| --- | --- |
| 2024 | The antecedents of social commerce service quality dimensions: a systematic review. Journal of Islamic Management Studies, 7 (1) pp. 36-69 |
| 2023 | The effect of price fairness on negative consumption emotion of airline passengers. International Journal of Innovative Research and Publications, 3 (7) pp. 1-14 |
| 2023 | The effect of price fairness on negative consumption emotion of airline passengers. International Journal of Innovative Research and Publications (IJIRP), 3 (7) pp. 1-14 |
| 2022 | Consumers' motivation towards satisfaction in patronising wasiyyah (will) services. Malaysian Journal of Consumer and Family Economics, 28 () pp. 335-354 |
| 2022 | The influence of direct-to-physician promotion towards physicians' prescription in behaviour in Malaysia. International Journal of Pharmaceutical and Healthcare Marketing, 16 (1) pp. 101-122 |
| 2021 | A conceptual framework for customer experience towards COVID-19 preventive measures of Malaysian retailers. International Journal of Academic Research in Business and Social Sciences, 11 (6) pp. 1279-1292 |
| 2021 | Configuring the effect of multidimensional retail service quality and perceived value on customer loyalty towards retailers in Malaysia: Mediated by customer satisfaction and trust. International Journal of Services and Operations Management, () pp. |
| 2021 | Factors affecting attitudes towards using Ride-Sharing Apps. International Journal of Business, Economics and Law, 25 (2) pp. 60-70 |
| 2021 | The influence of moral judgment on physicians' prescription behaviour. Malaysian Journal of Public Health Medicine, 21 (3) pp. 96-105 |
| 2020 | Corporate brand image of Islamic bank in Malaysia: antecedents and consequence. International Journal of Management Studies, 27 (1) pp. 49-72 |
| 2020 | Identifying service quality priority of Islamic banks in Malaysia. Identifying Service Quality Priority of Islamic Banks in Malaysia, 9 (2) pp. 101-108 |
| 2020 | Perceived quality association as determinant to re-patronise Shariah-compliant brand restaurants. Journal of Islamic Marketing, () pp. 1-14 |
| 2020 | Service quality of Islamic banks: a cultural perspective. International Journal of Islamic Banking and Finance Research,, 4 (2) pp. 11-21 |
| 2020 | The effect of multidimensional perceived value on customer loyalty towards retailers: the mediating role of customer satisfaction. Journal of Talent Development & Excellence, 12 (3s) pp. 1763-1777 |
| 2019 | Determining intention to buy air e-tickets in Malaysia. Management Science Letters, 9 (6) pp. 933-944 |
| 2019 | Does the retail hypermarket satisfy customers? market assessment in Malaysia. Journal of International Business and Management, 2 (3) pp. 1-12 |
| 2019 | Persepsi masyarakat terhadap produk buatan penjara. Malaysia Correctional Journal, 3 () pp. 38-56 |
| 2019 | Risk reduction in online flight reservation: the role of information search. Journal of Reviews on Global Economics, 8 () pp. 886-899 |
| 2018 | International students' satisfaction towards internet banking at International Islamic University Malaysia: a qualitative study. Journal of International Business and Management, 1 (1) pp. 1-14 |
| 2018 | Measuring the corporate brand image of Islamic banking institutions. The Journal of Social Sciences Research, Special Issue (2) pp. 14-21 |
| 2017 | An approach to Islamic consumerism and its implications on marketing mix. Intellectual Discourse, 25 (1) pp. 137-154 |
| 2017 | Service quality, value, satisfaction and future intention in medical tourism. Journal of Tourism, Hospitality, and Culinary Arts, 9 (3) pp. 42-53 |
| 2017 | The effect of consumer perceptions towards intention to buy air tickets online in Malaysia. Journal of Global Business and Social Entrepreneurship, 3 (5) pp. 86-96 |
| 2016 | Consumers' loyalty toward Islamic banking system: does halal brand awareness matter?. International Journal of Economics, Management and Accounting, 24 (2) pp. 209-226 |
| 2016 | Measuring halal brand association (HalBA) for Islamic banks. Journal of Islamic Marketing, 7 (3) pp. 331-354 |
| 2006 | Revisiting the relationship between organizational commitment and professional commitment: a case study of academicians in a private educational institution. Malaysian Management Journal, 10 (1&2) pp. 1-17 |
Conference or Workshop Item
| | |
| --- | --- |
| 2021 | Factors affecting attitudes towards using ride-sharing apps. In: The 18th Kuala Lumpur International Communication, Education, Language and Social Science Conference 2021 : Physical and Online Conference (KLiCELS18), |
| 2018 | Measuring the corporate brand image of Islamic banking institutions. In: 2nd Asia International Multidisciplinary Conference (AIMC 2018), |
| 2018 | Perceived spiritual brand attributes of Islamic banking institutions in Malaysia. In: The 8th International Conference on Postgraduate Education 2018, |
| 2016 | Determining the intention to patronage Islamic brand restaurant: The moderating role of religiosity. In: Terengganu International Business and Economics Conference 2016 (TIBEC V), |
| 2016 | The relationship between perceived quality association and purchase intention to patronage Islamic brand restaurants. In: Regional Islamic Entrepreneurship and Business Conference (RIEBC 2016), |
| 2016 | The relationship marketing strategy to establish waqf in higher education institutions: Turkey experiences. In: International Symposium on Waqf and Higher Education (ISWHE 2016), |
| 2015 | Halal brand awareness influence on consumers' loyalty towards Islamic banking system . In: Kuala Lumpur International Business and Social Science Research Conference (KLIBSRC) 2015, |
| 2010 | The development of MHE brand equity from international students' perspective. In: International Conference on Marketing (ICMAR 2010), |
Book
Book Section
| | |
| --- | --- |
| 2021 | Humanizing education through Consumerism Advocacy and Vegetable Garden Project. In: Meso Publishing, ISBN: 978-967-19814-5-0, pp. 68-74 |
| 2021 | Humanizing education with tazkiyah al-nafs – the roots of humanized education. In: Kuliyyah of Economics and Management Sciences, International Islamic University Malaysia, ISBN: 978-967-26219-1-1, pp. 10-15 |
| 2021 | Reflection of Sabr in Teaching Principles and Practice of Management. In: Meso Publishing, ISBN: 978-967-19814-6-7, pp. 37-44 |
| 2021 | Reflection on Edu-Action of the Prophetic Attributes with Ta'awun Approach. In: Meso Publishing, ISBN: 978-967-19814-5-0, pp. 27-32 |
| 2020 | Profile of MSMEs in East Java: challenges and prospects. In: UMY Press, ISBN: 9786239168285, pp. 18-38 |
| 2020 | Profiling of entrepreneurs and SMEs: issues & challenges. In: UMY Press, ISBN: 9786239168285, pp. 1-16 |
Monograph