Staff Directory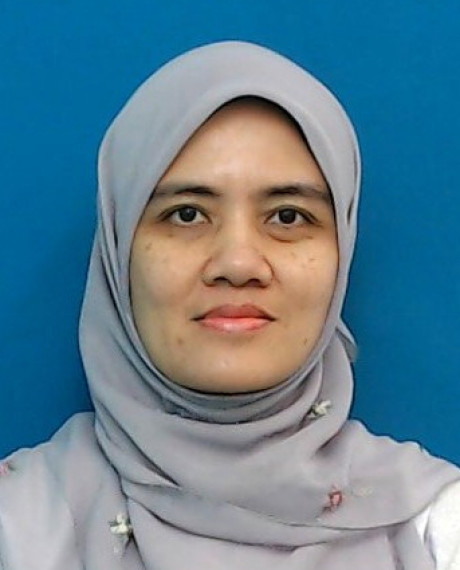 Academic Qualification
Doctor of Philosophy (Postcolonial Literature in English Language) - Doctor of Philosophy, Universiti Kebangsaan Malaysia (UKM)
Master of Arts (English Literature) - Masters Degree, University of Sussex
Bachelor of Human Sciences (English Language and Literature) (Honours) - Bachelor Degree, International Islamic University Malaysia
Siti Nuraishah Binti Ahmad (Dr.)
Assistant Professor
IIUM Gombak Campus
KULLIYYAH OF ISLAMIC REVEALED KNOWLEDGE AND HUMAN SCIENCES

Other's position:
Head of Department, Kulliyyah of Islamic Revealed Knowledge and Human Sciences
---
Expert Profile
Siti Nuraishah Ahmad is an Assistant Professor at the Department of English Language and Literature, IIUM. She has published articles in international journals e.g. Kyoto University's Southeast Asian Studies, Journeys: The International Journal of Travel and Travel Writing, and Asiatic. Her publications cover colonial travel writing about Malaya, depictions of Malaya and Malaysia in British fiction, and women's writing. She has presented papers in conferences held in Kuala Lumpur, Honolulu, and Cardiff.
Siti Nuraishah is also a qualified translator and has co-translated two books from Malay into English for the Malaysian Institute of Translation and Books. She is currently working on a translation of Joseph Conrad's short story, "Karain", into Malay.
Area of Specialisation
Humanities ~ Humanities ~ Arts and Culture ~ Post and Colonial and Global Culture Studies - Doctor of Philosophy (Postcolonial Literature in English Language)
Professional Membership
2009 - 2019: Member of Profesional Body / Association: (Life Member), Malaysian English Language Teaching Association (MELTA)
2018 - 2019: Member of Profesional Body / Association: (Member), Association for Asian Studies
Teaching Responsibilities
| | |
| --- | --- |
| ENGLISH LITERATURE I | 2007/2008 |
| ENGLISH LITERATURE III | 2005/2006 2006/2007 |
| ENGLISH LITERATURE IN THE 20TH CENTURY | 2021/2022 |
| FINAL YEAR PROJECT I | 2020/2021 |
| FINAL YEAR PROJECT II | 2020/2021 |
| ISLAMIC LITERATURE | 2006/2007 |
| ISSUES IN WORLD LITERATURE | 2020/2021 |
| LANGUAGE FOR OCCUPATIONAL PURPOSES | 2008/2009 2004/2005 |
| LITERARY GENRES I: DRAMA AND POETRY | 2017/2018 |
| LITERARY GENRES II : INTRODUCTION TO DRAMA | 2012/2013 2006/2007 2004/2005 2017/2018 2005/2006 2007/2008 |
| LITERARY GENRES II: THE NOVEL & THE SHORT STORY | 2019/2020 |
| LITERARY GENRES III:THE NOVEL & SHORT STORY | 2008/2009 2016/2017 2014/2015 2015/2016 2012/2013 2013/2014 2004/2005 |
| MALAYSIAN AND SINGAPOREAN LITERATURE IN ENGLISH | 2020/2021 2019/2020 2018/2019 |
| SHAKESPEARE IN HIS AGE AND IN MODERN CONTEXT | 2018/2019 2014/2015 2015/2016 2013/2014 2017/2018 |
| SOUTH ASIAN LITERATURE IN ENGLISH | 2013/2014 2016/2017 2015/2016 2017/2018 2014/2015 |
| TOPICS IN ISLAMIC LITERATURE | 2008/2009 |
| WOMEN IN ASIAN LITERATURE | 2013/2014 2015/2016 2012/2013 2021/2022 2016/2017 2017/2018 2018/2019 2014/2015 |
| WORLD LITERATURE 2: WOMEN?S WRITING AROUND THE WORLD | 2018/2019 |
| WORLD LITERATURE IN ENGLISH | 2007/2008 |
Research Projects
Completed
| | |
| --- | --- |
| 2016 - 2018 | Muslim Women Visionaries: Gender, Ethnicity and Nationalism in the Works of Rokeya Sakhawat Hossain and Adibah Amin |
| 2016 - 2019 | A Study on Postcolonial Malaysian Women's Life-Writing: Spatiality, Identity, and Nation |
| 2014 - 2015 | A Preliminary Survey on Employees' Expectation of IIUM Bachelor of Human Sciences (English Language & Literature) / BENL Graduates |
On-Going
| | |
| --- | --- |
| 2020 - Present | Socio-Economic Report Covid-19: Social Cohesion and Community Resilience (Citizenship/nationality) |
Publications
Article
| | |
| --- | --- |
| 2020 | Journey to the West: Malay(si)an women's narratives of travels in England, 1934-58. Asiatic IIUM Journal of English Language and Literature, 14 (2) pp. 24-42 |
| 2020 | Journey to the West: Malay(si)an Women's Narratives of Travels in England, 1934-58. Asiatic: IIUM Journal of English Language and Literature, 14 (2) pp. 8-23 |
| 2019 | Book Review: Sovereign women in a Muslim kingdom: the Sultanahs of Aceh, 1641-1699 by Sher Banu A.L. Khan. reprint. Singapore: NUS Press, 2018, 336 pp. ISBN 978-981-4722-20-9. Srikandi: Journal of Women and Leadership, 1 (1) pp. 169-172 |
| 2019 | Identities in exile: re-membering identities, re-membering the nation in Laksmi Pamuntjak's amba. Kritika Kultura, 33/34 () pp. 68-87 |
| 2019 | In search of 'home' in the transnational imaginary: food, roots, and routes in memoirs by Asian Australian women writers. The Wenshan Review of Literature and Culture, 12 (2) pp. 103-127 |
| 2019 | In search of home in the transnational imaginary: food, roots, and routes in memoirs by Asian Australian women writers. The Wenshan Review of Literature and Culture, 12 (2) pp. 103-127 |
| 2017 | Book Review: Exile in Colonial Asia: kings, convicts, commemoration (ed. Ronit Ricci). ASIATIC: IIUM Journal of English Language and Literature, 11 (2) pp. 141-143 |
| 2017 | Book review: Islam translated: literature, conversion, and the Arabic cosmopolis of South and Southeast Asia by Ronit Ricci. Kajian Malaysia, 35 (2) pp. 131-133 |
| 2014 | Malaysia as the Archetypal Garden in the British Creative Imagination. Southeast Asian Studies, () pp. |
| 2014 | Mohamed Latiff Mohamed, Confrontation, translated by Shafiq Selamat. Asiatic, 8 (1) pp. 268-270 |
| 2014 | The world is my bookshop: an interview with Muhammad Haji Salleh. Asiatic, 8 (2) pp. 195-205 |
| 2012 | Movement and belonging: lines, places and spaces of travel / Carol E. Leon, New York: Peter Lang, 2009. 255 pp. ISBN 9780820472546. Asiatic, 6 (1) pp. 178-180 |
| 2011 | Rehabilitating Eden: archetypal images of Malaya in travel writing. Journeys, 12 (1) pp. 22-46 |
Conference or Workshop Item
Book Section