Staff Directory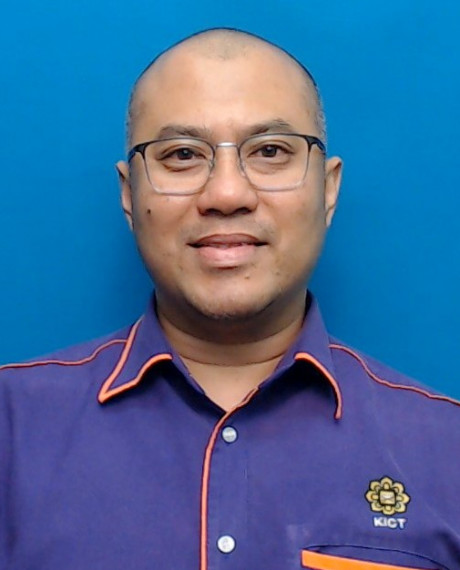 Academic Qualification
Doctor of Philosophy (Computer Science) - Doctor of Philosophy, International Islamic University Malaysia
Master of Science (Intelligent System) - Masters Degree, Universiti Utara Malaysia (UUM)
Bachelor of Science in Computer Engineering - Bachelor Degree, University of the Pacific
Hamwira Sakti Bin Yaacob (Ts. Dr.)
Assistant Professor
IIUM Gombak Campus
KULLIYYAH OF INFORMATION AND COMMUNICATION TECHNOLOGY
---
Expert Profile
Hamwira Yaacob obtained his Bachelor of Science in Computer Engineering from the University of the Pacific, California, USA in 1999 and Master of Science (Intelligent Systems) from University Utara Malaysia in which he was awarded him a Vice Chancellor's Gold Medal Award. Recently, a doctoral degree was conferred on him by the IIUM for his thesis "A Novel Emotion Profiling based on CMAC-Based Computational Models of Affects".
He started his career as a programmer at PERNEC Multimedia R&D Sdn Bhd before joining the IIUM as an Assistant Lecturer in 2004. At IIUM, he has taught Java Programming, Object-Oriented Programming and Discrete Mathematics and has been the industrial attachment Coordinator.
His current research interests include machine learning, neurocomputing, affective computing, big data analytics in which a number of conference papers, journal articles and book chapters have been authored and several research grants have secured.
Area of Specialisation
ICT ~ Information, Computer And Communications Technology (ICT) ~ Artificial Intelligence ~ Machine Learning - Neuro-Computing; EEG
ICT ~ Information, Computer And Communications Technology (ICT) ~ Artificial Intelligence ~ Soft Computing - Ongoing research involves supervised machine learning tasks.
ICT ~ Information, Computer And Communications Technology (ICT) ~ Artificial Intelligence ~ Neural, Evolutionary and Fuzzy Computation - Ongoing research on neural inspired computation models (ie: ANN, CMAC..)
Teaching Responsibilities
| | |
| --- | --- |
| DATA STRUCTURE & ALGORITHM | 2015/2016 |
| DATA STRUCTURES AND ALGORITHMS I | 2022/2023 2018/2019 2017/2018 2016/2017 |
| DISCRETE MATHEMATICS | 2015/2016 2014/2015 |
| FINAL YEAR PROJECT | 2018/2019 2017/2018 |
| FINAL YEAR PROJECT I | 2021/2022 2020/2021 2019/2020 2018/2019 2017/2018 |
| FINAL YEAR PROJECT II | 2022/2023 2021/2022 2020/2021 2019/2020 2018/2019 |
| INDUSTRIAL ATTACHMENT | 2017/2018 2016/2017 2015/2016 2014/2015 2006/2007 |
| INTRODUCTION TO AFFECTIVE COMPUTING | 2018/2019 |
| JAVA PROGRAMMING | 2008/2009 2007/2008 2006/2007 |
| MATHEMATICS FOR COMPUTING | 2006/2007 |
| MATHEMATICS FOR COMPUTING I | 2022/2023 2021/2022 2020/2021 2019/2020 2018/2019 2016/2017 2015/2016 |
| PRACTICAL TRAINING | 2007/2008 |
Research Projects
Completed
| | |
| --- | --- |
| 2017 - 2020 | Development of Malay Online Virtual Integrated Corpus (MOVIC) for Sentiment Analysis using Web-scraping |
| 2016 - 2020 | Identifying and Profiling children with Learning disabilities using Algorithmic Computational Neuro-Physiological (CNP) Model |
| 2014 - 2020 | Brain Inspired Computational Modelling of Tugboat Master based on User Experience and Situation Awareness |
| 2014 - 2018 | Neuro-Navigational Computational Model of Affect for Profiling Maritime Pilot |
| 2013 - 2016 | Visualization of Emotional Dynamic on Brain Topology using Neural Inspired Computational Model |
| 2013 - 2016 | A Swarm Cognition Inspired Model for the Unsupervised Learning of Morphology |
| 2007 - 2009 | IIUM IT Graduates Employment Status, Perception of Undergraduate Academic Programmes & Technical Skill Requirements for IT Graduates |
On-Going
| | |
| --- | --- |
| 2021 - Present | A Framework for Personalized Mental Fatigue Intervention through Brain Computer Interface (BCI) |
| 2021 - Present | Flagship proposal on Sustainable Social Bank (SSB) |
| 2020 - Present | Extraction of Real-time Features for Mental Fatigue Detection During Virtual Learning Activities through Brain Computer Interface (BCI) |
| 2020 - Present | R.E.A.D. Program: Training Teachers to Empower Youth |
| 2019 - Present | Analysis of Video Game Design Styles on Learning Aptitude Using EEG |
| 2016 - Present | Development of an Evolving Neuro-Cognitive Computational Model Based on Event-Related Potentials for Healthy Lifestyle Profiling |
| 2014 - Present | Multimedia Intervention Model for Children with ADHD using Neurofeedback Therapy |
Publications
Article
| | |
| --- | --- |
| 2021 | A systematic literature review on emotional text for Malay corpus. International Journal on Perceptive and Cognitive Computing, 7 (1) pp. 132-136 |
| 2021 | Comparison between Butterworth Bandpass and Stationary Wavelet Transform Filter for electroencephalography signal. IOP Conference Series: Materials Science and Engineering, 1077 (1) pp. |
| 2021 | Development of Unified Neuro-Affective Classification Tool (UNACT). IOP Conference Series: Materials Science and Engineering, 1077 (1) pp. |
| 2021 | EEG neurofeedback training among adult with attention deficit: a review article. IOP Conference Series: Materials Science and Engineering, 1077 (1) pp. 1-11 |
| 2021 | Traces of the brain's learning potential present within "uneducational" video games. IOP Conf. Series: Materials Science and Engineering, 1077 (1) pp. |
| 2019 | EEG based biometric identification using correlation and MLPNN models. International Journal of Online and Biomedical Engineering, 15 (10) pp. 77-90 |
| 2019 | Emotion recognition using electroencephalogram signal. Indonesian Journal of Electrical Engineering and Computer Science, 15 (2) pp. 786-793 |
| 2019 | Emotional profiling through supervised machine learning of interrupted EEG interpolation. International Journal of Advanced Computer Research, 9 (43) pp. 242-251 |
| 2017 | Affective state classification through CMAC-based model of affects (CCMA) using SVM. Advanced Science Letters, 23 (11) pp. 11369-11373 |
| 2017 | Investment decisions based on EEG emotion recognition. Advanced Science Letters, 23 (11) pp. 11345-11349 |
| 2017 | Perceiving stress on affective state based on features from EEG. International Journal on Perceptive and Cognitive Computing (IJPCC), 3 (2) pp. 7-14 |
| 2016 | Evaluation of feature extraction and classification techniques for EEG-based subject identification. Jurnal Teknologi, 78 (9) pp. 41-48 |
| 2015 | CMAC-Based Computational Model of Affects (CCMA) from self-organizing feature mapping weights for classification of emotion using EEG signals. International Journal of Computers and Their Applications, 22 (1) pp. 31-42 |
| 2015 | Computational modeling of mood from sequence of emotions. Advanced Science Letters, 21 (10) pp. 2997-3001 |
| 2015 | Emotion and mood recognition in response to video . Journal of Mobile Multimedia, 11 (3&4) pp. 296-312 |
| 2015 | Recognition of emotions in video clips: the self-assessment manikin validation . Telkomnika (Telecommunication Computing Electronics and Control), 13 (4) pp. 1343-1351 |
Conference or Workshop Item
| | |
| --- | --- |
| 2019 | Design and development of facial recognitionbased library management system (FRLMS). In: "4th International Conference on Computing, Engineering, and Design, ICCED 2018", |
| 2018 | Malay Online Virtual Integrated Corpus (MOVIC): a systematic review. In: 2018 International Conference on Information and Communication Technology for the Muslim World (ICT4M), |
| 2018 | Malay online virtual integrated corpus (MOVIC): A systematic review. In: 2018 International Conference on Information and Communication Technology for the Muslim World (ICT4M), |
| 2018 | Sentiment analysis for Malay language: systematic literature review. In: 2018 International Conference on Information and Communication Technology for the Muslim World (ICT4M), |
| 2016 | EEG-based emotion recognition in the investment activities. In: 2016 6th International Conference on Information and Communication Technology for The Muslim World (ICT4M 2016), |
| 2016 | Revolving traditional EEG device into mobile architecture. In: 2016 6th International Conference on Information and Communication Technology for The Muslim World (ICT4M 2016), |
| 2016 | Statistical approach for a complex emotion recognition based on EEG features. In: 2015 4th International Conference on Advanced Computer Science Applications and Technologies (ACSAT 2015), |
| 2015 | Clustering natural language morphemes from EEG signals using the Artificial Bee Colony algorithm. In: Fourth International Neural Network Society Symposia Series (INNS-CIIS 2014), |
| 2015 | Computational model of affective states profiling using commercial 14-channel wireless EEG. In: 28th International Conference on Computer Applications in Industry and Engineering, |
| 2014 | A cognitive-affective measurement model based on the 12-point affective circumplex. In: 2014 3rd International Conference on Advanced Computer Science Applications and Technologies, |
| 2014 | CMAC-based computational model of affects (CCMA) for profiling emotion from EEG signals. In: 5th International Conference on Information and Communication Technology for The Muslim World (ICT4M 2014), |
| 2014 | Subject-dependent and subject-independent emotional classification of CMAC-based features using EFuNN. In: 27th International Conference on Computer Applications in Industry and Engineering, |
| 2014 | Systematic review of computational modeling of mood and emotion. In: 2014 The 5th International Conference on Information & Communication Technology for the Muslim World (ICT4M 2014), |
| 2013 | Brain Topographic Mapping of Emotions using Computational Cerebellum. In: The Tenth International Conference on Electronics Computer and Computation (ICECCO 2013), |
| 2013 | Classification of EEG signals using MLP based on categorical and dimensional perceptions of emotions.. In: The 4th International Conference on Information & Communication Technology for the Muslim World (ICT4M), |
| 2013 | Extracting features using computational cerebellar model for emotion classification. In: 2013 International Conference on Advanced Computer Science Applications and Technologies (ACSAT), |
| 2012 | EEG affect analysis based on KDE and MFCC. In: The ISCA 2nd International Conference on Advanced Computing and Communication (ISCA-ACC-2012), |
| 2012 | EEG source imaging analysis of affect using sLoreta. In: The ISCA 2nd International Conference on Advanced Computing and Communication (ACC-2012), |
| 2012 | Two dimensional affective state distribution of the brain under emotion stimuli. In: 34th Annual International Conference of the IEEE EMBS, |
Book
Book Section