Staff Directory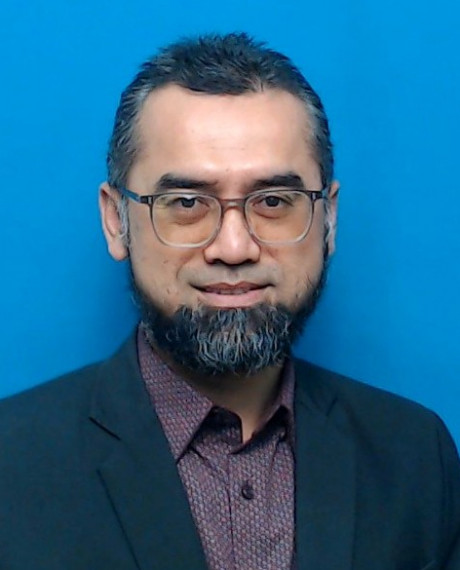 Academic Qualification
Doctor of Philosophy (Education) - Doctor of Philosophy, International Islamic University Malaysia
Master of Islamic Studies (Al-Quran and Al-Sunnah Studies) - Masters Degree, Universiti Kebangsaan Malaysia (UKM)
Bachelor of Holy Quran and Islamic Studies - Bachelor Degree, Islamic University of Medina
Diploma Tahfiz Al-Quran Wal-Qiraat JAKIM - Diploma, Darul Quran (JAKIM)
Diploma Tahfiz Jakim - Diploma, Darul Quran (JAKIM)
Nik Md. Saiful Azizi Bin Nik Abdullah (Dr.)
Assistant Professor
IIUM Gombak Campus
KULLIYYAH OF EDUCATION

Other's position:
Deputy Dean, International Institute of Islamic Thought and Civilisation
---
nikazizi@iium.edu.my
5973
Expert Profile

Dr. Nik Md. Saiful Azizi secured his first degree from Islamic University Madinah, Saudi Arabia and then completed his Master from Universiti Kebangsaan Malaysia and Ph.D degree from IIUM. He holds position as Student Development & Community Engagement ISTAC and his working experience more than 17 years with a major specialty in Islamic Education.

Area of Specialisation
Humanities ~ Humanities ~ Religious Studies ~ Quranic and Hadith Studies - Islamic education
Professional Membership
2010 - 2021: Member of Profesional Body / Association: (MEMBER), DEWAN HUFFAZ KEBANGSAAN
2016 - 2040: Member of Profesional Body / Association: (MEMBER), PERSATUAN ULAMA' MALAYSIA
2017 - 2021: Member of Profesional Body / Association: (COMMITTEE), WASIM
2020: Member of Profesional Body / Association: (MEMBER), PERTUBUHAN INTLEKTUAL NEGARA (PINTAR)
Teaching Responsibilities
| | |
| --- | --- |
| 'AQIDAH ISLAMIYYAH | 2014/2015 2017/2018 |
| ADVANCED PSYCHOLOGICAL FOUNDATIONS OF ISL EDU | 2019/2020 |
| ADVANCED TILAWAH AL-QURAN I | 2007/2008 2006/2007 |
| ADVANCED TILAWAH AL-QURAN II | 2008/2009 |
| ARABIC AND JAWI SCRIPT | 2017/2018 2018/2019 2016/2017 2019/2020 2015/2016 |
| ETHICS IN EDUCATION | 2017/2018 2014/2015 2015/2016 |
| FAMILY MANAGEMENT & PARENTING | 2018/2019 2020/2021 2019/2020 2017/2018 |
| FIQH AL-IBADAT | 2015/2016 2017/2018 2016/2017 |
| FIQH AL-SIRAH | 2014/2015 2017/2018 2015/2016 2018/2019 2016/2017 2019/2020 |
| FIQH AL-USRAH AND AL-MU'AMALAT | 2016/2017 2017/2018 2014/2015 2020/2021 2019/2020 2015/2016 2018/2019 2013/2014 |
| FIQH IBADAT | 2014/2015 2015/2016 2020/2021 2017/2018 |
| INTRO. TO SCIENCES OF THE QURAN AND HADITH | 2017/2018 2016/2017 |
| INTRODUCTION TO FIQH AL-JINAYAT | 2015/2016 2016/2017 2019/2020 |
| INTRODUCTION TO SCIENCES OF QUR'AN AND HADITH | 2016/2017 2014/2015 2019/2020 |
| ISSUES IN METHODS OF TEACHING FOR ISLAMIC EDU | 2019/2020 |
| METHODS OF TEACHING ISLAMIC EDUCATION I | 2020/2021 2021/2022 |
| READING TEXT ON ISLAMIC EDUCATION | 2018/2019 |
| READING TEXTS ON ISLAMIC EDUCATION | 2018/2019 |
| REFLECTION OF PROPHETIC HISTORY | 2013/2014 |
| REFLECTIONS ON PROPHETIC HISTORY | 2009/2010 |
| SPECIAL TAHFIZ CLASS 2 | 2009/2010 2008/2009 2006/2007 2007/2008 |
| TAFSIR AL-AYAT AND AL-HADITH AL-AHKAM | 2009/2010 2015/2016 2019/2020 2014/2015 2020/2021 2016/2017 |
| TAHFIZ AL-QURAN | 2007/2008 2008/2009 |
| TAHFIZ CLASS 1 | 2013/2014 2014/2015 2006/2007 2011/2012 2018/2019 |
| TAHFIZ CLASS 2 | 2015/2016 2014/2015 2006/2007 2019/2020 |
| TAHFIZ CLASS 3 | 2015/2016 2016/2017 2007/2008 2014/2015 2013/2014 |
| TAHFIZ CLASS 4 | 2017/2018 2016/2017 2015/2016 2014/2015 2007/2008 |
| TAHFIZ CLASS 5 | 2016/2017 2017/2018 2015/2016 2014/2015 2008/2009 |
| TAHFIZ CLASS 6 | 2015/2016 2016/2017 2018/2019 2008/2009 |
| TAJWID AND HIFZ | 2015/2016 2017/2018 2018/2019 2016/2017 2013/2014 2009/2010 2019/2020 2014/2015 |
| TILAWAH AL-QURAN I | 2006/2007 2004/2005 2007/2008 2005/2006 2008/2009 |
| TILAWAH AL-QURAN II | 2006/2007 2004/2005 2007/2008 2005/2006 2008/2009 |
| USUL AL-FIQH AND TARIKH AL-TASHRI' | 2021/2022 2020/2021 |
Research Projects
Completed
| | |
| --- | --- |
| 2019 - 2020 | ISU PERKAHWINAN WARGA ROHINGYA DI MALAYSIA |
| 2015 - 2019 | Factors Underlying Students Motivation in Tahfiz Class in Selected Private Islamic Secondary Schools in Selangor |
| 2015 - 2019 | Investigating the Current Curriculum in Teaching Arabic Language in Tahfiz Instituitions under JAKIM |
| 2015 - 2020 | Depiction of ?non-Muslims? in Secondary Islamic Studies Syllabus and its Impact on Muslim Students? Level of Religious Tolerance: International Islamic School Malaysia as a Case Study |
| 2015 - 2020 | Depiction of ?non-Muslims? in Secondary Islamic Studies Syllabus and its Impact on Muslim Students? Level of Religious Tolerance: International Islamic School Malaysia as a Case Study |
On-Going
| | |
| --- | --- |
| 2021 - Present | A framework for Qur'anic Based Lifelong Learning Module for the Elderly |
| 2021 - Present | Development of module for Autism Rehabilitation Centre in Perlis |
| 2019 - Present | HUMANIZING EDUCATION: A FRAMEWORK FOR MALAYS? STUDENT-CHARACTER BUILDING IN REALIZING THE NATIONAL PHILOSOPHY OF EDUCATION (FPK) |
| 2019 - Present | PROFILING AND DEVELOPING AN ISLAMIC INTEGRATED SCHOOL AND TAHFIZ SCIENCE PERFORMANCE INDEX IN RELATION TO SUSTAINABLE DEVELOPMENT GOALS |
| 2017 - Present | The Encyclopedia of Muslim Scholars of Nusantara Project (Part 2: 19th - 20th Century) |
Award & Recognition
| | | |
| --- | --- | --- |
| 26 Jan, 2016 | Rector's Award for Special Contribution - International Islamic University Malaysia | University |
Publications
Article
| | |
| --- | --- |
| 2021 | Addressing the poor akhlak of children from the perspective of Islamic education teachers: a case study. Journal of Contemporary Issues in Business and Government, 27 (6) pp. 360-376 |
| 2021 | Exploring student motivation in quranic memorization in selected Islamic secondary schools (a case study). Al-Hayat: Journal of Islamic Education (AJIE), 5 (1) pp. 100-121 |
| 2021 | Exploring the challenges of sustaining Qur'anic memorization: a case study. Journal of Islamic Educational Research, 6 () pp. 1-17 |
| 2021 | Jawi Writing in Al-Quran and Al-Sunnah Subject at Secondary School; Issues and Challenges. Journal of Islamic and Humanities Studies, 1 (1) pp. 123-141 |
| 2021 | Jawi writing in Al-Quran and Al-Sunnah subject at secondary school; issues and challenges. BALAGH: Journal of Islamic and Humanities Studies, 1 (1) pp. 123-141 |
| 2021 | Keperluan Penilaian Pelaksanaan Mata Pelajaran Maharat Al-Quran di Sekolah Menengah Tahfiz Model Ulul Albab. Jurnal al-Turath, 6 (1) pp. |
| 2021 | Tahfiz students' experiences in memorizing the Qur'an: unveiling their motivating factors and challenges. IIUM Journal of Educational Studies (IJES), 9 (2) pp. 42-63 |
| 2021 | The needs of huffaz quran in learning arabic language and the relationship between memorizing quran and understanding Arabic language. Al-Qanatir International Journal of Islamic Studies, 23 (1) pp. 1-13 |
| 2021 | ممارسات تثبيت حفظ القرآن الكريم لدى الحفاظ في المرحلة الجامعية ماليزيا Mumarasat tathbit hifz al-Qur'an al-karim lada al-hafaz fi al-marhalat al-jami'iyah Maliziya. Jurnal al-Turath, 6 (1) pp. 91-98 |
| 2021 | ممارسات تثبيت حفظ القرآن الكريم لدى الحفاظ في المرحلة الجامعية ماليزيا وعلاقتها بفهم الآيات القرآنية واستيعاب اللغة العربية. أبحاث محكَّمة "النتاج العلمي في تعليم اللغة العربية لغير الناطقين بها, 1 () pp. 284-296 |
| 2020 | Sejarah Dan Kaedah Pelaksanaan Tahfiz Model Ulul Albab, Kementerian Pendidikan Malaysia: Kajian Di Sekolah Menengah Kebangsaan Agama Kuala Lumpur.. Jurnal Darul Quran, 24 () pp. 145-169 |
| 2020 | The Perceptions of Teachers and Students Towards the Ulul Albab Curriculum: A Case Study of SMAKL. AL-BURHĀN, 4 (2) pp. 26-52 |
| 2019 | Challenges and difficulties in memorizing the Qurʾan in the tahfiz classes among secondary learners. al-Burhan :Journal of Qurʾān and Sunnah Studies, 3 (2) pp. 1-14 |
| 2019 | Metodologi Haji Abdullah al-qari dalam penulisan buku bidang hadis. Jurnal al-Turath, 4 (2) pp. 37-49 |
| 2019 | Penulisan jawi dalam mata pelajaran pendidikan al-quran dan al-sunnah di peringkat menengah : isu dan cabaran. Journal KIAS, 14 () pp. 1-20 |
| 2018 | Prospects and potencies of tahfiz al-Quran education through the modernization on Malaysia. Jurnal Darul Quran, 22 () pp. 149-170 |
| 2017 | The concept of murabbi in Muslim education with reference to selected teaching methods of the prophet Muhammad (ٍٍٍِSAW). Al-Shajarah, Special Issue: Education () pp. 331-362 |
| 2017 | األغراض البالغية للتشبيه يف القرآن الكرمي واإلفادة منها يف تدريس البالغة للناطقني بغري العربية. Eloquence and analogies and how it can be applied to teach Arabic to non-native speakers. جملة اللسان الدولية, 1 (2) pp. 165-182 |
| 2017 | الأغراض البلاغية للتشبيه في القرآن الكريم والإفادة منها في تدريس البلاغة للناطقين بغير العربية. [Eloquence and analogies and how it can be applied to teach Arabic to non-native speakers]. Al-Lisan International Journal for Linguistic & Literary Study, 1 (2) pp. 166-183 |
| 2017 | تحدّيات حفظ القرآن الكريم لدى الطلاب في دار في القرآن الكريم التابعة لإدارة الشؤون ماليزيا: دراسة حالة الإسلامية الماليزية (JAKIM). Jurnal Darul Quran, 21 () pp. 211-234 |
| 2016 | Motivational orientations and learning strategies among undergraduate students in study circle course. Asian Social Science, 12 (6) pp. 179-187 |
| 2011 | Keunikan Metadologi Hafazan al-Quran Deobandy dari India. AL-BAYAN: Jurnal al-Qur'an dan al-Hadith, (9) pp. |
Conference or Workshop Item
| | |
| --- | --- |
| 2020 | Norma Baharu: Cabaran Pengajaran Digital secara maya pasca COVID 19. In: Seminar Kebangsaan Majlis Dekan Pendidikan Universiti Awam Malaysia 2020, |
| 2020 | Shama'il Muhammadiyah: relationship with non-Muslim (Tasamuh). In: IIUM Library Ibadah Camp 2020, |
| 2020 | Shama'il Muhammadiyah: Relationship with non-Muslim (Tasamuh). In: Library Ibadah Camp 2020, |
| 2020 | ممارسات تثبيت حفظ القرآن الكريم لدى الحفاظ في المرحلة الجامعية ماليزيا وعلاقتها بفهم الآيات القرآنية واستيعاب اللغة العربية Mumarasat tathbit hifz al-Qur'an al-karami lada ahlafaz yafamlirihlat ijmaliyat Maliziya wa 'alaqatiha bi-fahm aalaiyat al-Quraniyat wa isti'ab al-lughat al-'Arabiyah. In: 7th International Conference on Arabic Language and Literature, |
| 2019 | Tuan Hussain Kedah dan sumbangan beliau dalam Pendidika Islam. In: PERSIDANGAN ANTARABANGSA TOKOH ULAMA MELAYU NUSANTARA 2019 (PAnTUMN2019) kali ke-3, |
| 2018 | The implementation of Usrah in the International Islamic University Malaysia and its contributions to holistic student development. In: 6th International Prophetic Heritage Conference (SWAN) 2018, |
| 2017 | Development of students' character through usrah education as lifelong learning: Case study in the International Islamic University Malaysia. In: International Conference on Lifelong Learning for Islamic Education (ICLLIE) 2017, |
| 2017 | Implementation of Wasatiyyah concepts through Islamic studies syllabus at Islamic universities in Malaysia: a case study in International Islamic University Malaysia = تحقيق الوسطية من خلال مناهج الدراسات الإسلامية في الجامعات الإسلامية : دراسة حالة في الجامعة الإسلامية العالمية ماليزيا = Pelaksanaan konsep wasatiyah di universiti-universiti Islam di Malaysia: kajian Kes di Universiti Islam Antarabangsa Malaysia (UIAM). In: Khayr Ummah Conference 2017, |
| 2017 | Isu dalam pengajaran dan pembelajaran hifz al-Quran di Malaysia. In: Kursus Pengajaran dan Pembelajaran Hifz Al-Quran, |
| 2017 | Pengajaran dan pembelajaran hifz Al-Qur'an menggunakan teknologi: Satu analisis. In: Kursus Pembelajaran dan Pengajaran Hifz al-Quran, |
| 2017 | Pengajaran dan pembelajaran hifz al-Quran: sejarah dan perkembangan. In: Kursus Pembelajaran dan Pengajaran Hifz al-Quran, |
| 2017 | Significance of hajj: Total action. In: Office of the Deputy Rector- Internationalisation & Industry and Community Relations (ODRIICR) Ibadah Camp Program, |
| 2017 | Sumbangan Haji Abdullah Al-Qari dalam memartabatkan dakwah dan penulisan al-Sunnah di Malaysia: kajian terhadap karya berkaitan al-Sunnah. In: Persidangan Antarabangsa Tokoh Ulama Melayu Nusantara 2017 (PAnTUMN2017), |
| 2017 | Tafsir Surah Al-Baqarah ayat 177-186. In: ODRIICR Ibadah Camp 2017, |
| 2017 | Tarbiah al-Quran membentuk jati diri guru. In: Seminar Tahfiz Guru-guru Tahfiz MITS dan KAFA Kali Kedua Peringkat Negeri Selangor, |
| 2017 | الدافعية الذاتية وحاجة الفرد لِلاسْتِمرارِيَّة في التعلم. In: International Conference on Lifelong Learning for Islamic Education (ICLLIE) 2017, |
| 2017 | الدافعية الذاتية وحاجة الفرد لِلاسْتِمرارِيَّة في التَّعَلُّم. In: International Conference on Lifelong Learning for Islamic Education (ICLLIE) 2017, |
| 2016 | Significance of hajj: total action. In: Library Ibadah Camp, |
| 2016 | التحدّيات في حفظ القرآن الكريم لدى الشباب في مؤسسة التحفيظ دار القرآن ماليزيا: دراسة حالة. In: International Language and Tourism Conference 2016 (ILTC 2016), |
| 2014 | Wisdom in teaching profession as a best career choice: an introspective analysis. In: Seminar Kebangsaan Kali ke IV: Majlis Dekan Pendidikan IPTA 2013, |
Book
Book Section
| | |
| --- | --- |
| 2018 | CHALLENGES FACING SCHOOL STUDENTS IN QUR'AN MEMORIZATION: A QUALITATIVE STUDY. In: UNISZA, ISBN: , pp. 365-374 |
| 2016 | Pelaksanaan Mata Pelajaran Hifz al-Quran berdasarkan kurikulum Tahfiz model Ulul Albab : kajian di Sekolah Menengah Kebangsaan Agama Kuala Lumpur. In: Darul Quran Jakim, ISBN: 978-983-43708-1-7, pp. 117-129 |
| 2016 | Perceived learning, motivation and learning strategy among study circle (halaqah) students in IIUM. In: Institut Terjemahan & Buku Malaysia Berhad, ISBN: 978-967-460-203-1, pp. 143-173 |
| 2016 | Perceived learning, motivation and learning strategy among study circle (halaqah) students in IIUM. In: Institut Terjemahan & Buku Malaysia Berhad, ISBN: 978-967-460-203-1, pp. 143-173 |