Staff Directory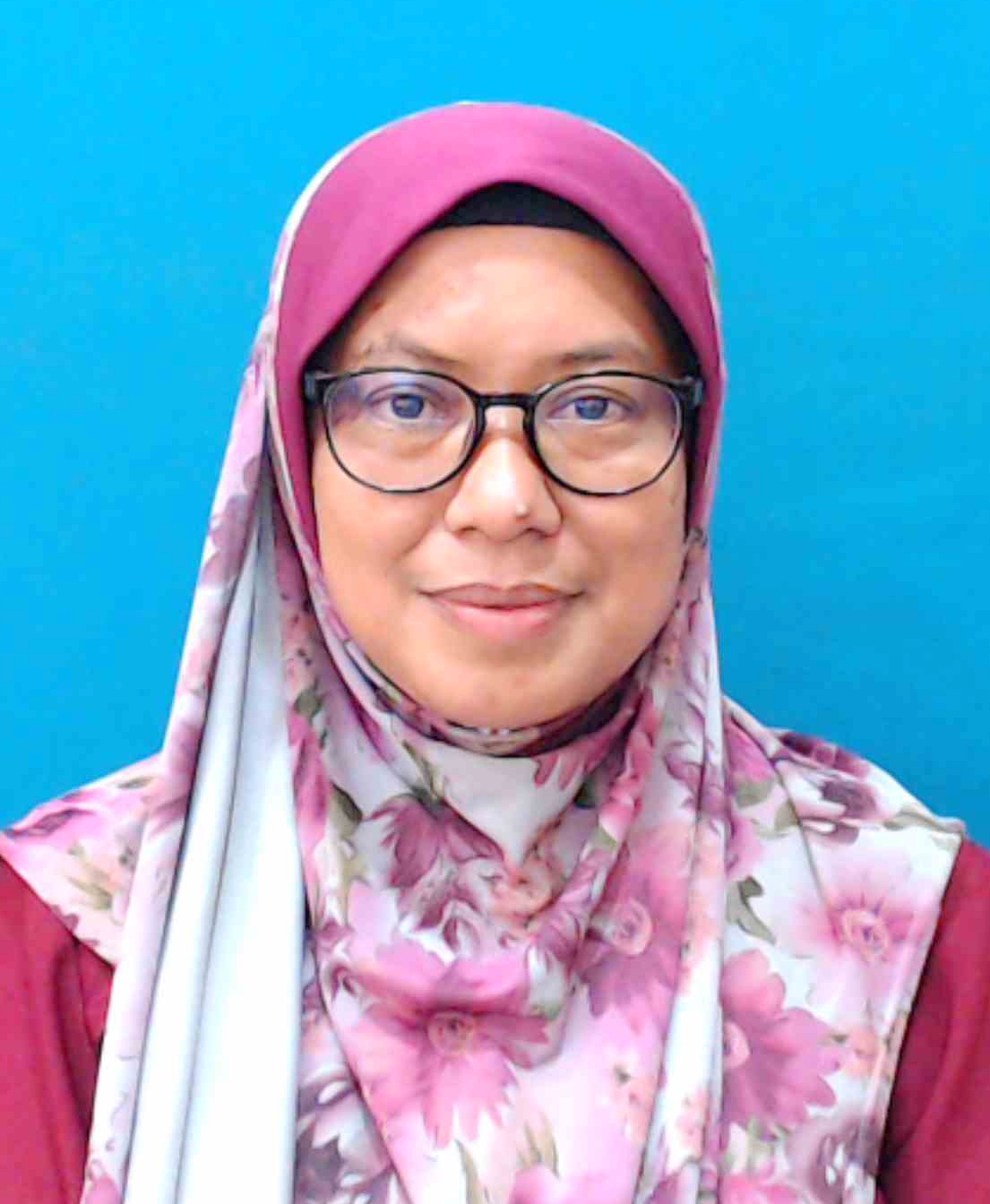 Academic Qualification
PhD in Pharmacy - Doctor of Philosophy, Universiti Teknologi MARA (UiTM)
PhD in Pharmacy - Doctor of Philosophy, UITM
Master of Business Administration - Masters Degree, Universiti Utara Malaysia (UUM)
Bachelor of Science in Science and Practise of Pharmacy - Bachelor Degree, Liverpool John Moores University
Siti Hadijah Binti Shamsudin (Dr.)
Assistant Professor
IIUM Kuantan Campus
KULLIYYAH OF PHARMACY
---
shadijah@iium.edu.my
4801
Expert Profile
Siti Hadijah bt. Shamsudin obtained her Bsc (Pharmacy) from Liverpoool Johnmoores University, United Kingdom in 1993 and worked for retail pharmacies as a pharmacist cum manager for Guardian Pharmacy, George Town Pharmacy and Pharmacare medicine shop for about four years. She later worked at Kuantan Medical Center as a hospital pharmacist cum manager in 1997 then obtained her Master in Business Administration (MBA) in 2003 from University Utara Malaysia.
She started her career as an academician in 2004 and later was awarded a Ph.D in Pharmacy Management from University Technology Mara (UiTM), Shah Alam in 2010 for her study in Good Governance for Medicine.
In 2011, Siti Hadijah was appointed as Head of Department for Regulatory & Registration, IKOP Manufacturing Plant, IIUM Holding and also Head, Department for Pharmacy Practice, Kulliyyah of Pharmacy, IIUM until 2013. Dr. Siti Hadijah was former  Dean for Kulliyyah of Pharmacy, IIUM (2013-2016). Her current position is Assistant Professor at department of Pharmacy Practice and head of regulatory IKOP. 
Area of Specialisation
Medical And Health ~ Medical And Health Sciences ~ Pharmacy ~ Social and Administrative Pharmacy - Community Pharmacy
Medical And Health ~ Medical And Health Sciences ~ Phamaceutical Industry ~ Human Pharmaceutical Products (Including Blood Products, Diagnostic, Therapeutic Agents, Vaccine and Halal Products) - Halal Pharmaceutical Products
Medical And Health ~ Medical And Health Sciences ~ Pharmacy ~ Prescription/Dispensing Errors - Dispensing Practice, Quality Use of Medicine
Medical And Health ~ Medical And Health Sciences ~ Pharmacy ~ Pharmacy Jurisprudence - Pharmacy Ethics and Law, Good Governance in Medicine, National Medicine Policy
Teaching Responsibilities
| | |
| --- | --- |
| ADMINISTRATION & MANAGEMENT IN PHARMACY | 2014/2015 2011/2012 2010/2011 |
| Administration and Management in Pharmacy | 2009/2010 2008/2009 2007/2008 |
| BASIC AND CLINICAL PHARMACOKINETICS | 2022/2023 2021/2022 |
| BODY SYSTEM & THERAPEUTICS I : CARDIOVASCULAR & HAEMATOLOGY | 2021/2022 2020/2021 |
| BODY SYSTEM & THERAPEUTICS II : RESPIRATORY & URINARY SYSTEM | 2020/2021 |
| BODY SYSTEM & THERAPEUTICS III: MSK SYSTEM & SENSORY ORGANS | 2021/2022 |
| BODY SYSTEM & THERAPEUTICS IV: GIT & HEPATOBILIARY SYSTEMS | 2021/2022 |
| BODY SYSTEM & THERAPEUTICS VI : CENTRAL NERVOUS SYSTEM | 2021/2022 |
| Clinical Nutrition | 2012/2013 2010/2011 2009/2010 |
| CLINICAL PHARMACOKINETICS | 2021/2022 2020/2021 |
| Clinical Pharmacy II | 2011/2012 |
| Clinical Toxicology | 2011/2012 |
| COMMUNITY PHARMACY POSTING | 2022/2023 2021/2022 2020/2021 2019/2020 2018/2019 |
| COMMUNITY PHARMACY PRACTICE | 2022/2023 2021/2022 2020/2021 2019/2020 2018/2019 2017/2018 2016/2017 2015/2016 2014/2015 2013/2014 2012/2013 2011/2012 |
| COMMUNITY POSTING | 2021/2022 2020/2021 2019/2020 2017/2018 |
| DRUG ABUSE | 2020/2021 2019/2020 2009/2010 |
| E-COMMERCE | 2022/2023 2021/2022 2020/2021 2019/2020 2018/2019 |
| Ethics and Law Pertaining to Pharmacy | 2014/2015 2012/2013 2011/2012 2010/2011 2009/2010 |
| FAMILY MANAGEMENT | 2022/2023 2021/2022 2020/2021 |
| FAMILY MANAGEMENT AND PARENTING | 2019/2020 2018/2019 |
| FINAL YEAR RESEARCH PROJECT | 2022/2023 |
| FUNDAMENTALS OF PHARMACY PRACTICE | 2022/2023 2021/2022 2020/2021 2019/2020 |
| GOOD REGULAR PRACTICE | 2015/2016 2014/2015 |
| HALAL PHARMACEUTICAL | 2022/2023 2021/2022 2020/2021 |
| HERBAL MEDICINE | 2020/2021 2019/2020 2018/2019 2017/2018 2016/2017 2014/2015 2013/2014 2012/2013 2011/2012 |
| HOSPITAL PHARMACY PRACTICE | 2022/2023 2021/2022 |
| HOSPITAL PHARMACY PRACTICE | 2020/2021 2019/2020 2018/2019 2017/2018 2016/2017 2014/2015 2013/2014 |
| INDUSTRIAL PHARMACY | 2021/2022 2020/2021 2018/2019 |
| INDUSTRIAL PHARMACY AND REGULATIONS | 2010/2011 2009/2010 |
| INDUSTRIAL TRAINING | 2022/2023 |
| INFORMATION TECHNOLOGY IN PHARMACY | 2012/2013 |
| INNOVATIONS IN PHARMACY PRACTICE | 2021/2022 2020/2021 2019/2020 2018/2019 2017/2018 2016/2017 |
| INTRODUCTION TO PHARMACY PRACTICE | 2018/2019 2017/2018 2016/2017 2015/2016 2014/2015 2013/2014 2012/2013 2011/2012 |
| ISLAMIC INPUT IN PHARMACY | 2018/2019 2017/2018 2016/2017 2014/2015 2013/2014 2012/2013 |
| Nutriceuticals & Cosmeticeuticals | 2011/2012 2010/2011 2009/2010 |
| OTC (over the counter) Medication | 2012/2013 2011/2012 2010/2011 2009/2010 |
| Pharmaceutical Care | 2010/2011 |
| PHARMACEUTICAL QUALITY MANAGEMENT | 2022/2023 |
| PHARMACOECONOMICS | 2021/2022 2020/2021 2019/2020 2018/2019 2017/2018 2016/2017 |
| PHARMACOEPIDEMIOLOGY AND PHARMACOECONOMICS | 2022/2023 2021/2022 2020/2021 2011/2012 |
| PHARMACOGNOSY | 2022/2023 |
| PHARMACOTHERAPEUTICS ATTACHMENT | 2021/2022 2020/2021 2019/2020 |
| Pharmacotherapeutics II | 2012/2013 |
| PHARMACY ETHICS AND LAW | 2022/2023 2021/2022 2020/2021 2019/2020 2018/2019 2017/2018 2016/2017 2015/2016 2014/2015 2013/2014 2012/2013 |
| PHARMACY MANAGEMENT AND ADMINISTRATION | 2020/2021 2019/2020 2018/2019 2017/2018 2016/2017 2015/2016 2014/2015 2013/2014 |
| PHARMACY MANAGEMENT AND ENTREPRENEURSHIP | 2022/2023 2021/2022 |
| Pharmacy Practice II | 2010/2011 |
| Pharmacy Practice III | 2010/2011 |
| Pharmacy Practice IV | 2012/2013 2010/2011 |
| PROBLEM BASED LEARNING I | 2011/2012 |
| Problem-based Learning II | 2011/2012 |
| PT I : CVS, HAEMATOLOGY & RESPIRATORY DISORDERS | 2020/2021 2019/2020 2018/2019 2017/2018 2012/2013 |
| PT II : GIT, HEPATOBILIARY, GUT & MSK | 2020/2021 2019/2020 2017/2018 2016/2017 2013/2014 2012/2013 |
| PT III : ENDOCRINE, CNS, PSYCHIATRY & OTHER DISEASES | 2020/2021 2018/2019 |
| PT IV : INTERN MED, PSYCH, PAED, SURGERY AND O&G DISORDERS | 2017/2018 2016/2017 |
| RESEARCH IN PHARMACY (BIOSTATISTICS & PHARMACOEPIDEMIOLOGY) | 2017/2018 |
| RESEARCH IN PHARMACY (BIOSTATISTIC & PHARMACOEPIDEMIOLOGY) | 2020/2021 2018/2019 |
| RESEARCH PROJECT 1 | 2018/2019 2017/2018 |
| RESEARCH PROJECT-LITERATURE SEARCH | 2020/2021 2019/2020 |
| SUPPLY CHAIN MANAGEMENT | 2014/2015 |
| VETERINARY PHARMACY | 2013/2014 |
Research Projects
Completed
| | |
| --- | --- |
| 2019 - 2021 | Extraction and identification of bioactive compounds from Cassia angustifolia using conventional and non-conventional methods. |
| 2016 - 2020 | Prevalence of Adverse Events and Role of Paracetamol following infants immunization |
| 2016 - 2020 | Medication Error among Critical Care Nurses and Pharmacist: Mixed Method Study in Three Tertiary Hospitals in the East Coast Malaysia |
| 2014 - 2018 | Longitudinal Study of Stress Level Measurement Among Pharmacy Students in International Islamic University Malaysia |
| 2013 - 2020 | Qualitative and Quantitative Analysis of Generic Medicines? Perceptions among Future Pharmacy Practitioners: A Nationwide Study |
| 2013 - 2016 | Identification of Critical Elements for the Manufacturing of Halal Pharmaceuticals |
| 2012 - 2014 | Supercritical Fluid Extraction ( SFE )of Bioactive Compounds from Pereskia Bleo using Various Technique |
On-Going
| | |
| --- | --- |
| 2022 - Present | Characterization on the Properties of Mitragyna Speciosa, Deletion of Toxicity Genes, Development of Kratom-Based Medicinal Products and It's Legal Implication |
| 2018 - Present | 1. Halal gelatin-based pharmaceutical products in Malaysia; product utilization review and effect of master list as an intervention for community pharmacy. 2. Alcohol and pharmaceutical intoxicants usage in pharmaceutical products in Malaysia. |
| 2011 - Present | Halal Pharmaceutical Alternatives for Muslims |
| 2011 - Present | Evaluation of Public and Healthcare Professionals Awareness on Halal Pharmaceutical Products NEW TITLE (24/6/14) - Evaluating Costs, Perception, Satisfaction, Safety and Effectiveness Towards e-cigarettes |
| 2011 - Present | To Study the Importance of Packaging in Purchasing Decisions |
| 2011 - Present | To Evaluate the Usage, Price and Marketing Strategy of Mefenamic Acid, Glicazide, Amlodipine, Cetirizine and Simvastatin in Malaysia |
Award & Recognition
| | | |
| --- | --- | --- |
| 23 Jul, 2018 | IIUM Quality Research Award - International Islamic University Malaysia | University |
Publications
Article
| | |
| --- | --- |
| 2022 | Impact of a 'Research in pharmacy' course on students' self-reported competence and confidence to conduct research: findings from a Malaysian university. Pharmacy Education, 22 (1) pp. 458 -465 |
| 2020 | Cross sectional retrospective study on paracetamol post infants' vaccination. Journal of Pharmacy and Bioallied Science, 12 (Supplement 2) pp. S696-S702 |
| 2018 | The relevancy of paracetamol and breastfeeding post infant vaccination: A systematic review. Pharmacy, 6 (2) pp. 1-16 |
| 2018 | The use of antidepressants for physical and psychological symptoms in cancer. Current Drug Targets, 19 (12) pp. 1431-1455 |
| 2017 | α-Glucosidase inhibitory activity of selected Malaysian plants. Journal of Pharmacy And Bioallied Sciences, 9 (3 (June-September 2017)) pp. 164-170 |
| 2017 | Causes of stress and management approaches among undergraduate pharmacy students: Findings from a Malaysian public university. Archives of Pharmacy Practice, 00 (00) pp. 1-7 |
| 2017 | Malaysian pharmacy students' intention to provide smoking cessation counseling. Currents in Pharmacy Teaching and Learning, 9 (5) pp. 918-924 |
| 2015 | Bioactive compounds and advanced processing technology: Phaleria macrocarpa (sheff.) Boerl, a review. Journal of Chemical Technology and Biotechnology, 90 (6) pp. 981-991 |
| 2015 | Bioactive compounds and advanced processing technology: Phaleria macrocarpa (sheff.) Boerl, a review. Journal of Chemical Technology and Biotechnology, () pp. 981-991 |
| 2015 | Ethanol modified supercritical carbon dioxide extraction of antioxidant rich extract from Pereskia bleo. Journal of Industrial and Engineering Chemistry, 21 () pp. 1314-1322 |
| 2015 | Malaysian community pharmacists' perceptions of and barriers to the first year of mandatory continuous education: a nationwide exploratory study. Currents in Pharmacy Teaching and Learning, 7 (6) pp. 826-835 |
| 2015 | Phosphoric acid activated carbon as borderline and soft metal ions scavenger. Green Chemistry Letters and Reviews, 8 (2) pp. 9-20 |
| 2015 | Phytosterols and their extraction from various plant matrices using supercritical carbon dioxide: a review. Journal of the Science of Food and Agriculture, 95 (7) pp. 1385-1394 |
| 2014 | Orthogonal partial least squares model for rapid prediction of antioxidant activity of Pereskia bleo by fourier transform infrared spectroscopy. Analytical letters, 47 (12) pp. 2061-2071 |
| 2014 | Pharmacy education symposium: a need of time. World Journal of Pharmacy and Pharmaceutical Sciences, 3 (8) pp. 1276-1280 |
| 2014 | Reflective writing in pharmacy practice. International Journal of Pharmacy Practice, 22 (1) pp. 101-102 |
| 2014 | Understanding of antibiotic use and resistance among final-year pharmacy and medical students: a pilot study. Journal of Infection in Developing Countries, 8 (6) pp. 780-785 |
| 2013 | Breast Self-Examination (BSE) and attitude towards Breast Self-Examination (BSE) among women: a narrative review. Journal of Pharmaceutical and BioSciences, 1 (2) pp. 64-75 |
| 2013 | Pharmacological relevance of primitive leafy Cactuses Pereskia. Research Journal of Biotechnology, 8 (12) pp. 134-142 |
Conference or Workshop Item
Book Section