Staff Directory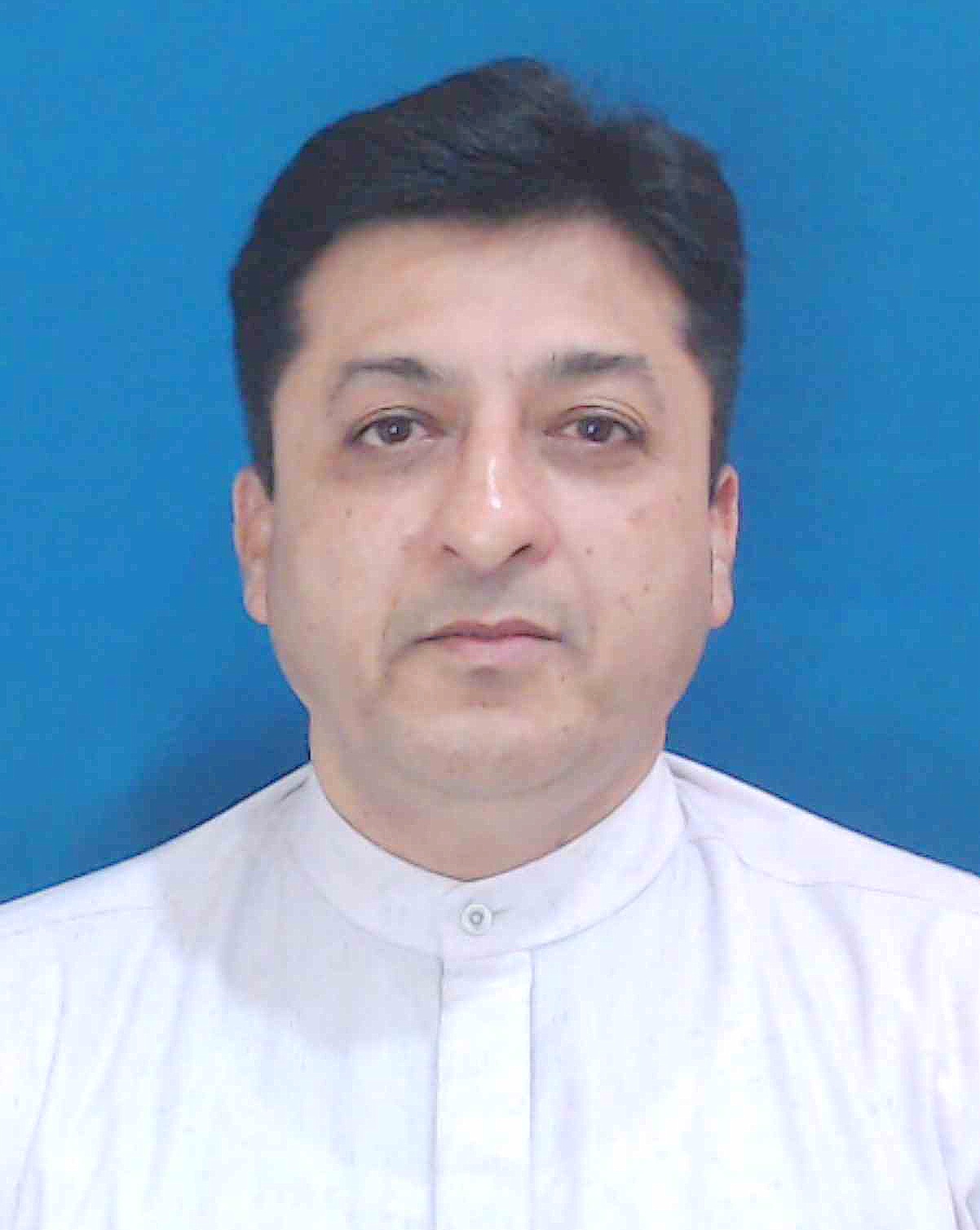 Academic Qualification
Doctor of Philosophy in Chemistry - Doctor of Philosophy, Aligarh Muslim University
Master of Science (Organic Chemistry) - Masters Degree, Aligarh Muslim University
Bachelor of Science (Chemistry) (Honours) - Bachelor Degree, Aligarh Muslim University
Qamar Uddin Ahmed (Prof. Dr.)
Professor
IIUM Kuantan Campus
KULLIYYAH OF PHARMACY
---
Expert Profile
Qamar Uddin Ahmed holds a Ph.D in Organic Chemistry from AM University, India. His B.Sc. (Hons.) Chemistry (major) & Biology (minor), M.Sc. (Organic Chemistry) are from the same university, and PGDIRK from IIUM. His current research interests are the synthesis of medicinally active compounds and isolation of biologically active agents from natural sources.
He has more than hundred publications in international journals, book chapters and conference proceedings. His research findings have appeared in several international peer-reviewed ISI indexed journals such as Journal of Ethnopharmacology (Elsevier), Phytotherapy Research (Wiley Inter Science), Toxicology in vitro (Elsevier), Pharmaceutical Biology (Informa Healthcare USA), Evidence-Based Complementary and Alternative Medicine (Hindawi Publishing Corporation, UK) Asian Pacific Journal of Tropical Disease (Elsevier), Asian Pacific Journal of Tropical Biomedicine (Elsevier), South African Journal of Botany (Elsevier), Singapore Medical Journal.
He is associated to several professional bodies in the area of Chemistry and Biological Sciences, such as American Chemical Society (USA), Malaysian Society of Natural Products (Malaysia), Royal Nepal Chemical Society (Nepal) and Phytochemical Society of Asia (Japan) and a reviewer for many ISI & Scopus indexed journals. He has been associated with IIUM since 2004 and is currently an Associate Professor of Pharmaceutical Chemistry.
Area of Specialisation
Agricultural ~ Agricultural Science And Technology ~ Primary Products from Plants ~ Herbal Products - Supervised post-graduate students on Herbal Products, subject taght
Natural Science ~ Chemical Sciences ~ Medicinal and Biomolecular Chemistry ~ Biologically Active Molecules - Medicinal Chemistry, Organic Chemistry, Natural Product Chemistry, Spectroscopy
Medical And Health ~ Medical And Health Sciences ~ Pharmacy ~ Other Pharmacy n.e.c. - Supervised post-graduate students on Spectroscopy of organic compounds, subject taght
Agricultural ~ Forestry Sciences And Technology ~ Wood and Non Wood Forest Products ~ Medicinal Plants - Supervised post-graduate students on Medicinal Plants, and on-going research
Natural Science ~ Chemical Sciences ~ Organic Chemistry ~ Natural Products Chemistry - Ph.D in Natural Products Chemistry, supervised post graduate students, and on-going research
Medical And Health ~ Medical And Health Sciences ~ Pharmacy ~ Medicinal Chemistry 84 - Researched on Medicinal Active Compounds during PhD study, supervised post-graduate students, subject taught, and on-going research
Professional Membership
2012 - 2020: Member of Profesional Body / Association: (Member), Malaysian Natural Products Society
2020 - 2021: Member of Profesional Body / Association: (Member), Malaysian Natural Products Society
2021 - 2022: Member of Profesional Body / Association: (Member), Malaysian Natural Products Society
2022 - 2023: Member of Profesional Body / Association: (Member), Malaysian Natural Products Society
Research Projects
Completed
| | |
| --- | --- |
| 2022 - 2023 | Separation, identification analysis of bioactive compounds from different parts of Morinda citrifolia (noni) plant using conventional and non-conventional extraction methods |
| 2021 - 2022 | Empowerment of COVID-19 affected Green rose (Rosadiflora species) industry by transferring knowledge on the extraction and soap making to increase product quality and variety. |
| 2020 - 2022 | BIOACTIVE COMPOUNDS IN TETRACERA SCANDENS EXTRACTS BY LC-QTOF-MS-BASED METABOLOMICS AND CORRELATION WITH XANTHINE OXIDASE ACTIVITY |
| 2020 - 2023 | Molecular characterization and modification of 5,7,8-trihydroxyflavone and its chemical analogues to discover a novel antihyperglycemic agent |
| 2019 - 2022 | Identification of alpha-glucosidase inhibitors from Psychotria malayana Jack leaf using multi-platform metabolomics approach and protein-ligand interaction with molecular docking in treating diabetes mellitus |
| 2018 - 2021 | Identification of ?-Glucosidase Inhibitors from Psychotria malayana Leaf Extract using Liquid Chromatography-Mass Spectrometry-Based Metabolomics and Protein-Ligand Interaction with Molecular Docking |
| 2016 - 2021 | Antimicrobial and antioxidant characterizations of the flowers of Eurycoma longifolia Jack |
| 2016 - 2018 | Antidiabetic and antioxidant evaluations of Averrhoa bilimbi L |
| 2015 - 2017 | Pilot Scale Production of Natural Halal Skin Lightening Cream Containing Extract of Hydroxychavicol from Piper betle Leaves |
| 2014 - 2018 | Synthesis and Mechanistic Evaluation of Orvinol Analogues as Potential Anti-Relapse to Morphine/ Methamphetamine Dependence |
| 2014 - 2016 | Determination of in Vivo and in Vitro Antidiabetic Activity of Wogonin |
| 2014 - 2017 | The Effects of Nigella Sativa Oil Extract in Non-Alcoholic Steatohepatitis (NASH) Animal Model |
| 2013 - 2018 | Antidiabetic Characterization and Mechanism of Action of Wogonin in Rats |
| 2012 - 2014 | Toxicological Studies Of Wogonin In Diabetes Induced Experimental Animals |
| 2012 - 2014 | In Vitro Antidiabetic and Antioxidant activities of Elettaria cardamomum L. (cardamom), Piper cubeba L. (cubab), and Plumeria rubra L. (frangipani) |
| 2011 - 2014 | RU 2011 -Isolation, primary culture and maintenance & preservation of mouse hepatocytes |
| 2011 - 2011 | KVC PROJECT 2011: Chapter in Book (Current Issue in Pharmacy) |
| 2011 - 2013 | Assessment of Neuroprotective Effect of Nigella sativa (Black Cumin) and Murraya Koenigii (Curry Leaves) Extracts in a Two Vessel Occlusion Rat Model of Alzheimer's Disease |
| 2009 - 2012 | Screening for potential natural drugs in Malaysia medical plant Tecracera Indica Mer(mempelas paya) |
| 2009 - 2012 | Screening for Potential Natural Drugs in Malaysia Medicinal Plant Tecracera Indica Mer(Mempelas Paya) |
| 2009 - 2013 | An Exploration of antibacterial and antifungal potential of andropraphis paniculata(hempedu bumi) in vitro |
| 2008 - 2011 | Screening of A Plant Tetracera Scandens Linn. For Its Chemical and Antidiabetic Activity |
| 2007 - 2011 | The Effects and Mechanism of Eurycoma Longifolia Jack on Sexual Functions of Diabetic Male Rats |
| 2007 - 2019 | Pharmacognostical Study on Piper Betle L. and Ficus Deltoidea Jack |
On-Going
| | |
| --- | --- |
| 2023 - Present | Insight on mechanism of hazardous solvent replacement with binary solvent for the synthesis of benzamide and removal of residual solvent by liquid CO2 |
| 2023 - Present | Elucidating the mechanism of Kelulut propolis as an anticandidal, antibiofilm and anti-inflammatory agent using Denture Associated Stomatitis (DAS) model. |
| 2022 - Present | Quality Control and Halal Aspects of generic pharmaceutical preparations |
| 2022 - Present | Characterization on the Properties of Mitragyna Speciosa, Deletion of Toxicity Genes, Development of Kratom-Based Medicinal Products and It's Legal Implication |
| 2011 - Present | RU 2011 -Effect of black cumin seed oil (Nigella Sative) in non-alcoholic steatohepatitis (NASH) animal model. |
| - | Microbial Biotransformation of Terpenoids for the discovery of anticancer agents |
| - | Microbial Biotransformation of Terpenoids for the discovery of anticancer agents |
Award & Recognition
| | | |
| --- | --- | --- |
| 06 Dec, 2019 | Long Service Award (15 Years)_IIUM Staff Appreciation Ceremony 2019, IIUM, Gombak, KL, Malaysia. - International Islamic University Malaysia | University |
| 19 Aug, 2019 | Gold Medal (First Position), Maximum Articles Published among all staff at KOP, 2019. - Kulliyyah of Pharmacy, IIUM, Kuantan | KCDIO |
| 01 Oct, 2018 | Outstanding Contribution in Reviewing - Journal of Ethnopharmacology | International |
| 01 Aug, 2017 | Outstanding Contribution in Reviewing - Journal of Ethnopharmacology (Elsevier) | International |
| 02 Sep, 2016 | Outstanding Contributor Journal Articles Indexed on Scopus and WOS - Deputy Rector (Research and Innovation), IIUM | University |
| 11 Jun, 2014 | 15. Gold Medal 2014 at International Research, Invention and Innovation Exhibition (IRIIE 2014), IIUM, KL, Malaysia for a??Isolation of a promising anti-diabetic agent (5,7-dihydroxy-8-methoxyflavone) from the leaves of Malaysian herb a??Tetracera indicaa?? and its in vivo toxicological studiesa??. - RMC, IIUM | University |
| 01 Jan, 2014 | Nominee for Best Teacher Award Quality Day 2014 - Kulliyyah of Pharmacy, IIUM | KCDIO |
| 01 Jan, 2013 | Nominee for Best Teacher Award Quality Day 2013 - Kulliyyah of Pharmacy, IIUM | KCDIO |
| 01 Jan, 2013 | Outstanding Researcher Award - Kulliyyah of Pharmacy, IIUM | KCDIO |
| 21 Feb, 2012 | Bronze Medal ("Isolation of broad spectrum antibiotics in the form of antifungal and antibacterial agents from Andrographis paniculata (Hempedu Bumi)" - IRIIE 2012), RMC, IIUM | University |
| 21 Feb, 2012 | Silver Medal (Neuroprotective Effect of Black Cumin Oil against cerebrovascular hypoperfusion induced Pyramidal Cell Loss in Ratsa??. ) - (IRIIE 2012), IIUM, RMC | University |
| 21 Feb, 2012 | Silver Medal (Nigella sativa on Chronic Cerebral Hypoperfusion-induced Memory and Learning Impairmenta??) - (IRIIE 2012), IIUM, | University |
| 17 Feb, 2011 | 3. Silver Medal at Malaysia Technology Expo (MTE 2011) for isolation of anti-hyperglycemic agent (WOGONIN) from the leaves of T. indica Merr. (Dilleniaceae) (mempelas paya)-WOGONIN-Future antidiabetic drug - Malaysian Association of Research Scientists (MARS), KL, Malaysia | University |
| 11 Feb, 2011 | Bronz Medal (Isolation and structure elucidation of two new novel flavonoids and antidiabtic activity of the leaves of Tetracera scandens Linn. in vivo)) - IRIIE 2011, RMC, IIUM | University |
| 11 Feb, 2011 | Silver Medal (Isolation of anti-hyperglycemic agent (WOGONIN) from the leaves of T. indica Merr. (Dilleniaceae) (mempelas paya).) - IRIIE 2011), IIUM | University |
| 07 Mar, 2008 | Quality Research Award - IIUM | University |
Publications
Article
| | |
| --- | --- |
| 2024 | Identification of cancer inhibitors from Hystrix brachyura bezoar extracts using LC-MS multivariate data analysis and in silico evaluation on Bcl-2, cyclin B/CDK1, VEGF and NM23-H1. Boletin Latinoamericano y del Caribe de Plantas Medicinales y Aromaticas, 23 (1) pp. 41-60 |
| 2024 | Phytochemical screening and in vitro evaluation of antioxidant and antimicrobial efficacies of Pteropyrum scoparium (Jaub. & Spach) Sidaf crude extracts. Journal of King Saud University - Science, 36 (1) pp. 1-11 |
| 2023 | A review on cosmos caudatus as a potential medicinal plant based on pharmacognosy, phytochemistry, and pharmacological activities. International Journal of Food Properties, 26 (1) pp. 344-358 |
| 2023 | A review on selected herbal plants as alternative anti-diabetes drugs: chemical compositions, mechanisms of action, and clinical study. International Journal of Food Properties, 26 (1) pp. 1414-1425 |
| 2023 | An in vitro adipogenic potential and glucose uptake stimulatory effect of betulinic acid and stigmasterol isolated from Tetracera indica in 3T3-L1 cell line. Sains Malaysiana, 52 (2) pp. 501-512 |
| 2023 | Anti-obesity and antihyperlipidemic effects of Phaleria macrocarpa fruit liquid CO2 extract: In vitro, in silico and in vivo approaches. Journal of King Saud University – Science, 35 (8) pp. 2117-2122 |
| 2023 | Cardioprotective effects of arjunolic acid in LPS-stimulated H9C2 and C2C12 myotubes via the My88-dependent TLR4 signaling pathway. Pharmaceutical Biology, 61 (1) pp. 1135-1151 |
| 2023 | Ethanolic extract of Polygonum minus protects differentiated human neuroblastoma cells (SH-SY5Y) against H2O2-induced oxidative stress. Molecules, 28 (18) pp. 1-24 |
| 2023 | FTIR fingerprinting profiling, antioxidant activity, and α-glucosidase inhibitory activity of Orthosiphon stamineus leaf ethanolic extracts. International Journal of Food Properties, 26 (1) pp. 2025-2038 |
| 2023 | In vitro anti-diabetic, anti-inflammatory, antioxidant activities and toxicological study of optimized psychotria malayana jack leaves extract. Pharmaceuticals, 16 (12) pp. 1-23 |
| 2023 | Neurotoxicity of aluminium chloride and okadaic acid in zebrafish: insights into alzheimer's disease models through anxiety and locomotion testing, and acute toxicity assessment with Litsea garciae bark's methanolic extract. Journal of King Saud University - Science, 35 (7) pp. 1-9 |
| 2023 | Phytochemical analysis, antioxidant, α‑glucosidase inhibitory activity, and toxicity evaluation of Orthosiphon stamineus leaf extract. Scientific Reports, 13 () pp. 17012-17025 |
| 2023 | Phytochemical screening, total phenolic, reducing sugar contents, and antioxidant activities of Gelidium spinosum (S.G. Gmelin) P.C. Silva. Tropical Journal of Natural Product Research, 7 (3) pp. 2618-2623 |
| 2023 | Phytoconstituents assessment and toxicity study of Gelidium spinosum water extract in zebrafish (Danio rerio) embryos. Rasayan Journal of Chemistry, 16 (3) pp. 1883-1891 |
| 2023 | Potential anticancer agents identification of Hystrix Brachyura Bezoar through gas chromatography-mass spectrometry-based metabolomics and protein-ligand interaction with molecular docking analyses. Journal of King Saud University - Science, 35 (6) pp. 1-11 |
| 2023 | The role of lutein-rich purple sweet potato leaf extract on the amelioration of diabetic retinopathy in streptozotocin-induced Sprague–Dawley rats. Frontiers in Pharmacology, 14 () pp. 1-13 |
| 2022 | A review with updated perspectives on the antiviral potentials of traditional medicinal plants and their prospects in antiviral therapy. Life, 12 (8) pp. 1287-1324 |
| 2022 | Acute and subacute toxicity assessment of liquid CO2 extract of Phaleria macrocarpa fruits flesh in mice model. Journal of King Saud University - Science, 34 (4) pp. 101912-101912 |
| 2022 | Antibacterial effects of flavonoids and their structure-activity relationship study: a comparative interpretation. Molecules, 27 (4) pp. 1-43 |
| 2022 | Antidiabetic Activity of Wogonin Isolated from Tetracera indica Merr. Leaves Extract in Streptozotocin-Nicotinamide Induced Diabetic Rats. Malaysian Journal of Chemistry, 24 (4) pp. 117-126 |
| 2022 | Antioxidant capabilities of Litsea Garciae bark extracts and their relation to the phytochemical compositions. Malaysian Applied Biology, 51 (1) pp. 99-118 |
| 2022 | Box–Behnken design based development of UV-reversed phase high performance liquid chromatographic method for determination of ascorbic acid in tablet formulations. Separations, 9 (11) pp. 1-21 |
| 2022 | Correlation of the GC-MS-based metabolite profile of Momordica charantia fruit and its antioxidant activity. International Food Research Journal, 29 (1) pp. 58-66 |
| 2022 | Design, synthesis, in vitro antiproliferative effect and in situ molecular docking studies of a series of new benzoquinoline derivatives. Journal of King Saud University – Science, 34 (4) pp. 102003-102013 |
| 2022 | Flavonoids as antidiabetic and anti-inflammatory agents: a review on structural activity relationship-based studies and meta-analysis. International Journal of Molecular Sciences, 23 () pp. 12605-12605 |
| 2022 | Identification of novel 5-lipoxygenase-activating protein (FLAP) inhibitors by an integrated method of pharmacophore virtual screening, docking, QSAR and ADMET analyses. Journal of Computational Biophysics and Chemistry, () pp. 1-21 |
| 2022 | In vitro, in silico and network pharmacology mechanistic approach to investigate the α-glucosidase inhibitors identified by Q-ToF-LCMS from phaleria macrocarpa fruit subcritical CO2 extract. Metabolites, 12 () pp. 1267-1267 |
| 2022 | In-vitro cytotoxicity effects and bioactive constituents of chloroform extract of Vernonia Glaberrima Welw. Ex o. Hoffm (Asteraceae). Nigerian Journal of Basic and Applied Sciences, 30 (1) pp. 77-80 |
| 2022 | Microbial biotransformation of anthraquinone and biological activity: a review. Journal of Pharmacy, 2 (2) pp. 69-88 |
| 2022 | Potential bioactive coating system for high-performance absorbable magnesium bone implants. Bioactive Material, 12 () pp. 42-63 |
| 2022 | The therapeutic potential of skin mucus from Asian swamp eel (Monopterus albus): In vivo evaluation and histological evidence. Journal of King Saud University – Science, 34 (4) pp. 102011-102011 |
| 2022 | Toxicity and teratogenicity evaluation of ethanolic extract from Momordica charantia fruit using zebrafish (Danio rerio) embryo model. International Food Research Journal, 29 (3) pp. 531-553 |
| 2021 | An in vitro anticancer activity evaluation of neolamarckia cadamba (Roxb.) bosser leaves' extract and its metabolite profile. Frontiers in Pharmacology, 12 () pp. 1-11 |
| 2021 | Antioxidants profile of momordica charantia fruit extract analyzed using LC-MS-QTOF-based metabolomics. Food Chemistry: Molecular Sciences, 2 () pp. |
| 2021 | Bridging indigenous knowledge and scientific evidence for pharmacological studies of phaleria macrocarpa: a review. The Natural Products Journal, () pp. 1-17 |
| 2021 | GC-MS- and NMR-based metabolomics and molecular docking reveal the potential alpha-glucosidase inhibitors from psychotria malayana jack Leaves. Pharmaceuticals, 14 (10) pp. 1-29 |
| 2021 | Preliminary Phytochemical screening, in vitro antidiabetic, antioxidant activities, and toxicity of leaf extracts of Psychotria Malayana Jack. Plants, 10 (12) pp. 1-23 |
| 2021 | Preliminary phytochemical screening, in vitro antidiabetic, antioxidant activities, and toxicity of leaf extracts of Psychotria malayana Jack. Plants, 10 (12) pp. 1-23 |
| 2021 | Pseudocedrela kotschyi: a review of ethnomedicinal uses, pharmacology and phytochemistry. Pharmaceutical Biology, 59 (1) pp. 955-963 |
| 2021 | Rapid analysis of alpha-glucosidase inhibitory activity of Psychotria Malayana jack leaf applying infrared fingerprinting. International Journal of Allied Health Sciences (IJAHS), 5 (1 Special Issue) pp. 2144-2144 |
| 2021 | Soft‑chewable paracetamol tablets by Melt Granulation Method: formulation and characterization. Journal of Pharmacy and Bioallied Sciences, 13 (3) pp. 312-316 |
| 2020 | Alpha-glucosidase inhibitory effect of psychotria malayana jack leaf: A rapid analysis using infrared fingerprinting. Molecules, 25 (18) pp. 1-11 |
| 2020 | Assessment of free radical scavenging and digestive enzyme inhibitory activities of extract, fractions and isolated compounds from Tetracera macrophylla leaves. Journal of Herbal Medicine, 22 () pp. 1-8 |
| 2020 | Characterization of α-glucosidase inhibitors from psychotria malayana jack leaves extract using LC-MS-based multivariate data analysis and in-silico molecular docking. Molecules, 25 (24) pp. |
| 2020 | Characterization of alpha-glucosidase inhibitory activity of Tetracera scandens leaves by Fourier transform infrared spectroscopy-based metabolomics. Advances in Traditional Medicine, 20 (2) pp. 169-180 |
| 2020 | Determination toxic effects of Hystrix Brachyura Bezoar extracts using cancer cell lines and embryo zebrafish (Danio rerio) models and identification of active principles through GC-MS analysis. Journal of Ethnopharmacology, 262 () pp. 1-13 |
| 2020 | Gas chromatography-mass spectrometry based metabolomics to Identify the alpha glucosidase inhibitors from flesh of salacca zalacca fruits and their molecular docking studies. Journal of Pharmacy & Bioallied Sciences, 12 (Supplement 2) pp. 886-887 |
| 2020 | In vitro adipogenic potential and glucose uptake stimulatory effect of the terpenoids isolated from Tetracera indica Merr.. Journal of Pharmacy and BioAllied Sciences, 12 (Supp. 2) pp. S879-S880 |
| 2020 | Investigation of α-glucosidase inhibitory activity of tetracera scandens leaf using fourier transform infrared spectroscopy-based metabolomics. Journal of Pharmacy and Allied Sciences, 12 (Supplement 2) pp. 879-879 |
| 2020 | Investigation of α‐glucosidase inhibitory metabolites from Tetracera scandens leaves by GC–MS metabolite profiling and docking studies. Biomolecules, 10 (2) pp. 1-18 |
| 2020 | Isolation and characterization of novel antibacterial compound from an untapped plant, Stereospermum fimbriatum. Natural Product Research, 34 (5) pp. 629-637 |
| 2020 | Medicinal potential of isoflavonoids: Polyphenols that may cure diabetes. Molecules, 25 () pp. |
| 2020 | Modulation of metabolic alterations of obese diabetic rats upon treatment with Salacca zalacca fruits extract using H NMR-based metabolomics. Food Research International, 137 () pp. |
| 2020 | The thrombolytic and cytotoxic effects of nigella sativa (L.) seeds: the prophetic medicine. International Journal of Halal Research, 2 (2) pp. 70-77 |
| 2019 | α - Glucosidase inhibitory and antioxidant activities of entada spiralis ridl. (Sintok) stem bark extracts. Pertanika - Journal of Tropical Agricultural Sciences, 42 (1) pp. 139-153 |
| 2019 | A new sulphated flavone and other phytoconstituents from the leaves of Tetracera indica Merr. and their alpha-glucosidase inhibitory activity. Natural Product Research, 33 (1) pp. 1-8 |
| 2019 | Anticancer activity of grassy Hystrix brachyura bezoar and its mechanisms of action: An in vitro and in vivo based study. Biomedicine & Pharmacotherapy, 114 () pp. 1-13 |
| 2019 | Antidiabetic and antioxidants activities of Clinacanthus nutans (Burm F.) Lindau leaves extracts. International Food Research Journal, 26 (1) pp. 319-327 |
| 2019 | Antinociceptive activity of petroleum ether fraction obtained from methanolic extract of Clinacanthus nutans leaves involves the activation of opioid receptors and NO-mediated/cGMP-independent pathway. BMC Complementary and Alternative Medicine, 19 (1) pp. 1-14 |
| 2019 | Enrichment of antibacterial compound from the stem bark of Stereospermum fimbriatum using supercritical carbon dioxide extraction. Separation Science and Technology, 55 (9) pp. 1656-1666 |
| 2019 | Evaluation of the enzyme inhibitory and antioxidant activities of Entada spiralis stem bark and isolation of the active constituents. Molecules, 24 (6) pp. 1-15 |
| 2019 | Hystrix brachyura bezoar characterization, antioxidant activity screening, and anticancer activity on melanoma cells (A375): a preliminary study. Antioxidants, 8 (2) pp. 1-15 |
| 2019 | Identification of α-glucosidase inhibitors from Clinacanthus nutans leaf extract using liquid chromatography-mass spectrometry-based metabolomics and protein-ligand interaction with molecular docking. Journal of Pharmaceutical Analysis, 9 (2) pp. 91-99 |
| 2019 | In vivo anxiolytic and in vitro anti-inflammatory activities of water-soluble extract (WSE) of Nigella sativa (L.) seeds. Natural Product Research, 35 (16) pp. 2793-2798 |
| 2019 | In vivo anxiolytic and in vitro anti-inflammatory activities of water-soluble extract (WSE) of Nigella sativa (L.) seeds. Natural Product Research, () pp. 1-6 |
| 2019 | Optimization of hyperglycemic induction in zebrafish and evaluation of its blood glucose level and metabolite fingerprint treated with psychotria malayana Jack Leaf extract. Molecules, 24 (8) pp. 1-22 |
| 2019 | Rapid investigation of α-glucosidase inhibitory activity of Clinacanthus nutans leaf using infrared fingerprinting. Vibrational Spectroscopy, 100 () pp. 22-29 |
| 2019 | Synthesis of chromen-4-one-oxadiazole substituted analogs as potent β-glucuronidase inhibitors. Molecules, 24 (8) pp. 1-13 |
| 2019 | Synthesis of new isoquinoline-base-oxadiazole derivatives as potent inhibitors of thymidine phosphorylase and molecular docking study. Scientific Reports, 9 (1) pp. 1-11 |
| 2019 | Synthesis of thymidine phosphorylase inhibitor based on quinoxaline derivatives and their molecular docking study. Molecules, 24 (6) pp. 1-18 |
| 2019 | The promise of zebrafish as a model of metabolic syndrome. Experimental Animals, 68 (4) pp. 407-416 |
| 2019 | Toxicity study on Clinacanthus nutans leaf hexane fraction using Danio rerio embryos. Toxicology Reports, 6 () pp. 1148-1154 |
| 2018 | A simple method for extracting both active oily and water soluble extract (WSE) from Nigella sativa (L.) seeds using a single solvent system. Natural Product Research, () pp. 1-6 |
| 2018 | Animal models and natural products to investigate in vivo and in vitro antidiabetic activity. Biomedicine & Pharmacotherapy, 101 () pp. 833-841 |
| 2018 | Antiradical and xanthine oxidase inhibitory activity evaluations of Averrhoa bilimbi L. leaves and identification of bioactive constituents through LC-QTOF-MS/MS and molecular docking approach. Antioxidants, 7 (10) pp. 1-16 |
| 2018 | Characterization of α-glucosidase inhibitors from clinacanthus nutans lindau Llaves by gas chromatography-mass spectrometry-based metabolomics and molecular docking simulation. Molecules, 23 (9) pp. 1-21 |
| 2018 | Enrichment, in vitro, and quantification study of antidiabetic compounds from neglected weed Mimosa pudica using supercritical CO2 and CO2-Soxhlet. Separation Science and Technology, 53 (2) pp. 243-260 |
| 2018 | Methylation and acetylation enhanced the antidiabetic activity of some selected flavonoids: In vitro, molecular modelling and structure activity relationship based study. Biomolecules, 8 (4) pp. 1-22 |
| 2018 | Phytoconstituents from Vernonia glaberrima Welw. Ex O. Hoffm. leaves and their cytotoxic activities on a panel of human cancer cell lines. South African Journal of Botany, 116 () pp. 16-24 |
| 2018 | Salacca zalacca: a short review of the palm botany, pharmacological uses and phytochemistry. Asian Pacific Journal of Tropical Medicine, 11 (12) pp. 645-652 |
| 2018 | Structure, degradation, drug release and mechanical properties relationships of iron-based drug eluting scaffolds: The effects of PLGA. Materials & Design, 160 () pp. 203-217 |
| 2017 | α-glucosidase inhibitors isolated from Mimosa pudica L.. Natural Product Research, 33 (10) pp. 1495-1499 |
| 2017 | A lignan with glucose uptake activity in 3T3-L1 adipocytes from the stem bark of Knema patentinervia. Pakistan Journal of Pharmaceutical Science, 30 (4) pp. 1335-1339 |
| 2017 | Antioxidant and antidiabetic effects of flavonoids: a structure-activity relationship based study. BioMed Research International, 2017 () pp. 1-14 |
| 2017 | Characterization of antioxidant activity of Momordica Charantia fruit by infrared-based fingerprinting. Analytical Letters, 50 (12) pp. 1977-1991 |
| 2017 | Distinct role of kappa opioid receptor in attenuating relapse to morphine/methamphetamine (polydrug) dependence. British Journal of Pharmacy, 2 (2) pp. S21-22S |
| 2017 | Evaluation of in vitro antidiabetic and antioxidant characterizations of Elettaria cardamomum (L.) Maton (Zingiberaceae), Piper cubeba L. f. (Piperaceae), and Plumeria rubra L. (Apocynaceae). Pakistan Journal of Pharmaceutical Sciences, 30 (1) pp. 113-126 |
| 2017 | Flavonoids from Tetracera indica Merr. induce adipogenesis and exert glucose uptake activities in 3T3-L1 adipocyte cells. BMC Complimentary and Alternative Medicine, 17 (1) pp. 1-14 |
| 2017 | Low inhibition of alpha-glucosidase and xanthine oxidase activities of ethanol extract of Momordica charantia fruit. Journal of Pharmaceutical Negative Results, 8 (1) pp. 20-24 |
| 2017 | Mimosa pudica L.: a comparative study via in vitro analysis and GC Q-TOF MS profiling on conventional and supercritical fluid extraction using food grade ethanol. Indian Journal of Natural Products and Resources, 8 (1) pp. 54-62 |
| 2017 | Mimosa pudica L.: A comparative study via in vitro analysis and GC Q-TOF MS profiling on conventional and supercritical fluid extraction using food grade ethanol. Indian Journal of Natural Products and Resources (IJNPR), 8 (1) pp. 54-62 |
| 2017 | Upregulation of kappa opioid receptor system and its association with relapse to morphine/methamphetamine (poly-drug) addiction. Research Journal of Pharmacy and Technology, 10 (12) pp. 4488-4550 |
| 2016 | Averrhoa bilimbi Linn.: A review of its ethnomedicinal uses, phytochemistry, and pharmacology. Journal of Pharmacy and Bioallied Sciences, 8 (4) pp. 265-271 |
| 2016 | Investigation of an antidiabetic potential of a phenolic compound isolated from the leaves of mempelas paya. International Medical Journal Malaysia, 15 (Supplement) pp. 41-41 |
| 2015 | Alpha-mangostin improves glucose uptake and inhibits adipocytes differentiation in 3T3-L1 cells via PPAR gamma, GLUT4, and leptin expressions. Evidence-Based Complementary and Alternative Medicine, 15 () pp. 1-9 |
| 2015 | Analyses and profiling of extract and fractions of neglected weed mimosa pudica Linn. traditionally used in Southeast Asia to treat diabetes. South African Journal of Botany, 99 () pp. 144-152 |
| 2015 | Design and development of a compressed air machine using a compressed air energy storage system. ARPN Journal of Engineering and Applied Sciences, 10 (23) pp. 17332-17336 |
| 2015 | Investigation of in vivo antipyretic activity of thottea dependens leaves. The International Medical Journal Malaysia, 14 (2) pp. 11-16 |
| 2014 | Antimicrobial activity of banana (Musa paradisiaca L.) peels against food borne pathogenic microbes. Journal of Pure and Applied Microbiology, 8 (5) pp. 3627-3639 |
| 2014 | Antimicrobial activity of bBanana (Musa paradisiaca L.) peels against food borne pathogenic microbes. Journal of Pure and Applied Microbiology, 8 (5) pp. 3627-3639 |
| 2014 | Direct and indirect antimicrobial effects of α-mangostin on pathogenic microorganisms. Journal of Coastal Life Medicine, 2 (1) pp. 70-75 |
| 2014 | Herbal cure for poisons and poisonous bites from Western Uttar Pradesh, India. Asian Pacific Journal of Tropical Disease, 4 (Suppl1) pp. S116-S120 |
| 2014 | In vitro antibacterial efficacy of leucas cephalotes (roth) spreng. (lamiaceae) against some gram positive and gram negative human pathogens. International Journal of Agricultural and Food Research, 3 (3) pp. 1-9 |
| 2014 | Studies on bactericidal efficacy of pumpkin (Cucurbita moschata Duchesne) peel. Journal of Coastal Life Medicine, 2 (2) pp. 146-153 |
| 2014 | Studies on bactericidal efficacy of pumpkin (Cucurbita moschata Duchesne) peel. Journal of Coastal Life Medicine, 2 (2) pp. 146-153 |
| 2014 | Weeds as alternative useful medicinal source: Mimosa pudica Linn. on diabetes mellitus and its complications. Advanced Materials Research, 995 () pp. 49-59 |
| 2013 | A review on the formulation and analysis of anti-diabetic agent: Gliclazide. Advanced Materials Research, 810 () pp. 159-172 |
| 2013 | Breast Self-Examination (BSE) and attitude towards Breast Self-Examination (BSE) among women: a narrative review. Journal of Pharmaceutical and BioSciences, 1 (2) pp. 64-75 |
| 2013 | Effect of long-term use of eurycoma longifolia jack on the pancreas in rats: histological assessment. Regenerative Research, 2 (2) pp. 22-25 |
| 2013 | In vitro antibacterial efficacy of some important traditional medicinal plants in India against Escherichia coli and Staphylococcus aureus strains. Journal of Medicinal Plants Research, 7 (7) pp. 329-338 |
| 2012 | Antibacterial activity of leaves extracts of Trifolium alexandrinum Linn. against pathogenic bacteria causing tropical diseases. Asian Pacific Journal of Tropical Biomedicine, 2 (3) pp. 189-194 |
| 2012 | Antidiabetic activity of the leaves of tetracera indica merr. (Dilleniaceae) in vivo and in vitro. Journal of Medicinal Plants Research, 6 (49) pp. 5912-5922 |
| 2012 | Antifungal activity of Andrographis paniculata extracts and active principles against skin pathogenic fungal strains in vitro. Pharmaceutical Biology, 50 (7) pp. 850-856 |
| 2012 | Protective effect of treatment with black cumin oil on spatial cognitive functions of rats that suffered global cerebrovascular hypoperfusion. Acta Neurobiologiae Experimentalis, 72 (2) pp. 154-165 |
| 2011 | Antibacterial activity of cycas rumphii miq. leaves extracts against some tropical human pathogenic bacteria. Research Journal of Microbiology, 6 (10) pp. 761-768 |
| 2011 | Antibacterial efficacy of the seed extracts of Melia azedarach against some hospital isolated human pathogenic bacterial strains. Asian Pacific Journal of Tropical Biomedicine, 1 (1) pp. 452-455 |
| 2011 | Bacteriostatic and bactericidal activities of Andrographis paniculata extracts on skin disease causing pathogenic bacteria. Journal of Medicinal Plants Research, 5 (1) pp. 7-14 |
| 2011 | Beneficial effect of the leaves of Murraya koenigii (Linn.) Spreng (Rutaceae) on diabetes-induced renal damage in vivo. Journal of Ethnopharmacology, 135 (1) pp. 88-94 |
| 2011 | Bioassay guide isolation of antibacterial compounds from Andrographis paniculata. American Journal of Applied Sciences , 8 (6) pp. 525-534 |
| 2011 | Bioassay guided isolation of antibacterial compounds from Andrographis paniculata. American Journal of Applied Sciences , 8 (6) pp. 525-534 |
| 2010 | Anti-hyperglycemic activity of the leaves of Tetracera scandens Linn. Merr. (Dilleniaceae) in alloxan induced diabetic rats. Journal of Ethnopharmacology, 131 (-) pp. 140-145 |
| 2010 | Antibacterial efficacy of Bacopa monnieri leaf extracts against pathogenic bacteria. Asian Biomedicine, 4 (4) pp. 651-655. |
| 2010 | Antidiabetic efficacy of methanolic extract of the leaves of Tetracera Indica Merr. (Dilleniaceace) in alloxan induced diabetic rats. Malaysian Journal of Pharmaceutical Sciences, 8 (sup.1) pp. 41 |
| 2010 | Antimicrobial studies of cosmos caudatus kunth. (Compositae). Journal of Medicinal Plants Research, 4 (8) pp. 669-673 |
| 2010 | In-Utero effects of the crude ethanolic extract of the leaves of mitragyna speciosa on neural tube formation in rats. Asian Journal of Experimental Biological Sciences, 1 (2) pp. 404-408 |
| 2010 | Screening for antibacterial activity of Andrographis paniculata used in Malaysian folkloric medicine: a possible alternative for the treatment of skin infections. Ethnobotanical Leaflets, 14 (-) pp. 445-456 |
| 2008 | Beneficial effects of Annona squamosa extract in streptozotocin-induced diabetic rats. Singapore Medical Journal, 49 (10) pp. 800-804 |
| 2006 | Antidiabetic and antioxidant activity of Annona squamosa extract in streptozotocin-induced diabetic rats. Singapore Medical Journal, 47 (8) pp. 670-675 |
| 2006 | Biochemical effects of Nigella sativa seeds in diabetic rats. Indian Journal of Experimental Biology , 44 (9) pp. 745-748 |
| 2006 | Potential antifilarial activity of the fruit, leaf and stem extracts of Melia azedarach Linn. on cattle filarial parasite Setaria cervi in vitro. Oriental Pharmacy and Experimental Medicine, 6 (2) pp. 144-156 |
| 2004 | Antifilarial activity of the extract of leaves of Mimusops elengi Linn. on Setaria cervi in vitro. Journal of Veterinary Parasitology, 18 () pp. 121-125 |
| 2004 | The biflavonoids, amentoflavone degrades calf thymus DNA in the presence of copper ions. Toxicology in Vitro, 18 (4) pp. 435-440 |
| 2003 | Antifilarial potential of the fruits and leaves extracts of Pongamia pinnata on cattle filarial parasite Setaria cervi. Phytotherapy Research, 17 (9) pp. 1104-1107 |
| 2003 | Antifilarial potential of the root extract of the Mirabilis jalapa Linn. (Nyctaginaceae) on cattle filarial parasite Setaria cervi. Oriental Pharmacy and Experimental Medicine, 3 (4) pp. 180-186 |
| 2002 | Effect of khat, its constituents and restraint stress on free radical metabolism of rats . Journal of Ethnopharmacology, 83 (3) pp. 245-250 |
| 2002 | In vitro antifilarial potential of the flower and stem extracts of Leucas cephalotes on cattle filarial parasite Setaria cervi. Journal of Natural Remedies, 2 (2) pp. 155-163 |
| 2002 | Potential antifilarial activity of the leaves and seeds extracts of Psoralea corylifolia on cattle filarial parasite Setaria cervi. Journal of Ethnopharmacology, 82 (1) pp. 23-28 |
Conference or Workshop Item
| | |
| --- | --- |
| 2022 | Antidiabetic studies of Tetracera species and identification of active principles through chromatography and molecular docking approaches.. In: International Conference on Natural Products (ICNP) 2022, |
| 2022 | In vitro and in Silico Antidiabetic studies of 5,7,8-Trihydroxyflavone. In: 9th International Postgraduate Conference on Pharmaceutical Sciences (iPoPS) 2022, |
| 2021 | Assessment of liver acute toxicity in mice of the God's crown extract. In: Asian Symposium on Medicinal Plants and Spices XVII (2021), |
| 2021 | Effect of Mahkota Dewa fruit extract on kidney functions in mice. In: Medical Research Symposium, |
| 2021 | In vitro α-glucosidase inhibitory activity of Mahkota Dewa fruit flesh using different extraction methods. In: International conference of Intigrative Medicine, |
| 2021 | LC-MS-based metabolomics and molecular docking to characterize α-glucosidase inhibitors from Psychotria Malayana Jack leaves extract. In: at the Asian Symposium on Medicinal Plants and Spices XVII (2021) – Virtual Conference, |
| 2020 | Developmental toxicity evaluation of sub-CO2 extract of Phaleria macrocarpa fruit flesh in Danio rerio embryo. In: International Research Conference on Pharmaceutical and Allied Sciences, |
| 2020 | In vitro adipogenic potential and glucose uptake stimulatory effect of the terpenoids isolated from Tetracera indica Merr.. In: International Conference on Pharmaceutical Research and Pharmacy Practice cum 14th IIUM-MPS Pharmacy Scientific Conference (ICRP 2019), |
| 2020 | Rapid investigation of Αlpha-Glucosidase inhibitory activity of Psychotria Malayana Jack leaf using infrared fingerprinting. In: International Research Conference on Pharmaceutical and Allied Science 2020, |
| 2019 | A novel antibacterial compound from an untapped plant: Stereospermum fimbriatum. In: AIMST International Pharmacy Conference (AIPC) 2019: Challenges and Opportunities in Pharmaceutical Sciences, Technology and Practice, |
| 2018 | Evaluation of in vitro antidiabetic activity of selected flavonoids: structure activity relationship based study. In: 6th International Postgraduate Conference on Pharmaceutical Sciences 2018, |
| 2018 | In vitro antidiabetic effects of flavonoids: molecular and structure-activity relationship based study. In: 34th International Conference on Natural Products 2018 (ICNP 2018), |
| 2018 | LC-MS-Q-TOF identification of xanthine oxidase inhibitory phytoconstituents from Averrhoa bilimbi leaves. In: 4th International Pharmaceutical Research Conference 2018, |
| 2018 | The effect of methylation on the wogonin's in vitro and in silico antidiabetic activity. In: 4th International Pharmaceutical Research Conference 2018, |
| 2017 | Antioxidant effects of some selected flavonoids: a structure-activity relationship based study. In: 2nd International Anatomical and Biomedical Scientific Conference 2017, |
| 2017 | Bioassays activity and FT-IR analysis of clinacanthus nutans (Burm F.) lindau leaves extracts. In: 2nd International Anatomical and Biomedical Scientific Conference 2017, |
| 2017 | Digestive enzymes inhibitory and antioxidant activities of Tetracera macrophylla Vall. Leaves extract and fractions. In: National Seminar on Sustainable Enviroment and Healthcare, |
| 2017 | Enzyme inhibitory and antioxidant investigations of Tetracera macrophylla Vall. and Entada spiralis Ridl. and isolation of active principles. In: Kulliyyah of Pharmacy Research Symposium 2017, |
| 2017 | Ethnomedicinal survey of medicinal plants used to treat diabetes in Bangi, Selangor, Malaysia. In: 2nd International Anatomical and Biomedical Scientific Conference 2017, |
| 2017 | Evaluation of antioxidants activity of Momordica charantia using LC-MS metabolomics approach. In: 2nd International Anatomical and Biomedical Scientific Conference 2017, |
| 2017 | In vitro α- glucosidase inhibitory and antioxidant activities of extract, fractions and isolated compounds from Tetracera macrophylla vall leaf. In: University Kebangsaan Malaysia-Universiti Riau, Indonesia-Universitas Islam Indonesia-Prince of Songkla University, Thailand Joint Seminar 2017 (UKM-UR-UII-PSU Joint Seminar 2017), |
| 2017 | Insilico and invitro investigations of alpha-glucosidase inhibitory activity of phenolic constituents of tetracera indica. In: 2nd International Anatomical and Biomedical Scientific Conference 2017, |
| 2017 | Porcupine bezoar: in vitro antioxidant and anti-proliferative effects. In: 2nd International Anatomical and Biomedical Scientific Conference (IABS) 2017, |
| 2017 | Potential insulin-like and insulin-sensitizing activity on 3T3-L1 adipocytes by terpeniods isolated from Tetracera indica. In: International Conference on Natural Products 2017 (ICNP 2017), |
| 2016 | Antioxidant activities of flavonoids isolated from the leaves of Tetracera indica Merr.. In: 2nd International Conference on Industrial Pharmacy (ICIP 2016):Generics and Biosimilars, |
| 2016 | Assesment of phytoconstituents, antioxidants and alpha glocosidase inhibitory activities of Entada spiralis Ridl. stem bark extracts. In: 14th Seminar on Medicinal & Aromatic Plants 2016, |
| 2016 | Assessment of phytoconstituents, antioxidants, and alpha glucosidase inhibitory activities of Entada spiralis ridl. stem bark extracts. In: Proceedings Of The 14th Seminar On Medicinal & Aromatic Plants, |
| 2016 | Enriched extracts of anti-diabetic compounds from neglected weed M. Pudica using supercritical and subcritical carbon dioxide extractions and the corresponding in vitro study for diabetes mellitus. In: 2nd International Conference on Industrial Pharmacy (ICIP 2016), |
| 2016 | Flavonoids from Tetracera indica Merr. inhibit adipocyte differentiation and exert glucose uptake activities in 3T3-L1 adipocyte cells. In: Regional Conference On Science, Technology & Social Sciences 2016 (RCSTSS), |
| 2016 | Identification of antioxidants in Momordica charantia fruit using GC-MS metabolomics approach. In: International Conference on Natural Products 2016 (ICNP 2016), |
| 2016 | In vitro evaluations of anti-hyperglycemic ant antioxidant activities of Entada spiralis Ridl. stem bark extracts. In: 3rd Pan-Asian Biomedical Science Conference 2016 Kuala Lumpur, |
| 2016 | Investigation of an antidiabetic potential of a phenolic compound isolated from the leaves of mempelas paya. In: Medical Research Symposium & Pacific Partnership in conjunction with Kuantan Research Day 2016, |
| 2016 | Isolation and identification of flavonoids from Tetracera indica Merr. (Dilleniaceae) leaves. In: 2nd International Conference on Industrial Pharmacy (ICIP 2016), |
| 2016 | Isolation of antidiabetic compounds from tetracera Indica. In: International Conference on Natural Products 2016 (ICNP 2016), |
| 2016 | Nigella sativa oil extracts improves dyslipidaemia in high fat diet (HFD) animal model. In: Medical Research Symposium & Pacific Partnership, |
| 2016 | Nigella sativa oil extracts improves dyslipidaemia in high fat diet (HFD) animal model. In: Medical Research Symposium & Pacific Partnership in conjunction with Kuantan Research Day 2016, |
| 2016 | Phytochemical profile and free radical scavenging activity of Entada spiralis stem bark. In: 2nd International Conference on Industrial Pharmacy (ICIP 2016):Generics and Biosimilars, |
| 2016 | Potential of untapped local species, "Chicha" (Stereospermum fimbriatum), as an alternative for skin infection treatment. In: The 14th Symposium of Malaysian Society of Applied Biology (MSAB 2016), |
| 2016 | Subcritical carbon dioxide extraction of stereospermum fimbriatum's stem bark and the extract's potential as an anti-dermal infection agent. In: 2nd International Conference on Industrial Pharmacy (ICIP 2016), |
| 2015 | Bioactivity guided isolation of antidiabetic compounds from common weed Mimosa pudica L. using diabetic enzyme inhibitory assay. In: ASIAN Congress on Biotechnology 2015, |
| 2015 | Phytochemical and in vitro antidiabetic investigations of stems of Tetracera Indica Merr., a Malaysian traditional medicinal plant. In: 8th Asian Network of Research on Antidiabetic Plants (ANRAP) International Seminar 2015, |
| 2014 | A new hope to control foodborne diseases and pollution: potential antimicrobial activity of banana (Musa paradisiaca) peels against food borne pathogenic microbes. In: International Research, Invention and Innovation Exhibition 2014 (IRIIE2014), |
| 2014 | In vivo and in vitro antidiabetic studies of Pereskia bleo leaves. In: Diabetes Asia 2014 Conference, |
| 2014 | Isolation of a promising anti-diabetic agent (5,7-dihydroxy-8-methoxyflavone) from the leaves of Malaysian herb "Tetracera indica" and its in vivo toxicological studies. In: International Research, Invention and Innovation Exhibition 2014 (IRIIE2014), |
| 2014 | Isolation of a promising antidiabetic compound from the leaves of tetracera indica merr., and in vivo toxicological studies in diabetes induced experimental animals. In: 1st International Conference on Industrial Pharmacy (ICIP) 2014, |
| 2014 | Multivariate calibration of fourier transform infrared spectra in predicting anti-diabetic activity of momordica charantia fruit. In: International Health Conference IIUM 2014, |
| 2014 | Phytochemical investigation of the leaves of tetracera scandens Linn and in vitro antidiabetic activity of hypoletin. In: International Conference on Science, Technology and Social Sciences (ICSTSS) 2012, |
| 2014 | Phytochemical investigation of the leaves of tetracera scandens Linn and in vitro antidiabetic activity of hypoletin. In: International Conference on Science, Technology and Social Sciences (ICSTSS) 2012, |
| 2014 | Potential antimicrobial activity of banana (Musa paradisiaca) peels against food borne pathogenic microbes. In: International Conference on Natural Products 2014, |
| 2014 | Turning weeds into drugs: The prospect of Mimosa pudica for Diabetes mellitus in-vitro. In: 1st International Conference on Industrial Pharmacy (ICIP) 2014, |
| 2013 | CA1 hippocampal neuronal responses to curry leaves extract treatment in rats subjected to chronic cerebral hypoperfusion : a behavioral and histopathological study . In: IIUM Research, Invention and Innovation Exhibition (IRIIE) 2013, |
| 2013 | Preservation of hippocampal ultrastructural constituents with Nigella sativa oil treatment to rats challenged by global cerebral oligemia. In: IIUM Research, Invention and Innovation Exhibition (IRIIE) 2013, |
| 2012 | Effect of Nigella sativa on chronic cerebral hypoperfusion-induced memory and learning impairment. In: IIUM Research, Invention and Innovation Exhibition IRIIE 2012, |
| 2012 | In vitro antihyperglycemic and antioxidant potential of elettaria cardamomum l. Water and methanolic extracts . In: Diabetes Asia 20112 Conference & Workshop, |
| 2012 | Neuroprotective effect of black cumin oil against cerebrovascular hypoperfusion induced pyramidal cell loss in rats. In: IIUM Research, Invention and Innovation Exhibition (IRIIE) 2012, |
| 2011 | Antidiabetic efficacy of polar extracts of the leaves of Tetra cera indica Merr.(Dilleniaceae) in alloxanized rats. In: Diabetes Asia 2011, |
| 2011 | Antidiabetic efficacy of polar extracts of the leaves of tetracera indica merr. (dilleniaceae) in alloxanized rats . In: 10th Continuing Professional Development (CPD) Series: Diabetic Asia 2011 Conference and Workshop, |
| 2011 | Antidiabetic efficacy of polar extracts of the leaves of Tetracera indica Merr. (Dilleniaceae) in alloxanized rats. . In: 10th Continuing Professional Development (CPD) Series: Diabetic Asia 2011 Conference and Workshop,, |
| 2011 | Bioassay guided isolation and antimicrobial compounds from Andrographis paniculata (Hempedu Bumi). In: IIUM Research, Invention and Innovation Exhibition (IRIIE) 2011, |
| 2011 | Isolation and structure elucidation of two new novel flavonoids and antidiabetic activity of the leaves of Tetracera scandens Linn. in vivo.. In: IIUM Research, Invention and Innovation Exhibition (IRIIE) 2011, |
| 2011 | Isolation of 5,7-dihydroxy-8-methoxyflavone as an anti-hyperglycemic agent from the leaves of Tetracera indica MERR. (Mempelas). In: International Conference on Natural Products (ICNP 2011): Metabolomics - A New Frontier in Natural Products Science, |
| 2011 | Isolation of anti-hyperglycemic agent (WOGONIN) from the leaves of Tetracera indica Merr. (Dilleniaceae) (Mempelas paya). In: IIUM Research, Invention and Innovation Exhibition (IRIIE) 2011, |
| 2011 | Mnemonic effects of Fixed Oil of Black Cumin (Nigella sativa) seeds on aged rats with memory impairment. In: Malaysia-Australia Research Colloquium on Exercise, Nutrition, Health and Wellness, Park Royal Hotel, Batu Feringghi, Penang, MALAYSIA., |
| 2011 | Mnemonic effects of Fixed Oil of Black Cumin (Nigella sativa) seeds on aged rats with memory impairment . In: Malaysia-Australia Research Colloquium on Exercise, Nutrition, Health and Wellness, |
| 2011 | Preventive effect of nigella sativa oil against hippocampal pyramidal cell loss induced by permanent bilateral common carotid artery occlusion in rats. In: International Health Conference IIUM 2011 , |
| 2011 | Preventive effect of Nigella Sativa oil against Hippocampal Pyramidal Cell loss induced by permanent bilateral common Carotid Artey Occlusion in rats. In: International Health Conference IIUM 2011 , |
| 2010 | Anti-hyperglecemic activity of the leaves of Tetracera scandens Linn. (Dilleniaveae) in alloxan induced diabetic male albino wistar rats. In: 3rd International Conference on Advancement in Science and Technology (iCAST) 2010, |
| 2010 | Anti-hyperglycaemic activity of the leaves of Tetracera Scandens Linn (dilleniaceae) in Alloxan induced diabetic male albino wistar rats. In: 3rd International Conference on Advancement in Science and Technology (iCAST) 2010, |
| 2010 | Nephroprotective effect of the leaves of Murraya koenigii L. Spreng in vivo.. In: 3rd International Conference on Advancement in Science and Technology (iCAST) 2010, |
| 2009 | Antidiabetic activity of the methanol extract of the leaves of Tetracera scandens Linn., in alloxan induced diabetic rats. In: National Diabetes Education Conference 2009, |
| 2009 | Comparative study and antioxidant potential of some varieties of sweet potato (Ipomoea batatas) and wheat flours (Triticum spp.) of Malaysia in vitro. In: 23rd MSPP Scientific Meeting, |
| 2009 | Exploration of the antidiabetic potential of the leaves of Tetracera scandens Linn., (Mempelas Kesar) in alloxan induced diabetic wister rats. In: Diabetes Asia 2009 Conference, |
| 2009 | In vitro screening of Andrographis paniculata (Hempedu bumi) for antibacterial activity using disc diffusion method. In: 23rd Malaysian Society of Pharmacology and Physiology Scientific (MSPP) Meeting (Theme: New Technologies for improving quality of life), |
| 2006 | Phytochemical and pharmacological investigations of Egyptian clover, Trifolium alexandrinum L.. In: Proceedings of the International Conference on Medicinal Plants 2005, |
Book
Book Section
| | |
| --- | --- |
| 2018 | A concise review of Malaysian medicinal plants with antidiabetic activity. In: IIUM Press, International Islamic University Malaysia, ISBN: 978-967-418-454-4, pp. 200-222 |
| 2018 | Annona muricata: A potent anticancer plant. In: IIUM Press, ISBN: 987-967-418-454-4, pp. 248-262 |
| 2018 | Anticancer potential of flavonoids: polyphenols that may cure. In: IIUM Press, ISBN: 978-967-418-454-4, pp. 21-62 |
| 2018 | Antioxidant property of green tea catechins as neuroprotection in the brain. In: IIUM Press, ISBN: 978-967-418-454-4, pp. 109-126 |
| 2018 | Chromolaena odorata (L.): a weed of high medicinal value. In: IIUM Press, ISBN: 978-967-418-454-4, pp. 223-247 |
| 2018 | Exploring the tropical plant wealth: skin and health benefits. In: IIUM Press, International Islamic University Malaysia, ISBN: 9789674184544, pp. 149-174 |
| 2018 | Health benefits of omega-3 in cardiovascular disease. In: IIUM Press, ISBN: 978-967-418-454-4, pp. 91-108 |
| 2018 | Introduction: current issues in pharmacy. In: IIUM Press, ISBN: 978-967-418-454-4, pp. 1-6 |
| 2018 | Microsponge: a potential delivery system for salicylic acid in treating acne. In: IIUM Press, International Islamic University Malaysia, ISBN: 9789674184544, pp. 127-148 |
| 2018 | Mimosa pudica: a weed with medicinal importance. In: IIUM Press, International Islamic University Malaysia, ISBN: 978-967-418-454-4, pp. 64-90 |
| 2016 | Cell migration analysis of wound healing properties of Centella asiatica on NIH 3T3 fibroblasts. In: IIUM Press, ISBN: 978-967-418-442-1, pp. 33-46 |
| 2016 | Effects of particle size, method and duration of extraction on asiaticoside in Centella asiatica. In: IIUM Press, ISBN: 978-967-418-442-1, pp. 47-60 |
| 2012 | Andrographis paniculata (Burm.f) Wall. ex Ness: a potent antibacterial plant. In: InTech - Open Access Publisher, University Campus STeP Ri, Slavka Krautzeka 83/A, 51000 Rijeka, Croatia, ISBN: 979-953-307-281-3, pp. 345-360 |
| 2012 | Andrographis paniculata (Burm.f) Wall. ex Ness: a potent antibacterial plant. In: InTech - Open Access Publisher, University Campus STeP Ri, Slavka Krautzeka 83/A, 51000 Rijeka, Croatia, ISBN: 979-953-307-281-3, pp. 345-360 |
| 2011 | Flavonoids : future pharmaceutical agents.. In: IIUM Press, ISBN: 9789674180195, pp. 333-363 |
| 2011 | Herbs as antimicrobial remedies and the scientific evidences.. In: IIUM Press, ISBN: 9789674180195, pp. 249-273 |
| 2011 | Metals in herbal formulations. In: IIUM Press, ISBN: 9789674180195, pp. 320-332 |
| 2011 | Metals in herbal formulations. In: IIUM Press, ISBN: 9789674180195, pp. 320-332 |
Monograph