Staff Directory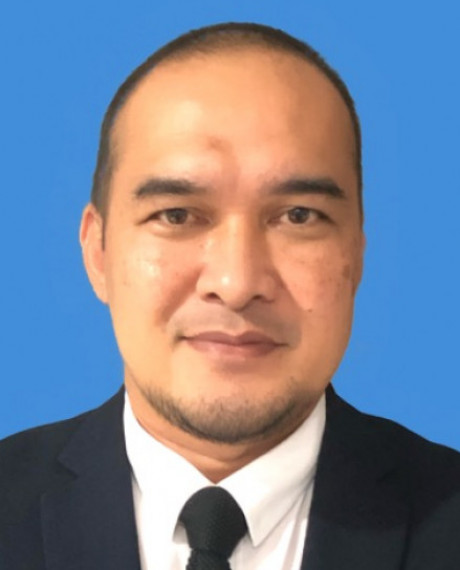 Academic Qualification
Ph.D in English Language and Linguistics - Doctor of Philosophy, The University of Sheffield
Master of Education (TESL) - Masters Degree, Universiti Kebangsaan Malaysia (UKM)
Education (TESL) - Bachelor Degree, Universiti Kebangsaan Malaysia (UKM)
Shahrul Nizam Bin Mohd Basari (Dr.)
Assistant Professor
IIUM Pagoh Campus
KULLIYYAH OF LANGUAGES AND MANAGEMENT

Other's position:
Deputy Dean, Kulliyyah of Languages and Management
---
shahnzmb@iium.edu.my
2610
Expert Profile
Shahrul Nizam Mohd Basari received his Bachelor in Education TESL (Hons) in 1999 and Master's degree in Education (TESL) in 2008, both from the National University of Malaysia (UKM). He joined IIUM in 2005 as a Celpad teacher. During his tenure for about seven years there, he taught the English pre-sessional courses, English for Academic Purposes, English for Occupational Purposes and English for Academic Writing. Apart from teaching, he was also the Coordinator of the Testing and Measurement Unit.
He then joined the newly established Kulliyyah of Languages and Management (KLM) in 2012, and held the position as the Coordinator for the English for International Communication course.
He obtained his Ph.D at the University of Sheffield, United Kingdom in 2019. Currently, he is an Assistant Professor at KLM and also serves as the Deputy Head of the Student Smart Learning and Research Training Unit (SMART) at the campus.
Area of Specialisation
Social Science ~ Social Science ~ Education ~ Language Literacy (Including English (TESOL, ESL, TEFL) and other Languages) - Master of Education (TESL)
Teaching Responsibilities
| | |
| --- | --- |
| CORE COMPETENCE UPPER | 2005/2006 |
| COURSE DESIGN IN ESP | 2022/2023 |
| CRITICAL THINKING | 2012/2013 |
| ENGLISH FOR ACADEMIC WRITING | 2020/2021 2018/2019 2017/2018 |
| ENGLISH FOR ACADEMIC WRITING (EAW) | 2019/2020 2011/2012 2010/2011 2009/2010 2008/2009 2007/2008 |
| ENGLISH FOR OCCUPATIONAL PURPOSES (ICT) | 2011/2012 |
| ENGLISH LANGUAGE I | 2009/2010 |
| ENGLISH LANGUAGE III | 2005/2006 |
| ENGLISH LANGUAGE IV | 2008/2009 2007/2008 2006/2007 |
| ENGLISH LANGUAGE V | 2009/2010 2007/2008 2006/2007 2005/2006 |
| ENGLISH LANGUAGE V (2ND HALF INTENSIVE) | 2007/2008 |
| ENGLISH LANGUAGE VI | 2009/2010 2008/2009 2006/2007 |
| FAMILY MANAGEMENT | 2022/2023 2021/2022 |
| FAMILY MANAGEMENT & PARENTING | 2020/2021 2019/2020 2018/2019 |
| FINAL YEAR PROJECT | 2022/2023 2021/2022 2020/2021 2019/2020 2018/2019 |
| INTERNSHIP | 2021/2022 2020/2021 2019/2020 2018/2019 2017/2018 2016/2017 |
| INTERNSHIP 1 | 2018/2019 2017/2018 |
| INTERNSHIP 2 | 2018/2019 |
| INTRODUCTION TO COMMUNICATION | 2012/2013 |
| INTRODUCTION TO LINGUISTICS | 2020/2021 2019/2020 |
| INTRODUCTION TO MANAGEMENT | 2012/2013 |
| ISSUES IN ESP | 2021/2022 |
| LANGUAGE FOR OCCUPATIONAL PURPOSES-ENGIN | 2010/2011 |
| LANGUAGE FOR OCCUPATIONAL PURPOSES-ENM | 2011/2012 2010/2011 2009/2010 2008/2009 |
| LEADERSHIP AND MANAGEMENT | 2020/2021 |
| MATERIALS DEVELOPMENT IN LANGUAGE TEACHING IN ESP | 2020/2021 2019/2020 |
| PRINCIPLES OF APPLIED LINGUISTICS IN ESP | 2021/2022 |
| PUBLIC SPEAKING | 2012/2013 |
| READING SKILLS | 2012/2013 |
| SFC: LISTENING SKILLS | 2007/2008 |
| SFC: READING SKILLS | 2005/2006 |
| SFC: SPEAKING SKILLS | 2005/2006 |
| SFC: WRITING SKILLS | 2006/2007 2005/2006 |
| SKILL SPECIFIC COURSE LISTENING | 2007/2008 |
| TRANSLATION STUDIES | 2022/2023 2021/2022 2020/2021 2019/2020 2018/2019 |
Publications
Conference or Workshop Item
| | |
| --- | --- |
| 2021 | Needs analysis and the three areas of controversies in EAP. In: The 2nd Malaysian Association of Applied Linguistics International Conference (MAALIC 2021), |
| 2021 | The use of English loanwords in Malay: perceptions of students from a language faculty. In: International Conference of Languages, Education and Tourism (ICLET) 2021, |
| 2020 | EGAP vs ESAP? exploring the EAP instructors' perceptions. In: 5th International Conference on Social Sciences, Humanities and Technology 2020 (5th ICSHT 2020), |
| 2019 | Learning strategies: perceptions on using songs and movies in learning a foreign language. In: 3rd International Language and Tourism Conference 2019 (ILTC 2019), |
| 2019 | Needs analysis in an EAP course: A case study. In: INTERNATIONAL CONFERENCE ON EDUCATION, TECHNOLOGY, BUSINESS AND SOCIAL SCIENCE (ETBSS2019), |
| 2018 | Rights analysis power relations among EAP stakeholders. In: The 11th Kuala Lumpur International Communication, Education, Language and Social Sciences Conference (KLiCELS 11), |