Staff Directory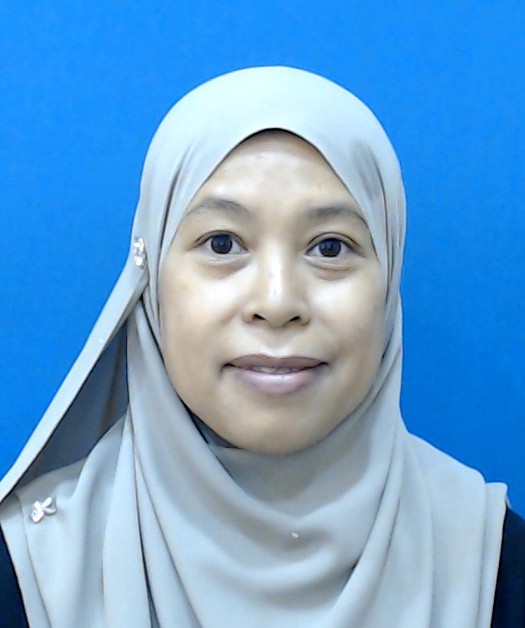 Academic Qualification
Nursing - Doctor of Philosophy, Griffith University
Master of Science in Advanced Nursing with Merit - Masters Degree, University of Nottingham
Bachelor of Health Sciences (Nursing) - Bachelor Degree, Universiti Sains Malaysia (USM)
Certificate in Nursing - Certificate, University Sains Malaysia
Azlina Bt. Daud (Assoc. Prof. Dr.)
Associate Professor
IIUM Kuantan Campus
KULLIYYAH OF NURSING

Other's position:
Deputy Dean, Centre for Postgraduate Studies
---
Expert Profile
Azlina Daud obtained her Diploma in Nursing from the Ministry of Health Nursing College in 1994. Upon completion of her diploma, she started her career as a nurse at Hospital University Science Malaysia. After seven years of working at general medical ward, she pursued her Bsc Health Sciences (Nursing) at University Sains Malaysia in 2001.
In 2006, she joined IIUM as an Assistant Lecturer and later furthered her studies in Msc Advanced Nursing at Nottingham University, UK in 2007 and Ph.D at Griffith University, Queensland, Australia in 2009. Upon completion of her Ph.D, she returned to Malaysia in September 2013.
Presently, she is a lecturer at the Department of Medical Surgical Nursing and holds the administrative position as Deputy Dean (Postgraduate and Research) since November 2013 until December 2018. A fellow of Mahallah Fatimah Az-Zahra from January 2019 until December 2020. Currently she is holding a post of Deputy Dean, Centre for Postgraduate Studies from August 2021 until present. As for research, her area of interests are intravascular management, infection control, obesity, randomised control trial and systematic review.
Area of Specialisation
Medical And Health ~ Medical And Health Sciences ~ Clinical Medicine ~ Hematology - hematology
Medical And Health ~ Medical And Health Sciences ~ Nursing ~ Medical - Medical
Medical And Health ~ Medical And Health Sciences ~ Nursing ~ Orthopedic - Orthopedic
Medical And Health ~ Medical And Health Sciences ~ Nursing ~ Urology - Genitourinary
Medical And Health ~ Medical And Health Sciences ~ Nutrition (Clinical and Public Health Research) ~ Obesity
Medical And Health ~ Medical And Health Sciences ~ Nursing ~ Nursing Care - Respiratory
Medical And Health ~ Medical And Health Sciences ~ Clinical Medicine ~ Infectious/ Communicable Diseases - Randomised Controlled Trial
Professional Membership
2018 - 2026: Member of Profesional Body / Association: (Life member ), Malaysian Nurses Association
Teaching Responsibilities
| | |
| --- | --- |
| CARDIOVASCULAR,RESPIRATORY AND ENDROCRINE NURSING PRACTICE | 2020/2021 2018/2019 |
| ELECTIVE CLINICAL | 2014/2015 |
| ELECTIVE POSTING | 2013/2014 |
| ENDOCRINE AND GENITOURINARY IN NURSING | 2014/2015 |
| FAMILY MANAGEMENT | 2022/2023 2021/2022 2020/2021 |
| FAMILY MANAGEMENT AND PARENTING | 2019/2020 2018/2019 2017/2018 |
| FINAL YEAR RESEARCH PROJECT I | 2022/2023 2021/2022 2020/2021 2019/2020 |
| FINAL YEAR RESEARCH PROJECT II | 2022/2023 2021/2022 2020/2021 2019/2020 |
| FIRST AID SKILLS 1 | 2015/2016 |
| FIRST AID SKILLS 2 | 2016/2017 2015/2016 |
| FUNDAMENTAL OF MEDICAL-SURGICAL AND SPECIAL SENSES NURSING | 2022/2023 2021/2022 2020/2021 2019/2020 2018/2019 2017/2018 |
| FUNDAMENTAL OF MEDICAL-SURGICAL AND SPECIAL SENSES NURSING PRACTICE | 2021/2022 2020/2021 2019/2020 2018/2019 2017/2018 |
| GASTROINTESTINAL AND HEPATOBILIARY NURSING | 2016/2017 |
| GASTROINTESTINAL,HEPATOBILIARY AND NEUROLOGICAL NURSING PRACTICE | 2018/2019 |
| HEMOPOETIC, MUSCULOSKELETAL AND GENITOURINARY NURSING PRACTICE | 2018/2019 |
| INTEGRATED NURSING PRACTICE (FINAL PROFESSIONAL EXAMINATION) | 2017/2018 |
| INTEGRATED NURSING PRACTICE(FINAL PROFESSIONAL EXAMINATION) | 2020/2021 |
| INTEGRATED NURSING SCIENCES(FINAL PROFESSIONAL EXAMINATION) | 2019/2020 |
| ISSUES IN NURSING | 2017/2018 2016/2017 2013/2014 |
| ISSUES, CHALLENGES AND FUTURE TRENDS IN NURSING | 2020/2021 |
| MATERNAL-NEWBORN NURSING & WOMEN'S HEALTH PRACTICE | 2019/2020 |
| MEDICAL-SURGICAL NURSING 4 | 2006/2007 |
| MEDICAL-SURGICAL NURSING PRACTICE 1 | 2014/2015 |
| RESEARCH PROJECT FINAL | 2018/2019 2017/2018 2016/2017 2014/2015 |
| RESEARCH PROJECT PROPOSAL | 2018/2019 2017/2018 2016/2017 2015/2016 2014/2015 |
| RESEARCH PROJECTS | 2013/2014 |
| RESPIRATORY AND CARDIOVASCULAR NURSING | 2015/2016 2014/2015 |
Research Projects
Completed
| | |
| --- | --- |
| 2018 - 2022 | Designing a Training Needs Assessment Model Related to Obesity for Primary Care Nurses |
| 2016 - 2019 | Development of depression symptoms model for thyroid disorders patients in Malaysia |
| 2016 - 2020 | Determining Factors Associated with High-sensitivity C-reactive protein level in Obese Women |
| 2015 - 2019 | Routine versus clinically indicated replacement of peripheral intravascular catheter: Factors determining incidence of phlebitis |
| 2015 - 2016 | (Disaster Relief and Preparedness) Community Experiences on Prevention, Preparedness and Recovery of the Flood Disaster in Cultural and Local Wisdom Context: Lesson Learnt from All Levels of a Household |
| 2015 - 2019 | Development Of Home ? Based Lifestyle Modification Program In Preventing Fracture Among Post-Menopausal Osteoporotic Women |
| 2014 - | One Million Global Catheters: Peripheral Intravenous Cannula Worlwide Prevalence Study (OMG PIVC Study) in Malaysia Context |
On-Going
| | |
| --- | --- |
| 2023 - Present | Use of Infrared Thermography in the Early Detection of Development of Phlebitis in Adult Patients |
Award & Recognition
| | | |
| --- | --- | --- |
| 01 Aug, 2022 | Best speaker award - UMY | International |
| 17 Dec, 2021 | Best Researcher Award - Kulliyyah of Nursing | KCDIO |
| 17 Dec, 2021 | Special Recognition Award - National Immunization - vaccinator - Kulliyyah of Nursing | KCDIO |
| 17 Dec, 2021 | Top 5 KON's Research Performance - Kulliyyah of Nursing | KCDIO |
| 10 Dec, 2021 | Top Researchers with the highest amount of grants received from 2019 -2021 - International Islamic University Malaysia | University |
| 03 Dec, 2020 | Top 20 Contributors to KON's Research Performance - Kulliyyah of Nursing | KCDIO |
| 03 Dec, 2020 | Special Recognition Award (Long Service more than 10 years) - Kulliyyah of Nursing | KCDIO |
Publications
Article
| | |
| --- | --- |
| 2022 | Correlation between nurses' Body Mass Index (BMI) and their attitude towards obese patients. International Journal of Care Scholars, 5 (1) pp. 3-7 |
| 2022 | Quality of life among mothers of preterm newborns in a Malaysian neonatal intensive care unit. Belitung Nursing Journal, 8 (2) pp. 93-100 |
| 2021 | Association between sitting time and high-sensitivity C-reactive protein level among obese women. Enfermeria Clinica, () pp. |
| 2021 | Association between sitting time and high-sensitivity C-reactive protein level among obese women. Enfermeria Clinica, () pp. 5139-5142 |
| 2021 | Depression level among thyroid disorder patients and its correlation. International Journal of Care Scholars, 4 (1) pp. 52-60 |
| 2021 | Effect of infusion set replacement intervals on catheter-related bloodstream infections (RSVP): a randomised, controlled, equivalence (central venous access device)–non-inferiority (peripheral arterial catheter) trial. The Lancet, 397 (10283) pp. 1447-1458 |
| 2020 | Association between dietary macronutrient intake and high-sensitivity C-reactive protein levels among obese women in Kuantan, Malaysia. Makara Journal of Science, 24 (4) pp. 233-239 |
| 2020 | Patient characteristics related to phlebitis in the East Coast of peninsular Malaysia hospital. Jurnal Keperawatan Indonesia, () pp. 1-2 |
| 2019 | Association between body mass index and cardiometabolic risks among Malay obese adults. Clinical Nursing Research, 28 (2) pp. 202-216 |
| 2019 | Association between walking time spent and high sensitivity C-reactive protein level among obese women. Enfermería Clínica, Volume 29 (Supplement 2) pp. 96-100 |
| 2019 | Bone health status among postmenopausal women in Malaysia. International Journal of Women's Health and Reproduction Sciences, 7 (2) pp. 169-173 |
| 2019 | Caries experience among cigarette and e-cigarette users: a 6-month prospective study. Journal of Pharmaceutical Sciences and Research, 11 (7) pp. 2566-2569 |
| 2019 | Community experiences on prevention, preparedness and recovery of the flood disaster in cultural and local wisdom context. International Journal of Care Scholars, 2 (1) pp. 13-22 |
| 2019 | Effect of electronic cigarette usage on oral health: a 6-month prospective study. Indian Journal of Public Health Research & Development, 10 (6) pp. 911-916 |
| 2019 | Knowledge and attitudes of maintaining bone health among post-menopausal women in Malaysia. Central Asian Journal of Global Health, 8 (1) pp. 1-8 |
| 2019 | Learning styles of Malaysian generation 'Y' healthcare undergraduates. Enfermería Clínica, 29 (2) pp. 471-475 |
| 2019 | The effect of lifestyle modification intervention with motivational construct on dietary macronutrient intake among obese adults. International Medical Journal Malaysia, 18 (2) pp. 13-22 |
| 2018 | Abdominal obesity and high-sensitivity C-reactive protein level among Malay obese adults in Kuantan, Malaysia. International Medical Journal Malaysia, 17 (1) pp. 79-86 |
| 2018 | Incidence of phlebitis among adult patients with peripheral intravenous catheter in an east coast hospital Malaysia. International Journal of Care Scholars, 1 (2) pp. 5-8 |
| 2018 | Oral health of smokers and e-cigarette users: a case-control study. Journal of International Dental and Medical Research, 11 (2) pp. 428-432 |
| 2018 | Prevalence and association between triglyceride level and lifestyle factors among Malay obese class I and II adult. Enfermeria Clinica, 28 (Supplement 1 ( February - June 2018 )) pp. 310-315 |
| 2018 | Relationship between levels of thyroid stimulating hormone, age, and gender, with symptoms of depression among patients with thyroid disorders as measured by the Depression Anxiety Stress Scale 21 (DASS-21). Enfermeria Clinica, 28 (Suppl. 1 part A) pp. 180-183 |
| 2018 | Use of short peripheral intravenous catheters: characteristics, management, and outcomes worldwide. Journal of Hospital Medicine, 13 (5) pp. E1-E7 |
| 2017 | Depression symptoms level among thyroid disorders patients at central region of Peninsular Malaysia. Malaysian Journal of Psychiatry, 26 (1) pp. 1-7 |
| 2017 | Fracture risk prediction in post-menopausal women with osteopenia and osteoporosis: preliminary findings. Enfermería Clínica, 27 (supp. part 1) pp. 232-235 |
| 2016 | A prevalence study into use and management of peripheral intravenous catheters. International Medical Journal Malaysia, 15 (Supplement Issue) pp. 84-84 |
| 2016 | Contraception use and its associated factors among grand multipara mothers in Kuantan. International Medical Journal Malaysia (IMJM), 15 (supplement issue) pp. 86 |
| 2016 | Depression symptoms in patients with thyroid disorder at the tertiary hospital in northern region of Malaysia. IIUM Medical Journal Malaysia, 15 (Supplementary Issue 1) pp. 26 |
| 2016 | Prevalence of cardiometabolic risk factors among Malaysian obese adults. International Medical Journal Malaysia, 15 (Supplement Issue) pp. 24-24 |
| 2013 | Optimal timing for intravascular administration set replacement . Optimal timing for intravascular administration set replacement, (9) pp. |
| 2013 | Replacement of administration sets (including transducers) for peripheral arterial catheters 4 days versus 7 days: a systematic review. . Journal of Clinical Nursing, 22 (3-4) pp. 303-317 |
Conference or Workshop Item
| | |
| --- | --- |
| 2022 | Central Venous Access Devise (CVAD): care management II. In: 2022 Continuous Education Program Best Practices in Central Venous Access Devices Care and Management, |
| 2022 | Cost benefit analysis of central lines antimicrobial dressing. In: Health Economic Evaluation In Infusion Therapy Management, |
| 2020 | Research of infusion therapy: to advance knowledge & improve practice. In: Practice Standards in Infusion Therapy Nursing and 1st Annual General Meeting, |
| 2019 | Motivational approach to lifestyle modification intervention on cardiometabolic risk profiles among obese adults: A randomized controlled trial. In: 4th International Conference on Global Health (ICGH) in conjunction with the 7th Asian International Conference in Humanized Health Care (AIC-HHC) 2019., |
| 2019 | Oral health status of smoker: a 6 months follow-up. In: Conference on Biomedical and Advanced Materials, |
| 2019 | Prevalence and correlation of depression among thyroid disorder patients in Malaysia. In: 2nd Andalas International Nursingg Conference (AINiC 2019), |
| 2018 | Association between sitting time and high-sensitivity C - reactive protein level among obese women. In: The 4th International Conference on Nursing (ICON) 2018, |
| 2018 | Association between walking time spent and high sensitivity C-reactive protein level among obese women. In: The 2nd International Nursing Scholars Congress 2018, |
| 2018 | Incidence and risk factors of phlebitis among adult patient s with peripheral intravenous catheter. In: The Global Public Health Conference 2018 (GlobeHEAL), |
| 2018 | Incidence and risk factors of phlebitis among adult patients with peripheral intravenous catheter. In: The Global Public Health Conference 2018, |
| 2018 | Prevalence and association between triglyceride level and lifestyle factors among Malay obese class I and II adults. In: 1st International Nursing Congress 2016, |
| 2017 | Electronic cigarette devices and oro-facial trauma (Literature review). In: The 1st Physics and Technologies in Medicine and Dentistry Symposium, |
| 2017 | Fracture risk prediction in post-menopausal women with osteopenia and osteoporosis: Preliminary findings. In: 1st International Nursing Scholars Congress, |
| 2017 | Incidence and risk factors of phlebitis among adult patients with peripheral intravenous catheter (PIVC). In: USM National Nursing Conference 2017, |
| 2017 | Replacement of administration set for arterial catheter 4 days versus 7 days. In: 2nd Malaysian Infusion Nurses Special Interest Group (MINSIG) Congress 2017, |
| 2016 | A prevalence study into use and management of peripheral intravenous catheters. In: Medical Research Symposium & Pacific Partnership in conjunction with Kuantan Research Day 2016, |
| 2016 | Contraception use and its associated factors among grand multipara mothers in Kuantan. In: Medical Research Symposium & Pacific Partnership in conjunction with Kuantan Research Day 2016, |
| 2016 | Correlation between framingham risk score and cardiometabolic risk profile in Malaysian obese adults. In: 2nd International Nursing Conference, |
| 2016 | Depression symptoms in patients with thyroid disorder at the tertiary hospital in northern region of Malaysia. In: Medical Research Symposium & Pacific Partnership in conjunction with Kuantan Research Day 2016, |
| 2016 | Effectiveness of lifestyle modification intervention on cardiometabolic risk profile among obese adults. In: 1st IIUM Research Symposium 2016 (IRS 2016), |
| 2016 | One million global catheters: peripheral intravenous cannula worldwide prevalence study (OMG PIVC STUDY) in the East Coast of Peninsular Malaysia hospital. In: 1st Vascular Access Scientific Meeting, |
| 2016 | Prevalence and association between triglyceride level and lifestyle factors among Malay obese class I and II adults. In: 1st International Nursing Congress 2016, |
| 2016 | Prevalence of cardiometabolic risk factors among Malaysian obese adults. In: Medical Research Symposium and Pacific Partnership 2016, |
| 2016 | The effectiveness of health education program towards knowledge and attitude on Pap smear among married women in Kuantan, Pahang. In: 2nd International Nursing Conference, |
| 2014 | Replacement after standard versus prolonged use of administration sets for peripheral arterial catheter in an Australian intensive care unit: a feasibility randomised controlled trial. In: 3rd World Congress on Vascular Access (WoCoVA 2014), |
Book
Monograph