Staff Directory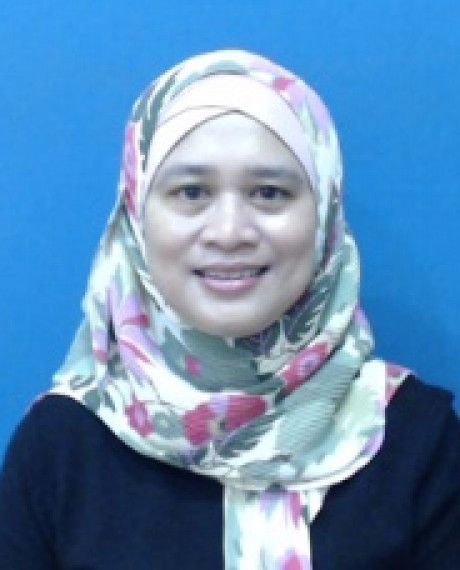 Academic Qualification
Radiology - Masters Degree (Clinical Specialist), Universiti Sains Malaysia (USM)
Basic Medical - Bachelor Degree, Universiti Sains Malaysia (USM)
Azian Bt. Abd Aziz (Prof. Dr.)
Professor
IIUM Kuantan Campus
KULLIYYAH OF MEDICINE
---
Expert Profile
Prof. Dr. Azian Abd. Aziz started her career upon graduating with a medical degree in 1992 and went on to pursue specialty training in radiology, completing Master of Medicine (Radiology) in 1999. After a brief stint as a clinical Radiologist with the Ministry of Health, she opted to become an academician and joined the Kulliyyah of Medicine, IIUM as the pioneer staff and the Head of the Department of Radiology in 2000.
Having a special interest in Paediatric Radiology, she completed a Fellowship at the Royal Children's Hospital, Melbourne, Australia in 2005 and did a short attachment in Paediatric Neuroradiology at The Hospital for Sick Children, Toronto, Canada in 2010.
She has since focused on giving services, consultation and doing research related to Pediatric Imaging-based at the Hospital Tengku Ampuan Afzan (HTAA), Kuantan, Pahang which is also the teaching hospital for IIUM.

Prof. Dr. Azian is an active member of the College of Radiology, Malaysia and the Asia Oceanic Society of Pediatric Radiology (AOSPR). She has written many published articles in various local and international journals and presented papers at local and international conferences particularly related to Paediatric Radiology.
She received the Best Teacher Award during IIUM Quality Day in 2006 and won awards for best free paper presentation during AOSPR Congress 2007 in Bandung and AOSPR Congress 2011 in Bali, Indonesia. She was nominated by Kulliyyah of Medicine for 'The Outstanding Researcher Award' during IIUM Quality Day 2011.
The most senior academician in the Department of Radiology, Kulliyyah of Medicine. She is presently working as a Professor.
Area of Specialisation
Medical And Health ~ Medical And Health Sciences ~ Environmental and Occupational Health and Safety Research ~ Injuries - Radiology
Professional Membership
1999 - 2020: Member of Profesional Body / Association, Malaysian College of Radiology - Ordinary Member
2000 - 2029: Member of Profesional Body / Association, Malaysian Medical Association (MMA) - Life Member
2001 - 2010: Member of Profesional Body / Association, European Society of Radiology, ESR - Corresponding Member
2001 - 2020: Member of Profesional Body / Association: (Fellow), Academy of Medicine, Malaysia - Ordinary Member
2005 - 2013: Member of Profesional Body / Association, European Society of Paediatric Radiology, ESPR - Corresponding Member
2007 - 2029: Member of Profesional Body / Association, Asia Oceania Society of Paediatric Radiology, AOSPR - Life Member
2008 - 2029: Member of Profesional Body / Association, Malaysian Society of Ultrasound in Medicine - Life Member
Teaching Responsibilities
| | |
| --- | --- |
| ADVANCED RADIOLOGY ROTATION | 2022/2023 2021/2022 2020/2021 2019/2020 |
| BASIC LABORATORY TECHNIQUES | 2019/2020 2017/2018 2016/2017 2015/2016 2014/2015 2013/2014 |
| BASIC RADIOLOGY ROTATION | 2022/2023 2021/2022 2020/2021 2019/2020 |
| General Laboratory Techniques and Instrumentations | 2022/2023 2021/2022 |
| MEDICAL LABORATORY INSTRUMENTATION | 2013/2014 |
| MULTIMODALITY RADIOLOGY ROTATION | 2022/2023 2021/2022 2020/2021 2019/2020 |
| RADIOGRAPHIC ANATOMY: PLAIN RADIOGRAPHY | 2012/2013 |
| RADIOGRAPHIC ANATOMY: SPECIALISED IMAGING PROCEDURES | 2016/2017 2015/2016 2014/2015 2013/2014 2012/2013 |
| RADIOGRAPHIC PATHOLOGY | 2021/2022 2020/2021 2019/2020 2018/2019 2017/2018 2016/2017 2015/2016 2014/2015 2013/2014 2012/2013 |
| RADIOLOGY | 2022/2023 2021/2022 2020/2021 2019/2020 2018/2019 2017/2018 2016/2017 2015/2016 2014/2015 2013/2014 2012/2013 2011/2012 2010/2011 |
| SECTIONAL ANATOMY | 2022/2023 2021/2022 2020/2021 2019/2020 2016/2017 2015/2016 2014/2015 2013/2014 2012/2013 |
Research Projects
Completed
| | |
| --- | --- |
| 2010 - 2014 | CT Colonography:Detection of Lesions and Patients' Preference-Correlation with Standard Colonscopy |
| 2010 - 2012 | Ovarian Tumour: Computed Tomography (CT) Characteristics with Histopathological Correlation |
| 2010 - 2012 | Three Dimensional Investigation of Cerebrospinal Fluid Flow in the Third Ventricle and the Aqueduct of Sylvius |
| 2009 - 2011 | The Role of Multislice Computed Tomography (MSCT) in the Detection of Traumatic Intra Abdominal Injury: Our Experience in Hospital Tengku Ampuan Afzan (HTAA), Kuantan Pahang |
| 2009 - 2011 | Accidental and Non-Accidental Head Injury in Children. Is there a Tomography (CT) Presentation? |
| 2007 - 2014 | Osteoporosis in Asthmatic Patients on Inhaled Corticosteroids |
| 2006 - 2008 | A Review of Magnetic Resonance Imaging (MRI) of the Brain of Paediatric Patients in Hospital Tengku Ampuan Afzan (HTAA) Kuantan Pahang |
On-Going
| | |
| --- | --- |
| 2021 - Present | Yield Of Computed Tomography Pulmonary Angiogram (Ctpa) In Diagnosing Pulmonary Embolism In Kuantan: A Multi-Centre Observational Study |
| 2021 - Present | Hand Hygiene Knowledge And Attitude In Primary School Children In Kuantan : How Do They Fare In Hand Hygiene Practice |
Award & Recognition
| | | |
| --- | --- | --- |
| 10 Nov, 2011 | 3rd Prize Best Poster Award - An Unusual Cause of Acute Upper Gastrointestinal Obstruction in a Child. A Case Report. - 11th Congress of Asian & Oceanic Society for Paediatric Radiology (AOSPR) | International |
| 06 Jan, 2011 | Nomination for Outstanding Researcher Award 2010, KoM - Kulliyyah of Medicine | University |
| 19 Nov, 2009 | 1st Prize for Best Poster Presentation [Magnetic Resonance Imaging (MRI) of Soft Tissue Haemangiomas & Vascular Malformations of Children & Adolescents: A Pictorial Review of Cases in HTAA] Co-author - College of Radiology of Malaysia | National |
| 08 Nov, 2007 | 1st prize for Poster Presentation at the 7th Asia Oceanic Society of Pediatric Radiology (AOSPR) Congress. [Role of Magnetic Resonance Urography (MRU) in Children with dilated urinary tracts] - Asia Oceanic Society of Pediatric Radiology (AOSPR) | International |
| 17 Feb, 2006 | Quality Award - International Islamic University Malaysia [Best Teacher Award] | University |
| 01 Dec, 2002 | Grant for the Introduction to Research For Young Academic Seminar, Chicago, USA - Radiology Society of North America (RSNA) | International |
| 02 Jun, 2001 | BRACCO's Grant Recipient - BRACCO | International |
Publications
Article
| | |
| --- | --- |
| 2021 | Correlation study between clinical special tests for myelopathy and static MRI parameters in patients of Malaysian population treated for cervical dysfunction. Cureus, 13 (10) pp. 1-14 |
| 2021 | Doctor, My Chest Is Deformed..... Malaysian Journal of Paediatrics and Child Health (MJPCH), 27 (1) pp. 42-45 |
| 2021 | Doctor, my chest is deformed….. Malaysian Journal of Paediatrics and Child Health, 27 (1) pp. 42-45 |
| 2021 | MRI of corpus callosum in patients with autism spectrum disorder in Kuantan. Korean Journal of Radiology, () pp. S179 |
| 2021 | Vitamin C deficiency in a picky eater child. Medical Journal of Malaysia, 76 (5) pp. 753-756 |
| 2020 | Study of extracted geometry effect on patient-specific cerebral aneurysm model with different threshold coefficient (Ctℎres ). CFD Letters, 12 (10) pp. 1-14 |
| 2018 | Grisel syndrome: prompt diagnosis, prompt management equals happy ending. IIUM Medical Journal Malaysia, 17 (Supplementary Issue no. 1) pp. 89-89 |
| 2016 | A rare case of monostotic spinal fibrous dysplasia mimicking solitary metastatic lesion of thyroid carcinoma. Malaysian Journal of Medical Sciences, 23 (1) pp. 81-85 |
| 2014 | Computed Tomography (CT) of blunt abdominal trauma: the frequency of incidental findings, how it was documented in radiology report and the implication of these findings to acute trauma care. Medical Journal of Malaysia, 69 (1) pp. 45-47 |
| 2014 | Inverted papilloma of the urinary bladder: A rare cause of haematuria in a young girl. Brunei International Medical Journal, 10 (3) pp. 161-164 |
| 2013 | Anthropometric measurements of the human distal femur: A study of the adult malay population. BioMed Research International , 2013 (17505) pp. 1-6 |
| 2012 | Bone mineral density in asthmatic patients on inhaled corticosteroids in a developing country. Annals of Thoracic Medicine, 7 (2) pp. 69-73 |
| 2012 | Computed Tomography (CT) of bowel and mesenteric injury in blunt abdominal trauma: a pictorial essay. Medical Journal of Malaysia, 67 (4) pp. 445-452 |
| 2012 | Nasopharyngeal carcinoma presented with right upper limb weakness : a case report. International Medical Journal Malaysia, 11 (2) pp. 58-61 |
| 2012 | Primary ewing's sarcoma of the lumbosacral spine : a case report. International Medical Journal Malaysia, 11 (1) pp. 47-50 |
| 2012 | The role of Multislice Computed Tomography (MSCT) in the detection of blunt traumatic intra abdominal injury: our experience in Hospital Tengku Ampuan Afzan (HTAA), Kuantan, Pahang. Medical Journal of Malaysia, 67 (3) pp. 316-322 |
| 2011 | Acardius Amorphus: Magnetic Resonance Imaging (MRI) can be helpful in the Diagnosis when Ultrasound (US) is Inconclusive. Medical Journal of Malaysia, 66 (5) pp. 510-512 |
| 2011 | Computational investigation on CSF flow analysis in the third ventricle and aqueduct of sylvius. IIUM Engineering Journal, 12 (3) pp. 133-142 |
| 2011 | Computed tomography of blunt spleen injury: a pictorial review. Malaysian Journal of Medical Sciences , 18 (1) pp. 61-68 |
| 2011 | Morphometric study of the acetabular in malay population normal hips and its clinical applications. Journal of Medical Sciences, 11 (5) pp. 213-219 |
| 2011 | Retrocaval ureter: the importance of intravenous urography. Malaysian Journal of Medical Sciences , 18 (4) pp. 83-86 |
| 2010 | Bicycle handlebar injuries in children : findings on CT abdomen of 3 cases . , () pp. 1-15 |
| 2010 | Computed tomography (CT) imaging of injuries from blunt abdominal trauma: a pictorial essay. Malaysian Journal of Medical Sciences , 17 (2) pp. 29-39 |
| 2010 | Computed tomography (CT) in blunt liver injury: a pictorial essay. Medical Journal of Malaysia, 65 (4) pp. 321-327 |
| 2010 | Computed tomography of blunt renal trauma. Singapore Medical Journal, 51 (6) pp. 468-474 |
| 2010 | Intrapelvic Wilms' tumour: a rare entity for the most commonly encountered malignant renal tumour in children. Pediatric Radiology, 40 (6) pp. 1108-1161 |
| 2010 | Two cases of congenital vallecular cyst: a reminder of the potentially fatal cause of upper airway obstruction in infants. Malaysian Journal of Medical Sciences , 17 (3) pp. 68-73 |
| 2009 | A mimicry of melioidosis by Klebsiella ozaenae infection. Malaysian Journal of Pathology, 31 (2) pp. 147-150 |
| 2009 | Calcification of the alar ligament mimics fracture of the craniovertebral junction (CVJ): an incidental finding from computerised tomography of the cervical spine following trauma. Malaysian Journal of Medical Sciences, 16 (4) pp. 69-72 |
| 2009 | Clinical assessment of watermarked medical images. Journal of Computer Science, 5 (11) pp. 857-863 |
| 2009 | Odontogenic cysts, tumors and fibro-osseous lesions in children: a radiological pictorial case report. Pediatric Radiology, 39 (Supp 3) pp. S564 |
| 2006 | Magnetic resonance imaging (MRI) brain findings in severe pre–eclampsia/eclampsia. Malaysian Journal of Obstetrics & Gynaecology, 8 (10) pp. 16-25 |
| 2005 | Diffuse choroid plexus hyperplasia: an under-diagnosed cause of hydrocephalus in children?. Pediatric Radiology, 35 (8) pp. 815-818 |
| 2004 | The management of sinogenic peri-orbital abscess. International Medical Journal Malaysia, 3 (1) pp. |
Conference or Workshop Item
| | |
| --- | --- |
| 2021 | Acute transverse myelitis progressing to spinal cord atrophy. a case report. In: 19th Asian Oceanian Congress of Radiology (AOCR), |
| 2021 | Sonographic renal length in Malaysian infant population - a hospital based cross section study. In: 19th Asian Oceanian Congress of Radiology (AOCR), |
| 2021 | The nomadic bug: a case report of salmonella septic arthritis of the sternoclavicular joint. In: Virtual Medical Research Symposium 2021, |
| 2017 | Ultrasound apppearances of hepatic extravasation of total parenteral nutrition (TPN). In: 18th Congress of the ASEAN Association of Radiology (AAR 2017), |
| 2016 | A morphometric analysis of the pathoanatomy of cervical spondylotic myelopathy and the correlation between magnetic resonance imaging findings and clinical presentation of patients. In: 4th International MSS Scientific Congress, |
| 2016 | Correlation study between clinical special tests for myelopathy and MRI findings in patients seen for cervical dysfunction. In: SpineWeek 2016, |
| 2016 | Early radiological outcome of cystic benign bone lesion treated with calcium sulphate bone graft: a one-year review. In: ing of The Asia Pacific Musculoskeletal Tumour Society 2016, |
| 2016 | Pediatric radiography: how to prepare a child for an imaging procedure. In: Best Work Practices & Radiation Safety in Imaging Procedures: What Changes Can We Make?, |
| 2015 | A colo-colic intussusception caused by a submucosal lipoma in a child with morm infestation of the intestinal tract – a case report. In: 15th Asia Oceanic Society for Pediatric Radiology (AOSPR) Congress, |
| 2015 | Basic abdominal ultrasound. In: 5th MMA Pahang Branch Scientific Meeting, |
| 2015 | Imaging of musculoskeletal infection. In: Seminar on Musculoskeletal Infection 2015, |
| 2014 | Concurrent involvement of bone and thyroid gland. Report of two cases of benign spinal lesion mimicking metastatic spine disease. In: 10th Annual Asia Pacific Musculoskeletal Tumour Society (APMSTS) Scientific Meeting, |
| 2014 | CT colonography: detection of lesions and patients' preference: correlation with standard colonoscopy. In: International Research, Invention and Innovation Exhibition 2014 (IRIIE2014), |
| 2013 | Back pain and osteolysis of the thoracic spine in an adult: a case of monostotic fibrous dysplasia masquerading as spinal metastasis. In: 9th Asia Pacific Spine Society Congress, |
| 2013 | High anorectal malformation with associated rectovaginal fistula and uterine didelphys. A known but rare association!. In: 16th Congress of the ASEAN Association of Radiology (AAR). "Radiology in the 21st Century: from Basic to Advance"., |
| 2013 | Seizures and epilepsy in pediatric. In: 2nd East Coast Neurodiagnostic & Intervention Team Scientific Meeting, |
| 2012 | Ovarian tumour: CT characteristics with HPE correlation. In: 2012 Annual Scientific Meeting , |
| 2012 | Usefulness of CT colonography after incomplete or failed colonoscopy. In: College of Radiology, AMM(CoR) & Malaysian Society of Radiographers (MSR) 2012 Joint Scientific Meeting: CANCER IMAGING, |
| 2011 | Accidental and non-accidental head injury in children. Is there a difference in Tomography (CT) presentation?. In: IIUM Research, Invention and Innovation Exhibition 2011, |
| 2011 | An unusual cause of acute upper gastrointestinal obstruction in a child. A case report. In: 11th Congress of Asian Oceanic Society of Pediatric Radiology (AOSPR), |
| 2011 | Analysis of the Cerebrospinal Fluid Flow in the Stenosed Aqueduct of Sylvius. In: Annual Scientific Meeting, College of Radiology, Malaysia, |
| 2011 | Computed Tomography (CT) and Pathologic Correlation of Ovarian Tumours in children & adolescents: A review of eight cases . In: 11th Asian Oceanic Society of Pediatric Radiology Conference, |
| 2011 | Computed Tomography (CT) and pathologic correlation of ovarian tumours in children and adolescents: a review of eight cases. In: 11th Asian Oceanic Society of Pediatric Radiology Conference, |
| 2011 | Imaging of CT colonography : a pictorial review. In: International Health Conferance IIUM 2011, |
| 2011 | MSCT of epithelial ovarian tumors : a pictorial illustration. In: International Health Conference IIUM 2011 , |
| 2011 | MSCT of epithelial ovarian tumours : a pictorial illustration . In: International Health Conference IIUM 2011 , |
| 2011 | MSCT of huge abdominopelvic masses in female: a pictorial illustration. In: 2011 Annual Scientific Meeting, College of Radiology, |
| 2011 | US of paediatric abdomen. In: US Abdomen Workshop for Medical Officers and GPs, |
| 2010 | CT imaging of blunt splenic injury: a pictorial essay. In: 2010 Annual Scientific Meeting College of Radiology Malaysia, |
| 2010 | Imaging of non-accidental injuries. In: Child Protection Workshop, |
| 2010 | Intrapelvic Wilms' tumour: a rare entity for the most commonly encountered malignant renal tumour in children. In: Bordeux 2010: 47th Annual Meeting & 33rd Postgraduate Course of the European Society of Paediatric Radiology, |
| 2010 | Miracle of imaging: the truth is out there!. In: 2010 Annual Scientific Meeting College of Radiology Malaysia, |
| 2010 | Monochorionic twins with co-win death - detectable yet unpreventable risk to the living twin . In: 20th Congress of OGSM, |
| 2010 | Multislice computed tomography (MSCT) of blunt abdominal trauma: incidental findings related to the genitourinary tract . In: 19th Malaysian Urological Conference, |
| 2010 | Pearls & pitfalls in pediatric radiology. In: Pediatric Update 2010, |
| 2010 | The role of multislice computed tomography (MSCT) in the direction of traumatic intra abdominal injury : our experience in Hospital Tengku Ampuan Afzan(HTAA), Kuantan, Pahang . In: 2010 HTAA Research Day, |
| 2010 | Thoracophagus conjoint twin in Orang Asli - HTAA experience. In: 20th Malaysian Congress of O&G, |
| 2010 | Thoracophagus conjoint twin in Orang Asli – HTAA Experience. In: 20th Congress of the OGSM, |
| 2010 | Three dimensional anthropometric measurements of the distal femur and proximal tibia for the Malay population . In: 2010 IEEE EMBS Conference on Biomedical Engineering & Sciences (IECBES 2010), |
| 2009 | A child with airway obstruction secondary to tracheal abnormality with associated pulmonary artery sling. In: 11th Annual Congress Malaysian Thoracic Society, |
| 2009 | Delay in diagnosis of blunt abdominal injuries in children and adolescents: a pictorial review of CT abdomen in HTAA. In: 9th Asian Oceanic Society of Paediatric Radiology (AOSPR) Congress, |
| 2009 | Detection of traumatic intra abdominal injuries using MSCT in Hospital Tengku Ampuan Afzan, Kuantan: our preliminary experience . In: 2009 Annual Scientific Meeting College of Radiology, |
| 2009 | Interpretation of HRCT PNS: its applications & importance in FESS. In: 2nd basic and advanced Endoscopic Sinus Surgery Workshop, |
| 2009 | MSCT assessment of blunt abdominal trauma in paediatric and adolescent patients: our experience in Hospital Tengku AMpuan Afzan (HTAA), Kuantan, Pahang. In: 9th Asian Oceanic Society of Paediatric Radiology (AOSPR) Congress, |
| 2009 | Odontogenic cysts, tumors & fibro-osseseous lesions in children & adolescents: a pictorial essay. In: 32nd Postgraduate Course & 46th Annual Meeting of the European Society of Pediatric Radiology (ESPR), |
| 2009 | Radiological work up in Pediatric Airway Diseases. In: Kuantan Paediatric Airway Workshop., |
| 2008 | Bone mineral density in patients with bronchial asthma on inhaled corticosteroids. In: 10th Annual Congress of the Malaysian Thoracic Society, |
| 2008 | Transthoracic biopsy: Local experience in Kuantan, Pahang . In: 10th Annual Congress of the Malaysian Thoracic Society, |
| 2005 | Endobronchial actinomycosis: Is a repeat bronchoscopy after treatment necessary? . In: 8th Annual Congress of the Malaysian Thoracic Society , |
Book
Book Section