Staff Directory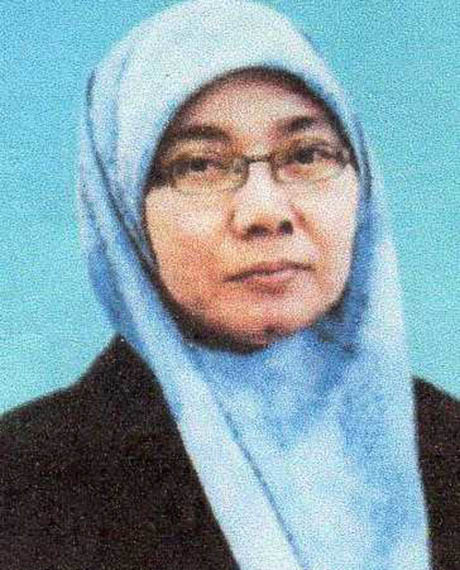 Academic Qualification
Master of Community Medicine - Masters Degree, Universiti Sains Malaysia (USM)
Bachelor of Medicine and Bachelor of Surgery - Bachelor Degree, Universiti Malaya (UM)
SPM - Certificate, Sekolah Menengah Sultan Mahmud Kuala Terengganu, Terengganu
Nor Azlina A. Rahman (Dr.)
Assistant Professor
IIUM Kuantan Campus
KULLIYYAH OF ALLIED HEALTH SCIENCES

Other's position:
Head, Kulliyyah of Allied Health Sciences
---
Expert Profile
Dr. Nor Azlina A.Rahman obtained her MBBS from the University of Malaya in 1996, immediately after which she did her housemanship for one year in Hospital Kuala Terengganu. She did her housemanship in three different departments, namely Medicine, Surgery and Obstetric and Gynaecology (O & G).
She spent a month as a medical officer in the O & G Department before being transferred to Maran District Health Office in Pahang as a Medical and Health Officer (M&HO) in 1997. After spending about five years in Maran, she was transferred to Maran District Health Office in Terengganu, still as an M&HO. She to registered as a Master's student in Community Medicine in University Science Malaysia (USM) after one year of service in Maran. Her Master's dissertation project was entitled "A Study On the Use of Clinical Practice Guidelines on Management Of Type 2 Diabetes in Kelantan" under the supervision of then Assoc.Prof. Dr.Aziz al-Safi.After finishing her Master in Community Medicine (MCM) in USM in 2007, she changed her moved to International Islamic University Malaysia (IIUM) as a lecturer. She is in Kulliyyah of Allied Health Sciences, giving lectures in Community Medicine related courses such as Biostatistics, Epidemiology, Health Management and Health Communications. She also gives lecture on Research Methodology to undergraduate and postgraduate students. She has also been involved in a number of research projects related to communicable and chronic diseases, as of her interest.
Area of Specialisation
Medical And Health ~ Medical And Health Sciences ~ Public Health ~ Epidemiology - Epidemiology & Biostatistics, Diabetes Mellitus
Professional Membership
2013 - 2035: Member of Profesional Body / Association: (Life member), Malaysian Medical Association
Teaching Responsibilities
| | |
| --- | --- |
| APPLIED ANATOMY I | 2019/2020 |
| APPLIED BIOSTATISTICS | 2008/2009 2007/2008 |
| BASIC BIOSTATICS 2 | 2007/2008 |
| BIOSTATISTIC | 2022/2023 2021/2022 |
| BIOSTATISTICS | 2022/2023 2021/2022 2020/2021 2019/2020 2018/2019 2017/2018 2016/2017 2015/2016 2014/2015 2013/2014 2012/2013 2011/2012 2010/2011 |
| CARDIORESPIRATORY PHYSIOTHERAPY | 2019/2020 |
| CLINICAL PHYSIOTHERAPY 3 | 2020/2021 2018/2019 |
| CLINICAL PHYSIOTHERAPY 4 | 2020/2021 |
| CLINICAL PHYSIOTHERAPY 6 | 2018/2019 |
| CONTEMPORARY PHYSIOTHERAPY MODALITIES 1 | 2019/2020 |
| COUNSELING SKILLS FOR MEDICAL IMAGING | 2011/2012 2010/2011 |
| DEVELOPMENTAL PSYCHOLOGY FOR HEALTH SCIENCES | 2009/2010 |
| ENTREPRENEURSHIP, HEALTH ECONOMICS &MANAGEMENT | 2016/2017 2015/2016 2014/2015 2013/2014 2012/2013 |
| EPIDEMIOLOGY | 2018/2019 2017/2018 2016/2017 2015/2016 2014/2015 2008/2009 2007/2008 |
| EPIDEMIOLOGY & RESEARCH METHODOLOGY | 2022/2023 2021/2022 2020/2021 2019/2020 2018/2019 2017/2018 2016/2017 2015/2016 2014/2015 2013/2014 2012/2013 |
| EPIDEMIOLOGY AND RESEARCH METHODOLOGY | 2021/2022 2020/2021 2019/2020 2018/2019 |
| EPIDEMIOLOGY METHODS | 2014/2015 2013/2014 2012/2013 |
| ETHICS & LAW FOR HEALTH PROFESSIONALS | 2019/2020 2018/2019 2017/2018 2015/2016 |
| ETHICS AND LAW FOR HEALTH PROFESSIONALS | 2022/2023 2021/2022 2020/2021 |
| EXERCISE THERAPY I | 2019/2020 |
| FAMILY MANAGEMENT AND PARENTING | 2016/2017 |
| FINAL YEAR RESEARCH PROJECT 1 | 2018/2019 2016/2017 |
| FINAL YEAR RESEARCH PROJECT 2 | 2018/2019 |
| FOUNDATION MICROBIOLOGY | 2008/2009 |
| FOUNDATION PATHOLOGY | 2009/2010 2008/2009 |
| FUNCTIONAL BIOCHEMISTRY | 2009/2010 2008/2009 |
| HEALTH COMMUNICATION & BEHAVIOURAL SCIENCES | 2017/2018 2015/2016 2014/2015 2013/2014 |
| HEALTH COMMUNICATION AND BEHAVIORAL SCIENCES | 2022/2023 2021/2022 2020/2021 |
| HEALTH ECONOMICS | 2010/2011 2009/2010 |
| HEALTH MANAGEMENT | 2010/2011 2009/2010 2008/2009 |
| HEALTH MANAGEMENT & ADMINISTRATION | 2022/2023 2021/2022 2020/2021 2019/2020 2018/2019 2017/2018 2016/2017 |
| HEALTH MANAGEMENT AND HOSPITAL ADMINISTRATION | 2010/2011 2009/2010 2008/2009 2007/2008 |
| HEALTHCARE INFORMATION SYSTEM | 2009/2010 2008/2009 2007/2008 |
| HEALTHCARE MANAGEMENT AND ADMINISTRATION | 2020/2021 2019/2020 2018/2019 2017/2018 2016/2017 2015/2016 2014/2015 2013/2014 2012/2013 |
| HOSPITAL & HEALTHCARE MANAGEMENT | 2022/2023 2021/2022 2020/2021 |
| HUMAN BIOMECHANICS AND KINESIOLOGY | 2019/2020 |
| HUMAN STRUCTURE & FUNCTION 1 | 2009/2010 2008/2009 |
| HUMAN STRUCTURE & FUNCTION 2 | 2009/2010 2008/2009 |
| INTRO. TO HUMAN BIOCHEMISTRY & CELL BIOLOGY | 2008/2009 |
| INTRODUCTION TO CLINICAL PRACTICE | 2014/2015 |
| INTRODUCTION TO HEALTH COMMUNICATION | 2022/2023 2021/2022 2020/2021 2019/2020 2018/2019 2017/2018 2015/2016 2014/2015 2013/2014 2012/2013 2011/2012 2010/2011 2009/2010 |
| ISLAMIC INPUT FOR HEALTH PROFESSIONAL | 2019/2020 |
| ISLAMIC INPUT FOR HEALTH PROFESSIONAL (MHSC) | 2019/2020 2017/2018 2014/2015 |
| ISLAMIC INPUT FOR HEALTH PROFESSIONALS | 2017/2018 |
| MEDICAL CONDITION 2 : ENDOCRINE, RENAL AND O&G | 2019/2020 2018/2019 2017/2018 2016/2017 |
| MEDICAL CONDITION 4 : NEURO-MEDICAL & NEURO SURGERY | 2020/2021 2019/2020 2018/2019 2017/2018 2016/2017 |
| MEDICAL CONDITIONS 1 : CARDIORESPIRATORY & CARDIOVASCULAR | 2018/2019 2017/2018 |
| MUSCULOSKELETAL PHYSIOTHERAPY 1 | 2019/2020 |
| ORAL & MAXILLOFACIAL SURGERY YEAR 3 | 2020/2021 |
| ORAL & MAXILLOFACIAL SURGERY YEAR 5 | 2020/2021 |
| ORAL MAXILLOFACIAL SURGERY YEAR 4 | 2020/2021 |
| ORTHOPAEDIC | 2022/2023 2021/2022 2019/2020 |
| ORTHOPAEDIC & TRAUMATOLOGY | 2019/2020 2018/2019 2017/2018 |
| PATHOLOGY AND PHARMACOLOGY | 2022/2023 2021/2022 2020/2021 |
| PHYSIOLOGY 1 | 2008/2009 |
| PHYSIOLOGY II | 2008/2009 |
| PRINCIPLES OF EPIDEMOLOGY | 2011/2012 |
| RESEARCH METHODOLOGY | 2022/2023 2021/2022 2019/2020 2018/2019 2017/2018 2016/2017 2015/2016 2014/2015 2013/2014 2012/2013 |
| RESEARCH METHODOLOGY (MHSC) | 2016/2017 2015/2016 |
| RESEARCH PROJECT 1 | 2017/2018 |
| RESEARCH PROJECT IN PHYSIOTHERAPY | 2022/2023 2021/2022 |
| RESEARCH PROJECT/DISSERTATION 1 | 2020/2021 2019/2020 2018/2019 2017/2018 |
| RESEARCH PROJECT/DISSERTATION 2 | 2020/2021 2019/2020 2018/2019 2017/2018 2016/2017 |
Research Projects
Completed
| | |
| --- | --- |
| 2019 - 2022 | KAJIAN PEMBANGUNAN ALAT BANTU / GARIS PANDUAN UNTUK PENILAIAN RISIKO KESIHATAN PEKERJAAN BAGI DOKTOR KESIHATAN PEKERJAAN |
| 2017 - 2020 | Correlation of Socio-cognitive Factors Predicting Sexual Intention to Engage In Premarital Sex Amongst Late Adolescent in Kuantan Government Secondary Schools. |
| 2017 - 2021 | Early Breast Cancer Detection: The Development of a New Model in Promoting the Behavior of Women towards Breast Self-Examination and Mammogram |
| 2016 - 2017 | KAJIAN KEPENTINGAN ADANYA MAKLUMAT BERKAITAN PEKERJAAN DALAM DOKUMEN IDENTITI, REKOD KESIHATAN DAN SIJIL KEMATIAN DI MALAYSIA |
| 2016 - 2020 | Improvement of Basic Occupational Health Service (BOHS) for Small and Medium Enterprise (SME)in Malaysia |
| 2016 - 2017 | KAJIAN PERANAN PERKHIDMATAN KESIHATAN PEKERJAAN DALAM SARINGAN AWAL BAGI PENGENALPASTIAN DAN PENCEGAHAN PENYAKIT PEKERJAAN DI INDUSTRI KECIL DAN SEDERHANA DI MALAYSIA |
| 2015 - 2019 | Determination of Malnutrition and Dietary Practices in Community Living Older Adults |
| 2014 - 2016 | Prevention Of Methicillin-Resistant Staphylococcus Aureus (MRSA) Infection: The Cost Effectiveness & Practicality Of Implementation Of Pre-Admission Screening In Malaysia. |
| 2014 - 2017 | Prevention of Methicillin-Resistant Staphylococcus aureus (MRSA) Infection by Pre-Admission Screening: The Cost Effectiveness, Practical and Ethical Issues for Implementation in Malaysia |
| 2011 - 2013 | RU 2011 -Study of anti-malaria activities on bioactive compounds in endophyte actinomycetes isolate from local medicinal plants. |
| 2011 - 2017 | RU 2011 - The Histopathological Profile of Breast Tumors at HTAA |
| 2010 - 2012 | Screening and Evaluation of Phytochemicals and antioxcident Properties of Innovative antioxidant ingredients prepared from underutilized fruits and their effects on selected cardiovascular biomarkers in animal model |
| 2010 - 2012 | Effect of Regular Diet Counseling on Quality of Life and Dietary Practice of Diabetic Patients in Klinik Kesihatan Beserah, Kuantan |
| 2010 - 2012 | The Effectiveness of Tissues Engineering Approaches in Articular Cartilage Restoration |
On-Going
| | |
| --- | --- |
| 2021 - Present | Diabetic Kidney Disease and Glycemic Control Among Type-2 Diabetes Mellitus in Kuantan, Pahang |
| 2021 - Present | Depression, Anxiety and Stress Levels Among Frontliners of SASMEC@IIUM and IIUM Kuantan During Covid-19 Pandemic : Its Associated Factors and Impact of Brief Psycoeducation Group Intervention |
| 2019 - Present | Intervention Program for Stunting Problem among Children in Pahang #anakmalaysiatinggi |
| 2015 - Present | Nypa Fruiticans: Regulation of Oxidative Markers and Metabolic Status in Reducing Blood Pressure and DNA Adducts among Workers Exposed to Pesticides |
Publications
Article
| | |
| --- | --- |
| 2022 | Identification of risk factors associated with Nasopharyngeal Carcinoma (NPC) in the Pahang state of Malaysia hospitals. Makara Journal of Health Research, 26 (1) pp. 14-21 |
| 2021 | Challenges of implementing occupational health services (OHS) in Malaysia -perspective of occupational health doctors. Pertanika Journal of Social Science and Humanities, 29 (2) pp. 993-1010 |
| 2021 | Detection of mobile colistin-resistance gene variants (mcr-1 and mcr-2) in urinary tract pathogens in Bangladesh: the last resort of infectious disease management colistin efficacy is under threat. Expert Review Of Clinical Pharmacology, 14 (4) pp. 1-10 |
| 2021 | Determination of Antioxidant Compounds, Proximate Compositions and Assessment of Free Radical Scavenging Activities of Nypa Fruticans Wurmb. Sap. Pertanika Journal of Science and Technology, 29 (3) pp. 2061-2071 |
| 2021 | Effects of intensive individualized nutrition intervention on malnutrition risk and nutritional status among elderly living in agricultural settlements. Clinical Nutrition ESPEN, 46 () pp. S785 |
| 2021 | Exploring the perception of chemistry students at Kulliyyah of Science in learning organic chemistry. IIUM Journal of Educational Studies, 9 (2) pp. 6-30 |
| 2021 | Knowledge and attitude regarding cervical cancer and its prevention among young female adults in Kuantan, Malaysia. Journal of Education and Health Promotion, 10 (1) pp. 1-9 |
| 2021 | The incidence of Nasopharyngeal Carcinoma in Pahang state of Malaysia from 2012 to 2017. Malaysian Journal of Medical Sciences (MJMS), 28 (1) pp. 66-74 |
| 2021 | Tocilizumab in COVID-19: a study of adverse drug events reported in the WHO database. Expert Opinion On Drug Safety, 20 (9) pp. 1125-1136 |
| 2021 | Type-2 diabetes mellitus individuals carry different periodontal bacteria. Pesquisa Brasileira em Odontopediatria e Clínica Integrada, 21 (e0107) pp. 1-10 |
| 2020 | Antibiotic resistance and sensitivity pattern of Metallo-Β-Lactamase producing gram-negative bacilli in ventilator-associated pneumonia in the intensive care unit of a public medical school hospital in Bangladesh. Hospital Practice, 48 (3) pp. 128-136 |
| 2020 | Association between social-cognitive factors and intention towards sexual activity among schoolgoing late adolescents in Kuantan, Malaysia. International Journal of Adolescence and Youth, 25 (1) pp. 1000-1008 |
| 2020 | Genotypic to phenotypic resistance discrepancies identified involving Β-lactamase genes, blaKPC, blaiMP, blaNDM-1, and blaVIM in uropathogenic Klebsiella pneumoniae. Infection and Drug Resistance, 13 () pp. 2863-2875 |
| 2020 | Knowledge, attitude and practice regarding pertussis among a public university students in Malaysia. Pesquisa Brasileira em Odontopediatria e Clinica Integrada, 20 () pp. 1-13 |
| 2020 | Knowledge, attitude, and practice regarding dengue among Kuantan medical campus students of International Islamic University of Malaysia. Bangladesh Journal of Medical Science, 19 (2) pp. 245-253 |
| 2020 | Knowledge, attitude, and practice regarding dengue among students in a public university in Malaysia. Bangladesh Journal of Medical Science, 19 (2) pp. 245-253 |
| 2020 | Microbial resistance movements: an overview of global public health threats posed by antimicrobial resistance, and how best to counter. Frontiers in Public Health, 8 () pp. 1-22 |
| 2020 | Moisture, ash and fat composition of Pangasianodon Hypophthalmus (Sauvage, 1878) and Pangasius Nasutus (Bleeker, 1863). International Journal of Allied Health Sciences, 4 (3 Special Issue: Current Research in Nutrition and Dietetics) pp. 1486-1495 |
| 2020 | Qualitative content analysis of sharps management practices in Hce's in Malaysia: employee factor. International Journal of Advanced Science and Technology (IJAST), 29 (9s) pp. 1798-1806 |
| 2020 | Strengthening primary health-care services to help prevent and control long-term (Chronic) non-communicable diseases in low- and middle-income countries. Risk Management and Healthcare Policy, 13 () pp. 409-426 |
| 2020 | Terminated interventional trials in the clinical trial registry of India database: an analysis to evaluate the reasons for termination. Open Access Journal of Clinical Trials, 12 () pp. 61-70 |
| 2019 | A cross-sectional study evaluating the knowledge and beliefs about, and the use of antibiotics amongst Malaysian university students. Expert Review of Anti-infective Therapy, 17 (4) pp. 275-284 |
| 2019 | Antibiotic use: a cross-sectional study evaluating the understanding, usage and perspectives of medical students and pathfinders of a public defence university in Malaysia. Antibiotics, 8 (154) pp. 1-22 |
| 2019 | B vitamins intake and cognitive status among elderly in agricultural settlements. International Journal of Allied Health Sciences, 3 (2) pp. 683-693 |
| 2019 | Comparative study of CDST & multiplex PCR to detect MBL producing Gram-negative bacilli among VAP patients admitted in a public medical college hospital of Bangladesh. Pathogens, 8 (3) pp. 1-11 |
| 2019 | Dietary intake is compromised among elderly living in agricultural settlements. Nutrition & Food Science, () pp. |
| 2019 | Factors associated with sexual intention towards pre-marital sex activity among school-going late adolescents in Kuantan, Pahang. Malaysian Family Physician, 14 (Supplement 2) pp. 3-3 |
| 2019 | Human resource development for future basic occupational health services in Malaysia. International Journal of Allied Health Sciences, 3 (4) pp. 939-943 |
| 2019 | Knowledge and attitudes of health-based students in a public university in Malaysia on hepatitis B infection. Cukurova Medical Journal, 44 (1) pp. 160-168 |
| 2019 | Knowledge, attitude and practice of Malaysian public university students on viral hepatitis. Advances in Humas Biology, 9 (1 (Jan-Apr)) pp. 46-53 |
| 2019 | Knowledge, attitude and practice regarding hypertension among residents in a housing area in Selangor, Malaysia. Medicine and Pharmacy Reports, 92 (2) pp. 145-152 |
| 2019 | Knowledge, attitude and practice regarding Type 2 diabetes mellitus among outpatients in a health center in East-Coast of Peninsular Malaysia. İstanbul Medical Journal, 20 (3) pp. 208-213 |
| 2019 | Knowledge, attitude, and practice regarding cholera among non-academic staff of International Islamic University Malaysia Kuantan Medical Campus. Bangladesh Journal of Medical Science, 18 (3) pp. 527-535 |
| 2019 | Malnutrition risk and perception on dietary practices among elderly living in agricultural settlements: A mixed-methods research. Nutrition & Food Science, 49 (4) pp. 617-627 |
| 2019 | Medical imaging literature in MyCite. Pertanika Journal of Science and Technology, 27 (4) pp. 1471-1483 |
| 2019 | Nutritional risk according to Mini Nutritional Assessment– whort form among community dwelling elderly in Kuantan, Pahang: a pilot study. International Journal of Allied Health Sciences, 3 (2) pp. 658-667 |
| 2019 | Prevalence of Occupational Diseases among Small and Medium Industry Workers in Malaysia: A Systematic Review. Journal of Clinical and Health Sciences, 4 (2) pp. 4-30 |
| 2019 | Self-medication of antibiotics: investigating practice among university students at the Malaysian National Defence University. Infection and Drug Resistance, 12 () pp. 1333-1351 |
| 2019 | The knowledge, attitude, and practice regarding pap smear, cervical cancer, and human papillomavirus among women attending a mother and child health clinic in Kuantan, Malaysia. Indian Journal of Medical and Paediatric Oncology, 40 (2) pp. 193-200 |
| 2019 | The proposed future infrastructure model for basic occupational health services in Malaysia. Malays J Med Sci, 26 (2) pp. 131-137 |
| 2019 | Trend in dietary calcium intake among elderly in Kuantan, Pahang. International Journal of Allied Health Sciences, 3 (4) pp. 884-893 |
| 2018 | An assessment of the sharps management practices in health care establishments in Pahang, Malaysia: organisational factor. Journal of International Pharmaceutical Research, 45 () pp. 257-269 |
| 2018 | Assessment of academic/non‑academic factors and extracurricular activities influencing performance of medical students of Faculty of Medicine, Universiti Sultan Zainal Abidin, Malaysia. Advances in Human Biology, 8 (1 (January-April)) pp. 3-18 |
| 2018 | Evaluation of out-patient care educational environment of National Defence University, Malaysia utilizing the ACLEEM Inventory. Journal of Basic Clinical Health Sciences, 2 (2) pp. 45-52 |
| 2018 | Islamic personality in medical imaging students: a knowledge, attitude, and practice study at International Islamic University Malaysia (IIUM). Revelation and Science, 8 (1) pp. 1-12 |
| 2018 | Islamic perspectives of reproductive and maternal health: what role can Nigerian Muslim religious leaders play in the prevention of maternal mortality? –With Particular Reference to Zamfara State NorthWest Nigeria. International Medical Journal Malaysia, 17 (Special issue 1) pp. 7-14 |
| 2018 | Knowledge, attitude and practice towards tuberculosis among community of Kulim municipal council, Kedah, Malaysia. International Medical Journal, 25 (5) pp. 299-303 |
| 2018 | Knowledge, attitude, and practice regarding osteoporosis among allied health sciences students in a public university in Malaysia. Erciyes Med J, 40 (4) pp. 210-217 |
| 2018 | Knowledge, attitude, and practice regarding the risk of cardiovascular diseases in patients attending outpatient clinic in Kuantan, Malaysia. Journal of Pharmacy and Bioallied Sciences, 10 (1) pp. 7-14 |
| 2018 | Knowledge, attitude, and practice toward food poisoning among food handlers and dietetic students in a public university in Malaysia. Journal of Pharmacy and Bioallied Sciences, 10 (4 (October-December)) pp. 232-239 |
| 2018 | The association between sleep quality and well‑being amongst Allied Health Sciences Students in a public university in Malaysia. Advances in Human Biology, 8 (3 (September-December)) pp. 195-200 |
| 2017 | An examination of medical imaging literature in Malaysian Citation Index (Mycite). International Medical Journal Malaysia, 16 (supp. 1) pp. 12 |
| 2017 | Awareness of vesicovaginal fistula among health workers in some health facilities of Zamfara state, Northwest Nigeria. PhOL - PharmacologyOnLine, 1 () pp. 89-97 |
| 2017 | Evaluation of thresholding techniques on 3D fractal dimension MRI images. Journal of Engineering and Applied Sciences, 12 (Special Issue (3)) pp. 6387-6392 |
| 2017 | Knowledge, attitude and practices among mothers regarding childhood obesity at Kuantan, Malaysia. International Medical Journal, 24 (2) pp. 200-204 |
| 2017 | Knowledge, attitude, and practice toward Avian flu among students in a public university in Pahang, Malaysia. Journal of Datta Meghe Institute of Medical Sciences University, 12 (4 (October-December)) pp. 269-276 |
| 2016 | A systematic review on prevention of methicillin-resistant Staphylococcus aureus infection by pre-admission screening: the cost effectiveness and practicality. Systematic Reviews in Pharmacy, 7 (1) pp. 1-19 |
| 2016 | A systematic review on prevention of Methicillin-Resistant Staphylococcus Aureus infection by pre-admission screening: the cost effectiveness and practicality. Systematic Reviews in Pharmacy, 7 (1) pp. 1-19 |
| 2016 | Effect of diet counseling on knowledge, attitude and practice and quality of life of diabetic patients in Kuantan, Malaysia. Malaysian Journal of Public Health Medicine, 16 (3) pp. 156-166 |
| 2016 | Health care seeking behavior of pregnant women in Gusau Metropolis of Zamfara State, Northern Nigeria. International Journal of Science for Global Sustainability ( IJSGS), 2 (1) pp. 75-85 |
| 2016 | Internet use and addiction among medical students of Universiti Sultan Zainal Abidin,Malaysia. Psychology Research and Behavior Management, 9 () pp. 297-307 |
| 2016 | Knowledge, attitude and practice of Malaysian public university students on risk factors for cardiovascular diseases. Journal of Applied Pharmaceutical Science, 6 (2) pp. 56-63 |
| 2016 | Knowledge, attitude and practice regarding exercise among people exercising in gymnasium and recreational parks around Kuantan, Malaysia. Journal of Applied Pharmaceutical Science, 6 (6) pp. 47-54 |
| 2016 | Knowledge, attitude and practice towards smoking among International Islamic University Malaysia Kuantan communities. International Medical Journal Malaysia, 15 (2) pp. 19-26 |
| 2016 | Satisfaction of using hearing protection devices among industrial workers. International Journal of Pharmaceutical Research, 8 (1 (Jan-Mar)) pp. 50-56 |
| 2016 | Satisfaction study of using hearing protection device among sawmill workers in Kuantan, Malaysia. Journal of International Pharmaceutical Research, 8 (1) pp. 50-56 |
| 2016 | The Islamic religious leaders as health promoters: improving maternal health in selected communities of Zamfara State, Nigeria. Journal of Reproduction and Fertility, 7 (1) pp. 8-14 |
| 2016 | The prevalence of cardiovascular disease risk factors among students of International Islamic University Malaysia, Kuantan Campus. Journal of Applied Pharmaceutical Science, 6 (3) pp. 51-57 |
| 2015 | Intervention programmes and policies for maternal mortality reduction in Zanfara State, Northwest, Nigeria: a review 2005-2015. International Journal of Advanced Research in Social Engineering and Development Strategies, 3 (1) pp. 157-173 |
| 2015 | Maternal mortality and the implementation of maternal health policies in Zamfara state: challenges and issues. International Journal of Advanced Research in Social Engineering and Development Strategies, 3 (1) pp. 107-117 |
| 2015 | The health MDGs in Zanfara state with emphasis on maternal mortality 2010-2015: perspectives and challenges. Journal of Development Administration, 2 (1) pp. 145-157 |
| 2013 | Articular cartilage restoration using principles of tissue engineering. OA Orthopaedics, 1 (2) pp. 1 -5 |
| 2012 | Mas cotek (Ficus Deltoidea Jack) as possible supplement for type II diabetes: a pilot study. Pertanika Journal of Tropical Agricultural Science, 35 (1) pp. 93-102 |
| 2012 | The effectiveness of tissue engineering approaches in articular cartilage restoration. Regenerative Research, 1 (supp.1) pp. 65-66 |
| 2008 | Factors associated with HbA1c levels in poorly controlled type 2 diabetic patients in North-East Malaysia. International Medical Journal, 15 (1) pp. 29-34 |
| 2008 | Use of CPG on management of type 2 diabetes among diabetes care teams in North-East Malaysia. International Medical Journal, 15 (3) pp. 213-216 |
| 2005 | Wabak demam kepialu (Tifoid) di daerah Bachok, Kelantan Mac - Mei 2005. Malaysian Journal of Public Health Medicine, 5 (2) pp. 45-49 |
Conference or Workshop Item
| | |
| --- | --- |
| 2022 | Depression, anxiety and stress levels among frontliners of hospital-based (SASMEC) and university campus (IIUM Kuantan) during covid-19 pandemic and its associated factors. In: Virtual Medical Research Symposium2022, |
| 2022 | Diabetic kidney disease and glycemic control among type 2 diabetes mellitus in Kuantan, Pahang. In: Diabetes Asia 2022 Conference, |
| 2022 | Diabetic kidney disease surveillance among Type-2 Diabetes Mellitus patients in Kuantan, Pahang. In: Diabetes Asia 2022 Conference, |
| 2022 | Knowledge, attitude and perception of traditional Malay medicine practitioners of Malaysia on COVID-19. In: International Conference on Medical Sciences, |
| 2022 | Knowledge, attitude and practices of indigenous people towards non-communicable disease in Bera, Malaysia: A community based study. In: Virtual Medical Research Symposium 2022, |
| 2020 | Association between social-cognitive factors and sexual intention towards pre-marital sex activity among school-going late adolescents in Kuantan, Pahang. In: 11th Putrajaya International Conference on Children, Women, Elderly and Persons with Disabilities 2020, |
| 2020 | Organisational leadership experience during undergraduate studies and its associations with the stress level management in workplace: a study among IIUM alumni. In: International Conference On Social Sciences And Humanities (ICOSAH IV), |
| 2019 | Association between social-cognitive factors and sexual intention towards pre-marital sex activity among school-going late adolescents in Kuantan, Pahang. In: Medical Research Symposium 2019, |
| 2019 | Factors associated with sexual towards pre-marital sex activity. In: 7th Asia Pacific Primary Care Research Conference, |
| 2019 | Sociodemographic factors associated with premarital sex activity among school-going late adolescents in Kuantan, Pahang. In: 15th NSOAH National Symposium on Adolescent Health 2019, |
| 2018 | Association between knowledge, attitude and practice regarding pertussis among medical and science-based students in a public university in Kuantan, Malaysia. In: UniSZA International Conference On Infectious Diseases (UICID 2018), |
| 2017 | The dietary perceptions and practices among community-dwelling elderly. In: 1st Southeast Asia Public Health Nutrition (SEA-PHN) Conference In conjunction with Nutrition Society of Malaysia 32nd Annual Scientific Conference, |
| 2016 | Elderly perception on their dietary practices and prophetic foods intake: Preliminary findings. In: KRW 2016 KAHS Research Week 2016 : in conjunction with 1st Allied Health Scientific Colloquium (AHSC) 2016, |
| 2016 | Epidemiology of Nasopharyngeal Carcinoma (NPC) in Pahang, Malaysia. In: 3rd Pan Asian Biomedical Science Conference 2016, |
| 2016 | Evaluation of thresholding techniques on 3d fractal dimension MRI images. In: 2016 2nd International Symposium on Health and Medical Sciences (ISHAMS 2016), |
| 2016 | Prevalence and intervention of malnutrition risk of Malaysian elderly living in the community: A literature review. In: Medical Research Symposium & Pacific Partnership in conjunction with Kuantan Research Day 2016, |
| 2016 | The research methodology for malnutrition risk identification and dietary practices among community living elderly. In: Medical Research Symposium & Pacific Partnership in conjunction with Kuantan Research Day 2016, |
| 2015 | Knowledge and practice of postpartum care among mothers in Kuantan, Pahang. In: International Conference on Biomedical & Health Sciences Research (ICBHSR 2015), |
| 2015 | The perception of nurses in high risk wards regarding the cost-effectiveness and practicality of universal screening for Methicillin-Resistant Staphylococcus Aureus (MRSA) among patients. In: International Conngress for the Malaysian Society of Microbiology (ICMSM) 2015, |
| 2015 | The perception of nurses in high risk wards regarding the cost-effectiveness and practically of universal screening for methicillin-resistant staphylococcus aureus (MRSA) among patients. In: Compilation of Full Papers For International Congress of the Malaysian Society of Microbiology 2015, |
| 2014 | Knowledge and practice of galactogogeus consumption among breastfeeding mothers in Kuantan, Pahang. In: 23rd Congress Obstetrical & Gynaecological Society of Malaysia, |
| 2014 | Knowledge and practice of galactogogues consumption among breastfeeding mothers in Pahang. In: K.A.H.S. Research Week 2014, |
| 2013 | Evaluation of bleeding pattern,side effect and satisfaction with subdermal contraceptive etonogesterel implant(implanon): a comparison between postpartum and non postpartum user. In: The 23rd Asian & Oceanic Congress Of Obstetrics & Gynaecology 2013 (AOCOG 2013), |
| 2010 | Comparing the sensitivity and specificity of otoacoustic emission screeners in diagnosing noise-induced hearing loss from air conduction pure tone audiogram in a hearing conservation programme. In: IIUM Research, Innovation & Invention Exhibition (IRIIE 2010), |
| 2010 | Mas cotek (Ficus Deltoidea Jack) as possible supplement for type II diabetes: a pilot study. In: 12th Medicinal And Aromatic Plants Seminar (MAPS 2010), |
| 2010 | المعجم العربي الملايوي الثنائي-بحث في المادة المعجمية (al-mu'jam al-arabi al-malayuwi al-thana'ie-bahth fi al-madah al-mu'jamiyyah). In: المؤتمر الدولي للغة العربية "اللغة العربية بين الانقراض والتطور ، تحديات وتوقعات" (al-Mu'tamar al-duwali lil-lughah "al-lughat al-'Arabiyah bayn al-inqirad wa al-tatawwur, tahaddiyat wa tawqi'at"), |
Book
Book Section
Monograph