Staff Directory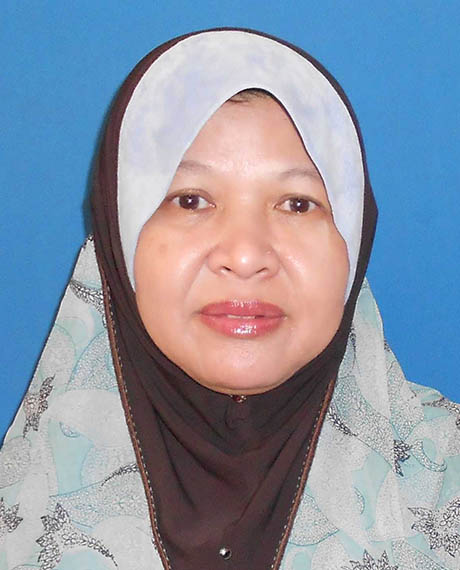 Academic Qualification
Master of Medicine (Obstetrics and Gynaecology) - Masters Degree (Clinical Specialist), Universiti Kebangsaan Malaysia (UKM)
Doctor of Medicine - Bachelor Degree, Universiti Kebangsaan Malaysia (UKM)
Zalina Nusee (Prof. Dr.)
Professor
IIUM Kuantan Campus
KULLIYYAH OF MEDICINE
---
drzalina@iium.edu.my
4618
Expert Profile
Dr Zalina started her housemanship training at Hospital University Malaya (UM), in Jan 1990 after completing her undergraduate study at University Kebangsaan Malaysia (UKM). She was a medical officer in the Surgery,Orthopedic and Anaesthesia unit at Hospital T. A. Afzan (HTAA) from 1990 to 1993. In June 1993, she continued her studies in Obstetrics & Gynaecology at UKM. Dr Zalina returned to HTAA in 1998 as a clinical specialis, then transferred to Hospital Mentakab to lead the Obstetrics & Gynaecology department.
She joined private practice in 2000 and after three years serving the Kuantan Medical Centre for three years, Dr Zalina decided to gain more experience outside the country. She received overwhelming support and recognition from the Omani people as well as other expatriates during her service at the Muscat Private Hospital, Oman (MPH). She was a consultant obstetrician gynecologist for three years at MPH. Five years later (2013), she went back to Oman and worked as a senior consultant at the Royal Hospital for a year.
Because of family commitment and desire to share and expand her knowledge, she returned to Malaysia and joined International Islamic University Malaysia (IIUM) on 2nd July 2007. Urogynaecology is the field that she wanted to venture since her undergraduate days. She was given the opportunity to do subspecialty training in year 2009 and the training involved both local (Hospital Sultanah Zahirah, Ipoh) as well as oversea hospital (Chang Gung Memorial University, Linkou, Taiwan). She had done the attachment in management of vasico-vaginal fistula at Kasturba Govt Hospital, Chennai India. She had an exposure to Urogyn laparoscopic procedures at Chinese Medical Hospital, Taichung, Taiwan.
She completed her subspecialty training in 2010 and started the Urogynaecology unit at the Department of Obstetrics & Gynaecology. She became an active member of Urogynaecology society locally (MUG) as well as international level (PAUGA and IUGA). She was appointed as Urogynaecology subspecialty committee in 2011 by the Ministry of Health (MOH) to represent the university in Malaysia. She is also one of the committee members of the Malaysian Urogyn Association. She is active in organizing national urogyn workshops and conferences and is an active speaker for local conferences and has received invitations as international speaker.
Since the establishment of post graduate programme at IIUM, she is actively involved in clinical and research supervision of the students. Currently, she is the post graduate clinical co- coordinator for the Department of Obstetrics & Gynaecology. She is also supervising the fellowship trainees in Urogynaecology from MOH. Research is part of her duties and she had published articles in various journals.
Dr. Zalina is also active in community service. She has conducted several health talks for the public as well done community services with MERCY Malaysia and IMAM.
Area of Specialisation
Medical And Health ~ Medical And Health Sciences ~ Pharmacology ~ Medical Pharmacology - General Obstetrics & Gynaecology
Teaching Responsibilities
| | |
| --- | --- |
| CLINICAL POSTGRADUATE OBSTETRICS AND GYNAECOLOGY II | 2023/2024 |
Research Projects
Completed
| | |
| --- | --- |
| 2021 - 2023 | Group B Streptococcus Screning; Prevalence, Perinatal Outcomes, Tests Agreement And Patient Acceptance |
| 2021 - 2023 | Maternal Nad New Born Serum Level Of Micronutrients At Birth: A Cross Sectional Study |
| 2019 - 2022 | THE ASSOCIATION OF ANTROPOMETRIC CHARACTERISTICS, HORMONAL ALTERATION AND OVARIAN VOLUME IN POLYCYSTIC OVARIAN SYNDROME |
| 2011 - 2015 | RU 2011 -Maternal Body Mass Index (BMI) and Pregnancy Outcome among primigravidan at Hospital Tengku Ampuan Afzan. |
| 2011 - 2016 | Third and Fourth Degree Perineal Tear, Outcome and Correlation Between Clinical Manifestation With Manometry and Endo-Anal Scan Result |
| 2010 - 2013 | Covert And Overt Post Partum Urinary Retention, Risk Factors And Outcome |
| 2010 - 2012 | Bladder Scan VS Urethral Cathertization in Measurement of Immediate Post Partum Bladder Volume |
On-Going
| | |
| --- | --- |
| 2022 - Present | Nari Balloon: Latex Innovation in Uterine Tamponade for Postpartum Haemorrhage |
| 2021 - Present | Group B Streptococcus Screening : Prevalence, Perinatal Outcomes, Tests Agreement and Patient Acceptance |
| 2021 - Present | Maternal and New Born Serum Level of Micronutrient at Birth : A Cross Sectional Study |
| 2021 - Present | Clitoral Hood Anatomical, Variation and Its Relation to Clitoral Hood Adhesion, Clitoral Discharge, Sexual Satisfan and Female Circumcision |
| 2019 - Present | A new screening scale for developing Comprehensive Pelvic Floor Muscle Training Package in Optimizing Women?s Health in the Community: The Prevention and Treatment of Urinary Incontinence. |
Award & Recognition
| | | |
| --- | --- | --- |
| 15 Sep, 2019 | Gold Medal - invention,innovation & design Exposition 2019 | National |
| 07 Jul, 2018 | Ten best Obstetrics Oral Presentation - Obstetrics & Gynecology Society Malaysia | National |
| 16 Jun, 2018 | Best Poster Award - Others | National |
| 18 Jun, 2017 | Best Paper Award - Others | National |
| 19 Jul, 2014 | Silver Medal - Obstetrics &Gynecology Society Malaysia | National |
Publications
Article
| | |
| --- | --- |
| 2023 | A scoping review of female genital mutilation and its effects on sexual function and sexual satisfaction. IIUM Medical Journal Malaysia, 4 () pp. 1-13 |
| 2022 | The bleeding umbilicus: An uncommon presentation of endometriosis. Medical Journal Malaysia, 77 (1) pp. 132-134 |
| 2021 | A review: understanding urinary incontinence and pelvic floor muscle training among childbearing women. International Journal for Studies on Children, Women, Elderly And Disabled, 12 () pp. 26-29 |
| 2021 | Perineal injury and its association with postpartum sexual dysfunction among first delivery women. European Journal of Clinical Medicine, 2 (3) pp. 34-39 |
| 2020 | Overt and covert postpartum urinary retention, risk factors and complications. EJMED, European Journal of Medical and Health Sciences, 2 (4) pp. 1-5 |
| 2020 | Validation of the Malay version of the p-QOL questionnaire. International Urogynecology Journal, Online First () pp. 1-6 |
| 2019 | Non-descent vaginal hysterectomy: should all hysterectomies for benign conditions be performed vaginally?. CONNECT, 2018/2019 (Council Issue 6) pp. 16-17 |
| 2018 | Induction of labour using foley catheter: traction versus non traction technique, a randomized prospective study.. The Journal of Medical Research, () pp. 258-262 |
| 2016 | A retrospective review of 25 cases of lethal fetal anomalies. International Medical Journal Malaysia, 15 (1) pp. 19-23 |
| 2016 | Lower Urinary Tract Symptoms (LUTS) among women attending gynaecology clinic and its effect on their social life. International Medical Journal Malaysia, 15 (1) pp. 97-102 |
| 2016 | Translation and validation of Bahasa Malaysia version of Urogenital Distress Inventory (UDI-6) and Incontinence Impact Quality of Life Questionnaires (IIQ-7), a cross sectional study . Malaysian Journal of Medical Sciences , 23 (3 (May-June)) pp. 57-63 |
| 2015 | Lower Urinary Tract Symptoms (LUTS) among women attending gynaecology clinic and its effect on their social life . The International Medical Journal Malaysia, 14 (Supp.) pp. 4-5 |
| 2015 | Predictors for de novo stress urinary incontinence following extensive pelvic reconstructive surgery. International Urogynaecology Journal, 26 (9) pp. 1313-1319 |
| 2015 | The effects of maternal serum lipid on maternal blood pressure and fetal birth weight: a prospective cohort study. Gynecology & Obstetrics, 5 (2) pp. 1000276-1 |
| 2014 | Is portable three-dimensional ultrasound a valid technique for measurement of postpartum urinary bladder volume?. Taiwanese Journal of Obstetrics and Gynecology, 53 () pp. 12-16 |
| 2014 | Second-trimester uterine rupture: lessons learnt. Malaysian Journal of Medical Sciences , 21 (4) pp. 61-65 |
| 2014 | Third/ fourth degree perineal tear: does anorectal symptoms correlate with manometry and endo-anal scan result?. An International Journal of Obstetrics & Gynaecology, 121 () pp. 227-227 |
| 2013 | Knowledge, perception and attitude among pregnant mothers towards ibadah. International Medical Journal Malaysia, 12 (2) pp. |
| 2013 | Patient-reported outcomes of retropubic versus trans-obturator mid-urethral slings for urinary stress incontinence: the Malaysian experience. International Medical Journal Malaysia, 12 (2) pp. 33-38 |
| 2012 | Fetal intra-abdominal umbilical vein varix in monochorionic twin: is it significant?. Malaysian Journal of Medical Sciences, 19 (3) pp. 69-73 |
| 2012 | Maternal outcome of prenatally diagnosed lethal fetal anomalies: a year review. International Journal of Gynecology and Obstetrics, 119 (3) pp. S713-S713 |
| 2012 | Overt and covert postpartum urinary retention, risk factors and complications - a cohort study at Hospital Tengku Ampuan Afzan (HTAA), Kuantan, Pahang, Malaysia. BJOG: An International Journal of Obstetrics & Gynaecology, 119 (SuppS1) pp. 109-110 |
| 2012 | The effects of maternal body mass index (BMI) on the pregnancy outcome among primigravida who delivered at Hospital Tengku Ampuan Afzan (HTAA), Kuantan, Pahang. BJOG: An International Journal of Obstetrics & Gynaecology, 119 (Oct.) pp. 37 |
| 2011 | Bladder scan vs urethral catheterization for measurement of immediate post partum bladder volume. Malaysian Journal of Obstetrics & Gynaecology, 8 (21) pp. 41-42 |
| 2011 | Prevalence of lower urinary tract symptoms (LUTS)among young age medical population. International Medical Journal Malaysia, 10 (1) pp. 7-15 |
| 2011 | Second trimester uterine rupture: lesson learned. Malaysian Journal of Obstetrics & Gynaecology, 8 (21) pp. 78-79 |
| 2011 | Transobsturator tape (TOT) procedure: the Ipoh experience . Journal of University of Malaya Medical Center, 14 (1) pp. 10-20 |
| 2011 | Uterine inversion with massive uterovaginal prolapse multiple bladder stones . Journal of obstetrics and gynaecology research, 37 (6) pp. 633-635 |
| 2010 | Repeated endoscopic excision of an eroding calcified mesh sling-continued follow-up is required. Journal of Minimally Invasive Gynecology, 17 (3) pp. 383-385 |
Conference or Workshop Item
| | |
| --- | --- |
| 2022 | Micronutrient levels in healthy term pregnant mothers and their newborns during the Covid-19 pandemic era. In: The 15th Putrajaya International Conference on Children, Women, Elderly and Persons with Disabilities 2022, |
| 2021 | A cohort study on obstetric outcome of obese primigravida with spontaneous onset of labour at term. In: Medical Research Symposium 2021, |
| 2021 | A six years review of placenta Accreta Spectrum Disorder in a tertiary referral Hospital. In: Virtual Medical Research Symposium 2021, |
| 2019 | Non descend vaginal hysterectomy (NDVH) for benign gynecological conditions. In: 2019 Frontier in Gynaecological Minimal Invasive Treatment, |
| 2019 | Non descent vaginal hysterectomy (NDVH)for benign gyneacological conditions. In: 12th National Urogynaecology Symposium 2019, |
| 2019 | Pelvic organ prolapse vaginal or cesarean childbirth. Does it matter?. In: 12th National Urogynaecology Symposium 2019, |
| 2019 | Recurrent vault prolapse. In: IUGA 44th Annual Meeting and AUGS PFD Week 2019, |
| 2019 | The new design of the mechanical individual labour kit' "Clover Set". In: Invention, Innovation & Design Exposition (IIDEX) 2019, |
| 2018 | Cerebroplacental Ratio (CPR) as predictor of perinatal outcome in induction of labour. In: 25th Regional Congress of the Perinatal Society of Malaysia, |
| 2018 | Extraperitoneal high uterosacral ligament fixation for apical support.. In: Where Technology,Evidence & Skills Meet, |
| 2018 | Pelvic organ prolapse with LUTS.. In: IUGA 43rd Annual Meeting 2018, |
| 2018 | Pessary treatment; pelvic organ prolapse. In: APUGA-MUGS Precongress Workshop & Joint Conference 2018, |
| 2018 | The efficacy of modified Viennese manual perineal protection (VMPP) at second stage of labour. In: IUGA 43rd Annual Meeting 2018, |
| 2018 | Treating women with urinary incontinence and overactive bladder. In: Medical Research Symposium 2018, |
| 2017 | Development of a model to predict chance of successful vaginal birth after cesarean delivery: a prospective cross sectional study. In: 24th Regional Congress of Perinatal Society of Malaysia, |
| 2017 | Induction of labour using foley catheter: traction versus no traction a randomized prospective study.. In: 25th Congress of the Obstetrical & Gynaecological Society Of Malaysia, |
| 2017 | The outcome of transpelvic magnetic stimulation (TPMS) in treating women with urinary incontinence and overactive bladder : a prospective observational study. In: 25th Congress of the Obstetrical & Gynaecological Society Of Malaysia, |
| 2016 | A prospective study of caesarean section for foetal distress: Relation with umbilical cord arterial blood gases and neonatal outcome. In: 12th Asia Pasific Congress in Maternal Fetal Medicine 2016, |
| 2016 | Pelvic floor muscle training for urinary incontinence and pelvic organ prolapse. In: IUGA Regional Symposium, |
| 2016 | The efficacy of modified Viennese manual perineal protection (VMPP) versus conventional technique in perineal protection at second stage of labour: A randomize case control study. In: 12th Asia Pasific Congress in Maternal Fetal Medicine 2016, |
| 2015 | Pelvic floor muscle training; a robust evidence base. In: Female Urology: Pelvic Floor Conference and ICS Joint Meeting, |
| 2014 | The effect of maternal serum lipid on maternal blood pressure and fetal birth weight. A prospective Cohort Study at maternal child health centre. In: 20th World Congress on Controversies in Obstetrics, Gynecology & Infertility (COGI) 2014, |
| 2014 | Third/fourth degree perineal tear: does anorectal symptoms correlate with manometry and endo-anal scan result? . In: The 20th World Congress in Controversies in Obstetrics, Gynecology & Infertility (COGI), |
| 2012 | Maternal outcome of prenatally diagnosed lethal fetal anomalies: a year review. In: XXth World Wide International Federation of Obstetrics and Gynaecology, |
| 2012 | Pregnancy and pelvic organ prolapse: 'Is requested caesarean section to prevent pelvic organ prolapse justified?. In: 4th Pan-Asian Urogynecologic Association (PAUGA) Meeting, |
| 2012 | Stress urinary incontinence & conservative management. In: IUGA Exchange Program, |
| 2011 | Bladder scan vs urethral cathetarization for measurement of immediate post partum bladder volume. In: 21st congress of the Obstetrician and Gynaecological society of Malaysia In collaboration with the Institute of O& G. Royal College Ireland, |
| 2011 | Second trimester uterine rupture: lesson learned. In: 21st Congress of the Obstetrical and Gyeaecological Society of Malaysia, |
Book