Staff Directory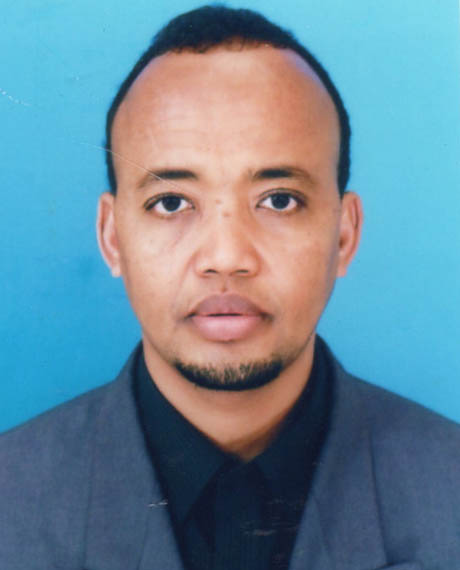 Academic Qualification
Ph.D in Usul Addin & Comparative Religion - Doctor of Philosophy, International Islamic University Malaysia
Master in Usul Addin & Comparative Religion - Masters Degree, International Islamic University Malaysia
Bachelor in Usul Addin & Comparative Religion - Bachelor Degree, International Islamic University Malaysia
Certificate in Teacher Training Certificate - Certificate, Mahad Imam al-shafiki
Certificate in Memorizing the Holy Qur'an - Certificate, Jama'at Tahfiz al-qur'an
Abdurezak Abdulahi Hashi (Prof. Dr.)
Professor
IIUM Kuantan Campus
KULLIYYAH OF SCIENCE

Other's position:
Head, Centre for Islamisation
---
Expert Profile
Abdurezak Abdulahi Hashi obtained his Bachelor's degree in 2001, his Master's degree in 2003 and his Ph.D in 2008, from the International Islamic University Malaysia (IIUM), in Theology and Comparative Religion. In 2008, he started working at Kulliyyah of Science, IIUM as an Assistant Professor.
Apart from being chair person and co-chair person for a number of international conferences, Dr Hashi has been invited as a speaker and presenter in various international conferences in Turkey, Malaysia, Australia and the United States of America. Since 2012, he has been a member of Reviewers, Qatar National Research Fund, Foundation of Qatar, Doha Qatar. In 2014, he was awarded the Best Teacher award at Kulliyyah level. In the same year, he was appointed as the editor of the Kulliyyah of Science academic journal, Revelation and Science.
Presently, Dr Hashi is an Associate Professor at the Department of Biotechnology, Kulliyyah of Science, and a coordinator for Multi-disciplinary Academic Postgraduate Programme, which is set to offer Master's and Ph.D programmes in Bioethics, Kulliyyah of Science.
Area of Specialisation
Humanities ~ Humanities ~ Religious Studies ~ Comparative Religion - Comparative Theology, Islamic Thought, Epistemology and Philosophy
Humanities ~ Humanities ~ Philosophy ~ Ethics - Moral philosophy, Professional and Administrative Ethics
Teaching Responsibilities
| | |
| --- | --- |
| BASIC PHILOSOPHY AND ISLAMIC WORLDVIEW | 2022/2023 |
| BASIC PHILOSOPHYAND ISLAMIC WORLDVIEW | 2021/2022 2020/2021 |
| BIOMEDICAL ETHICS FROM ISLAMIC PERSPECTIVE | 2013/2014 |
| BIOTECHNOLOGY, LAW AND ETHICS | 2020/2021 2019/2020 2018/2019 2017/2018 2016/2017 2013/2014 2012/2013 2011/2012 |
| CARDIOVASCULAR, RESPIRATORY AND HAEMOPOIETIC SYSTEMS | 2021/2022 |
| CONCEPT OF HALAL AND HARAM IN FOOD AND BIOTECHNOLOGY | 2021/2022 2020/2021 |
| Creative Thinking And Problem Solving | 2020/2021 2019/2020 2018/2019 2017/2018 |
| ETHIC AND FIQH OF CONTEMPORARY ISSUES | 2019/2020 2018/2019 |
| ETHICS & LAW FOR HEALTH PROFESSIONALS | 2019/2020 2017/2018 |
| ETHICS AND LAW FOR HEALTH PROFESSIONALS | 2021/2022 2020/2021 |
| ETHICS, FIQH FOR EVERYDAY LIFE | 2018/2019 2017/2018 2016/2017 2015/2016 2014/2015 2012/2013 2011/2012 2010/2011 2009/2010 |
| FARDHU 'AIN | 2013/2014 |
| HALAL AND HARAM IN FOOD INGREDIENTS AND PROCESSING | 2018/2019 |
| HALAL AND HARAM IN FOOD PROCESSING | 2019/2020 2018/2019 2017/2018 |
| ISLAM AND SCIENCE | 2015/2016 2014/2015 |
| ISLAM,KNOWLEDGE AND CIVILIZATION | 2018/2019 2017/2018 2015/2016 2014/2015 2013/2014 2012/2013 2011/2012 2010/2011 2009/2010 2008/2009 2007/2008 |
| ISLAMIC INPUT FOR HEALTH PROFESSIONAL | 2019/2020 |
| ISLAMIC INPUT FOR HEALTH PROFESSIONAL (MHSC) | 2019/2020 2015/2016 2014/2015 |
| ISLAMIC WORLDVIEW | 2017/2018 2016/2017 2015/2016 2014/2015 2013/2014 2011/2012 2010/2011 2009/2010 2008/2009 |
| Islamisation of Human Knowledge in Medicine | 2021/2022 |
| KNOWLEDGE & CIVILIZATION IN ISLAM | 2022/2023 2021/2022 2020/2021 |
| MALAY VIRTUES,HERITAGE AND MALAYSIAN SOCIETY | 2020/2021 |
| NORMAL RESPONSE AND PROCESS TO DISEASED STATE | 2021/2022 |
| NORMAL STRUCTURE & FUNCTION OF THE HUMAN CELL, TISSUE & BODY SYSTEMS | 2021/2022 |
| PHARMACEUTICAL QUALITY ASSURANCE | 2009/2010 |
| PHILOSOPHY OF SCIENCES | 2013/2014 2012/2013 |
| REGULATION AND ETHICS IN BIOTECHNOLOGY | 2021/2022 2020/2021 2019/2020 |
| RESEARCH METHODOLOGY | 2017/2018 |
| STUDIES OF RELIGION | 2017/2018 |
| STUDY OF RELIGIONS | 2017/2018 |
| THE ALIMENTARY AND HEPATOBILIARY SYSTEMS | 2021/2022 |
| THE ENDOCRINE, REPRODUCTIVE AND URINARY SYSTEMS | 2021/2022 |
| THE ISLAMIC WORLD VIEW, KNOWLEDGE AND CIVILIZATION | 2021/2022 2020/2021 2019/2020 2018/2019 2017/2018 |
Research Projects
Completed
| | |
| --- | --- |
| 2016 - 2017 | Kajian Berkenaan Isu-Isu Etika dan Hukum Berkaitan Pengakhiran Hayat (End of Life) di Dalam Konteks Malaysia |
| 2016 - 2020 | A study on Ethical and Legal Issues in Tissue Engineering and Regenerative Medicine : A Step Towards Developing Comprehensive Ethico-legal Framework |
| 2015 - 2018 | Islamic Ethical Principle of Harm Prevention (Daf'U al-Darar) and its Applications in Nursing Practices |
| 2013 - 2015 | genesis of Scientific Thinking in Islamic Civilization :The Quest for Research culture |
| 2013 - 2017 | Osteoarthritis Initiative: Exploring The Potential of Non-Viral Gene Delivery Via Cartilage Tissue Engineering Strategy And The Bioethical Concern From The Islamic Perspective |
| 2013 - 2014 | Bioethics: An Islamic Perspective |
| 2012 - 2014 | Administrative Ethics of Public Administration from the Islamic Perspective |
| 2010 - 2011 | Inference and Probability in Methodology of Hadith |
| 2009 - 2012 | The Intellectual(science)legacy of the early muslim scientist:its contemporary relevance and significance |
| 2008 - 2010 | Scholarship of Comparative Religion: Its Concept, Objectives and Methods from an Islamic Perspective |
On-Going
| | |
| --- | --- |
| 2021 - Present | MAQASID SHARIAH AND ITS APPLICATION IN MARINE POLICY |
| 2021 - Present | Expository Analysis from Islamic Views on Promoting Early Breast Cancer Screening among Muslim Women |
| 2021 - Present | Maqasid Al-Shari'ah guidelines on the conservation of the marine life |
| 2021 - Present | Knowledge,Attitude, Behaviours Of Muslim Malaysian Mothers On Breastfeeding, Wet- Nursing,Milkinship And Human Milk Banking And Islamic Perspective (Fiqh And Shari?ah) In Pahang,Malaysia |
Award & Recognition
| | | |
| --- | --- | --- |
| 06 Jun, 2021 | BEST POSTER PRESENTATION AWARD, 3RD WORLD CONGRESS ON INTEGRATION & ISLAMICISATION 2021: a??MENTAL HEALTH AND WELL BEING IN THE 4TH INDUSTRIAL REVOLUTION, Held on on 4 th a?? 6th June, 2021. - International Islamic University Malaysia | University |
| 06 Dec, 2015 | Bronze Medal - Others | National |
| 19 Dec, 2014 | BEST TEACHER AWARD - KULLIYYAH OF SCIENCE, INTERNATIONAL ISLAMIC UNIVERSITY MALAYSIA, IIUM | KCDIO |
| 22 Feb, 2012 | SILVER MADLE, IIUM Research, Invention and Innovation Exhibition 2012 (IRIIE2012), International Islamic University Malaysia, Cultural Activity Center, IIUM, 21st-22nd, February, 2012 - International Islamic University Malaysia | University |
Publications
Article
| | |
| --- | --- |
| 2022 | Ethical issues in tissue engineering: a systematic review. Malaysian Journal of Medicine & Health Sciences, 18 (1) pp. 275 -289 |
| 2021 | Conservation of marine biodiversity from plastic pollution for the health and well-being of society: a maqasidic approach. Revelation and Science, 11 (2) pp. 15-20 |
| 2021 | Ethical concerns about the applications of artificial intelligence in healthcare practices: an explanatory review. Revelation and Science, 10 (2) pp. 9-17 |
| 2021 | Preservation of marine biodiversity for health and wellbeing of the society in the age of technological advances: Islamic and marine science perspective. Malaysia Journal of Medicine and Health Sciences, 17 () pp. 25-25 |
| 2021 | Relevant local fatwā on the issues of using human tissues in articular cartilage tissue engineering experimentation. International Medical Journal Malaysia (IMJM), 20 (1) pp. 127-135 |
| 2021 | The 3rdWorld Congress on the Integration and Islamicisation of Acquired Human Knowledge. Revelation and Science, 11 (1) pp. 1-5 |
| 2020 | A survey on relevant Malaysian fatwā about cadaver concerning tissue engineering research. Pertanika Journal-Social Sciences and Humanities, 28 (2) pp. 1451-1466 |
| 2020 | Jinn and mental Illness among Muslims -a commentary. IIUM Medical Journal Malaysia, 19 (1) pp. 125-128 |
| 2020 | Legal aspects of articular cartilage tissue engineering experimentation: a review on Malaysian acts, regulations and guidelines. Malaysian Journal of Medicine and Health Sciences, 16 (3) pp. 272-284 |
| 2020 | Qur'anic metaphor on 'a wink of an eye':literal or figurative?. International Journal of Islamic thought (IJIT), () pp. |
| 2019 | A review of Malaysian experience in tissue engineering research and development: an online database study using Scopus. International Journal Of Allied Health Sciences, 2 (3) pp. 507-516 |
| 2019 | A short note: Muslim Jurists' view on surrogate motherhood. Revelation and Science, 9 (1) pp. 28-31 |
| 2019 | Health and social challenges of LGBT: Islamic perspective. International Medical Journal Malaysia, 18 (1) pp. 1-3 |
| 2019 | Medical and Islamic perspectives on human immunodeficiency virus infection and its prevention. International Medical Journal Malaysia, 18 (2) pp. 153-159 |
| 2019 | The application of Maqasid al-Shari'ah in medicine: an overview. Revelation and Science, 9 (2) pp. 1-20 |
| 2018 | A preliminary study for developing operator manual for ruminant abattoirs on prevention of foodborne diseases and halal compliance. International Journal of Allied Health Sciences, 2 (3) pp. 528-536 |
| 2018 | An overview of the application of Maqasid Al-Shariah into cartilage tissue engineering. The International Medical Journal of Malaysia, 17 (Special Issue 1) pp. 151-156 |
| 2018 | Ethical issues on using invertebrates in environmental and biomedical practices – a case study on living fossil horseshoe crab. International Medical Journal Malaysia, 17 (Special Issue 2) pp. 281-285 |
| 2018 | Ethical responses to modern clinical trials on human subjects: a comparative perspective. International Medical Journal of Malaysia, 17 (Special Issue ( No. 2)) pp. 213-218 |
| 2018 | Islamic ethics of waste management towards sustainable environmental health. The International Medical Journal Malaysia, 17 (Special Issue 1) pp. 193-197 |
| 2018 | Islamic moral judgement on abortion and its nursing applications: expository analysis. Enfermeria Clinica, 28 (supp. 1) pp. 212-216 |
| 2018 | Islamic moral judgement on resuscitation issue: nursing perspective. International Medical Journal of Malaysia, 17 (2) pp. 81-90 |
| 2018 | Islamic moral judgement on resuscitation issue: nursing perspective. IIUM Medical Journal Malaysia (IMJM), 17 (Special Issue 2) pp. |
| 2018 | Stem cells research: therapeutic potentials and ethical issues from Islamic perspective. The International Medical Journal Malaysia (IMJM), 17 (Special Issue 1) pp. 65-69 |
| 2018 | The ethical significance of antibiotic resistance towards aquaculture practices. International Medical Journal Malaysia, 17 (Special Issue 2) pp. 295-301 |
| 2018 | Tissue and cell donation for articular cartilage tissue engineering experimentation from Islamic perspective. Regenerative Research, 7 (1) pp. 138 |
| 2018 | Tissue engineering and the challenges of "playing god": a theological analysis. Regenerative Research, 7 (1) pp. |
| 2018 | Transformational and transactional leadership styles in enhancing nurse educator's job satisfaction: an integrative analysis of conventional and Islamic approaches. International Medical Journal Malaysia, 17 (Special Issue 2) pp. 319-332 |
| 2017 | Ethical dimension of consuming frog components for medical and research purposes. Revelation and Science, 7 (1) pp. 15-20 |
| 2017 | Evolution of human from primates - A review on religio-scientific discourse. Malayan Nature Journal, 69 () pp. 357-368 |
| 2017 | Islamic moral judgement on abortion and its nursing applications: expository analysis. Enfermería Clínica, 27(Suppl. Part I) () pp. 212-216 |
| 2017 | Islamic moral judgment on transparency and confidentiality and its nursing applications: expository analysis. Nursing & Healthcare International Journal, 1 (1) pp. 1-12 |
| 2017 | Self-perceived study on spirituality and productivity among tissue engineering and regenerative medicine researchers in Malaysia. Revelation and Science, 7 (2) pp. 24-35 |
| 2017 | The application of gene transfer technology in articular cartilage tissue engineering: An insight. Transactions of the Persatuan Genetik Malaysia (TPGM), (7) pp. 211-216 |
| 2016 | Harm reduction in relation to drug (Heroin) addiction: a comparative analysis from medical and Islamic perspectives. Revelation and Science, 6 (1) pp. 35-41 |
| 2016 | Incorporating moral values and maqasid al-syari'ah into medical and healthcare practices. International Medical Journal Malaysia, 15 (2) pp. 1-2 |
| 2016 | Infusing Islamic ethical ideals in nursing practice. Revelation and Science, 06 (02) pp. 34-41 |
| 2016 | Islamic ethics: An outline of its concept and essence (II). Revelation and Science, 6 (2) pp. 1-8 |
| 2015 | Ethical canons of organ transplantation from Islamic perspective: a brief review. Revelation and Science, 5 (2) pp. 24-30 |
| 2015 | The potential of 3-dimensional construct engineered from poly(lactic-co-glycolic acid)/fibrin hybrid scaffold seeded with bone marrow mesenchymal stem cells for in vitro cartilage tissue engineering. Tissue and Cell, 47 (4) pp. 420-430 |
| 2015 | The potential of 3-dimensional construct engineered from poly(lactic-co-glycolic acid)/fibrin hybrid scaffold seeded with bonemarrow mesenchymal stem cells for in vitro cartilage tissue engineering. Tissue and Cell, 47 (4) pp. 420-430 |
| 2014 | Bioethical issues of tissue engineering and regenerative medicine: a preliminary review from Islamic perspective. Revelation and Science, 4 (2) pp. 46-54 |
| 2014 | Cartilaginous markers expression in human articular chondrocytes overexpressed with SOX9 gene. Regenerative Research, 3 (2) pp. 131-132 |
| 2014 | Evaluation of bone marrow mesenchymal stem cells growth in vitro for cartilage tissue engineering. Regenerative Research, 3 (2) pp. 118-119 |
| 2014 | Modern breakthroughs in science: a pragmatic approach (Review article). Revelation and Science, 4 (1) pp. 27-36 |
| 2013 | Between monotheism and tawhid: a comparative analysis. Revelation and Science, 3 (2) pp. 23-29 |
| 2013 | Solitary sunnah and its legislative value among the Muslim jurists: readings of selected examples. Journal of US-China Public Administration, 10 (10) pp. 982-992 |
| 2012 | Foundations of Islamic antidrug abuse education. The American Journal of Islamic Social Sciences (AJISS), 29 (2) pp. 1-21 |
| 2012 | The Qur'anic account of Jews and Christians: expository analysis. International Journal of Humanities and Social Science , 2 (1) pp. 245-253 |
| 2012 | علم مقارنة الأديان بين سؤالي المفهوم والإمكان: دراسة تحليليّة مقارنة . Islamiyat al Ma'rifah, Journal of Contemporary Islamic Thought, 17 (67) pp. 73-98 |
| 2011 | Inference and probability in methodology of Hadith . Revelation and Science, 1 (3) pp. 115-121 |
| 2011 | Dirasah al-adyan fi al-manzur al-Qur'ani muntalaqat wa mafahim awliyah (دراسة الاديان في المنظور القرآني منطلقات ومفاهيم اولية). Journal of Islam in Asia, 3 () pp. 1-19 |
| 2011 | Islamic Ethics: an outline of its principles and scope. Revelation and Science, 1 (3) pp. 122-130 |
| 2011 | Team Spirit and Collective Decisions in Social Administration from the Qur'anic Perspective: A Textual Analysis . Mei-Zhong Gonggong Guanli, 8 (7) pp. 792-799 |
| 2010 | The architectural design of the natural physics in the Qur'an: analytical study of its objectives and philosophy. Journal of Islam in Asia, 7 (1) pp. 123-139 |
| 2010 | مقومات التنميّة الإقتصاديّة والمحافظة عليها في الهدي الربانيّ (Muqawwamat al-tanmiyah al-iqtisadiyah wa-al-muhafazah 'alayha fi al-huda al-rabbani). Islamiyat al Ma'rifah, 16 (62) pp. 45-70 |
| 2009 | آراء القائلين بأن الأصل في عمل المرأة خارج البيت هو المنع وأدلتهم بين النصّ والاجتهاد: دراسة تحليليّة نقديّة (Ara' al-qailin bi-ann al-asl fi 'amal al-mar'ah kharij al-bayt huwa al-man' wa-adillatuhum bayn al-nas wa-al-ijtihad : dirasah tahliliyah naqdiyah). Journal of Usul al-Din, 29 () pp. |
Conference or Workshop Item
| | |
| --- | --- |
| 2021 | A Qualitative Study on the Ethical Issues and Islamic Rulings in End of Life Care. In: 3rd World Congress on Integration and Islamicisation 2021, |
| 2021 | An Islamic Ethico-legal Framework for Articular Cartilage Tissue Engineering Research: A Focus on Harm Reduction. In: 3rd World Congress on Integration and Islamicisation 2021, |
| 2021 | Clinical Applications of Maqasid al Shari'ah in Healthcare: An Overview. In: 3rd World Congress on Integration and Islamicisation 2021, |
| 2021 | Drawing the Islamic Ethical Line between Medical Treatment and Cosmetic Enhancement in Tissue Engineering. In: 3RD WORLD CONGRESS ON THE INTEGRATION AND ISLAMICISATION (2021 WCII): MENTAL HEALTH AND WELL BEING IN THE 4TH INDUSTRIAL REVOLUTION, |
| 2021 | Factors of Mental Health in the Quran: A Thematic Analysis. In: 3rd World Congress on Integration and Islamicisation 2021: Mental Health and Well-Being in the 4th Industrial Revolution, |
| 2021 | Preliminary study on selected Qur'anic verses (Chapter 1-10) on hearing sciences: a thematic analysis. In: 3rd World Congress on Integration and Islamicisation 2021, |
| 2021 | Preservation of marine biodiversity for health and well being of the society in the age of technological advances: Islamic and marine science perspectives. In: 3rd World Congress on Integration & Islamicisation 2021, |
| 2019 | Medical futility: a major ethical issue in end of life care: an outlook from medical and Islamic legal rulings. In: Persidangan Nusantara Ke 3- Isu- isu Perubatan Menurut Perspektif Islam, |
| 2018 | Muslim jurists' opinions on the permissibility of tissue engineering experimentation: analysis of selected examples. In: 2018 TERMIS World Congress, |
| 2018 | Tissue engineering practices and the issue of "playing God": a yheological exposition. In: World Congress of the Tissue Engineering and Regenerative Medicine International Society, Inc. (TERMIS), |
| 2017 | Muslim jurists' opinions on modern In Vitro Fertilization (IVF) practices: its health and social implications on mothers. In: Fourth International Conference on Advances in Women's Studies 2017 (AWS2017), |
| 2017 | Religious extremism versus extremes of desacralisation: rethinking the status of religious education. In: The International Conference The Future of Ethics, Education and Research, |
| 2016 | A bibliometric and thematic study of tissue engineering research and development in Malaysia by using online databases. In: 6th Malaysian Tissue Engineering and Regenerative Medicine Scientific Meeting in conjunction with 2nd Malaysia Stem Cell Meeting (MTERMS) 2016: Programme and Abstract Book, |
| 2016 | A review of Malaysian experience in tissue engineering research and development:A bibliometric study using online databases. In: 4th International Conference on Biotechnology Engineering 2016 (ICBioE 2016), |
| 2016 | An overview of the Islamic legal maxim vis-a-vis cartilage tissue engineering experimentation. In: The 2nd KAHS Research Week 2016 and the 1st Allied Health Scientific Colloquium 2016, |
| 2016 | Bioartificial Articular Cartilage Substitute (BACS): today's innovation for active tomorrows. In: IRIIE 2016 Commercial Potential Award, |
| 2016 | Formation of human articular cartilage from in vitro to in vivo short-term ectopic implantation model: Gross observation, histology and immunohistochemistry analysis. In: 4th International Conference on Biotechnology Engineering 2016 (ICBioE 2016), |
| 2016 | The application of Maqasid al-Shari'ah into cartilage tissue engineering. In: 2nd World Congress on Integration and Islamicisation: Focus on Medical and Health Care Sciences (SWCII) 2016: Theme: Incorporating Moral Values and Maqasid Al-Shari'ah into Medical and Health Care Practices., |
| 2016 | Transformational and transactional leadership styles in enhancing nurse educator's job satisfaction: An integrative analysis. In: 2nd World Congress on Integration and Islamicisation: Focus on Medical and Healthcare Science (2WCII 2016), |
| 2015 | Bioartificial articular cartilage substitute: towards the development of functional tissue engineered medical product. In: The International Conference and Exposition on Inventions by Institutions of Higher Learning (PECIPTA 2015), |
| 2015 | Bioethical education: an analytical review of its rationale and challenges . In: ISER 6 th International Conference 2015, |
| 2015 | Human-animal chimerical transplantation in tissue engineering experimentation: exploring the ethical issues. In: 5th International Conference on Advancement in Science and Technology (iCAST 2015): Frontiers in Biotechnology, |
| 2015 | The creation and the design of the natural order: a thematic reading of selected verses of the Qur'an . In: The 2nd International Conference on Qur'an and Sunnah (ICQS 2015), |
| 2014 | Exploring Islamic views on the application of gene transfer in tissue engineering approach. In: K.A.H.S. Research Week 2014, |
| 2014 | Worthwhile theological dialogue of the abrahamic faiths: opportunities and challenges. In: International Theological Conference: Interfaith Dialogue, |
| 2013 | Bioethical issues of tissue engineering and regenerative medicine from Islamic perspective. In: 1st World Congress on Integration and Islamicisation of Acquired Human Knowledge (FWCII 2013), |
| 2011 | Intellectual dynamics of knowledge quest in the early Muslim intellectual heritage. In: International Conference on Islamization in Modern Science and Scientification of Islamic Studies: Prospects and Bridges, |
| 2010 | Ethical education of health preservation in the muslim medical heritage: a comparative study of ethics of health conservation between Ibn Sina's Qanon and Razi's Hawi. In: 3rd International Conference on Advancement in Science and Technology (iCAST) 2010, |
| 2010 | Managerial ethics from Islamic perspective: analytical study of its framework and scope . In: International Conference on Da'wah and Islamic Management: Practice and Prospect, |
| 2010 | The qur'an and the formation of the intellectual (scientific) mind. In: Second ISTAC international conference on Islamic Science and the Contemporary World "Islamic Science in Tertiary Education', |
| 2009 | Human capital development from islamic perspective . In: International Conference on Human Capital Development, |
| 2009 | Principles of comparative religious education in the Qur'an. In: The 7th World Conference on Muslim Education, |
| 2009 | The relationship between human capital development and economic growth: an Islamic analysis . In: International Conference on Islamic Economics and Economics of the OIC countries , |
| 2009 | Towards a globalized scholarship of comparative religion. In: Knowledge Globalization Conference 2009, |
| 2009 | أسس التنمية الاجتماعية في المنظور القرآني (Usus al-tanmiyah al-ijtima'iyah fi al-manzur al-Qur'ani). In: International Conference on Development 2009: Development & Ummatic Vision (ICD2009)., |
| 2008 | Islamic critique of religious fetishism . In: An Interdisciplinary International Conference on Fetishism, 2008, |
| 2008 | Methodological approach of studying religious ethics of other faiths between Ismail Al-Faruqi and Toshihiko Izutsu: a comparative study . In: International Conference on Contemporary Scholarship on Islam- Japanese Contribution to Islamic Studies: the Legacy of Toshihiko Izutsu, |
Book
| | |
| --- | --- |
| 2018 | Bioethics: a comparative study of its concepts, issues and approaches, 2nd ed.. IIUM Press, International Islamic University Malaysia, ISBN: 978-967-491-007-5 |
| 2018 | Professional ethics: its foundations and practices. IIUM Press, ISBN: 9789674184384 |
| 2016 | Worldviews and belief systems: a comparative introduction. Fajar Ulung, ISBN: 9789672041023 |
| 2015 | موسوعة الطّلاب المختصرة للعقائد والأديان (Mawsu'at al-thullab al-mukhtasara lil a'qaid wala'dyan). Dar al kotob al ilmiyah and IIUM PRESS, ISBN: 978­2­7451­8495­5 |
| 2015 | Bioethics: a comparative study of its concepts, issues and approaches . IIUM Press, ISBN: 9789674183202 |
| 2015 | Revelation and science in the 21st century. IIUM Press, ISBN: 978-967-418-391-2 |
| 2014 | The study of religious traditions: approaches and theories. IIUM Press, ISBN: 9789674183226 |
| 2013 | Al-Takamul al-ma'rifi wa-afaq tajdid al-fikr al-Islami = Integration of knowledge and the horizons of Islamic thought renewal. IIUM Press, ISBN: 9789674182854 |
| 2013 | Al-Takamul al-ma'rifi wa-qadaya al-ta'ṣīl wa-al-tajdid = Integration of knowledge and the issues of originality and renewal. IIUM Press, ISBN: 9789674182847 |
| 2013 | التكامل المعرفي وآفاق تجديد الفكر الإسلامي al-Takamul al-Ma'rifi wa Afaq al-Tajdid al-Fikr al-Islamiyi (Integration of knowledge and prospects of reviving Islamic religious thought). IIUM Press, ISBN: 9789674182854 |
| 2013 | التكامل المعرفي وقضايا التأصيل والتجديد al-Takamul al-Ma'rifi wa Qadaya al-Ta'sil wa al-Tajdid (integration of knowledge) and the issues of originality and renewal). IIUM Press, ISBN: 9789674182847 |
| 2012 | علم مقارنة الأديان من منظور إسلاميّ المفهوم والمنهج ('Ilm muqaranah al-adyan min manzur Islami: al-mafhum wa al-manhaj). IIUM Press, ISBN: 9789674182298 |
Book Section
| | |
| --- | --- |
| 2019 | Islamisation and integration of sciences: the Kuantan campus. In: IIUM Press, ISBN: 978-967-491-035-8, pp. 359-370 |
| 2019 | Islamization and integration of sciences: the Kuantan Campus. In: IIUM Press, ISBN: 978-967-491-035-8, pp. 359-369 |
| 2016 | Breakthroughs in biosciences and the question of morality: interactions between ethics and bioscience practices. In: Springer Singapore, ISBN: 978-981-287-777-2, pp. 259-267 |
| 2016 | Breakthroughs in biosciences and the question of morality: interactions between ethics and bioscience practices. In: Springer Singapore, ISBN: 978-981-287-777-2, pp. 259-267 |
| 2011 | Administrative ethics of corporate and public administartion from the Qur'anic perspective. In: Serials Publications, ISBN: 9788183872577, pp. 385-412 |
| 2011 | Administrative ethics of corporate and public administartion from the Qur'anic perspective. In: Serials Publications, ISBN: 9788183872577, pp. 385-412 |
| 2011 | Managerial ethics of public administrators from the Qur'anic perspective. In: IIUM Press, ISBN: 978-967-5272-81-3, pp. 27-37 |
| 2011 | Managerial ethics of public administrators from the Qur'anic perspective. In: IIUM Press, ISBN: 978-967-5272-81-3, pp. 27-37 |
| 2011 | طبيعة الظاهرة الدينيّة وتصنيفاتها النّموذجيّة في المنظور القرآنيّ (Tabi'ah al-zahirah al-diniyah wa tasnifatiha al-namudhajiyah fi al-manzur al-Qur'ani). In: IIUM, ISBN: , pp. 87-114 |
Monograph