Staff Directory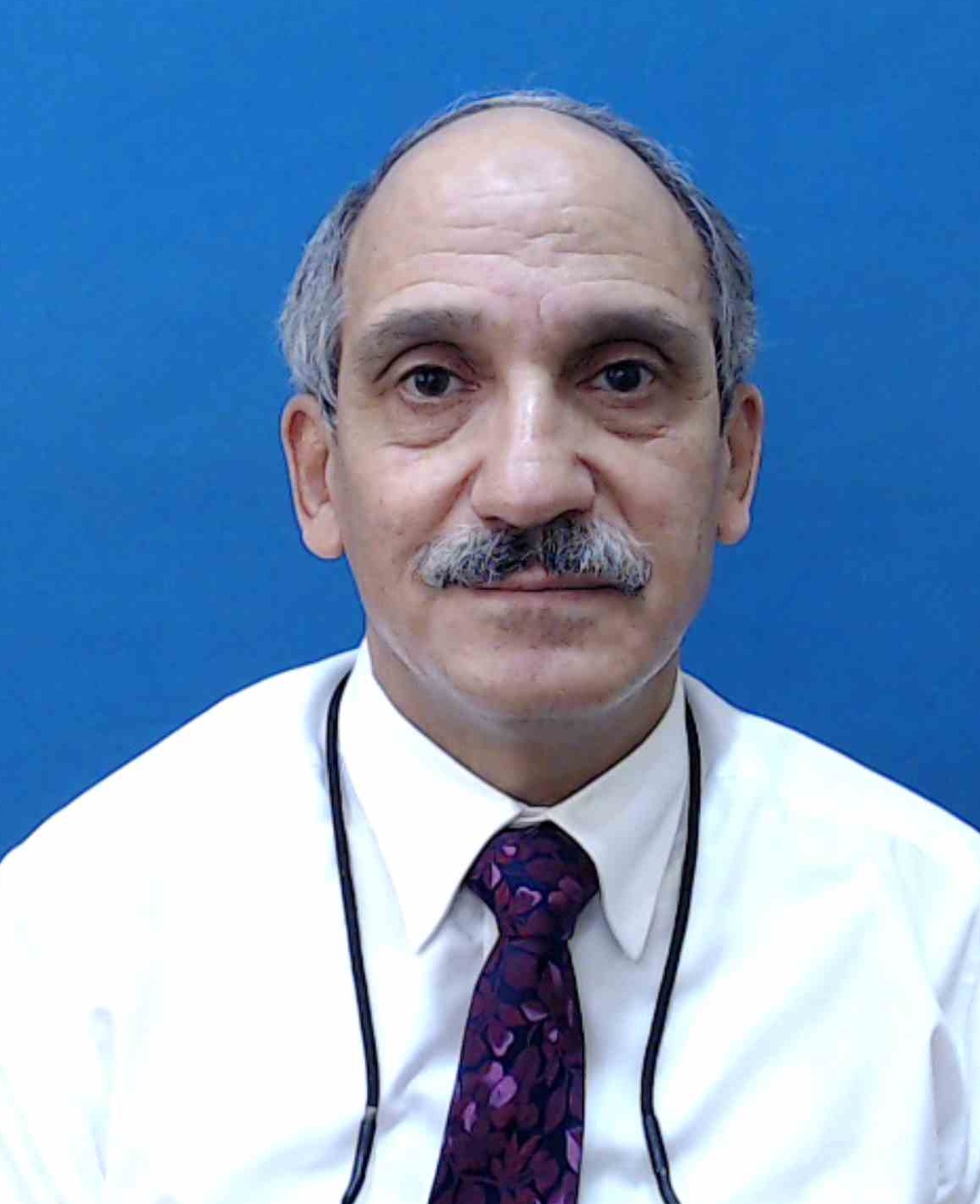 Academic Qualification
Doctor of the Philosophy in Oral Medicine - Doctor of Philosophy, University of Baghdad
Master in Maxillofacial Surgery - Masters Degree (Clinical Specialist), University of Baghdad
Bachelor in B.D.S - Bachelor Degree, Medical Academy Bialystok, Poland
Fellowship in oral implantology - Diploma, Melaka-Manipal Medical College
Naziyah Shaban Mustafa (Assoc. Prof. Dr.)
Associate Professor
IIUM Kuantan Campus
KULLIYYAH OF DENTISTRY
---
Expert Profile
Nazih Shaban Mustafa has a Ph.D. in Oral Medicine2001, a Master's in Oral and Maxillofacial Surgery1994 from the University of Baghdad, Iraq, Fellowship in Oral Implantology2015 from Manipal University. He started his career as an assistant Professor and then associate professor in Baghdad School of Dentistry University of Baghdad since 1989, then joined   Kulliyyah of Dentistry, at International Islamic University Malaysia in 2008 since then; he has been serving this Kulliyyah in different fields: Teaching, Clinical Administrative work, Research, and Community Services. He was the Head of Oral & Maxillofacial Surgery unit for 7 years and the Head of Oral Maxillofacial Surgery department from 2017-2018. Currently, he is the course coordinator of oral maxillofacial surgery, a member of the board of studies for doctors in oral and maxillofacial surgery, Kulliyyah of Dentistry, at International Islamic University Malaysia.
He is a member of the Malaysian Association of Oral & Maxillofacial Surgeons (MAOMS), Malaysian Dental Association MDA, Iraqi Dental Association, Fellowship of International College of Dentists FICD, Fellowship of International College of Implantologist FICOI
, Malaysian Biomaterials Society (MBS).
He is currently involved in teaching oral maxillofacial surgery, oral medicine, general surgery, and general medicine courses for clinical dental students; and has been supervising various research projects for undergraduate and postgraduate master and PhD students. His research interests are in the fields of oral surgery oral medicine, Oro facial pain temporomandibular joint, salivary gland, autoimmune disorders, laser therapy, tumours, oral cancer, cancerous, and precancerous lesions, implantology, and natural products.
He has massive research experience conducting in vitro and in vivo in implant, bone, and wound healing. 
He has achieved several grants,
and
he manages to publish 4 books,3book sections, and 37 publications with citations, in addition to other collaborations in research national, and international.
Area of Specialisation
Medical And Health ~ Medical And Health Sciences ~ Dentistry ~ Oral Pathology - oral medicine
Medical And Health ~ Medical And Health Sciences ~ Dentistry ~ Oral and Maxillofacial Surgery - Oral and Maxillofacial surgery, Dental Implantology
Research Projects
Completed
| | |
| --- | --- |
| 2020 - 2023 | Effect of flaxseed (Linum usitatissimum) extract on oral wound healing demonstrated through fibroblast and osteoblast co-culture: an in-vitro analysis |
| 2017 - 2021 | Epithelization, ossification and gene expression of the socket after tooth extraction in diabetic rats treated by flax seed extract |
| 2016 - 2019 | Immunological, Histopathological and Gene Expression Changes Induced by Flax Seed Extract during Wound Healing Process |
| 2016 - 2019 | Prospective study on response to treatment of patients with temporomandibular joint dysfunction: A Clinical Study |
| 2016 - 2019 | Developmental dental defect among patients attending iium dental clinic Kuantan, Pahang |
| 2014 - 2018 | Primary Causes for Extraction Among Patients Attending the IIUM Kulliyyah of Dentistry Polyclinic |
| 2014 - 2016 | Evaluation Of Morphological Changes Of Apical Foramen And Apical Third Of Root After Using Rotary Instruments In Endodontic Treatments Using Computerized Tomography |
| 2011 - 2012 | RU 2011 -Radiografihc study on the location of mandibular canal inpatients attending IIUM dental clinics (KOD). |
| 2011 - 2013 | Hormonal, Biochemical and Histopathological effect of Eurycoma longifolia Jack extract on rat |
| 2011 - 2012 | Determination of the Level of Mental Foramina in Malay Dental Students |
| 2011 - 2012 | KVC Book Project 2011- Application of Basic Medical Sciences in Clinical Dental Work |
| 2011 - 2013 | (RU2011) Effect of Chitosan-based implant coating on bone healing |
On-Going
| | |
| --- | --- |
| 2021 - Present | The Effect of Flaxseed Extract as Bioactive Titanium Coating Material In-Vitro |
| 2020 - Present | Immunomodulatory effect of Tualang Honey on oral wound healing in diabetic Wistar rats |
| 2015 - Present | Antimicrobial action of Flaxseed and Nigella sativa oil on selected oral pathogen in intracanal environment |
| 2011 - Present | New Porous Glass Ceramic For Dental and Medical Applications |
Award & Recognition
| | | |
| --- | --- | --- |
| 12 Jul, 2018 | MURABBI AWARD - NAZIYAH SHABAN MUSTAFA | National |
| 09 May, 2009 | BEST TEACHER AWARD - NAZIYAH SHABAN MUSTAFA | National |
Publications
Article
| | |
| --- | --- |
| 2023 | A two years of clinical and radiographical follow up post Enucleation of Radicular Cyst (Case Report). Scholars Journal of Medical Case Reports, 11 (5) pp. 847-852 |
| 2023 | Amlodipine and Xerostomia in elderly patients. Journal of International Dental and Medical Research, 16 (2) pp. 709-713 |
| 2023 | Effect of flaxseed on TGF-Β, IL-6, and MMP9 genes expression during wound healing process in rabbits. Open Access Macedonian Journal of Medical Sciences, 11 (A) pp. 41-46 |
| 2023 | Unusual demonstration of paradental cyst affecting impacted lower third molar. Scholars Journal of Medical Case Reports, 11 (10) pp. 1757-1762 |
| 2022 | Effect of visual exposure versus obstruction upon patient's quantitative and qualitative stress parameters changes during minor oral Surgery. European Journal of Dentistry, 17 (3) pp. 901-907 |
| 2021 | A retrospective study on the etiological factors of orofacial pain in a Malaysian sample. European Journal of Dentistry, () pp. 1-5 |
| 2021 | Prevalence of developmental dental anomalies and defects: a clinical survey. Journal of International Dental and Medical Research, 14 (1) pp. 265-272 |
| 2021 | The Relationship between Salivary IgA and White Oral Lesion in Bedridden Patients. Journal of International Dental and Medical Research, 14 (3) pp. 1107-1111 |
| 2020 | Amalgam management among clinical dental students a knowledge, attitude and practice (KAP) survey. Journal of International Dental and Medical Research, 13 (3) pp. 1003-1008 |
| 2020 | Histopathological changes of the flaxseed extract on skin wound healing in diabetic rabbits. Open Access Macedonian Journal of Medical Sciences, 8 (A) pp. 881-892 |
| 2020 | Potential antibacterial effects of flaxseed and Nigella sativa extracts on 11 streptococcus pyogenes. International Journal of Orofacial and Health Sciences, 1 (1) pp. 11-17 |
| 2020 | Radiographic findings in panoramic radiographs of patients attending Kulliyyah of Dentistry, IIUM. International Journal of Orofacial and Health Sciences, 1 (1) pp. 34-39 |
| 2019 | A rare case report of ectopic tooth in submandibular salivary gland's duct. International Medical Journal Malaysia, 18 (2) pp. 123-126 |
| 2019 | Recurring peripheral ameloblastoma at mandibular premolar region: A case report. Journal of International Dental and Medical Research, 12 (1) pp. 212-215 |
| 2019 | Retrospective demographic study on tooth impaction in a Malaysian sample. Journal of International Dental and Medical Research, 12 (2) pp. 548-552 |
| 2019 | The antimicrobial effect of flax seed on pseudomonas aeruginosa. World Journal of Pharmacy and Pharmaceutical Sciences, 8 (9) pp. 629-642 |
| 2019 | The prevalence of mesioangular impacted lower third molar among patients attending the polyclinic, Faculty of Dentistry, IIUM. Journal of International Dental and Medical Research, 12 (4) pp. 1463-1467 |
| 2018 | A pilot study on the use of biolase in the treatment of recurrent aphthous ulcer. Brazilian Journal of Oral Sciences, 17 () pp. |
| 2018 | A pilot study on the use of low level laser therapy in treatment of temporomandibular disorder. Journal of International Dental and Medical Research, 11 (2) pp. 669-675 |
| 2018 | A prospective study on response to treatment of patients with temporomandibular dysfunction: A clinical study. Journal of International Dental and Medical Research, 11 (2) pp. 572-579 |
| 2018 | A retrospective study on the prevalence of dry socket in patients who attended a polyclinic for extraction. Journal of International Dental and Medical Research, 11 (2) pp. 527-531 |
| 2018 | Assessment of the success rate of endodontically treated patients attending outpatient polyclinic. European Journal of Dentistry, 12 (4 (October -December)) pp. 540-545 |
| 2018 | The anti-fungal effect of flax seed on oral candidiasis: comparative in-vitro study. Journal of International Dental and Medical Research, 11 (2) pp. 580-586 |
| 2018 | The antibacterial effect of flaxseed extract on selective oral pathogens - comparative in vitro study. World Journal of Pharmacy and Pharmaceutical Sciences, 7 (11) pp. 1-11 |
| 2018 | The effect of high cholesterol level on recurrence rate of oral ulcer. Journal of Dental and Oral Health, 4 (2) pp. 0109-1-6 |
| 2018 | The relationship between tooth loss, body mass index, and hypertension in postmenopausal female. European Journal of Dentistry, 12 (1) pp. 120-122 |
| 2016 | Assessment of the level of maxillary sinus floor in dentulous, edentulous and free end cases on a sample of Malay population using orthopantomogram. Journal of Clinical Developmental Biology, 1 (2:9) pp. 1-6 |
| 2015 | Assessment of haemoglobin level in patients with recurrent oral ulcer of a sample of Malaysian population. Research & Reviews: Journal of Medical and Health Sciences, 4 (4) pp. 9-12 |
| 2015 | Effect of proper oral rehabilitation on general health of mandibulectomy patients. Clinical Case Reports, 3 (11) pp. 907-911 |
| 2015 | Histologic evaluation of bone healing following low level laser irradiation (experimental study). Oral Surgery, Oral Medicine, Oral Pathology and Oral Radiology, 119 (3) pp. e119-e119 |
| 2015 | Immunological Changes in Secondary Sjogran Syndrome (Comparative Study). Oral Surgery, Oral Medicine, Oral Pathology and Oral Radiology, 119 (3) pp. e126 |
| 2015 | The effect of chrome-cobalt and acrylic palatal plates on experimental denture stomatitis in Wistar rat. Oral Surgery, Oral Medicine, Oral Pathology and Oral Radiology, 119 (3) pp. e126 |
| 2015 | The effect of novel flax oil-based implant coating on bone healing process (in vivo animal study). Oral Surgery, Oral Medicine, Oral Pathology and Oral Radiology, 119 (3) pp. e126 |
| 2014 | EPA-coated titanium implants promote osteoconduction in white New Zealand rabbits. Clinical Oral Implants Research, 00 () pp. 1-7 |
| 2013 | Histopathological effects of Eurycoma Longifolia jack extract (tongkat ali) on the prostate of rats . Journal of Asian Scientific Research, 3 (8) pp. 843-851 |
| 2013 | The effect of Eurycoma Longifolia Jack extract (Tongkat Ali) on serum leptin levels in male rats. World Academy of Science, Engineering and Technology, 81 () pp. 747`-747 |
| 2012 | Histopathological evaluation of skin wound healing in rabbits treated by systemic dexamethasone. Annals of Microscopy, 12 () pp. 27-33 |
| 2012 | The relation between maternal serum leptin level and glucose in gestational diabetes and in normal pregnancy. Innova Ciencia, 4 (8) pp. 2-16 |
| 2012 | The use of intraoral camera in the assessment of students requirement (work). European Journal of Scientific Research , 69 (4) pp. 489-493 |
| 2009 | The relation between estrogen level, anti-Ro (SSA), anti-La (SSB) & secondary Sjogren's syndrome patients. European Journal of Scientific Research, 31 (2) pp. 184-187 |
Conference or Workshop Item
| | |
| --- | --- |
| 2023 | Challenge in treatment of recurring peripheral ameloblastoma at mandibular premolar region. In: 7th International Conference on Dentistry, |
| 2023 | Recurring peripheral ameloblastoma at mandibular region. In: 5th International Conference on Dentistry and Oral Health, |
| 2022 | 70% Ethanolic flaxseed extract enhances SaOS-2 cell proliferation in bone wound-healing model (In-Vitro). In: IIUM Research and Innovation Day 2022 (IRID 2022), |
| 2021 | Pattern of medication use among the elderly at one nursing center for terminally-ill patients in the east coast Malaysia: a cross-sectional study. In: IIUM Research Day 2021: An International Online for Life Sciences, |
| 2019 | Reasons and pattern of tooth extraction in International Islamic University Malaysia, Kulliyyah of Dentistry Polyclinic. In: 2017 Conference on Biomedical and Advanced Materials, Bio-CAM 2017, |
| 2018 | Accuracy of different dental age assessment methods to determine chronological age among Malay children. In: 2nd International Conference on Statistics, Mathematics, Teaching, and Research 2017, ICSMTR 2017, |
| 2018 | Biopsy–types and techniques. In: Basic Surgical Skill Workshop, |
| 2018 | Clinical assessment and morphological changes of minor salivary glands in patients with secondary Sjogren's Syndrome. In: International Congress of Dental and Oral Infections, |
| 2018 | Linum usitatissimum antibacterial activity on Pseudomona Aerigenosa in-vitro study. In: The International Conference on Oral Immunology & Oral Microbiology (ICOIOM) 2018, |
| 2016 | Rare case of ectopic tooth in submandibular salivary gland duct. In: The 27th Annual Scientific Meeting South East Asia Association for Dental Education, |
| 2015 | Changes in leptin and testosterone hormones associated with Eurycoma Longifolia jack (Tongkat ali) root extract consumption in male rats. In: International Conference on Natural Products 2015, |
| 2015 | Cytotoxic study of Linum usitatissimum and Salvia officinallis extracts on MCF-7 cell line (comparative study) . In: International Conference on Advancement in Science and Technology (iCAST 2015) - 'Frontiers in Biotechnology', |
| 2015 | Evaluation of the antifungal effect of saliva officinalis extract in vitro. In: International Anatomical and Biomedical Scientific Conference 2015 IABS 2015, |
| 2015 | The accuracy difference between surgical microscope and CBCT to find MB2 canal in mesiobuccal root of maxillary permanent first molar in Malay population. In: 39th Annual Conference of the European Prosthdontic Association, |
| 2015 | The relation between hemoglobin and recurrent oral ulcer . In: International Anatomical and Biomedical Scientific Conference 2015, |
| 2014 | Dose related proliferative changes in the prostate of rats induced by eurycoma longifolia Jack (Tongkat Ali) extract . In: International Research Invention and Innovation Exhibition (IRIIE) 2014, |
| 2014 | The effect of candida albicans inoculation under acrylic and chrome- cobalt palatal plates (comparative study). In: 9th International Congress on Autoimmunity, Nice, |
| 2014 | The effect of eurycoma longifolia jack root extract on serum lipids of rats. In: International Conference on Natural Products 2014, |
| 2013 | Gender differences in fasting serum leptin level among Malaysian population. In: MRMC 3rd Malaysian Reproductive Medicine Congress, |
| 2013 | Histopathological study of the effect Of Eurycoma longifolia Jack (Tongkat Ali) extract on the prostate of rats. In: International Conference on Natural Products 2013 (ICNP 2013), |
| 2013 | The effect of Eurycoma Longifolia Jack extract (Tongkat Ali) on serum leptin levels in male rats. In: ICBBS 2013 : International Conference on Biotechnology and Biological Sciences, |
| 2012 | Histologic evaluation of bone healing following low-energy laser irradiation(experimental study). In: 16t Maoms Agm/Annual Scientific Meeting :"Capture The Clinical Evidence Writing The Phenomenon", |
| 2011 | Histopathological evaluation of skin wound in rabbits treated by systemic dexamethasone. In: 20th Scientific Conference of Microscopy Society of Malaysia & 21st Annual General Meeting, |
| 2011 | Oral health status and salivary IgA concentration and in type 1 diabetic patients. In: Diabetes Asia 2011, |
| 2011 | Secondary Sjogrens syndrome, immunological and histopathological study in female. In: IIUM Research, Invention and Innovation Exhibition (IRIIE) 2011, |
Book
| | |
| --- | --- |
| 2018 | Clinical, laboratoy histopathological and ultrastructural study of secondary sjogrens syndrome. IIUM Press, International Islamic University Malaysia, ISBN: 9789674189259 |
| 2017 | Clinical, laboratory histopathological and ultrastructural study of secondary sjogrens syndrome. IIUM Press, International Islamic University Malaysia, ISBN: 978-967-418-925-9 |
| 2017 | Perfect evaluation in dental clinic. IIUM Press, International Islamic University Malaysia, ISBN: 978-967-418-717-0 |
| 2017 | The relation between oral candidiasis and the type of denture base material in animal model. IIUM Press, International Islamic University Malaysia, ISBN: 978-967-418-740-8 |
| 2011 | Application of basic medical sciences in clinical dentistry . IIUM Press, ISBN: 9789670225845 |
Book Section
| | |
| --- | --- |
| 2023 | Perspective chapter: early management of dental trauma in the era of COVID-19. In: IntechOpen, ISBN: 978-80355-637-6, pp. 1-16 |
| 2022 | Determination of the level and location of the mental foramina among patients attending Kulliyyah of Dentistry using panoramic radiograph. In: KOD, IIUM, ISBN: , pp. 95-119 |
| 2022 | Evaluation of blood pressure and pulse rate during tooth extraction in patients attending polyclinic Kulliyyah of Dentistry IIUM Kuantan. In: Kulliyyah of Dentistry International Islamic University Malaysia (IIUM), ISBN: , pp. 11-24 |
| 2011 | Clinical case reports. In: IIUM Press, ISBN: 9789674180409, pp. 89-95 |
| 2011 | Saliva as a diagnostic and prognostic parameter in systemic diseases. In: IIUM Press, ISBN: 9789670225845, pp. 3-15 |