Staff Directory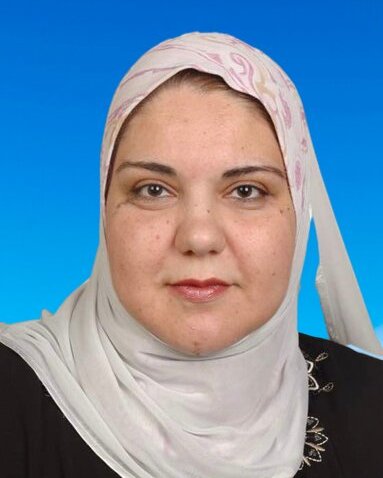 Academic Qualification
Ph.D in Clinical Pharmacy & Advanced Clinical Biochemistry - Doctor of Philosophy, University of Baghdad
M.Sc in Laboratory Sciences - Masters Degree (Clinical Specialist), University of Baghdad
Bachelor in Pharmacology - Bachelor Degree, University of Baghdad
Diploma in Clinical Biochemistry - Diploma, Medical Academy Bialystok
Basma Ezzat Mustafa (Assoc. Prof. Dr.)
Associate Professor
IIUM Kuantan Campus
KULLIYYAH OF DENTISTRY

Other's position:
Head, Kulliyyah of Dentistry
---
Expert Profile
Basma Ezzat Mustafa has Ph.D. in Clinical Pharmacology, Master's in advanced clinical Laboratory Sciences, and Bachelor in pharmacy from the University of Baghdad, Iraq. She started her career as an assistant Professor in Kulliyyah of Dentistry, at International Islamic University Malaysia in 2008 since then; she has been serving this Kulliyyah in different fields: Teaching, Administrative work, Research, and Community Services. She was the Head of research for 5 years. Currently, she is the Head of the Basic Medical Science Unit in the Fundamental Basic Medical Sciences Department, an
Editor member of the IIUM Journal of Orofacial and Health Sciences since July 2020, Program Coordinator for the Doctor of Philosophy in Dental Sciences programme since December 2021 and
Executive Committee member of the Malaysian Society of Oral Microbiologists and Oral Immunologists 2022.
She is currently involved in teaching Pharmacology, Microbiology, Physiology, and Biochemistry courses for pre-clinical dental students; and has been supervising various research projects for undergraduate and postgraduate master and PhD students. Her research interests are in the fields of pharmacology, endocrinology, microbiology, and natural products.
She has massive research experience conducting in vitro and in vivo anti-inflammatory, anti-bacterial, and wound healing effects of different natural products.in addition to the identification of different tumor markers for early diagnosis of different types of cancer.  
 She has achieved several grants national and international,
She has completed the Fundamental Research Grant Scheme (FRGS) (2016-2019) and Sponsored Research (SP) (2019-2021), and she is currently leading SRG grant since 2021. 
During this period, she manages to publish 4 books, 49 publications with citations, and she has been invited as a keynote speaker to national and international conferences. She manages to achieve one MOA with Philadelphia university Jordan in 2016, in addition to other collaborations in research (national, international, and industry.
Area of Specialisation
Medical And Health ~ Medical And Health Sciences ~ Complementary/Alternative Medicine ~ Traditional Medicine and Natural Product (Including Development of Traditional and Herbal Medicine) - natural product
Natural Science ~ Biological Sciences ~ Microbiology ~ Immunology - microbiology and immunology
Medical And Health ~ Medical And Health Sciences ~ Pharmacology ~ Clinical Pharmacology - Clinical pharmacology and biochemistry, Microbiology and Immunology, laboratory science
Research Projects
Completed
| | |
| --- | --- |
| 2021 - 2022 | Evaluation of Antioxidant Activity of GOLDEN SPRAY ANTI-V |
| 2021 - 2022 | Elucidation of Contents in GOLDEN SPRAY ANTI-V |
| 2019 - 2021 | Development, Characterization and Invitro Study of Flax Seed Oil Ointment for Wound Healing |
| 2019 - 2023 | Specific orthodontic tooth movement (OTM) biomarkers-related gene expression and hormonal changes induced by mechanical transduction on various mechanisms of orthodontic traction |
| 2018 - 2022 | Evaluation of antihypertensive mechanisms and pathways modulated by Syzygium polyanthum leaves fraction: In vitro study. |
| 2017 - 2021 | Leptin Receptor Expression In The Brain Of Animal Model with Hypoperfusion-Induced Neurodegeneration |
| 2016 - 2019 | Immunological, Histopathological and Gene Expression Changes Induced by Flax Seed Extract during Wound Healing Process |
| 2016 - 2019 | Prospective study on response to treatment of patients with temporomandibular joint dysfunction: A Clinical Study |
| 2016 - 2019 | Developmental dental defect among patients attending iium dental clinic Kuantan, Pahang |
| 2015 - 2020 | Flax seed extract and its effect on WNT signaling pathway in the osteogenic differentiation potential of stem cells from human exfoliated deciduous teeth (SHED) |
| 2014 - 2016 | Leptin Levels In Gingival Crevicular Fluid (GCF) During Orthodontic Tooth Movement And Gingival Healing |
| 2014 - 2016 | Evaluation Of Morphological Changes Of Apical Foramen And Apical Third Of Root After Using Rotary Instruments In Endodontic Treatments Using Computerized Tomography |
| 2011 - 2012 | The Study of the Effect of Flax Seed on Candidal Growth in Vetro (Comparative Study) |
| 2011 - 2013 | Hormonal, Biochemical and Histopathological effect of Eurycoma longifolia Jack extract on rat |
| 2011 - 2013 | Serum Leptin and Blood Pressure Variability After Exposure to Noise Stress at Workplace |
| 2011 - 2013 | (RU2011) Effect of Chitosan-based implant coating on bone healing |
| 2011 - 2011 | KVC Book Project 2011- Essential Laboratory Diagnosis for Dental Students |
| 2010 - 2013 | The effect of inoculation of Candida albicans under acrylic and chrome- cobalt palatal , a comparative Microbiological study |
On-Going
| | |
| --- | --- |
| 2022 - Present | Elucidating the prophylactic potential of Kelulut honey in modulating angiotensin-converting enzyme 2 (ACE2) as COVID-19 target enzyme |
| 2021 - Present | Salivary Leptin as a Potential Early Diagnostics Tumour Markers in Suspected Oral Cancer Patients Attending SASMEC |
| 2021 - Present | Genetic Analysis of LEP-2548G/A and LEPR Gene Gln223Arg Polymorphism (rs1137101) in Patients with Oral Cancer: A Preliminary Study at SASMEC @IIUM |
| 2021 - Present | The Effect of Flaxseed Extract as Bioactive Titanium Coating Material In-Vitro |
| 2021 - Present | Evaluation of Anti-inflammatory property of Golden Spray Anti-V |
| 2021 - Present | Goniothalamus umbrosus. A potential chemo-preventive and anti-carcinogenic agent for oral squamous cell carcinoma |
| 2021 - Present | Modulation of osteogenic differentiation of stem cells from human exfoliated deciduous teeth (SHED) treated with Malayan deer antler velvet extract seeded on chitosan scaffold |
| 2020 - Present | Immunomodulatory effect of Tualang Honey on oral wound healing in diabetic Wistar rats |
| 2015 - Present | Antimicrobial action of Flaxseed and Nigella sativa oil on selected oral pathogen in intracanal environment |
| 2011 - Present | RU - The Effect of Inoculation of Candida Albicaus under Acrylic and Chrome-cobalt Palatal Plates; a Comparative Immunological Study |
| 2011 - Present | New Porous Glass Ceramic For Dental and Medical Applications |
| 2010 - Present | An Ultrastructural and Histological Study on the Role of Arcrylic and Chrome-Cobalt Palatal Plates in Development of Denture Stomatitis |