Staff Directory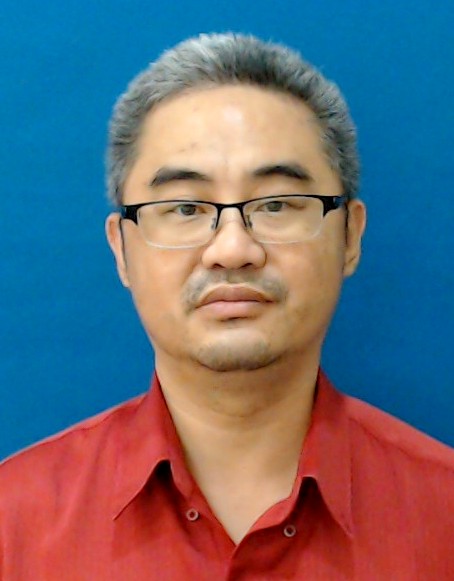 Academic Qualification
Doctor of Philosophy in Computational & Theoretical Sciences - Doctor of Philosophy, International Islamic University Malaysia
Masters in Maths - Masters Degree, University of Malaya
Bachelor in Science in Physcs - Bachelor Degree, University of Malaya
Pah Chin Hee (Assoc. Prof. Dr.)
Associate Professor
IIUM Kuantan Campus
KULLIYYAH OF SCIENCE
---
pahchinhee@iium.edu.my
5061
Expert Profile
Dr. Pah Chin Hee serves as the Head of Department of Computational and Theoretical Sciences, Faculty of Science, International Islamic University Malaysia (IIUM) since July 2011 to December 2016 He graduated from Malaya University with Bachelor degree in physics and Master degree in Mathematics. Then he continued to pursue PhD under supervision of Prof. Dr. Nasir Ganikhodjaev at International Islamic University Malaysia. His research interest is statistical mechanics and number theory. He published a number of papers in Journal of Statistical Physics, Journal of Mathematical Physics, Theoretical of Mathematical Physics, Letter of Physics, and etcs. He also became reviewer of a few journals.
He was the Physics program coordinator and assisting in setting up the Physics Department's program. Throughout his service in IIUM, he was assigned the task to run the IIUM Mathematics Competition from 2007 to 2016. The event is now a national event approved by Ministry of Education. He was also active in mathematics education by conducting workshop and invited as guest speaker for school teachers.
Area of Specialisation
Natural Science ~ Mathematical Sciences ~ Mathematics and Statistics for ICT and Industries ~ Dynamical Systems - Advanced Calculus
Natural Science ~ Mathematical Sciences ~ Applied Mathematics ~ Number Theory - Number Theory
Natural Science ~ Physical Sciences ~ Theoretical and Computational Physics ~ Statistical Physics and Thermodynamics - Dynamical Systems; Lattice Models of Statistical Mechanics.
Research Projects
Completed
| | |
| --- | --- |
| 2017 - 2019 | Lambda Model with Competing Interactions on Cayley Tree |
| 2017 - 2021 | The chaos implies the phase transition: p-adic dynamical system approaches to the quest for a new class of p-adic Gibbs measures |
| 2014 - 2017 | Nonorthogonal Unitaries for Two-way Quantum Key Distribution |
| 2014 - 2016 | Generalized the Zero-Two Law for Positive Contractions of Lp-Spaces |
| 2014 - 2018 | Spectral Expansions and Application of Mathematical Principles on Electromagnetic Prospecting Method |
| 2014 - 2017 | Applications of Scrambling Nonlinear Operators in Consensus Problems |
| 2014 - 2018 | Quadratic Stochastic Operators with Infinite State Space and Their Applications |
| 2014 - 2018 | Hedging Performane of Future Contracts: The Case of FTSE BMKLCI Futures and the CPO Futures Contracts in Malaysia |
| 2013 - 2016 | P-Adic Statistical Models and Dynamics of Localized Excitations of Bose-Einstein Condensates |
| 2013 - 2015 | Quartic Equation over P-Adic Field |
| 2011 - 2011 | KVC PROJECT 2011 - LATTICE MODELS WITH COMPETING INTERACTIONS |
| 2011 - 2012 | Ising Model on A General Cayley Tree with Competing Next-nearest-neighbour Interactions |
| 2011 - 2012 | Ising Model with Competing Interactions on Cayley Tree of Order 4: An Anlytic Curve |
| 2011 - 2015 | Quantum Quadratic Operators and Quadratic Processes |
| 2009 - 2012 | Generalization of Catalan Number On Cayley Tree Of Order K |
| 2009 - 2013 | Nonlinear Waves in Bose-Einstein Condensates & Optical Waveguide Systems with Higher Order Nonlinearity |
| 2009 - 2012 | On Generalized Gibbs measures of a countable state p-adic Potts Model and Their Properties |
| 2009 - 2011 | Dynamics of some class of quadratic stochastic operators and its applications |
| 2008 - 2011 | Mutually Unbiased Bases for six Dimensional Quantum System |
| 2008 - 2011 | Quantum Markov Chains, Quantum Quadratic Stochastic Processes |
| 2004 - 2006 | The Pirogov-Sinai Theory for Lattice Model Cayley Tree |
On-Going
| | |
| --- | --- |
| 2021 - Present | Scattering of Vector Solitons in Coupled Cubic-Quintic Nonlinear Schrodinger Equations With External Potentials. |
| 2021 - Present | Dynamics of Finite Dimensional Orthogonality Preserving Cubic Stochastic Operators |
| 2019 - Present | Autonomous Quantum Thermal Machine for Quantum Steering |
| 2014 - Present | Mathematics on Malaysian Traditional Games |
| 2013 - Present | DYNAMICAL SYSTEMS AND THEIR APPLICATIONS (DSTA) |
| 2004 - Present | Quantum Information Research Unit (QIRU) |
Publications
Article
| | |
| --- | --- |
| 2023 | A class of bijective Lotka–Volterra operators and its application. Mathematical Methods in the Applied Sciences, () pp. 1-12 |
| 2023 | The description of generalized translation-invariant p-adic Gibbs measures for the Potts model on the Cayley tree of order three. Theoretical and Mathematical Physics, 214 (3) pp. 406-420 |
| 2022 | On a class of non-ergodic Lotka–Volterra operator. Lobachevskii Journal of Mathematics, 43 (9) pp. 2591-2598 |
| 2021 | Dynamics of quadratic stochastic operators generated by China's five element philosophy. Journal of Difference Equations and Applications, () pp. 1-20 |
| 2021 | On three-dimensional mixing geometric quadratic stochastic operators. Mathematics and Statistics, 9 (2) pp. 151-158 |
| 2020 | Cooperative game theory approach for portfolio sectoral selection before and after Malaysia general elections: GE13 versus GE14. Saudi Journal of Economics and Finance, 4 (8) pp. 390-399 |
| 2020 | On ground states and phase transition for λ-model with the competing Potts interactions on Cayley trees. Physica A: Statistical Mechanics and its Applications, 549 () pp. 1-18 |
| 2020 | Rock-Paper-Scissors Lattice Model. Malaysian Journal of Fundamental and Applied Sciences, () pp. |
| 2020 | The portfolio optimization performance during Malaysia's 2018 General Election by using noncooperative and cooperative game theory approach. Modern Applied Science, 14 (4) pp. 1-13 |
| 2019 | On non-ergodic volterra cubic stochastic operators. Qualitative Theory of Dynamical Systems, () pp. |
| 2018 | Ground states and phase transition of the λ model on the Cayley tree. Theoretical and Mathematical Physics, 194 (2) pp. 260-273 |
| 2017 | On connected sub-tree with fixed nodes in Cayley tree of Order 2. Southeast Asian Bulletin of Mathematics, 41 (3) pp. 431-456 |
| 2016 | Dirichlet's theorem related prime gap statistics. Malaysian Journal of Mathematical Sciences, 10 () pp. 305-310 |
| 2015 | Combinatorial interpretation of raney numbers and tree enumerations. Open Journal of Discrete Mathematics , 5 (1) pp. 1-9 |
| 2013 | International Conference on Advancement in Science and Technology 2012 (iCAST): Contemporary Mathematics, Mathematical Physics and their Applications. Journal of Physics: Conference Series, 435 (conf.1) pp. 011001-1 |
| 2013 | International Conference on Advancement in Science and Technology 2012 (iCAST): Contemporary Mathematics, Mathematical Physics and their Applications. Journal of Physics: Conference Series, 435 (conf.1) pp. 011001-1 |
| 2013 | Ising model with competing interactions on Cayley tree of Order 4: an analytic solution. Journal of Physics: Conference Series, 435 () pp. 012032 |
| 2013 | On quadratic stochastic processes and related differential equations. Journal of Physics: Conference Series, 435 () pp. 012013 |
| 2013 | Single polygon counting on Cayley tree of order 4 : generalized Catalan numbers. Middle-East Journal of Scientific Research, 13 () pp. 1-5 |
| 2010 | Single Polygon Counting on Cayley Tree of Order 3. Journal of Statistical Physics, 140 (1) pp. 198-207 |
| 2008 | An application of Catalan Numbers on Cayley tree of order 2: Single Polygon Counting. Bulletin of the Malaysian Mathematical Sciences Society, 31 (2) pp. 175-183 |
| 2008 | Application of Catalan Number on Cayley tree: of order 2: single Polygon Counting. Bulletin of the Malaysian Mathematical Sciences Society, 31 (2) pp. 175-183 |
| 2008 | Phase diagram of the three states Potts model with next nearest neighbour interactions on the Bethe lattice. Physics Letters A, 373 (1) pp. 33-38 |
| 2006 | Phase diagrams of multicomponent lattice models. Theoretical and Mathematical Physics, 149 (2) pp. 1512-1518 |
| 2004 | An Ising model with three competing interactions on a Cayley tree. Journal of Mathematical Physics, 45 (9) pp. 3645-3658 |
| 2004 | The effect of finite bandwidth squeezed light on entanglement creation in the Dicke model. Journal of Optics B: Quantum and Semiclassical Optics, 6 (7) pp. 289-295 |
| 2003 | Exact solution of an Ising model with competing interactions on a Cayley tree. Journal of Physics A: Mathematical and General, 36 (15) pp. 4283-4289 |
Conference or Workshop Item
| | |
| --- | --- |
| 2023 | The idempotency in the genetic algebras generated by QSO on infinite state space. In: 6th International Conference on Mathematical Applications in Engineering (ICMAE'22), |
| 2022 | Bijectivity of a class of Lotka-Volterra operators defined on 2D-simplex. In: Quantum Probability 41 Conference, Al Ain, UAE,, |
| 2021 | A new Friedman's model for evolutionary game problem. In: IConTech 2021: International Conference on Technology, |
| 2019 | Dynamics of potts–bethe mapping of degree four on ℚ5. In: "1st International Conference on Mathematical Sciences and Technology 2018: Innovative Technologies for Mathematics and Mathematics for Technological Innovation, MathTech 2018", |
| 2019 | On orthogonality preserving cubic stochastic operator defined on 1-dimensional simplex. In: 1st International Conference on Mathematical Sciences and Technology 2018: Innovative Technologies for Mathematics and Mathematics for Technological Innovation, MathTech 2018, |
| 2019 | On orthogonality preserving cubic stochastic operator defined on 1-dimensional simplex. In: The International Conference on Mathematical Sciences and Technology 2018, |
| 2018 | λ-model with competing Potts interactions on Cayley tree of order 2. In: International Conference on Mathematics, Engineering and Industrial Applications (ICoMEIA 2018, |
| 2018 | Periodic and weakly periodic ground states for the λ-Model on Cayley tree. In: 4th International Conference on Mathematical Applications in Engineering 2017 (ICMAE'17), |
| 2017 | Orthogonal preserving quadratic stochastic operators: Infinite dimensional case. In: 37th International Conference on Quantum Probability and Related Topics (QP37), |
| 2017 | Pitchfork bifurcation of a class of discrete dynamical systems. In: 2nd International Conference And Workshop On Mathematical Analysis 2016 (ICWOMA2016), |
| 2017 | The quadriceps muscle of knee joint modelling using Hybrid Particle Swarm Optimization-Neural Network (PSO-NN). In: 37th International Conference on Quantum Probability and Related Topics (QP37) 2016, |
| 2016 | Exact solution for an Ising model on the Cayley tree of order. In: 2015 National Symposium of Mathematical Sciences, |
| 2016 | On ground states of λ-model on the cayley tree of order two. In: 37th International Conference on Quantum Probability and Related Topics (QP37), |
| 2015 | Exact solution for an Ising model on the Cayley tree of order 5. In: Simposium Kebangsaan Sains Matematik Ke-23 (SKSM23), |
| 2013 | On connected sub-tree of Cayley tree of order 2 with fixed nodes. In: International Conference On Mathematical Sciences And Statistics 2013 (ICMSS2013), |
| 2011 | Ising model with competing interactions on Cayley tree of order 4: an analytic solution. In: 10th International Annual Symposium (UMTAS 2011), |
Book
Book Section
| | |
| --- | --- |
| 2011 | Dirichlet's theorem and prime gap statistics. In: IIUM Press, ISBN: 9789674182014, pp. 256-260 |
| 2011 | Geometric Brownian motion and calculation of option premium in black scholes model . In: IIUM Press, ISBN: 9789674181987, pp. 50-56 |
| 2011 | Investigation of stability of fixed points of nonlinear discrete dynamical systems . In: IIUM Press, ISBN: 9789674181987, pp. 82-89 |
| 2011 | Ising model with competing interactions on Cayley tree of order four. In: IIUM Press, ISBN: 9789674182014, pp. 118-124 |
| 2011 | Phase transition for Ising model with two competing interaction on Cayley tree of order . In: IIUM Press, ISBN: 9789674181987, pp. 96-100 |
| 2011 | Single polygon counting for two fixed nodes on a Cayley tree of order 2. In: IIUM Press, ISBN: 9789674182014, pp. 214-218 |
Monograph