Staff Directory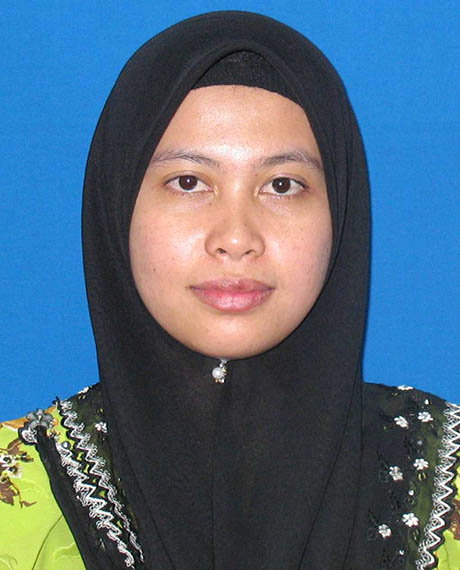 Academic Qualification
Ph.D in Physiotherapy - Doctor of Philosophy, Universiti Kebangsaan Malaysia (UKM)
Master of Science in Applying Physiotherapy (Musculoskeletal) - Masters Degree, Sheffield Hallam University
Physiotherapy - Bachelor Degree, Universiti Teknologi MARA (UiTM)
Physiotherapy - Diploma, Universiti Teknologi MARA (UiTM)
Siti Salwana Binti Kamsan (Dr.)
Assistant Professor
IIUM Kuantan Campus
KULLIYYAH OF ALLIED HEALTH SCIENCES
---
sitisalwana@iium.edu.my
3387
Expert Profile
Siti Salwana binti Kamsan obtained her Bachelor of Physiotherapy (Hons) from UiTM in 2008, then completed her MSc in Applying Musculoskeletal Physiotherapy from Sheffield Hallam University, U.K in 2011. Upon completion of her MSc., she returned to Malaysia and took up a lecturer's position at the International Islamic University Malaysia in July 2011.
Before she did her MSc, she was a physiotherapist at Pusat Perubatan University Malaya and Gleneagle Intan Medical Centre, Ampang. She also was a locum physiotherapist at a few private hospitals in Kuala Lumpur.
Other than teaching, she is active in treating referred patients at physiotherapy clinic, Kulliyyah of Allied Health Sciences. Presently, she is a lecturer and an Academic Advisor for the Department of Physical Rehabilitation Sciences.
Area of Specialisation
Medical And Health ~ Medical And Health Sciences ~ Clinical Medicine ~ Physical Therapy
Teaching Responsibilities
| | |
| --- | --- |
| ANATOMY 1 | 2016/2017 2015/2016 2014/2015 2013/2014 2012/2013 |
| ANATOMY 2 | 2015/2016 2014/2015 2013/2014 2012/2013 |
| APPLIED ANATOMY I | 2022/2023 2021/2022 |
| APPLIED ANATOMY II | 2022/2023 2021/2022 |
| APPLIED PHYSICS | 2014/2015 2013/2014 |
| CARDIORESPIRATORY PHYSIOTHERAPY | 2015/2016 2014/2015 2013/2014 |
| CARDIORESPIRATORY PHYSIOTHERAPY I | 2022/2023 2021/2022 |
| CARDIORESPIRATORY PHYSIOTHERAPY II | 2021/2022 2020/2021 |
| CLINICAL COMPETENCIES IN PHYSIOTHERAPY | 2022/2023 |
| CLINICAL PHYSIOTHERAPY 1 | 2021/2022 |
| CLINICAL PHYSIOTHERAPY 2 | 2021/2022 2015/2016 2014/2015 |
| CLINICAL PHYSIOTHERAPY 3 | 2022/2023 2021/2022 2020/2021 2015/2016 2014/2015 |
| CLINICAL PHYSIOTHERAPY 4 | 2022/2023 2021/2022 2020/2021 |
| CLINICAL PHYSIOTHERAPY 5 | 2021/2022 2020/2021 |
| CLINICAL PHYSIOTHERAPY 6 | 2021/2022 2020/2021 2015/2016 |
| CLINICAL PRACTICE IN CARDIORESPIRATORY | 2022/2023 2021/2022 |
| CLINICAL PRACTICE IN MUSCULOSKELETAL | 2022/2023 2021/2022 |
| CLINICAL PRACTICE IN NEUROLOGY | 2022/2023 2021/2022 |
| CLINICAL PRACTICE IN WOMEN HEALTH & SPORTS | 2022/2023 |
| COMMUNITY-BASED CLINICAL PRACTICE | 2022/2023 |
| CONTEMPORARY PHYSIOTHERAPY MODALITIES 1 | 2015/2016 2014/2015 2013/2014 |
| CONTEMPORARY PHYSIOTHERAPY MODALITIES 2 | 2015/2016 2014/2015 2013/2014 |
| CONTEMPORARY PHYSIOTHERAPY MODALITIES I | 2022/2023 2021/2022 |
| CONTEMPORARY PHYSIOTHERAPY MODALITIES II | 2021/2022 |
| CRITICAL THINKING IN HEALTHCARE | 2021/2022 |
| ELECTIVE POSTING | 2015/2016 2012/2013 |
| ERGONOMICS | 2011/2012 |
| EXERCISE THERAPY 1 | 2015/2016 2014/2015 2013/2014 2012/2013 |
| EXERCISE THERAPY 2 | 2015/2016 2014/2015 2013/2014 2012/2013 |
| EXERCISE THERAPY I | 2021/2022 |
| EXERCISE THERAPY II | 2021/2022 |
| FUNDAMENTAL CLINICAL POSTING | 2021/2022 |
| HUMAN BIOMECHANICS & KINESIOLOGY | 2015/2016 2014/2015 2013/2014 2012/2013 |
| HUMAN BIOMECHANICS AND KINESIOLOGY | 2021/2022 |
| MEDICAL CONDITION 2 : ENDOCRINE, RENAL AND O&G | 2013/2014 |
| MEDICAL CONDITION 4 : NEURO-MEDICAL & NEURO SURGERY | 2015/2016 2014/2015 |
| MEDICAL CONDITIONS 1 : CARDIORESPIRATORY & CARDIOVASCULAR | 2014/2015 2013/2014 |
| MEDICAL CONDITIONS 3 : SKIN & ENT | 2013/2014 |
| MUSCULOSKELETAL PHYSIOTHERAPY 1 | 2015/2016 2014/2015 2013/2014 |
| MUSCULOSKELETAL PHYSIOTHERAPY 2 | 2015/2016 2014/2015 2013/2014 |
| MUSCULOSKELETAL PHYSIOTHERAPY I | 2022/2023 2021/2022 |
| MUSCULOSKELETAL PHYSIOTHERAPY II | 2021/2022 |
| NEUROLOGICAL PHYSIOTHERAPY | 2015/2016 2014/2015 |
| NEUROLOGICAL PHYSIOTHERAPY I | 2022/2023 2021/2022 |
| NEUROLOGICAL PHYSIOTHERAPY II | 2021/2022 |
| ORTHOPAEDIC & TRAUMATOLOGY | 2016/2017 2015/2016 2014/2015 2013/2014 |
| PHYSIOLOGY 1 | 2015/2016 2014/2015 2013/2014 2012/2013 |
| PHYSIOLOGY 2 | 2015/2016 2014/2015 2013/2014 2012/2013 |
| PHYSIOTHERAPY IN GERIATRIC | 2021/2022 |
| PHYSIOTHERAPY IN MEN AND WOMEN'S HEALTH | 2022/2023 |
| PHYSIOTHERAPY IN PAEDRIATRIC | 2021/2022 |
| PHYSIOTHERAPY IN SPECIALIZED PROGRAM | 2015/2016 2014/2015 2013/2014 |
| PHYSIOTHERAPY IN SPORTS | 2022/2023 |
| RESEARCH METHODOLOGY | 2021/2022 |
| RESEARCH PROJECT IN PHYSIOTHERAPY | 2022/2023 |
| RESEARCH PROJECT/DISSERTATION 1 | 2015/2016 |
| RESEARCH PROJECT/DISSERTATION 2 | 2015/2016 |
Research Projects
Completed
On-Going
| | |
| --- | --- |
| 2011 - Present | RU 2011-The risk factors of musculoskeletal disorders/compliant among teachers |
Publications
Article
Conference or Workshop Item