Staff Directory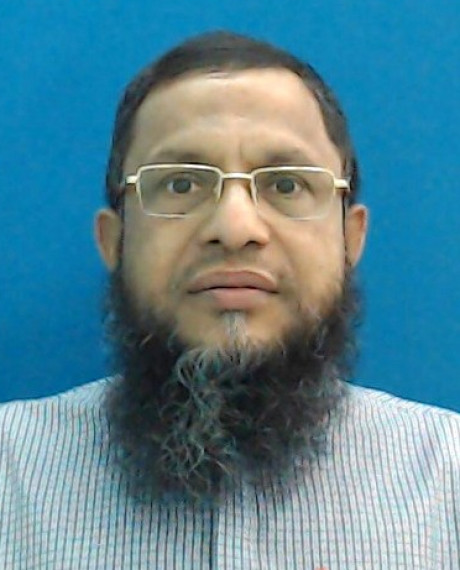 Academic Qualification
Ph.D in Materials - Doctor of Philosophy, Universiti Malaya (UM)
Master of Science in Metallurgical Engineering - Masters Degree, Bangladesh University of Engineering & Technology, Dhaka
Bachelor of Science in Metallurical Engineering - Bachelor Degree, Bangladesh University of Engineering & Technology, Dhaka
Md. Abdul Maleque (Prof. Dr.)
Professor
IIUM Gombak Campus
KULLIYYAH OF ENGINEERING
---
Expert Profile
Dr. Md Abdul Maleque is a Professor in Materials Engineering, Advisor of Advanced Materials & Surface Engg. Research Unit (AMSERU), Faculty of Engineering, International Islamic University Malaysia (IIUM). He started his career as a lecturer in 1995 at the Faculty of Engineering, University of Malaya, Malaysia. Since then, he has served in various teaching and research capacities with University of Malaya and Multimedia University until 2007. He then joined IIUM in 2009 and was engaged actively in teaching, research, supervision, administrative work, securing national and international research grants and publishing research findings in reputed journals. Prof Maleque was the section Editor for 'Encyclopedia on Renewable & Sustainable Materials' Elsevier publisher. He is the Chairman of TC on Standardization of Alloy Steel in Department of Standard Malaysia (DSM), Malaysia.
Prof. Maleque is the executive committee and life member of Malaysian Tribology Society (MYTRIBOS). He is also a member of several professional bodies and organizations such as IMechE, IAENG and MySET. He served on the international advisory committee of ICAMME2013 conference, co-chair of ICAMME2019, secretary of ICAMME2014, publication committee of MITC2013, technical committee of AMPT2009, and technical committee chairman of ICOMAST2006 and RTC2011. He is on the Editorial Board of Industrial Lubrication and Tribology. He has
 been actively engaged in research with team members, (completed 15 projects as PI and 10 projects as Co-Researcher) and secured total amount of grant RM4,718,343.00 under grant schemes of RMGS, Newton Fund, IDBs, PRGS, ERGS, FRGS, eScience, RCG and RMCIIUM. 
He has published more than 300 technical papers in different journals and conference proceedings and written a text book on Materials Selection and Design and edited seven academic academic books on engineering 
and to date his research works have received 5,000+ citations (in Google Scholar, with h-index = 35). 
He has delivered over 20 invited lectures in home and abroad and several keynotes in international conferences
which clearly demonstrate an extensive and established reputation of excellence in research. He also established collaboration between Atatürk University Turkey; Strathclyde University UK; NanoMalaysia Bhd; TNB R&D Bhd and IOP Sdn Bhd.   He was the recipient of highest citation indexed award 2014 from IIUM, IIUM Quality Research award 2013 from IIUM, Vice Chancellor award from UM, Dean's award from UM and several international and national level awards. He has been working in the Technical Committee on Alloy Steel Standardization, SIRIM, Malaysia to develop Malaysian standards since 2009. Prof. Maleque developed new programmes (at MMU) for that he was the founder programme head and new courses (at IIUM, MMU and UM) as well. Numerous presentations have been made by Prof Maleque at different forums, conferences, symposium, universities and institutions. He also worked as an
external examiner
for both PhD and MSc thesis and assessor for the academic staff promotion. He has completed several consultancy works/projects both at IIUM and UM.
Area of Specialisation
Engineering Tech ~ Applied Sciences And Technologies ~ Engineering Materials ~ Other Engineering Materials n.e.c. - Materials characterization
Natural Science ~ Material Sciences ~ Advanced Materials ~ Composite Materials - Advanced composite for automotive brake rotor
Natural Science ~ Material Sciences ~ Advanced Materials ~ Metals and Metal Alloy Materials - Surface modification of metallic material
Engineering Tech ~ Engineering And Technology ~ Mechanical Engineering ~ Industrial Tribology - Sustainable composite materials
Engineering Tech ~ Applied Sciences And Technologies ~ Engineering Materials ~ Other Engineering Materials n.e.c. - Materials for automotive and energy;
Professional Membership
2002 - 2006: Member of Profesional Body / Association: (Member), Asian Tribology Council (ATC)
2007 - 2027: Member of Profesional Body / Association: (Life Member), Malaysian Tribology Society (MyTRIBOS)
2010 - 2023: Member of Profesional Body / Association: (Member), Internation Association of Engineers
2012 - 2021: Member of Profesional Body / Association: (A. Member), Malaysian Society for Engineering & Technology (MySET)
2015 - 2022: Member of Profesional Body / Association: (CEng, Member), IMechE, UK
2019 - 2022: Member of Profesional Body / Association: (G. Member), Board of Engineers Malaysia
2020 - 2022: Member of Profesional Body / Association: (Associate Fellow), Academy of Sciences Malaysia
2021 - 2021: Member of Profesional Body / Association: (Member), Asian Council of Science Editors
2022 - 2024: Member of Profesional Body / Association: (Fellow), IMechE (UK)
Teaching Responsibilities
| | |
| --- | --- |
| MATERIALS SELECTION AND DESIGN | 2023/2024 |
Research Projects
Completed
| | |
| --- | --- |
| 2021 - 2023 | Corrosive-wear Performance Evaluation of Automotive Component Materials Under Palm Oil Biodiesel Condition |
| 2019 - 2023 | UNRAVELLING CATALYTIC MECHANISM OF HIGH ENTROPY ALLOYS (HEAs) FOR ENERGY-EFFICIENT AZO DYE REMOVAL IN FENTON REACTION |
| 2017 - 2019 | Eco-silicon Carbide Reinforced Aluminium Matrix Composite for Automotive Brake Disc Application |
| 2015 - 2018 | Surface Coating of Duplex Stainless Steel Using Nitriding and TIG Torch Melting Techniques - A Comparative Study |
| 2015 - 2018 | Precision Control of KERF in Micro Wire Electro Discharge Machining with Dry Dielectric Fluid |
| 2015 - 2018 | Fundamental Study of Mechanical Behavior of Aluminum Foam Sandwich in Structural Parts for Automotive |
| 2014 - 2017 | Effect of Irradiation Processing Route to the Improvement Properties of Green Recycled Polypropylene |
| 2014 - 2018 | Wear Resistance Enhancement of Wind Turbine Blade Materials under Sand Impact |
| 2012 - 2016 | Characterization of Tribo-Corrosion using Jatropha Curcas Linnaeas Biodiesel for Automotive Engine Compenent Materials |
| 2012 - 2015 | Prototype Development of Light Weight Aluminium Matrix Composite Automotive Brake Rotor |
| 2012 - 2014 | Micro-Structuring of Nonconductive Ceramic Materials using Micro-EDM with Pyrolytic Carbon in Dielectric Fluid |
| 2011 - 2012 | Thermo-Mechanical Properties of Al-Cu Matrix Composite with Varying Particle Size SiC Reinforcement for The Application of Automotive Piston |
| 2011 - 2013 | Electro-Discharge Machining of Nonconductive Ceramic Materials |
| 2011 - 2014 | RU 2011: Characterization of Recast Layer Formed on Ceramic Materials Due to Electro Discharge Machining |
| 2011 - 2017 | Erosion Corrosion and Tribological Behaviour of TIG Torch Processed Composite Layers |
| 2011 - 2012 | Characterization Of Ceramic Materials After Machining By EDM |
| 2010 - 2016 | Cladding of Low Alloy Steel Surfaces with Superalloy via TIG Torch Melting Technique |
| 2010 - 2011 | The development of an optimum material selection and conceptual design process for automotive piston-cylinder liner |
| 2010 - 2013 | Fundamental Study of New Eco-core Metal Matrix Composite Sandwich Structure |
| 2010 - 2012 | Effect of Inhibitors on the Corrosion of Automotive Materials under Palm Oil Biodiesel |
| 2009 - 2011 | Simulation and Fabrication of SiC Reinforced Aluminium Metal Matrix Composite (SiC-AMC)Automotive Brake rotor |
| 2009 - 2010 | Reverse Engineering of Child Bicycle |
On-Going
| | |
| --- | --- |
| 2023 - Present | Investigating the wear mechanism of the duplex stainless steel coated with TiC nanoparticles through TIG torch melting method |
| 2023 - Present | Investigating the wear mechanism of the duplex stainless steel coated with TiC nanoparticles through TIG torch melting method |
| 2023 - Present | Formulation of Ternary rGO/Mixed Transition Metal Oxide (NiCo2O4/MnCo2O4)-based Carbon Fabric for High-Performance All-Solid-State Supercapacitors in Electric Vehicles |
| 2023 - Present | Formulation of Ternary rGO/Mixed Transition Metal Oxide (NiCo2O4/MnCo2O4)-based Carbon Fabric for High-Performance All-Solid-State Supercapacitors in Electric Vehicles |
| 2022 - Present | Increasing the Performance and Service Life of a Diesel Engine Fuel Injector by Surface Modification |
| 2021 - Present | Hybrid eSiC-graphene oxide coating mechanism on Ti-alloy to enhance properties using an additive manufacturing method |
| 2019 - Present | Regeneration behaviour of nanosilica with concrete waste via natural self-healing route for capturing CO2 |
| 2009 - Present | Advanced Materials and Surface Engineering (AMSERU) |
Award & Recognition
| | | |
| --- | --- | --- |
| 23 Oct, 2023 | World's Top 2% Scientists - Elsevier Publisher | International |
| 01 Jul, 2023 | International Scientific Committee - Organizer of ICASET 2023 Oman | International |
| 11 Apr, 2023 | International Technical Committee - Organizer of ICNNN 2023 | International |
| 01 Apr, 2023 | SCIENTIFIC AND TECHNICAL COMMITEE_TWF - TWA Africa (Welding Federation) | International |
| 30 Mar, 2023 | Panel Evaluator - International Islamic University Malaysia | University |
| 20 Mar, 2023 | Section Editor - Deer Hill Pubr | International |
| 02 Mar, 2023 | PANEL JURI CITReX 2023 - University Malaysia Pahang | National |
| 01 Mar, 2023 | Guest Editor of Nanomaterials - Multidisciplinary Digital Publishing Institute (MDPI) | International |
| 20 Feb, 2023 | IIUM Panel Evaluator - International Islamic University Malaysia | University |
| 22 Dec, 2022 | JUDGE for KERICE2022 - KOE, IIUM | KCDIO |
| 28 Oct, 2022 | World's Top 2% Scientists - Elsevier Publisher | International |
| 25 Jul, 2022 | Top 10 Contributor's to IIUM Research - KOE | KCDIO |
| 01 Jun, 2022 | International Scientific Committee - Organizer of ICASET 2022 Oman | International |
| 30 May, 2022 | - International Islamic University Malaysia | University |
| 26 May, 2022 | International Technical Committee Member - Organizer of ICNNN, Japan | International |
| 09 Apr, 2022 | Judge for 3MT - KOE, IIUM | KCDIO |
| 31 Mar, 2022 | IIUM Panel Evaluator - International Islamic University Malaysia | University |
| 11 Mar, 2022 | Juri Hakim (Judge Panel) - University Malaysia Pahang | National |
| 01 Mar, 2022 | Guest Editor - MDPI, Basel, Switzerland | International |
| 19 Jan, 2022 | IIUM Panel Evaluator - Others | University |
| 26 Nov, 2021 | Fellow - Institution of Mechanical Engineers, UK | International |
| 09 Oct, 2021 | Editorial Board Member - Universiti Malaysia Pahang | International |
| 13 Sep, 2021 | Chairman of Technical Committee on Alloy Steel - Others | National |
| 01 Sep, 2021 | Fellow - Royal Academy of Engineering, UK | International |
| 30 Apr, 2021 | Judge 3MT - KOE, IIUM | KCDIO |
| 13 Apr, 2021 | International Technical Committee - Organizer of ICNNN, Japan | International |
| 30 Mar, 2021 | Industrial Award 2021 - Malaysian Tribology Society (MYTRIBOS) | National |
| 16 Mar, 2021 | Internal Assessor - KOE, IIUM | KCDIO |
| 15 Mar, 2021 | Judge Hakim (Judge Panel) - Universiti Malaysia Pahang | National |
| 27 Feb, 2021 | FRGS Review Panel (University Level) - International Islamic University Malaysia | University |
| 23 Dec, 2020 | Board of Examiner - SRI SIDDHARTHA ACADEMY OF HIGHER EDUCATION INDIA | International |
| 20 Nov, 2020 | Leader Curriculum Review Committee of PG - Kulliyyah of Engineering | KCDIO |
| 09 Nov, 2020 | Associate Fellow - Academy of Sciences Malaysia | National |
| 28 Oct, 2020 | Chairman of TC on Alloy Steels - Department of Standard Malaysia | National |
| 21 Jul, 2020 | Examiner for IDP, KOE - KOE | KCDIO |
| 30 Jun, 2020 | Assessor for Master of Science in BioTech Engg - Others | University |
| 04 Mar, 2020 | Judge for MLC - Kulliyyah of Engineering, IIUM | KCDIO |
| 23 Jan, 2020 | Juri Hakim (Judge Panel) - University Malaysia Pahang | National |
| 08 Jan, 2020 | Panel for FRGS/PRGS grants applications - University Malaysia Pahang | National |
| 06 Jan, 2020 | Editorial Board Member - University Malaysia Pahang | National |
| 24 Dec, 2019 | Leaders-in-innovative fellowship Award 2020 - Royal Academy of Engineering, UK | International |
| 18 Sep, 2019 | Gold Award from KERICE - KOE, IIUM | KCDIO |
| 12 Feb, 2019 | Juri Hakim (Judge Panel) - University Malaysia Pahang | National |
| 14 Dec, 2018 | Judge for IDP, KOE - KOE, IIUM | KCDIO |
| 08 Dec, 2017 | Sijil Penghargaan - SITIM STS | National |
| 09 Aug, 2017 | Pitch Your Product 2017 - IIUM | University |
| 10 Apr, 2017 | Sijil Penghargaan - SIRIM | National |
| 15 Mar, 2017 | Juri Hakim (Judge Panel) - University Malaysia Pahang | National |
| 18 Feb, 2017 | The Invention and Innovation Award (Gold) - Private | National |
| 16 Feb, 2017 | Bronze Award for innovation/invention - Malaysian Associations of Research Scientist | National |
| 16 Feb, 2017 | Gold Medal Award for innovation/invetion - Private | National |
| 10 Feb, 2017 | Assessor Research Grant - Kulliyyah of Engineering | KCDIO |
| 06 Feb, 2017 | Sijil Penghargaan - SIRIM STS Sdn Bhd | National |
| 01 Feb, 2017 | Evaluation Panel member for FRGS Application - UMP | National |
| 30 Jan, 2017 | Evaluator of FRGS Project Proposal - Universiti Malaysia Pahang(UMP) | National |
| 18 Dec, 2016 | Section Editor of Encyclopedia on Renewable and Sustainable Materials - Elsevier Ltd | International |
| 13 Dec, 2016 | Section Editor - Elsevier Int. | International |
| 21 Nov, 2016 | Examiner for Peperiksaan Lisan - University Malaysia Pahang | National |
| 08 Nov, 2016 | Session Chair for AMPT 2016 - University Malaya | International |
| 01 Sep, 2016 | Panelist for foroum on 'Islamization of Engineering Education - Kulliyyah of Engineering | KCDIO |
| 29 Aug, 2016 | Chief Editor of Engineering Research with Ethics and Values - International Islamic University Malaysia | University |
| 01 Jul, 2016 | Editorial Board Member - J of Materials & Manufacture, Deer Hill Pubr | International |
| 01 Jun, 2016 | Associate editor International Journal of Multidisciplinary Design, Analysis and Optimization, - A D Publication | International |
| 01 Jun, 2016 | Judge for Tribology Poster Competition - University of Malaya | International |
| 29 Mar, 2016 | MOHE Panel for Research Grant Evaluation - Ministry of Education | National |
| 28 Mar, 2016 | IIUM Panel Evaluator - International Islamic University Malaysia | University |
| 06 Dec, 2015 | Silver Award - Ministry of Higher Education | National |
| 22 Oct, 2015 | Session Chair for ICBTS 2015 at Berlin Germany - ICBTS | International |
| 21 Oct, 2015 | Judge for KERIE - KOE | KCDIO |
| 05 Oct, 2015 | Speaker at MTDC-SYMBIOSIS Program - Malaysian Technology Development Corporation (MTDC) | National |
| 02 Oct, 2015 | University Innovation Award - International Islamic University Malaysia | University |
| 02 Oct, 2015 | IRIIE 2015 Gold Medal Award - IIUM | University |
| 07 Sep, 2015 | Advisory Member of ICoFM - Universiti Malaysia Perlis | National |
| 18 Aug, 2015 | Session Chair - UMP | International |
| 15 Aug, 2015 | Session Chair of ICMER15 - University Malaysia Pahang | National |
| 27 Oct, 2014 | Panelist - KOE | KCDIO |
| 23 Sep, 2014 | Keynote Speaker - KOE, IIUM | KCDIO |
| 18 Jul, 2014 | Quality Award - IIUM | University |
| 13 Jun, 2014 | Judge for KERIE13 - KOE, IIUM | KCDIO |
| 11 Jun, 2014 | Bronze - IIUM | International |
| 29 Apr, 2014 | Highest Citation in Citation Index Journal Award - IIUM | University |
| 15 Feb, 2014 | Internationalisation Bureau - MYTRIBOS | International |
| 02 Dec, 2013 | Guest editor, Special issue of Procedia Engineering - Elsevier Ltd, UK | International |
| 09 May, 2013 | Silver Award from 24thInternational Invention & Innovation Technology Exhibition (ITEX) - Malaysian Invention & Design Society (MINDS) | International |
| 14 Mar, 2013 | Quality Award - IIUM | University |
| 19 Feb, 2013 | Two (2) Gold medal for exhibiting outstanding research finding to the IRIIE2013, IIUM - IIUM | University |
| 13 Feb, 2013 | Reviewer for ERGS grant - KOE, IIUM | KCDIO |
| 27 Feb, 2012 | Silver Award - IIUM | University |
| 27 Feb, 2012 | Bronze Award - IIUM | University |
| 15 Jul, 2011 | Sijil Penghargaan - SIRIM Berhad | National |
| 15 Jul, 2011 | Sijil Penghargaan - SIRIM Berhad | National |
| 01 Jul, 2011 | Sijil Penghargaan - SIRIM Berhad | National |
| 01 Mar, 2011 | Bronze Medal - IIUM | University |
| 01 Mar, 2011 | Bronze Medal - IIUM | University |
| 26 Jan, 2010 | Bronze Award in IRIIE2010 Exhibition - RMC, IIUM | University |
| 30 May, 2005 | Editorial Board Member of Int J. of Indust Lubr & Trib., - Emerald Pubr., UK | International |
| 18 Jun, 2003 | Anugerah Khidmat Cemerlang - Universiti Malaya | University |
| 12 Mar, 1999 | Sijil Dekan - Faculty of Engineering, UM | University |